BQ Witbox 2 3D Printer
Witbox 2 is a simple machine to use. The printer guarantees to not disappoint either the novice who is looking to make his/her first part or prototype, or the professional who wants a machine that can quickly understand his/her technicality and print PLA parts.
PROS
Overall Witbox 2 is easy to use.
The print quality of this machine is excellent and the fact mentioned in the Print Quality section is that it has fabulous speed.
This 3D printer can print using multi-materials.
CONS
You would have to use glue as no heating plate comes with the printer. This increases the overall time that it takes for printing a part after printing one because every time you need to spray the space and apply the glue.
Product
Specification
Videos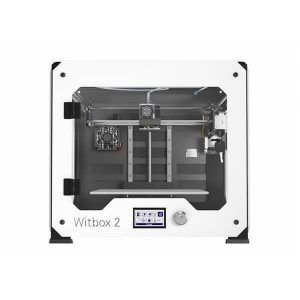 If you are looking for a printer that serves you with excellent prints in all the parts and functional prototypes it prints. Not only that, but the ...
| | |
| --- | --- |
| Model | Witbox 2 |
| Manufacturer | bq |
| Price Range | $ 1859 |
| Availability | Available |
| Classification | Desktop |
| Technology | Extrusion (FFF- FDM…) |
| Material | PLA |
| Filament diameter | 1.75 mm 0.07 in |
| OS compatibility | Linux, Mac OS, Microsoft Windows |
| Generic material | Yes |
| Max. build size | 210 × 297 × 200 mm 8.27 × 11.69 × 7.87 in |
| Max. build volume | 12.47 L |
| Max. print speed | 80 mm 3.15 in /s |
| Min. layer thickness | 0.05 mm 0.002 in |
| Dimensions | 508 × 485 × 461 mm 20 × 19.09 × 18.15 in |
| Nozzle diameter(s) | 0.4 mm 0.02 in |
| Power input | 350W @ 110-220V 50-60Hz AC |
| Heated print bed | No |
| Heated build chamber | No |
| Automatic calibration | No |
| Closed frame | Yes |
| Dual extruder | No |
| Independent Dual Extruder | No |
| Full color | No |
| LCD screen | Yes |
| Touchscreen | No |
| On-board camera | No |
| Mobile app | No |
| 3D scanners | No |
| CNC mill | No |
| Electronics 3D printing | No |
| Laser engraving | No |
| Conveyor belt | No |
| Air filter | No |
| Pellet extruder | No |
| USB | Yes |
| Wifi | No |
| Bluetooth | No |
| SD card | Yes |
| Ethernet | No |

Table of Contents
BQ is a Spanish brand that entered into the market of additive manufacturing by releasing Witbox 2's predecessor, Witbox 1. The 3D printer was successful enough to let the company release its second version with improvements.
The extrusion system of Witbox one was criticized because it did not have the facility to print with more materials, not even the most popular ones, was changed.
Taking this criticism into account, BQ made sure that Witbox 2 has an extruder that can enable the printer to print with more materials. Another improvement has been in the bed-leveling system of the printer.
Knowing that god quality print only comes with an automatic bed-leveling system, BQ printers made sure they had this feature in Witbox 2. And the third improvement has been in the electronics board and interactive surface of Witbox 1.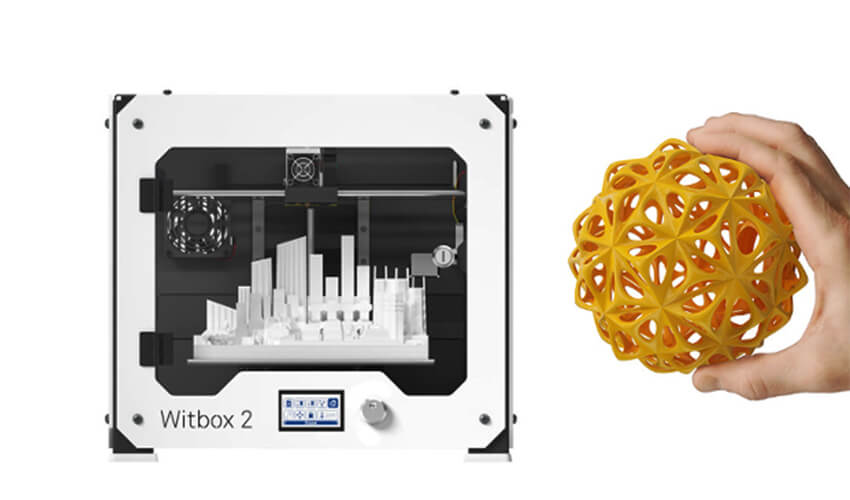 BQ has developed Witbox 2 as an ideal printer for professionals working in the field, educational institutions that want their students to learn the new technology, and small businesses that cannot afford printers in the price range that's above the range in which Witbox 2 falls.
After giving you a little introduction about the manufacturer, Witbox 2's predecessor, and the improvements that you will find in Witbox 2 let's look at the features of this printer in little more detail.
Features
It's only after dealing with the printer can one gets to know how appropriately the manufacturer has kept this product's name what it is. In short, for you as a reader, it's important to know that the printer stands up to its name. It's a box, but it's rare because it's witty.
Design Of The Printer Is Very Impressive: The Witbox 2 is a fully enclosed 3D printer and that's the first thing that will strike your eyes. Though being completely enclosed, the printer has transparent acrylic windows on the left, right, and topside.
The backside of this printer features a steel frame while the front side features a lockable transparent door. Notice how the doors and windows are kept transparent so that the users can monitor the complete printing process without any struggle or camera.
The whole setup can be illuminated by switching on the blue LED lights that BQ has provided in Witbox 2.
The print bed of this printer is a heavy piece of laminated glass that is fixed onto the bottom of Witbox 2 which is glued to a prominent piece of plastic.
Now if you are starting to worry about the adjustment of this piece, stop. Because it fits exactly into the recess of the adjustable Z-platform, ensuring the users that the build plate is easily and properly installed.
It can also be removed, without any hassle at all. Four supplementary magnets are kept at its place to ensure that the build plate is exactly where it's meant to be.
The Z-platform of Witbox 2 is also equipped with 3 adjustable screws that are easily accessed from below. This arrangement makes the leveling of this print bed quite easy.
Easily Understandable Mechanism And Sturdy Body: Not only does this improved version of Witbox 1 comes with a single, all-metal hot-end, a direct drive extruder for 1,75mm PLA filament, but also with two fixed fans that take care of the necessary cooling after the parts are printed.
As far as the electronics are concerned, there is a 40W, 12V heater cartridge that ensures that the heating time remains as short as possible. The Witbox 2 is a gantry-type style of printer, moving the extruder in the X and Y axes, while its build platform only moving in the Z-axis.
If you have seen the mechanism that the Makerbot Replicator+ model has, you would be able to associate with this quite easily. However, the Witbox 2 does have a special Y-axis setup, and it's stacked onto the X-axis. Overall, the Witbox makes up for a very sturdy and professional-looking printer.
Specifications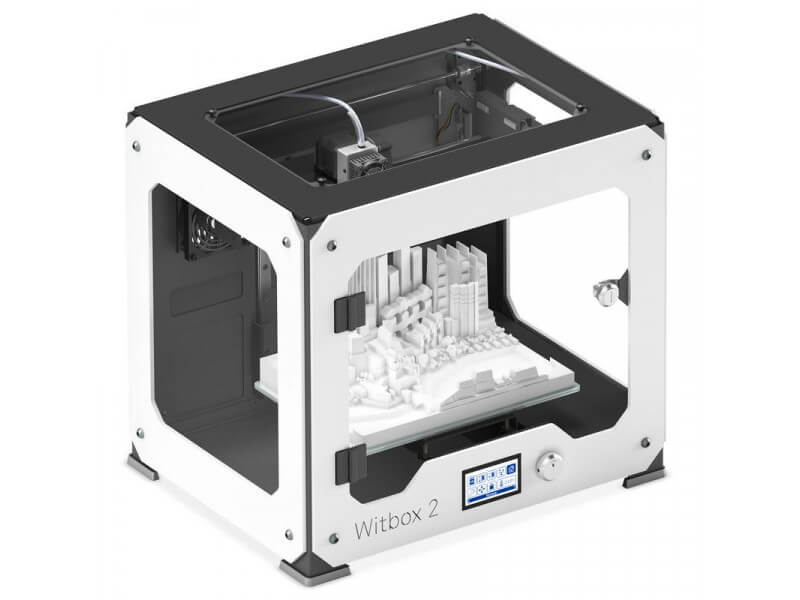 Witbox 2 has a nice design that is completely enclosed and has a build volume of 11.7 inches * 8.3 inches * 7.9 inches. The frame of this 3D printer is made out of powder-coated steel plates that guarantee its absolute sturdy nature during the print process.
Witbox 2 prints parts and prototypes with a layer resolution of 50 microns and a filament diameter of 1.75 mm while the nozzle diameter of 0.4mm.
The nozzle operating temperature of the printer is 180 degrees Celsius to 250 degrees Celsius. The printer has a print speed of 40 mm per second about which you will hear more in the coming sections of the article.
Price
$1656 is the price of Witbox 2 as shown on the Internet. Don't compare this printer to typically a desktop printer that is used for home printing by hobbyists and at the smallest businesses.
Witbox 2 has a huge build volume as mentioned in the specifications section so, it's better to compare it with the commercial 3D printers that are available for small businesses.
Printers in which continuous printing happens for parts and functional prototypes, Witbox 2 is one such printer. It has got amazing specifications and features that every industry-standard printer in the same price range should have.
First Impression
Your first thoughts on unpacking Witbox 2 would be of just how enormous this machine is! This 3D printer comes well-packaged so there are no chances of you receiving a damaged piece due to the transport or something else.
There is a double layering of cardboard and a good setting done to ensure that parts do not strike each other or get broken during transport.
Witbox 2 comes with various accessories which you will come across while unpacking it. We would also like to tell you that the design of this printer is very similar to the first version.
It has a robust build up; a chassis that shows high rigidity even during the toughest printing process, and quality materials. So overall first impression of every user of this printer is positive.
A tip which you should follow if you have bought it or planning to buy it is, please read the instructions here as it will help with the unboxing. There is this accessory box that is well stocked and it guarantees fast and reliable uses of the machine in the long term.
Overall the time when the printer arrives at your place to the time when you start the first printing process can take 30 minutes.
Setup
BQ has simplified our additive manufacturing lives by providing their customized installation guide, which is also available from their website. This guide contains explanations about how to install Witbox 2.
Everything inside it is detailed and simple to understand even for the most non-techy person. The calibrations of the build plate can be done in even less than 5 minutes. And it is these small things that show you how simple the machine is.
15 minutes into the installation of the printer and it includes the first calibrations so that the printer is completely ready to print out an object.
There is a navigation screen inside Witbox 2 that helps you with your next setup and so as said in the previous section the complete setup time takes no more than 30 minutes.
Printing Type/Cost
Witbox 2 is compatible with various kinds of filaments such as CO-PET N Gen from ColorFabb, PLA, etc. With the glue 3D Lac and correct Cura settings, the printer can print at a relatively low cost.
Although the printing cost is like operating cost and it has many factors into consideration apart from filaments that you use, like, the build volume of the part that you are willing to print, the print speed offered by the printer, and the layer resolution that you wish to have on the print, etc.
All these combine to form an overall cost which is known as the printing cost of the printer. This keeps on changing print per print and geometry after geometry. Though, overall, this printer has a relatively low printing cost.
Print Quality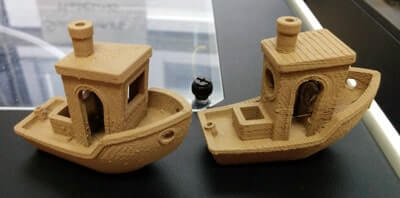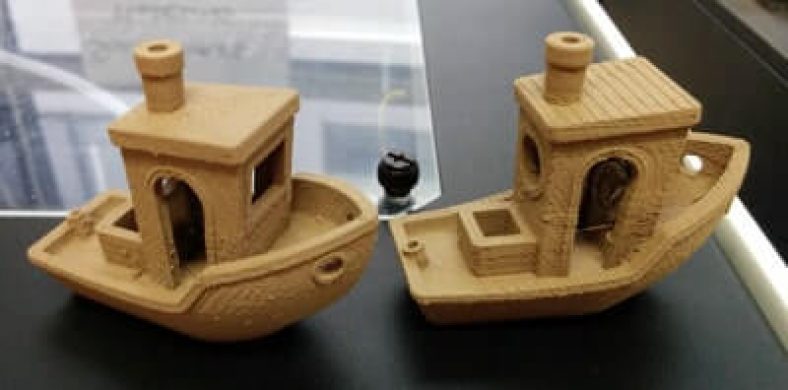 Credit: aniwaa.com
Unlike other printers in a similar price range, Witbox 2 does not have a heating plate so to ensure the adhesion of the part, it is advised to use a glue such as 3D Lac.
Also before starting the printing procedure you have to make sure that you have sprayed the complete print plate. As the complete assembly is done via magnet there is no risk of losing the calibration system.
The first prints on this printer make you shock by the less amount of time it takes to print. There have been reports on many websites about how clearer the prints are, how the surface finish of part is exactly like you wish to have, and still, the printing time is very low!
The manufacturer of this printer has made sure that the primary purpose of this printer is fulfilled very nicely and its users aren't disappointed at all as far as the print quality of parts and functional prototypes that wish to print is concerned.
Software
Witbox 2 works with a popular slicer called Cura. This software is ideally known for providing simple settings to users and allowing even the non-technical people to work the machine.
The main settings are all loaded with no need for extra care that is to be taken by the user. You can also find some specific profiles if you search on the web, you can quickly get your first part of the functional prototype out within hours.
Additionally with Witbox 2, there are printing profiles for other filaments such as ABS, nylon, and composite filaments based on wood or metal which means that even novices will be able to instantly print objects easily.
Well if that is for the novice, the printer doesn't even lack to give something to the experts as the more experienced professionals will be able to refine the parameters to further improve their prints.
Customer Service
The machine is self-explanatory so you would hardly require to contact its maker. However you can reach out to them via their website, they have the contact information. You can also connect to them on Skype or a normal phone call and they also reply via emails.
Parameters Influencing Buying Decision
If you were to see a limited point before buying a printer, it would be its cost, quality, speed, capability, and practicality, and user expectations.
Before concluding our article we give to you the briefest explanation of all of these mentioned points that can help you frame your complete buying decision in a very short way.
3D Printer Cost: A little high that average desktop printers. But seeing the build volume that the printer provides, it's understandable.
3D Print Quality: Up to the mark.
3D Print Speed: Higher than the industry standard.
3D Printer Capability: Witbox 2 is capable of printing continuously for hours and still not lose the quality that you see in the very first print.
3D Printer Practicality: For small business owners who cannot afford to go into the league of printers that start from $3000 to $5000, this printer is a boon.
3D Printer User Expectations: After working with Witbox 2, you would want other printers to speed up as this printer. So, your expectations from other printers are going to increase.
The Verdict
Overall, Witbox 2 is a simple machine to use. The printer guarantees to not disappoint either the novice who is looking to make his/her first part or prototype, or the professional who wants a machine that can quickly understand his/her technicality and print PLA parts.
The printer is has a robust and rigid construction that keeps it stable even during the toughest printing procedure. The exceptional quality of this printer is to print at a very fast speed without compromising the quality.