Felix Tec Series 3D Printer
Compared to their predecessors, Felix Tec Series printers are fitted with the most advanced technology to provide accurate, reliable, and easy print in all the parts and functional prototypes.
PROS
Semi-automatic calibration.
Optional dual/single extrusion system.
Folding bedplate.
Touch screen interface.
CONS
Open body.
Difficulty in maintaining the temperature of the heating bed.
Not enough stability while the printing process.
Table of Contents
The Tec series by Felix consists of two 3D printers namely Tec 4 and Tec 4L. Both of them are based on FDM technology and comes in both forms i.e. you can self-assemble it as well as order pre-assembled.
Known for their reliability and flexibility, the Tec series by Felix has an improved framework and design for printing large objects.
Loaded with advanced features, Tec 4 and 4L are the best in their class of 3D printers. Here is the Felix Tech Series review to explore different aspects of these printers.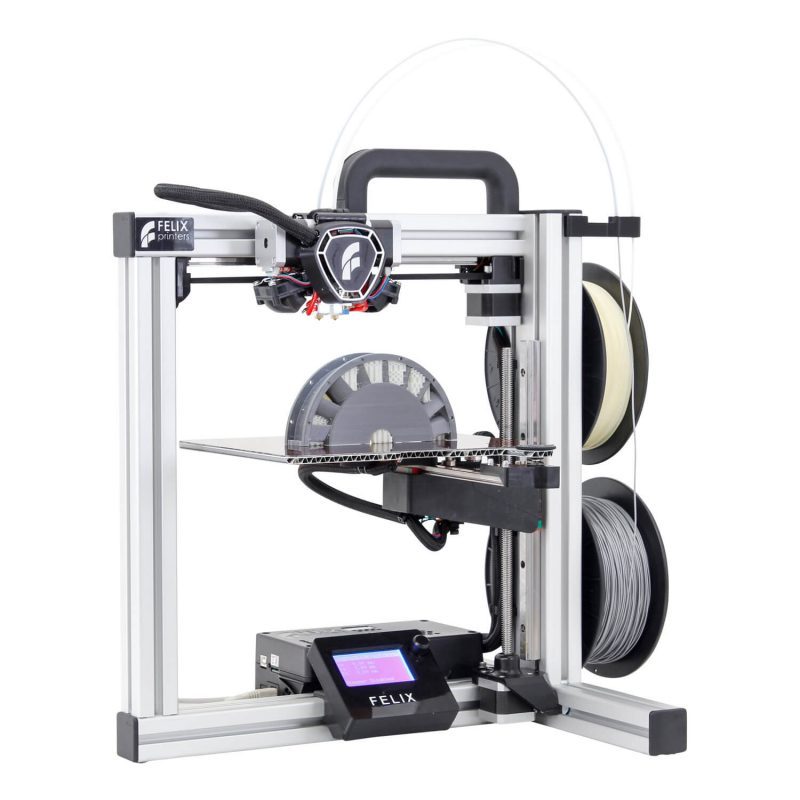 Compared to their predecessors, these printers are fitted with the most advanced technology to provide accurate, reliable, and easy print in all the parts and functional prototypes.
Amazing features such as semi-automatic calibration and removable flexplate makes these printers eccentric printers in their range that offer quality in an affordable price range.
Both, Tec 4 and Tec 4L are available in both single as well as double extruders for multi-material printing for printing complex parts and geometries that need soluble support.
Without saying much, let's straight dive into the amazing list of features and their description possessed by Tech series of Felix Printers.
Features
Felix printers have made sure that each feature they release can self-upgrade itself which is a bonus for designers and engineers.
Often it so happens, that you love construction and design of a 3D printer too much to not want to change it with another 3D printer just for the sake of upgrade.
That's when the importance of this feature is realized. Some of the names of the features are already mentioned above with other features that make the Tec series of Felix printers stand apart from other series' by other manufacturers.
Optional extruding: This facility is great for designers and engineers who still love to print with dual extruding and not want to force themselves upon dual extruding just because the technology is available. You can choose the way of printing i.e. by using dual extruders or single extruders. This lets you combine different colors and materials in one single print. An example underlining the usefulness of how fun is it to combine materials and print is the combination of PLA with water-soluble support filament.
A second extruder is specifically available for multi-material 3D printing. And this also allows for complex printing of 3D parts and functional prototypes with soluble support.
With this feature, one can print parts inside parts and then take away the outside part because it's printed by a soluble material.
So, the printer is pretty flexible, and including this feature in their printers, Felix printers have made a strike with all those who are willing to work with single as well as dual extruders.
It's completely up to them as to, when to upgrade. Not only is this feature available with Tec 4, but also with Tec 4L.
Flexible Build Plate: This is another feature indicating the flexibility offered by Felix printers with their Tec Series. Users often have a complaint i.e. not able to remove their materials because they are stuck on the build plate. By designing a flexible build plate, Felix has made sure, that as a manufacturer it has helped users to solve this complaint.
This problem happens especially with FDM 3D printing. Because printing happens in this process, layer by layer. Both the deposition as well as the solidification.
In such a scenario if the build plate isn't flexible a lot of effort goes in the removal of material from the build plate. Plus, there are also possibilities to damage the 3D part or functional prototype that was printed.
To lessen the possibilities of damaging the part and to ensure the final print has dimensional accuracy, this feature is made available in both the printers of the Tec series.
Semi-Automatic Leveling: Bed-leveling needs to be changed from one print to the other print. Manual leveling of bed needs precision and accuracy which is not available in every hand. By providing this facility, Felix printers have given an option for all those inaccurate hands or in-experienced hands in the field of additive manufacturing, to be able to produce as accurate parts as the accurate ones.
Semi-automatic leveling is very useful in the calibration of bed when you are printing continuously one after the other.
This is a feature that every small business owner looks in a 3D printer before purchasing it. This semi-automatic leveling is done with the help of motors and sensors present inside the printer.
Multiple Nozzle Options: Tec 4 and 4L both are available with a set of nozzles that range in varying diameters. This is very beneficial because it increases the range of objects that you can print. Layer geometries with dimensional accuracy demand a printer to offers its user more than one nozzle at least.
Tec Series by Felix printers provides nozzle diameters of 0.25 mm, 0.5 mm, 0.7 mm, and a standard nozzle of 0.35 mm. With the help of these nozzles, you can print a different variety of shapes on the part and functional prototypes.
It is difficult to find a printer in the same price range as Tec 4 and Tec 4L that offers this feature.
Operation of the nozzle with different diameters is a feature that would require the manufacture to provide different nozzle heads in the printer and then alignment of the nozzle head with the filament would have to program accordingly.
However, by providing a semi-auto calibration feature, Felix printers have made this operation simple.
Touch Screen Interface: Unlike the Pro Series, Tec Series by Felix printers has a touch screen interface not at the top but at the bottom. This touch screen interface allows you to monitor the complete printing process and its user friendly. The manufacturers of these printers have provided video tutorials of how the touch screen operates to ensure that every user who uses it undergoes no difficulty.
Specifications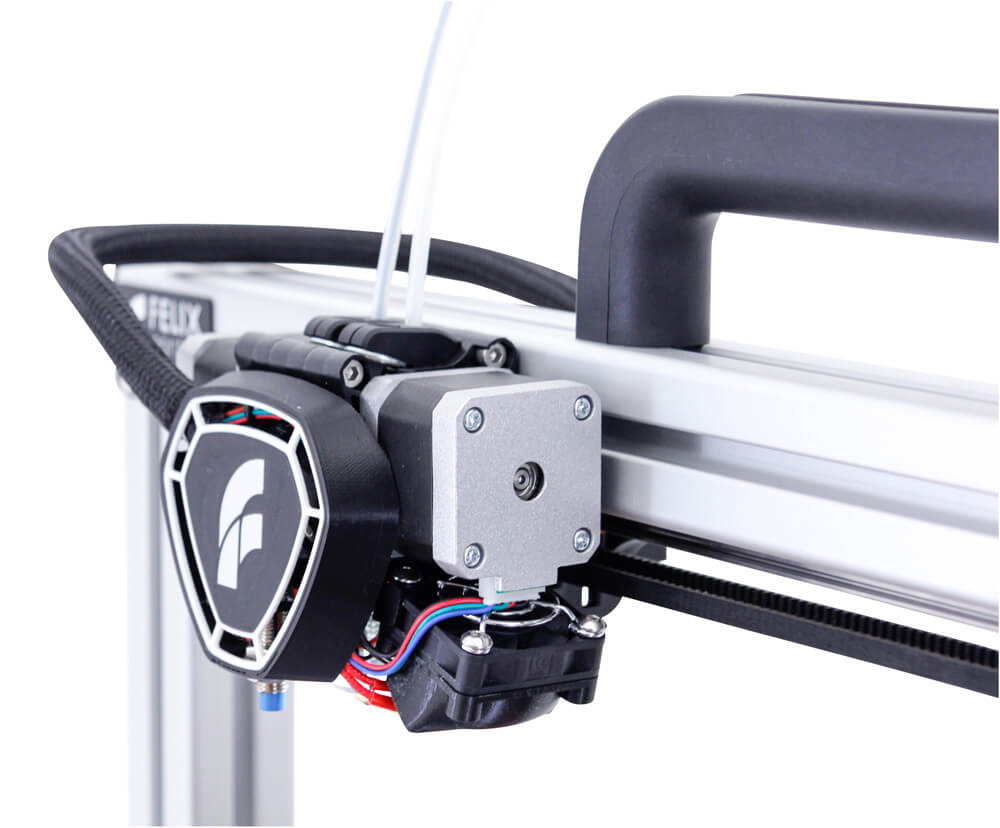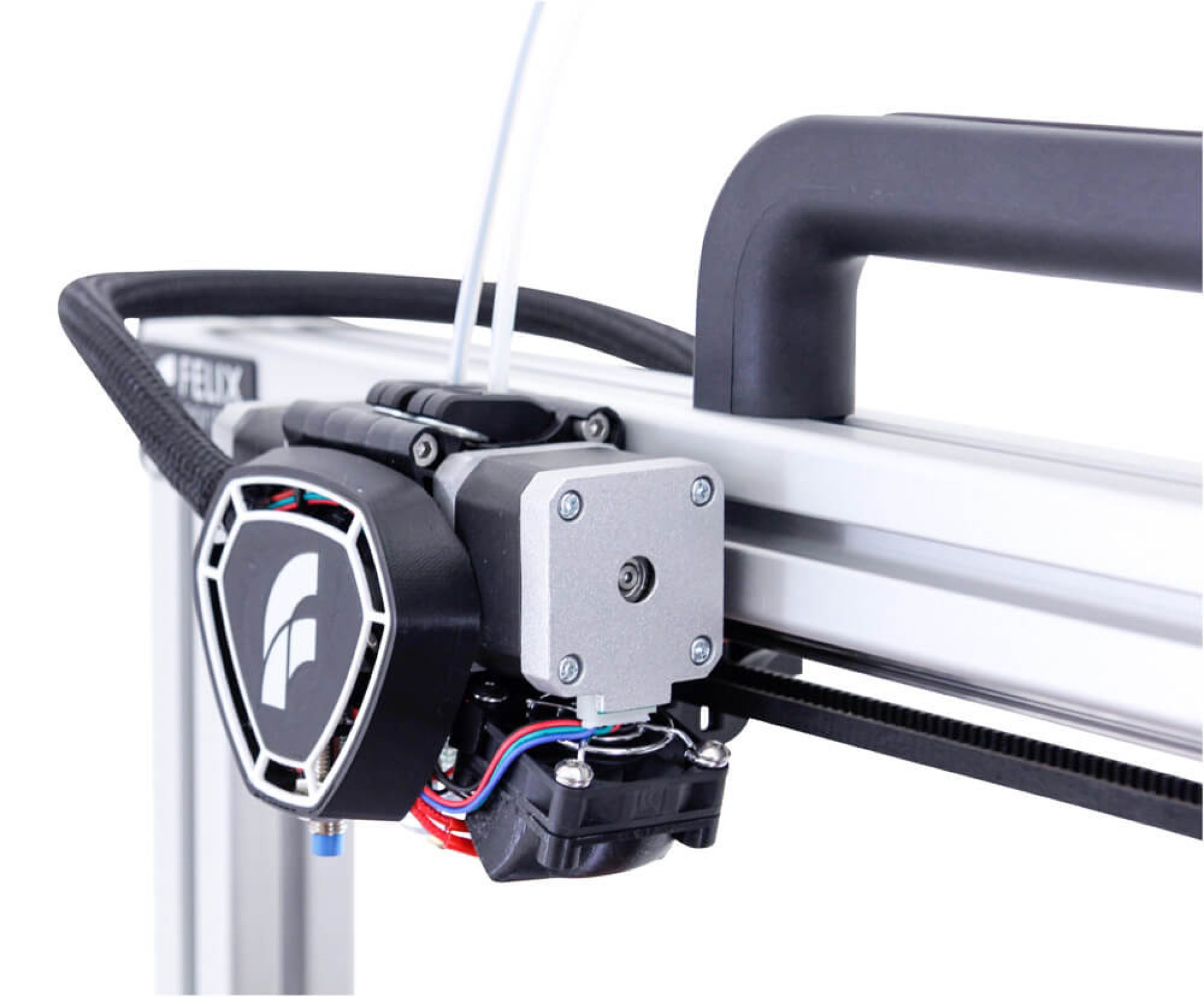 Tec 4L and Tec 4 have a build volume of 255 mm * 205 mm * 400 mm and 255 mm * 205 mm * 220 mm respectively. Tec 4L can provide a minimum layer resolution range of 0.05 mm to 0.25 mm.
Whilst Tec 4 can provide a minimum layer thickness of 0.05 mm. The print speed offered by Tech 4L is 18 mm per second, while Tec 4 offers 15 mm per second.
The maximum bed temperature that Tech 4L can withstand is 95 degrees Celsius and the maximum bed temperature that Tech 4 can withstand is 90 degrees Celsius.
As mentioned above too, the bed leveling of both the printers is semi-automatic and both the printers come with a detachable build plate that can be removed for cleaning and removal of parts after printing.
One can connect to these printers using a Micro SD card, wi-fi, or USB cable. Tec 4 and Tec 4L allows you to print using PLA, PETG, Flex, ABS, PVA, Wood, Glass, etc.
Both the printers allow you to slice your objects in Simplify 3D and Repetier. The file types that are supported in this software are STL, AMF, OBJ, and 3DS.
Price
Tec 4 is priced at $1,209 and Tec 4L is priced at $2892. The former is primarily meant to target hobbyists, while the latter is primarily targeted towards small businesses or workshops of professional designers and engineers in the field of additive manufacturing.
Given the quality of prints and an amazing list of features, the price will be understood by those who know something basic about 3D printing.
To get a printer cheaper than the price range of these printers is not something that is impossible. You might encounter a printer promising you better build volume than these printers at a cheaper price.
But the company won't be as reliable as Felix Printers is. Plus the features that it offers, would be absent in other printers which you will get to know on the comparison.
First Impression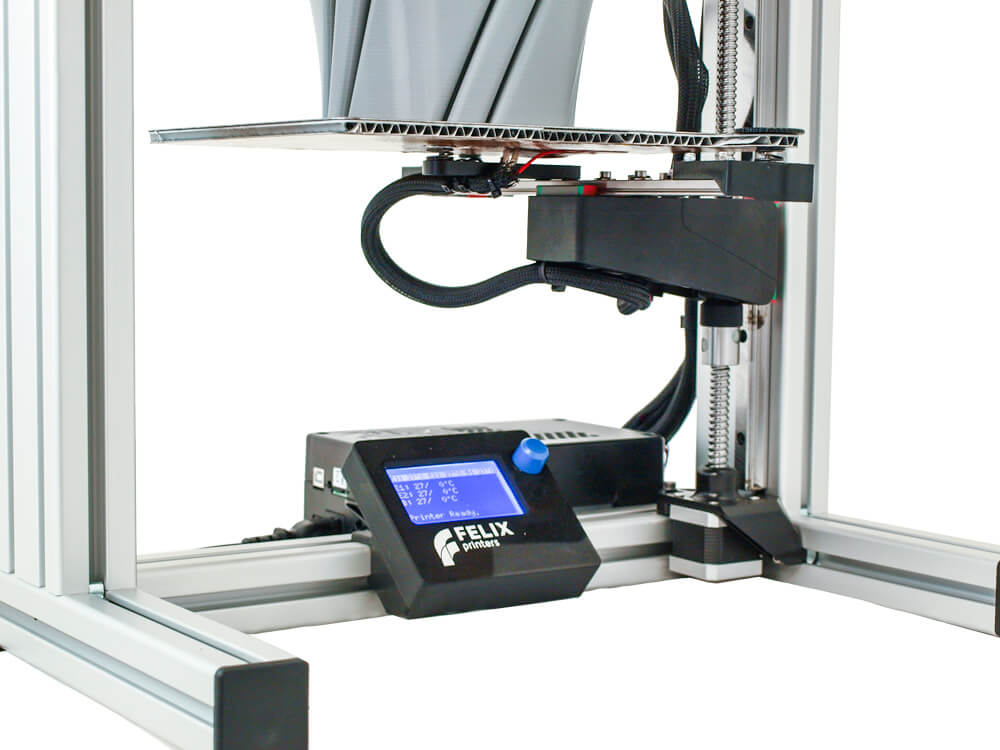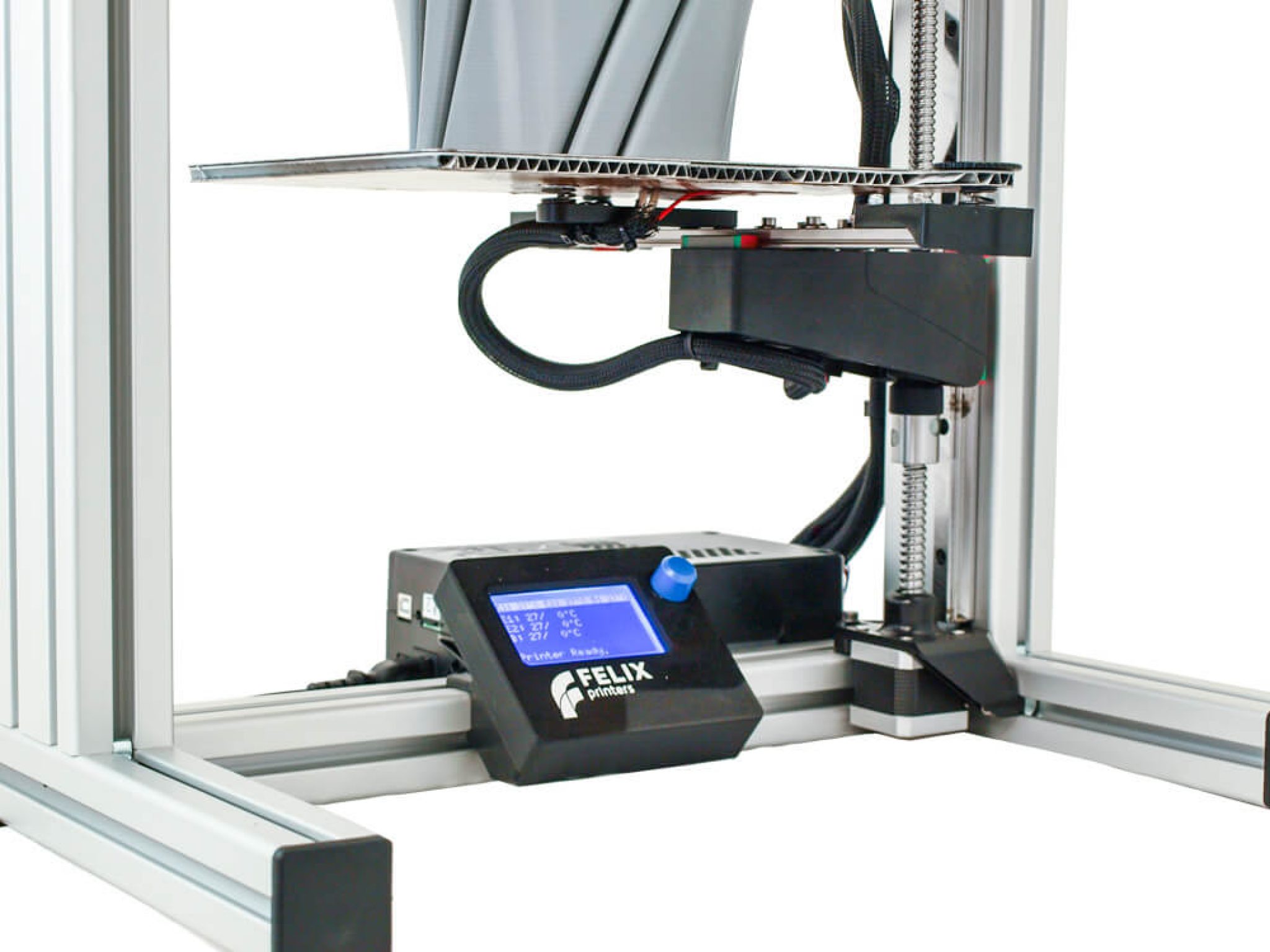 Like its Pro Series, Tec series too features printers that have an open body. So those who are experienced with 3D printing would have a little negative impression about the atmospheric temperature's influence on the printer's printing process.
But your doubts will get cleared when you use this printer at a workplace that's in a corner, away from kids, if you are going to print at home.
Whilst beginners would really appreciate these easy to set up, coming completely assembled printers. All you would need to do is simply plug and play by learning how different functions work with this printer from the manual provided by Felix Printers.
The heating bed is foldable and its flexibility would be appreciated by both the beginners as well as the intermediates. The touch screen interface at the bottom would give you an idea of the company's eccentricity and creativity.
Setup
Like said above, the printer is a plug and play printers so everyone comes assembled. However, the company also gives an option to get these printers in parts.
While setting up the manual provided by Felix printers is helpful. You can get in touch with the company for any sort of guidance that you need.
Printing Type/Cost
Notice Tec 4 and Tech 4L, both allow users to print using multiple materials. These materials are available at varied costs.
So, operating cost varies according to the material you use and the electricity that is consumed, in case you are printing constantly using these printers.
Both these printers are based on FDM technology which is very widely implemented all over the world for being a low-cost technology.
In terms of the overall cost, beginners and intermediate in the field of additive manufacturing would find convenience in the fact that the company has made the technology available to them at a lower cost.
Print Quality
Due to the semi-auto calibration feature available in both printers, the print quality of parts and prototypes are higher than usual. Manual calibration decreases the dimensional accuracy of parts. Seeing this, Felix printers have kept Tec 4 and 4L semi-auto calibration enabled.
In the price range that they are offered, you will hardly find a 3D printer that offers this feature. You can print with various materials and achieve a commendable amount of precision in the prints using these printers.
Software
Simplify 3D and Repetier are the two software that both of these 3D printers are compatible with. However, Felix printers have kept Tec 4 and 4L compatible with third-party software.
Tec 4 and 4L are supported with Windows 7 and above, Mac and Linux operating systems. This software is easy to use even by a non-technical person.
Customer Service
Both these printers come with a 12-month warranty for wearable parts except hot ends. Apart from this, there is a lifetime expert technical support that's provided by the company's staff on email, via phone or skype.
Extended online support includes knowledgebase of the printer, manuals, tips, and tricks to get the most out of Tec 4 and Tec 4L. Felix is known to provide excellent customer service to all its consumers.
Parameters Influencing Buying Decision
We believe that your buying decision should be mainly based on some basic parameters like cost, quality, speed, capability, practicality, and your expectations. Let's take a look at these parameters one after the other.
3D Printer Cost: Seeing that Tec 4 is for hobbyists and Tec 4L is for small businesses, primarily the cost seems to be justified because you will more printers of cost higher than these offering the same features.
3D Print Quality: Dimensionally accurate parts and functional prototypes that have complex geometries can be printed using the Tec series of Felix Printers.
3D Print Speed: On comparison, you will find out that the speed is not higher than average, but it's also not below average. 18 mm per second and 15 mm per second is the industry average for hobbyists and small business 3D printers.
3D Printer Capability: The printer is able to provide users with all trending features with one of the best technology that's available for 3D printing.
3D Printer Practicality: If you are a small business owner, you'd be able to grow more using these printers. Whilst if you are a professional designer or engineer, you'd be able to print the exact precise quality in parts and prototypes and experiment using Tec 4 and Tec 4L.
3D Printer User Expectations:, Of course, these are not industrial grade printers, so to expect the same amount of work from these printers is foolish. They are primarily meant to target newbies, hobbyists, and small businesses at the most.
The Verdict
Reading the Felix Tec Series review, one can understand the capabilities of these printers which accommodate all the latest features that should be present in a desktop-grade 3D printer.
These features help you achieve the dimensional accuracy that you need in complex parts and prototypes.