Felix Pro 2 3D Printer
Felix Pro 2 has a 4.3-inch capacitive touch display that allows users to control, monitor, and receive instant feedback on their printing process.
PROS
Comes with dual extruders
You can connect using USB and micro SD cards
Allows use of third party filaments
It is open-sourced.
The print bed is completely removable.
It has a touch screen interface.
Allows printing with various materials.
CONS
Pro 2 has an open body because of which it can be subjected to danger if kids are around.
The temperature of the atmosphere will affect the overall quality of the print so some complex geometries can not be printed with dimensional accuracy.
Product
Specification
Videos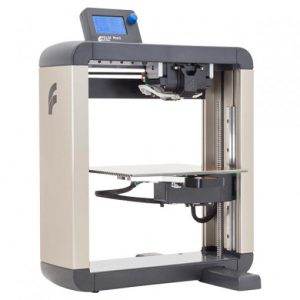 Dual extruders that let you print with more printing materials that demand a 3D printer which can withstand high temperatures. For uploading a file ...
| | |
| --- | --- |
| Model | FELIX Pro 2 |
| Manufacturer | FELIXprinters |
| Price Range | $ 2475 |
| Availability | Available |
| Classification | Desktop |
| Technology | Extrusion (FFF- FDM…) |
| Material | ABS, Other plastics, PLA |
| Filament diameter | 1.75 mm 0.07 in |
| OS compatibility | Linux, Mac OS, Microsoft Windows |
| Generic material | Yes |
| Max. build size | 237 × 244 × 235 mm 9.33 × 9.61 × 9.25 in |
| Max. build volume | 13.59 L |
| Max. print speed | 150 mm 5.91 in /s |
| Min. layer thickness | 0.05 mm 0.002 in |
| Dimensions | 430 × 390 × 550 mm 16.93 × 15.35 × 21.65 in |
| Weight | 11.5 kg 25.35 lb |
| Nozzle diameter(s) | 0.35 mm 0.01 in |
| Heated print bed | Yes |
| Heated build chamber | No |
| Automatic calibration | Yes |
| Closed frame | No |
| Dual extruder | Yes |
| Independent Dual Extruder | No |
| Full color | No |
| LCD screen | Yes |
| Touchscreen | No |
| On-board camera | No |
| Mobile app | No |
| 3D scanners | No |
| CNC mill | No |
| Electronics 3D printing | No |
| Laser engraving | No |
| Conveyor belt | No |
| Air filter | No |
| Pellet extruder | No |
| USB | Yes |
| Wifi | No |
| Bluetooth | No |
| SD card | Yes |
| Ethernet | No |

Table of Contents
Felix Pro 2 3D is a simple desktop 3D printer by a Dutch-based company named Felix printers. Pro 2 like pro 1 has user-friendliness, ease of use, and good overall print quality.
In addition to the integrated Wi-fi connection, Pro 2 can act as a hotspot for those who are seeking wi-fi connections. Machines can use Pro 2 to share and control printers remotely. Let's find out more about this printer with the Felix Pro 2 review.
Felix Pro 2 has a 4.3-inch capacitive touch display that allows users to control, monitor, and receive instant feedback on their printing process.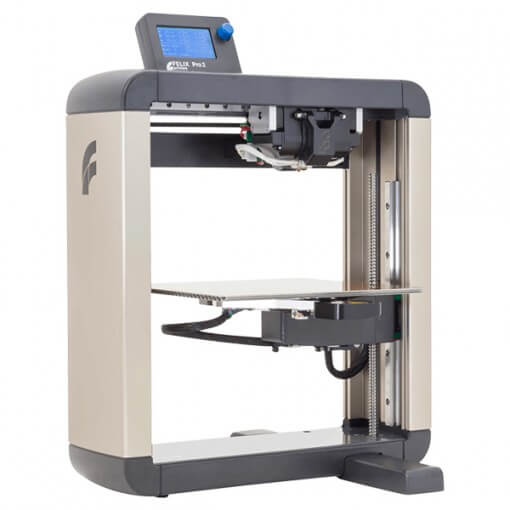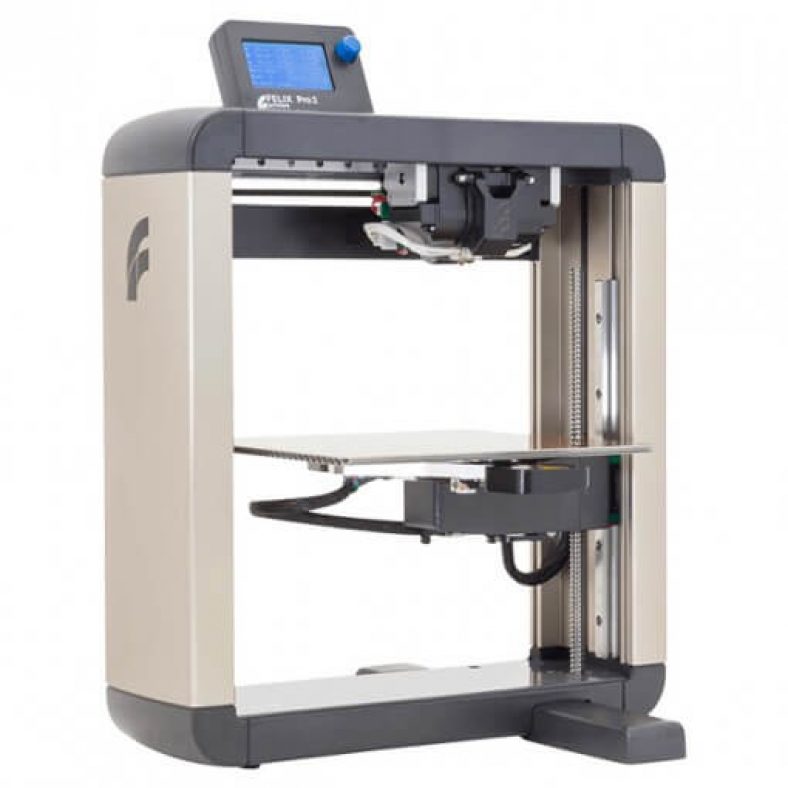 With this 4.3 inch display once can also see video tutorials on how to use the printer and setup itself faster. In addition to the upgrades that are made in Pro 2 than Pro 1, the printer has easily swappable hot ends, these can reach up to 275 degrees Celsius of temperature.
Such a feature allows Pro 2 to have a simple, streamlined multi-color and multi-material printing.
The best-selling point of Pro 2 is that it has no material limitations and also the printer will automatically update when new software is released by the company.
To get into more details about the features, specifications and other qualities of the printer let's have a look into the in-depth review of Felix Pro 2 3D.
Features
Pro 2 includes a detachable build plate, automatic print bed calibration, and filament detection. These features are not easily encountered in the printers that come for the same price as Pro 2 does.
The 3D printer can allow its user to pre-configure his/her slicing profiles, allowing him/her to print on print farm mode. Not to forget, Pro 2 comes with a dual print head system to expedite the printing process.
Last but not the least, Pro 2 is a quiet printer, unlike other printers that make enough noise to damage one's ear during the printing process.
Let's look at these features one after the other in-depth.
Magnetic Quick Swap Build Plate: Felix is known in the market of desktop printing to manufacture printers with build plates that are easily detachable from their printers. Because of this feature, allows quick and safe removal of an object from the build plate. What keeps this build plate in its place is three magnets.
In FDM 3D printing, the heated build plate is extremely important for achieving good quality print of part and functional prototype. This foundation in Pro 2 ensures that the build plate is reliably heated and that the printing of the first layer is done flawlessly.
The build plates of Pro 2 are made up of aluminum which is a standard material in the industry of additive manufacturing for build plates of 3D printers.
Pro 2's build plate remains flat even after countless heat cycles and is stiff enough to not deform. In 1.5 minutes the plate can heat itself to 60 degrees Celsius.
Open Design of The Printer: Felix Pro 2 has an open structure because of which cooling down of parts and prototypes that are printed using the printer is done in just a few seconds. The magnetic build plate and hot ends of the printer can be removed and cooled in just a few seconds.
Overall, Felix Pro 2 produces high precision prints because of its rigid frame that is designed out of anodized aluminum extruded profiles from the 6000 series.
This is the same aluminum that's used in aerospace and military designs. Powder-coated steel frame parts are used to make the frame as rigid as possible.
Intelligent Dual Head System: The dual-head printing gives you an ability to print multicolor parts and functional prototypes using Felix Pro 2. Apart from multi-color, one can print using multi-material. Felix Pro 2 allows you to combine two materials, by coming up with innovative solutions.
Complex structures with soluble support can be made using the dual head system. You can make structures within structures and afterward dissolve the support material.
The extrusion system that comes in Felix Pro 2 is a foldaway system that takes care of the most common problems with dual extruders.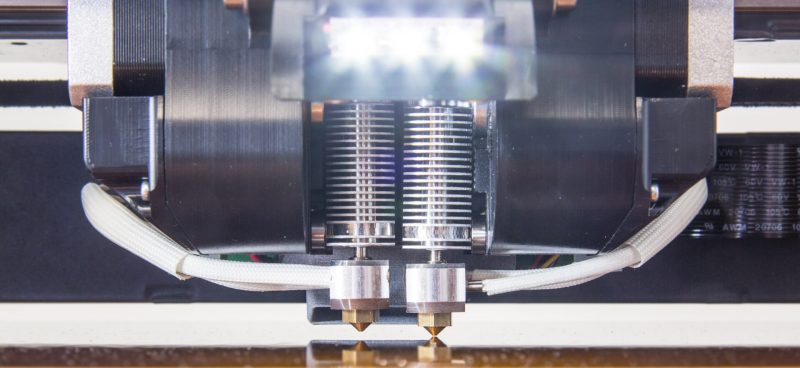 So, the system in this printer prevents leakage of the non-extruders on the object and prevents the collision of the non-used extruder with a printed object. The calibration between both hot-ends is also easy to do in Felix Pro 2 because instead of manual, it is automatic.
Working on both the nozzle is done uninterruptedly. When the first nozzle is working, the second one is flipped back and the first one is kept lower than the second, so, the bed moves up a little bit.
Whilst the second nozzle is flipped forward when at work and is positioned lower than the second one at the same time when the bed is lowered and printing one layer is been done.
Auto Calibration System: To ensure the printing is reliable Pro 2 gives you an option to auto-calibrate the bed to nozzle distance. Because the makers of these desktop printers are very well aware of the importance of equivalency over the complete build surface. Apart from that the makers of Pro 2 also realizes that in FDM 3D printing, the first layer's precision is very important to hold on to.
So, when the distance is too close between the filament and the build plate, it cannot exit the filament and the liquid could get blocked.
And if too far the extruded filament will not adhere to the print surface which will cause the print to fail. So, while auto-calibrating, Pro 2 gets the optimal bed to nozzle distance for the first layer. Apart from these two distances, Pro 2 also adjusts the height difference between two hot-ends automatically.
Specifications
Pro 2 is based on FFF technology and comes with swappable build plates that are magnetically detachable and can withstand temperature up to 105 degrees Celsius.
This build plate is fully automatically motorized. The build speed of the printer is 18mm per second while printing with a nozzle with a diameter of 0.35 mm.
Felix Pro 2 has two nozzles with an intelligent dual-head nozzle system, the XY resolution of the printer is 1.6 microns, while the Z resolution of the printer is 0.15 microns.
The nozzle temperature that can be achieved by Pro 2 is 275 degrees Celsius and the heat time is 200 degrees Celsius in one minute.
The build volume of the printer is 237 mm * 244 mm * 235 mm. Unlike other printers of the same price range, Pro 2 produces sound only up to 34 DBA while printing process.
So, it's not that noisy. You can also print using third party filaments up to a filament diameter of 1.75mm.
Pro 2 supports PLA, PETG, ABS, PVA, and any other filament that melts under 275 degrees Celsius.
Price
Felix Pro 2 is priced at $2354. The company's primary target for this printer is small businesses. Seeing the features that the printer comes with like dual extruder, swappable print heads, and magnetic print bed, the price is justified.
The only downside of this printer is its open body because of which one can operate with this printer at his home if there are kids around.
Another issue is the surrounding temperature. You need to ensure that the workplace from which this printer works is enclosed and doesn't have much temperature difference otherwise the printing temperature can get affected.
First Impression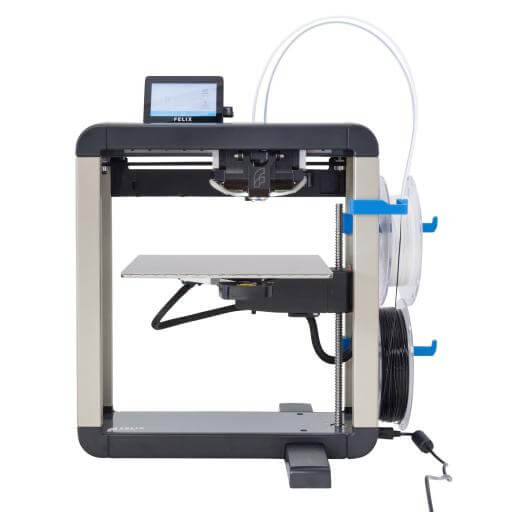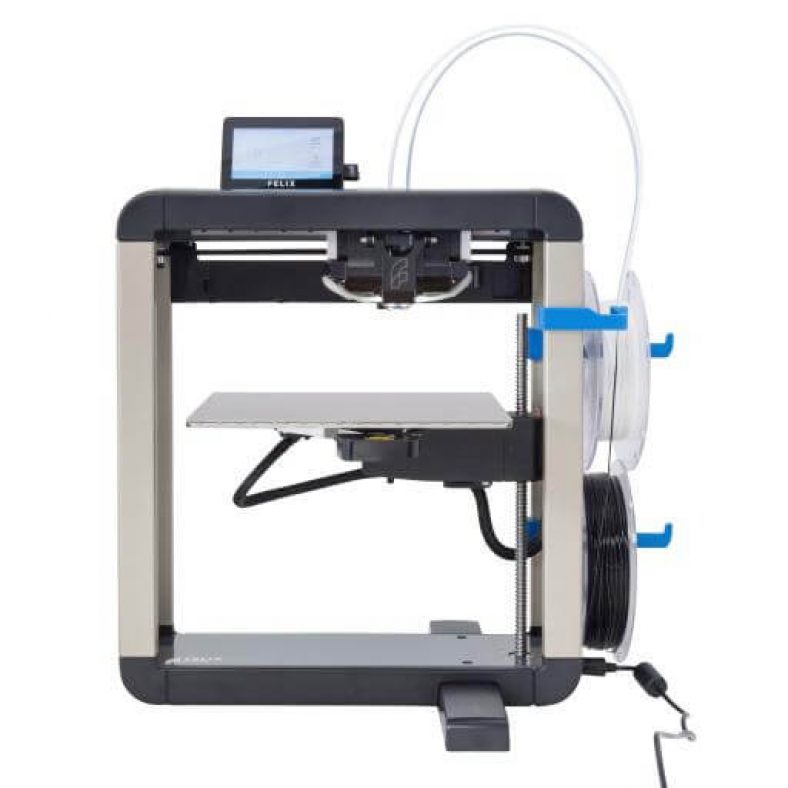 Pro 2 is an open body 3D printer based on FFF technology. Felix Printers have kept this printer open seeing its predecessor and competitors in the desktop 3D printer market.
It is easy to monitor the printing process, you don't need any camera to tell if something is going wrong. The touch screen interface can allow you to operate and stop the printing process to correct what's going wrong.
Although the printer has an open-body there are hardly any complaints about the printing process getting interrupted.
Because this printer mainly targets small businesses, professional designers, and engineers who are well aware of the safety concerns when a 3D printer has an open body. Pro 2 comes fully assembled with swappable print beds and a touch screen over the top.
One can have a look into the tutorial videos that come loaded on the screen if he/she is confused about any aspect of the printer. Also, the printer has a dual extrusion system which allows it to print faster than its competitors which comes with a single extruder.
Setup
As Pro 2 comes fully assembled, there is hardly any time taken in setting it up. You can take it to the corner of your house where you wish to keep it and unbox it. Or if you are a small business owner, you can directly unbox it at its workplace.
For those who do not have any experience with 3D printing or printers, the printer comes with a manual that has stepwise instruction, how to operate which part of the printer.
One can read it to ensure the setup is completed and then start the printing process. Felix also has an amazing support team if anything goes wrong in setting up.
Print Type/Cost
According to the material variability offered by Pro, it's amazing that such a desktop 3D printer is available in such a price range. FDM is the most used technique for 3D printing of complex parts and functional prototypes.
The cost of operating this printer can be divided into two parts, one is the material that you wish to print with and the other the amount of electricity it consumes.
Print Quality
Apart from printing very complex geometries, Pro 2 can produce a great level of layer resolution in all the parts and prototypes that are printed using it.
It is only because of its open built up that the printer is sometimes inefficient in printing very complex parts and prototypes.
Software
Simplify 3D is completely compatible with the printer, so, you can slice your files using this software. Another option is Repetier which is freely downloadable. Apart from that Felix printers have kept it open-sourced so that you can print using other third-party software also.
Operating systems, windows 7 and above them, Linux and Mac can be used while operating the printer using a computer. The printer also allows you to connect using a micro SD card and USB.
Customer Service
Pro 2 comes with a 12-month warranty from its manufacturer for parts apart from swappable hot-ends. Felix printers offer expert technical support via email, phone, and Skype for a lifetime.
The extended support includes online support pages, manuals, tips, and tricks to get the most out of this printer.
There is a small tool kit, power supply unit, AC power supply card, USB cable, micro SD card, micro SD USB reader, 12-month warranty, and quick start guide that comes along with the printer.
Parameters Influencing Buying Decision
For buying Pro 2 you must look at its cost, overall speed, capability, practicality, quality, and then only you can build your expectations accordingly.
3D Printer Cost: The price range that Pro 2 comes in, is the perfect one for small businesses and academic institutions. Also, designers and engineers in this field can buy it with immense reliability.
3D Print Quality: Because of the auto-calibration facility all the less precise arrangements can be done more accurately using Pro 2 than its competitors.
3D Print Speed: Swappable print heads, allows you to speed when printing continuously.
3D Printer Capability: One can print for a longer time than Pro 2's competitors, which makes it ideal for small businesses.
3D Printer Practicality: The fact that the printer is based on FDM technology makes it completely practical for desktop 3D printers.
3D Printer User Expectations: Felix Printers have kept Pro 2 open-sourced and compatible with third-party filaments. This is keeping in mind all kinds of users.
The Verdict
Overall, Pro 2 can be tagged as "a printer that is compatible with every class of user." Whether you are a beginner in 3D printing technology, an intermediate or a professional, this Felix Pro 2 review would help you understand the perks of this machine for your skill level.