We live in a world where technology has started ruling most aspects of our lives.  It has taken the place of manual labor and made the lives of many people and companies easier as it saves time and energy, and helps us be more efficient.
The market is brimming with complex and innovative structures, and in this buying guide, we will be paying attention to full-color 3D printers, which have tremendously peaked since their introduction in the 1980s in the realm of technology.
These days, modern 3D printers allow you to make high-quality designs, parts, and prototypes in less time and energy and reduce material waste.
Nowadays, companies like to invest in machines that are high-speed and user-friendly, while producing remarkable results.
There are many modern full-color 3D printers for you to choose from that adhere to your needs and can help you make your ideas breathe. Check them out below.
What Are Full-Color 3D Printers And How Do They Work?
Full-color 3D printers allow you to fashion objects in various sizes, colors, and shapes. You can produce lightweight parts that are strong and flexible enough to be molded in any way possible.
These printers allow you to test your innovation and creativity and come up with original results, which can help you market your products, leading to a flourishing business.
What Are The Benefits Of Full-Color 3D Printing?
Full-color 3D printers are one of the top choices for people who want to make colorful metal objects. They are frequently bought by designers, architects, toy manufacturers, makeup artists, and used in industries like entertainment, furniture, interior design, engineering, education, and medicine.
To operate a full-color 3D printer you do not need any other expensive machinery or labor, as you can simply learn and operate on your own. They are used for producing on-demand products, for presentations, and by hobbyists as well.
Comparison Chart
| Name | Link | Nomination | Overall Rating |
| --- | --- | --- | --- |
| BIQU B1 | | Beginner-friendly | 7 |
| XYZprinting da Vinci Color | | Wide range of colors | 8.5 |
| XYZPrinting PartPro350 xBC | | Appealing design | 7.5 |
| 3D Systems ProJet CJP 660Pro | | High-speed printing | 7.5 |
| Stratasys J850 Pro | | Very flexible | 8.5 |
| HP Jet Fusion 580 | | Most durable | 8 |
| ComeTrue T10 | | user-friendly | 7 |
| M3D Crane Quad | | Good for beginners | 7 |
| OVE 3D Printer | | Intelligent interface | 7 |
| 3D Chameleon | | Easy to use | 7.5 |
| ORD Solutions RoVa4D | | Most multifaceted | 9 |
| Rize XRIZE | | Overall Best | 9 |
| Mimaki 3DUJ-553 | | Most versatile | 7.5 |
| Redbrick3D MCOR ARKe | | Good quality prints | 7 |
| ORD Solutions RoVa3D | | Compatible with most materials | 8.5 |
Best Full-Color 3D Printers to Purchase
BIQU B1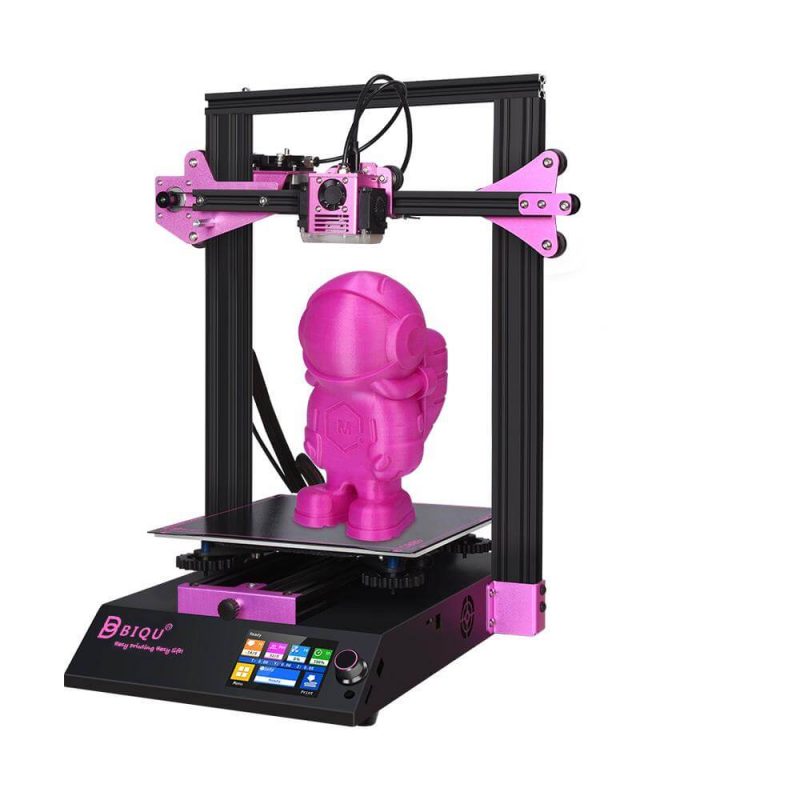 The BIQU B1 3D Printer is a beginner-friendly printer that is similar to the Prusa I3's built. It comes with a built-in high-performance 32-bit SKR V1.4 controller, a TMC2225 driver, a full-color touchscreen (3.5-inches), and an SSS spring steel bed.
It is upgraded with a brand new extruder, which highly decreases troublesome extrusion and plugging risk.
The printer is smart in the sense that its filament detector can automatically detect in case filament runs out and automatically pauses and continues when the filament is loaded again.
This full-color 3D printer's build volume is 235 x 235 x 270mm. The B1 3D printer is compatible with PETG, PLA, and ABS material types. It also supports U dish printing and TF cards.
Uses:
This printer's chartered interface is compatible with the consumables detection module and bLtouch.
Is integrated with an adapter board which is best for the safety of your printer.
You can simply swap the color of the nozzle and the adapter plate can be casually changed (7 colors in total).
The updated version of the SSS spring steel plate applied is not disfigured. You can easily remove the model once it has cooled down after printing.
Disassembling the motherboard is not required.
PROS:
Due to its TMC2225 Ultra-Silence stepper motor drives, it does not make a sound
The printer supports multiple languages
XYZprinting Da Vinci Color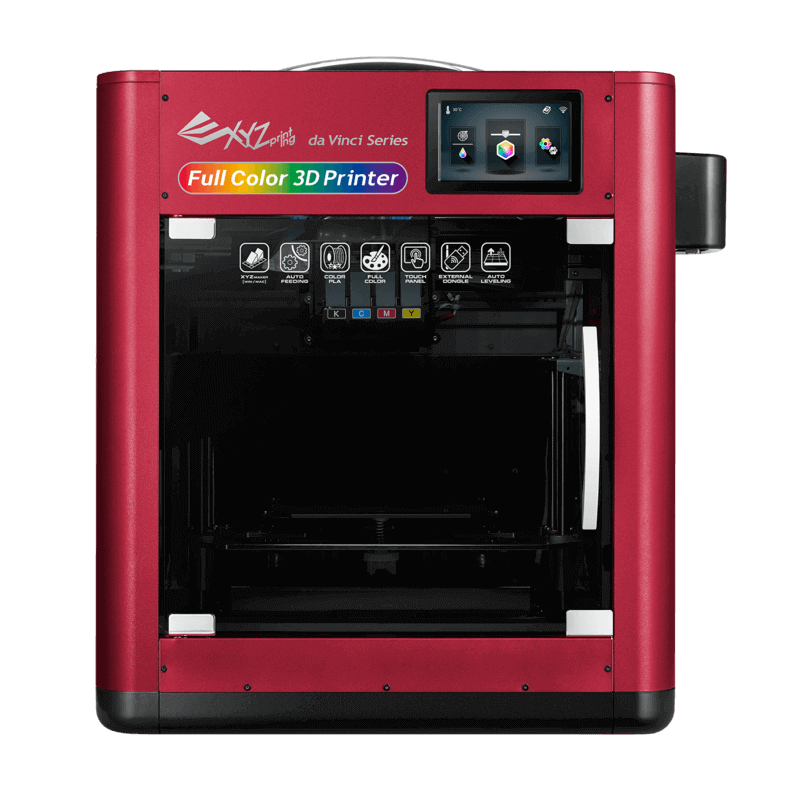 The da Vinci Color employs 3D ColorJet technology that integrates inkjet printing with fused filament fabrication (FFF) 3D printing so you can make full-color prints.
This blends the CMYK inkjet technology to release color onto each layer of PLA filament, which allows the da Vinci Color to surround the complete spectrum of color. The printer has a big print volume (7.9″ x 7.9″ x 5.9″).
Uses:
The Da Vinci Color's resolution is 100-400 microns and its maximum print speed is 140mm/sec.
It is equipped with a hands-free, auto-calibration system which means the motor will automatically move itself to ensure that the gap between the extruder and the print bed is on point.
Comes with a magnetic detachable print bed, which can easily detach the prints without much probing and this enables users to fashion incredible full-color prototypes and models, or even assist them to establish their own full-color printing enterprise.
This printer lets you send 3D files from your computer to the 3D printer, wirelessly. You do not need any lines or cables, only your local area network.
PROS:
Comes fully assembled
16 million different shades of color
CONS:
Inks might dry out too quickly
XYZPrinting PartPro350 xBC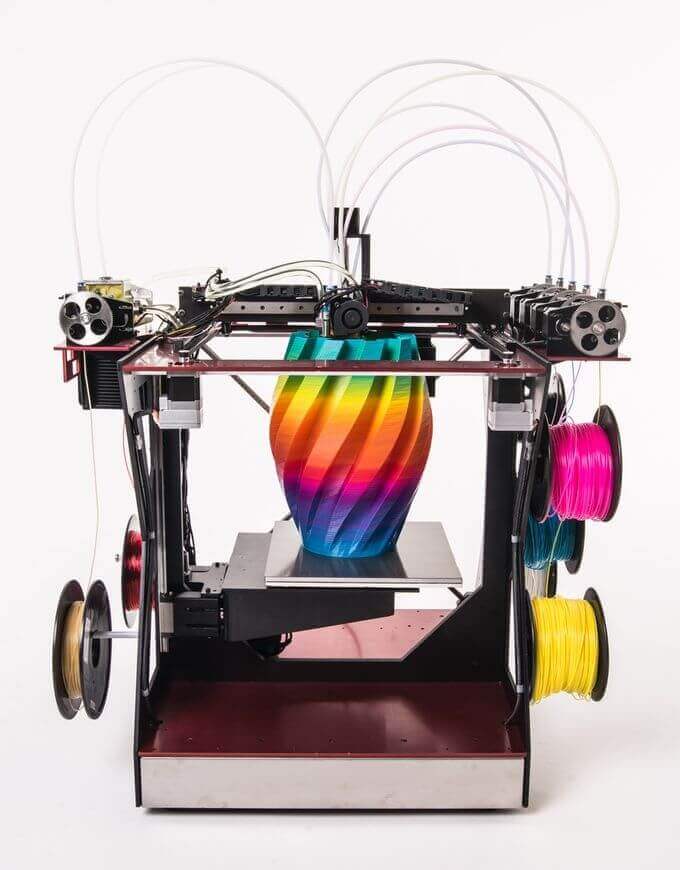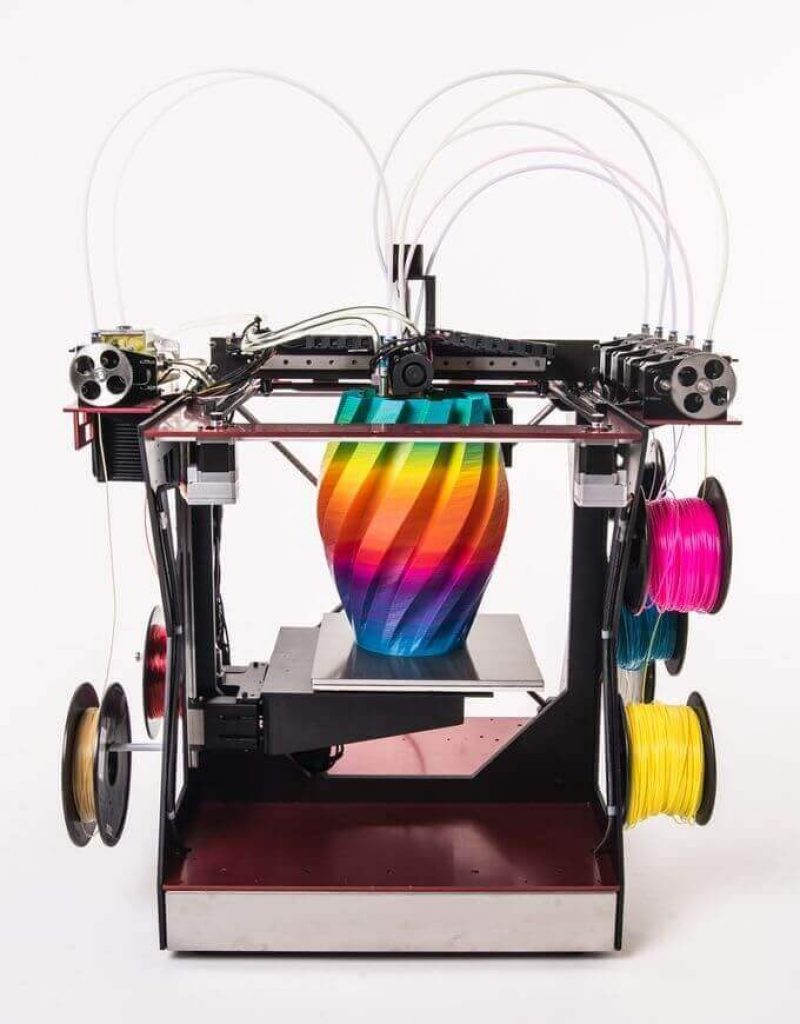 The PartPro350 xBC full-color 3D Printer applies the Binder Jetting technology, which uses liquid binders that are responsible for efficiently mixing metal, ceramics, and sand.
This technology is employed in the manufacturing of foundry cores and molds, which are used for pouring with liquid metals. With it, you will be able to print cortical 3D models.
The PartPro350 xBC is integrated with Binder Jetting technology, which lets you print superior quality 3D models in full color, no matter how complex the geometry.
The XYZPrinting PartPro350 xBC's print volume is 222 x 350 x 200 mm.
Uses:
Equipped with a detachable build tray module that allows its users to print effortlessly, you can replace a new build tray right into the machine to bring a new print immediately. The detachable print tray also gives a cleaner solution for powder removal.
Comes with BCPware due to which you can slice your drawing by using two modes to print efficiently. With these modes, there are two options: slicing and printing, and slicing first then printing later.
The XYZPrinting company supports an extensive range of materials and enables you to choose from the right material for external components and parts.
The PartPro350 xBC 3D Printer is compatible with materials like the BuiltPro Powder which lets you, fashion models, in full color and best quality.
PROS:
Has vertical building speed of 18mm per hour with full-capacity building
Compact and appealing design
Heavy and sturdy
CONS:
It is not suitable for beginners
3D Systems ProJet CJP 660Pro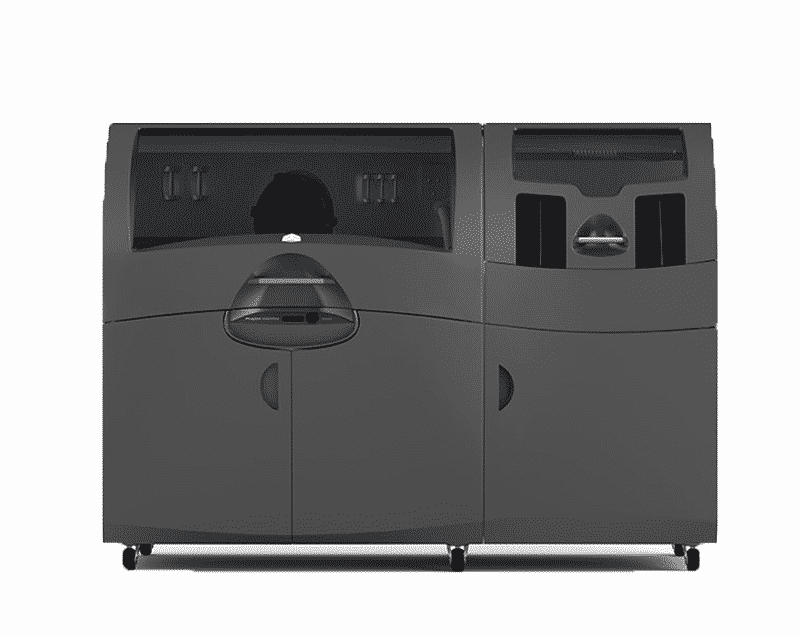 This full-color 3D printer integrates professional 4-channel CMYK full-color 3D printing to manufacture stunning and photorealistic full spectrum prints to beautify your designs and give the best results. It is equipped with multiple print heads that give a wide range of beautiful colors and gradients.
The ProJet® CJP 660Pro is up to 5 to 10 times faster than other full-color 3D printers so you can create large or numerous models at the same time in a few hours.
You will be able to increase throughput with its stacking and nesting features and choose the Draft-printing mode to print up to 35% faster.
It is ideal for architects, consumer product design and development, education, medical models, stop-motion animation, professional model shops, fine art production, and more.
Uses:
Comes with a separate black print head; the black does not need to be mixed from the other colors, as in the smaller models. This means that the three print heads for the colors cyan, magenta, and yellow can focus on the mixing of brighter colors and the black print head can be used for darkening and printing the black color.
The fifth clear print head of this printer creates white surfaces and solidifies the component interior.
Has a 5 to 10 times faster production which enables it to produce multiple components in the same manufacturing period as a single component.
PROS:
Fast, accurate, high resolution and uses eco-friendly, non-hazardous materials with zero liquid waste
Large build volume of 236 × 185 × 127 mm
Stratasys J850 Pro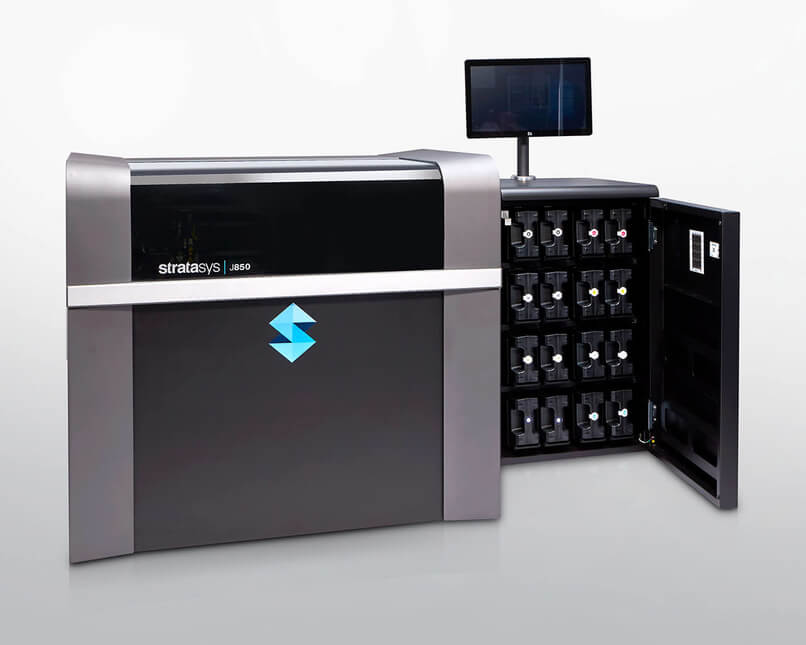 Stratasys's J850 from Stratasys, is a full-color 3D printer that is the definition of flexibility and transparency. It is ideal for designers who want to work with various materials at once.
The best thing about this J850 is that it is compatible with PANTONE-certified colors for increased authenticity in prints and reliability in all the different stages of the 3D printing process.
The printer has a large build size (490 x 390 x 200 mm), it produces a layer thickness of 14 microns, and above 500,000 colors are there for you to choose from. You can also use an infinite quantity of composite materials.
Uses:
Is integrated with a workstation and touchscreen which makes it easy for you to monitor and tailor your prints.
Its brand-new material cartridges allow increased capacity (4000g) that give way to more reliability and decreased waste.
Stratasys has introduced Super High-Speed Mode on the J850, which uses the DraftGrey material with (still very fine) 0.002" slice heights. Your parts can be made 2x faster and 7x faster than the High-Quality mode.
Comes with 5x more design redundancy as compared to conventional 3D printing methods.
This printer jets super-thin layers of 20-85 microns for features below 50 mm and can go up to 200 microns for full model sizes.
PROS:
Can 3D print with up to 7 base resins at a time
You will be able to print with clear, rigid, flexible, and opaque materials as well
HP Jet Fusion 580
Product
Specification
Videos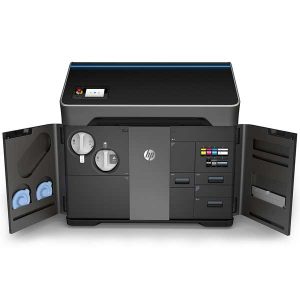 Able to use eight different chemical agents at once, HP Jet Fusion 580 3D printer allows for highly detailed and precise objects with full-colour ...
| | |
| --- | --- |
| Model | Jet Fusion 580 |
| Manufacturer | HP |
| Price Range | $ 50000 – $ 100000 |
| Release date | 2018 |
| Country | United States |
| Availability | Available |
| Classification | Industrial |
| Technology | Binder Jetting |
| Material | Other plastics |
| OS compatibility | Microsoft Windows |
| Max. build size | 190 × 332 × 248 mm 7.48 × 13.07 × 9.76 in |
| Max. build volume | 15.64 L |
| Min. layer thickness | 0.08 mm 0.003 in |
| Dimensions | 1565 mm 61.61 in |
| Heated print bed | No |
| Heated build chamber | No |
| Automatic calibration | No |
| Closed frame | Yes |
| Dual extruder | No |
| Independent Dual Extruder | No |
| Full color | Yes |
| LCD screen | No |
| Touchscreen | Yes |
| On-board camera | No |
| Mobile app | No |
| 3D scanners | No |
| CNC mill | No |
| Electronics 3D printing | No |
| Laser engraving | No |
| Conveyor belt | No |
| Air filter | No |
| Pellet extruder | No |
| USB | No |
| Wifi | No |
| Bluetooth | No |
| SD card | No |
| Ethernet | No |

With Jet Fusion 580, you can create engineering-grade thermoplastic prints with high-quality mechanical properties. It allows you to produce detailed and high-dimensional prototypes.
Uses:
This smart printer automatically combines fresh and reusable material and deposits it into the print area. All agents are directly deposited into the print area as well.
Once the printing is done, it automatically withdraws and retrieves the unmixed material for future use, which enables you to work with up to 80% recyclable material in your prints.
You will be able to work with full-spectrum color and voxel-level control.
PROS:
Can average up to 100 parts per week
Great for entrepreneurs, universities, design studios, and R&D teams
CONS:
Might not be able to print large parts due to its low build volume (190 x 332 x 248 mm)
ComeTrue T10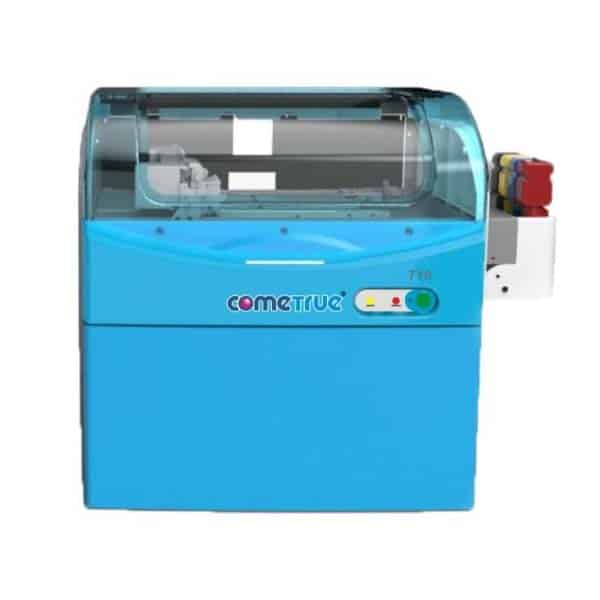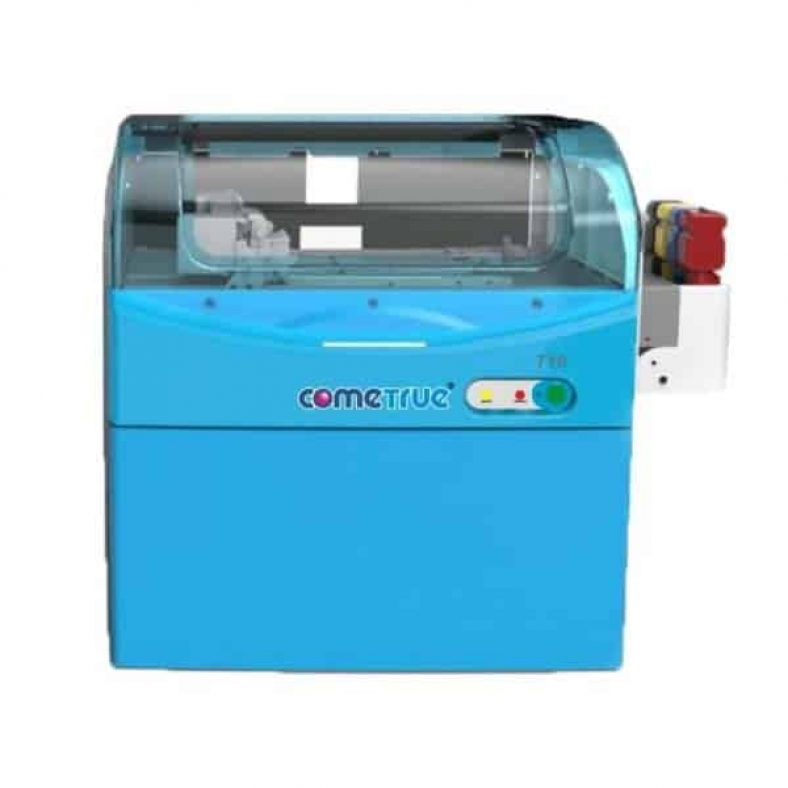 ComeTrue, a printer manufactured in Taiwan, is an ingenious full-color 3D printer incorporated with MicroJet's own designed technologies; ComeTrue Binder Jetting (CBJ), its own print engines, software, and print head.
It uses the ComeTrue Print software to slice your 3D files. The printer is able to produce supreme quality prototypes, bio-medical parts, art models, figurines, architectural parts at a faster speed.
Uses:
This printer constructs parts layer-by-layer by setting down a liquid binder onto fine layers of composite powder. The completed print will then be permeated with various infiltrates to make your finished parts polished and durable.
Is able to make complex and geometrical parts that may be impossible to manufacture by hand or without the added time and material costs.
You can print in full CMYK colors with a stunning sandstone-like matte finish. If you want a glossier finishing, you just have to add the ceramic powder to the printer.
PROS:
Is very fast; prints at a speed of 20mm/s
Cost-effective
Lightweight and compact
CONS:
Low build volume for its price (200 x 160 x 150 mm for $30,000)
M3D Crane Quad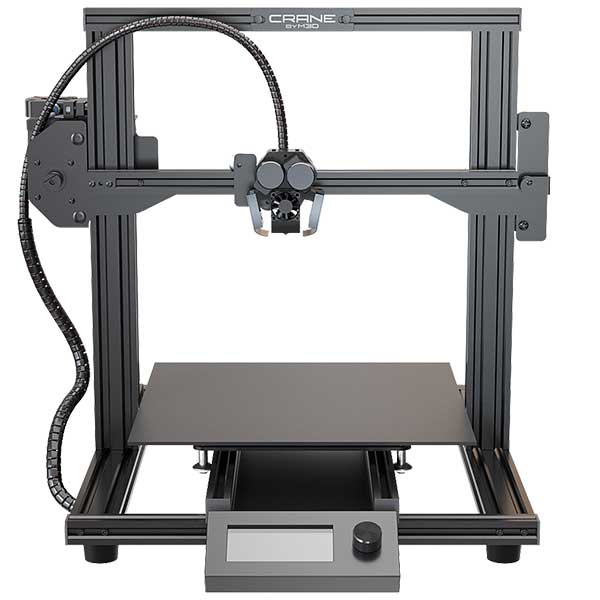 With the m3D Crane Quad, you have the liberty to print with up to 50,000 different colors by combining the Cyan, Magenta, Yellow, and Key (CMYK), which is one of its best features.
Its technology is different from most full-color 3D printers as it fuses the FDM filament directly in the nozzle.
In addition, with this printer, you are free from painful bed calibration. It has a large build volume of 214 x 214 x 230 mm.
Uses:
Apart from the CMYK filaments, its main filaments can either be White, Black, or Transparent. If you use white, it will lighten the colors and produce different tints. By using black you can darken the shades, and applying the clear formula can give your print degrees of depth and transparency.
The printer is able to 3D print with various materials, which means you can blend many filament types to produce a brand new material.
You will be able to operate and print your 3D models via its incorporated micro USB connection or microSD card.
PROS:
The large print bed is sufficient for almost any project.
Cost-effective.
OVE 3D Printer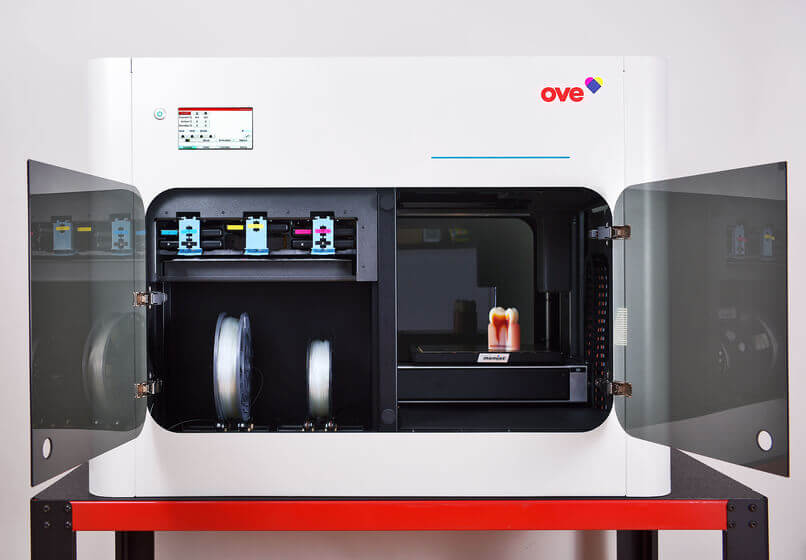 OVE is a smart full-color 3D printer that is integrated with a Memjet print head, which adds ink to each layer of thermoplastic material being used. The process of coloring starts as soon as the first pass of the print bed takes place.
It has a build area of 210 x 300mm and is able to print up to 300mm on the Z-axis. The printer is best for use in education, medicine, architecture, the entertainment industry, heavy industry, and marketing.
Uses:
With the Memjet technology, the printer is able to extrude objects layer by layer through a filament-powdered thermoplastic device. The whole print platform is then quickly shifted to the area where it deposits under the Memjet print head.
Due to the above-mentioned process, the outside of your product is colored as well.
Comes with a transparent filament type that adds dimension and gloss to your finished product.
PROS:
Fast printing
Very high-quality prints with stunning colors
CONS:
Cost is less than 10K Euros which might be too much for a filament 3D printer
Not suitable for beginners or hobbyists
3D Chameleon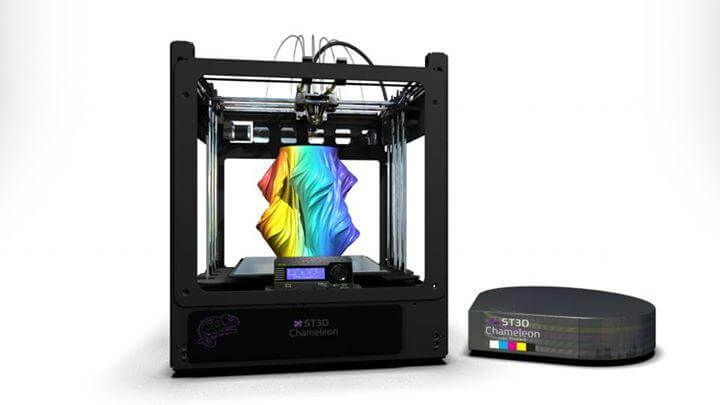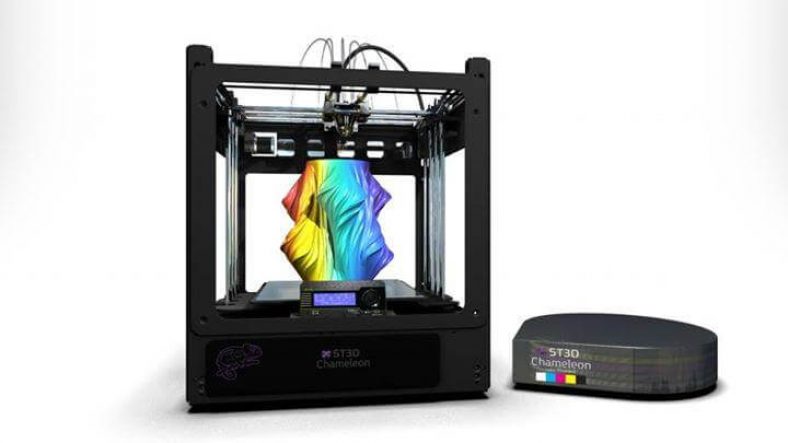 The 3D Chameleon is a DIY full-color 3D printer that enables the use of all standard plastic materials, like PLA and ABS, and supports various open machines such as Creality, Prusa, and Alfawise.
This printer comes with a large build volume of 300 x 300 x 340 mm and a heated build platform.
Uses:
Comes with a full-color single nozzle that is able to 3D print with hundreds of beautiful colors, which is made possible because of SOMETHING 3D's proprietary WCYMK cartridge.
Prints parts with CMYBW (Cyan, Magenta, Yellow, Black, and White).
Compatible with USB 2.0-3.0 to Mac, PC, and SD card connectivity.
Has a 50-micron layer thickness and 0.5 mm wall thickness.
Due to its mechanical hardware, this full-color 3D printer automatically detaches and reinserts filaments when it detects a color change.
PROS:
Its print speed is up to 70-100 mm/s
Requires no tempering of your electronics or firmware
Easy Plug and Play installation and takes less than 1 hour to be completely installed
CONS:
Requires frequent maintenance
ORD Solutions RoVa4D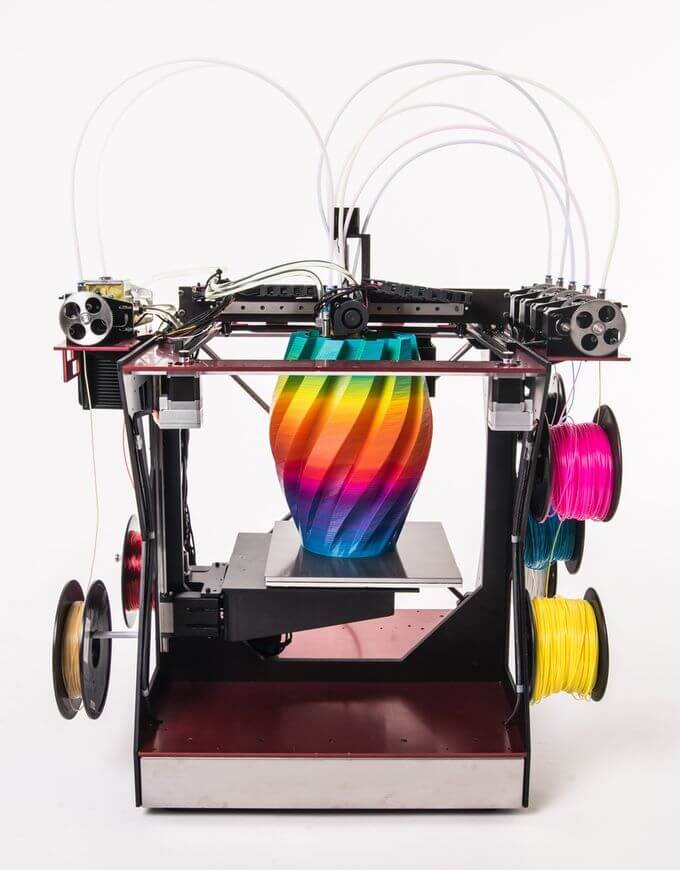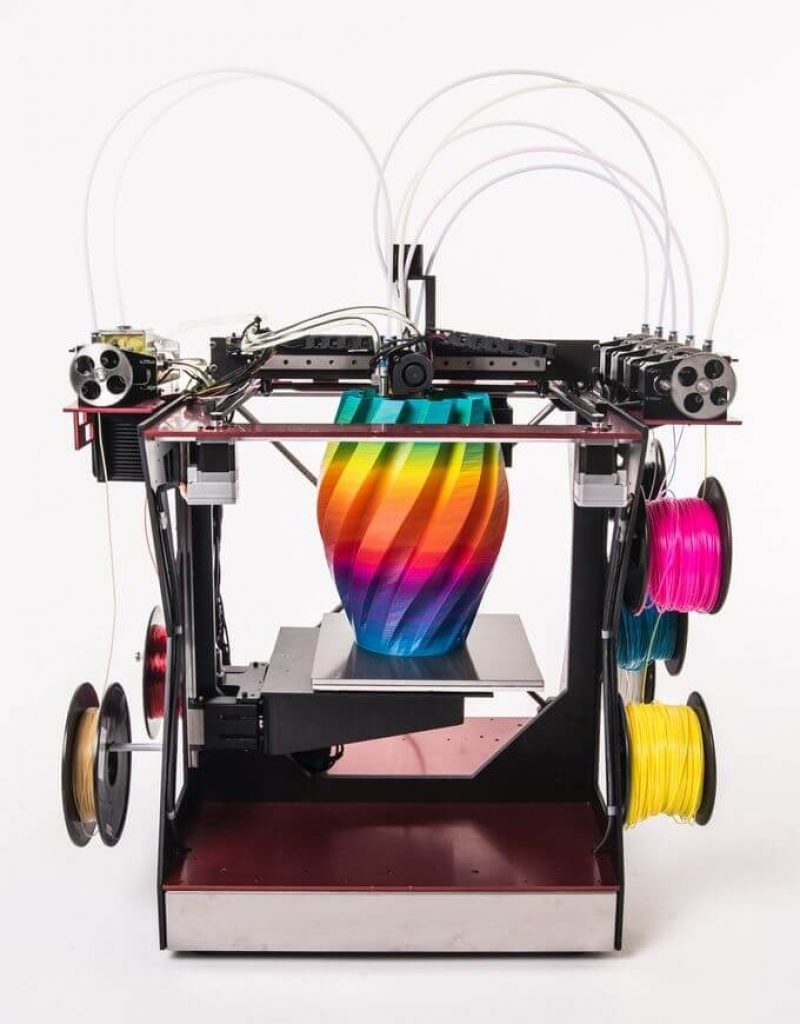 The Rova4D is the latest full-color 3D printer by the Canada-based company ORD Solutions. It has five spools and a print head that supports printing using various colors and materials (flexible to soluble).
It mixes the CMYK colors (cyan, magenta, yellow, black, and white) in a single nozzle to achieve your desired results and produce high-quality prints. This printer has a build volume of 120 x 120 x 180 mm.
Uses:
Comes with three separate hot ends; one is able to print in any color, shade, hue, tint, or tone. The second hot end prints with flexible materials like NinjaFlex, and the third one is able to print materials that are used to high temperatures, like dissolvable support material. With this printer, you will be at liberty to switch between all 3 hot ends during a single print job.
Apart from CMYKW, you also have the option to apply the Transparent Filament into the mixing chamber through which you can achieve different degrees of opacity, which means you can switch it between or from entirely opaque to entirely transparent.
This full-color printer is equipped to mix CMYK+W to make any color in the spectrum.
Can easily blend PLA-formed materials from hard to soft or your desired hardness.
It is able to mix five different materials into one pending hot end and they are able to produce new material.  This means that you can altogether produce hybrids of each one and the same process can be applied to colors. You can create new materials with new properties.
With this printer, you can print with any color you want. You can match a color to a picture and the colors will be corrected instantly without you having to go through the trouble to shop around.
You can select any picture and turn it into a model. For example, you can choose any photo or a logo that you may have saved or designed, and tailor it into a block or a vase, etc.
PROS:
Certified PANTONE colors for perfect consistency
No post-processing needed
Very sturdy
Rize XRIZE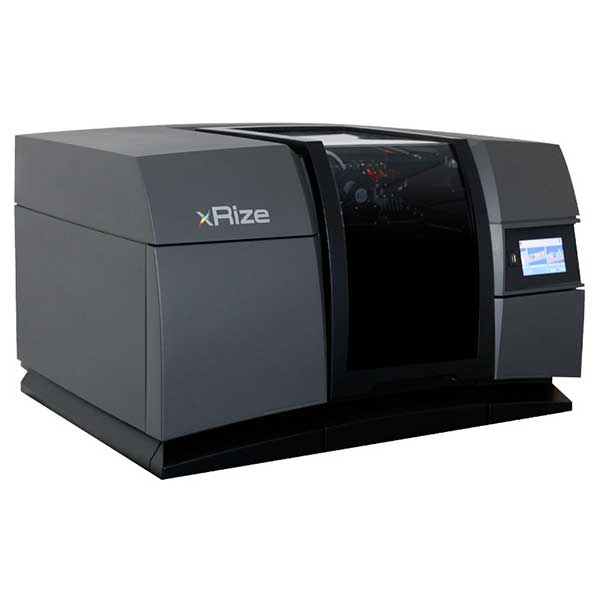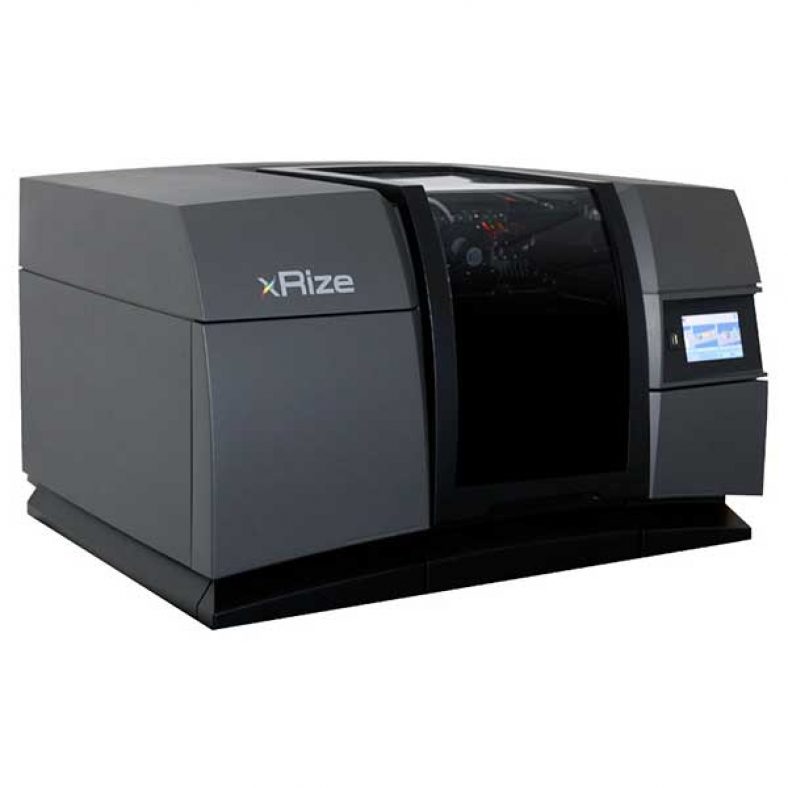 The Rize XRIZE fuses two different technologies to achieve full-color parts that are mechanically sound.
It is a unique printer that applies a hybrid technique known as the Augmented Deposition that fuses extrusion-based 3D printing with jetting technology similar to that used by traditional 2D printers.
This full-color 3D printer simultaneously produces CMYK (cyan, magenta, yellow, black) inks through print heads to add color. The XRIZE can manufacture 3D parts in full, voxel-level color.
It has a 310 x 200 x 200mm; large build volume which is reasonable enough for a wide range of applications.
Uses:
This full-color 3D printer suits greatly for industrial uses like parts for tooling, packaging, anatomical parts, props for campaigns, consumer goods, FEA and stress analysis, topography mapping, and much more.
Equipped with CMYK and marking ink, it can be used for adding instructions, safety warnings, QR codes, and other graphics for your finished print.
The XRIZE also comes with a special Release Ink to split the actual part from automatically generated support structures, enabling producers to effortlessly strip away the support material once the printing is done. This, in turn, decreases the need for post-processing.
Is also equipped with RIZE XRIZE which is the manufacturer's proprietary OneTouch software that lets its users include images, texture maps, and texts to monochrome part files.
Is made to use a wide range of materials such as RIZIUM CARBON, RIZIUM ENDURA, RIZIUM ONE & BLACK, CMYK & Marking Ink, RELEASE ONE.
PROS:
Cost-effective
Stunningly vivid colors in prints
CONS:
Not suitable for beginners and hobbyists
Mimaki 3DUJ-553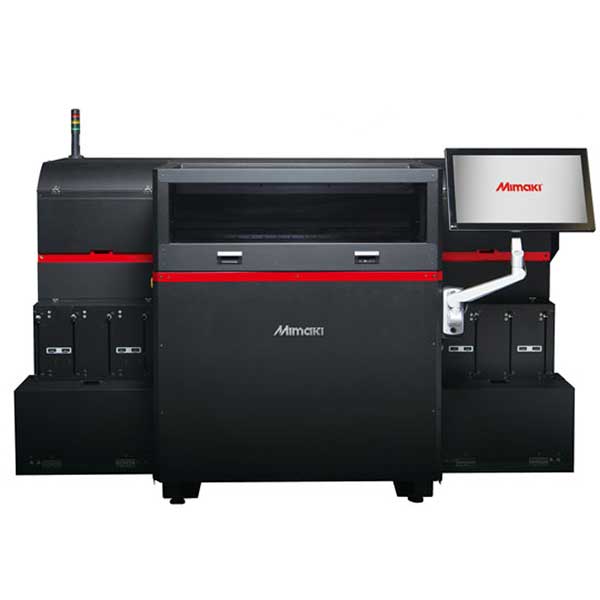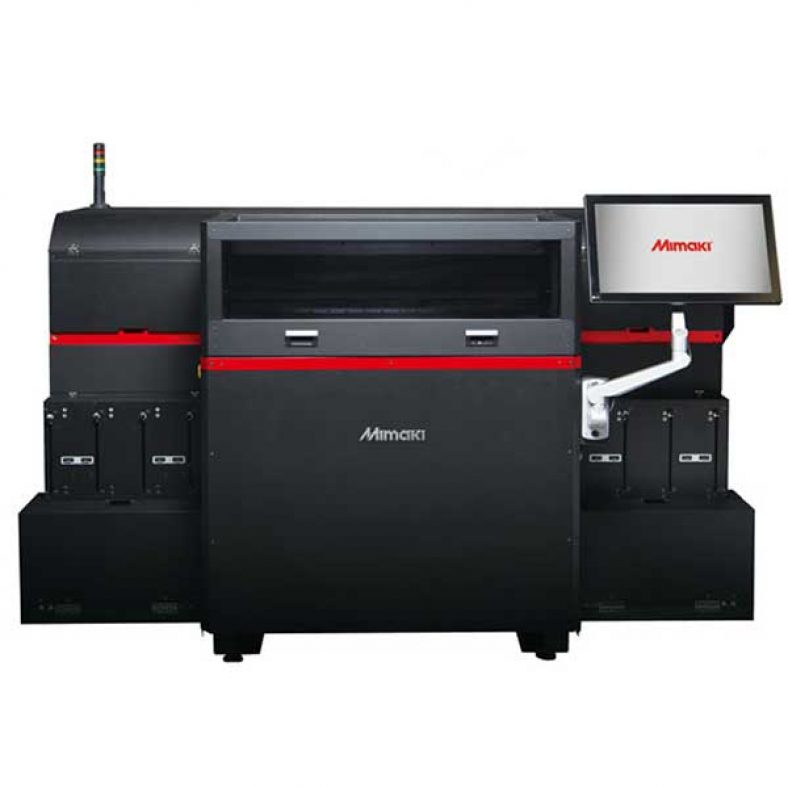 This 3D printer by Mimaki has established its full-color modeling and is the holder of the world's first printer having over 10 million colors based on Mimaki's developed technology of 2D inkjet printers for professional use.
It also features the world's first-ever technology to apply color profile as a 3D inkjet printer. By applying a color simulation profile created by [MPM3] to Adobe Photoshop, the color that is going to be printed will flash on a PC monitor.
Whichever color is being displayed on the PC monitor can reach the object itself. This will save time that might be wasted in color adjusting.
All of its features and uses make it a truly unique and smart full-color 3D printer
Uses:
It has the ability to work with clear ink and color ink combined; by giving your object a translucent color expression by simultaneously applying clear and color ink. The option of clear ink masters the effect to show a different perspective once the object is lighted from its inside. This incredible combination widens your design range.
The 3D printer's sharp ink droplet placement ensures detailed finishing in your print jobs.
Acrylic resin coating will allow strong weather resistance and enough strength to manage the created object and also give it a brilliant finish due to the overcoating.
In case it senses a nozzle clogging, its Nozzle Check Unit (NCU) automatically cleans and eliminates clogging and forestalls modeling upon detection.
It has an inner camera that is fixed for operating your 3D prints and monitor them from the remote area so you can minimize printing errors.
PROS:
The large print volume of 508 × 508 × 305 mm (20 × 20 × 12 in)
Water-soluble support material
CONS:
Might not be cost-effective
Redbrick3D MCOR ARKe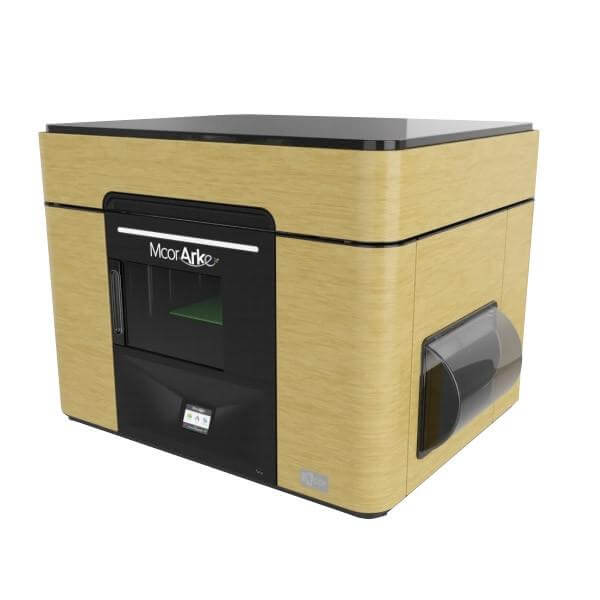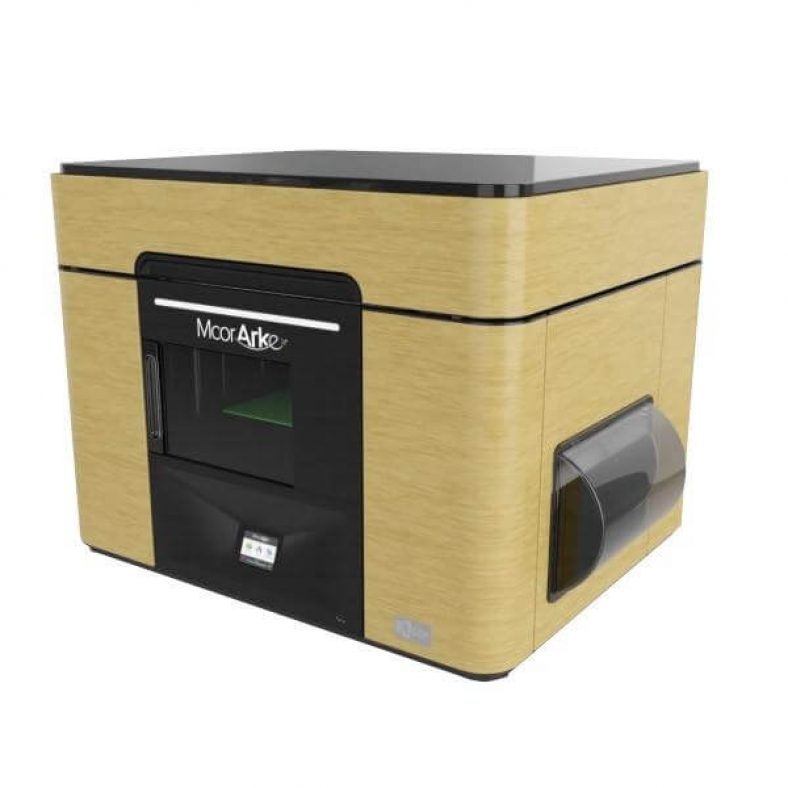 The Mcor ARKe, made in Ireland, is one of the most intelligent full-color 3D printers in the industry. It is an eco-friendly, plug-and-play printer that can fit into your classroom, office or your study due to its compact and minimalist design; it is 34.4 x 22.8 x 23.6 inches (87.3 x 57.9 x 59.9 cm) and weighs only 110 pounds.
With a large build volume of 240 × 205 × 125 mm, it produces "what-you-see-is-what-you-get" (WYSIWYG) colors because of its ICC (International Color Consortium) color mapping technology from which you can create stunning photorealistic prints.
The printer is suitable for industrialists, medical professionals, manufacturers, movie makers, educators, architects, manufacturers, planners, and strategists. It is an ideal full-color 3D printer for professionals.
Uses:
Equipped with Selective Deposition Lamination (SDL) technology, which uses a roll of paper as its construct material, the inkjet print head of this 3D printer colors the paper and then fashions it into specific shapes. It then glues the sheets of paper together layer by layer.
Has a  DPI of 4800 x 2400.
It applies to paper and water-based glue to make gorgeous 3D prints which means that no hazardous finishing compounds or chemicals are used that might harm the environment.
Is installed with  MCOR Orange software which supports both Windows and Mac OS X.
 Comes with a free MCOR mobile app that allows you to share and monitor your print designs directly from your Android or iOS smartphone.
PROS:
Completely recyclable printer
The inkjet CMYK color printing technology works with regular paper as well
High-resolution prints
CONS:
Expensive
May release harmful vapors if overheated
ORD Solutions RoVa3D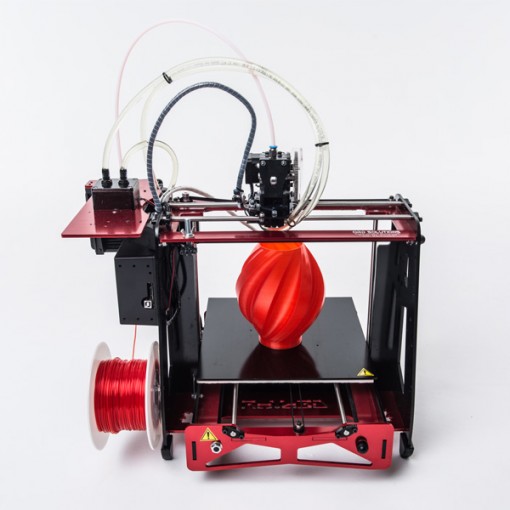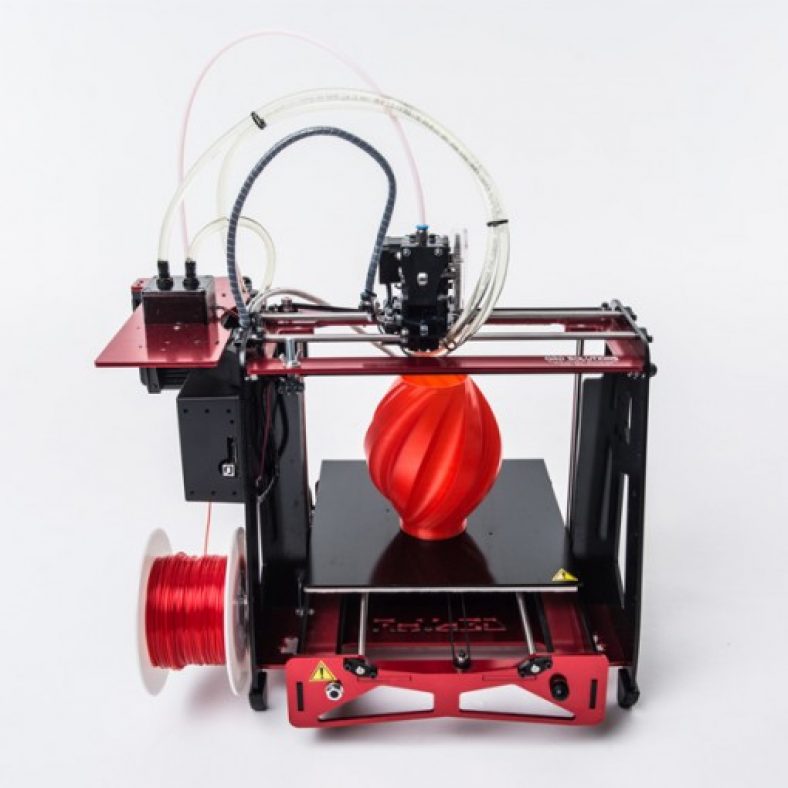 The RoVa3D integrated with technology is known as (FDM) Fused deposition modeling, which is usually used for prototyping, modeling, and production.
It applies the principle of 'additive' which sets down material in layers, and a metal wire or plastic filament is undone from a coil and dispenses material to fashion apart.
Uses:
This printer is equipped with five nozzles with five different stunning colors that are used throughout the object without stopping to change filament. You can also use three out of the five nozzles for contrasting colors, a bigger nozzle for rapid infilling, and another separate support material. Everything is up to you
The printer's extruders are side-mounted, not built on the X carriage, which lowers weight and increases the speed
PROS:
Cost-effective
Lightweight and compact
Sturdy
CONS:
May not be ideal for beginners
Buyer's Guide
A few very important questions you need to ask
Which mechanical functions of full-color 3D printers do I need to know about?
How user-friendly is the printer I am choosing?
Does the printer I am choosing feature current software and storage programs?
What kind of metals and composites works well with the printer I have chosen?
Do I need to be wary of the printer's speed and volume?
How would a small 3D printer benefit my business or work environment?
Before you choose a full-color 3D printer, you should be aware of its requirements so you can choose the right model according to your needs. Below is all you need to know.
Printing Technology: This is the basis of your printer. It might be a bit hard to select the right kind of printing technology, but it is essential to ensure that your print job meets your expectations. Reflect upon the look your design should have, which will help you find out the technology you need for 3D printing.
User-friendliness: Your printer should have current software so you can print without any hassle. A printer that is user-friendly also guides you to deal with errors and improve your print job's quality. You also have to ensure that the printer is safe enough to use around children.
Materials: For the part, you choose to print, you need technology that is compatible with all its prerequisites as there might be different applications for all parts. This will allow the printer to adapt to the application of the material you print and perform accordingly.
Speed and Volume: For an effortless printing process that does not need any post-processing, you may need to pay attention to your metal printer's speed. And if you choose to print multiple parts, you might have to opt for a larger printer.
Furthermore, some materials are prone to release toxins that can be harmful if inhaled. Go for a printer with an enclosure or a device for ventilation so it can release the gases or fumes outside.
Frequently Asked Questions (FAQs)
What Exactly Do Full-Color 3D Printers Do?
Full-color 3D printers allow you to apply different shades and gradients of your desired colors to your designs. They beautify your print jobs and give them life.
They usually come with an option for transparent or clear options as well, which can give your print job an added dimension. Full-color 3D printers help you in creating complex and customized, colorful 3D parts in modern fashion.
The printers are capable of producing prototypes and metal parts of superior quality and are also ideal for those who are new to the world of 3D metal printing due to their user-friendliness. Full-color 3D printers need no extra tools as they are able to print parts directly from their digital model.
Which Industries Use Full-Color Metal 3D Printing?
To name a few:
Manufacturing
Education
Robotics
The entertainment industry
What Are The Benefits Of Using A Full-Color 3D Printer?
The major benefit of using a full-color 3D printer is that you can design stunning print jobs with a multitude of color options by taking advantage of the CMYK, PANTONE, and WYSIWYG color options. This means that your projects instantly become a thousand times more attractive and will attract more buyers.
Full-color 3D printing's demand has increased immensely over the years as the entertainment industry has flourished. In movies and drama serials, for example, you can print prosthetics or assist art directors achieve their goals, hence you can be part of the production.
Toy manufacturers also greatly benefit from full-color 3D printing as they get to create colorful objects. The system of full-color 3D printers is made to help the audience that wants to produce prototypes with less or no hassle, hence they do not require much brainstorming.
In addition, you can print the parts in intervals, which will help you with the storage of your products, thanks to on-demand manufacturing and a digital inventory.
Are Full-Color 3D Printers Expensive?
A few full-color 3D printers are costly and might only be easily bought for multinational companies or high-end institutes. It depends on your preferences and budget; if you are a hobbyist or a beginner, it is recommended that you buy a cheaper printer that helps you with the know-how of 3D metal printing.
If you own a small-scale business and you are well versed with all aspects of 3D printing, you can invest in an advanced full-color 3D printer. You should definitely research before you buy a full-color 3D printer.  Other models may not be as expensive as they use cheaper parts.
What Are Some Modern Printing Technologies Used For Full-Color 3D Printing?
The 3D printing industry keeps flourishing, hence, up-to-date technologies are introduced regularly. Considering this, you may choose the printer according to your needs.
Some well-known methods of full-color 3D printing include:
full-color Polyjet
Colorjet
CAD programs (Autodesk Inventor or Fusion360, SolidWorks, Creo)
 ZBrush or Rhino 3D
Conclusion
In the current market, full-color 3D printers have made a marvelous impression. In modern times where the rise in technology is unstoppable, 3D printing has maximized its development to introduce contemporary techniques for producers and artists. Uncountable full-color 3D printers have helped people fulfill their dreams and desires from all walks of life.
You do not need to be an expert in the field of 3D metal printing to be able to practice it. You can just be a curious learner or an artist who wants to explore their niche or spend their time doing something productive.
Regardless of their costs, they add great value to production and innovation that we may not be able to achieve with traditional 3D printing methods.