BQ Witbox Go 3D printer
Overall, Witbox Go is one of the most compact yet advanced 3D printers that is available for a very affordable price. So, if you are a beginner in this field, this should be one of your go-to options for buying.
PROS
Witbox Go has a filament sensor that will tell you when your 3D printer is out of filaments.
There is a nozzle clog sensor that will notify you when you need to clean the nozzle.
You can auto level the bed of this 3D printer at a click and need no manual effort in doing the same.
A hot end would ensure fast 3D printing of parts and functional prototypes.
Remote monitoring of the 3D printing process inside this 3D printer is possible using your Smartphone as the printer operates using the Android system.
CONS
You need to be extremely careful while dealing with this 3D printer because every aspect of it is very compact and delicate. That's the reason that it demands special attention.
Product
Specification
Videos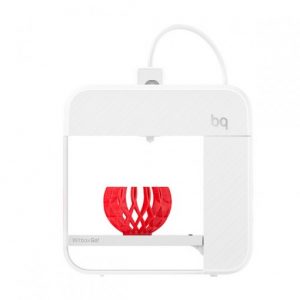 Equipped with an auto-stop function when the nozzles clogs or filament runs out, BQ Witbox Go saves the print from failing. It possesses a 3D ...
| | |
| --- | --- |
| Model | Witbox Go! |
| Manufacturer | bq |
| Price Range | $ 857 |
| Availability | Available |
| Classification | Desktop |
| Technology | Extrusion (FFF- FDM…) |
| Material | PLA |
| Filament diameter | 1.75 mm 0.07 in |
| OS compatibility | Linux, Microsoft Windows |
| Generic material | Yes |
| Max. build size | 140 × 140 × 140 mm 5.51 × 5.51 × 5.51 in |
| Max. build volume | 2.74 L |
| Dimensions | 300 × 250 × 480 mm 11.81 × 9.84 × 18.9 in |
| Weight | 5 kg 11.02 lb |
| Heated print bed | No |
| Heated build chamber | No |
| Automatic calibration | Yes |
| Closed frame | No |
| Dual extruder | No |
| Independent Dual Extruder | No |
| Full color | No |
| LCD screen | No |
| Touchscreen | No |
| On-board camera | No |
| Mobile app | No |
| 3D scanners | No |
| CNC mill | No |
| Electronics 3D printing | No |
| Laser engraving | No |
| Conveyor belt | No |
| Air filter | No |
| Pellet extruder | No |
| USB | Yes |
| Wifi | Yes |
| Bluetooth | No |
| SD card | No |
| Ethernet | No |

Table of Contents
Witbox Go is manufactured by a Spanish manufacturer of 3D printers named BQ. The same company is also responsible for gifting the world many other 3D printers and is one of the leading European manufacturers.
Previously, it has manufactured Witbox 1 and Witbox 2. Witbox Go has been in the hype since its launch as it is the first machine to have an Android operating system and offered 3D printing solutions at a very cheap price.
This manufacturing company has brought into trend the connectivity of 3D printers via USB, Wi-Fi, NFC reader for 3D printer filament coils, and Android mobile applications for tracking the status of your 3D prints.
The printer also features an end of filament sensor and capped nozzle, a hot metal end, and a magnetic tray, with an auto-calibration feature.
Well, that's obviously not all. Let's read out in-depth to find out much more about this wonderfully compact 3D printer.
Features
Below mentioned are some of the most amazing features of Witbox Go with their explanation stating their importance.
Auto calibration
This is a feature that will let you 3D print parts and functional prototypes with an accuracy of a level that you were always looking for.
It will help you always get the first layer of the part or functional prototype exactly how you wish to have.
By adjusting the nozzle height from the print bed with a click of the button, it will decrease the complete human effort that goes into tightening of screws and loosening it.
Auto calibration increases the overall efficiency of the complete printing process. It helps you achieve dimensional level accuracy even in the most intricate prints.
Hot metal end
By equipping the 3D printer with a hot metal end, not only the manufacturer has ensured quick 3D printing, but also the ability to print with materials that have a higher glass transition temperature.
Yes! It's because of this hot metal end that you can print with many 3D printer filaments and not just one. Especially common 3D printer filaments such as PLA and others.
A smartphone application that tracks the status of 3D printing
It will be possible to leave from the surroundings of this 3D printer even when 3D printing inside it is on.
This would be possible because the printer is the first-ever one to print with the Android system and hence offers an application that is compatible with your smartphone and allows you to track the status of your 3D printing procedure via your smartphone.
How cool is that that Witbox Go will allow for remote monitoring of itself from a distant location!
End of filament marker
Yes! You read it correctly. There is an end of filament marker that the 3D printer comes equipped with. It will help you notice when you are out of the 3D printer filament and cannot print anymore.
It is very helpful to learn that it is because of the filament run-out that your 3D printer is not suddenly 3D printing and not because of anything else. As there can be so many other reasons as well when you are printing with a 3D printer.
Specifications
Witbox Go prints using Fused Deposition Modeling or Fused Filament Fabrication 3D printing technology. It has a DDG extruder with a Bowden system and allows for 3D printer filaments with a filament diameter of 1.75 mm.
There is an LCD screen that helps you interact and control the printer. The recommended working temperature of this 3D printer ranges from 15 to 35 degrees Celsius.
The printer's dimensions are 300 mm * 255 mm * 480 mm. It weighs 4.8 kilograms and offers a maximum print volume of 140 mm * 140 mm * 140 mm.
It features a Snapdragon Qualcomm 410 processor that's capable of storing 8 GB of memory. For assembling, configuring, and leveling the complete printer, it just takes you 15 minutes.
There is a trinamic chip that controls all the engines inside the 3D printer and because of such a level of control you are able to control each and every motor present inside this 3D printer. It stops automatically when the filament is finished and if the extruder has blocked or the base isn't proper.
Price
The printer is available in the market at $845.09 including taxes.
First Impressions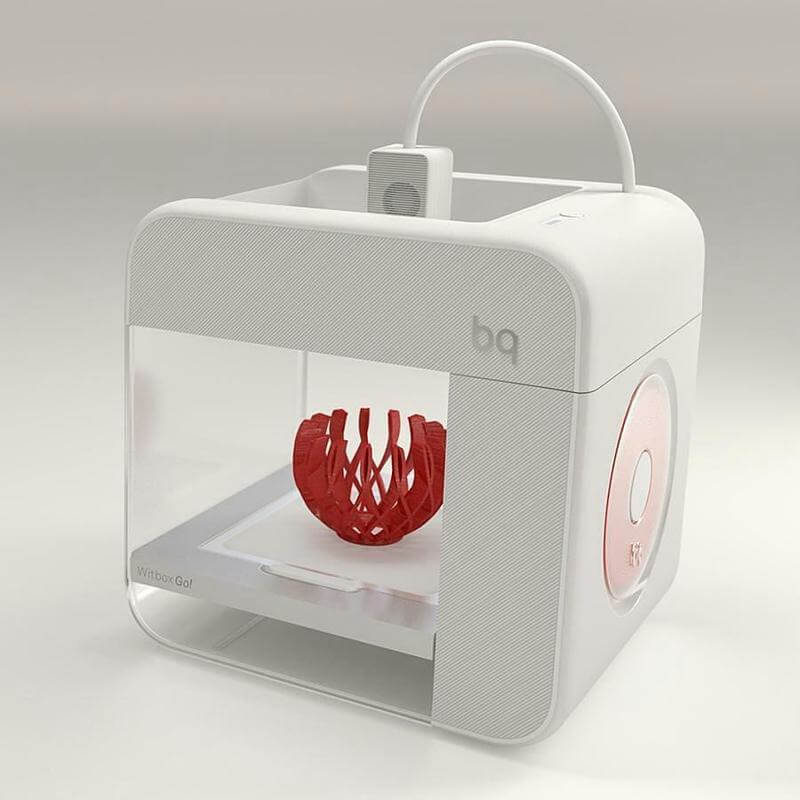 On having a closer look at the printer, you'd notice that the manufacturer of BQ signs a compact, sober, and completely open design.
It has small dimensions of 300 mm * 255 mm * 480 mm for a weight of fewer than five kilograms that allows for the creation of pieces of 140 mm * 140 mm * 140 mm.
It has a cold magnetic and innovative tray that, if the manufacturer is to be believed, does not require adhesive products like lacquer, glue, or tape.
There is an inherent advantage of having very few elements and that is, it increases the starting speed of the machine.
All you need to do is connect the plug, press the power button, and once the tray is low and you have fixed the magnetic plate, you are all ready to go!
You can start the 3D printing process, no need for any SD card, no control screen, or additional buttons coming into play between yourself and printing.
Setup
Because of curiosity, one might argue that it is always difficult to know what to expect out of the box, but we guarantee you that in the case of Witbox Go, it will be easy.
The printer will be delivered to you in a neat box with an intelligent locking system and inside it would be the most beautiful design that would catch your eyes at the very first glance.
The complete content of this 3D printer is quite minimalistic. With the elements and accessories provided in this box, there is a power cable, a micro USB cable, to connect the 3D printer to a power supply, as well as to connect with the 3D printer, respectively.
There is a spatula for removing the parts and functional prototypes after the completion of 3D printing. Additionally, there is a quick start guide that we'd advise you to read before starting with your first 3D print.
A magnetic plate, a coil of 300 grams of PLA filament, and uniquely there is this 'already 3D printed piece, a bench 3D model.
There is software that you must use while printing with BQ Witbox and that will help you send your prints and cutting objects. This software is called Zetup. It is available for Windows as well as Linux. Zetup is relatively well designed and easy to operate, simple to manage.
Witbox Go's main hype is that it comes with an Android operating system, of course, it has a mobile application in the Google store which allows you to track all the prints from your smartphone.
The interface of this application is simple and will allow you to control some parameters such as the remaining time for printing.
However, the main function of this application is monitoring the printing process. Moreover, if you need to cut, you need to do that from your computer via Zetup.
Printing Type/Cost
FDM 3D printing technology is the most used 3D printing technology with 3D printers especially those that are desktop 3D printers. And BQ Witbox Go is no different.
The basis of this 3D printing process is created by a filament spool of material with which you wish to 3D print a part or functional prototype.
That filament spool is connected with the printer and heated and brought to its glass transition temperature.
Once it reaches the desired temperature, it is allowed to melt via the nozzle system to the print bed for laying down the desired geometry of the part or functional prototype.
For printing a certain kind of parts or functional prototype, you also need to make use of support structures, rafts, and brims.
Especially while 3D printing parts and functional prototypes that have hollow geometry. The cost of printing a part using this technology is lower than other 3D printing technologies.
However, it depends largely on the geometry of the part, the material used for making it, the amount of infill that is required for 3D printing it, and a lot more variables.
Print Quality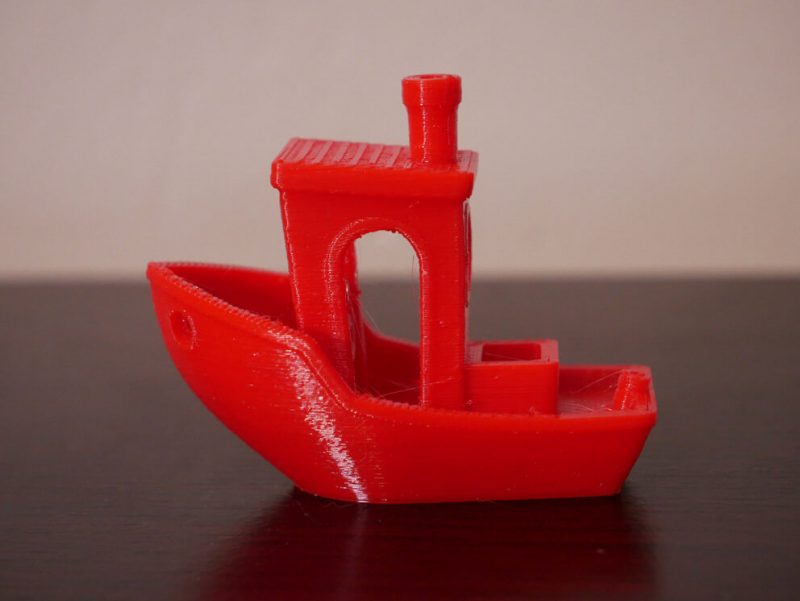 Credit: 3dnatives
On manufacturing a handful of test objects that are more or less complex in their own ways, you would find that the overall result is convincing.
It is also consistent and an easy-to-use machine. However, there are some classic imperfections! But you can correct that using the software that is compatible with the 3D printer.
The sound of this 3D printer is almost negligible. When you make the most common model called benchy, you see some chains, however, there is no problem that you face while taking out the 3D print.
But stringing is a phenomenon that can be corrected by changing the printing temperature or by increasing the shrinkage.
The first impressions of some more test models appear great aesthetically at first, but there are some flaws in their outer wall construction that appear to you on closer observations.
You can even make complex objects with intricate designs with a satisfactory amount of accuracy.
For example, Withbox Go can help you create a heart that is made of random linings, you can even make a small space rocket launch phenomenon, and funny, tongue-showing model to hang on your wall or keep on your desk, and they are all almost up to the mark. All these results are clean.
Software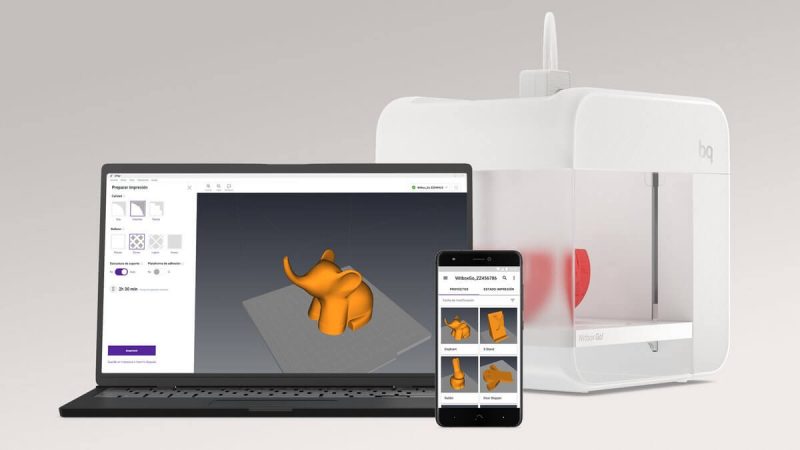 Credit: en3dstudios
BQ Witbox is compatible with the printing software named Zetup. This software can be operated with Windows as well as Linux operating systems.
Customer Support
Since there is no website of the manufacture in existence at the time of writing this article one cannot exactly comment on the method in which customer support is available.
You will have to buy it from other 3D printing websites that sell 3D printers or from Amazon, etc. And then look for customer support options from the same.
But of course, there are videos available online that will help you clear some basic doubts about this 3D printer, but there is no specific information about any technical team of BQ available 24*7 or an email id on which you can post your doubts about Witbox Go.
Parameters Influencing Buying Decision
Below mentioned factors summarize the complete article's main points.
3D Printer Cost: Considering the build volume and print quality offered by this printer, its cost is extremely affordable.
3D Print Quality: Each and every part and functional prototype printed with Witbox Go has commendable 3D print quality.
3D Print Speed: The speed of 3D printing a part or functional prototype on Witbox Go will be a pleasing surprise for you.
3D Printer Capability: It is an open-source printer capable of uploading your designs on MyMiniFactory directly and tracking the 3D printing process via a smartphone.
3D Printer Practicality: When in operation, the printer makes noise in a negligible amount.
3D Printer User Expectations: If you are a hobbyist or a beginner in the field of 3D printing you are going to fall in love with this 3D printer that occupies so little space and yet manages to print some of the most aesthetically pleasing parts and functional prototypes in one go.
The Verdict
Overall, Witbox Go is one of the most compact yet advanced 3D printers with auto bed leveling, filament spool, and clogging detector, a good amount of build volume offering, and a much more amazing 3D printer available for a very affordable price. So, if you are a beginner in this field this should be one of your go-to options for buying.