HP Jet Fusion 580 3D Printer
HP Jet Fusion 580 is an efficient, high-quality parts and functional prototype producing machine that lets you control many aspects of manufacturing with ease.
PROS
Accurate functional parts with intricate detailing.
Complete coloring of parts is possible with voxel control.
The speed of this 3D printing system is tremendous.
You need no support material.
It reduces waste.
CONS
Although the company claims it as a suitable 3D printer for offices as well as domestic use, you can hardly manage the complexities the printing systems bring to your place.
Product
Specification
Videos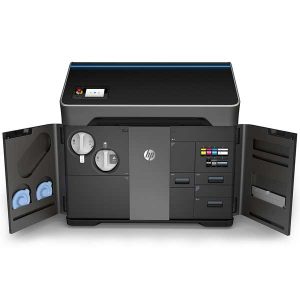 Able to use eight different chemical agents at once, HP Jet Fusion 580 3D printer allows for highly detailed and precise objects with full-colour ...
| | |
| --- | --- |
| Model | Jet Fusion 580 |
| Manufacturer | HP |
| Price Range | $ 50000 – $ 100000 |
| Release date | 2018 |
| Country | United States |
| Availability | Available |
| Classification | Industrial |
| Technology | Binder Jetting |
| Material | Other plastics |
| OS compatibility | Microsoft Windows |
| Max. build size | 190 × 332 × 248 mm 7.48 × 13.07 × 9.76 in |
| Max. build volume | 15.64 L |
| Min. layer thickness | 0.08 mm 0.003 in |
| Dimensions | 1565 mm 61.61 in |
| Heated print bed | No |
| Heated build chamber | No |
| Automatic calibration | No |
| Closed frame | Yes |
| Dual extruder | No |
| Independent Dual Extruder | No |
| Full color | Yes |
| LCD screen | No |
| Touchscreen | Yes |
| On-board camera | No |
| Mobile app | No |
| 3D scanners | No |
| CNC mill | No |
| Electronics 3D printing | No |
| Laser engraving | No |
| Conveyor belt | No |
| Air filter | No |
| Pellet extruder | No |
| USB | No |
| Wifi | No |
| Bluetooth | No |
| SD card | No |
| Ethernet | No |

Table of Contents
This is HP's attempt for letting you produce functional parts in complete color, black or white with voxel control within a fraction of time. How it does so? Let's find out.
Features
HP Jet Fusion 580 can produce hundreds of parts per week with fine details and high dimensional accuracy. Below mentioned are some of the key features which let the machine do so.
Intuitive User interface: The manufacturers of HP Jet Fusion 580 have put in place a touch screen user interface that permits you to follow instructions easily. This is meant to give you confidence over various tasks that you are meant to control. You'll also be able to monitor the printing process through this interface. And you do not have to literally tell it to perform every task; it is intuitive and is based on complex algorithms that understand your intentions.
Full-spectrum color with voxel-level control: This feature of this printing system will give life to the developed parts and functional prototypes. It will let you produce beautiful color parts and stay in coordination with the technology and design aspects of the future. This enables you to configure for voxel control that extends beyond color control over parts and functional prototypes. Such a minute level functionality will help you achieve detailing on objects that you wish to create like no other.
Creates multiple iterations in the time taken for creating a single part: The HP Jet Fusion 580's manufacturing mechanism has the ability to let you create more than one iterations in the time taken for creating a single part. This feature will be extremely handy when you have the project of creating a part or functional prototype in a huge amount. It will increase your production time and let you complete your project before its deadline.
The printing system's convenient in-house automated 3D printing will be accessible to you. It is done with completely automated 3D printing with the most compact HP fusion 3D device. You will be able to get the parts that you want when you need them, in an easy, reliable, and predictable manner with immediate access to support.
Enclosed, automated material mixing, loading, and reclamation systems: With an intention to decrease human intervention, HP has got into place an enclosed, automated material mixing, loading, and reclamation systems. This means all you have got to do is get the raw material powder into place. The rest of the responsibility of mixing, loading the metal powder on the print bed will be of the machine. Even after the printing will be complete, the printing system is such that it will help in post-processing as well as cleaning.
Producing functional parts with intricate design: HP Jet Fusion 580 lets you achieve fine detail and high dimensional accuracy with an engineering-grade thermoplastic. With a highly automated process, there is a bare minimum human intervention in HP Jet Fusion 580. Because of this reason, you will be able to produce parts that have a high amount of accuracy. Apart from this HP Jet Fusion 580 is based on Multi Jet Fusion 3D printing technology which is known in the 3D printing world to produce the highest quality parts and functional prototypes.
Compact design: This 3D printer holds the Singapore Good Design awards, 2019. There is something about the design of HP Jet Fusion 580 which makes it comfortable for office, institutional, manufacturing house's environment. It is not too compact to be categorized as a domestic, or office 3D printer. At the same time, it is not too huge to be classified under industrial or a manufacturing 3D printer.
Specifications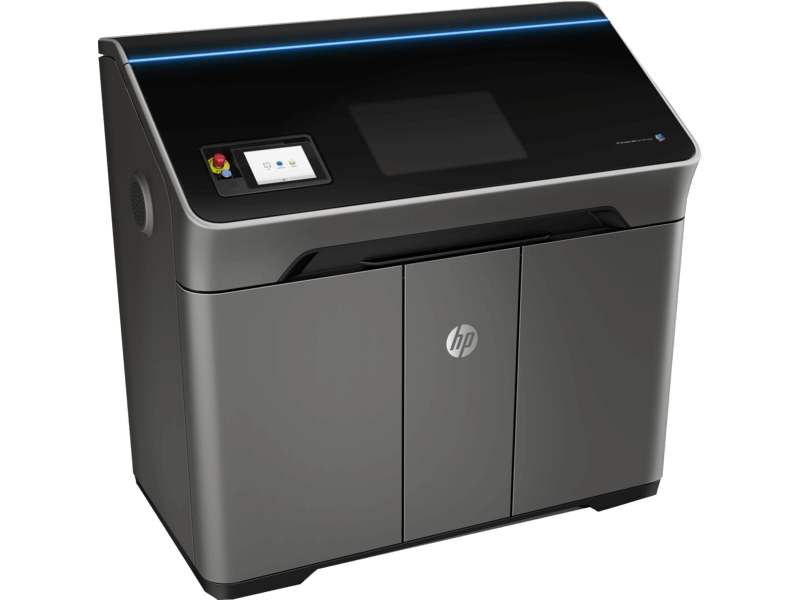 Based on HP Multi Jet Fusion technology, this printing system offers a maximum building volume of 332 mm * 190 mm * 248 mm. It has a building speed of 1817 cubic centimeters per hour.
For a full build job i.e., 248 mm buildable height it will take as fast as 12 hours, with fast cooling and reclaim profile and 18 hours with auto cooling and reclaim profile.
For partial build job i.e., 60 mm buildable height, it will take as fast as five hours with fast cooling and reclaim profile.
The layer thickness of all the parts and functional prototypes manufactured using this printing system will be 0.08mm.
The printer's dimensions are 1565 mm * 955 mm * 1505 mm. It's shipping and operating area dimensions are 1770 mm * 1143 mm * 2013 mm and 2785 mm * 2530 mm * 2440 mm. It weighs 650 kilograms.
The suggested operating temperature and humidity range of this printer is 20 to 30 degrees Celsius, and 20 to 70 percent RH without condensation respectively.
The acoustics of the front operating and rear bystander position is 72 and 80 decibels respectively.
The printer operates on a Gigabit Ethernet network supporting standards such as TCP/IP. DHCP, TLS/SSL.
The included software with this printer is HP Smart Stream 3D Build Manager and HP Smart Stream 3D Command Center.
The compatible software is HP 3D API and the file formats supported are 3MF, STL, OBJ, and VRML. HP Jet Fusion 580 consumes 7200 Watts power.
It complies with NA (US & Canada): IEC 61010-1, NRTL EU: Machinery Directive, EN 61010-1, EN 60204-1, EN ISO 12100, and EN ISO 13849-1.
There is a year-long hardware warranty on this printing system.
Price
For buying this 3D printer, you would have to contact a reseller nearby. And for knowing the list of resellers of HP 3D printers, you need to enter your location online.
First Impression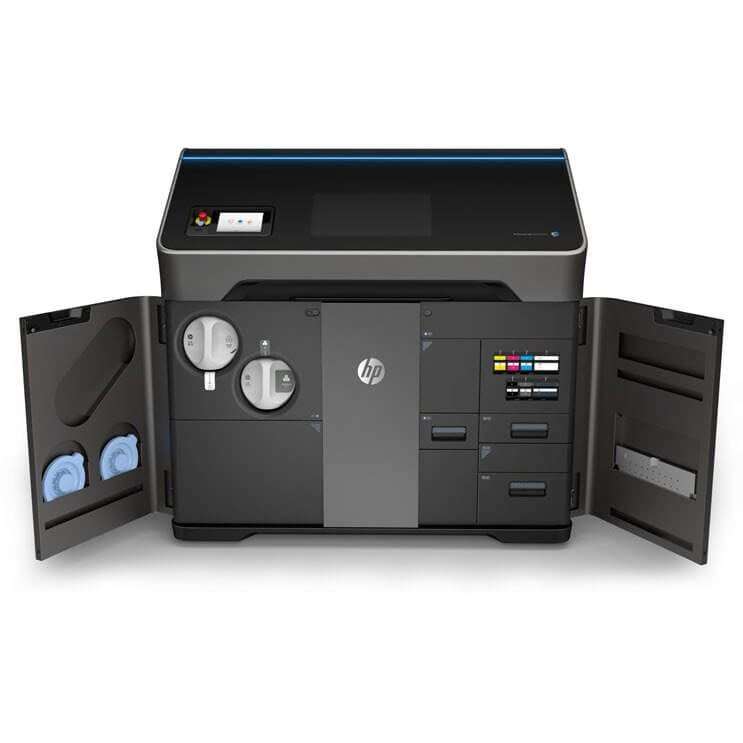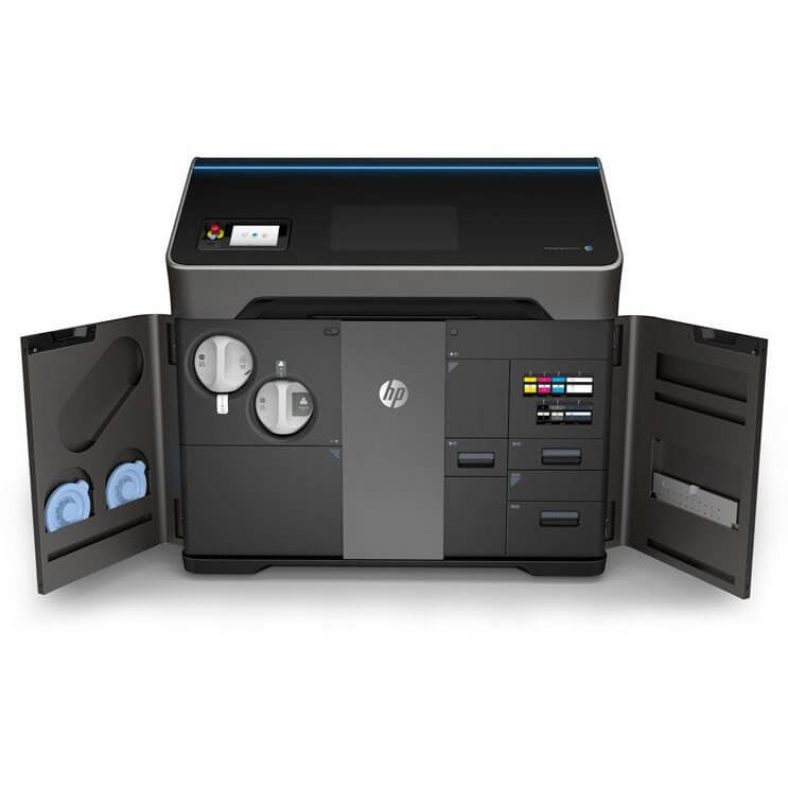 HP Jet Fusion 580's appearance is like one of those giant 2D printers that are also manufactured by the company. There are two important compartments of the printer, one on its left, the other on its right.
On the top, you have the user interface from which you can control as well as monitor various aspects of the 3D printing process.
The left compartment contains the key for maximizing cleanliness, before and after every 3D printing process. It has the enclosed, automated material mixing as well as loading systems that allow for a clean workflow.
In the right compartment, you have the key for controlling and coloring voxels on the part or functional prototypes that you manufacturing using HP jet fusion 580.
Overall the 3D printing system has a very convenient design that makes it suitable for almost every environment.
If you want to use this 3D printing system for your home, office, workstation, manufacturing station, it can work well without much need.
Setup
Obviously, the printer comes completely assembled when it is delivered to your doorstep.
There are some options which can also choose to buy with this printer which are:
Gyson Multiblast 3D
Tiger Vac C-10 EX (4W) HP2
The first one is HP's recommended bead and air blasting solution customized to post-process 3D printed parts and functional prototypes that you manufacture on HP Jet Fusion 580.
The printer removes residual powder and preserves color with single-use media delivery.
The second one is HP's recommended compact and easy to handle explosion-proof vacuum cleaner for 3D printer maintenance and build chamber cleaning.
Both of these can be attached and setup with HP Jet Fusion 580 to ensure maximum productivity and minimum downtimes.
Printing Type/Cost
Multi Jet Fusion 3D printing technology is HP's proprietary 3D printing technology that starts with the printer laying down a layer of material powder with which you are willing to produce parts and functional prototypes, on the printing bed.
Once that is done, the inkjet head runs across this deposited powder. While doing so, the inkjet head deposits the fusing as well as a detailing agent on it.
After this, an infrared heating unit moves across the print and wherever the fusing agent was added, the underlying layer melts together, while the detailing agent remains as powder.
The powdery parts shed off to produce the desired geometry. It also eliminates the need for modeling supports because the lower layers support the ones that are printed above them.
The process completes after this entire powder bed along with the printed parts are sent to a different post-processing station. Inside that station, the majority of the loose powder is vacuumed up
This allows it to be reused, and that's why this process is also considered the one that generates extremely low or no waste.
Generally, the printing cost of this process is higher than that of 3D printing technologies such as FDM, SLA, and others.
The printing cost depends on various factors such as the cost of the 3D printing material, the use of a heating source in the printing process if any, the post-processing of parts and functional prototypes, the geometry of parts as per the 3D design, etc.
Print Quality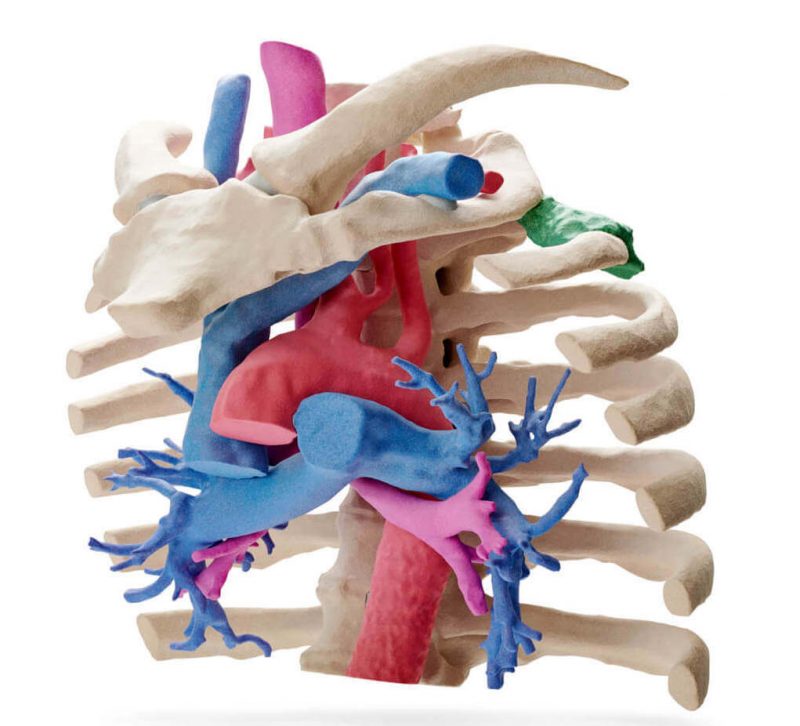 Credit: tactilemed
Although Multi Jet Fusion 580 is known to have higher printing costs for making parts and functional prototypes, it is also known to produce objects with excellent surface finishes.
MJF 3D printing is very handy in the automotive sector in helping manufacturers reduce costs of parts and boosting operational efficiency. Parts made by Multi Jet Fusion 3D printing technology are also used in medical technology.
Customized dental molds, and medical prosthetics, consumer goods, etc., are the key sectors where parts and functional prototypes made from HP Jet Fusion 580 found an entry because of their high quality.
Software


Three of HP's proprietary software are compatible with HP Jet Fusion 580.
HP 3D API: This allows you to streamline data access and automation across industrial management systems.
HP Smart Stream 3D Build Manager: Permits you to quickly prepare your jobs for 3D printing with all elements you need.
HP Smart Stream 3D Command Centre: This Lets you monitor all your HP 3D printers, and all other complementary devices for completely utilizing the power of HP's 3D ecosystem.
Five of the third-party software services are also compatible with the printer.
AMFG: Helps you in getting streamlined, automated additive manufacturing with MES and workflow software.
Autodesk Netfabb with HP workspace: Provides advanced software for the additive manufacturing of production-quality parts.
Link 3D: Avails you a suite of mission-critical applications instrumental in scaling additive manufacturing capabilities. It also lets you plan, manage, and optimize their operations.
HP Build Processor: This is the 3D printing industry's standard software for professional 3D printing for unlocking the complete potential for managing every step in your production process.
Siemens NX AM: Combines design, optimization, simulation, preparation of print jobs, and inspection processes all in a single managed environment with minimal steps.
Customer Support
HP has a fantastic technical team that ready to entertain your doubts about any of the 3D printing system's parts. You get a one-year warranty on all the hardware that comes with the system. Reaching out to this support team is possible via call and email.
Parameters Influencing Buying Decision
Below mentioned are some of the key factors that you must take into consideration before making any decision about buying this 3D printing system.
3D Printer Cost: Although you need to know the cost of this 3D printer from a reseller, you need to be prepared for paying the standard cost, that of an industrial 3D printer.
3D Printer Quality: Resembling that of injection molding manufactured parts.
3D Print Speed: Remarkable.
3D Printer Capability: It allows playing with colors to get a voxel-level control, which is extraordinary.
3D Printer Practicality: The printing system is extremely efficient, neat, and clean.
3D Printer User Expectations: If your expectations involve creating parts with excellent quality, the printing system will completely fulfill them.
The Verdict
In a nutshell, HP Jet Fusion 580 is an efficient, high-quality parts and functional prototype producing machine that lets you control many aspects of manufacturing with ease.