Table of Contents
Among various filaments readily available for 3D printing, PLA is one of the most popular ones. Making it simpler for beginners to enter the technological advancement of additive manufacturing to giving experts a huge array of look and feel.
Currently, there are myriad choices with PLA, including texture, colour as well as composites. And, Gold PLA is one such astonishing variant of the material.
However, if you are considering Gold PLA to be a composite or metal infused filament, don't be confused! The filament is purely PLA with colour effects of gold. All the properties remain the same as the PLA parts.
In case you need your parts to be colourful and looks closer to gold parts, Gold PLA could help you achieve the results.
No doubt, the material is definitely a great addition to the list of filaments available for 3D Printing. Especially, when consumers aren't able to print using pure gold, the choice comes in handy.
For creating decorative, toys, accessories and whatnot. You can use the material for a lot of application. So, let's start our hunt with a small introduction.
Gold PLA – An Overview
Many users confuse the filament for metal-infused types. However, for clarifying confusions, it is imperative to understand the difference.
While metal fill filaments contain powdered particles of particular metals, Gold PLA only comes with the colour of gold. There is no involvement of pure gold particles with standard PLA.
Therefore, the prices are also affordable and cheap. Users can print with this filament for attaining a gold-like appearance. However, the properties will remain similar to the standard PLA parts.
If that still rings a bell, let us check out some of the popular and not so popular brands offering high-quality Gold PLA.
List of Brands Offering Gold PLA
There are many manufacturers offering PLA filament in different colours. However, a high-quality Gold PLA filament is not very easily available with just any brand. Therefore, before buying your next spool of material, remember to carry your homework and select the one that suits your expectations.
For those wanting any guidance with their selection process, here is a list of the best brands offering amazing results with PLA (gold).
MIKA3D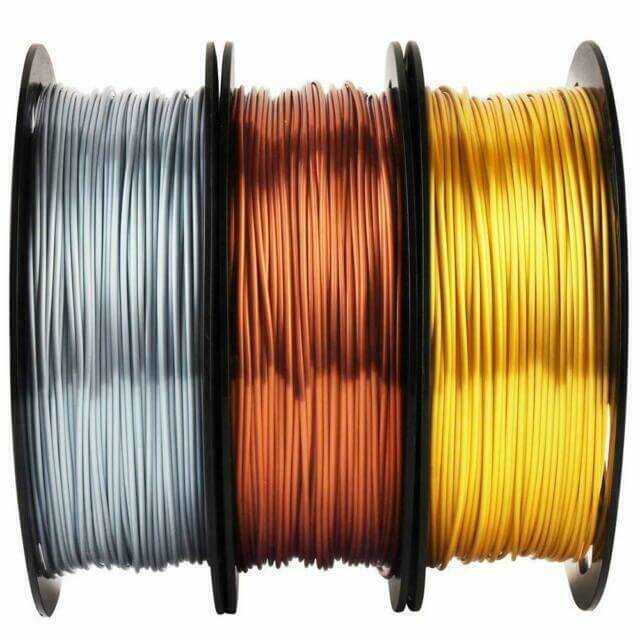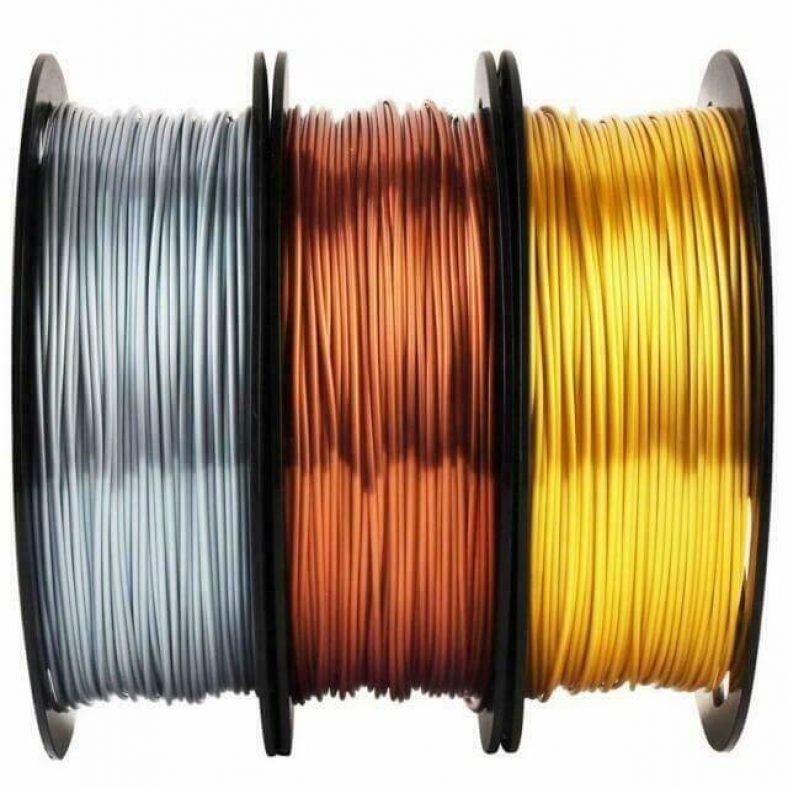 MIKA3D is a company that offers a variety of PLA variants and the choices seems to be never-ending. When it comes to Gold PLA, you can find different blended colours and textures. Such as Shine Gold, Shine Rose Gold, Shine Coffee Gold and more.
With so much to offer, the company also excels at making its products suit the standard nozzle size of 1.75 mm. The filament is compatible with almost every FDM 3D printer. Though the heated bed is not necessary, it is highly recommended for the best results.
Using the filament is easy and simple. The material melts consistently and feeds smoothly. In addition, the surface finish is very impressive. Giving parts the unique pearly touch, the filament happens to be very popular among users.
For keeping the filament tangle-free, the company suggests inserting the filament end inside the hole after use. Each of the different coloured spools is available in 500 gm weight.
The printing setting is very similar to the PLA printing. However, do not forget to check the recommendations that the manufacturer has to offer. Please note, the company suggests using a 0.4mm or larger nozzle for seamless results.
Tronxy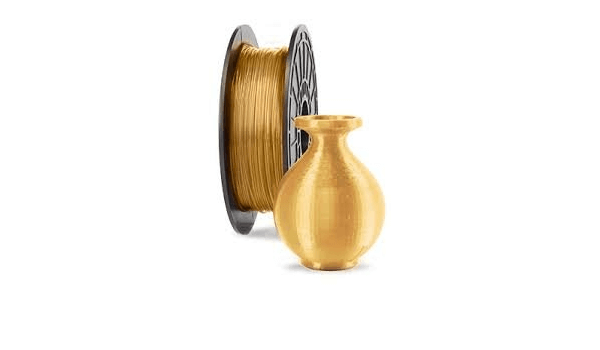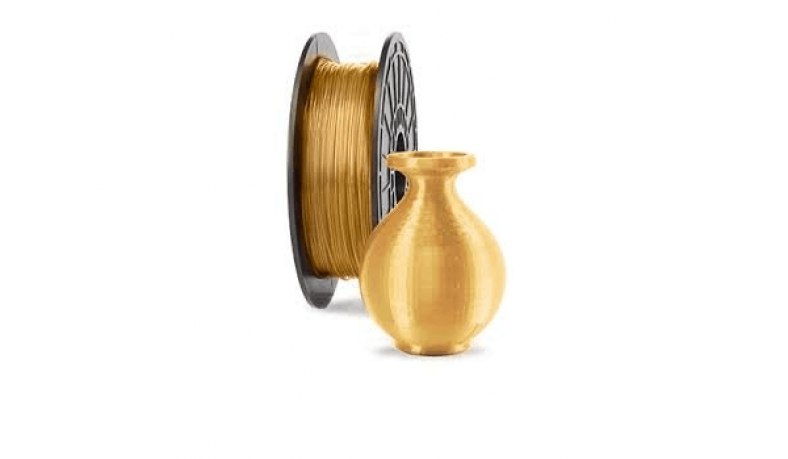 Who does not know about Tronxy, one of the popular names within the 3D printing niche? The manufacturer is not only famous for its filaments but also its line of 3D Printers. There is a huge number of products related to 3D Printing that Tronxy offers.
Among everything, the Gold PLA is definitely something you can try, if you are hunting for a great quality filament. It is available in 1.75 mm diameter and looks exactly like gold parts after printing.
Although the quality of the 3D Printer matters most in attaining precise parts, the role of filament still has a huge say.
Therefore, using this filament would enable a great printing experience, providing great flow and extrusion capabilities.
The bright colour of this Gold PLA turns out to be a great choice for those creating decorative and lightweight accessories.
Tronxy recommends printing the filament with an extruder setting between 210 to 240 degrees Celsius. Also, with a heated bed, the part clarity becomes even better. However, you can certainly print with this material on a non-heated bed too.
Overall, the filament is very easy tameable. You can start printing without needing a lot of tips if you have already worked with PLA before.
The cost of the filament from Tronxy often starts at $25.
Sculpteo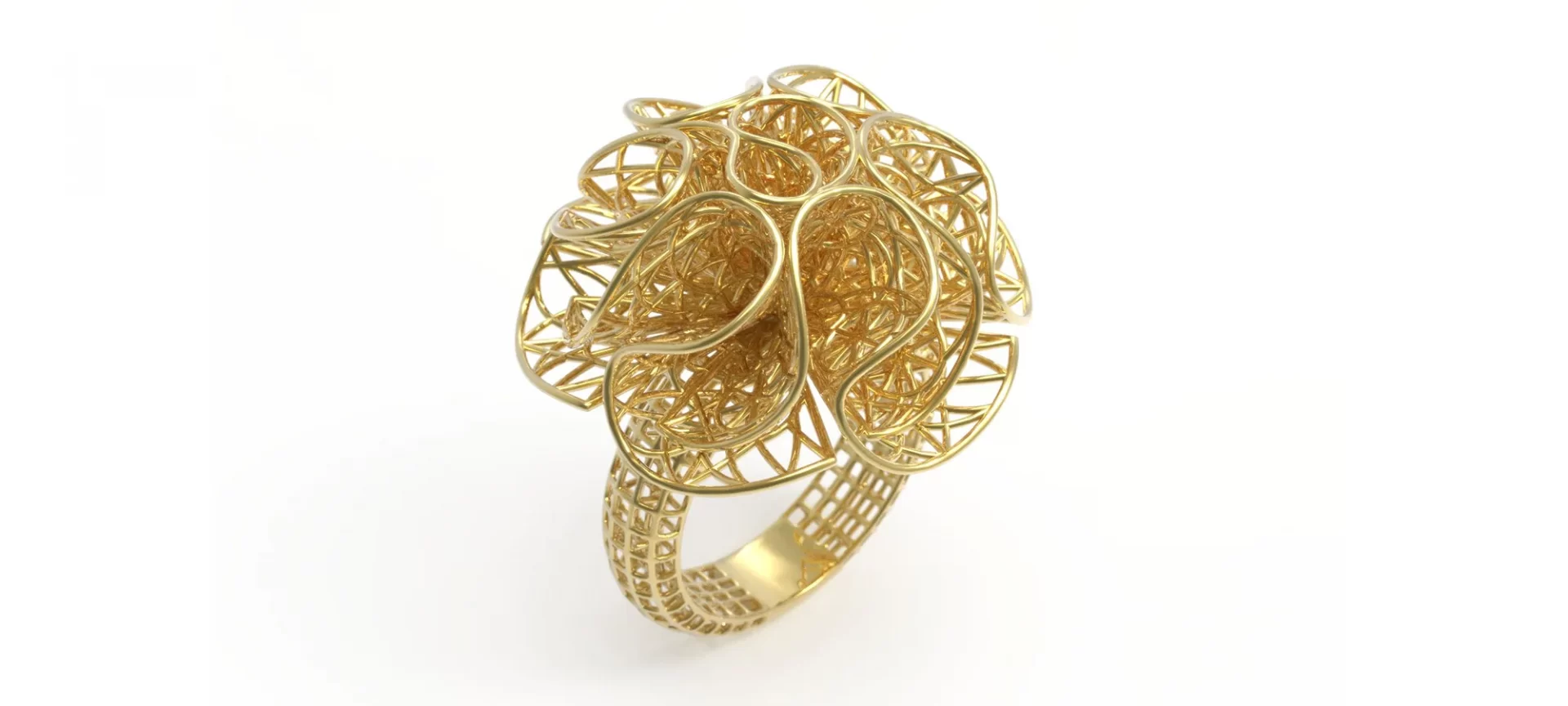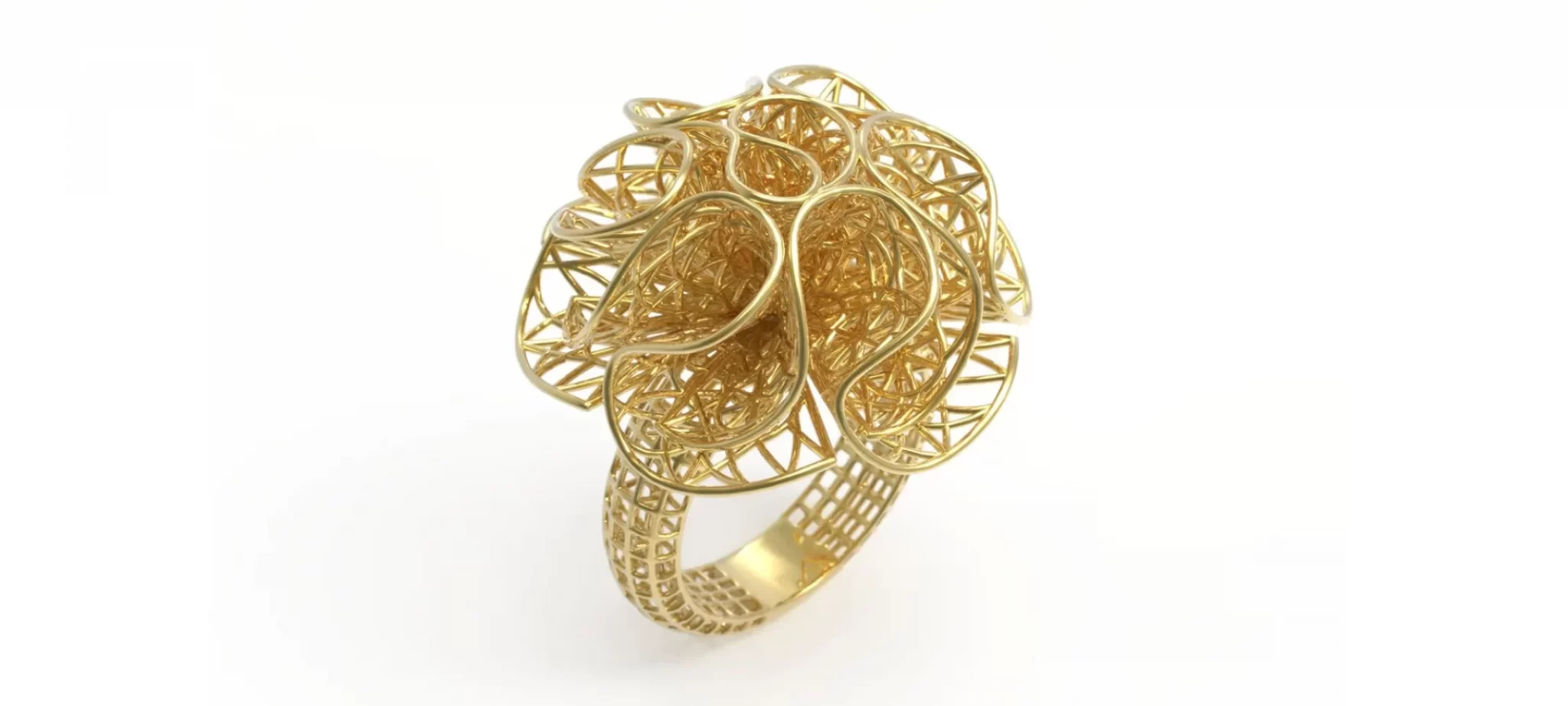 Another important name within the 3D printing industry, Sculpteo is a French company offering 3D printing services to users around the world. In addition, it does have a few products of its own. And, one such offering from the company is Gold PLA.
The filament comes in a 1 kg spool and has a 1.75 mm diameter size. Sculpto 3D printing filament is a unique choice for users, being the first carbon-neutral 3D printing filament series available. It is biodegradable as PLA and entails the same properties.
Apart from being eco-friendly, the material also provides parts considerable strength and durability. Therefore, it is easier to create parts that last longer. Sculpto has a huge variety of 3D printing filaments in addition to Gold PLA.
You can also use the filament for kitchen containers as it is non-toxic. The filament is RoHS certified, developed in Europe. Hence, guarantying perfect consistency along with thickness to perfect every print job with maximum printing potential.
When talking about the colour of the Gold PLA, you will right away fall in love with its texture and blend. To print with this filament, you will require an extruder temperature range between 190 to 210 degrees Celsius.
Amazon Basics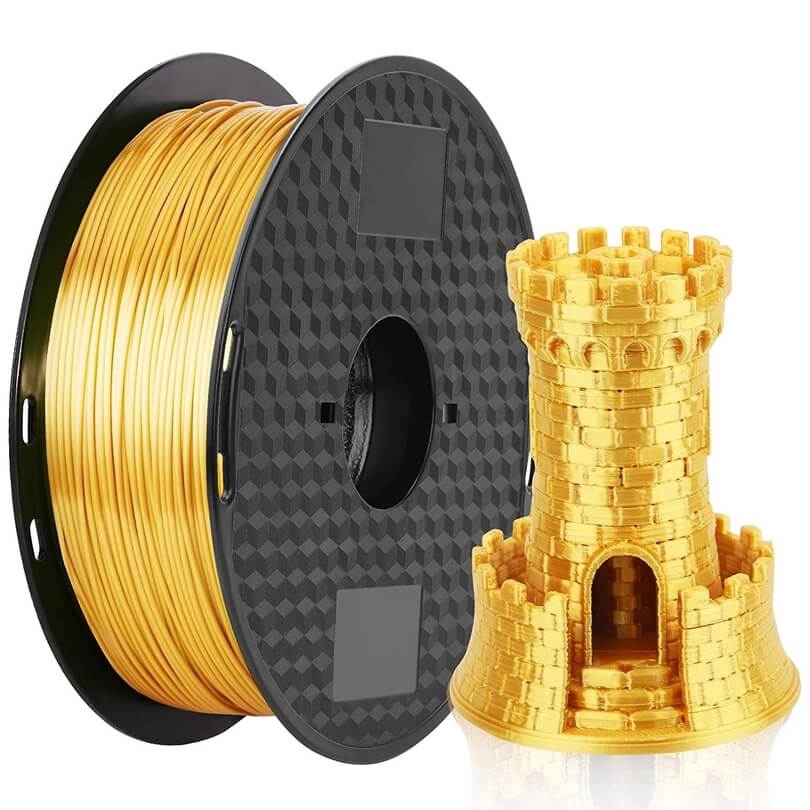 Did you know that the e-commerce giant from the USA is also interested in the additive manufacturing niche? If not, here is the proof for the same.
Under the brand of Amazon Basics, you can avail yourself of the Gold PLA filament for around $20. The filament comes in a 1 kg spool with a diameter of 1.75mm.
Made of PLA, as expected, the filament is easy to print and has a low melting point that makes it compatible with almost every FDM 3D Printer.
In addition, the material is less prone to warping and the best choice for beginners. With odourless printing, you can enjoy your print jobs without any hassle.
The filament offers a glossy finish. Moreover, to minimize the problem of jamming, the filament has been engineered carefully, offering a seamless printing experience to the users. Plus, the material enjoys backing from the company with a 1-year limited warranty.
Amolen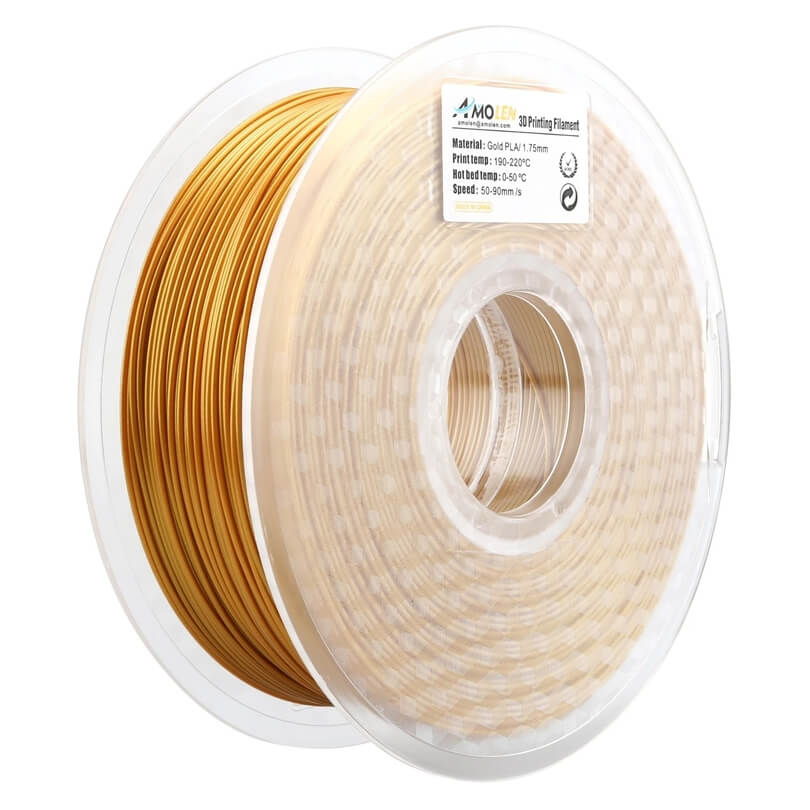 Amolen is trying to redefine the 3D printing industry standards by offering great quality filaments. Its high compatibility with different 3D printing tools, including printers and pens, make the filament accessible.
You can use it with almost every FDM 3D Printer out there as well as many 3D Pens. The filament has a consistent 1.75mm diameter.
The filament is no less than the premium quality product. Along with strong toughness, the filament also seems to melt well and feed smoothly, without clogging the extruder at all. In addition, users do not have to fight with problems such as bubbles, warping etc.
Users can 3D print with Amolen's Gold PLA much more smoothly compared to a lot of other brands in the market.
To keep your orders safe, the company ensures to take care of the product by sealing it inside the vacuum and reusable bag. It also has a desiccant inside the bag to keep the filament fresh.
It is completely hassle-free to print with this material. In order to ensure the best experience for its users, Amolen provides professional 3D printing technical guidance. Also, you can depend on its prompt customer service for any problem that might occur.
BuMat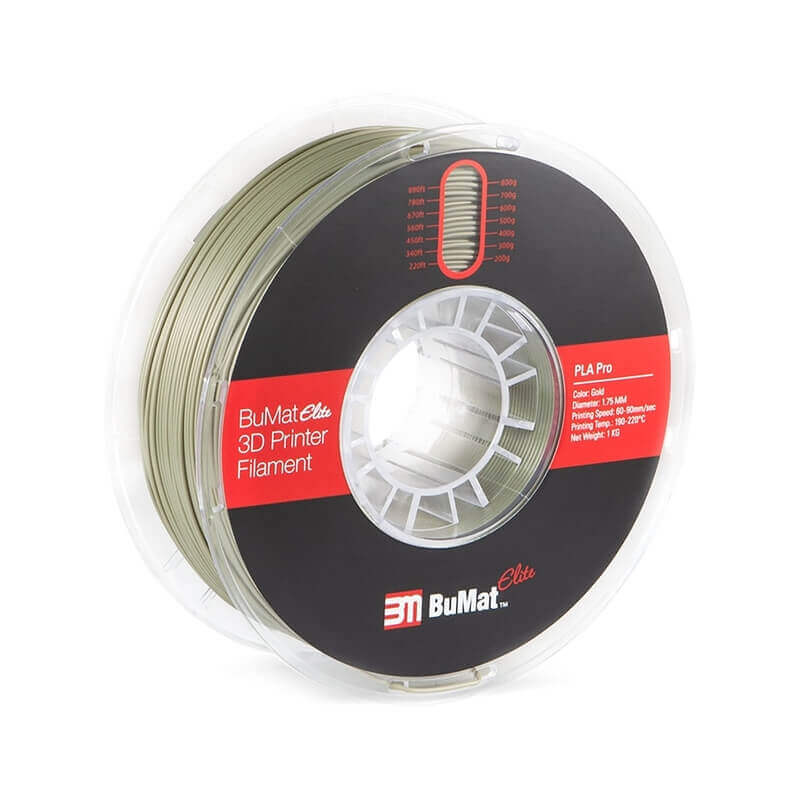 The manufacturer, BuMat has a wide range of filament varieties for different applications. And, all the materials are high quality and easy to work with. BuMat ensures that the filaments are properly coiled and shipped in an organized manner to avoid any hassle after delivery.
Preventing tangling and making it easier to print with a seamless flow of Gold PLA, the company has been able to demonstrate great dedication towards its customers' preferences.
Its gold PLA is available in 1.75mm diameter and can easily be used with almost every FDM 3D printer. The filament is strong and tough. In terms of finish, you can expect a semi-glossy texture for your printed parts.
As you would expect, the filament is made using high-quality biodegradable PLA and works best for parts required for indoor application.
And, the filament is eco-friendly too. This 1kg spool of filament is simple to tame and can tolerate extruder temperature ranging between 320- and 356-degree Fahrenheit.
You can easily print with this filament without a need for a heated bed.
Overture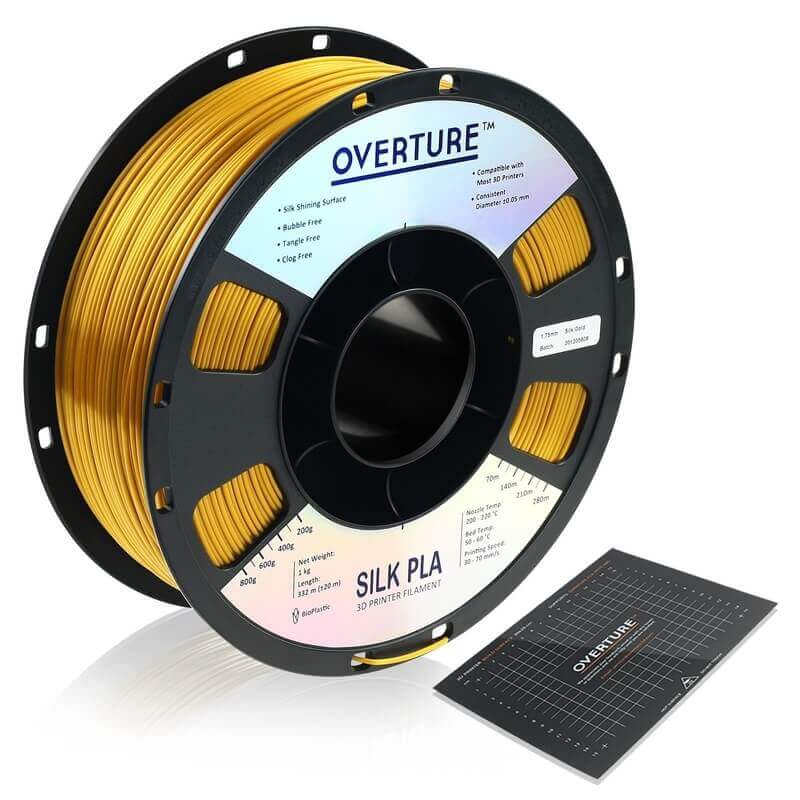 This OVERTURE popular Gold PLA offers users a nice and glossy appearance bringing every print-rich along with a "metallic" finish.
So, if your parts are for decorations, do not shy away from checking out this choice. You can also print beautiful structures and jewellery designs with this awesome filament.
The company's material comes with a clog-free and bubble-free guarantee. With the Jam-Free patent, OVERTURE ensures that the customers do not have trouble choosing this material over other brands.
For offering users a smoother printing experience with stable results, the manufacturer has moved every brick to come up with such a nice alternative at an affordable cost.
After ordering, the company ensures to follow strict filament sealing guidelines to provide users with high-quality material. The filament is tangle free and simple to tame. To ensure these attributes, the company carries complete mechanical winding along with strict manual examination, ensuring the filament stays less tangled. Therefore, it is easier and smoother to feed the filament to the nozzle.
These filaments come in 1.75 mm diameter and offers a dimensional accuracy of + / – .05 mm. The spools are available in 1 kg weight and are sufficient to provide a kick start for your printing projects.
Also, when it comes to compatibility, the filament tunes well with almost every FDM 3D printer. You can use the same settings that are suitable for standard PLA printing.
Most importantly, the nozzle temperature setting is also similar to that of PLA. You can print with this material at an extruder temperature setting between 190 to 220 degrees Celsius.
The Conclusion
Have you worked with PLA before? If yes, you won't experience a lot of surprises when printing with this material as well. Majorly because the filament is the same with just the colour difference.
However, it is also important to stick with the manufacturer's recommendations. Every filament comes with its own set of guidelines for printing. And, to attain the best results, following these settings would be high in the favour of your parts' quality.
So, if you are printing with Gold PLA, follow the right printing guidelines as well as opt for the brands that are reliable. Some may be difficult to print with bad bed adhesion and clogging problems.
Therefore, before choosing the brands, you must go through a complete analysis of what the market reviews entail. Or else, the order in small quantities, if you are not sure about the quality of the particular brand.
At the end of the day, a lot of things matter in creating precise 3D models. And, Gold PLA is not different. Design well and follow the precise printing steps to attain the results you desire.