HP Jet Fusion 5200 3D printer
The printer is a benchmark of quality and precision. Hardly you will find 3D printing systems that can match HP Jet Fusion 5200's level.
PROS
Printing with five different 3D printing materials.
Post-processing of parts and functional prototypes is easy.
High-class software solutions.
Huge build volume.
Good quality parts and functional prototypes.
CONS
The cost of this 3D printer is too high for any beginner to even think of paying it. Even if you are a 3D printing professional you have many other options to deliver a similar range of quality at a much lower price.
Product
Specification
Videos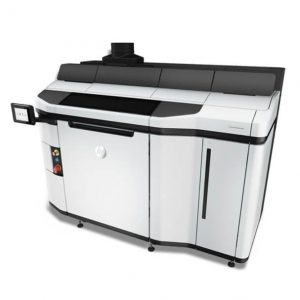 From the popular series of Jet Fusion family, HP Jet Fusion 5200 is among the large-format 3D printers. It offers a build space of 380 × 284 × 380 ...
| | |
| --- | --- |
| Model | Jet Fusion 5200 |
| Manufacturer | HP |
| Price Range | > $ 250000 |
| Release date | 2019 |
| Country | United States |
| Availability | Available |
| Classification | Industrial |
| Technology | Binder Jetting |
| Generic material | Yes |
| Max. build size | 380 × 284 × 380 mm 14.96 × 11.18 × 14.96 in |
| Max. build volume | 41.01 L |
| Heated print bed | No |
| Heated build chamber | No |
| Automatic calibration | No |
| Closed frame | No |
| Dual extruder | No |
| Independent Dual Extruder | No |
| Full color | No |
| LCD screen | No |
| Touchscreen | No |
| On-board camera | No |
| Mobile app | No |
| 3D scanners | No |
| CNC mill | No |
| Electronics 3D printing | No |
| Laser engraving | No |
| Conveyor belt | No |
| Air filter | No |
| Pellet extruder | No |
| USB | No |
| Wifi | No |
| Bluetooth | No |
| SD card | No |
| Ethernet | No |

Table of Contents
This 3D printing system is HP's latest offering in terms of growth and scale production with the most advanced plastics. It is an industrial 3D printing solution but like none other. We will take you in-depth with many aspects of this printer.
Features
HP Jet Fusion 5200 has parts that can produce dimensionally accurate objects at a commendable speed. And below mentioned features help the 3D printing system to bring such an outcome.
Automated mixing and loading with ultrasonic sieving and accessible sieve mesh: If there is one thing that takes a lot of time while 3D printing with Multi Jet Fusion printing technology, it's the mixing of materials. Because the raw 3D printing material is in powdered form, the mixing of it is a huge task. Understanding this, HP has in Jet Fusion 5200 automated mixing and loading system. All you need to have at your disposal is, the raw material for 3D printing, the powder, that's it.
Ultrasonic sieving makes only the best-powdered particles reach your 3D printing bed. This will increase the overall quality of your printed part or a functional prototype.
Semi-manual unpacking: The lesser the human intervention, the greater the overall efficiency of your 3D printing process. Taking this rule into account, HP has got a system in place for unpacking. Although it's not completely automatic, it's semi-manual.
High-temperature unpacking: To ensure that your printing time is minimum while mass manufacturing, HP has also got a system in place to unpack the part which is at high temperature, just after the 3D printing process has got to an end. The post-processing time for your 3D printed part or functional prototype will decrease. And hence the overall printing time for the part or functional prototype will decrease. This will let you as a manufacturer decrease your production time and meet the deadlines for your 3D printing project.
Automated external storage tank: Multi-jet fusion 3D printing technology demands a lot of 3D printing material, especially when the build volume of part or functional prototype is huge. So, you need to keep the storage tank for materials handy. HP has got in place this automated external storage tank, apart from the internal one. This will allow you to keep a back of storage materials at your disposal. So, you are never short of 3D printing materials for your 3D printing. And it's automated, so it will tell you when it's empty, and you can always monitor it on your device connected with the 3D printer.
Optional trained self-service deep cleaning: The need for post-processing and after that cleaning the print bed is the most exhausting one in printers based on Multi Jet Fusion technology. For assisting you with this process in HP Jet Fusion 5200 you have an optional trained self-service deep cleaning. This will let you clean the print bed of your printer and other printing affected areas without any trouble.
It comes extremely handy after you are done with a project that involved creating small and intricate parts and functional prototypes with dimensional accuracy in a huge amount.
Optional cooling unit: The printing temperature inside the print chamber is obviously hundreds of degrees Celsius. It is enough to let you not take out the part even if it is made, directly out in the open atmosphere. HP, therefore, offers an optional cooling unit that you can integrate with HP Jet Fusion 5200's printing system.
This will enable you to reduce the temperature of the printed part or functional prototype to a range wherein it is safe for you to expose it to the atmospheric temperature without damaging the part. Of course, this depends on the type of 3D printing powder material that you are using for creating the object. But it's always useful to have this cooling unit. It saves you some time, especially when you have mass production projects at your manufacturing unit.
Specifications
Multi Jet Fusion technology is the 3D printing technology on which this 3D printer is based. It is HP's proprietary technology that is known to deliver excellent prints.
HP Jet Fusion 5200 offers a maximum build volume of 380 mm * 284 mm * 380 mm.
The building speed at which this 3D printer can print parts and functional prototypes is 309 cubic inches per hour.
Layer thickness seen in objects created using HP Jet Fusion 5200 is 0.08 mm.
The Job precision and print resolution along the XY axis of this printer is 1200 dpi.
The weight of the printer is 880 kilograms. It is equipped with an Intel Core i7 7770 processor.
The printer's dimensions are 2210 mm * 1268 mm * 1804 mm. Its shipping and operating dimensions are 2300 mm * 1325 mm * 2027 mm and 3700 mm * 3700 mm * 2500 mm respectively.
The network responsibility of this printing system is handled by Gigabit Ethernet supporting TCP/IP, DHCP IPv4 only, TLS/SSL.
It comes with a warranty of one year on all the hardware parts used in making this printer.
The printer complies with Class A requirements including USA FCC rules, Canada ICES, EU EMC Directive, Australia ACMA, New Zealand RSM, and Korea KCC.
Specifications of the Processing station
The dimension of the processing station that comes with this 3D printer is 2990 mm * 934 mm * 2400 mm.
Its shipping and operating dimensions are 2389 mm * 1176 mm * 2182 mm and 3190 mm * 2434 mm * 2500 mm.
The processing station weighs 485 kilograms and consumes 2.6 kilowatts of power.
The input voltage is given to this processing station single phase 200-240 Volts, 19 Ampere (line to line), 50 to 60 Hertz, 14 Ampere, 50 Hertz (line to neutral).
The printer station also complies with all the certifications from the organization that the printer complies with.
Price
Not only for this 3D printing system but also for anyone, you will have to connect with HP and find a reseller in your area.
The price of this printing system is not available anywhere and is something you will be able to find after filling a form that will ask you to select from three options:
Want and learn more about HP's 3D printing solutions.
Seek help in finding a reseller.
You want to be a partner or are interested in becoming one.
You can also opt for the option of getting contacted via email or phone.
First Impressions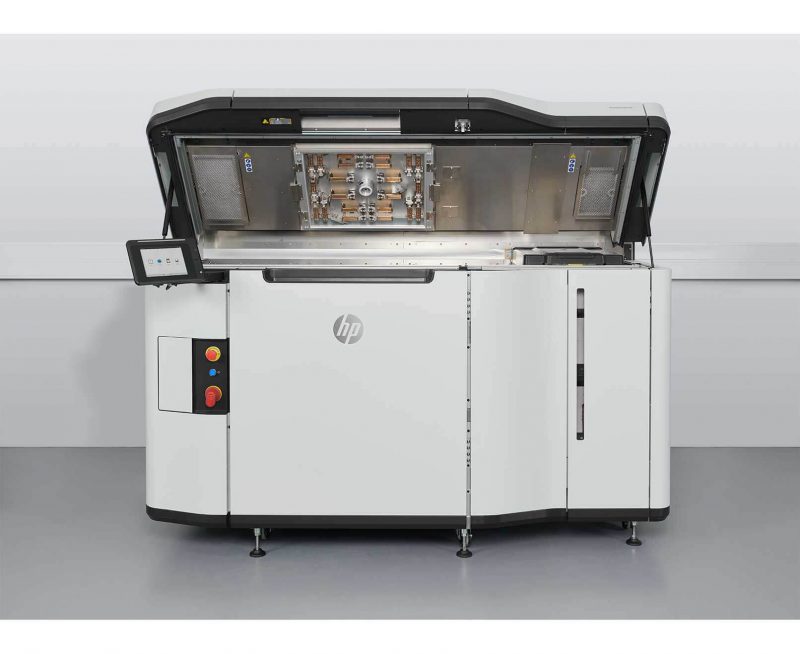 HP Jet Fusion 5200 printing system has four essential machines:
HP Jet Fusion 5200 3D printer.
Build Unit.
Natural Cooling Unit.
Processing Station.
The 3D printer comes with a touch screen interface from which you can control as well as monitor the complete printing system.
There are two knobs, in which there is a button. A tray-like compartment is attached beside the touch screen interface. All four of these machines stand on their legs.
The processing station is the bulkiest of them all, it also carries a touch screen interface. Overall, it will occupy a lot of your workspace.
Setup
On-site training will be made available to you with the printer. So you do not have to worry about the setup of this printer. Overall the system is huge than normal industrial 3D printers.
Also, Multijet Fusion technology is very complex. You will have to go through many procedures and ensure each of them happens correctly to get the amount of precision needed in a part or functional prototype.
Printing Type/Cost
Multi Jet Fusion technology is the name of 3D printing technology on which HP Jet Fusion 5200 is based. It is one of the technologies based on powder bed fusion 3D printing technology.
Introduced in 2016 by HP, this technology is based on HP's another proprietary technology that its inject printers are established on.
Herein, the processes of material recoating and agent distribution, as well as heating, are carried out by separate head arrays that move across the print bed in various directions.
Because of this reason, you are allowed to optimize both the process independently, thereby increasing the overall efficiency of your 3D printing.
The process of 3D printing starts with the printer laying down a layer of material powder on the printing bed. Followed by this, the inkjet head runs across the powder, depositing fusing as well as a detailing agent on it.
There is an infrared heating unit that will move across the complete print. The place where this fusing agent is added, the underlying layers melt together. Whereas the areas with detailing agents remain as powder.
According to the claim of HP, its Multi Jet Fusion 3D printing technology differs from most other 3D printing technologies.
In it, each new material, as well as the agent layer, is located while the layer before it is still molten.
The entire powder bed and the 3D printed parts will then be moved to the post-processing station.
The printing cost of this printing technology is very high, probably the highest when compared with other technologies. It is because of the sources used for 3D printing in Multi Jet Fusion technology.
Print Quality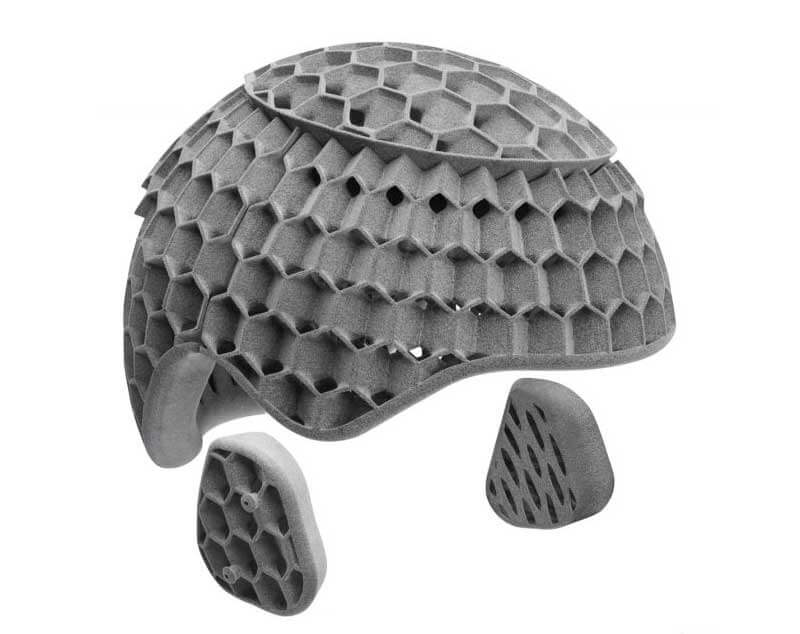 Credit: europac3d
You will get the best quality parts and functional prototypes produced with this 3D printing system. It offers the best layer resolution range that you cannot get with any other 3D printing technology or printer.
The kind of surface finish you will see on the objects you manufacture using this 3D printer resembles parts and functional prototypes made from injection molding manufacturing technology.
Software


The printer comes with HP SmartStream 3D Build Manager, HP SmartStream 3D Command Center software. The software that is compatible with this printer are:
HP 3D API
HP 3D Center
HP 3D Process Control
HP Universal Build Manager powered by Dyndrite
The supported file formats are 3MF, STL, OBJ, and VRML. Apart from the proprietary software, you can also operate the printer with third-party slicing software such as; Autodesk Netfabb with HP Workspace, Materialise Build Processor for HP Multi Jet Fusion technology, and Seimens NX AM for HP Multi Jet Fusion technology.
Customer Support
HP aims to deliver you a world-class service experience focused on helping you successfully navigate through your 3D printing journey from technology adoption to full-time production and continuous growth.
There are three types of 3D printing services you can opt for, with HP. They are:
Printing prepare services.
Printing care services.
Printing grows services.
Parameters Influencing Buying Decision
Below mentioned factors summarize the complete article's main points.
3D Printer Cost: As mentioned in the section before this, HP Jet Fusion 5200 costs a huge sum which is primarily meant for people who wish to have high-quality parts and functional prototypes and are willing to pay any price for the same.
3D Printer Quality: Extraordinarily representing the parts made from injection molding and can even serve as their replacement.
3D Print Speed: Lower than other industrial 3D printing systems based on different 3D printing technologies.
3D Printer Capability: You can print with five different parts and manufacture objects that can find use in many industries.
3D Printer Practicality: In practical use, this 3D printer's efficiency is something that will shock you.
3D Printer User Expectations: Expectations of big-budget manufacturers who have clients that are asking them to focus on getting immense precision and are willing to pay for the same will find sync with this printer.
The Verdict
The printer is a benchmark of quality and precision. Hardly you will find 3D printing systems that can match HP Jet Fusion 5200's level.