HP Pro S3
The combination of HP Pro S3's hardware and software leads to incredible scan quality that helps anyone design parts with ultimate perfection.
PROS
Flexible as well as scalable.
Accurately water-tight outputs.
Rapid scanning of parts.
One-click operation.
CONS
Pros S3 falls on the higher end of desktop 3D scanners which makes it out of the reach of beginners in the field.
Table of Contents
Pro S3 is a desktop 3D scanner manufactured by HP. The machine allows the generation of fast colored 3D scans and is equipped with an HD video projector with a large focus range as well as stable glass calibration panels. Also, the 3D scans can be exported into standard 3D file formats such as OBJ, STL, and PLY.
Processing the files would lead to their applications into various industries such as rapid prototyping, inspection, reverse engineering, archeology, computer animations, or video games.
The scanner is almost twice as fast as other 3D scanners in the same price range. It runs at 50 frames per second and manages to provide better resolution by measuring 2.3 million dots per scan.
A scan precision level of up to 0.05 mm can be achieved using Pro S3. It comes with easy to setup components: a tripod, rail setup, moreover, users can also make use of another camera for obtaining even more precision and accuracy.
An optional turntable is available separately with a desk scan lever. Let's get to know this amazing 3D scanner in-depth.
Features
The scanner consists of several components including the projector, camera, special slider guide, etc. Each one of these components works together for creating a scan of an object with high precision.
On that note, let's have a look at some of the most intriguing features of the scanner mentioned and explained below.
High Level of Precision
Pro S3 delivers very precise results with up to 0.05 mm resolution. Because of such a level of precision, users can scan objects of varying geometries easily.
The scanner can scan even reflective surfaces with a single click on David software. Users can generate a real-time preview of the digitized model in a few seconds only, thereby making it extremely convenient to use.
Equipped with an Acer K11+ projector, the high focal range of its lens enables easy calibration for large as well as small scanning areas.
The component runs at twice the speed of its predecessor and offers a better resolution i.e. 2.3 million DPS which leads to the creation of models with high mesh density and rich detailing. Even tiny grains are highly visible.
Rapid Scan Speed
An object can be scanned on HP Pro S3 within 2 seconds. And if it is an intricate sort of geometry, it can take a maximum of up to 10 seconds, not more than that.
Of course, the scan speed depends on normal scan settings as well as computer speed, but for the most part, it does not take more than 10 seconds. The scan size can vary anywhere between 60 to 500 mm.
Capable of color capturing
Pro S3 is capable of providing users with a full-color scan of any kind of geometry that users wish. The structured light, turntable, and camera make it possible to get reality like scan capturing of small as well as large objects.
Color scanning gives a complete idea of how the 3D model would look like, thereby giving enough freedom as well as options to users for any sort of editing beforehand.
Specifications
| | |
| --- | --- |
| | |
| Technology | Structured Light |
| Price | 3899 $ |
| Resolution | 0.05 mm |
| Speed | Few seconds per scan |
| Object size | 60 – 500mm |
| 3D mesh density | 2,3 million vertices |
| Export formats | OBJ, STL, PLY |
Pro S3 scans with an accuracy level of 0.05 mm. It can be connected using the USB slot for file transfers.
The scanner has outer dimensions in the order of 635 mm * 356 mm * 229 mm and weighs 0.8 kilograms. It is based on structured light technology and has an acquisition speed of 2300000 points per second.
The machine is equipped with a camera that has a resolution of 2.3 megapixels that captures various aspects of the object that you are willing to scan. Pro S3 is capable of providing a maximum resolution of 0.05 mm.
The exposure of various aspects of the object to laser beams and camera is done using a rotating table of 300 mm * 500 mm. The scanner has a working range of 0.06 to 0.5 meters.
Price
HP Pro S3 is available for $3899.
First Impression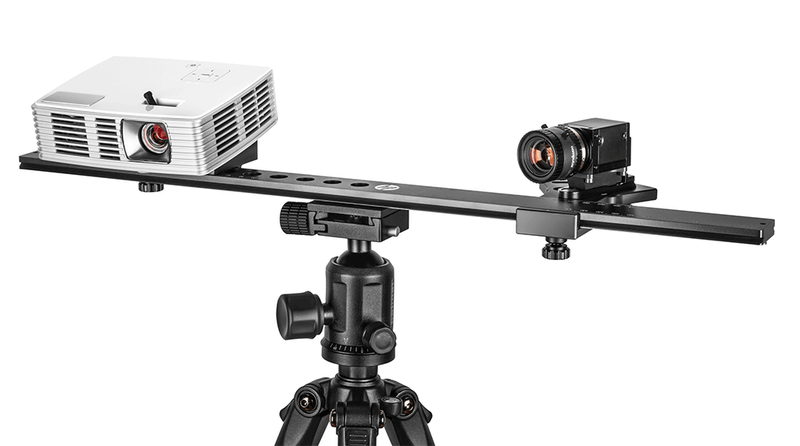 HP Pro S3 is delivered in a box with:
HD projector with a special lens
HP 3D Scan software Professional Edition v5
USB key with software license
Aluminum support slide with a runner
Camera
Adjustable tripod
Calibration panels
User manual
Full connectivity
Power adapter
HDMI adapter
All required cables
The scanner is available in light grey color and its stylish look makes it perfect for reverse engineering, research as well as industrial manufacturing. The device's overall dimensions are 635 mm * 356 mm * 229 mm and its weight is 0.798 kilograms.
Setup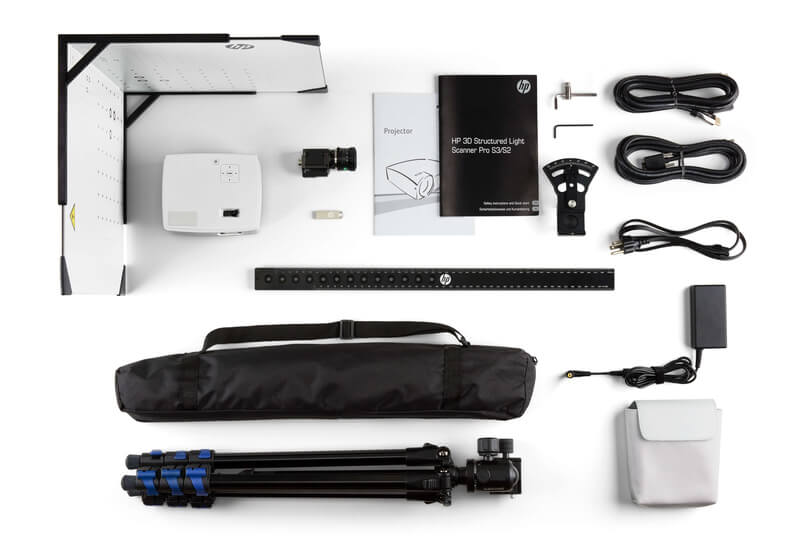 Credit: growshapes
After taking the scanner out of the box, users need to mount the camera and lens that are already attached to the rail, on a tripod using a special mount.
The distance between the camera to the projector as well as the angle of its rotation depends on the geometry and size of the object. Then, you have to connect the projector to the power supply and with the computer using an HDMI cable.
Once that step is done, you need to install the software on your device which can be done using the USB stick that comes with the kit or downloaded from the HP website. After that, you are good to go with the scanning part.
Scan Type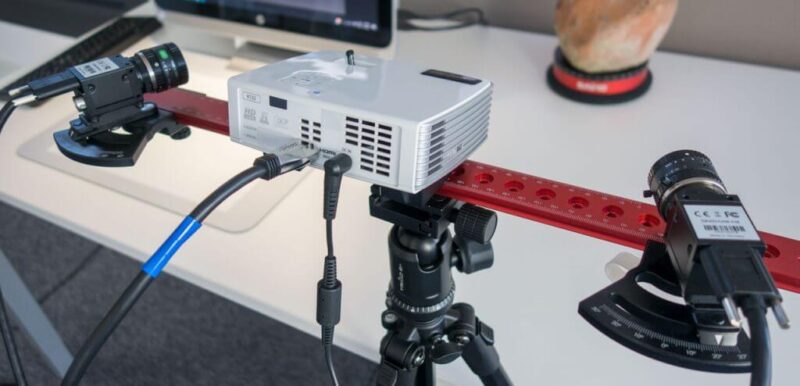 Credit: 3dscanexpert
HP Pro S3 uses structured light technology that takes into consideration trigonometric triangulation as laser-driven technology does. But the difference is, it works by projecting a pattern of light onto the object for scanning and not the laser line or dot.
The pattern is projected on part with the help of an LCD projector or other source of stable light.
Single or more sensors are set at a place slightly offset from the projector; look at the shape of the pattern of light thereby calculating the distance of every point in the field view.
Two types of structured lights can be used in the scanning process i.e. White or Blue consisting of a series of stripes or matrix dots or other shapes.
Scan Quality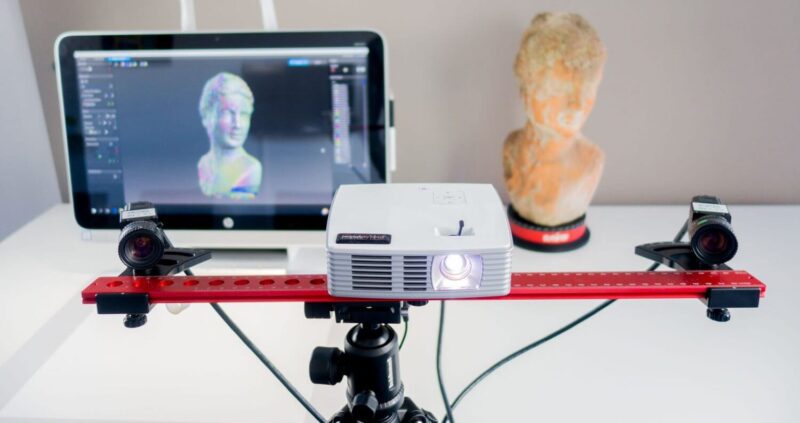 Credit: 3dscanexpert
With a few correct settings, S3 delivers an amazing quality of scans. Objects with intricate geometries can also be scanned to the dimensionally accurate level.
Software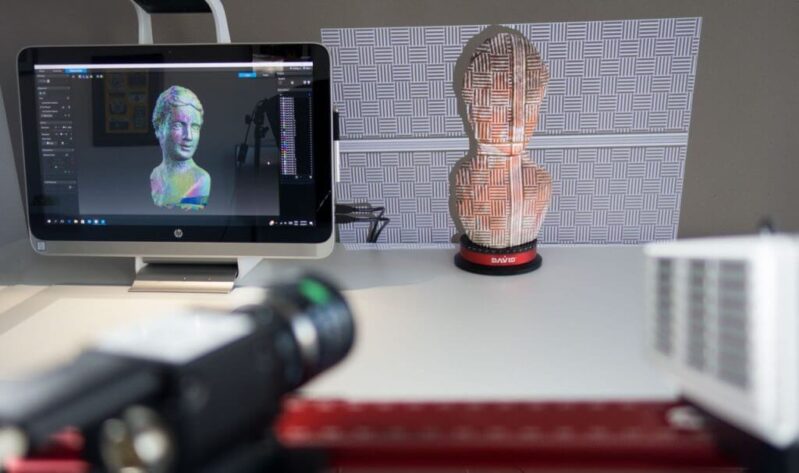 Credit: 3dscanexpert
Proprietary HP 3D Scan software comes integrated with the scanner. Its one-click operation can convert each shot into point clouds.
After which, the application automatically aligns as well as assembles various scans for producing the complete 3D textured model which permits the export of scans into a variety of 3D file formats such as STL, OBJ, and PLY.
These are the file formats that are compatible with the most common 3D printers and CAD applications. The programs run smoothly on Windows operating system.
Customer Support
HP has one of the best customer supports in the scanning industry. Users can contact the technical team for any sort of query regarding the scanner.
HP has an active community on which operators can post their questions to receive answers to the same. Apart from this, all the software and drivers can be downloaded from HP's website.
Parameters Influencing Buying Decision
The key factors regarding scanners are mentioned below in brief.
3D Scanner Cost: Pro S3's price falls in the range of professional 3D scanners and hence it's a little higher than normal handheld or desktop 3D scanners.
3D Scanner Speed: Capable of scanning an object in only 2 to 10 seconds, S3's scan speed is higher than most other 3D scanners falling in the same price range.
3D Scan Quality: The scanner is able to deliver a scan resolution of up to 0.05 mm which means all the views of an object would be covered in the scan with equal detailing. Be it edges of that object, or other complexities.
3D Scanner Capability: Pro S3 is capable of delivering its scans in standard file formats such as OBJ, STL, and PLY, thereby easing the work of users.
3D Scanner Practicality: Because of its ability, the machine finds application in various industries such as tooling, reverse engineering, 3D printing, model making, etc.
3D Scanner User Expectations: Pro S3 is for professional scanners who are looking to make the most of the flexibility, and user-friendliness offered to them.
The Verdict
The combination of Pro S3's hardware and software leads to incredible scan quality that helps anyone design parts with ultimate perfection.
Although S3, is on the higher end of the bar when it comes to price, it's worth it for professionals who wish to scan objects by structured white-light technology.
S3 has a modular system and industrial-grade components that allow users to scan various sizes of objects from various distances with ease.