JGMAKER Magic 3D Printer
JGMAKER Magic offers undeniably valuable perks to its users. With remarkable print quality, it comes with easy to assemble design.
PROS
Highly affordable
Easy to setup
Multiple filament support
Heated print bed
Print resume option (both for a power outage or accidental removal of SD card)
Acceptable print quality with smoother surface finish
CONS
May not suit professionals with much complex print requirements
No auto bed leveling
Upgrades are difficult
Not a plug and play machine
Product
Specification
Videos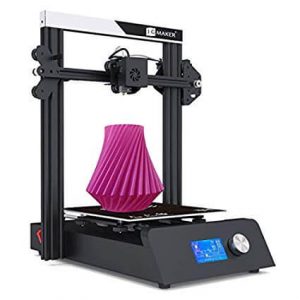 A compact desktop 3D printer with a considerable 3 build volume, JG Maker Magic has all it takes to make it the most efficient in the category of ...
| | |
| --- | --- |
| Model | Magic |
| Manufacturer | JGMAKER |
| Price Range | $ 214 |
| Release date | 2019 |
| Country | China |
| Availability | Available |
| Classification | Desktop |
| Technology | Extrusion (FFF- FDM…) |
| Material | ABS, Other plastics, PLA |
| Filament diameter | 1.75 mm 0.07 in |
| OS compatibility | Linux, Mac OS, Microsoft Windows |
| Generic material | Yes |
| Max. build size | 220 × 220 × 250 mm 8.66 × 8.66 × 9.84 in |
| Max. build volume | 12.10 L |
| Nozzle diameter(s) | 0.4 mm 0.02 in |
| Heated print bed | Yes |
| Heated build chamber | No |
| Automatic calibration | No |
| Closed frame | No |
| Dual extruder | No |
| Independent Dual Extruder | No |
| Full color | No |
| LCD screen | Yes |
| Touchscreen | No |
| On-board camera | No |
| Mobile app | No |
| 3D scanners | No |
| CNC mill | No |
| Electronics 3D printing | No |
| Laser engraving | No |
| Conveyor belt | No |
| Air filter | No |
| Pellet extruder | No |
| USB | No |
| Wifi | No |
| Bluetooth | No |
| SD card | Yes |
| Ethernet | No |

Table of Contents
Finding a budget 3D printer is not an easy task. While you do wish to get cheaper price options, at the same time, you do not want to miss out on the latest features.
Many assembled 3D printers with affordable price tags may lack while offering the right set of functionalities. However, a kit option takes you one step ahead.
The JGMaker Magic review would prove the same. Within the $300 range, the 3D printer has proven to be one of the best kits available today. You can go on and on about its benefits and won't find it overstated at any time.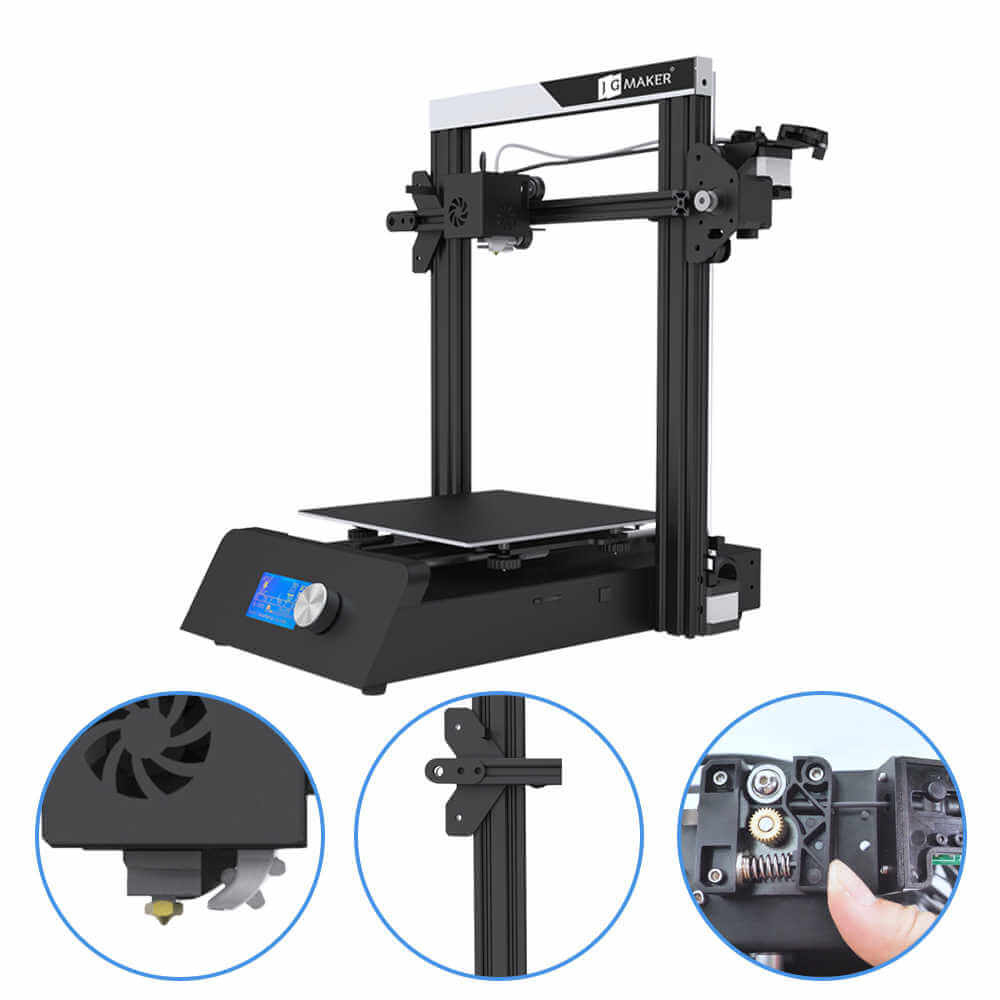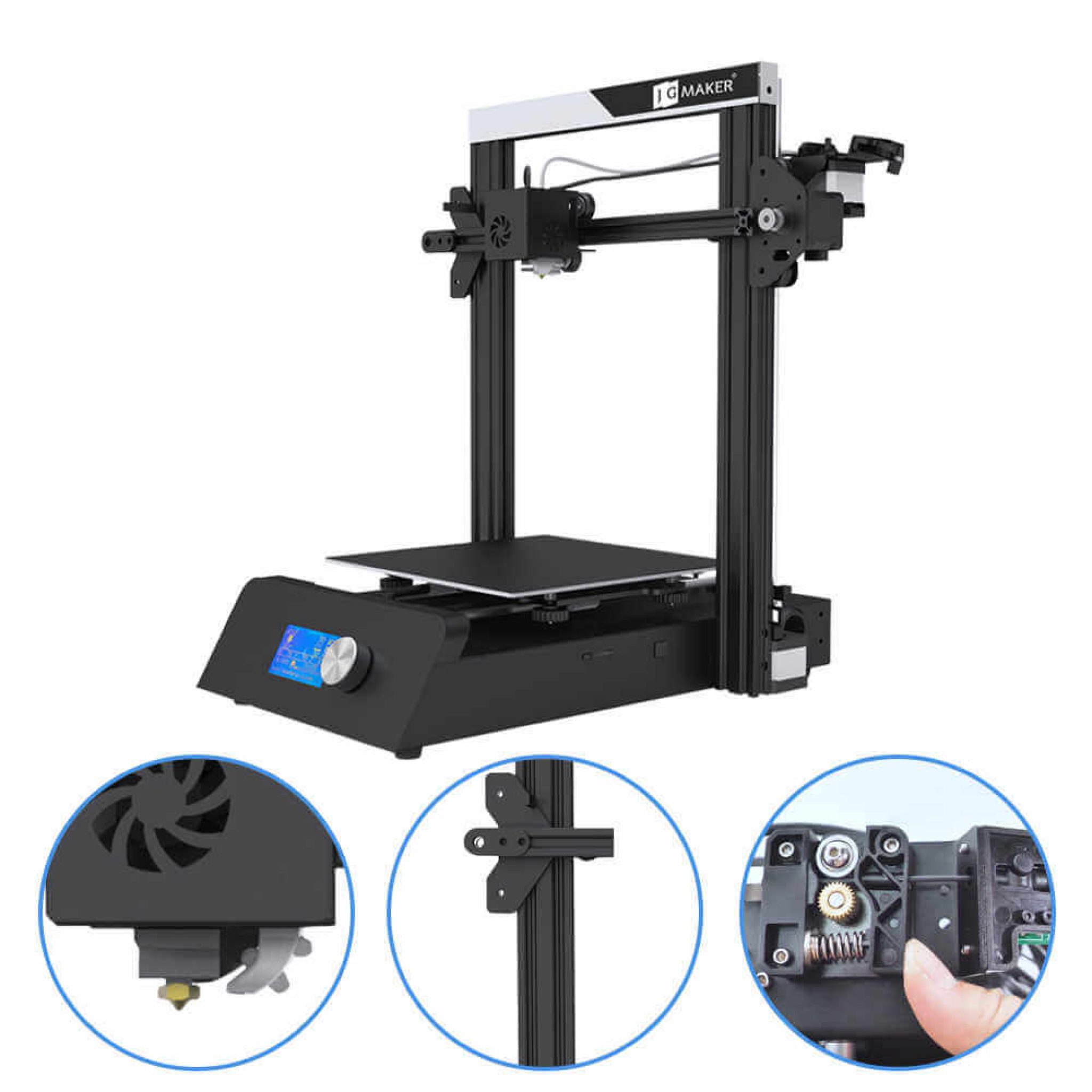 The 3D printer offers undeniably valuable perks to its users. With remarkable print quality, it comes with easy to assemble design.
Although it is a 3D printer kit, the assembly won't take much longer. Just a dozen parts to connect to the mainframe and the printer is ready to operate.
Those who are wanting to dip their toes in the 3D printing world might like to start with a budget-friendly 3D printer, instead of pouring thousands of dollars in one go.
The manufacturer makes the choice easier for such users. Instead of feeling overwhelmed with so much around to choose from, you just have to pick this one. The quality and price balance seems nowhere closer to what JGMaker Magic offers.
This does make it crucial to find out all the features and perks that make this 3D printer a deserving option for 3D printing newcomers. Wait! That does not mean you cannot use it as an experienced maker. You sure can. It's just that the price is too pretty for beginners.
Features
A lot of readers when listening about the cheap budget printer must be willing to find out what all is in store.
However, it may surprise you that the 3D printer offers a wide range of features that may look too far fetched looking at its price. That is why it is worth the try and value for the price.
Open Frame: Let's start with the design of the 3D printer. It is an open frame 3D printer and opens from all sides. You can easily check the progress while it works next to you.
Sturdy Body: To offer users with high stability while printing, the 3D printer comes with an aluminum frame. It is very reliable and ensures that the vibrations aren't a cause for ruining the accuracy of the parts. One can print precise objects when depending on such a reliable design without any hassle.
Change of Filament While Printing: The filament holder is placed on the side of the printer. This is to ensure that the printing process continues undisturbed even if you try to change the filament in between the prints.
Easy to Assemble: let's be candid here. The 3D printer is not a plug and play device if that is what you are looking for. However, it is also not those kits that take up more than a day to assemble the modules together. With JGMaker Magic, you can expect to spend about 2 hours, even with no prior experience to connecting the different modules together.
Heated Bed: Yes, the printer bed is heated. Hence, you can depend on the machine for the highest first layer adhesion.
Removable Build Plate: After you have completed the printing process, you can just snap out the build plate to remove the printed parts from the top. The flexible plate with easy to remove steps, helps users to easily take the prints out after completion.
Resume Prints: If there is a power outage, you still can complete your prints after the lights come back. This is because of the print resume feature of the machine. Utilizing this feature, the printer pauses the printing right after the power goes off. And, it resumes printing after the power comes back, right from where it stopped printing. Thus, enabling for a safer print.
Filament Run Out Detection: How many 3D printers under $300 have you found that offer such features? There are very limited options. And, JGMaker Magic is one of those. It lets users print safely by offering the latest features. The filament run-out detection pauses the print in case the printer is low in the material. It won't start printing unless you have fed the material back into the filament spool.
Resume Prints After Accidents: What does that even mean? This feature is very useful when you accidentally remove the SD card while the printer is still working. In such a case, the printer will save the print progress and start from where it left after you put the SD card inside.
Built-in Power Design: A lot of printer design does not focus on the safety of the users and place the power supply design on the exterior of the printer. However, JGMaker Magic has taken a different approach altogether. The 3D printer has an in-built power design to make sure that users do not touch the electronic parts and hurt themselves. Plus, it offers an elegant look to the machine.
Multiple Material Support: The 3D printer provides multiple material support. Unlike most of the budget printers that stuck with PLA printing, this one offers wider room for creativity. Users can print with PLA, ABS, Wood, and few other materials.
Stable Nozzle Design: It has a reliable extruder design. With a short Bowden tube, the printer has been able to nail the right setup with the highest accuracy.
There is a lot that you can only discover if you experiment with this powerful machine. The 3D printer is meant for those who cannot compromise with quality, however, do not have a huge saving to pay for a very expensive 3D printer.
Specifications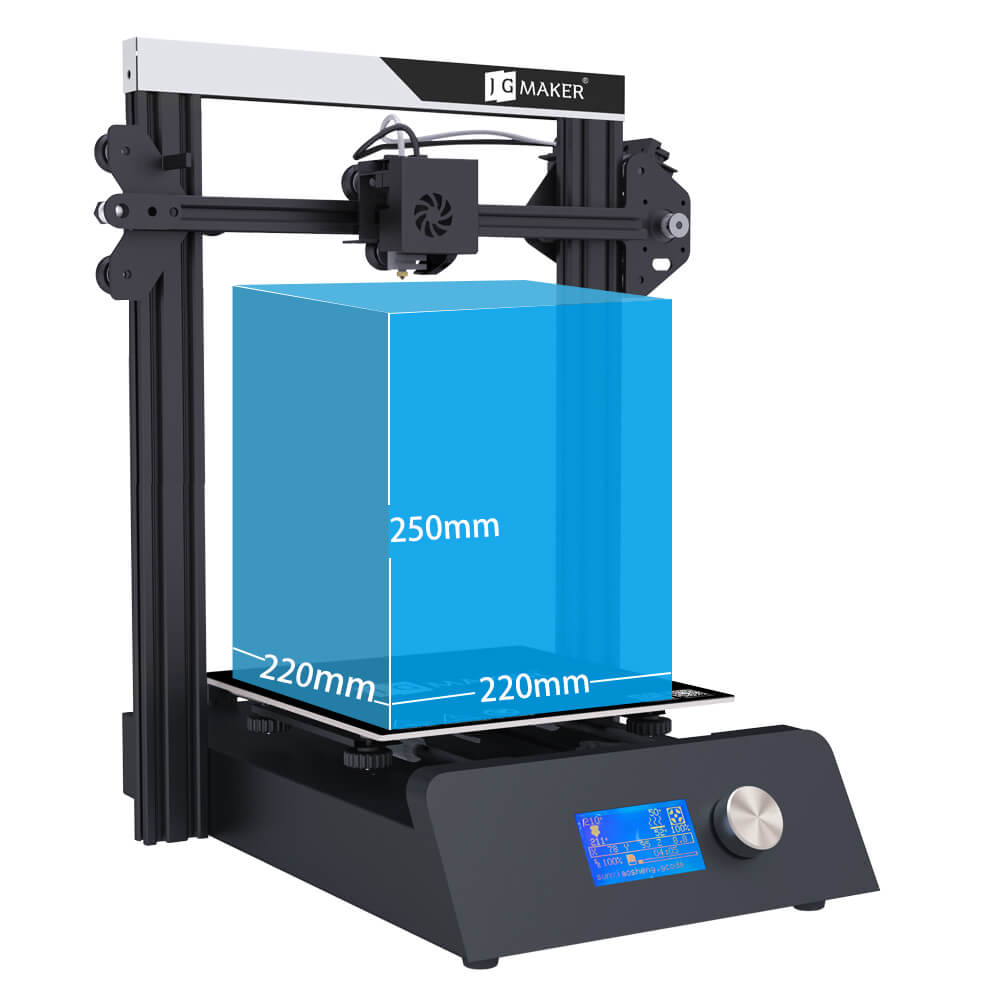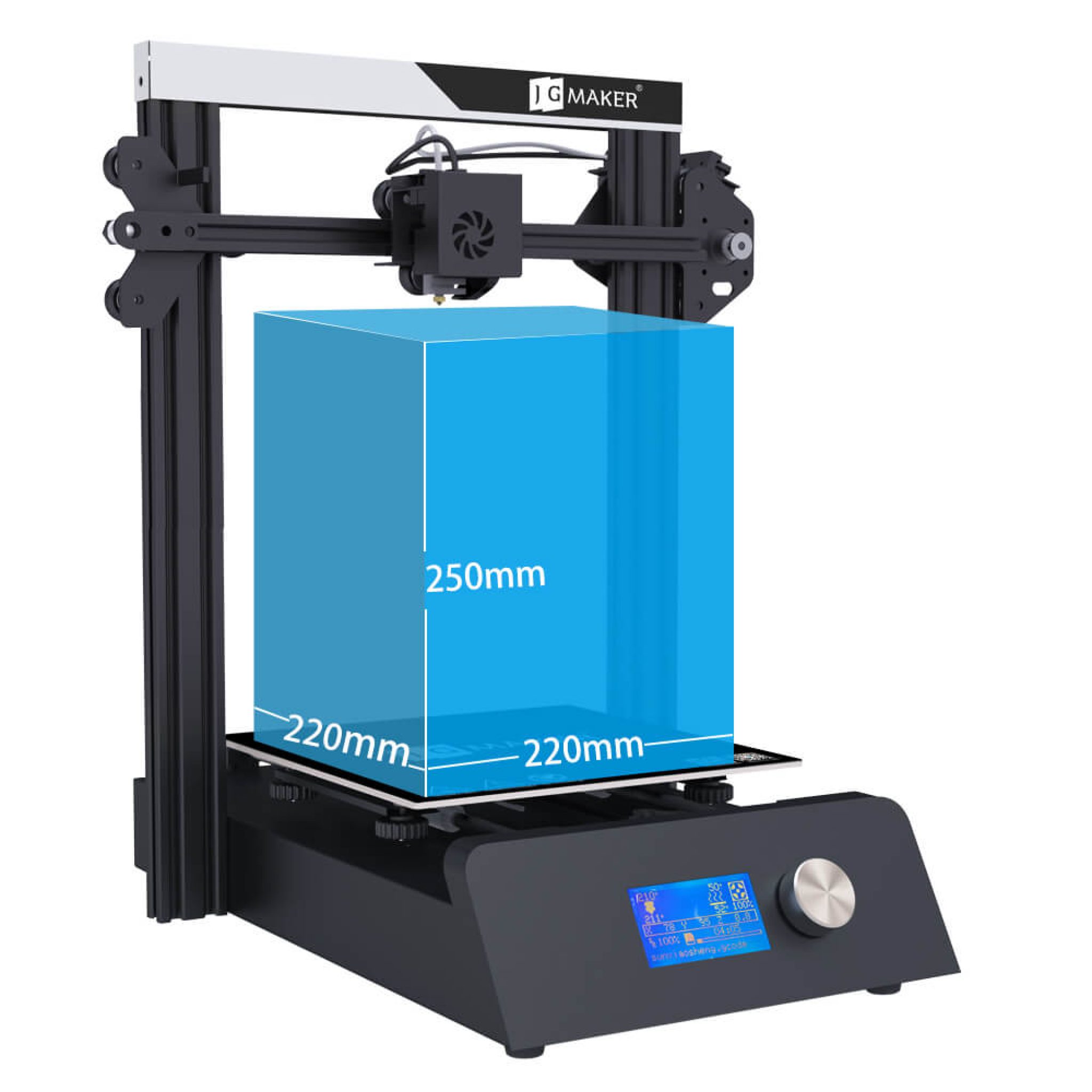 The 3D printer is compact but offers enough space to give wings to your imaginations. With a total footprint of 443*450*472mm, the printer weighs 8kgs.
And, the packaging size of the complete machine is 550*465*175mm with a weight of approx 10 kgs. With such volume, you cannot expect a print size much enormous. However, it does offer a considerate print space of 220*220*250mm.
It makes use of Bowden extruder assembly with a comparatively short Bowden tube. The nozzle can reach a temperature of 240 degrees Celsius.
The heated bed provides a temperature of 110 degrees Celsius. It works on the AC power of 110/220V. It accepts the filament with a 1.75mm diameter. The 3D printer accepts STL、OBJ、G-Code digital file formats.
In terms of connectivity, the machine is limited to SD cards and USB. It does not offer WIFI connectivity. And, how can we forget to talk about the precision it offers.
JGMaker Magic enables the possible layer thickness ranging between 0.05mm to 0.3mm. The print speed is also applaudable. You can use the setting ranging between 10 mm/sec to 150 mm/sec.
Price
This is what may interest you more than anything else. Knowing that there is a 3D printer that promises to offer commendable quality prints without asking for an arm, is highly relieving.
And, if you have been ignoring your interests looking at the expensive machines out there, time to give buckle up for the ride.
JGMaker Magic costs $299. When looking at the amazing features it provides, the price seems so tiny. The machine is value for money. And, you must give it a try if you want to explore the plethora of possibilities 3D printing offers.
First Impressions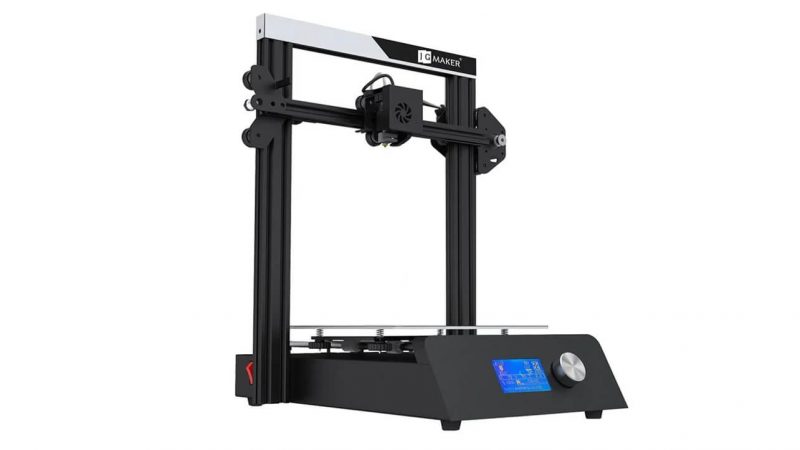 Unboxing is where you may feel your hormones rising with all the excitement and emotions. This 3D printer is really a gem. And, you would know that sooner. The packaging is also very detailed. The usage of foams makes the complete package secure and easy to ship.
Also, the different components are snuggled inside separate plastic bags and are properly labeled. There is no confusion in finding whatever you need at the right moment. Apart from the 3D printer components, you do have other accessories packed inside the box.
You have got the SD card, the USB card reader, a USB cable, few pairs of hex keys, a spare nozzle, and a nozzle wrench.
Plus, you do have a very limited test filament that comes along with the package. If you want to start printing right away, you must order some filament along with the printer itself.
The assembly guide is available on the SD card and there isn't any hardcopy. While that is too thoughtful for saving papers, it does make following instructions a bit complex. That does not matter anyway.
Setup
If you are a complete beginner, you may take a few more hours to assemble the components together. However, those who have hands for such machines can accomplish the task in like 20 to 30 minutes.
After leveling the bed and making the necessary changes to the settings as per your filament choice, you can easily go on for 3D printing.
The guide is not very detailed and you may find yourself struggling with few things, but you have a very responsive customer care team to offer help.
Printing Type/Cost
JGMaker Magic 3D printer is an FDM machine. Hence, this is the simplest of all 3D printing processes. This again proves that the 3D printer is for beginners.
With the FDM 3D printing, you can load the filament spool and the printer nozzle will extrude the melted filament, one layer at a time.
After each layer cools down, the printer build plate will lower down, to a height of a single layer. This will help to deposit the next layer. This process will continue until the part is completely printed.
The cost of printing depends on various parameters. It's not just the size and complexity of the parts, but also the choice of filament, layer height, the variable costs such as electricity bill.
Considering all these factors, you can find out the total cost of printing a part. The best part is that the FDM filaments are cheaper than the material used for other 3D printing processes. And, PLA being the cheapest one.
Print Quality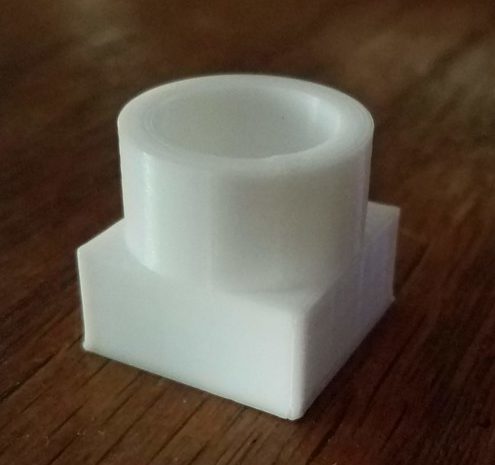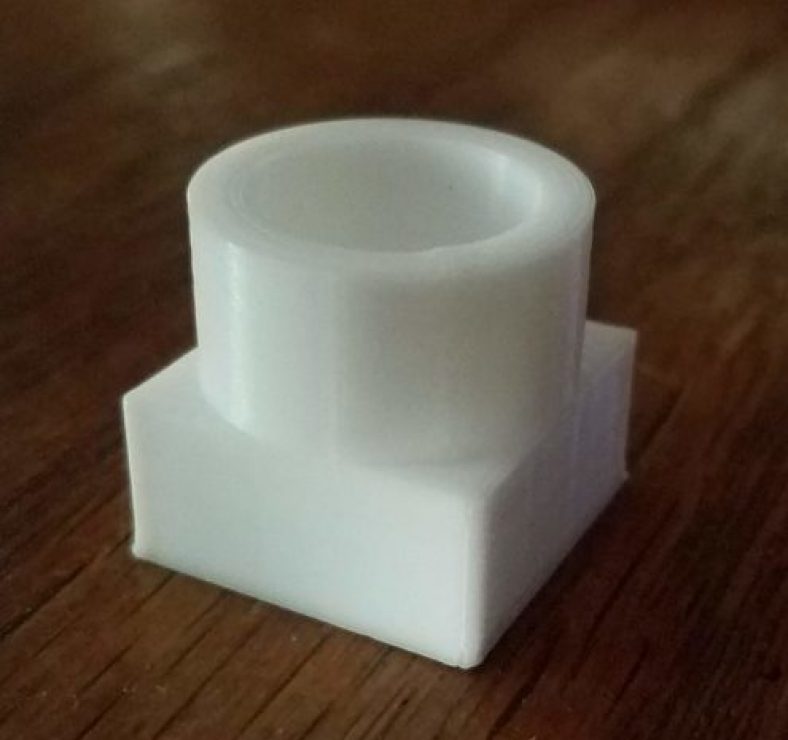 The print quality is fair for the amount you pay. With smoother finish and precise details, you may want to get deeper into the complex designs. And, for a long way, this 3D printer could seem a reasonable choice.
However, comparing the print quality with expensive professional 3D printers won't be justified at all.
Software
The 3D printer is compatible with Cura as well as JGcreat. Both applications are simple to use and easy to understand. Offering users with a huge set of controls, one can achieve unique results without any problems.
Customer Service
As mentioned above, the customer support team is highly vigilant. You get answers quickly and they are always eager to help users.
Parameters Influencing Buying Decision
Here is what you must consider before buying this 3D printer.
3D Printer cost: It is a budget-friendly 3D printer costing only $299. Hence, the best option for beginners and makers.
3D Print quality: Considering the price, the print quality is commendable. You get nice prints out of the printer. I just need to work on the right settings.
3D Print speed: Once again, the printer offers great print speed. You can reach a speed of up to 150 mm per second.
3D Printer capability: You can print precise and fine details. Create essential products for home or experiment with figurines, there is a lot possible with this printer.
3D Printer Practicality: Best for home users and beginners.
3D Printer User expectations: It does offer quite a great number of features. And, well stands against the expectations of the users.
The Verdict
Every user need varies. Hence, one must go through the detailed JGMaker Magic 3D printer review above to make an informed decision. And, if you want to learn about the technology and wish to find a companion that will go along for years of experience, this is the choice.