Anycubic Kossel (Pulley Version)
Anycubic Kossel 3D printer has a lot to offer its users at this price range. Released back in 2004, the 3D printer has been able to come along a far way with many upgrades.
PROS
The print quality is amazing
Works great with PLA
Affordable
Great customer support
Various upgrades available
CONS
It's difficult to level the bed
No automatic leveling
No wifi support
Product
Specification
Videos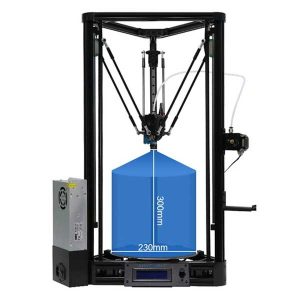 Open design 3D printer lover? Searching for a printer that gives good quality and has a reliable manufacturer name to it? Here's your go-to 3D ...
| | |
| --- | --- |
| Model | Kossel Linear Plus (Kit) |
| Manufacturer | ANYCUBIC |
| Price Range | $ 339 |
| Availability | Available |
| Classification | DIY/Kit |
| Technology | Extrusion (FFF- FDM…) |
| Material | ABS, Other plastics, PLA |
| Filament diameter | 1.75 mm 0.07 in |
| OS compatibility | Linux, Mac OS, Microsoft Windows |
| Generic material | Yes |
| XY accuracy | 0.01 mm 0 in |
| Max. build size | 230 × 230 × 300 mm 9.06 × 9.06 × 11.81 in |
| Max. build volume | 15.87 L |
| Max. print speed | 60 mm 2.36 in /s |
| Min. layer thickness | 0.1 mm 0.004 in |
| Dimensions | 380 × 380 × 680 mm 14.96 × 14.96 × 26.77 in |
| Weight | 7 kg 15.43 lb |
| Nozzle diameter(s) | 0.4 mm 0.02 in |
| Power input | 110V/220V |
| Heated print bed | Yes |
| Heated build chamber | No |
| Automatic calibration | Yes |
| Closed frame | No |
| Dual extruder | No |
| Independent Dual Extruder | No |
| Full color | No |
| LCD screen | Yes |
| Touchscreen | No |
| On-board camera | No |
| Mobile app | No |
| 3D scanners | No |
| CNC mill | No |
| Electronics 3D printing | No |
| Laser engraving | No |
| Conveyor belt | No |
| Air filter | No |
| Pellet extruder | No |
| USB | Yes |
| Wifi | No |
| Bluetooth | No |
| SD card | Yes |
| Ethernet | No |

Table of Contents
Although there are many versions of 3D printers the company has designed, Anycubic is fairly known for its Kossel 3D printers. Among the Kossel range, there are varieties of different 3D printers.
One is the pulley version, and another is the linear one. There is one more linear plus version. However, in this Kossel 3D printer review, let's discuss the pulley version.
Before going into details, how about understanding the basic difference between the two versions: pulley and linear? You must be in sync with us. So, here is what you must expect.
The pulley 3D Printers use wheels on the carriage. However, in the linear version, the 3D printer employs rails and not wheels.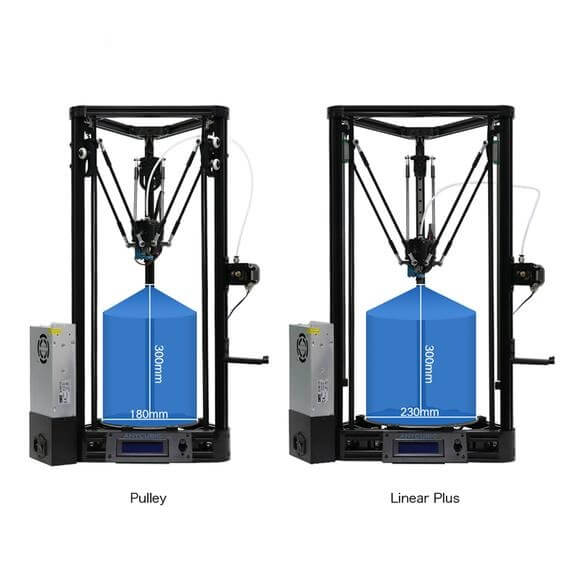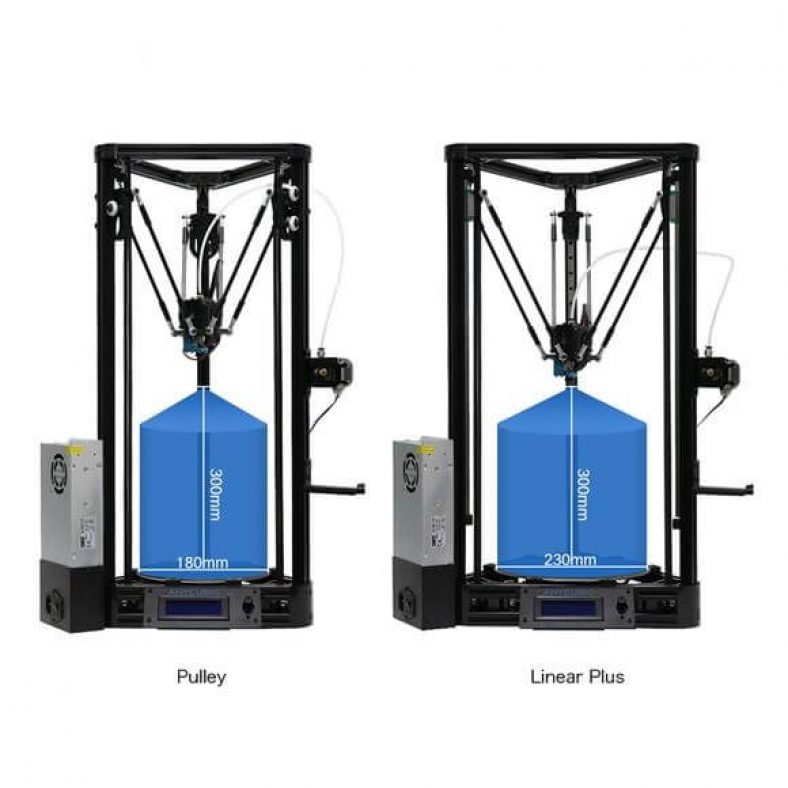 What makes Linear plus different from Linear 3D printers is its smaller height and a larger width. And, linear over pulley has other advantages too.
The linear version is much quieter in operation and works smoothly when compared to the pulley version. But as you would know, these are considerably more expensive than the Anycubic Kossel pulley 3D printers.
Jumping back to the pulley 3D printers, there is a lot that you must know before you just tag along with its cheap price. The printer comes as a kit and pretty difficult to level.
There are few limitations and various perks of printing with this machine. Let's dip our toes into the detailed discussion.
Features
The 3D printer has a lot to offer its users at this price range. Released back in 2004, the 3D printer has been able to come along a far way with many upgrades.
And, there have been few additions to the feature set as well. Here is a list of major features that the Anycubic Kossel 3D printer embody.
3D Printer Kit: A lot of beginners think of buying a pre-assembled machine and also wish to keep the budget down. It is possible, but the trade-offs could really blow the fun.
Many plug and play 3D printers offer worse print quality. And, it is better not to own a 3D printer rather than working with a useless machine.
However, in the case of 3D printer kits, you can avail of better features at a lower cost. All you need to do is work a little harder to join the components together. And, in the case of Anycubic Kossel, that job is pretty difficult.
Sturdy Frame: This is a solid 3D printer that looks pretty high level in terms of frame quality. This is because of its all-metal frame that offers the printer a tough look. Kossel 3D Printer is very sturdy and stable.
Printing would be fun if you can bear with the setting complexity of the machine. With low vibration, you can achieve accurate prints.
Taller Prints: With this printer, you can print longer parts. Yes, you get a bigger room in terms of height. And, it's much more than the diameter of the machine.
Hence, if you have requirements for printing parts that are longer in height, this budget printer could be a huge help.
Non-Heated Print Bed: If you are willing to print with PLA or PETG, a non-heated bed won't come as trouble. However, when planning to introduce more flexible filaments to your list, this could certainly be a huge turn-off.
The good part is that the 3D printer offers upgrades. Many of these upgrades are even available online. So, you can print those and enhance the functionality of your machine.
On-Board Control: Although not a touch interface, but users can make changes to the settings right from the printer itself. The control is available in the front of the 3D printer. And, there is a switch which you can turn to pick the settings.
Manual Bed Leveling: Once again, a lot of work you must be prepared to accomplish with this 3D printer. In short, the machine does not have automatic bed leveling.
And, the manual leveling is also significantly difficult when compared to the other 3D printers with manual calibration needs. A lot of users do freak out listening about it.
But those who wish to experiment to learn new tricks would definitely love to welcome a little challenge. And, this one can be very tricky.
Compact and Lightweight: The best part about the 3D printer is that it is very compact and can sit aside from your work table. Hence, you can work and simultaneously can check the progress of your prints to avoid any problems.
Single Extruder: You can only work with a single color or filament at a time. The 3D lacks a double extruder. Designed especially for beginners and homemakers, the 3D printer ensures to keep the budget down by filling in with the basic features.
You may find a lot of features missing with this Delta 3D printer. For example, resume print, filament sensor, and a lot of others. And, for few, these may be a huge deal.
But for those, who like to make their own 3D printer could buy this standard design and print themselves the various upgrades.
Specifications
Focusing on the Anycubic Kossel Delta 3D printer, the pulley version, let's find out the technical specifications of the machine.
The 3D printer offers a printing size of Ø180×300 mm. It's the same for the linear version as well. However, the linear plus version caters to a different specification altogether. Its printing size is Ø230×270 mm.
The printer's dimension is △315mm*680mm. This is for the pulley version. And, it weighs kgs. Isn't that a really compact and lightweight machine? It is best for home use and small offices. It offers a print area of 220 x 220 x 240mm.
In terms of print speed, you can work between the range of 20mm/s to 80mm/s. Moreover, the layer height achievable ranges from 0.1mm to 0.4mm.
It offers the XYZ accuracy of 0.001mm. With TriGorilla mainboard, it comes with a Bowden extruder. The nozzle can reach a temperature of 260 degrees Celsius.
To connect the printer, you can use either the SD card or the USB stick. There is no WIFI connectivity available with the printer.
Price
The price ranges from $160 to $200, depending on the upgrades you choose for. If you wish to order the standard design, you can keep the budget to the lower end.
However, if you can stretch a little bit, you can go with the upgrades. Hence, it would be an easier and simpler solution. Otherwise, you may have to print the upgrades yourself.
First Impressions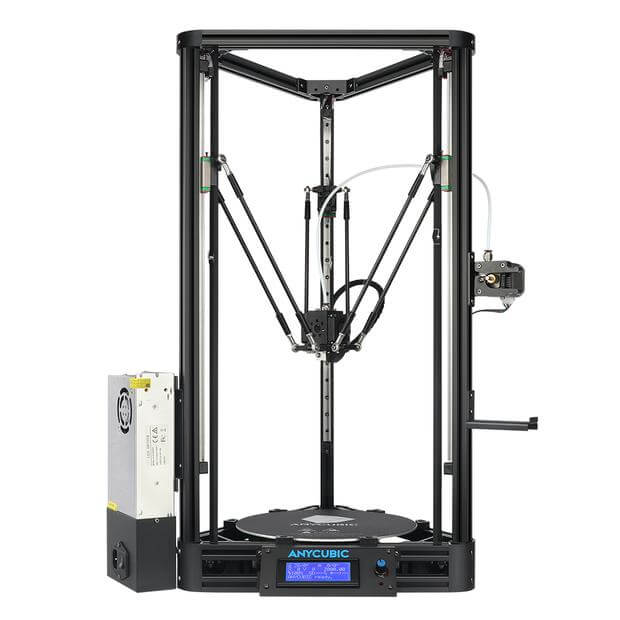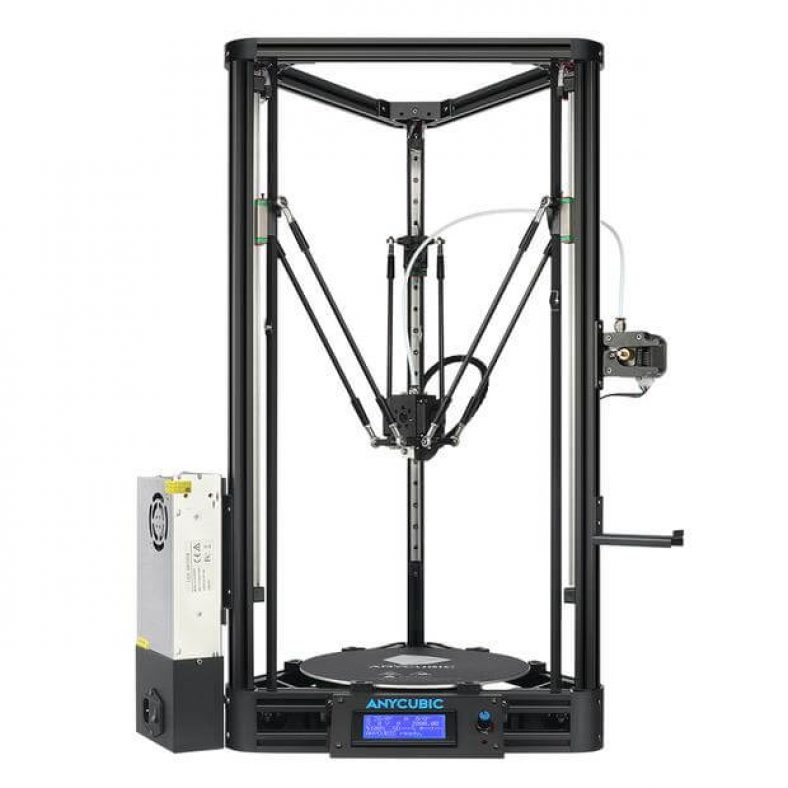 Have you ever ordered a 3D printer before? If that was a completely assembled machine, you may be shocked to see the package of this one. It is relatively smaller.
And, all the components are safely snuggled inside separate packaging secured tightly with foam. You may feel overwhelmed to see so many parts inside the box. This is because the printer comes completely disassembled. You need to put every piece of the puzzle together.
Those who love challenges may feel excited to complete the setup. A very exciting task for those loving to fix things and connect components together.
The printer comes with a detailed manual. Hence, you do not worry about how things would work. If you are good at following instructions, things would be much easier.
Apart from the 3D Printer parts, you also receive the SD card that contains the manual, as well as a test file to start with the first test object.
So, if you are up for a little fun that revolves around a lot of challenges, this printer is for you. Ensure to update the firmware after you have set up the printer.
Setup
The setup starts with the instruction manual. As mentioned before, the manual isn't printed, however, saved on the SD card. You will find all the tips saved on the SD card you receive along with the kit.
Assembly isn't difficult when instructions are followed precisely. However, there are certain concerns that you must know about. Those who have used the machine believe that a few T-nuts inclusion will help secure the stability of the printer.
Also, the kit does not contain any component to tie down the cables to the back of the machine. This would have added extra safety when working with the printer. As the wires could catch fire if not tightly secured.
The entire setup would eat up a couple of hours. For some, that may be an entire day. However, you must ensure to go through the motherboard settings before turning the power on. Because, if there is anything that isn't connected properly, you may end up burning your bed.
Leveling is another routine that could make you go all crazy. The instructions may feel insufficient. However, there are many online videos that you can refer to to make the task easier.
Apart from the various upgrades that do need a say in this design, you have the chance to build those all by yourself.
On a good note, the design is very sturdy and the aluminum frame takes the total experience way far. If you can make some extra effort to upgrade the machine, you could actually take advantage of the power this machine holds within.
Printing Type/Cost
Anycubic Kossel Delta 3D printer is an FDM machine. In this setting, the printer heats up the extruder to melt the filament by processing it to its melting point.
After the filament reaches just above the melting point, the nozzle deposits one layer of melted filament on the build plate, at a time.
The fans work to cool the layer and solidify it letting the next layer set on the first one. In between, the build plate moves a little bit down, exactly as per the height of the next layer.
This makes room for the layer to be deposited. And, the process continues until the complete part is prepared.
While FDM is the most affordable option, printing parts are comparatively cheaper with this machine. Moreover, it works with PLA which is the cheapest of all materials. That makes the math easier.
Print Quality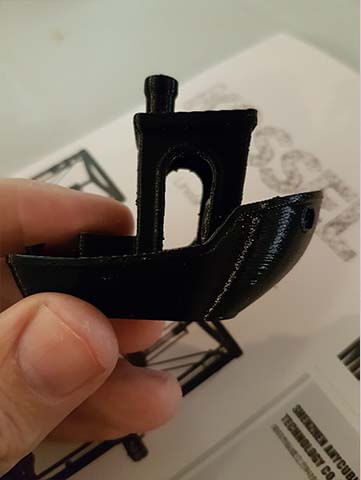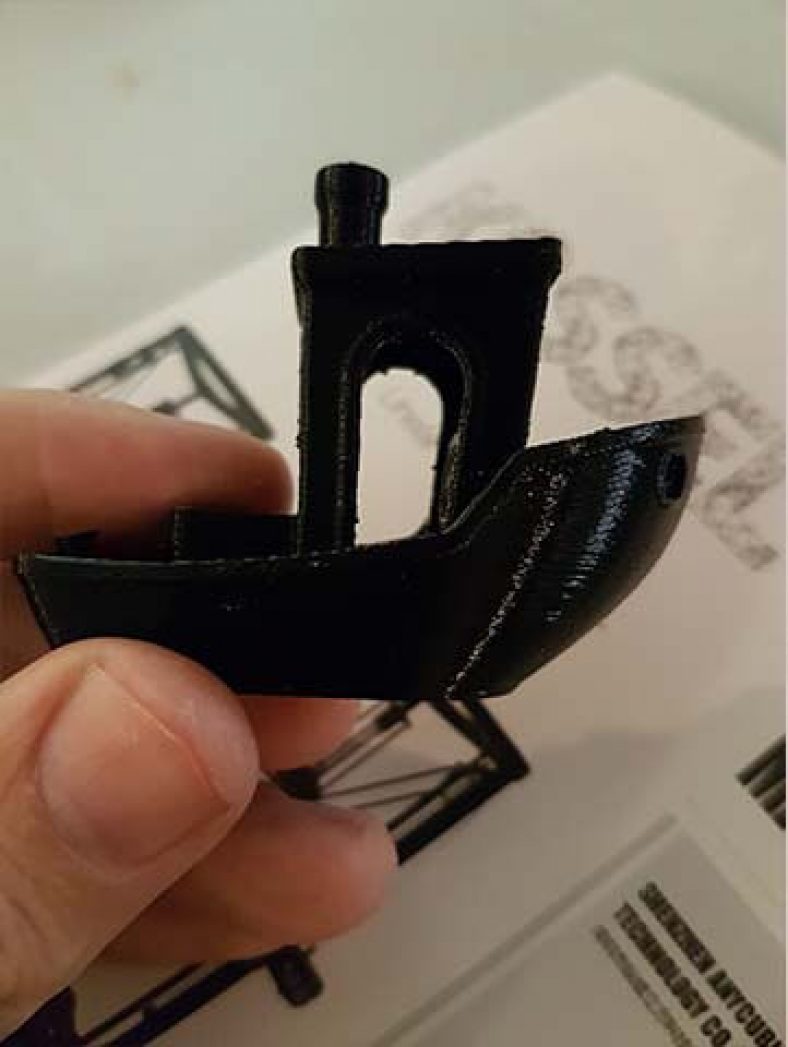 Credit: pevly.com
The print quality is way beyond expectation. When working with a budget printer, users often have to deal with poor-quality prints. However, this one is a bit different from those mediocre versions.
You can print circles, bridges, and many other complex designs using this printer. Sometimes, removing the completed objects may seem difficult at times with the great adhesion created by the build task surface that is shipped with the printer.
And, if you feel the problem is too nosy, get rid of the build task surface and apply the hairspray on the glass bed for the best results.
Software
Anycubic Kossel is compatible with Cura. This 3D slicing software is very intuitive and manages the print job effortlessly.
Customer Service
The customer service team is very responsive. You will get replies right away.
Parameters Influencing Buying Decision
When considering to buy this 3D printer, you must look for the following factors.
3D Printer cost: It is very much affordable. However, difficult to assemble.
3D Print quality: The print quality is great.
3D Print speed: Speed is not that impressive. Prints fail at higher speeds.
3D Printer capability: You can print complex designs.
3D Printer Practicality: This is best suited for home use and for makers who like to do things themselves. Including upgrading their own machine.
3D Printer User expectations: Few things such as the inclusion of T-nuts or heated bed would have been a serious upgrade to the standard design at the same cost.
The Verdict
Anycubic Kossel 3D printer reviews best demonstrates the various nooks and corners where you might find the printer lacking in terms of quality. However, at this price range, you get the most exciting results. Plus, you can anytime upgrade the machine all by yourself.