Lynxter S600D
If speed is your preference more than quality is, S600D is for you. It offers you huge build volume and decent print quality.
PROS
It's a versatile 3D printer that is openly helpful to you to choose projects from the community.
The printer's scalable and smart.
S600 D secures the operator from harmful fumes.
CONS
Part Quality produced by S600 D is a little bit of concern.
Product
Specification
Videos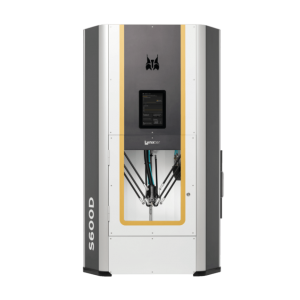 Enabling 3D printing with high-performance materials such as PEEK, PEI, Nylon, ASA, and much more, Lynxter S600D is a high-temperature 3D printer for ...
| | |
| --- | --- |
| Model | S600D |
| Manufacturer | Lynxter |
| Price Range | $ 10000 – $ 50000 |
| Release date | 2018 |
| Country | France |
| Availability | Available |
| Classification | Professional |
| Technology | Extrusion (FFF- FDM…) |
| Material | ABS, Ceramic, High performance (PEEK – ULTEM…), Liquid resin, Other plastics, PLA, Silicone |
| Filament diameter | 1.75 mm 0.07 in |
| OS compatibility | Linux, Mac OS, Microsoft Windows |
| Generic material | Yes |
| XY accuracy | 0.0125 mm 0 in |
| Max. build size | 390 × 600 mm 15.35 × 23.62 in |
| Max. build volume | 0.23 L |
| Max. print speed | 500 mm 19.69 in /s |
| Min. layer thickness | 0.05 |
| Dimensions | 913 × 851 × 1644 mm 35.94 × 33.5 × 64.72 in |
| Nozzle diameter(s) | 0.15 mm 0.006 in |
| Heated print bed | Yes |
| Heated build chamber | Yes |
| Automatic calibration | Yes |
| Closed frame | Yes |
| Dual extruder | Yes |
| Independent Dual Extruder | No |
| Full color | No |
| LCD screen | No |
| Touchscreen | Yes |
| On-board camera | No |
| Mobile app | No |
| 3D scanners | No |
| CNC mill | No |
| Electronics 3D printing | No |
| Laser engraving | No |
| Conveyor belt | No |
| Air filter | Yes |
| Pellet extruder | No |
| USB | Yes |
| Wifi | No |
| Bluetooth | No |
| SD card | No |
| Ethernet | Yes |

Table of Contents
S600D cannot be compared with regular Delta 3D printers. Though it has a Delta-type construction just like WASP or some other desktop 3D printer, it is customizable.
Thanks to Lynxter for keeping it open to its customers to choose from five different types of tool heads. So, you get to choose according to your area of application, the kind of print head that best suits you.
Apart from that, the basics of S600D are just like other Delta 3D printers. It has an extraordinary print speed. The printer can stably print great build volumes, offers immense positioning accuracy, and a lot more in its frame.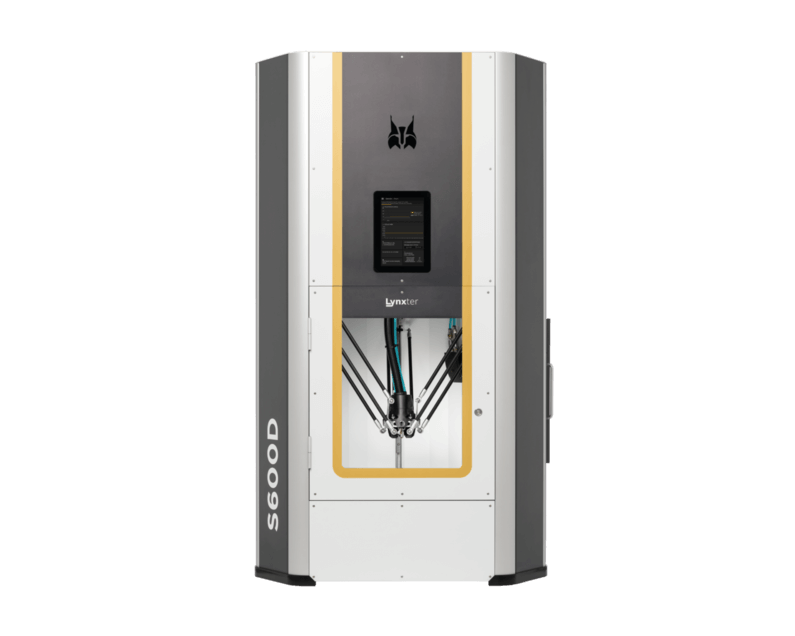 It has a good user interface that will let you get a stronghold over itself. You'd be able to print with a wide range of materials, and a lot more. All of which will be covered in this article in-depth.
So, if you are thinking of buying the printer you can get to know the technicalities of it. After which you can easily compare it with other printers in the same price range. This is to calculate which one would turn out more efficient for printing parts and functional prototypes. Let's start with S600D's features.
Features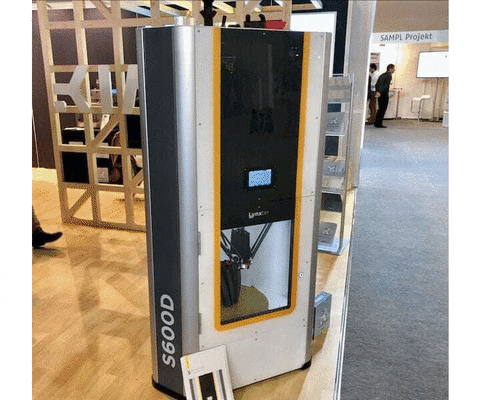 There are six different specialties of this wonderful machine by Lynxter. These are the ones that separate it from the bunch of others in the same price range.
And this has to deal with various varying aspects of S600D starting from the size of its ability to build, to the kind of materials with which you can print, the quality of parts, its intelligence, and protective aesthetics.
Printing with Broad Range of Materials
With S600D you get to play a lot with different 3D printing materials. The list starts from basic thermoplastics, extending to silicones and continuing with other materials.
It's amazing how Lynxter S600D allows you to print with not just multi-materials, but also multi-processes.
Using the single machine, you can manufacture parts with different colors and enjoy your process of inventing parts that can be put into application in various areas.
Generally, you would come across printers at the same price that'd only allow you to print with thermoplastics. But that's not the case with S600D. And the printer manufacturer needs to be credited for this. The inventors have ensured that the choice is out wide open.
This kind of scenario gives designers a free hand and is a joy for manufacturers. If there would have been another printer with limited materials, it would make them dependent and wouldn't call for anything new as such. So, S600D pokes innovation in that sense.
Automatic piloting system and remote connectivity
Who wouldn't love to have a free hand while the 3D printing process is on inside the print chamber of the printers? No one, yeah?
It simply takes away a lot of effort from the end of the operator that's been given the responsibility of monitoring the entire 3D printing process.
Lynxter empathizes with the pain that you'd have to undergo as an operator and for the same reason has put into place an automatic piloting system. By turning this system on, you can be assured that the printer will self-manage itself.
And in case if you need some more assurance, you can always remotely monitor the printing process from a device.
If something does not turn out as per your expectations you can always pause it and make amends for the same. So, in a way, S600D takes away a lot of your headache and lets you remain responsibility-free.
Protective printing
Considering the health and security of the operator, the printer manufacturer has put into place HEPA 14 in combination with activated carbon filtration.
Remember after 3D printing some part on such a large scale, especially with thermoplastics there is a chance of inhaling dangerous fumes.
To ensure that the one operating this printer inhales safe air, the printer is equipped with filters that will take away the carbon from the fumes.
HEPA filters will guarantee you a safe closed printing environment. And this is not something that every printer offers.
But it is necessary because sometimes the smell of some thermoplastics such as ABS becomes unbearable to breathe in.
In such cases, if you do have carbon filters the complete scenario changes, and the unbearable, not only becomes bearable but also safe.
Customizable Tool Head
When we started the article, we stated how the printer is unique in terms of offering five different choices of the tool head, remember?
FIL11: A single extrusion filament tool head that is compact and efficient. It's specifically designed for printing with technical materials.
FIL33: Triple extrusion filament tool head is equally efficient as FIL11 and particularly used while printing with multi-material technical parts for optimizing the manufacturing lead time.
LIQ11: One component liquid tool head, will let you print with new materials in additive manufacturing.
LIQ21: Two-component liquid tool head. You'd be able to 3D print using silicones by utilizing this tool head.
PAS11: Ceramics tool head lets you play with various ceramics in a creative and innovative manner. Like Alumina, cordierite, zircon, porcelain, stoneware, clay, etc.
So, these are all the options and you'd hardly come up with a delta 3D printer in the same price range offering you these many choices.
When you are offered these many choices, the scope of your overall 3D printing production widens up like no other. There are so many kinds of parts that you can print with this printer.
Specifications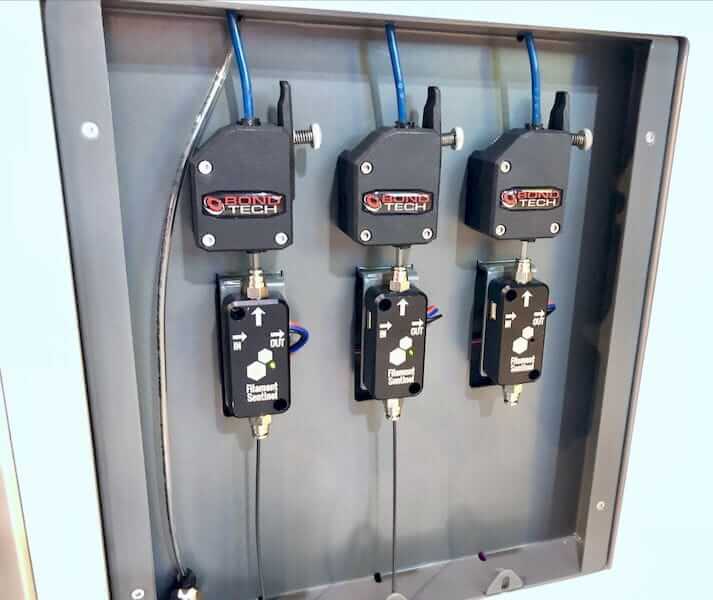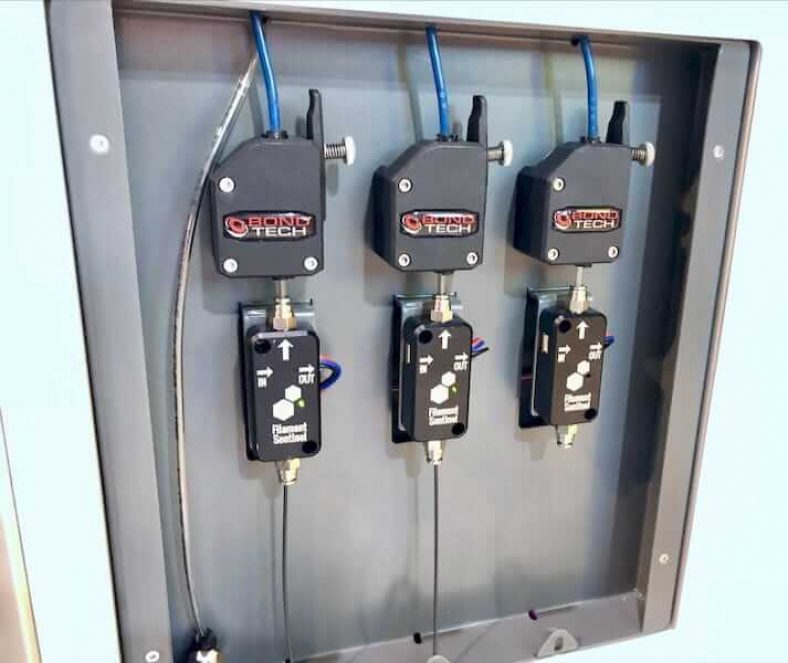 Credit: fabbaloo.com
S600D offers a build volume of 390 mm * 390 mm * 600 mm. It offers a layer height of 50 micrometers in every part or functional prototype manufactured.
The maximum moving speed of any of the tool heads that you choose from the above-mentioned five is 500 millimeters per second.
All of these tool heads are removable using an easy mechanical attachment, electronic plugs, and liquid cooling.
The X, Y, and Z-axis resolutions are 12.5 micrometers each. It has a modular material supply. S600D's building surface is removable, hot-swappable, and grounded to the surface.
The thermal environment of the heated build surface ranges anywhere from 20 to 200 degrees Celsius!
Stating about the temperature range of its building volume, anywhere from 20 to 80 degrees Celsius, the printer also stars a water-cooled tool.
To ensure job protection, the manufacturer has equipped S600D with emergency recovery in case of power cuts.
As mentioned above, caring for the safety of the operator, Lynxter has in place removable double HEPA 14 activated carbon filtrations.
There is a standalone touch screen user interface meant to increase your interaction with the printer.
You can connect to S600D using Ethernet. The machine's dimensions are 913 mm * 851 mm * 1644 mm in breadth, length, and height respectively.
It is meant to be treated with a power supply of 230 Volts, 16 Amperes, and 50-60 Hz frequency.
Price
You will have to request a quote from Lynxter to know the exact price of S600D. This can be done by filling a form that's present on their website.
First Impression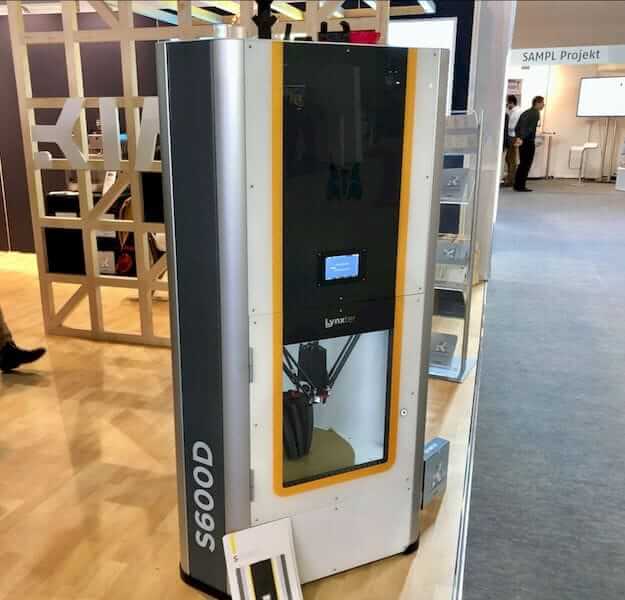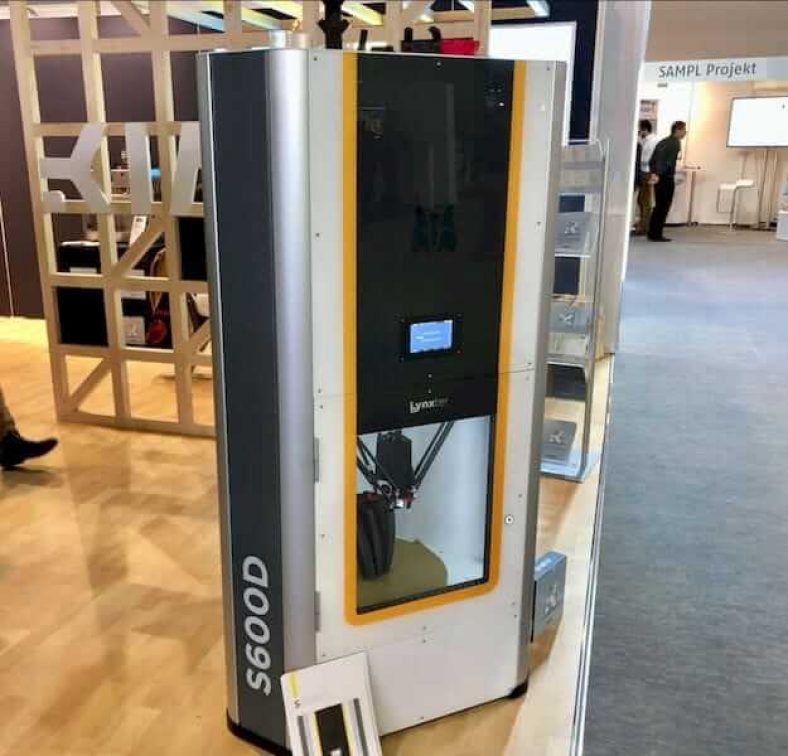 Credit: fabbaloo.com
A first glance over S600D would tell you it's a Delta-type 3D printer with an enclosed frame. A little bit of visibility that you get of the inner mechanism is from the little transparent window present near the bottom of the body of the printer.
This little window exposes you to the obvious construction i.e. triangular rails setup nozzle system. Which, when the 3D printing process will start move down according to the geometry of the part! And according to S600D's layer height would move up layer by layer until the complete part would be 3D printed.
The touch screen user interface is present just above the mentioned window. And that will let you control various aspects of S600D. It will let you pause and start the 3D printing process with the printer and a lot more.
Setup
The printer is a plug-and-play type so you do not have to assemble any parts with the other. All you need to do is read the user manual to get familiar with the specificity of each part and that's it.
Follow the normal procedure i.e., connect with the printer to upload your sliced file. After which you are all set to go. Generally, doing all of this should not take more than 15 to 20 minutes of your time.
Print Type/Cost
S600D employs FDM 3D printing technology for printing parts and functional prototypes. It's a fairly simple process compared to other 3D printing technologies in the market today.
All you need is a solid filament spool that is to be attached to the spool holder of the printer. Once that's is done, the printing process starts by heating this filament in the extruder until it reaches its glass transition temperature.
Till the time, the extruder does its job; the printer's print head manages to reach the exact point where the nozzle has to start laying melted filament.
All of this happens according to the geometry of the part that's fed in via G-codes to the printer. Layer after the other, the melted filament is attached to the print bed and cooled down into parts.
It is obvious that the cost of 3D printing a part using this technology is cheaper than other technologies. Because other ones use a curing source like UV LED lights, lasers employ too much mechanism for laying the particles of the raw material.
However, the cost of 3D printing a part depends on its geometry, the filament used for 3D printing, the filament's cost, and a lot more.
Print Quality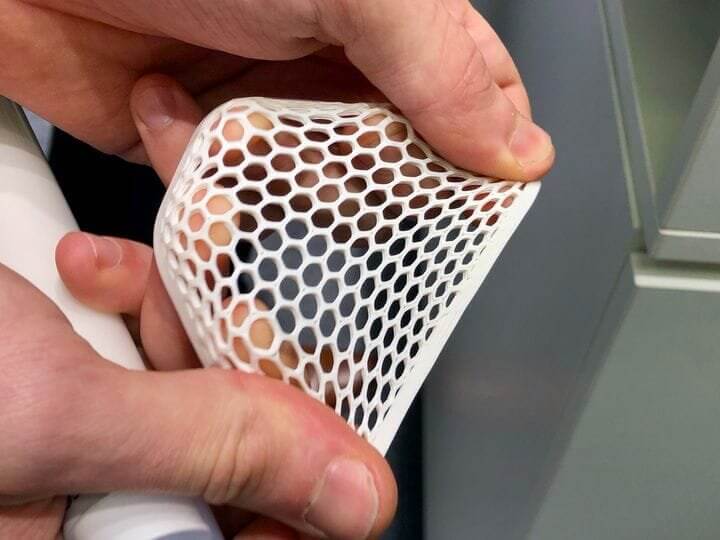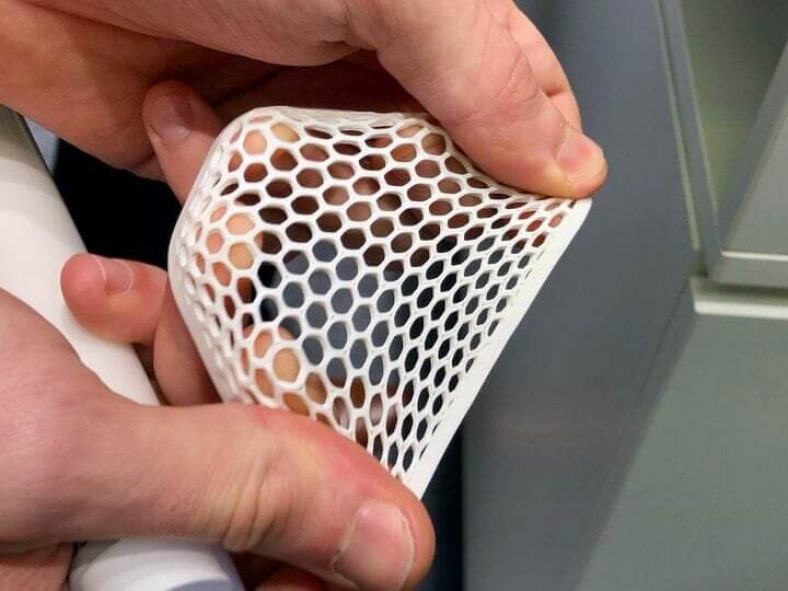 Credit: fabbaloo.com
As mentioned in the specifications, the layer height of objects manufactured using S600D ranges anywhere from 50 micrometers to 1 millimeter. And the X, Y, and Z-axis resolution of the printer is 12.5 micrometers each. This is a pretty decent print quality considering it's an FDM 3D printer.
Customer Support
You can either write to the printer manufacturer via email about the technical support that you require with S600D or call them. Their contact details are available on the website.
Parameters Influencing Buying Decision
Before making a buying decision it's good to have a look at the key factors that sum up S600D.
3D Printer Cost: You'd have to request a quote from Lynxter.
3D Printer Quality: Average as any other FDM 3D printers of the same price range.
3D Print Speed: Extraordinary. S600D enables you to print huge parts in hours that would otherwise take days.
3D Printer Capability: The printer lets you print with multi-materials, add colors, and is capable of permitting you to play with it by all means.
3D Printer Practicality: S600D is very safe to use as it is equipped with HEPA 14 carbon filters. And of course, not to forget the choices that you get for the printhead.
User Expectations: S600D typically makes up for an intermediate or even expert level 3D printer for users who encourage speedy 3D printings with simple technology.
The Verdict
If speed is your preference more than quality is, S600D is for you. It offers you huge build volumes, decent print quality like that of other FDM 3D printers.
You can customize your tool head with the printer which is great! But something that you cannot help but notice is its print speed. 500 millimeters per second is phenomenal.