Longer LK1
Longer LK1 is for users who do not mind a 10-minute assembling of an open body FDM 3D printer that allows printing of huge build volume with extraordinary quality at rapid speed. It has many features to assist hobbyists and first-timers.
PROS
Reliable full metal body design offering stability, print accuracy as well as extra durability.
Semi-assembled 3D printer with a build-in automatic bed leveling for easy setup.
Huge build volume that is rare to get in the same price range.
Used for making parts and functional prototypes that find application in various industries such as architecture, art and jewelry, education, and general hobby projects.
CONS
Because of its bulkiness, LK1 won't fit in just any corner of your house or office, you will need a dedicated space for it.
It does not offer Wi-fi connectivity.
Table of Contents
Hosting sturdy construction, offering ease of usability, and excellent print quality, Longer LK1 is a rare FDM 3D printer available in an affordable price range. The printer comes with one of the largest build spaces available, allowing users to print parts with up to 300 mm * 300 mm * 400 mm.
Its unique high-precision nozzle of 0.4 mm with a straight-through design reduces the weight on the X-axis that delivers fine performances even while printing the tallest parts.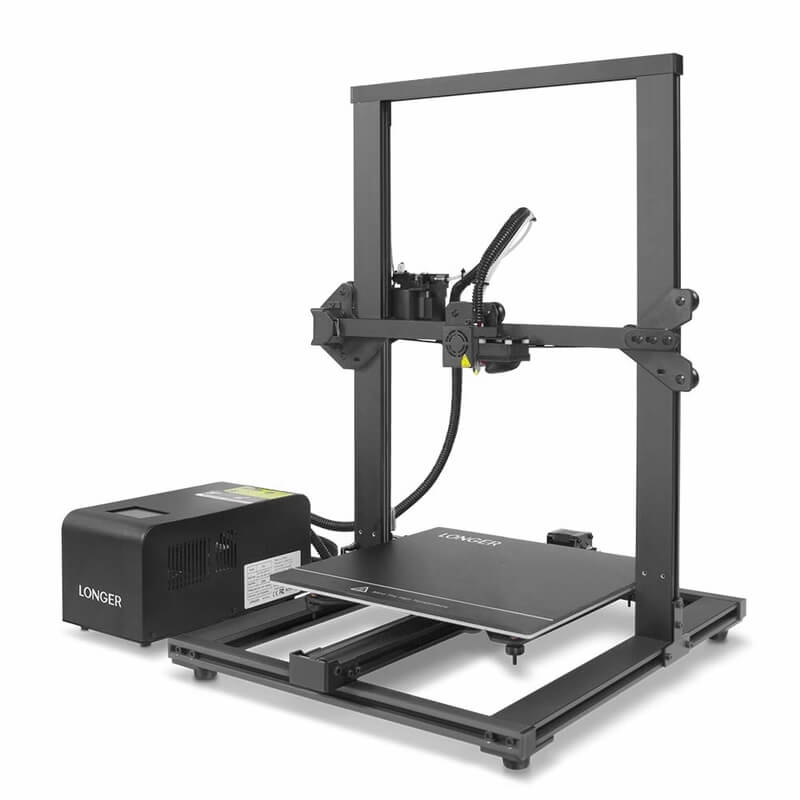 The machine is made from a full metal body that is both stable, durable and takes less than 15 minutes to be assembled. An easy-to-operate 2.8 inches long touch screen with a new, more user-friendly interface permits previewing model and printing process on screen.
LK1 is equipped with a tempered glass plate on the heated bed that solves warped bed issues. Its built-in power management and thermal cooling system ensure the overall printing is safe as well as fast. Let's get to know more about the printer to see where it stands on the value: money ratio.
Features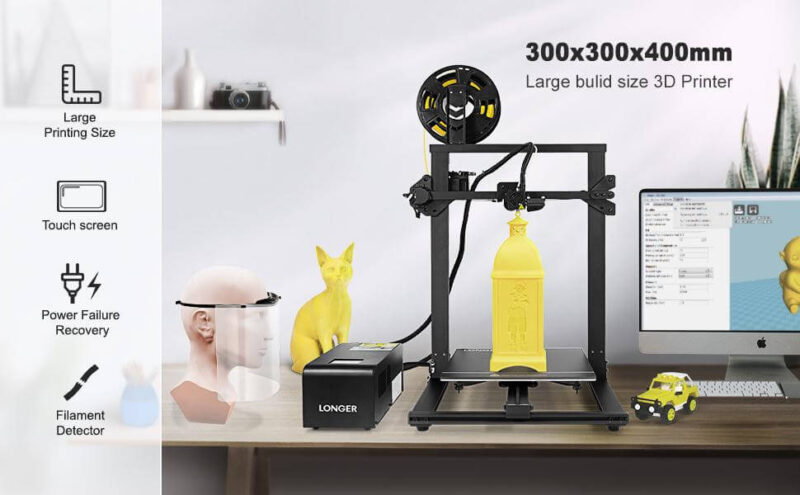 The Longer LK1 is loaded with automotive assisted leveling allowing users to level the bed in only a few minutes. A power failure recovery feature stores all the work of the operator during a power outage and ensures that there is no loss of work.
The printer's high-power heated bed makes it suitable for thermoplastic filaments such as Wood, PLA, ABS, and many others. Its advanced movement feature is designed to offer extra stability as well as convenience during printing. Overall, LK1 has many such exciting features. Let's look at them one by one to know how the printer functions so efficiently!
New Aluminum Frame Design
Longer LK1 is made up of an all-new Aluminum extension frame which enhances the overall structural rigidity and stability. With this frame, it will not only be easier to clean the debris than the traditional V-slot design but also experience vibration-free 3D printing. Creating large parts in one go is not a problem with LK1.
Filament Detection Feature
The printer has a built-in filament sensor which makes certain that when the filament runs out, it stops printing and continues once again it's loaded.
But detecting whether there is a filament or not, assists you in making the entire print successfully and saving material. Also, it saves you from the unnecessary effort-waste that goes into searching what must have been the cause of the sudden print stop.
Unique Tempered Glass Design
LK1 is integrated with a tempered glass bed that solves the problem of warping to a very huge extent. It protects the user's heated bed, as well as easy removal of printing models after cooling.
Combined with the high-temperature resistant film and a heated bed, the unique tempered glass design provides an efficient outcome of withstanding higher temperatures as well as heating rapidly.
Extra-large Build Platform
Another unique feature of the machine is its huge build plate that offers immense design freedom to users. Measuring at 11.8 inches * 11.8 inches * 15.75 inches, the print size available in Longer LK1 allows operators to print large parts in one go. Also, the maximum print speed that the printer permits is up to 180 millimeters per second ensuring that even ideas of a bigger magnitude come into reality quickly.
2.8 inches Colorful Touch Screen
Providing you a real-time printing status to make the complete process more intuitive, precise as well as easier to operate is a 2.8 inches long colorful touch screen.
Not only does it let users control various functions over the printer, but also permits efficient monitoring of various parameters. The touch screen interface makes the entire process a little more user-friendly than otherwise.
Resume Printing Function
Longer LK1 comes with an integrated resume printing functioning present in its mainboard. Because of this, whenever there's a power-off, the printer will automatically pause storing all the work progress that's been done on it.
So that, when the power resumes it can start exactly from the point it paused. This saves users' time of starting all the way from the beginning.
Automated Assisted Leveling
Assisting users to level the bed in a matter of few minutes is LK1's automated assisted leveling feature. This is very handy, especially for beginners who lack the skill-set to set up a 3D printer. Also, it expedites the pre-printing process, thereby decreasing the overall time needed for 3D printing an object.
High Precision Nozzle
One of the main factors behind LK1's high precision performance is its top-quality nozzle. The component has a straight-through design that ensures an exact controlled flow rate. Not keeping it over or below the level to make the layers thick or thinner than needed.
Innovative Thermal Cooling System
LK1 3D printer is equipped with a dedicated cooling unit for its main engine. Moreover, it offers fast heat dissipation and rapid object solidification for faster printing. Both of which coordinate efficiently to make up for the machine's innovative thermal cooling system which is best in class! It ensures uniform cooling of the overall part thereby not leaving any irregularities on the object's surface.
Compatible with Multiple Filaments
The printer hosts a high-power hotbed that not only heats up rapidly but also safely. It is ideally suitable for printing with more than one material including thermoplastic filaments like Wood, PLA, ABS, and many others. So, users that are looking to play with more than one material are not disappointed.
Noiseless 3D Printing Experience
LK1 houses an efficient, top-notch motor and V-slot design that's fitted with POM wheels. All of which work together to deliver a smooth and noiseless 3D printing experience which is rare for an FDM 3D printer available in the same price range!
Specifications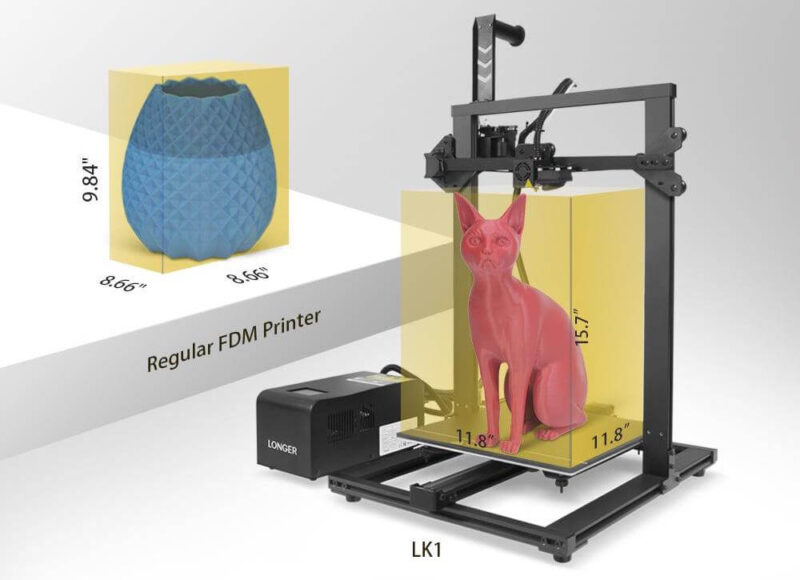 Longer LK1 prints parts and functional prototypes based on FDM 3D printing technology. It offers users a huge build volume of 300 mm * 300 mm * 400 mm and prints with an extruder featuring a single nozzle of diameter 0.4 mm. The ambient printing temperature of LK1 is 190 to 250 degrees Celsius.
The machine lets users print with super-fast printing speeds of 180 millimeters per second. Therefore, printing with huge parts in a limited timeframe is possible on LK1. And yet, operators get a layer height ranging anywhere from 0.1 to 0.4 mm.
There are two modes using which one can connect with the printer i.e. TF card and USB cable. The printer allows operators to print with various types of filaments such as PLA, ABS, and Wood of 1.75 mm diameter.
Price
Longer LK1 is available for $279.
First Impression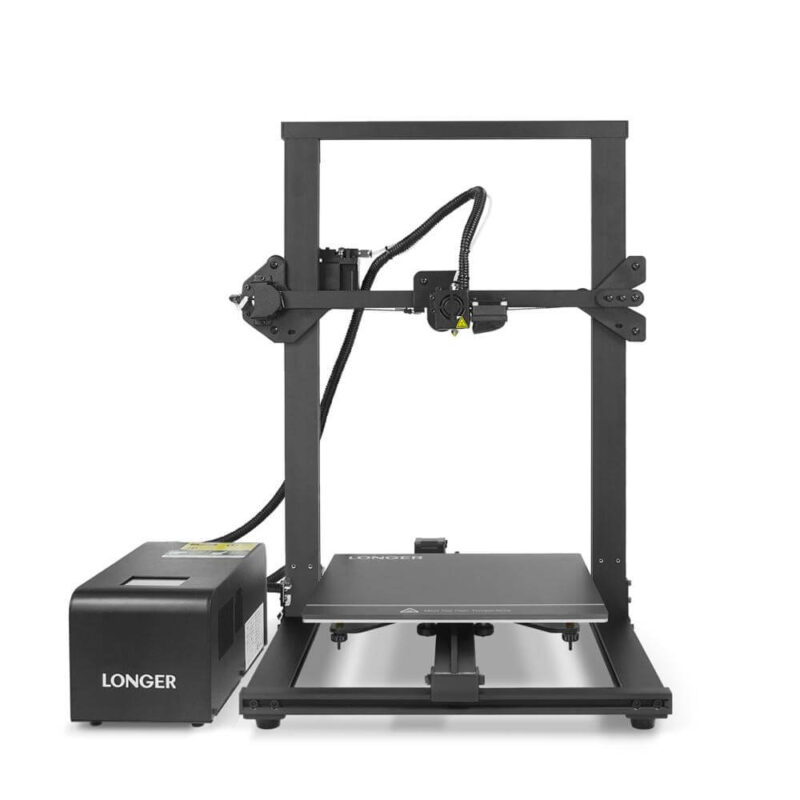 LK1 hosts all-metal construction, there are no plastic parts. The bracket on the front is an anodized or powder-coated metal. It has a removable Molex-style connection and a positive lock on it with an aircraft connector.
The box also contains a scraper, reinforcement brackets for the uprights, nice flash cutters, Allen keys, a USB power cord, and a spool of 1.75 mm PLA with a spool holder. The bed surface of LK1 is held on with binder clips, appearing to be 3mm glass and polycarbonate material.
Setup
Shipped in a semi-assembled condition, Longer LK1's most parts are already put together. Having stated so, you do need to go through some setup and assembly to start with 3D printing. This function can be accessed from the LCD touch screen interface. Also, users need to fix the control box unit.
But, according to Longer, doing all this shouldn't take more than ten minutes. Moreover, there is a detailed manual on the manufacturer's website that anyone can download as well as use for setting LK1 up for the first time.
Print Type/Cost
FDM 3D printing process uses a solid plastic filament and squeezes it through a hot end, melts it, and then deposits it in layers on the print bed.
These layers are then fused with each other, building up throughout the print, and eventually forming the finished part. The deposition and quality are dependent on the point till where it's taken beyond glass transition temperature. FDM is the simplest 3D printing technology in practice.
Normally, the cost of 3D printing a part using FDM 3D printing technology is lower compared to that with other 3D printing technologies. However, it depends on a lot of factors including the part's geometry, the filament used for making it and its cost, the support structures used in making an object, etc.
Print Quality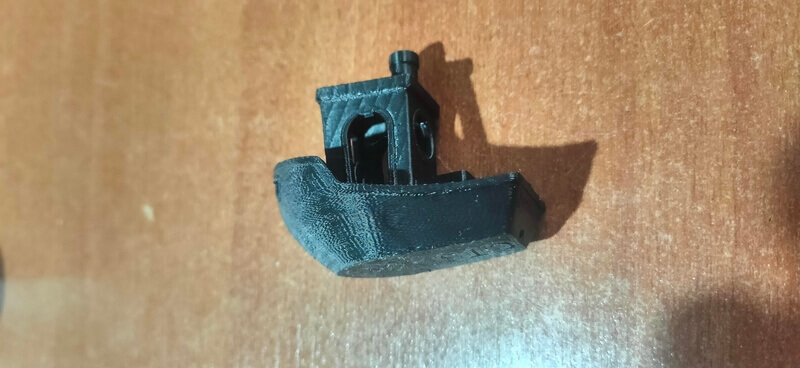 Credit: redd.it
Longer LK1 delivers some striking print quality. Its high precision nozzle hot end coordinates fantastically with an advanced movement system as well as the sturdy metal frame to enhance overall print stability. All of these parameters contribute to the improvement of the overall print quality of the machine.
Fitted with a quiet motor, LK1 also features a V-slot design with POM wheels perfectly suited for a noiseless user experience. Special mention about the printer's effective innovative Thermal cooling system that delivers faster object solidification, thereby making it easier to remove printed objects as soon as they are completed!
Software
The printer is compatible with three leading slicer applications. Namely,
ChiTubox
Repetier-Host
All three are third-party slicers that can be downloaded from the provider's website. Although you'd get more material about Cura's user-friendliness, ChiTubox and Repetier-Host too work in a hassle-free manner. The printer is compatible with several operating systems such as macOS, Linux, Windows 7, or more.
Customer Support
The printer manufacturer offers four support options for its clients depending on scenarios such as if users are facing any issues with the printer, they can reach out to the technical team via email, phone, call, WeChat as well as fax. Also, Longer's website includes videos and detailed manuals on how to use the printer and set it up.
Parameters Influencing Buying Decision
Below mentioned are the key factors of Longer LK1 that are good to consider before buying.
3D Printer Cost: Considering the build volume and print quality, LK1 is arguably a very affordable 3D printer in price under $300.
3D Print Speed: Although the printer allows you to go up to 180 millimeters per second, the printer manufacturer recommends sticking around 60 to 80 millimeters per second.
3D Print Quality: LK1 manages to produce some very outstanding prints in which layer height ranges between 0.1 to 0.4 mm.
3D Printer Capability: There are many flexible features that LK1 permits its users to function. While setup, beginners can make use of automated assisted leveling. In printing a part, the operators can utilize high precision nozzle. Lastly, the printer also features an advanced thermal cooling system assisting all kinds of users to expedite their printing process and also make it efficient.
3D Printer Practicality: LK1 is more noise-free than most of the 3D printers in the same price range. Also, it allows users to print with materials such as PLA, ABS as well as Wood.
3D Printer User Expectations: Beginners in the field of 3D printing as well as small manufacturers will find LK1 a joy to work with.
The Verdict
Longer LK1 is for users who do not mind a 10-minute assembling of an open body FDM 3D printer that allows printing of huge build volume with extraordinary quality at rapid speed. It has many features to assist hobbyists and first-timers. Moreover, experts and intermediate users can take advantage of the affordable and efficient LK1.