M3D Micro 3D Printer
M3D Micro 3D printer competes to be in the top list. It is very popular among consumers too. And, a great device for learning.
PROS
The printer provides highly accurate results
It is the best choice for smaller projects
The printer is highly affordable for beginners as well as schools
It flaunts easy operation
Noiseless printer
CONS
Not suitable for large projects
Speed isn't very impressive when printing at a higher resolution
Lack of onboard memory is present
Product
Specification
Videos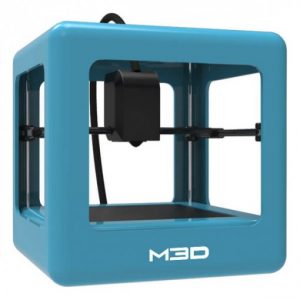 The first thing that one would notice in M3D Micro is the diverse color options that the printer is available in. One can choose from the list of ...
| | |
| --- | --- |
| Model | The Micro |
| Manufacturer | M3D |
| Price Range | $ 449 |
| Country | United States |
| Availability | Available |
| Classification | Desktop |
| Technology | Extrusion (FFF- FDM…) |
| Material | PLA |
| Filament diameter | 1.75 mm 0.07 in |
| OS compatibility | Mac OS, Microsoft Windows |
| Generic material | Yes |
| XY accuracy | 0.015 mm 0.001 in |
| Max. build size | 109 × 113 × 116 mm 4.29 × 4.45 × 4.57 in |
| Max. build volume | 1.43 L |
| Min. layer thickness | 0.05 mm 0.002 in |
| Dimensions | 185 × 185 × 185 mm 7.28 × 7.28 × 7.28 in |
| Weight | 1 kg 2.2 lb |
| Heated print bed | No |
| Heated build chamber | No |
| Automatic calibration | Yes |
| Closed frame | No |
| Dual extruder | No |
| Independent Dual Extruder | No |
| Full color | No |
| LCD screen | No |
| Touchscreen | No |
| On-board camera | No |
| Mobile app | No |
| 3D scanners | No |
| CNC mill | No |
| Electronics 3D printing | No |
| Laser engraving | No |
| Conveyor belt | No |
| Air filter | No |
| Pellet extruder | No |
| USB | Yes |
| Wifi | No |
| Bluetooth | No |
| SD card | No |
| Ethernet | No |

Table of Contents
M3D LLC started as a Kickstarter project and soon occupied the attention of many contributors. It became popular in no time and was able to raise around three million dollars alongside 12,000 contributors.
The company's aim was to create affordable and compact 3D printers for commercial use and it came up with M3D micro which definitely excels at almost every ground.
The printer is very affordable and is highly reliable. Moreover, it has many wonderful features and it offers a print quality that is above average to help consumers realize amazing results while staying within their budget.
The M3D Micro 3D Printer was developed in coordination with Michael Armani, the founder of M3D who is a materials engineer, and David Jones, the former software programmer with robotics engineering experience.
Both these individuals carried an aim to create a design that is not only accessible to the end-users, however, provides an easy learning curve.
There are many great things about the 3D Printer that one would notice while working with it. Although being small-sized and having a limited print space, it is capable of many applications and jobs even utilizing advanced materials.
It is available in different colors. One can choose between blue, green, red, grey, and black when buying this 3D printer. The printer offers huge potential with such a compact design. So, let us explore the different features and other advantages that the 3D Printer offers.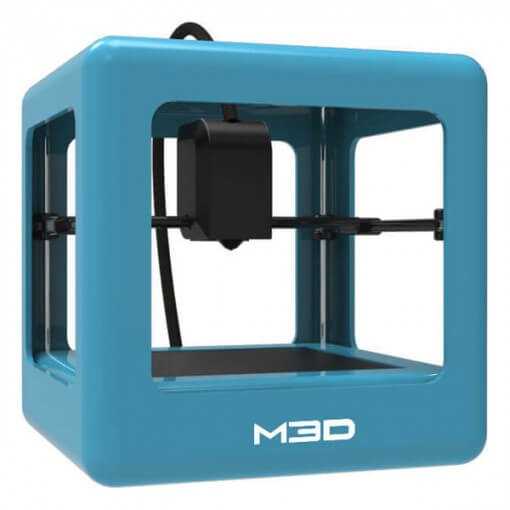 Features
While going through the features you would feel how the company has done everything to keep the 3D printer easy to operate and use.
The manufacturer has made sure that the users find it easy to work with this compact machine that can be easily placed on a tabletop close to your desktop.
Plug and Play: The 3D Printer comes fully assembled and it does not take more than a couple of minutes, depending mostly on your skills to start with the first print. If you have used a 3D printer before, you may be able to complete the setup in not more than 10 minutes. Hence, the best companion for beginners and home users.
Easy Software: The company has come up with this easy to learn software that can be downloaded from the company's website. It is simple and can be used by beginners as well. However, it does have a downside. It may not offer complete freedom to customize the print settings. But that is what a beginner would like. To keep things precise and accurate without much of tinkering. Also, the recalibration can be done easily using this software.
Noiseless: Because the printer is designed for home use or small offices, the manufacturer has given special attention to the noiseless operation. Users may hear quite whispering while the printer's head moves from one position to another. Hence, keeping the noise level as less as possible. This is also being considered as one of the quietest 3D printers in the market.
Removable Print Bed: As you go through the features, you will find the printer even more impressive. The removable bed isn't something special inclusion nowadays. However, it does worth a say. Printers that are equipped with removable bed offer simplicity during post-processing steps. Taking out the finished models is easier when one can just snap out the print bed from the printer. The same is included in the M3D Micro 3D printer.
Resolution can be Adjusted: There are many budget printers and even expensive printers in the market that does not offer huge freedom to set the resolution as per the need. However, with this printer, you have a wider range for setting the resolution for your 3D Prints. Starting from 50 microns, you can go up to 350 microns.
Only USB Connectivity: This is where many users will feel a bit pulled back. While there is almost every 3D printer offering an SD card connection with the machine, this one does not have that. Also, it does not include any onboard memory. This creates a problem when the connection with USB is lost in between the print operation. Because the memory isn't saved anywhere, the print will fail and users would have to start the print from start.
Above Average Print Quality: With every budget printer, users always have this back in mind that they may have to compromise with the print quality. This is not the case when printing with M3D Micro 3D Printer. The print quality is above average which is not bad for a budget printer.
Multi-Material Support: One may not expect a budget printer to support more than one filament. However, this printer does support a considerable list of filaments, even including the advanced ones. Hence, giving users the freedom to explore the nuances of possibilities connected with 3D printing technology.
All these features are well thought and make this 3D printer incredibly popular. The 3D printer provides huge benefits to its users, starting from easy setup to high-quality 3D prints. Hence, one of the best 3D Printers among the budget machines.
Specifications
The 3D printer is highly compact. Hence, you can expect it to be limited in terms of build space. It offers a build space of 4.2 x 4.6 x 4.4 inches.
The printer size is 7.3″ x 7.3″ x 7.3″ and it weighs around 1 kg. Thanks to the carbon fiber frame. While many won't feel this a problem, a few may reject the choice based on the small print volume.
On the plus side, it offers print resolution between 50 microns to 350 microns. One more downside of the 3D printer is its speed. It is slow when printing highly detailed designs.
The highest resolution prints occupying the entire build space may take up to six hours to complete.
Apart from that, the printer is nice and compact. It is available in different colors. So, you can pick the one you like.
Price
The most impressive part of the release is its price tag. M3D Micro is very affordable and comparatively cheap. It is available for $349.
Also, the company keeps offering huge discounts. The printer is designed for home and school use. Hence, has been kept at the lower price range.
First Impressions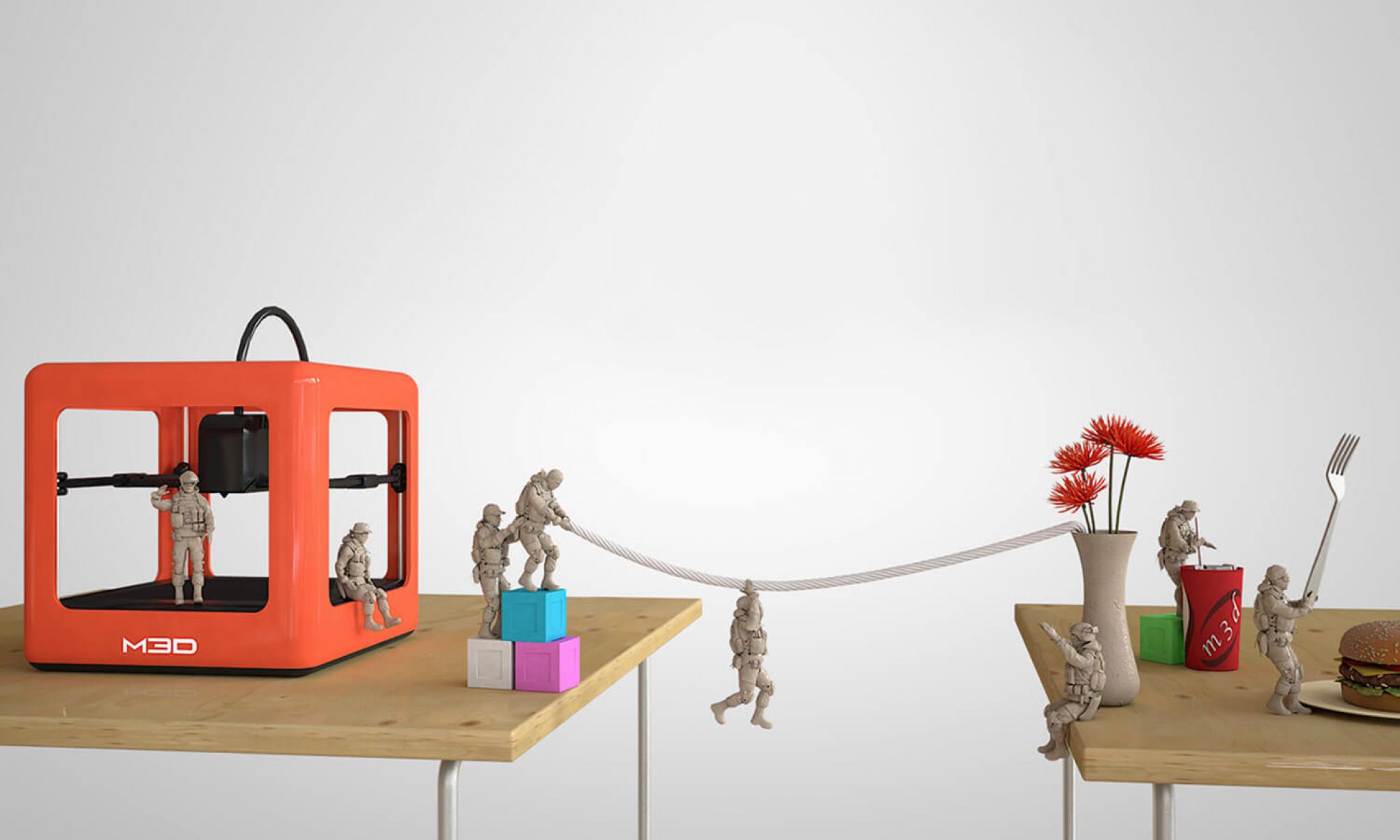 The first thing that one would notice is the diverse color that the printer is available in. One can choose from the list of five colors. Hence, unboxing would be very exciting.
The printer is like a small cube with 7.3" in each direction. Hence, you can imagine how compact it would look. It is a perfect companion for your standard desk and would occupy very little space leaving enough room for your desktop or laptop.
Unlike the printer's uniform size, the build area isn't the same from all sides. You can expect it to be a little wider compared to its depth.
The good news is that it does offer enough print space for those wanting to accomplish small projects. If anytime you wish to carry a large project, you can always print in parts and connect them together.
Also, users would notice no filament spool on the outside of the printer's body. It is because the spool is placed underneath the print bed.
Once again, the user might have to consider the space available for just half a spool at a time. Hence, one can either choose to buy a smaller roll or use just half of the roll at a time.
Setup
As the company advertises, the setup of the 3D printer is easy and simple. The company excels at this front by offering an easy to install 3D printer designed especially for beginners.
To set up the machine, all you need to do is connect the printer with the laptop or desktop using the USB cable. Power on the machine and download the required software compatible with the operating system of your 3D printer.
The software is available for both Windows and Mac OS. So, you will have no problem finding the one that is compatible with your machine. Use the software to start the print process.
Printing Type/Cost
The printer is an FDM 3D printer. Hence, it works by extruding the filament and laying it down on the print bed, layer by layer. Each layer solidifies and then the next layer is deposited.
The process is carried until the entire model isn't ready. The cost of printing will depend on many things.
Starting from the size of the model to the complexity of the design. Also, other parameters such as the filament types used for printing would matter too.
However, FDM printers have the least operation cost. And, a device this small won't put you into too much electricity bill as well.
Print Quality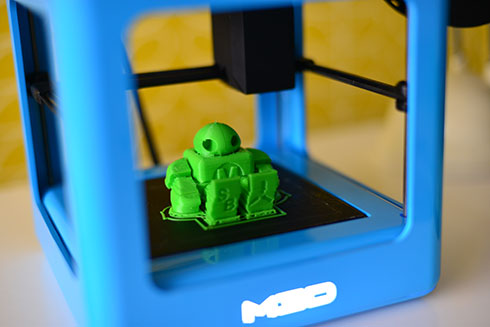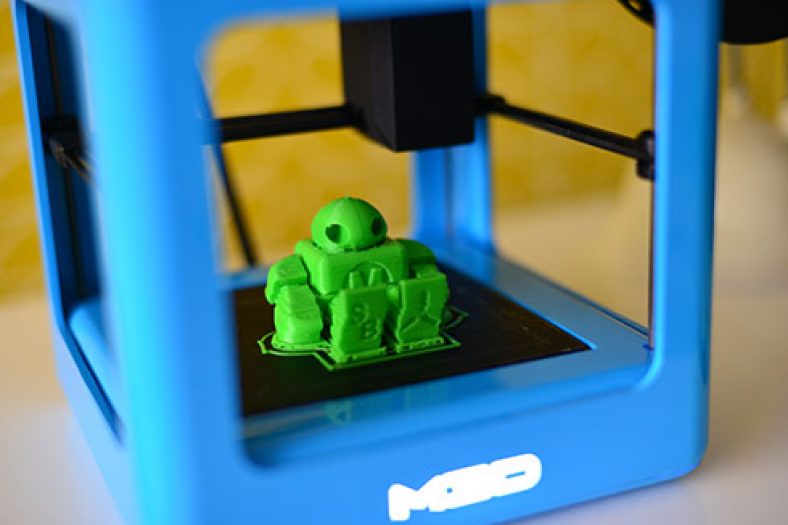 The print quality is above average. Hence, you can design complex models and detailed ones too. The printer is capable of printing at different resolutions. Only the speed of the printer may pose a challenge when printing highly detailed designs.
Software
The company offers free M3D software that provides an easy learning curve. Even the beginners would be delighted to work with such a simple interface which is simple to get acquainted with.
The software provides easy re-calibration steps and is highly intuitive. However, it does restrict users from providing freedom from print settings. Nothing much to worry about when it's for beginners, isn't it?
Customer Service
The company provides a warranty on the 3D printer as well as offers a complete guide and instructions to carry on the setup and installation for the first time.
The technical support offered is also exemplary. The requests are answered as quickly as possible. Moreover, there are many online videos prepared on M3D Micro to help users get through the problems themselves.
Parameters Influencing the Buying Decision
One must go through the brief features of the 3D printer before finalizing the decision of purchasing the machine. Here is what you need to know when checking M3D Micro to make an informed decision.
3D Printer cost: The printer is very affordable and is the best choice for beginners in terms of price.
3D Print quality: The print quality is above average and it can print in a wider range of resolution. Starting from 50 microns, one can go up to 350 microns. Plus, the machine is highly accurate as well. Providing an overall amazing result.
3D Print speed: The print speed is not great and one may have to wait for hours when printing a small model with the highest precision settings.
3D Printer capability: This printer is capable of producing detailed models with fine precision. It can be used for complex designs as well. The printer does a great job of creating accurate designs, hence, preferred by many users around the world.
3D Printer Practicality: As per the given specifications and features, the printer is best suited for home use as well as for learning purposes. Those with smaller projects can use it for commercial setup as well.
3D Printer User expectations: The printer does meet the user's expectations for the given budget. It is an impressive printer without any doubt.
Verdict
Companies often come up with a budget 3D printer. However, there are few printers that leave a great impression on users.
Among those few choices, the M3D Micro 3D printer competes to be in the top list. It offers a huge feature list even with a low budget price.
Users who are looking forward to starting their 3D Printing experience on a good note must check this option. It is very popular among consumers too. And, a great device for learning.