Makerfarm Pegasus 12'' 3D printer
Belonging to the class of affordable 3D printers, Makerfarm Pegasus 12 has a high print quality that is considered to be an anomaly. So if you are yet to experience the market, you can definitely look forward to adding this to your list.
PROS
Rigid Frame.
Lower layer height.
Aluminum heat bed.
LCD interface.
CONS
No mention of customer support via phone, or video call, openly on the websites.
Absence of pictures of parts or functional prototypes printed using this printer.
Product
Specification
Videos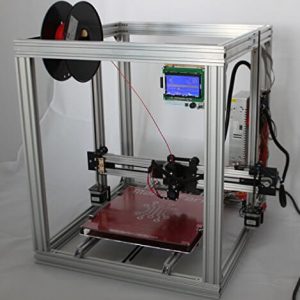 A huge build volume present in Makerfarm Pegasus 12 lets you print large parts in one go. The printer's heated bed avails printing with 3D printer ...
| | |
| --- | --- |
| Model | Pegasus 12" |
| Manufacturer | Makerfarm |
| Price Range | $ 645 |
| Availability | Available |
| Classification | Professional |
| Technology | Extrusion (FFF- FDM…) |
| Material | ABS, Other plastics, PLA |
| Filament diameter | 1.75 mm0.07 in |
| Max. build size | 292 x 305 x 343 mm 11.5 x 12 x 13.5 in |
| Max. build volume | 30.55 L |
| Min. layer thickness | 0.02 mm0.001 in |
| Nozzle diameter(s) | 0.4 mm0.02 in |
| Power input | 110/220 VAC 60/50Hz |
| Heated print bed | No |
| Heated build chamber | No |
| Automatic calibration | No |
| Closed frame | Yes |
| Dual extruder | No |
| Independent Dual Extruder | No |
| Full color | No |
| LCD screen | Yes |
| Touchscreen | No |
| On-board camera | No |
| Mobile app | No |
| 3D scanners | No |
| CNC mill | No |
| Electronics 3D printing | No |
| Laser engraving | No |
| Conveyor belt | No |
| Air filter | No |
| Pellet extruder | No |
| USB | No |
| Wifi | No |
| Bluetooth | No |
| SD card | No |
| Ethernet | Yes |

Table of Contents
Available in three different sizes, Makerfarm Pegasus is manufactured by an America based company.
The 12 inches model offers the largest build volume for building parts and functional prototypes.
Though differentiating between build volumes of various models, Makerfarm has kept uniformity when it comes to frame and hot end options.
The former being made of Aluminum, whereas the latter is the part that's from the company which is very renowned for making hot ends.
Makerfarm Pegasus offers a print bed that is one of the largest you can get while buying a printer under the budget of $800.
Apart from offering huge build volume, the heated bed, hot end options, and open filament system are also some features that are pretty impressive.
Belonging to the class of affordable 3D printers, Makerfarm Pegasus 12's high print quality is an anomaly.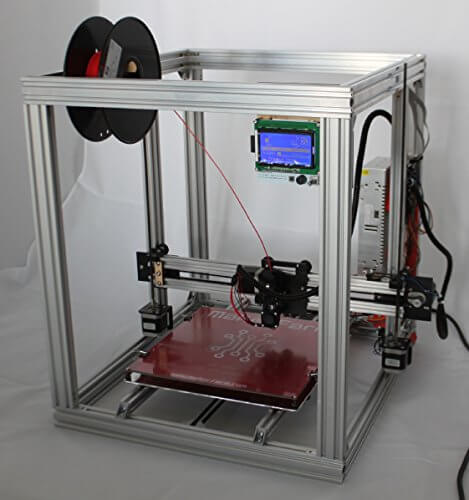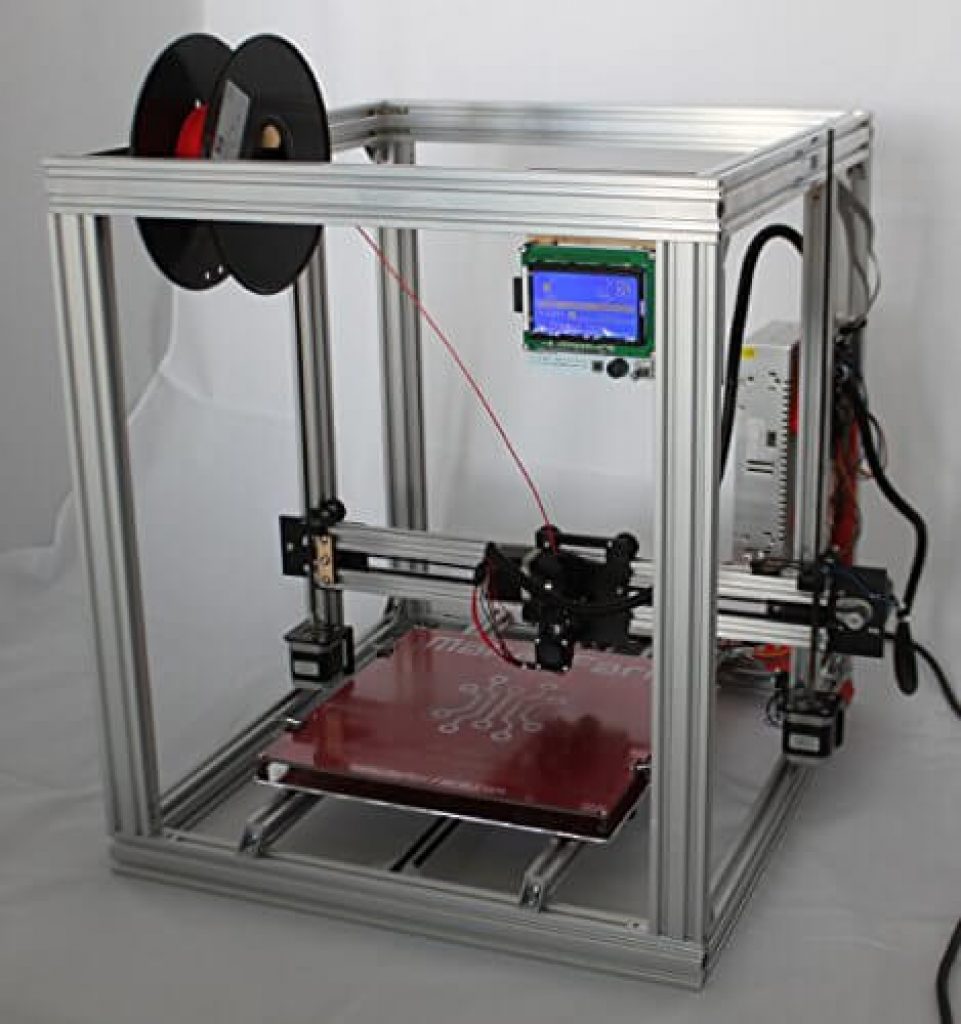 Although not being too user-friendly as other expensive printers, Makerfarm Pegasus works fine with an experienced hand.
It is to be noted how this printer belongs to those printers that have sprung out from the technological innovation in the field of 3D printing.
The innovation that aimed at bringing awareness about this technology to people, at the same time, enabling people who are already aware of the technology to buy and use it at a cheaper cost.
Having stated so, let's start to explore the bits and pieces of this printer. From features to specifications, we will lead you on a journey that will give you an insight into how Makerfarm Pegasus 12 is when viewed in terms of parts and not as a whole.
Features
The extremely rigid 20*40 Aluminum frame assures you that the printer would not vibrate even while printing a larger part at a higher speed.
A build envelope of 11.5 inches * 12 inches * 13.5 inches along X, Y and Z-axis would surprise you while you would be out there looking in the market for buying affordable 3D printers offering huge build volume.
And make you want to check the price of the printer again and again.
The RAMPS Electronics Standard board would save your work progress and start from there itself even in case of electricity failure.
Based on standard FDM 3D printing technology, Makerfarm Pegasus 12 offers 50-micron layer height in every part and functional prototype that's being printed on it.
For making the user interaction and monitoring interesting, the printer is equipped with a graphical LCD Interface. Meaning that you can even print without using a PC if you wish to.
Aluminum Frame
Aluminum is a material that is believed to be rigid and hence if the frame is made out of it, it has been extremely rigid.
But in case you do not know why the frame should be rigid, what benefit it does to 3D printing of parts or functional prototype, here's an explanation for you.
The complete frame supports the rail system in the printer. The rail system of the printer is attached to the nozzle system of the printer.
And the nozzle system of the printer moves up again and again after a layer is printed.
So, there are chances of the printer to vibrate or move on to the desk where it is located in the frame is not rigid.
Standard Electronics and LCD interface
First things first, electricity is the fuel that you are doing to need to run this 3D printer for printing 3D parts or functional prototypes.
The manufacturer of this printer claims how they have used standard electronics of RAMPS Company for ensuring parts move in the way and at the time they are meant to.
The complete precise 3D printing requires the print head to move exactly when the layer is printed, in order to print the other layer.
Stating about the LCD interface, the printer has it located at the top right corner of the frame.
With this LCD interface the company is making an important point and that being, you can print without the inclusion of any computer in the printing process because you have the LCD interface.
This LCD would give you the ability you need for monitoring the printing process, operating various parts of the printer, and starting, pausing, or stopping the printing process in case there is a need for so.
Good build envelope and layer height
The building envelope of Makerfarm Pegasus is 11.5 inches on the X-axis, 12 inches on the Y-axis, and 13.5 inches on the Z-axis.
Which is very good when you compare this to the printers that are available at the same price as this printer is.
This feature would let you print parts or functional prototypes of large size which are used in the aerospace defense industry, healthcare, or automotive.
A lot of the print quality is based on the layer height of parts or functional prototypes manufactured by a printer.
So, if you were to judge the print quality of any printer, you can do that by comparing layer heights.
As per the general conception, the lesser the layer height, the better the parts look.
And, the layer height of parts printed using Makerfarm Pegasus is 50 microns. This talks a lot about the precision this machine could offer.
V Slot Extrusion and 66 oz-in motors for all axis
The extruder is the place where the raw material for 3D printing is kept and heated to be brought on to the level wherein it melts on the printing bed of the printer.
This printer has such an extruder which is V in shape. And it is believed that the printer that has such an extruder can print with higher speed and give smoother operation to the printer during the printing process.
The motors are to be used in the entire axis for the regular movement of the print head from the print as soon as one layer is printed, so it is necessary for the motors to function in a fixed and equal manner for ensuring equal printing of layer on each axis as per the design.
back to menu ↑
Specifications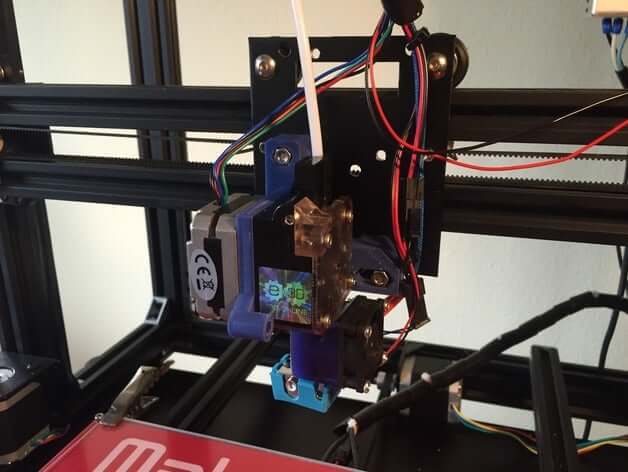 Credit: thingiverse.com
The printer's dimensions when it is completely assembled, without the spool are 21.25 inches * 23 inches * 23.5 inches. It has an aluminum heat bed mount.
The build envelope of the printer as mentioned above is 11.5 inches * 12 inches * 13.5 inches.
The layer height in the parts or functional prototypes produced by the printer is 50 microns. The printer uses GT2 pulleys and belts.
It has a Genuine e3d .40mm Hot End Nozzle for 1.75mm Filament and an Optional e3d-Lite6 or e3d-v6 for 3mm Filament.
There are 66oz-in Motors for all axis' pre-wired with the printer and the bed leveling that is done is by Firmware Bed leveling.
There is a micro Adjustable Z End stop inside the printer.
back to menu ↑
Price
The price of Makerfarm Pegasus is $645.
back to menu ↑
First Impressions
There is a filament holder is connected with the nozzle system which is capable of moving up and down with the help of the rails on the frame of the printer.
A rectangular in shape LCD interface is located at the top right of the printer frame i.e. exactly on the top right vertice of the cubical cage or frame of the printer.
back to menu ↑
Setup
The printer is available in a DIY kit that requires you to assemble everything including the gantry frame, as well as the X-Y-Z axis motor mounts, belts, printer hot-ends, and extruders.
As reported on reliable 3D printing websites, the complete setup of this printer can take about three to four hours.
Reading all this might make you want to compare this printer with a printer that comes completely assembled.
But, there is an advantage of assembling printer parts on your own. And that is, you get to see which part is in coordination with which one.
So, when the time comes to make some smaller changes or something isn't working how it should, you know which area to look out for in the printer.
Having stated so, there are sixteen steps involved in the assembly of this printer.
The nuts and bolts which come with the printer for its assembly are of metric sizes M3, M4, and M5 ranging from one to three centimeters long.
Coming to the motors, the Y and Z motor brackets need to be precisely located at specific places along with their respective frame supports.
Also, there are no pre-drilled holes for suiting the brackets so you'd have to use your ruler.
Although this is not a problem requiring much care, it does add another factor to be taken into consideration for ensuring dimensional accuracy in parts and functional prototypes printed by the printer.
The drive belts of this printer are also not pre-cut to length, so during your assembly, you'd have to measure and cut accordingly.
After the cutting is done properly, secure it by zip-tying them through the drive mechanisms.
back to menu ↑
Printing Type/Cost
The printer is based on FDM 3D printing technology wherein you would need spools of materials that you wish to 3D print with.
You would have to heat them up and then the melted form of that material is something that would be spread on the print head layer after the other.
FDM is an abbreviation for Fused Deposition Melting. It is the most preferred 3D printing technology, based on which the majority of 3D printers in the field function.
The complete process of FDM 3D printing depends on three major steps:
Steady heating of the printing material till its glass transition temperature.
Laying down the first layer on the print bed of the printer, precisely according to the geometry of the intended part or functional prototype.
Uniform cooling of the printer layer.
And once that will cool down, the final part will be 3D printed.
The cost of 3D printing a part in this way is mostly lower than that of printing a part or functional prototype using any other technology that utilizes a laser.
But the printing cost has many variables that need to be considered before calculating the printing cost.
And, it may differ for the same models as well when the filament choice or any other responsible variable differ.
back to menu ↑
Print Quality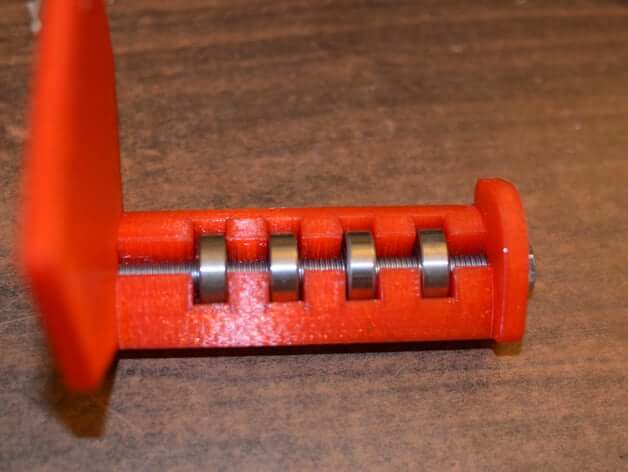 Credit: thingiverse.com
In the price range that Makerfarm Pegasus 12 falls, there are not enough printers that offer 50 microns layer resolution for parts and functional prototypes.
The print quality is consistent whether your part size is smaller or bigger.
Makerfarm Pegasus 12 is also able to manage high quality while printing continuously for hours. Making this printer suitable for a number of applications.
back to menu ↑
Customer Support
You can make your Account on the Makerfarm store online. Doing so would avail you options to connect with the makers of the printer.
back to menu ↑
Parameters Influencing Buying Decision
Factors that are mentioned in the brief below should be taken into account while purchasing this printer.
3D Printer cost: Affordable.
3D Print quality: Layer height of 50 microns would mean that they are hard to see.
3D Print speed: Faster because of the V slot extruder.
3D Printer capability: The printer prints with all the popular materials.
3D Printer Practicality: It has all the features that you would wish to have in a printer to make you familiar with the 3D printing technology.
3D Printer User expectations: If you are a beginner in the field, your expectations in terms of cost, would be extremely satisfied.
back to menu ↑
The Verdict
There are highs and lows of the printer, just like every other.
But if you are yet to experience the market, you can definitely look forward to adding this to your list.
Comparing it with the printers under a similar price range would offer you a better insight of what this machine is worth.