When surveyed in the year 2017, the Metal Injection Molding market amounted to approximately $2.58 billion. The market is expected to reach $3.77 billion by 2022. These statistics hint towards two important conclusions.
First, there are plenty of Metal Injection Molding companies for serving the on-going demands of the market. In addition, the other conclusion is, there are high chances of the number of metal injection molding companies to increase in this market for the coming years.
When the number of choices increases, you need to find out "which one is the best?" From the many available! But you hardly have a reason to worry because we have got your back.
What makes this market have such a positive scope is its association with many end-use industries. It is associated with Electrical and Electronics, Automotive, Medical and Orthodontics, Consumer Products, Industrial, Firearms, and Defense, as well as Jewelry and Aerospace.
Metal Injection Molding companies are able to satisfy the complex needs of the consumers in these industries by providing dimensionally accurate parts and functional prototypes. They are spread all across the globe, be it North America, Europe, Asia Pacific, South America, as well as the Middle East and Africa.
A region where there is more preference for Metal Injection Molding companies than others in the Asia Pacific. The data states the reason for this preference is the low production cost in this region than any other in the world.
Nevertheless, the companies that we have covered in this article are not necessarily from this geography only. They are the ones that are spread all across the globe and are the most reliable names in the market.
With their services and product offerings, they have satisfied the expectations as well as the curiosity of their customers worldwide. Having made you wait for the list this long, we would jump straight to it.
List of top Metal Injection Molding Companies
They shock the market and their competitors. Sometimes by bringing in out-of-box products, the other times with offering high-quality customer support.
By serving this industry's customers loyally for many years now, they have become a trademark of this industry. Keeping a healthy competition between them, they have led the industry's progress.
ARC Group Worldwide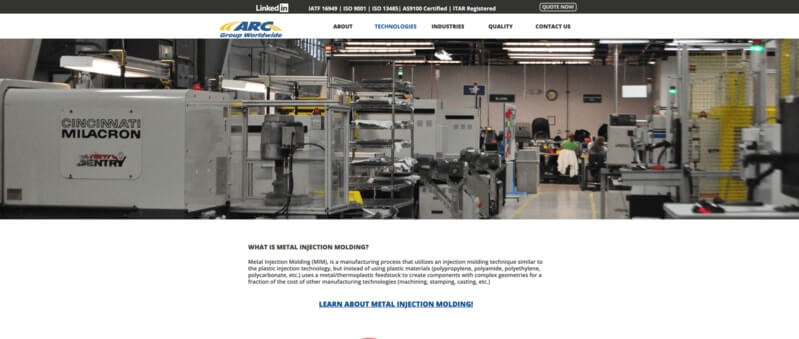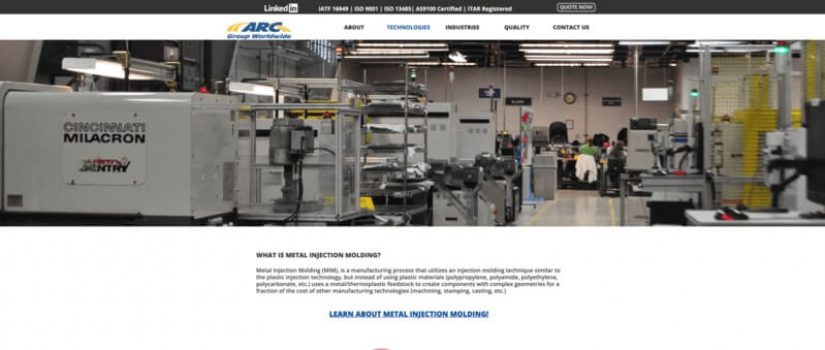 Founded in 1987, ARC Group Worldwide is a leading global advanced manufacturing service provider.
Apart from being one of the world's leading Metal Injection Molding Companies, ARC has sufficient expertise in prototyping, advanced tooling, automation, machining, plastic injection molding, lean manufacturing, and robotics. ARC is on a journey to bring innovation and technology to the field of manufacturing.
Contribution in the field of Metal Injection Molding
By working in this industry for more than 44 years, ARC Group Worldwide holds five patents related to Metal Injection Molding.
Metal Injection Molded 316L Duplex Stainless Steel
Metal Injection Molded Nickel Free Stainless Steel
Method and composition for making a wire
Method for making molybdenum parts using metal injection molding
Method for bonding powder metallurgical parts
The company has enjoyed the challenge of working on a wide array of projects that pushed not only their limits but also the complete metal injection molding technology's limit to establish new standards. The awards that the company has been a host to are too many to count.
ARC Group Worldwide runs a MIM school that started as a training class for customers, new employees, and vendors. Since its inception, this school has trained more than 250 students in the field of Metal Injection Molding.
Quality Assurance
All the manufacturing facilities of ARC are AS 9100, IATF 16949, ISO 9001, ISO 13485, and ITAR registered.
The company encourages open communication between its team of Project managers and the Quality and Engineering team to make sure every aspect of the project stays on the course.
Their Quality Assurance Department consists of highly trained Quality Engineers, Technicians, and Inspectors. ARC Group Worldwide claims to offer an unmatched level of customization, quality, high-capacity facilities, low cost, and quick market processing.
Dynacast International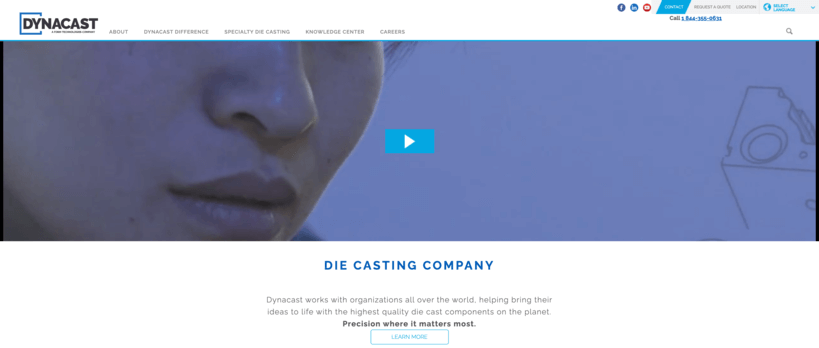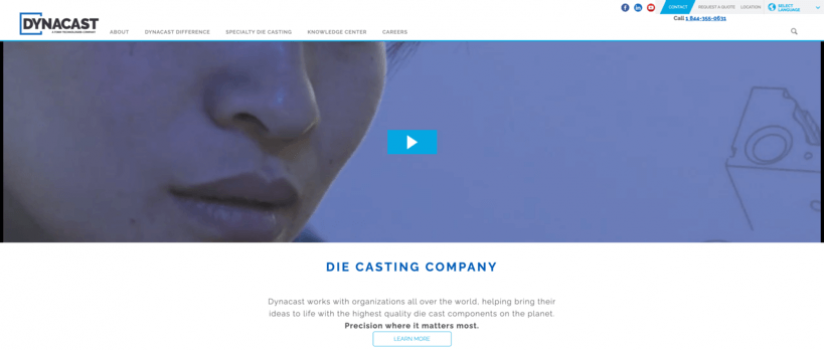 With 21 manufacturing facilities spanning 16 countries, Dynacast International is a Form Technologies Company. The company has earned its name as the global manufacturer of precision, engineered metal components.
Automotive, Consumer Electronics, and Healthcare are the three primary industries that this company caters to with its proprietary die-cast technologies. Dynacast International takes immense pride in having a history of working in this market for more than 80 years.
Contribution in the field of Metal Injection Molding
Dynacast International has four processes that they employing for making metal parts and functional prototypes.
Hot Chamber Die Casting.
Cold Chamber Die Casting.
Injected Metal Assembly.
Multi-side Die Casting.
The first one can be used with Zinc, Magnesium, and other alloys melting at lower temperatures. The second is the ideal process that works with metals that have higher melting temperatures and corrosive properties, for example; Aluminum.
Injected Metal Assembly outperforms adhesives used for small component joining and assembly production. It also reduces the manufacturing cost. This can be utilized for metals, ceramics, glass, fibers, paper, elastomers, and plastics.
The fourth process is predominantly used for small zinc components. However, over the years Dynacast International has made it work even with Magnesium.
Quality Assurance
Innovations such as:
Thin wall aluminum dies casting permitting you to build smaller and lighter products at lower component costs.
Eliminating costly machining to ensure you benefit from shorter lead times and improved yields.
A unique, high-speed, multi-slide technology to deliver you net shape the first time.
Are brought in the Metal Injection Molding technology by Dynacast International. The company's thin-wall Aluminum castings are strong, lightweight as well as 100 percent recyclable.
INDO-MIM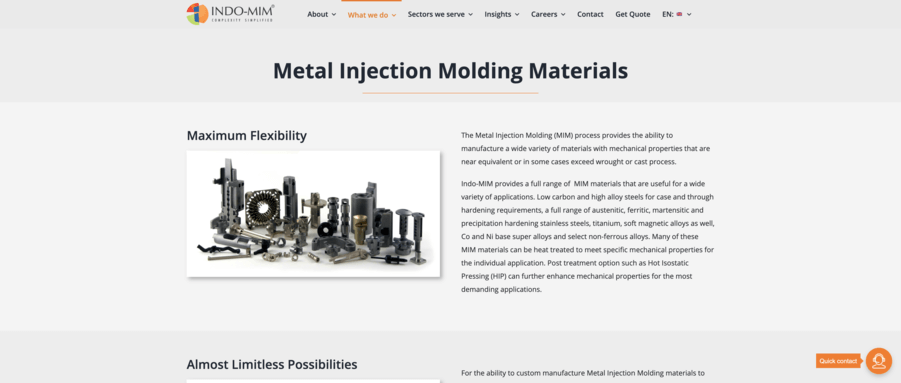 By providing precision-engineered products to customers in more than thirty countries, Indo-MIM has been constantly expanding since its year of inception, 1996.
Grown out of a merger between AF technologies Pvt. Ltd. Moreover, North American company MIM, Indo-MIM was acquired by an American collaborator in 2001.
For competing with its fellow MIM companies, Indo-MIM has two manufacturing facilities in Hosote and Doddaballapur.
The company serves Aerospace, Automotive, Consumer, Industrial, as well as Medical industries with technologies such as Investment Casting, Ceramic Injection Molding, Aerospace Solutions, and Binder Jet 3D printing technologies apart from Metal Injection Molding.
Contribution in the field of Metal Injection Molding
Their manufacturing facility in India is spread across 13,000 square meters on a fifteen-acre campus. Here they manufacture small to high volume products.
The other manufacturing facility is spread across 12,000 square meters which are geared for low to medium volume MIM operations.
They term themselves as the world's largest installed capacity for metal injection molding.
If both of their manufacturing plants' areas are combined they account to be 25,000 square meters, which is huge!
Quality Assurance
Both the manufacturing plants of this company are ISO 9001:2015 and IATF 16949:2016 certified. Indo-MIM's approach towards quality follows some basic principles like strategic planning and leadership, a strong focus on customers,s and fact-based management.
The quality system combined with the business system provides the rudiment structure for meeting and even exceeding their customers' demands.
All the methodologies employed by this company include Lean Six Sigma, 5S Visual Management, Kaizen principles, Strategic Supplier Integration, and Total Productive Maintenance.
Their manpower consists of over 1800 skilled engineers, scientists, technicians, and manufacturing associates.
Molex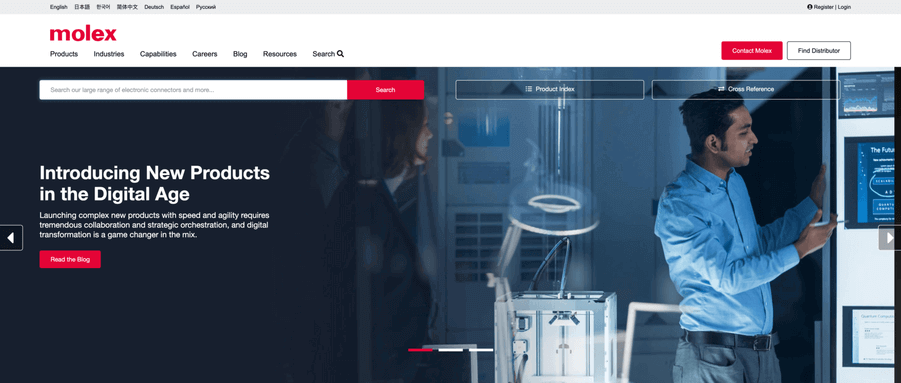 You might recall the name of this company from a material that was developed in the year 1938.
This was a durable, moldable thermoplastic manufactured from limestone and industrial by-products developed by the Father-son duo who did end up making a company by the name Molex Products Company.
Since those days, this company is increasing its legacy of innovation spans. From A to Z, Molex serves numerous industries such as 5G, Automotive, Connected Mobility Solutions, Commercial Aviation, Commercial Vehicle, and much more.
Molex is not only one of the leading Metal Injection Molding Companies, but also in many other industries.
Contribution in the field of Metal Injection Molding
Molex tries to suffice the industry needs of small, durable parts that continuously rise. Phillips-Midsize, Molex's brand into Metal Injection Molding has an in-house metallurgy lab testing and measurement.
They provide material characterization, testing services, tensile testing, microstructure analysis, fatigue testing, hardness, density, corrosion testing, as well as carbon analysis.
Even full geometric inspection with Statistical process Control is available for all the components.
A result of all this allows this brand to have tight control over all the aspects of the MIM process. Molex's focus is on meeting the growing demand for miniaturization.
Quality Assurance
The four-step MIM process for making parts and functional prototypes are done to maintain superior quality and dimensional repeatability.
Molex takes into consideration the parting line, gate location, and provisions for sintering as requirements for the molding process.
Their products and services are one of the best known in the market metal injection molding industry.
They are equipped with the brightest minds for solving your problems and toughest engineering challenges by leveraging their proven capabilities and newest innovations.
OptiMIM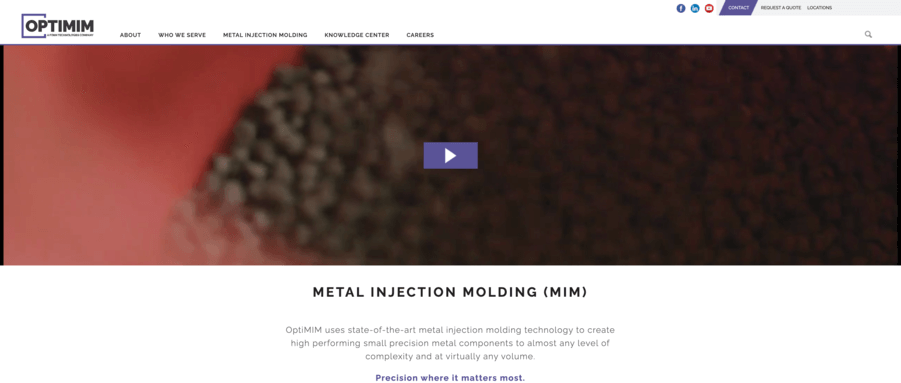 Located in Portland, Oregon, Batam, and Indonesia, OptiMIM is a leader when it comes to listing Metal Injection Molding companies.
To date, the company holds a record for manufacturing more than 60 million parts annually from their 55,000 square foot plant.
Using state-of-the-art metal injection molding technology, it creates high-performing small precision metal components with almost any type of complexity and virtually at any time.
They offer outstanding levels of chemistry control, strength, and density all across a wide range of alloys.
Offering manufacturing from a wide range of materials such as stainless steel to Tungsten alloys, superalloys such as Cobalt-Chromium.
Contribution in the field of Metal Injection Molding
The company's team of engineers offers design solutions for a variety of industries including consumer electronics, automotive, healthcare, and more.
Their engineers are involved in an early part of the process of manufacturing for creating a cost-effective and functional part.
The most important steps that can be overlooked in the design stage are given the most preference by the team of OptiMIM.
They have freed their designers from the traditional constraints associated with trying to shape Stainless Steel, Copper, Titanium, and other metals.
They offer manufacturing of Stainless Steel, low alloy steel as well as Copper. The process of MIM that this company employs is a mix of plastic injection molding and powdered metallurgy.
Quality Assurance
There is utmost care taken by OptiMIM's engineers that the density of components produced with this company's technique is either greater than or equal to 97 percent of theoretical wrought material densities.
With the addition of secondary operations such as tumbling, grinding, and polishing, the surface finishes of their parts are better than 16 in Ra can be achieved.
For achieving higher quality the treatments such as electro-less nickel, chrome, electro-less nickel Teflon, black oxide, passivation, and PVD treatments.
The parts manufactured by this company aim to serve industries such as Automotive, Medical/Dental, Firearms, Defense, and Consumer Electronics.
The knowledge Center of this company helps you understand the selection of the best material for different applications. The parts offered by this company offer fantastic strength, corrosion resistance, and unmatched density.
The Conclusion
The amount of Metal Injection Molding companies (MIM companies) is going to increase in the future because there are high chances of the technology being employed in sectors such as electrical and electronics, industrial, medical and orthodontics, and defense.
In particular, the electrical and electronics segment is expected to grow at the highest compounded annual rate from the year 2017 to 2022. The reason is the shift of people towards miniaturization.
The metal injection molding's capability to fulfill the increasing demand for small and complex parts with better performance at a relatively lower cost.
Above mentioned companies are well-established companies that have led to the growth of the overall manufacturing industry.
With Metal Injection Molding being their core industry of operation, they continue to deliver in other markets as well. The result of which is customer loyalty and unmatched successes.