Over the past 100 years, steel has been used for manufacturing various things that range from domestic appliances to jewelry to military and automotive parts.
Recently, manufacturers started incorporating additive manufacturing technology to enhance the potential of this metal.
Unlike traditional manufacturing methods that involve molding and casting of steel, additive manufacturing technology deposits and binds successive layers of steel powder to create 3D products.
Benefits of Steel 3D Printing
There are several advantages of 3D printing steel products. The most important one is that it allows you to produce complex and precise high-quality parts without the need for machining and forging.
Aeronautics is the first industry that used steel 3D printing to repair complex and expensive parts instead of replacing them.
Automated steel 3D printers are now directly used on work sites. The MX3D development project will use the steel 3D printer to build a steel bridge over a canal directly.
Moreover, steel 3D printing enables manufacturers to produce highly durable, lightweight, and high temperature resistant large industrial parts or functional prototypes in a short span of time. It greatly reduces the assembly time and cost. Thus, it is cheaper than traditional methods.
In addition, you can get rid of geometrical constraints that come with molding and casting and produce accurate models with highly detailed and complicated geometrical designs. Additionally, steel 3D printing minimizes traditional manufacturing issues, like wastages, and inefficient workflow.
Due to these benefits, steel 3D printers are now widely used in various sectors. Medical, construction, automotive, aerospace, military, and jewelry industries are making the most use out of these printers.
They are used to produce custom tools, metal implants, decorative models, such as medals, keys and statues, dental caps, and construction components. Nowadays, manufacturers and industrialists cannot resist investing in a steel 3D printer.
Comparison Chart
| Name | Link | Nomination | Overall Rating |
| --- | --- | --- | --- |
| Markforged Metal X | | Safe | 7.7 |
| Concept Laser XLine 2000R | | Most Efficient | 9 |
| Desktop Metal Studio X plus | | Innovative | 9.5 |
| Sciaky EBAM 300 | | Largest build volume | 8.6 |
| Sharebot MetalOne | | Shell Printing | 8.2 |
| Fabrisonic Soniclayer 400 | | Highly Reliable | 8.9 |
| EOS M100 | | Highly Delicate 3D Prints | 6.5 |
| Protofab SLM 150 | | Entry Level 3D printer | 7.8 |
| Renishaw RenAM 500Q | | Consistent Performance | 8 |
| Velo3D Sapphire AM Printer | | Most Advanced | 8.5 |
Best Steel 3D Printers
There are hundreds of steel 3D printers available on the market. If you want to buy one for your business, it is hard to make a purchase decision since they are expensive and it is a one-time large investment. Based on our research, in this article, we have listed the top ten steel 3D printers for you to choose from.
The detailed overview of these 3D printers will make it easier for you to make a purchase decision according to your printing goals and needs.
It is worth mentioning that the below listed 3D printers are compatible with printing with other metals along with steel.
Markforged Metal X
Markforged, an American company, is well known for its various industrial 3D printers. It launched Metal X in January 2017 at CES. It is based on Direct Metal Laser Sintering (DMLS) technology for 3D printing geometrical complex parts and functional prototypes and is popular for its accuracy.
There are three claims made by the company. One of them is that it is a simple and powerful 3D printer compatible with a wide range of materials. Secondly, it is safe and affordable. And the third claim is that it offers best in class reliability.
The machine has a build volume of 300 x 220 x 180 mm with a layer resolution that varies from 50 to 125 microns. The greater the layer resolution will be, the clearer the printed metal layers are.
A heated print bed can be auto-leveled. It is priced at $160,000 and has a complete system of Wash 1, Sinter 1, and 2. The company offers exceptional after-sale services for 3 years to its customers.
Uses:
It prints faster as compared to other 3D printers in a similar price range as it operates without any powder management system and post-processing of the prints. This accelerates the print speed. The users can manufacture parts in 48 hours only.
The material travels safely inside the printer with an advanced motion system.
The user can print with various metal alloys. These include stainless steel, copper, tool steel, and Inconel.
The printer uses Markforged proprietary Cloudbase software, Eiger, for slicing. This software makes managing production efficient.
Concept Laser XLine 2000R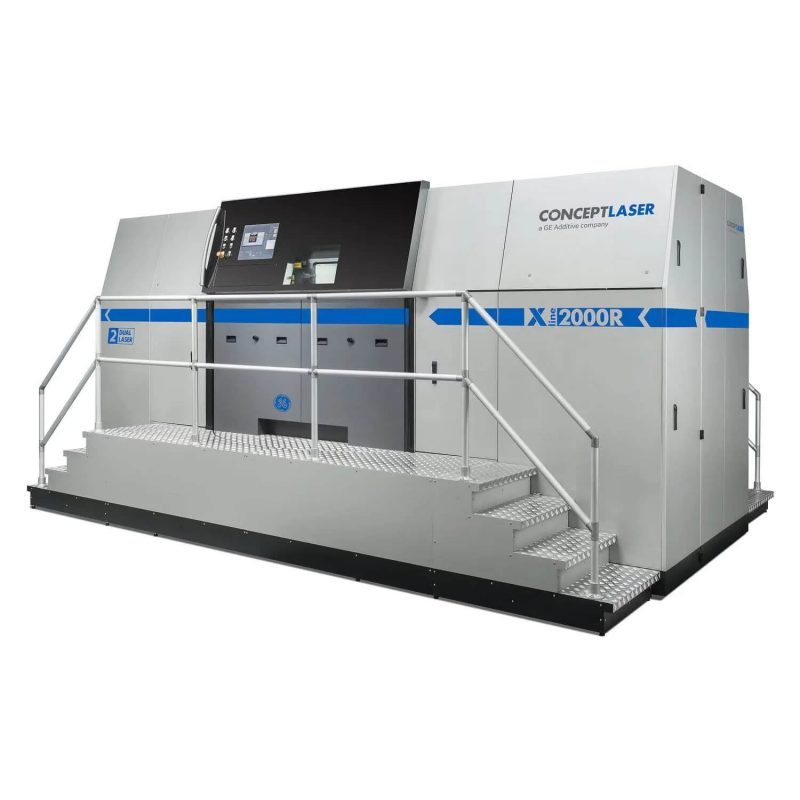 A German company, Concept Laser, manufactured this giant printer in 2016. It has a print space of 630 x 400 x 500 mm to create complex geometric large metallic parts in one go. It claims to be the world's largest laser melting metal 3D printer.
The machine is efficient and has a high printing speed of 65 cm3/h with exceptional print quality. It has a dual laser system with a rotating mechanism, giving an output of 1000 W.  Although it is expensive, it is worth every penny.
Uses:
It can print parts that weigh up to 1,000 kg.
The printer is reliable for large-scale industrial production. It is mainly designed for space, automotive, and jewelry manufacturing industries.
Equipped with a touchscreen that provides an intuitive user interface.
You can print with a wide variety of metals. These include steel, silver, and gold alloys, aluminum, cobalt, and nickel.
The laser cursing process can produce lightweight complex 3D prints.
Desktop Metal Studio X Plus
A US-based company manufactured the office-friendly 3D printer, Desktop Metal Studio X. It has two components integrated with secure web-based software for seamless metal 3D printing.
This includes a printer and furnace. Studio X produces complex and high-quality metal parts through an easy two-step process.
The printer uses the Bound Metal Deposition process to 3D print digital designs, which are then placed in the furnace to remove the binder and fuse metal particles together to produce 98% dense industrial 3D parts.
Studio X has a build volume of 300 x 200 x 200 mm with a layer resolution of 50 μm. It has a print speed of 16 cm3/hour. Though the machine is expensive, it is still more affordable than the printers that offer similar features.
Uses:
It is used in a variety of industries. These include automotive, consumer, oil and gas, electronics, and manufacturing.
Specially designed for office use with software-controlled workflow and user-friendly hardware.
The user can easily remove the supports from 3D prints by hand due to proprietary separable support technology.
The machine allows you to customize printing settings according to their need through an intuitive user interface.
Sciaky EBAM 300
If you are looking for a metal 3D printer with the largest build volume, the Electron Beam Additive Manufacturing (EBAM) 300 can be your top priority.
It uses an electron beam wire feed welding gun to produce huge metal structures that could be 19 feet tall.
The printer speed can be adjusted between 7 to 25 lbs/hour. It has a print space of 19 x 4 x 4 feet and costs $1.5 billion. The machine comes fully assembled and is reliable for both industrial and commercial purposes.
Uses:
The US Air Force, the Department of Defense, Lockheed Martin, and Boeing use the EBAM 300 for high-profile research and development.
The printer is suitable for sectors that require mass production, including jewelry, aerospace, medical and automotive industries.
Apart from steel, you can also 3D print with high-value metals. These include tantalum, niobium, titanium, Inconel, and other alloys.
You can create experimental prototypes faster than other metal 3D printers.
The printer significantly reduces your machining time, lead-time, and material cost by 80%.
This printer can help repair and remanufacture damaged metal parts or prototypes on the worksite.
The machine has IRISS closed-loop control technology to eliminate inaccuracies and produce complex geometries precisely.
Sharebot MetalOne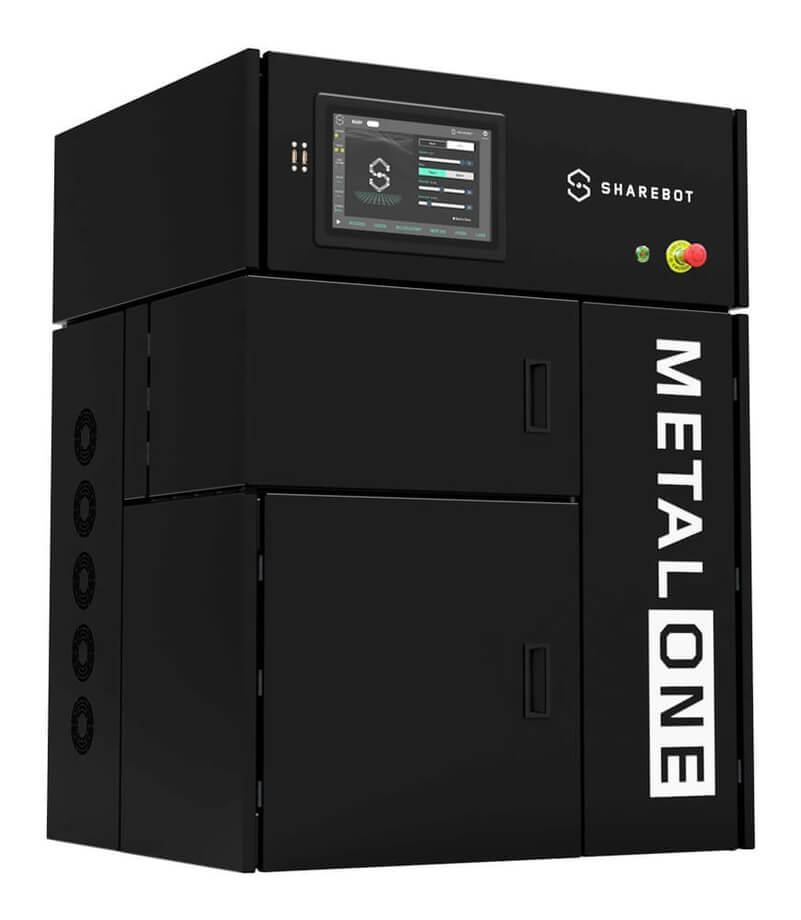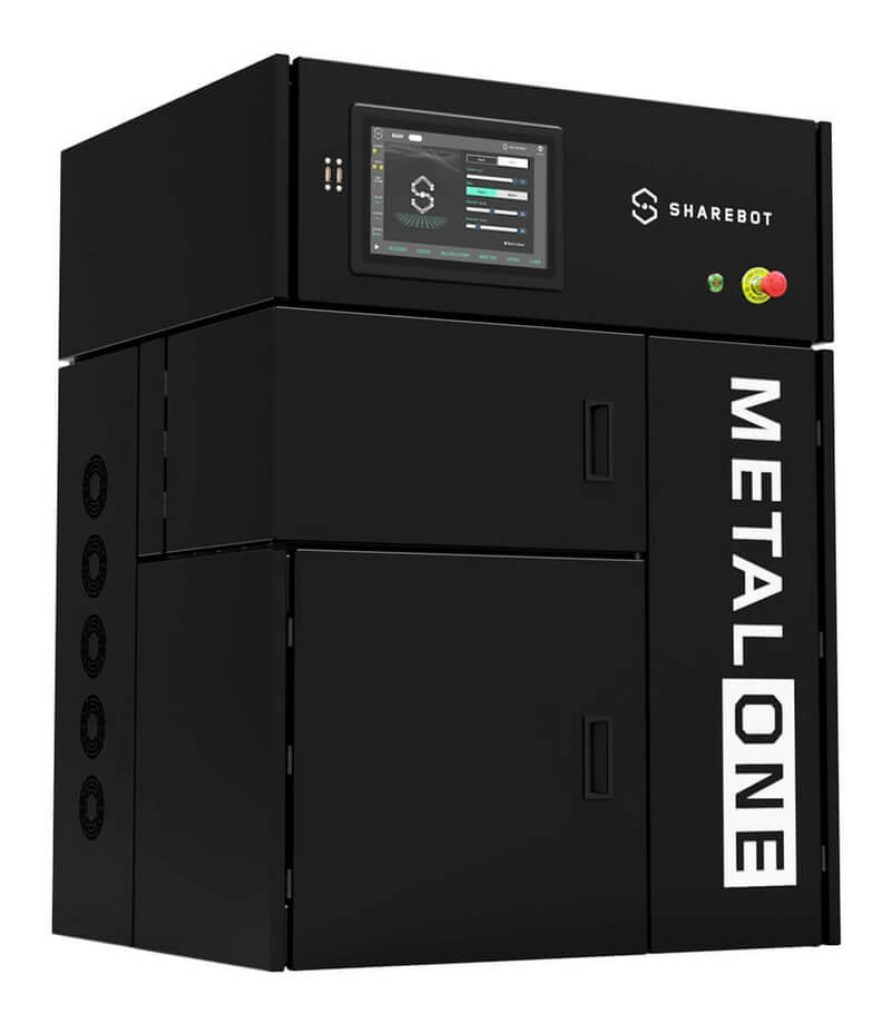 If you want to research and produce small and medium-sized metal 3D structures, Sharebot MetalOne is your go-to option.
Its unique selling point is 'Shell printing' that allows you to easily use the machine and efficiently control the print chamber. It is based on Direct Metal Laser Sintering Technology.
The printer has a build area of 65 x 65 x 100 mm and uses 250W laser to cure metal. The spot resolution is 40 microns and prints with a maximum speed of 5 meters per second. The layer height ranges from five to 200 microns. It uses Simplify 3D Continuum software for slicing.
Uses:
With this 3D Printer, you can experiment with new materials. The company has already tested with Cobalt Chrome and 316L Steel.
The dental laboratories use this printer to produce crowns, plates of copings, and restorations in less than one hour.
You can easily keep track of the full printing process through inbuilt cameras.
The machine is equipped with three filters that keep the system dust-free and sinter any metal dust that also includes dust of reactive metals like titanium.
The users can export logs and remotely control the printer through LAN.
Fabrisonic Soniclayer 400
Fabrisonic, a US-based company, manufactured the Soniclayer 4000 that uses unique ultrasound additive manufacturing technology for producing large complex geometrical 3D structures.
It features a 3-axis CNC mill with an extra welding head for additive manufacturing. The printer has a build volume of 1016 x 610 x 610 mm with a table size of 44 x 24 inches.
The welding head operates at a speed of 200 IPM and uses 2500 lb force. You have to contact the manufacturer to get the price of the machine.
Uses:
As no post-processing is required, you can mass produce quickly to meet the urgent production needs of various industries. These include aerospace, defense, medical, jewelry, automotive, etc.
The 9kW ultrasound, automatic feeding system, and Siemens 840D controller ensure accurate 3D printing with a smooth finish.
The user can print with a wide range of metals and their alloys.
The machine uses industry-standard G code programming that gives users the freedom to choose between CAD and CAM software.
EOS M100
If you are looking for a steel 3D printer that can produce delicate metal medical parts, the EOS 100 is a great option. It has a build volume of 100 x 100 x 95 mm and uses a Yb fiber laser for curing the 3D printed structure.
EOS 100 uses 0.6 to 1.7 kilowatts of power to operate. The laser spot is 40 micrometers. It is equipped with a high-speed scanner that scans 7 meters per second. The machine costs around $350,000.
Uses:
Specially designed for the dental and medical industries.
Compatible with metals like stainless steel, cobalt, and titanium.
The printer can produce highly complex and delicate parts using a small laser spot.
It uses a 200-Watt fiber laser to provide consistent print quality.
Less time is required for post-processing, cleaning, and setting up of the printer due to its modular structure, thus reducing overall printing time.
Protofab SLM 150
If you are a beginner and looking for an entry-level steel 3D printer that offers high-quality prints, the Protofab SLM 150 is a good option to look at. It won't let you down.
Great quality output is its selling point, as printers of similar price range offer comparatively larger build volume but not similar quality.
The printer offers a build volume of 150 x 150 x 100 mm with layer thickness that ranges from 0.02 to 0.1 mm. The Scanlab galvanometer scanning system is used to scan the material powder at a speed of 10 meters per second. You can immediately start printing after unboxing it, as it comes fully assembled.
Uses:
You can print with a wide range of materials. These include stainless steel, cobalt, bronze, titanium, and aluminum.
The printer produces parts and functional prototypes with intricate and fine details and the thinnest wall thickness. The surface finish is up to 5Ra micrometer or less that is better than that provided by 3D printers of a similar price range.
For curing, the machine uses 500 Watts Yb fiber laser with a spot of 25 to 50 micrometers.
A heat-resistant, high-performing silicon rubber blade is used to deliver the powder metal material to the print bed for 3D printing.
Nitrogen or argon is used as inert gas to maintain the temperature of the chamber.
The machine is safe to use, as it is equipped with safety features based on GB/T 15605-2008 dust explosive and pressure relief guide.
Renishaw RenAM 500Q
Renishaw launched a quad laser 3D printer, the RenAM 500Q. It offers consistent performance with great quality 3D prints. It uses four high-power 500 W lasers that help to build four times faster than systems with one laser.
They move independently and simultaneously access the powder bed. The printer has a build area of 250 x 250 x 350 mm.
It has automated powder and waste management features that minimize user interference and level up the safety standards of the system.
Uses:
You can print with cobalt-chromium, titanium alloys, stainless steel, and other metal powders.
It has a deposition rate of 150 cm3 per hour. This enhances productivity by increasing the print speed and reducing the production cost per part.
The machine is equipped with a dual Safe Change filter system that filters dust and other particles, leading to a clean printing process.
An innovative gas flow system reduces the consumption of argon, and efficiently removes process emissions.
The touchscreen provides an intuitive user interface and is user-friendly.
Velo3D Sapphire AM Printer
The list is incomplete without the Velo3D Sapphire AM Printer. It is the most advanced steel 3D printer present on the list that is suitable for critical applications.
It will be great if we call it the 'Next Generation Metal 3D Printer'. The printer has a build volume of 315 x 315 x 1000 mm with dual 1kW lasers.
Uses:
With its advanced features, it is used in the aerospace, medical, energy, and automotive industries.
This 3D printer is ideal if you want to minimize support structures and produce complex geometric figures that would be impossible to print with difficult-to-remove support structures.
The printer is equipped with an innovative fusion and 3D printing technology that minimizes post-processing.
In addition, it is operated by software that pre-prints simulations and corrections along with optimizing the design and adjusting the building layout to always ensure predictable outputs.
You can 3D print extremely low angles to 0 degrees and large diameters without any support.
You can calibrate the machine by pushing just one button.
Buyer's Guide
The demand for steel 3D printing is increasing these days, as it is cost-effective and time-saving. There are many steel 3D printers available in the market.
You can buy one to produce large volumes of complex functional prototypes and parts. However, each of them varies in their functionality and price. Thus, not all of them can serve your purpose. It is important to consider the following factors before buying one, as they are costly.
Ease to Use
The printer should be user-friendly. It should be easy to set up and operate. Some printers come with advanced software that enables you to easily access all the features and guide them through every step.
Print Quality
Industrialists need fine and smooth prints. Printers with powerful lasers help to keep finer details intact and offer consistency.
Print Speed
If you want to produce parts and prototypes quickly to meet the urgent needs of the customers, it is practical to purchase a printer with a fast print speed that does not require post-processing. Thus, it saves production time.
Safety
The safety of employees is the topmost priority. The machine should be safe to use. You should make sure the printer is eco-friendly and all safety precautions are in place when operating it.
Customization
This feature gives a 3D printer an edge over others. It helps you to tailor the printer according to customer specifications.
Price and Cost to Set Up
It's one of the most important factors to consider. The cost to set up, operational cost, and maintenance cost can all add up to a significant expense for you.
Most steel 3D printers are expensive and small businesses and desktop 3D printing users don't usually have enough money and space to afford these.
Customer Support
What if the machine breaks down? Whom to contact to fix the problem or replace it? Is there any insurance or guarantee?
Manufacturers have specialized teams to support customers after purchase. They can be contacted easily through phone calls, emails, or video calling via Skype.
Frequently Asked Questions (FAQs)
Are Steel 3D Printers Too Expensive?
Although most steel 3D printers are priced high and could only be afforded by large entrepreneurs or industrialists, some companies like ProtoFab have come with solutions that are budget-friendly.
Are Steel 3D Prints Stronger And More Precise Than Traditionally Manufactured Steel Products?
The quality of a 3D print depends on the type of technology and the 3D printer you are using to produce steel products.
Generally, they are more precise and accurate with a smooth surface finish than ones that are conventionally manufactured.
In addition, it is being tested that under certain circumstances, the steel 3D prints are three times stronger than those produced via traditional methods.
What Are the Different Methods Used To 3D Print With Steel?
There are different 3D printing methods for 3D printing with steel. These include Selective Laser Sintering (SLS), Selective Laser Melting (SLM), Direct Metal Laser Sintering (DMLS), Direct Metal Deposition, and Laser Powder Bed Fusion.
Conclusion
There is a wide range of steel 3D printers available in the market. Each of them has certain pros and cons. It is tiresome and hard to scan each one of them.
In addition, when you try to explore more about these AM systems, you get more confused as you will come across a large volume of information.
Thus, you should first identify your printing goals and then filter out the printers that meet your needs and budget.
In this guide, we listed the top ten steel 3D printers in detail for your convenience. When making a final purchase decision, you feel that owning a certain steel or metal AM system will be advantageous for you in the future and completely aligns with your printing goals, you are good to go. However, if at any point you feel doubts, check out other options available in the market.