If you are out there to buy a commercial 3D printer, you probably know how hard it is to decide upon. Not only are these machines expensive, but also you need to be sure about your choices of everything.
In this article, we are going to help you choose a Steel 3D printer, by listing in front of you the best options for Steel 3D printers in the market currently.
Steel 3D printers fall into the huge category of Metal 3D printers using which has many benefits.
Your designs are unconstrained by the geometrical limitations of molding and casting, in addition, you also unlock the possibility of printing stronger parts and functional prototypes.
With the development of 3D printing technology, some companies have emerged on pivoting making metal 3D printers and steel 3D printers more and more accessible to the class of people, to whom, they weren't, before.
The 3D printing services in this category have also matured since their existence and are currently able to produce nuanced concepts by eliminating the overhead of maintaining your own system.
In such a time, our guide is going to help you figure out from the category of best, the best for you.
List of best Steel 3D printers
It is obvious enough to point out to experts that the list mentioned below are also metal 3D printers and allow printing with other metals apart from steel, but for those who are new, it is still worth mentioning.
Markforged Metal X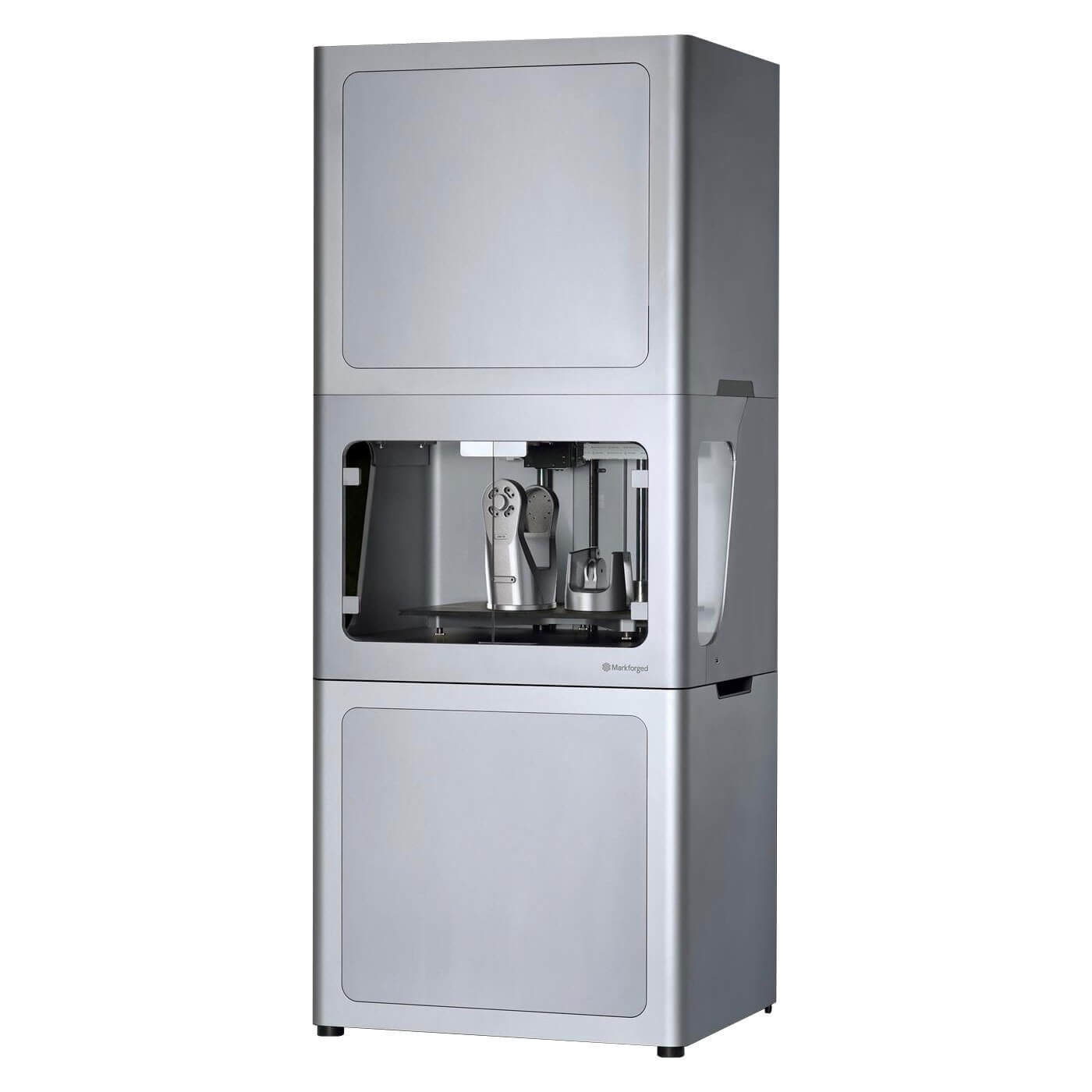 Based on Atomic Diffusion Additive Manufacturing technology, having a build volume of 300 mm * 220 mm * 180 mm, the Markforged Metal X boasts of its compact footprint and slick slicing software that comes with printer management features.
The printer is built on a heritage of specialist printers that are capable of producing fiber-reinforced parts and functional prototypes that also can replace metal properties.
All in, the Markforged Metal X and two post-processing components comprise a complete Metal X setup that starts in the price region of ~ $160,000, which not only includes the parts but also close support from Markforged itself with its three-year success plan.
The main metal feedstock of the printer is also used as support material required for taking part and functional prototype.
Added with the feedstock is a fine ceramic interface layer that is printed between support and part or functional prototype for ensuring a clean breakaway post-sinter.
Apart from Steel, you can print parts from a variety of verified metal alloy filaments, like tool steel and Inconel.
back to menu ↑
X Line 2000 R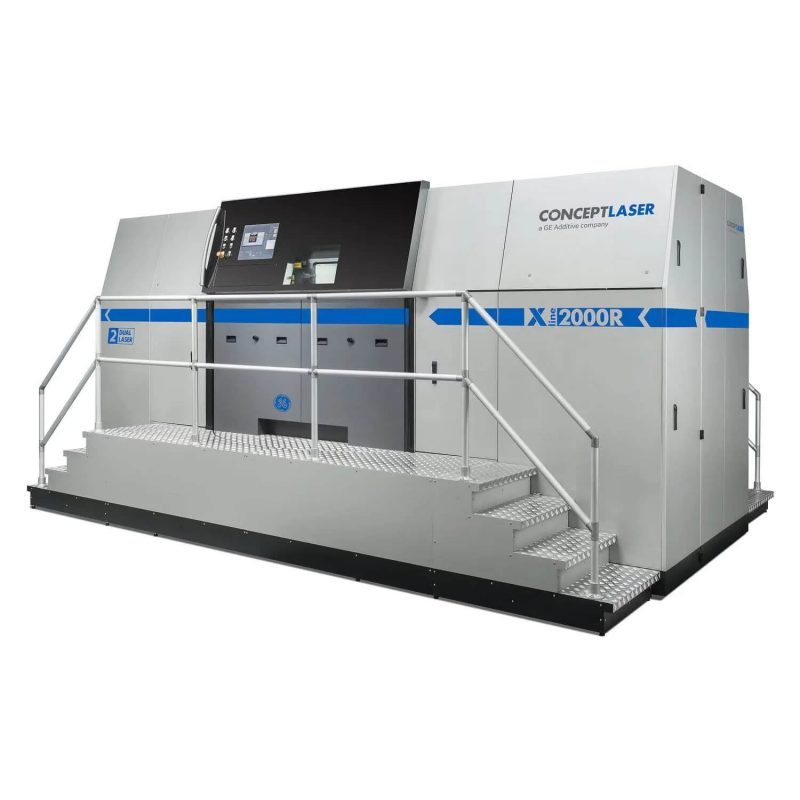 Offering a build volume of 160 liters, this printer claims itself to be the world's largest metal laser melting machine for the tool-less manufacture of large functional parts and technical prototypes with repeatable material properties.
It is a product of a very famous name in the field of 3D printing i.e. GE Additive.
The X Line 2000R is not only used for producing large-scale components in aerospace, but also in the automotive industry.
The special thing about this 3D printer is how it is able to give its users, a separate process and handling station, which ensures both safe operations of the machine and easier handling.
In addition to the separate handling and process station, the X Line 2000R also has a rotating mechanism that allows its user to build two modules that can be used reciprocally, thus guaranteeing constant production with minimal downtimes. Some of the most famous features of this machine are:
Largest powder-bed metal melting machine
Automated powder transport
The rotating mechanism for two build modules to be used reciprocally
This machine can print using Aluminum AlSi10Mg, Balanced Aluminum AlSi10Mg, Productivity Titanium Ti6AL4V Grade 23, Nickel 718, Stainless Steel 316L, and Cobalt CoCrMo.
back to menu ↑
Desktop Metal Studio X plus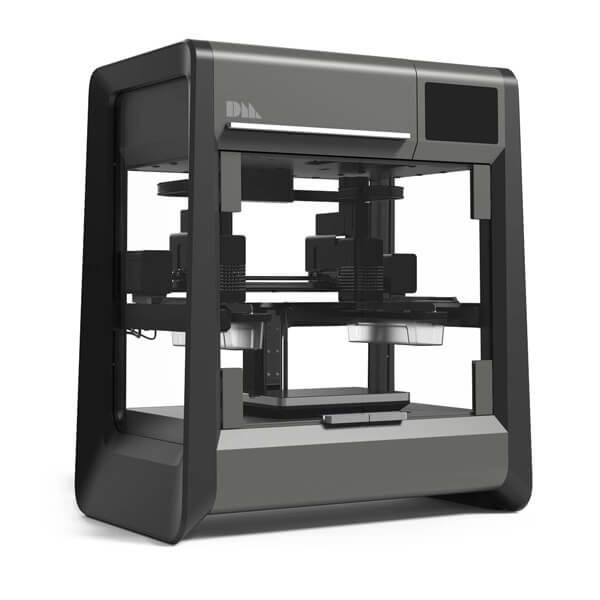 Based on Bound Metal Deposition 3D printing technology the machine offers 300 mm * 200 mm * 200 mm build volume.
The Desktop Metal Studio X plus is termed as an office-friendly printer with a little large build volume offering than its predecessor.
The printer uses a metal-polymer-matrix for depositing layers of powder metal in a printing process, the name of which is mentioned above.
Desktop Metal's Studio+ system is a shortcut to easily manufacture complex metal one-offs and small series production involving a little bit of the complication of competing and legacy technology.
Created by a desire to democratize metal 3D printing by a group of engineering specialists out of MIT, the printer is part of a holistic approach to 3D metal printing.
Things begin here with Fabricate software and end with the smart debinder and furnace post-processing stations.
The result of this sophisticated process is completely solid metal parts with characteristics that not only equal but also exceed metal injection molded parts.
This printer differentiates from similar systems mainly through the metal feedstock it accepts by using cartridges containing bound metal rods with a high metal-powder-to-binder density.
An advantage of doing so comes in green parts and functional prototypes at a metal content closer to the final sintered part which has essentially, less shrinkage and greater stability during the sintering process.
back to menu ↑
Sciaky EBAM 300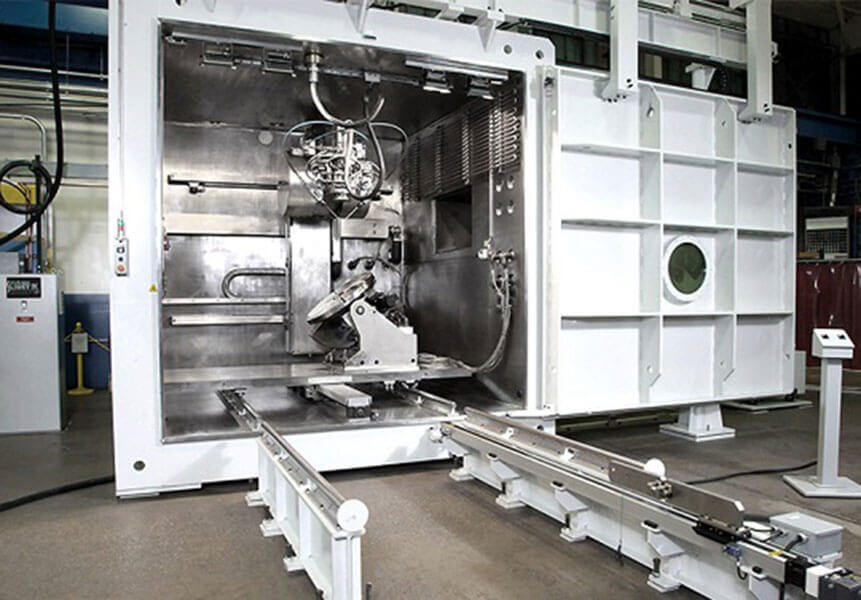 Sciaky's turnkey steel and hence metal 3D printers are known to print all kinds of 3D parts and functional prototypes.
It's Electron Beam Additive Manufacturing systems bring value throughout the entire product life cycle by following three simple steps:
Pre-Production: They create experimental metal prototypes faster than ever before and get a leg up on your competition.
Production: They additively manufacture steel and other metal parts and functional prototypes with significantly reduced machining time, material costs, and lead time compared to traditional subtractive manufacturing methods.
Post-Production: The system repairs or remanufactures damaged and obsolete steel and metal parts and functional prototypes on-site so you can extend various components' service life.
EBAM systems were launched in 2009 with a single point objective for saving manufacturers significant time and money while producing high-performance steel and other metallic structures.
Sciaky EBAM 300 printers have the following list of features.
Chamber Dimensions: 7620 mm * 2743 mm * 3353 mm.
Work Envelope: 5791 mm * 1219 mm * 1219 mm.
Nominal Part Envelope: 7112 mm * 1219 mm * 1219 mm.
A highly efficient Pumping–Chamber able to produce Hard Vacuum.
A power level that is capable of up to 42 kW–60 kV.
An internal Boom Mounted Gun with High-Resolution Optics & Servo Gun Tilt Axis.
All the three Servo Axes with Multiple Part Positioner & Dual Wire-feed Options.
A CNC Control–Joint Scanning and Digitizing System and wire feed with Motorized Wire Nozzle with a Closed-Loop Control (CLC) technology.
Product
Specification
Videos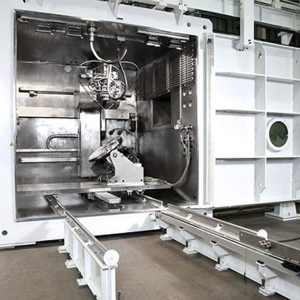 Talk about the large format metal 3D printer, and Sciaky EBAM 300 would top the list with the capacity to print models 19 feet in length. Aiming at ...
| | |
| --- | --- |
| Model | EBAM 300 Series |
| Manufacturer | Sciaky |
| Price Range | > $ 250000 |
| Release date | 2016 |
| Country | United States |
| Availability | Available |
| Classification | Industrial |
| Technology | Directed Energy Deposition |
| Material | Metal |
| OS compatibility | Microsoft Windows |
| Max. build size | 5791 × 1219 × 1219 mm 227.99 × 47.99 × 47.99 in |
| Max. build volume | 8605.20 L |
| Dimensions | 7620 × 2743 × 3353 mm 300 × 107.99 × 132.01 in |
| Heated print bed | No |
| Heated build chamber | No |
| Automatic calibration | No |
| Closed frame | Yes |
| Dual extruder | No |
| Independent Dual Extruder | No |
| Full color | No |
| LCD screen | No |
| Touchscreen | No |
| On-board camera | No |
| Mobile app | No |
| 3D scanners | No |
| CNC mill | No |
| Electronics 3D printing | No |
| Laser engraving | No |
| Conveyor belt | No |
| Air filter | No |
| Pellet extruder | No |
| USB | No |
| Wifi | No |
| Bluetooth | No |
| SD card | No |
| Ethernet | Yes |

back to menu ↑
Sharebot MetalOne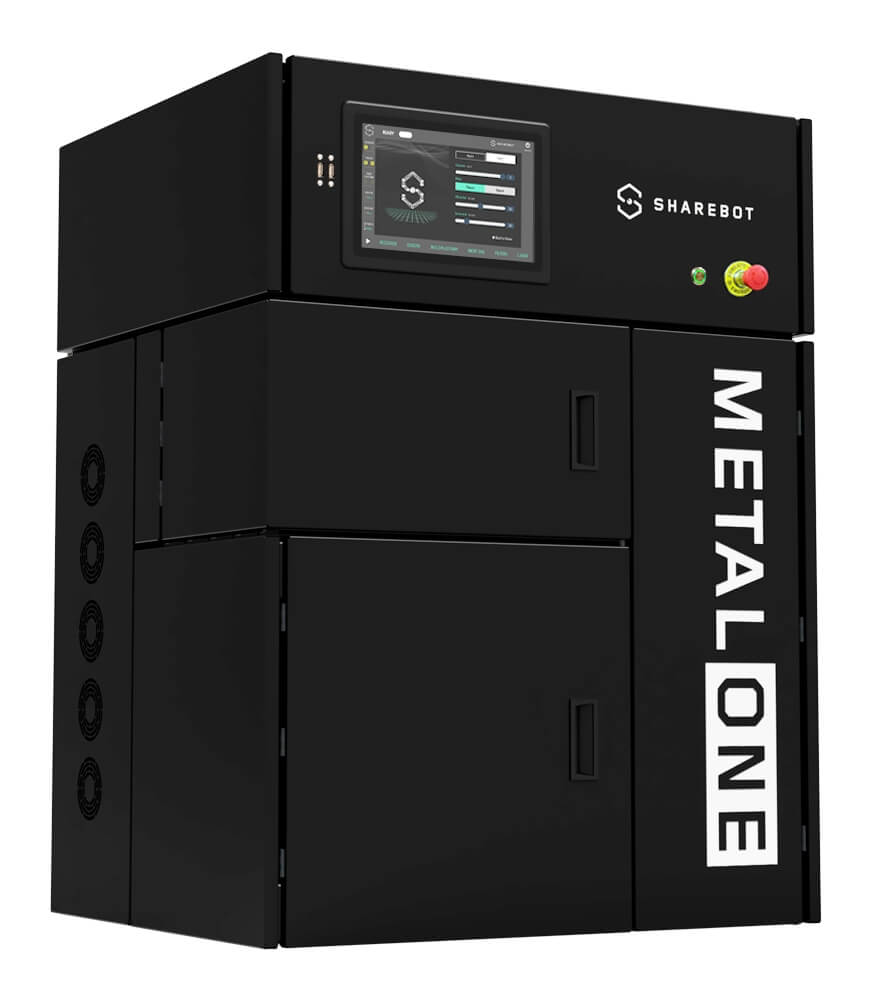 Endeavored at research and production of small to medium-sized metal parts, Metal One is a metal sintering 3D printer. "Shell printing" is the USP of this printer.
It permits you to easily use all the features present in the printer, speedily and lets you gain better control over the print chamber.
The printer offers a build area of 65 mm  65 mm  100 mm and prints using DMLS-SLM Metal powder sintering 3D printing technology.
The atmosphere of this printer is built using Nitrogen-Argon gas 0.25 liters per minute. It cures objects using a laser source of 250 Watts, the spot diameter of which is 40 microns.
The maximum printing speed offered by Metal One is 5 meters per second, whereas the layer height range seen in objects printed using this printer is from 5 to 200 microns.
The materials that are already tested on the printer by the company are 316 L Steel and Cobalt Chrome. You can connect with this printer using LAN.
One of the most noteworthy features of this printer is; its built-in internal camera that enables you to monitor the printer during the full printing process.
You can export logs from the printer and remotely control it using your connection.
The precision generated on the XY axis is 0.0031 mm, while on the Z-axis, it is greater than 0.02 mm.
The slicer software that comes integrated with this printer is Simplify 3D – Continuum. The printer weighs 170 kilograms.
If you wish to try new materials and experiment with 3D printing technology, this printer is highly preferable.
With little use of 3D printing material, you can print objects and specimens on Metal One.
At the time of delivery, the company supplies you with Titanium as well as Aluminum in terms of 3D printing materials.
For instructions related to 3D printing on this printer, you will be handed the Quick Start, Manuals as well as software for accessing those areas of Metal One that are necessary.
Overall, this printer is an affordable Steel 3D printer that aims to develop research in the field of metal 3D printing.
So, if you wish to experiment with your calculations and predictions, this should be your go-to.
back to menu ↑
Fabrisonic Soniclayer 4000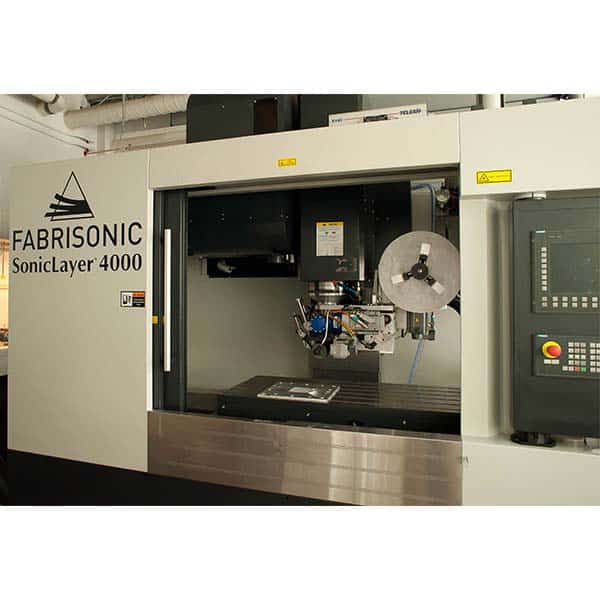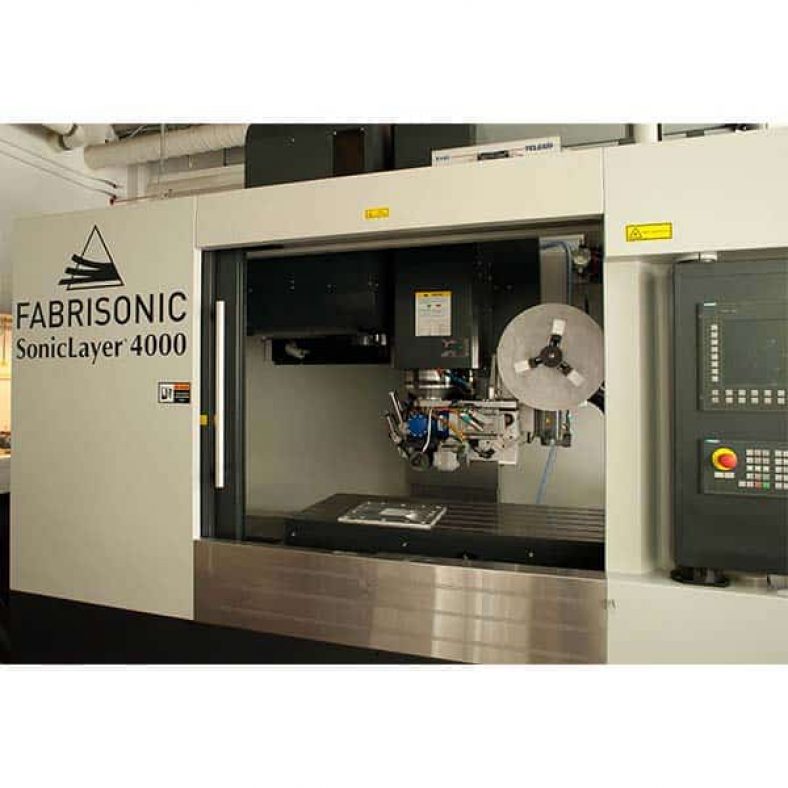 A huge machine that offers a build space of 1016 × 610 × 610 mm is based on Ultrasound Additive Manufacturing Technology (UAM) technology.
The 3D printer uses ultrasonic sounds to combine layers of steel and metal foil.
This machine can be better described as a three-axis CNN mill with an additional welding head for providing the feature of additive manufacturing. On its website the listed features of this printer are:
Integrated 3-Axis CNC Machining
Automated Tape Feeding System
2500-lb load
4.5 or 9-kW power
40 x 24 x 24 in.
200 ipm
All of these features not only differentiate this printer from the other printers mentioned on the list but also gives you a reason to buy it for its uniqueness.
Fabrisonic LLC claims itself to be an innovative manufacturing technology company providing 3D steel and metal 3D printing services in a wide range of metals through the patented Ultrasonic Additive Manufacturing (UAM) process.
The technology mainly focuses on small business owners. Fabrisonic claims to have the technical capability and agility needed for the emerging fast-paced manufacturing world.
Their commitment to quality parts and functional prototypes is evidenced through several quality awards that they have won from industrial customers.
The company was formed in 2011 for consolidating the intellectual property of EWI, which was an Ohio based 501c(3) research organization, and a Michigan based for-profit company, the name of which was Solidica.
Fabrisonic controls nine patents that cover all the aspects of UAM.
It's the first machine, the SonicLayer 7200 was built before 2011 thanks to an Ohio Third Frontier technology development program.
It is only after Fabrisonics followed the success of its first machine, that it developed and built a smaller, research-platform machine, the SonicLayer R200, which gave its users a mid-sized production model, the SonicLayer 4000.
All of these machines guarantee to shorten lead times for building metal and steel parts and functional prototypes and production parts that are made for both commercial and government partners of Fabrisonic.
Product
Specification
Videos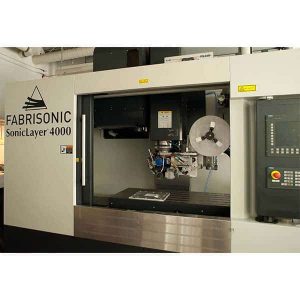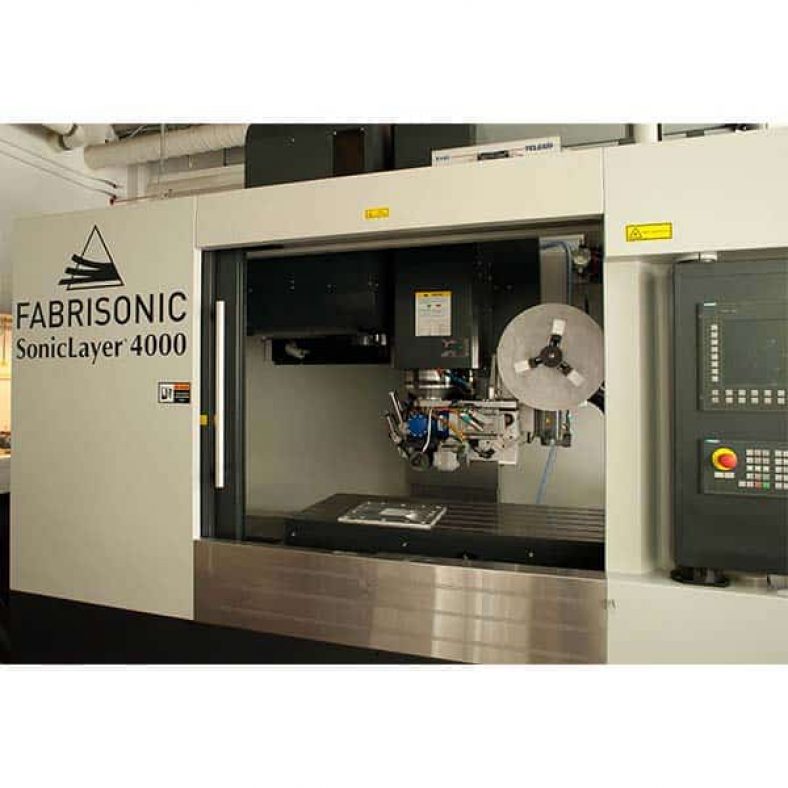 The Metal additive manufacturing specialist Fabrisonichas come up with the incarnation of the sonic layer line of 3D printers. Fabrisonic Sonic Layer ...
| | |
| --- | --- |
| Model | SonicLayer 4000 |
| Manufacturer | Fabrisonic |
| Price Range | > $ 250000 |
| Release date | 2016 |
| Country | United States |
| Availability | Available |
| Classification | Industrial |
| Technology | Lamination |
| Material | Metal |
| OS compatibility | Microsoft Windows |
| Generic material | Yes |
| Max. build size | 1016 × 610 × 610 mm 40 × 24.02 × 24.02 in |
| Max. build volume | 378.05 L |
| Power input | 4.5/9 kW |
| Heated print bed | No |
| Heated build chamber | No |
| Automatic calibration | No |
| Closed frame | Yes |
| Dual extruder | No |
| Independent Dual Extruder | No |
| Full color | No |
| LCD screen | Yes |
| Touchscreen | No |
| On-board camera | No |
| Mobile app | No |
| 3D scanners | No |
| CNC mill | Yes |
| Electronics 3D printing | No |
| Laser engraving | No |
| Conveyor belt | No |
| Air filter | No |
| Pellet extruder | No |
| USB | No |
| Wifi | No |
| Bluetooth | No |
| SD card | No |
| Ethernet | No |

The Conclusion
The golden rule of buying does apply to your buying journey of steel 3D printers also.
So, the more you try to explore the depth of the 3D printing metal and steel technology, the more you will find yourself surrounded by huge information, which might get difficult to apprehend.
At times you find yourself in a situation like that, the guide that you just referred to will help you understand your goals in steel 3D printers and decide on the best 3D printer that will suit your needs and application.
In cases where you think that owning the best steel or metal 3D printer that could cost a fortune can lead you to someplace better, you are on the safer and much sounder end than otherwise.
However, for those, for whom, at any point, if the above-mentioned idea does not seem like a great idea, you always have the option to go with the service centers of these 3D printers.
In both ways, you can find the solution to your 3D printing needs of getting a metal or steel 3D printers, no one idea has it all, so you can always switch accordingly.