Fabtop Tech Optimus C1
Overall, Optimus C1 is almost a wonder. Letting you manufacture your parts with laser engraving, CNC milling, and 3D printing at a price of around $2500 is amazing!
PROS
Huge build volume.
Commendable 3D printing quality.
Closed print chamber.
Allowed to play with various materials.
Three in one operation.
CONS
The printer proves to be very much compact for first-time users. To deal with three different mechanisms for making a part turns out to be much of a hassle because of space issues.
Product
Specification
Videos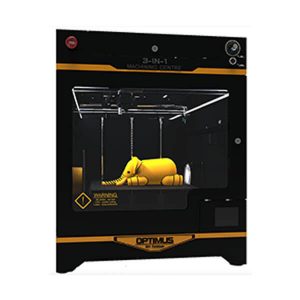 Providing a CNC mill as well as a laser head that engraves and cuts materials, Febtop Tech Optimus C1 is a multitool desktop 3D printer. The ...
| | |
| --- | --- |
| Model | Optimus C1 |
| Manufacturer | Febtop Tech |
| Price Range | $ 2499 |
| Release date | 2019 |
| Country | Sweden |
| Availability | Available |
| Classification | Professional |
| Technology | Extrusion (FFF- FDM…) |
| Material | ABS, Other plastics, PLA |
| OS compatibility | Mac OS, Microsoft Windows |
| Generic material | Yes |
| XY accuracy | 0.001 mm 0 in |
| Max. build size | 300 × 300 × 300 mm 11.81 × 11.81 × 11.81 in |
| Max. build volume | 27.00 L |
| Max. print speed | 360 mm 14.17 in /s |
| Min. layer thickness | 0.05 |
| Dimensions | 574 × 504 × 612 mm 22.6 × 19.84 × 24.09 in |
| Weight | 31 kg 68.34 lb |
| Heated print bed | Yes |
| Heated build chamber | No |
| Automatic calibration | No |
| Closed frame | Yes |
| Dual extruder | No |
| Independent Dual Extruder | No |
| Full color | No |
| LCD screen | No |
| Touchscreen | No |
| On-board camera | No |
| Mobile app | No |
| 3D scanners | No |
| CNC mill | Yes |
| Electronics 3D printing | No |
| Laser engraving | Yes |
| Conveyor belt | No |
| Air filter | No |
| Pellet extruder | No |
| USB | Yes |
| Wifi | No |
| Bluetooth | No |
| SD card | No |
| Ethernet | No |

Table of Contents
Upgrade of Gebtop Tech's Optimus, the Optimus C1 is a 3D printer based on FDM 3D printing technology. Like its predecessor, this one too is a transformable 3-in-1 desktop 3D printer, laser cutter, and Computer Numerical Control mill.
When shipped at your place, it is fully assembled, ready to operate after unboxing. The printer features an integrated case that makes it steady, accurate, and smart-looking.
Its structure is optimized for all the functions, quickly allowing you to switch between them by easily replacing the modular tool heads.
The Fabtop Tech Optimus C1 is aimed at user convenience with an eye on the environment. Indeed, the printer comes with a filament sensor, the duty of which is to automatically detect when the filament runs out.
Additionally, there's an air-filtration system for reducing toxic emissions that take place during the 3D printing process. It is a quiet printer that operates by making noise lesser than 40db.
The printer is successfully used for prototyping as well as small-scale manufacturing. Some of the examples where it has been tried and tested were print figures, table games, and miniatures.
So, in this article let's try to find out what makes Fabtop Tech Optimus C1 a printer that can be used for such applications efficiently. We can do that by looking at various aspects of the printer. Ready?
Features
The Optimus C1 is a hybrid machine offering you an affordable and modular three-in-one system that comprises FDM 3D printing technology. It can be used for laser cutting, CNC milling, as well as for desktop 3D printing to fulfill the manufacturing needs of individual makers.
Amazing Print Quality
As mentioned above, the Optimus C1 3D printer is an FDM 3D printer that can print layers of 50 microns height. Using it you can produce parts with amazingly smooth exterior surfaces.
The printer's rugged structure is responsible for providing great accuracy and, also clarity of details. As a 3D printer, Optimus C1 can produce big parts with a maximum layer height of 0.6mm or a build area of 280 mm * 280 mm * 280 mm.
Switching Between 3D Printer Head and Laser Head in Five Minutes
This is a very important feature of FabTop Tech Optimus C1! It lets you change from one technology to the other for producing parts and functional prototypes within minutes.
The printer manufacturer FabTop has kept the arrangement in such a manner. The complete construction of Optimus C1 is made of a customized mold of Aluminum profiles that are light in weight and yet as strong as a tank.
You can transform your C1 into a Laser engraver/cutter for engraving beautiful gray photos on wood, and even steel surfaces with the printer manufacturer's 7 Watt laser head.
The point to be noted that the operator's safety is firstly kept in mind by the manufacturer even when working with a laser!
CNC Milling
By switching from either laser engraving or 3D printing to the milling head, you can start engraving a variety of materials. Its 16 millimeters in diameter light bar ensures high processing accuracy.
The printer's independent Z-axis drive system and CNC cutting space provide you with higher stability and precision than other printers.
The laser tool head completes the Optimus C1 allowing you not only for a stable but also for accurate laser engraving and cutting.
Printing with Various Materials
Overall, Optimus C1 can be termed as a multi-purpose, multiple-technology using as well as multiple-materials offering for making objects. It can directly 3D print with PLA, nylon, ABS, resin, wood, metal, and other materials.
Switching from 3D printing to laser engraving can be done on Optimus C1 using a range of different materials, including aluminum, wood, PCB board, and others.
When you have lots of varieties of materials, you can easily make objects for more than one application! And that's where Optimus C1 is handy like no other.
Modular Design
Optimus C1 has an innovative modular design in the sense that it has only 8 modular parts when you unbox it. All modules of this innovative three-in-one 3D Printer are designed and engineered for an uncomplicated assembly.
Because of this, you can start printing using the 3D printer from the moment you unpack the box in less than an hour! Another benefit of this modular design is that your shipping cost can be dramatically reduced. In a nutshell, the 3D printer is very flexible.
Closed Print Chamber
One of the eccentricities of printers with closed chambers is that it permits you to print with materials that have a higher melting temperature.
As a matter of fact, closed print chambers are known to generate more temperatures than open print chambers, and that too speedily.
So, by offering their 3D printer a closed print chamber, Fabtop wants to grant you the freedom of dealing with more than one 3D printing material.
Not only limiting you to PLA but also allowing you to print with ABS and other materials.
Specifications
The printer prints objects using FFF i.e. Fused Filament Fabrication also known as Fused Deposition Modeling 3D printing technology. For 3D printing objects, Optimus C1 offers a build volume of 280 mm * 280 mm * 280 mm.
For Laser engraving the area offered is 280 mm * 280 mm, whereas for CNC milling it comes to 280 mm * 240 mm * 280 mm.
Each and every part or functional prototype that you 3D print on the printer has a minimum layer height of 50 microns.
The printer weighs 45 kilograms and hence transporting it from one place to another is not that big of an issue. You get the options of PLA, nylon, ABS, resin, wood, metal, and other materials for 3D printing parts that can be used for various applications.
Optimus C1's outer dimensions are 574 mm * 504 mm * 612 mm. The maximum extruder temperature that the printer can withstand is 295 degrees Celsius.
The frame of the printer is made from Aluminum which is a material that offers it a considerable amount of stability and not allows it to vibrate with any of the manufacturing processes.
It has a single extruder and can be connected via USB cable for transferring sliced files. The printer comes to your place in a fully assembled model.
Price
While writing the article, Fabtop Tech Optimus C1 is available at $2499.
First Impressions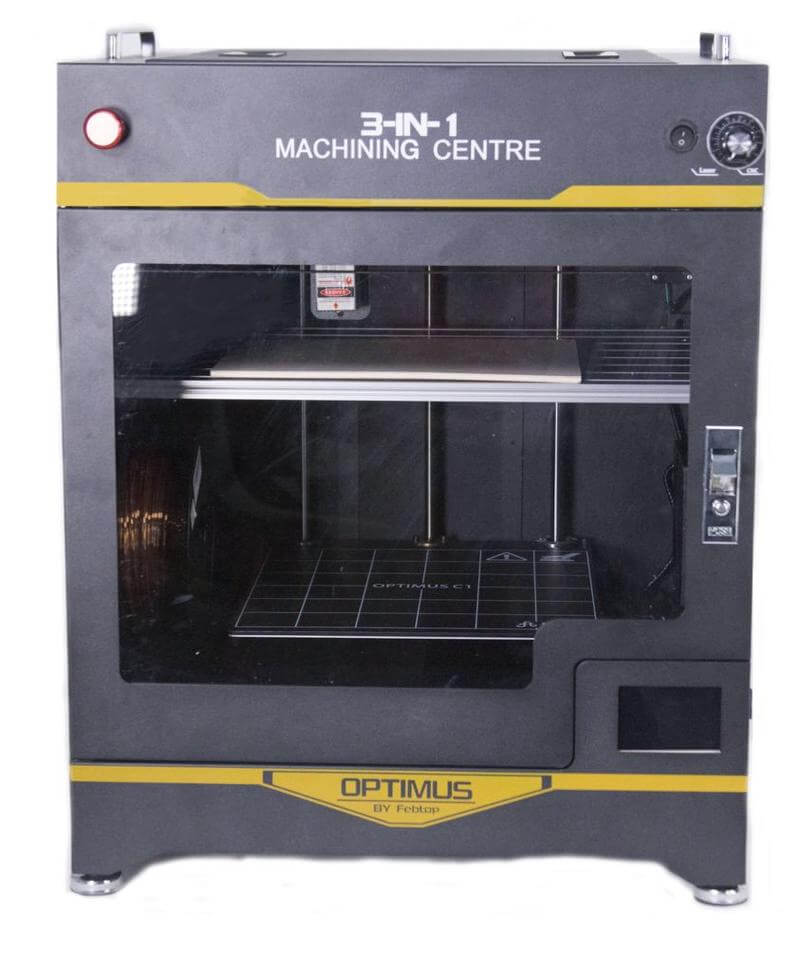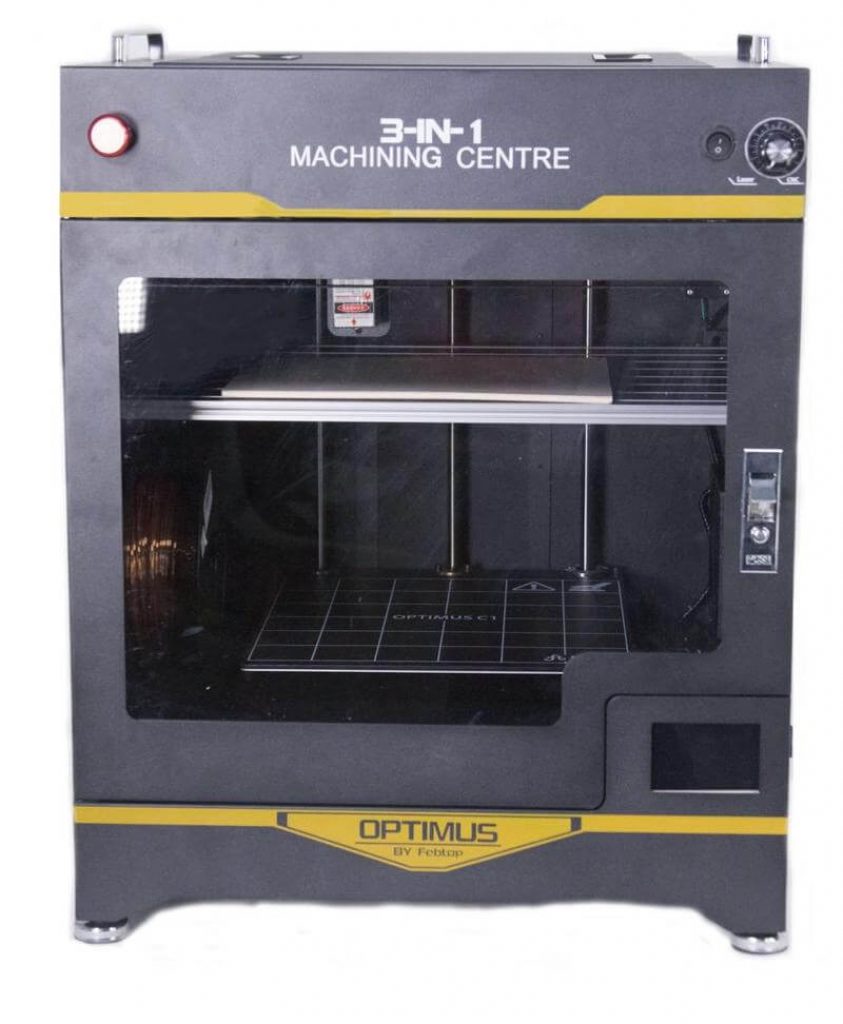 The front view of Optimus C1 gives you a feel of a compact machine that's packed with mechanisms to create parts in three different ways i.e. Laser Engraving, 3D printing as well as CNC milling.
The rectangular-shaped machine looks solid at the very first appearance. It stands on four legs each of which is fitted with small steel stands.
As mentioned above, the body is made of Aluminum thereby giving you the required amount of stability needed for producing larger build volume parts.
The print chamber of Optimus C1 can be accessed via the door that can be opened for removing the finished part.
Just beside the door handle, there is a display screen that shows various functions and aspects of the printer.
What makes this printer look stylish is the black color with yellow stripes. The overall design of Optimus C1 makes it ideal for education, digital crafting as well as production.
Setup
With the 3D printer, in the box that's shipped to you, you receive,
Parts for setting up the printer
3D printing head
CNC milling head
Engraving laser Tool kit
Power supply and power cable
Quick Start Guide
That is apart from the printer itself. It is advisable to read the quick start guide before starting to print with Optimus C1. This will make you comfortable with the functionality of all the parts in the printer.
Apart from that, the printer comes completely assembled, you can start to print with it simply by plugging it into the power supply at your place.
Printing Type/Cost
FFF or FDM 3D printing technology is the mechanism the Optimus C1 applies for creating an object of a particular geometry. Typically, FDM 3D printed parts are made using a solid filament of various materials.
The filament is kept in the filament spool holder which is connected to the extruder and the nozzle system. In the extruder, the filament's temperature is raised and brought near the glass transition temperature.
The melting filament is then allowed to flow through the nozzle system which lays it over the print bed according to the geometry of the part.
Cost of 3D printing a part using FDM or FFF 3D printing technology is lower compared to other technologies. This is because FDM does not make any use of some specialized source for cooling or solidifying the part as such as laser, UV light, or any other.
However, generally, the cost of 3D printing a part depends on various factors such as the level of infill required in the part, the geometry of the part, the filament material used to make it, and a lot more. So, it depends.
Print Quality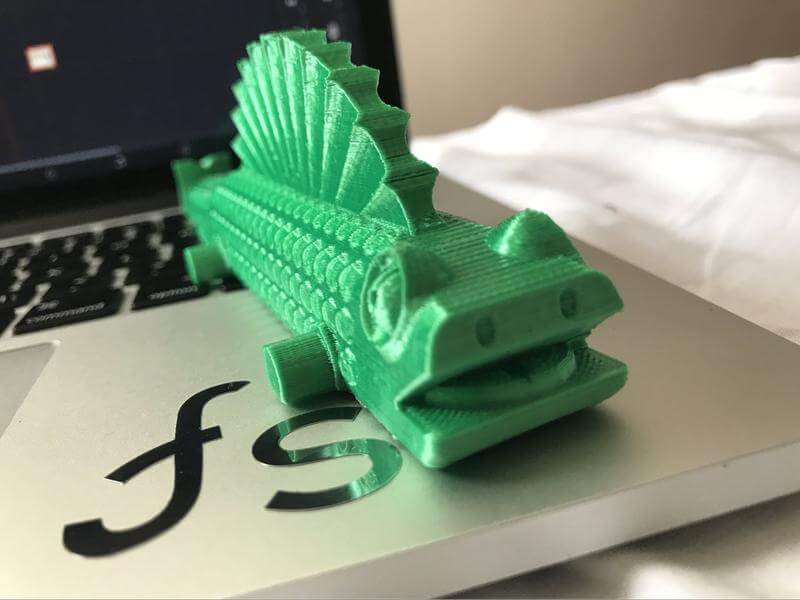 Credit: top3dshop
As mentioned above, Optimus C1 has enough to offer in terms of 3D printing materials. The heated bed and closed print chamber make it reliable even for ABS-type materials.
Trustworthy 3D printing websites post pictures of the Batman bust, John Snow's showpiece from Game of Thrones, and a lot more.
All of them have considerable richness in terms of the detailing that's done. 50 microns in terms of layer height is too much to expect from an FDM 3D printer and Optimus C1 is easily able to do so.
Software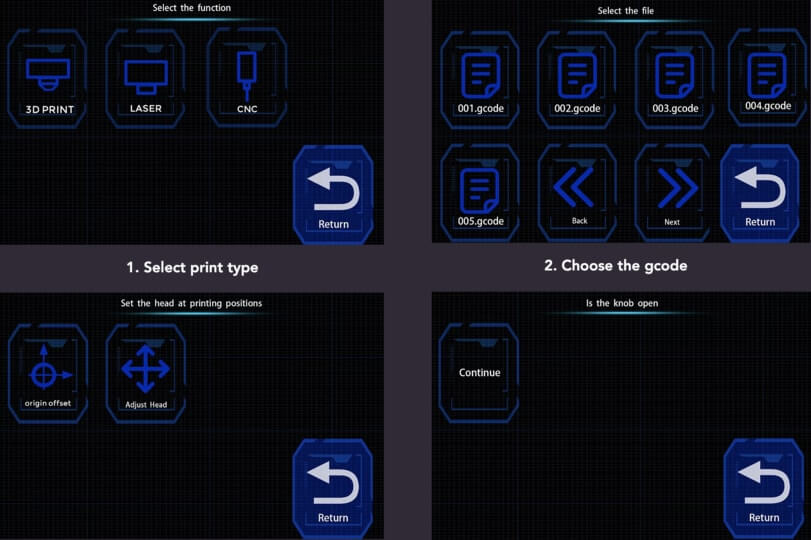 The Optimus C1 3D printer and the laser engraver work with Cura and Slic3r software, while the CNC miller of the printer operates via the Autodesk Fusion 360.
The CNC software lets you create fancy cuts, starting from 3D curves, slopes, and complex layers with ease. All you need to do is to:
Upload your CAD file. And
Select the right types of cuts for each line and export its g-Code.
In this way, you will be able to carve 3D-looking shapes as well as complex geometries with intricate detailing and flat designs in minutes.
Optimus C1 supports file formats such as​ STL, OBJ, IGS​​​, and GCODE files and runs on Windows and Mac OS.
Customer Support
Quick Start Instructions and articles related to CNC, Laser Engraving as well as first-time testing are available online.
Apart from that if you have any queries FabTop's support agents are ready to entertain them anytime. You can write to them on an email, call them or reach out to them in person.
Parameters Influencing Buying Decision
Below mentioned are factors that you must consider before buying the printer.
3D Printer Cost: Cost-wise, you can say the printer is a jackpot that you hit. Allowing you to print with three different technologies in one machine is something you'd never expect for a price of approximately $2500.
3D Printer Quality: 50 microns is a decent layer height for any FDM 3D printer to deliver in parts manufactured from it.
3D Print Speed: Average.
3D Printer Capability: Because of the presence of a heated bed and closed print chamber you are allowed to play with more than one 3D printing material.
3D Printer User Expectations: The printer stands upon all the intermediates in the field of 3D printing. If you are someone who likes to experiment, hassle for the betterment, Optimus C1 will fully stand upon your expectations.
The Verdict
Overall, Optimus C1 is almost a wonder. Letting you manufacture your parts with laser engraving, CNC milling, and 3D printing at a price of around $2500 is amazing!
There are its own sets of issues that it has, but none that cannot be dealt with. And once you acknowledge it, the highlight of the printer i.e. a three-in-one machine strikes out to the best.