Occipital Structure Sensor
Structure Sensor is a very flexible device that can be used just like the way an iPad can. And because almost every kind of user is familiar with the interface, it makes working with it extremely interesting.
PROS
Eccentric 3D sensing platform.
Excellent chance for software developers to create applications.
Compact in size.
Integrates with iPad easily.
CONS
The adhesive bracket sometimes limits the camera's usage.
Using the sensor with a casing is not favorable as it hinders the camera.
Table of Contents
This small device that clips onto an iPad provides profound data for real-life 3D imaging. The device can act as a 3D scanner and with the help of a few applications, you can use it not only for scanning but also for mapping as well as virtual reality gaming.
Although intended mainly as a platform for software developers, when more applications would be available, the scanner would be extremely desirable as a multi-functional gadget.
Let's have a look at this eccentric multi-purpose 3D scanner in-depth to know whether or not it's worth the price.
Features
Below mentioned and explained are some of the most exciting features that separate the scanner from its competitors.
Specifically built for healthcare
The company states how its device is designed considering healthcare environments. Its best-in-class performance and consistency enable users in the healthcare industry to rely on it for the best outcomes. Be it working in the office or on the field, operators can trust it to deliver consistently high-quality results.
Industrial grade calibration
Structure Sensor is tested to ensure precise and consistent scans straight out of the box. Although it's an entry-level scanner, the machine's calibration is industrial-grade.
Equipped with turntable
Apart from scanning by moving around, Occipital Structure Sensor also gives you an option to scan using a turntable. When the rendering is over, users can preview it and export it via email as an .OBJ 3D model with a distinct .JPG format.
Operators can also upload it directly on Sketchfab by using the .ZIP file – an extension in which the .OBJ model gets emailed to them.
Straightforward scanning
Processing with the native scanner application is very easy. It requires simply pointing it at a person or thing that you wish to capture and using the two-finger gesture for scaling the indicator box.
This is to match the size of the subject that will be highlighted. Here users get two options:
Scanning using the Old Tracker that uses the information of shape or the New Tracker that utilizes shape as well as color information. Experts recommend using the latter over the former because scanning without color would make it hard to the point of being impossible to scan uniform objects without much geometric detailing.
Scanning with low or high-resolution color. The difference between these two is that the former provides an output of a 2K texture map as opposed to the 4K version. Also, note that the higher resolution option does take a bit longer to render and calculate.
Flexible design
The device is an anodized Aluminum gadget that has a glass front and plastic back. The latter is constructed to fit into or screwed with a bracket that connects it to an iPad.
The manufacturer has installed its internal battery for preserving the battery life of the iPad it's connected to. At the camera's bottom, there is a port for an AC charger.
Moreover, there is an LED indicator on its glass face which pulses when the device's battery is on charging mode. An additional port is given to facilitate data cable to lightning adapter cable.
Specifications
| | |
| --- | --- |
| | |
| Technology | structured light technology |
| Price | 379 $ |
| Dimension | 119 mm * 28 mm * 29 mm |
| Weigh | 0.1 kg |
| Working Range | 0.4 to 3.5 meters |
| Scan Accuracy | 0.5 mm |
| Connection | USB – Wi-fi |
Based on structured light technology, the Occipital Structure Sensor is 119 mm * 28 mm * 29 mm in dimension. The sensor weighs not more than 0.1 kilograms, so all you have to carry is the iPad that's used with it.
Its working range is 0.4 to 3.5 meters in which the device produces a scan accuracy of 0.5 mm. It has a built-in battery and hence can be handheld flexibly. Users can connect with the machine using a USB cable and Wi-fi source.
Price
For users living in the USA, the scanner will cost $379 with an iPad Air 2 bracket on Amazon. It's also possible to buy the device from its official store for the same price.
The last option also allows users to have a varied choice of iPad brackets and accessories like a wide-angle lens and a pro charger cable capable of charging Structure Sensor and iPad simultaneously.
EU users can buy it from Makerpoint for 499 Euros.
First Impression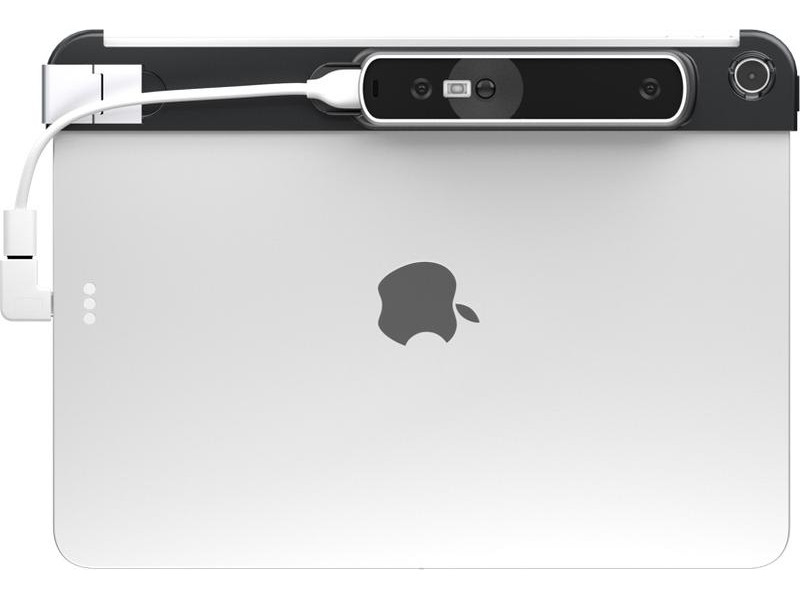 There are two ways to purchase Occipital Structure Sensor:
Directly from the official structure sensor store. Buying the device from there would imply that the device arrives in a gift box.
It can be purchased from Amazon in an already assembled condition. Typically in the bento box style.
Regardless of the option you choose, it'll arrive with the following:
A lighting cable.
A power adapter.
A magnetic screwdriver.
Eight M1.6 screws.
A user manual.
Setup
To set up the entire hardware you need to start with attaching the Sensor to the bracket, both of which are available with silver or blue aluminum options.
The device includes 4 screws and a screwdriver. Before using the scanner, it needs to be calibrated because the iPad's native rear-facing RGB camera varies when used with different iPad models.
And for this reason, the scanner needs to be compensated to balance the offset between the iPad's camera and infrared camera. But, don't worry! A dedicated Calibration application makes this entire process very easy.
All you need to do is get outside your place on a bright day and point the gadget towards anything with a lot of detail. By tracking details, the app will automatically do the primary part of calibration and let you fine-tune then onwards, if necessary.
Scan Type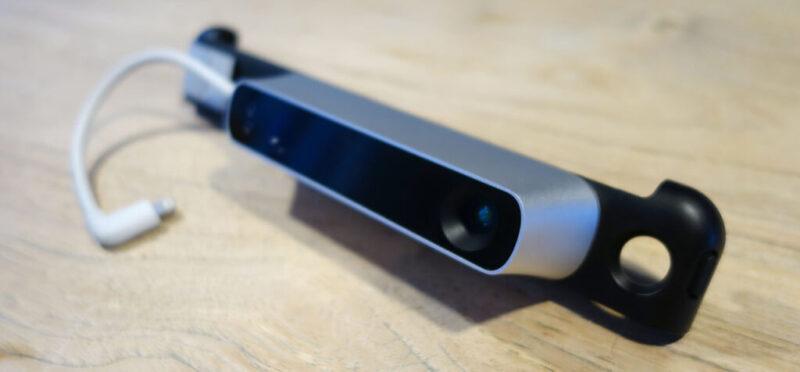 Credit: 3dscanexpert
The device utilizes a process named structured light 3D scanning technology. As the name suggests, it uses an LED light source, generally a projector to collect a specific pattern from the object's geometry. Then an infrared sensor records distortions in this pattern at VGA resolution.
Typically with a Structure Sensor, it's done when you are moving your iPad around the object that you are scanning.
Doing so creates an in-depth map of the scene which is called the scanned output. This can then be used for making a model that can find an application in various fields.
Scan Quality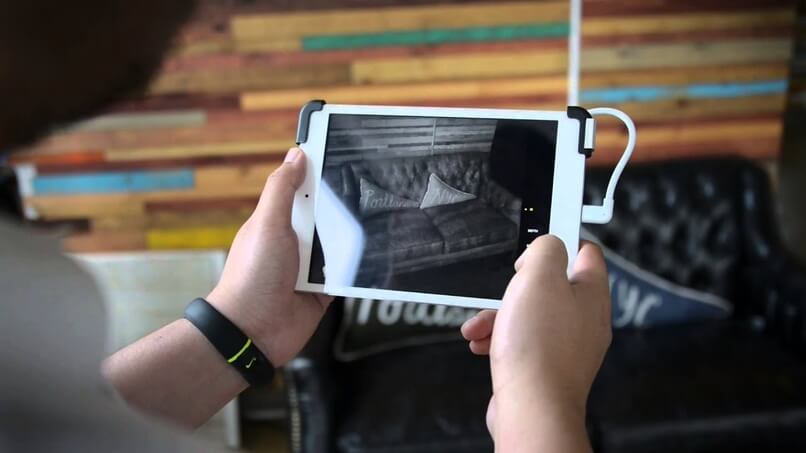 Credit: Youtube / Digital Trends
Whether you are scanning with a turntable or freehand, Structure Sensor delivers excellent scanning results. You can use the machine to scan everyday objects in various lighting conditions.
Even while processing objects in direct sunlight, the scanner does not typically reflect the light. The textures of the scan are commendable, when compared to others in the same price range, they are decent.
Software
There are three different applications that you can use with the scanner. They are:
Occipital's iPad application
The third-party itSeez3D iPad application
Occipital's Skanect software for Mac and Windows
The whole process of operating any of these is easy. The file formats that they deliver are OBJ, PLY, STL, VRML, and WRL.
Customer Support
Occipital offers general information, how to start, and technical support, information about the sensor's parts and accessories, as well as returns and warranties on their website. Moreover, users can always reach out to them via phone or email.
Parameters Influencing Buying Decision
The most impactful factors about the scanner are mentioned below in brief.
3D Scanner Cost: Priced at under $400, Occipital Structure Sensor is affordable compared to other scanners in the same price range.
3D Scanner Speed: The overall process of scanning an object, processing it, and uploading is quick. It does not take much time. Users can get typical daily life objects scanned within minutes depending on the size and level of intricacy.
3D Scan Quality: Structure Sensor 3D scanner can capture excellent images in various lighting conditions. This is what makes it different from other scanners on the list. Not every sensor in the same price range can manage in the lighting conditions that this one can. Even the scan results of scanning an object in sunlight are superb, there aren't any reflections.
3D Scanner Capability: Depending on their needs, users can process with or without a turntable. The scanner is flexible and delivers consistent results with both of them.
3D Scanner Practicality: The structure sensor is primarily meant for healthcare. For scanning devices and other small-sized equipment with precision.
3D Scanner User Expectations: Healthcare professionals and beginners are two groups of individuals that the scanner is chiefly meant for.
The Verdict
Structure Sensor, when yoked with an iPad has the capability of scanning using existing applications. It has excellent potential for 3D mapping as well as gaming.
Overall, it's a very flexible device that can be used just like the way an iPad can. And because almost every kind of user is familiar with the interface, it makes working with it extremely interesting.
The multiple options for 3d scanning software allow users to choose their level of comfort with each. Above all, its affordable cost works very well, especially for beginners.