3D Systems Sense 2
Available at a very affordable price, the scanner can deliver a good quality scan finish in a decent amount of scan time.
PROS
Plug and play machine.
Easy to travel.
Simple in use.
High-speed acquisition.
Scanning on go.
CONS
Some reviews about the scanner prefer its predecessor over it.
Table of Contents
Sense 2 is a handheld laser 3D scanner developed by 3D Systems. The machine is capable of capturing full-color images.
Designed for individuals looking for a low-cost solution, Sense 2 is a portable machine that can scan a wide range of subjects, be it small to medium objects or people.
The scanner uses structured light technology relying on Intel's RealSense sensor. It requires a USB 3.0 connection to get the Windows operating system running on the computer.
Sense 2 is a pragmatic device with a simple user interface which makes it easy as well as fast to use. Also, its lightness and compact size make it highly portable and perfect to carry in any kind of bag.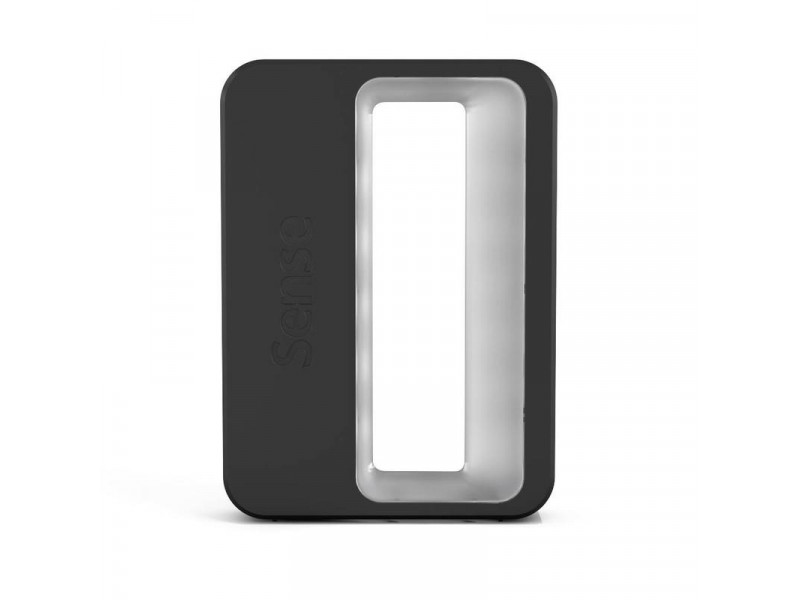 The machine is able to deliver high color resolution and an accomplished object tracking component for delivering full-color images that can be viewed within a 45-degree horizontal visual field. This permits operators to capture a variety of small to medium parts with complete flexibility. But, does the scanner have good money: value ratio? let's find out.
Features
Sense 2 is an affordable 3D scanner widely used by hobbyists, small business owners, and students. Equipped with two front cameras, the machine makes capturing a lot easier.
Added to it is the automatic object recognition function that ensures that there is less load on the user. Moreover, the scanner puts into use a class one, a secured laser that guarantees high-level scanning.
Below mentioned and explained are the most amazing features of the scanner that differentiate it from the competitors in the same price range.
Decent Scan Accuracy
Sense 2 can scan objects at 1 mm resolution delivering accuracy close to 1 mm. Its color resolution is 1920 * 1080 leads to good color texture mapping.
The machine's depth sensor exhibits a 640 * 480-pixel resolution. The scanner utilizes two different cameras for gathering the shape and size of the objects, whereas the other one captures the colors.
Both of them allow capturing decent quality data that can be scanned for prototyping as well as household. Also, the automatic object recognition detects the product to scan regardless of the background. The machine works very well with human faces.
Improved Texture Quality
Test scans of a teddy bear in-studio lights turn out to be impressive. Even in a medium-high geometric resolution slider with a polygon count of 232K, Sense 2 can capture enough details. This is a clear improvement from its predecessor i.e. Sense 1.
Flexible
Users can scan an object by moving the scanner around it, the other way is to keep the scanner in one hand and the laptop in the other while moving around the intended object. The part or functional prototype can also be put on a turntable while capturing the geometry.
However, experts do not recommend a single option from the above-mentioned ones. Instead, a mix of both worlds i.e. using a turntable and keeping the scanner handheld is considered to be the best one. Doing so makes the capturing easy.
Upgraded Version
Scan 2 has been out by the manufacturer after experimenting with Scan 1. Although most of the parts of both the scanners are the same like the:
Plastic housing
Tripod thread on the bottom
Based on infrared scanning technology
The difference between both of these scanners is that the former contained PrimeSense Carmine 1.09, whereas the latter consists of Intel's SR 300. This is the reason why Sense 2's depth camera resolution is gone up!
Specifications
| | |
| --- | --- |
| | |
| Technology | Structured Light Technology |
| Price | 499 $ |
| Scan Accuracy | 1 mm |
| Maximum Resolution | 0.9 mm |
| Working Range | 0.2 – 1.6 m |
| Scan Dimension | 2000 mm * 2000 mm |
| Depth Sensor Resolution | 680 * 480-pixel |
Sense 2 provides a scan accuracy of 1 mm, which is rare for 3D scanners falling the same price range. It scans an object using standard structured light technology and is able to offer a maximum resolution of 0.9 mm.
The scanner has a working range between 0.2 to 1.6 meters. The machine can scan objects with dimensions up to 2000 mm * 2000 mm. And the minimum dimension of the object needs to be 200 mm * 200 mm.
Price
Sense 2 is available for $499.
First Impression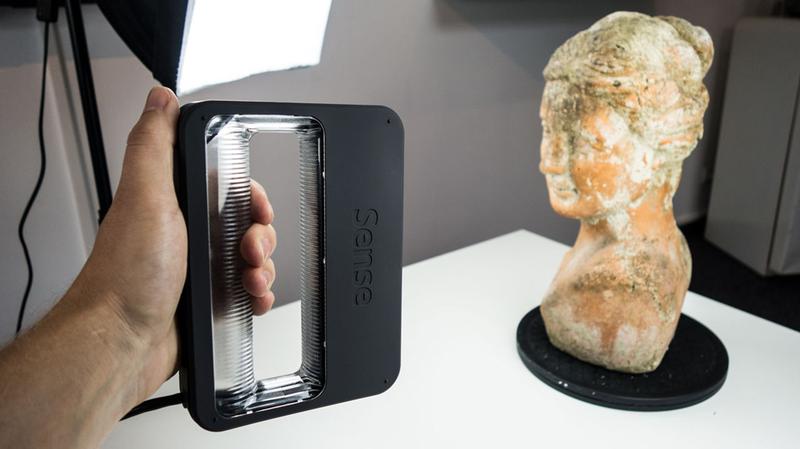 Credit: top3dshop
The scanner comes in a box with a scanning guide. It is available in black color which gives it a stylish appearance that easily catches every eye passing by. The machine's dimensions are 129 mm * 33 mm * 178 mm and its weight is 0.5 kilograms.
Setup
You don't need much time to get to scanning your first object using the scanner. It's a plug-and-play type device. However, experts do recommend reading the user's manual that will give you access to information regarding various components of the machine. Once you are done with it, you can start scanning the object you wish to.
Scan Type


Sense 2 is based on structured light technology. The basic functioning of this technology is simple. Users have to project a structured light pattern over an object and then film it at least with one camera to ensure how the object deforms the light pattern is recorded in form of the data.
Once this is done, by triangulating multiple images of the scan, the dimensions of the object in all its complexities can be calculated. For doing so, most scanners make use of a pattern in alternating stripes i.e. similar to shadows cast by sunlight.
Structured light scanning is often used instead of laser 3D scanning because lasers can be easily disturbed with reflective surfaces where the light can undergo complex interferences.
Scan Quality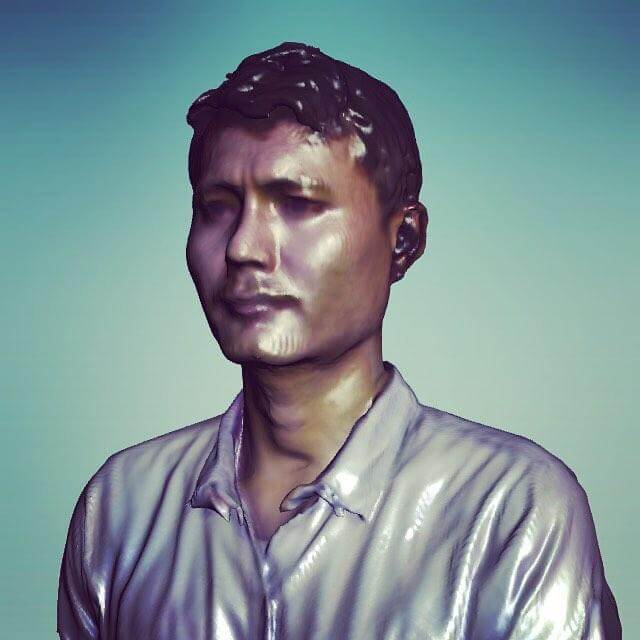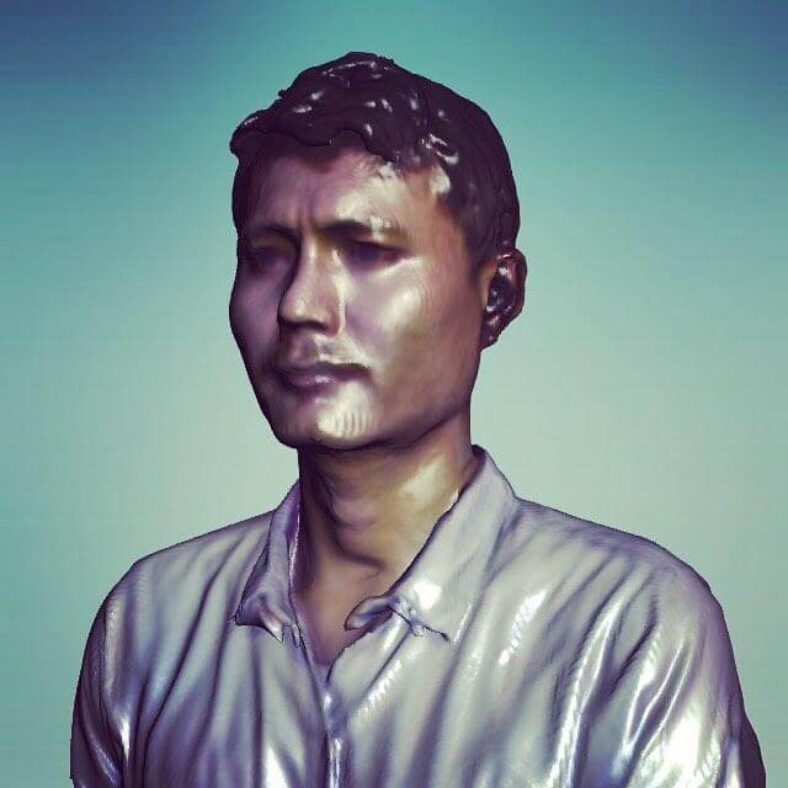 Credit: raja3d_printer3dindonesia / instagram
Sense 2 is able to generate high-quality scans that go into the making of dimensionally accurate parts and functional prototypes as well as human body parts.
Because of its flexibility and ease of use, users can comfortably roam around the object and make scans in whichever way they wish to.
The machine can deliver a maximum resolution of 0.9 mm and a maximum accuracy of 1 mm.
Thanks to two different cameras that are capable of capturing the extremely detailed pattern of the object which gets interpreted as a top-notch scan. Also, a depth sensor plays a huge part by exhibiting a 680 * 480-pixel resolution. The ability to scan in color also contributes to making a scan of high quality.
Software
Sense 3D software allows you to export data in OBJ, WRL, STL, and PLY formats. It can be easily running on Windows 8, or higher versions. It permits operators to rapidly edit and share the captured images.
The application is user-friendly and has a lot of useful tools that make the pre-scanning as well as post-scanning phase completely easy for the user.
Customer Support
3D Systems is an extremely reliable company that supports its customers in all their doubts. Its Technical team can be reached out in various ways including the most common ones i.e. via phone or call. Also, there is a lot of content available online which you can go through to get an answer to your questions.
Parameters Influencing Buying Decision
Below mentioned are the chief factors to consider while buying the scanner.
3D Scanner Cost: Sense 2 is an extremely affordable scanner considering the features its ability to offer under $500.
3D Scanner Speed: A practical and simple user interface with lots of flexibility decreases the average scan time with the scanner because everything is quickly accessible.
3D Scan Quality: The scanner's camera, depth sensor, software all work in perfect coordination to provide a highly accurate scan result that can then be used for creating dimensionally precise models. The automatic object recognition feature is a bonus.
3D Scanner Capability: Users can scan objects as well as the human face of various sizes and shapes using the scanner.
3D Scanner Practicality: Sense 2 finds its application in the fields of custom-fit products, miniatures, video game characters, and a lot more.
3D Scanner User Expectations: Its low-cost attribute makes the scanner a perfect choice for hobbyists, students as well as small business owners. They can use them without any dependency or basic technicalities of scanning.
The Verdict
Sense 2's texture quality is extremely impressive. It can be easily used for capturing medium-sized objects that are 20-40 cm tall using the turntable with a simple studio light setup.
Available at a very affordable price, the scanner can deliver a good quality scan finish in a decent amount of scan time. Users can easily scan objects as well as human faces of varying shapes and sizes.
The machine's camera, depth sensor, automatic recognition feature makes it stand out from other structured light-based scanners in the same price range.
Capturing in low light conditions is also possible using the device. But the main highlight of Sense 2 is its flexibility, ease of use, and texture quality. It's able to process rough surfaces with the same quality as it can deal with smoother ones.