CoreXY 3D printers are additive manufacturing 3D printers that employ the FDM process to make tiny things. The boxy, square design of CoreXY 3D printers is their most noticeable feature.
A system of pulleys and belts can also be seen from the top down. The extruder head is moved in the X and Y coordinates by a system of pulleys and belts, hence the name CoreXY.
The unique manner of moving the axes used by CoreXY 3D printers results in several advantages that some producers might consider more essential than others. It is up to you to decide how you will weigh the benefits and drawbacks.
One of the most significant advantages is that a CoreXY 3D printer has a lighter printing head, making it more accurate, steady, and less prone to errors. However, this comes at the expense of a large number of moving parts that can be difficult to maintain.
CoreXY printers are among the most distinctive and versatile 3D printers available, making them a compelling option for both hobbyists and professionals.
PROS:
Increased print speed without sacrificing quality
A higher ratio of construction volume to machine size is desirable.
More durable than an H-bot.
Lightweight.
When in use, it is stable.
CONS:
Beginners will have a difficult time putting this together.
Tuning is required for belts.
A large number of idlers can cause issues.
Maintenance seems to be a pain.
So far, so good, but which ones stand out as the best? We have compiled a list of the top CoreXY printers now available after an intensive time of searching the web and dark corners of forums, as well as the typical lengthy discussions among the editorial board.
Comparison Chart
| Name | Link | Nomination | Rating |
| --- | --- | --- | --- |
| Two Trees Sapphire Pro | | High-precision printing | 9 |
| Tronxy X5SA | | Higher stability and accuracy | 8 |
| Creativity 3D Elf CoreXY | | Easily assembled | 9 |
| Creality Ender 6 | | Print smoothly | 8.5 |
| Voron 2.4 | | Reliable | 9 |
| Creality CR-30 | | Easy to use | 9 |
| Vivedino Troodon | | Flexible | 10 |
| Sainsmart Coreception CoreXY | | Efficient Printing | 8 |
| FlyingBear Tornado | | Reliable | 10 |
| Tronxy D01 | | Flexible and fast assembled | 7 |
List Of The Best CoreXY 3D Printers
Two Trees Sapphire Pro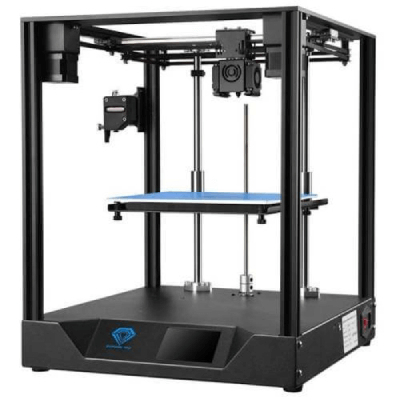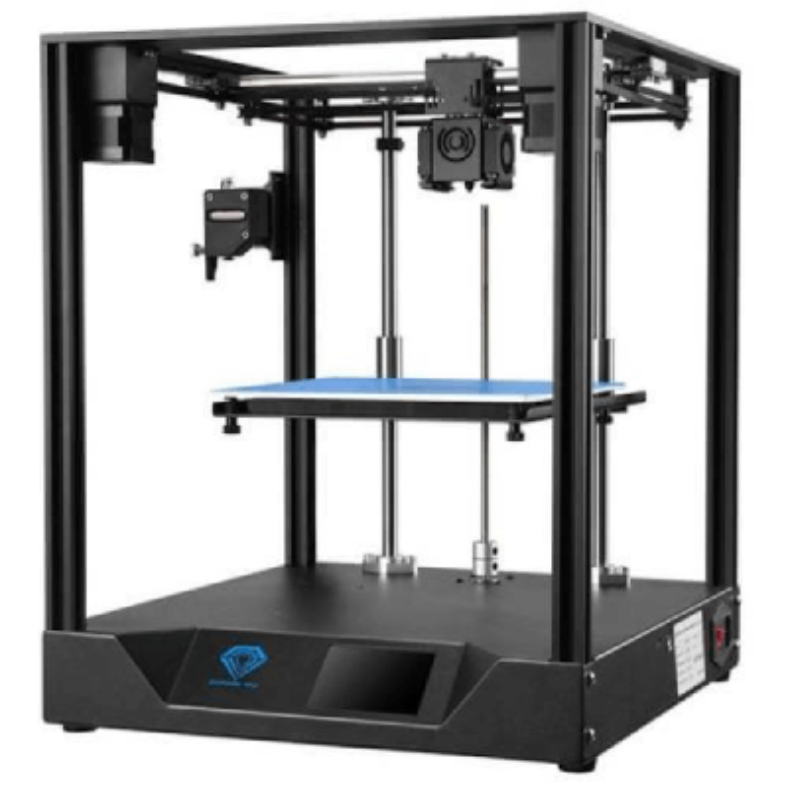 The Sapphire Pro, an updated version of Two Trees' earlier Sapphire S, is a new budget-friendly machine from Chinese printer maker Two Trees. The Sapphire Pro has a cube shape and a CoreXY belt configuration, comparable to an Ender 3.
It has a print area and machine size equivalent to an Ender 3. It is promoted as being quick, accurate, and reliable, with some high-tech capabilities thrown in for good measure.
The Sapphire Pro CoreXY 3D printer is aimed at enthusiasts and beginners on a mid-range budget, with a price tag of roughly $300.
Uses:
The Sapphire Pro is well designed, featuring a number of useful features such as auto-bed leveling and a mechanical filament sensor.
The bed is made up of a magnetic detachable sheet that should give adequate stickiness without the use of extra adhesives.
ELF will use the V.12 version of the motherboard, which fully enables automatic leveling functionality such as BLTOUCH and 3DTOUCH.
The printer is extremely accurate and produces smooth surfaces, as well as being excellent at handling fine details.
Linear guide rails on the horizontal X and Y-axes are the ideal complement to a CoreXY system, ensuring smooth motion and less wear over time.
The Sapphire Pro has a small detachable sensor that allows it to auto-level.
On the side, the Sapphire Pro offers a BMG dual gear extruder
PROS:
Affordable
Easy to Use
Protection System
Quiet
Nice & Sturdy Build Quality
Fast and good printing quality
CONS:
Not properly aligned belts
Tronxy X5SA
Product
Specification
Videos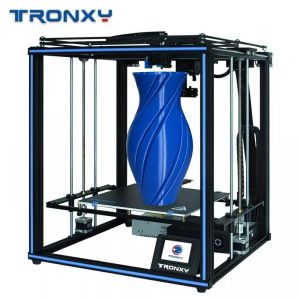 Being a DIY assembly machine, Tronxy X5SA Pro is more suitable for enthusiasts with a 3D printing experience. The printer utilizes a two-axis guide ...
| | |
| --- | --- |
| Model | X5SA Pro |
| Manufacturer | Tronxy |
| Country | China |
| Price Range | $ 479 |
| Availability | Available |
| Classification | Hobbyist |
| Technology | Extrusion (FFF- FDM…) |
| Material | ABS, Other plastics, PC, PETG, PLA, TPU |
| OS compatibility | Linux, Mac OS, Microsoft Windows |
| Generic material | Yes |
| Max. build size | 330 x 330 x 400 mm 12.99 x 12.99 x 15.75 in |
| Max. build volume | 43.56 L |
| XY accuracy | 0.0125 mm 0 in |
| Max. print speed | 150 mm 5.91 in /s |
| Min. layer thickness | 0.1 mm 0.004 in |
| Dimensions | 580 x 645 x 660 mm 22.83 x 25.40 x 25.98 in |
| Weight | 14.5 kg 31.97 lb |
| Nozzle diameter(s) | 0.4 mm 0.02 in |
| Power input | 110/220V AC 50/60Hz |
| Heated print bed | Yes |
| Heated build chamber | No |
| Automatic calibration | No |
| Closed frame | No |
| Dual extruder | No |
| Independent Dual Extruder | No |
| Full color | No |
| LCD screen | Yes |
| Touchscreen | Yes |
| On-board camera | No |
| Mobile app | No |
| 3D scanners | No |
| CNC mill | No |
| Electronics 3D printing | No |
| Laser engraving | No |
| Conveyor belt | No |
| Air filter | No |
| Pellet extruder | No |
| USB | Yes |
| Wifi | Yes |
| Bluetooth | No |
| SD card | Yes |
| Ethernet | No |

The Tronxy X5SA CoreXY 3D printer appeared to provide a great deal of bang for your buck. The Tronxy X5SA offers a great platform for customization in general.
For the printer's huge build space of 330 x 330 x 400 mm, CoreXY frame design, and automatic bed leveling probe, the Tronxy X5SA has an astounding price tag of $350.
Uses:
Users can easily remove 3D objects after printing thanks to the printer's detachable print bed.
The large print bed is powered by 24 V and heats up rapidly and evenly.
The Titan extruder on the Tronxy X5SA Pro allows users to print with flexible materials like TPU.
The 3.5-inch touchscreen display on the Tronxy X5SA Pro has also been added.
You may upload 3D models to the printer through USB and SD card, as well as Wi-Fi.
The Tronxy X5SA offers print resuming features as well as filament run-out detection.
Its double guide rail system is intended to increase stability, resulting in more precise prints.
PROS:
Affordable
Automatic leveling sensor
Printing bed can be removed
Multiple strands are supported.
Power Resume
Filament run-out sensor
Creativity 3D Elf CoreXY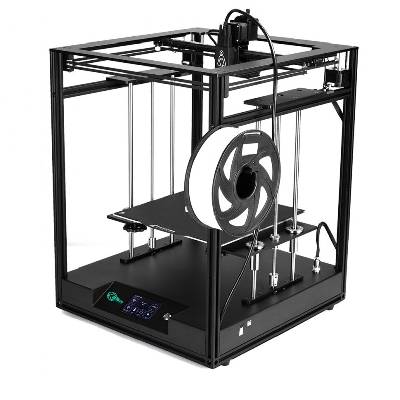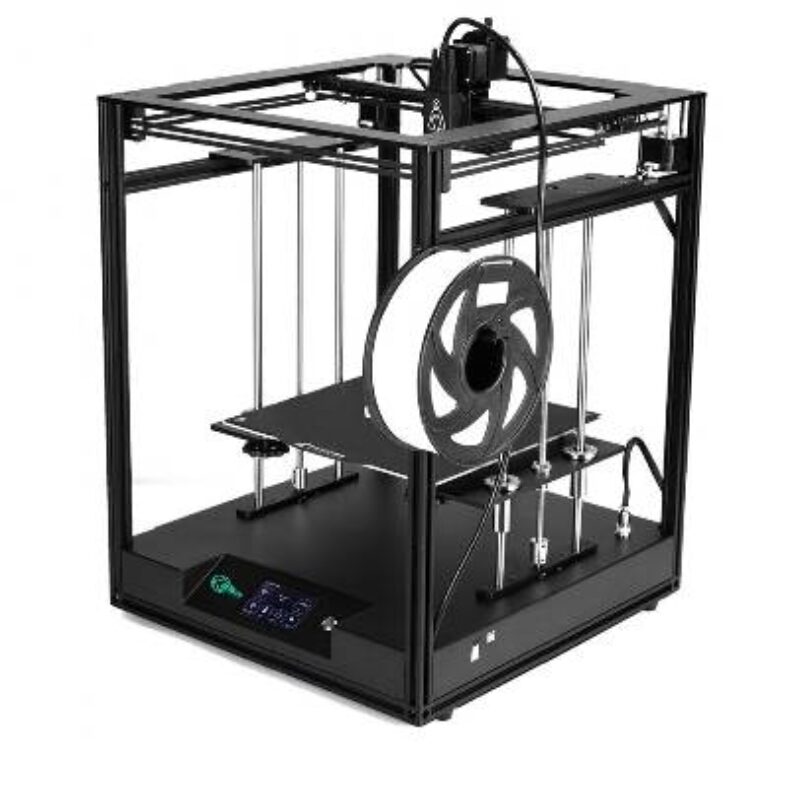 The Creativity 3D Elf is a low-cost CoreXY 3D printer with a huge build volume of 300 x 300 x 350 mm.  Because the printer is sent as a kit, it will need to be assembled before it can be used.
The Elf offers a quiet and stable operation, as well as room for mods and upgrades such as a BL-Touch leveling sensor.
Uses:
To satisfy the user's large print size requirements, it offers a large print size of 300*300*350mm.
Elf comes with a number of partially assembled kits that are easy to put together but more stable.
Semi-Assembled Kits require minimal assembly and allow you to begin printing right away.
In about 5 minutes, the hotbed will reach 110°C, meeting the demands of quick heating and printer filament.
Printing Quality that is more stable and of higher quality
After a power interruption or lapse, Elf Printer may be able to restart printing.
A 3.5-inch high-definition touch screen is included.
It is simple to use and supports multiple languages.
It can print more elaborate artwork since it has dual Y-axis motors and a downshift Z-axis that moves more smoothly.
PROS:
Good print quality
Higher printing speed
It is simple to put together and can be done in about an hour
Large build volume
Affordable 3D printer CoreXY
It does not make a lot of noise
CONS:
Belt required tuning
Some customers have complained about the bed leveling springs being too short
Support options are not as extensive as those offered by other manufacturers
Creality Ender 6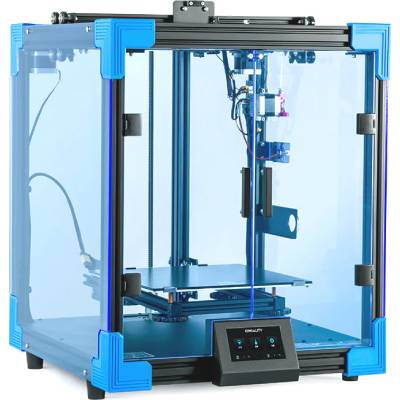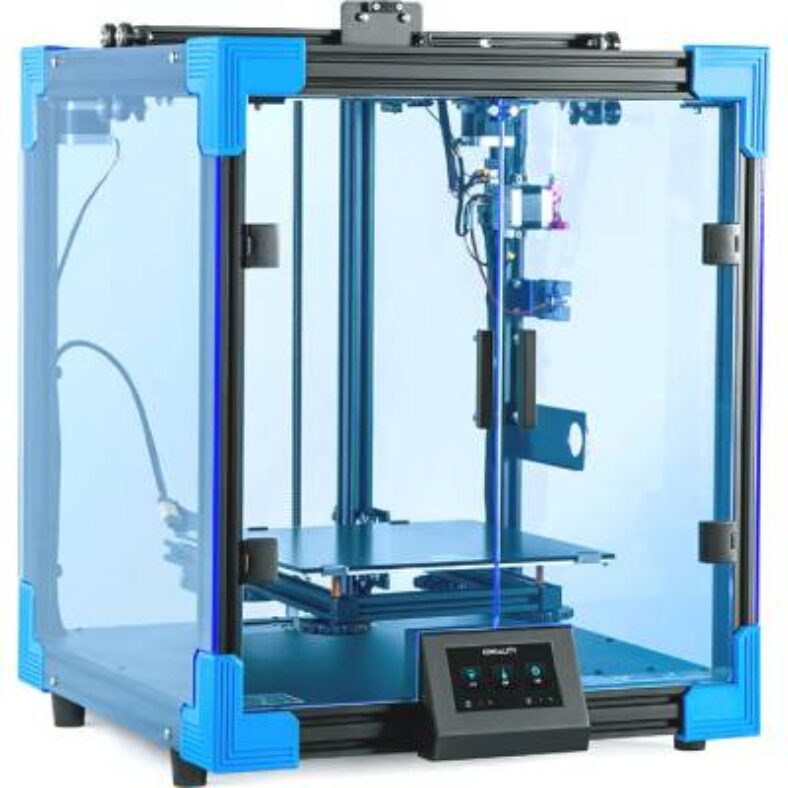 The Creality Ender 6 CoreXY 3D printer comes as a partially built kit. The shipping packing is robust and keeps the components safe during transit. Everything you will need to set up and use the printer is included in the box.
For a relatively low price, the Ender 6 has a big construction volume. Most notably, in comparison to most other printers in its class, its print speed is extremely fast.
Uses:
The Creality Ender 6 is a large and hefty 3D printer with a build capacity of 250 x 250 x 400 mm and a weight of around 22 kg.
You can resume printing from the point where it was paused after a power outage or if you have to enter a new filament.
The Ender 6's print bed is heated. The maximum temperature in the bed is 110 degrees Celsius. It is made of a type of glass known as carborundum.
The Creality Ender 6 is controlled by a 4.3-inch color touch screen.
You must use the SD card to load the print data into the printer.
Cura software is recommended by Creality for slicing.
Rather than having smaller bed leveling knobs, this 3D printer includes larger rotational knobs, making leveling your bed platform much easier.
PROS:
Semi-closed construction at a reasonable price with a huge print capacity
Printing speeds of up to 150 mm/s are possible
Print bed made of heated glass
Resume printing feature
Filament detector
Compatible with a wide range of filaments
CONS:
A complicated assembly
There is no automatic leveling
There is no WLAN module
Voron 2.4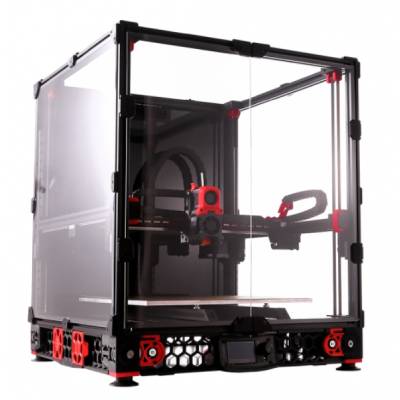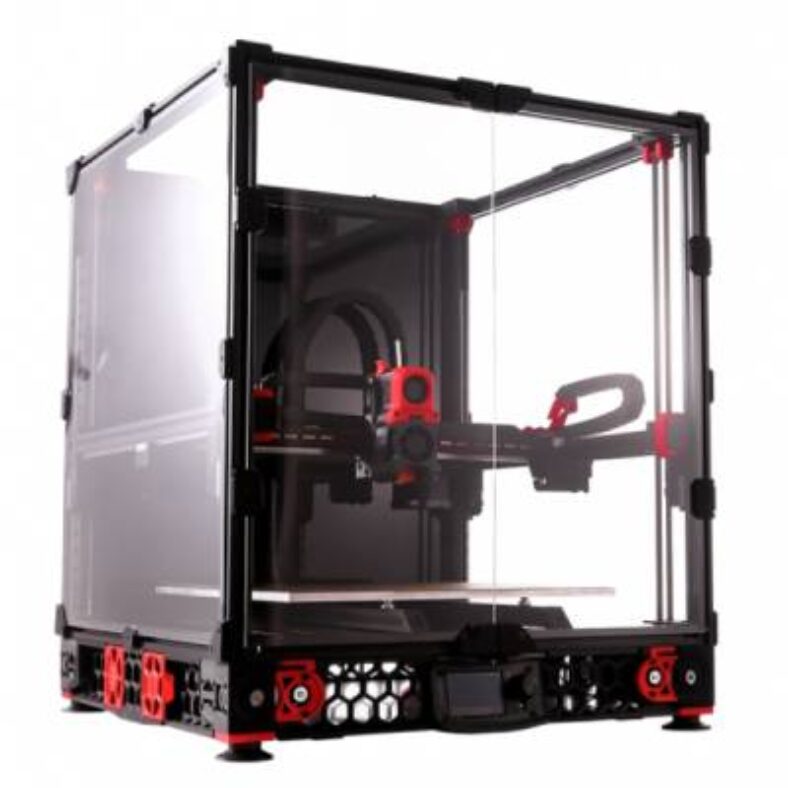 The Voron project began in 2015, and the team has done an outstanding job of building a professional-looking and high-performing machine since then.
This open-source CoreXY 3D printer's latest version is Voron 2.4. This machine stands out for more than just its beautiful appearance. In many ways, it is a one-of-a-kind printer.
Uses:
You will need a 3D printer to construct it because you will have to buy the parts and even create some of them yourself.
The printer comes with pretty much everything and comes in three distinct sizes: 250 x 250 x 250 mm, 300 x 300 x 300 mm, and 350 x 350 x 350 mm.
The octoprint is controlled by a Raspberry Pi.
Let you connect to the internet through Wi-Fi
A heated chamber with a HEPA filter is also included.
PROS:
Accurate prints
Good printing speed
HEPA Filter
CONS:
Belts are not properly aligned
Creality CR-30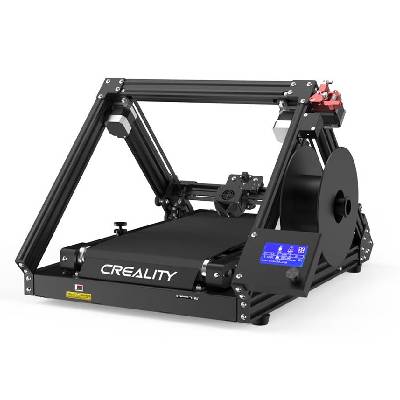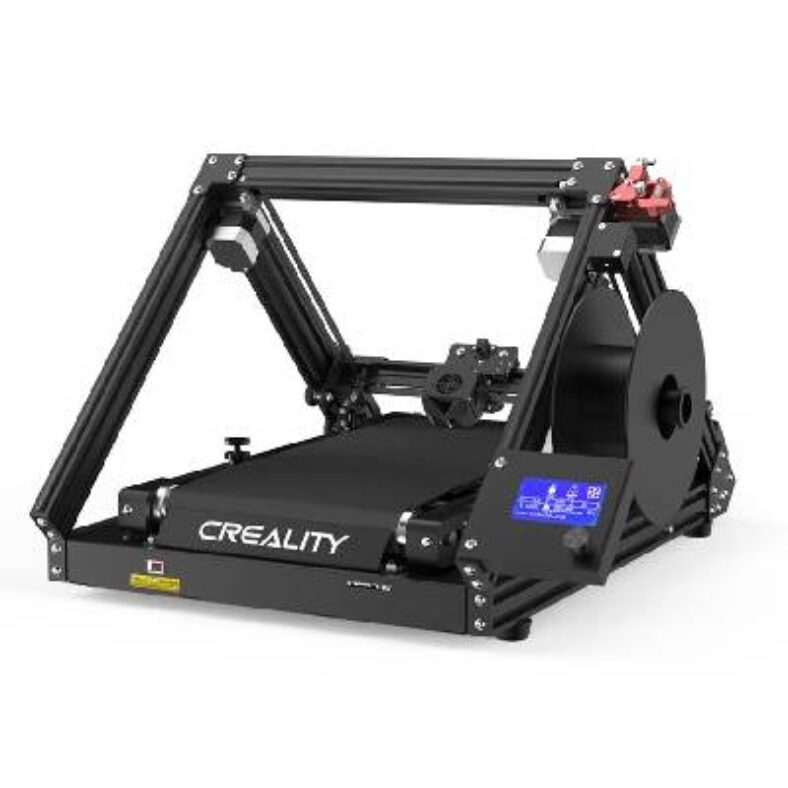 The CrealitY CR-30 3DPrintMill is a Creality conveyor belt 3D printer (infinite Z). Creality is a Chinese 3D printer maker.
Extrusion 3D printing is used in the Creality 3D CR-30 3DPrintMill. The extruder's working angle is another unique characteristic of the 3D PrintMill.
Creality CoreXY 3D printer has set its hot end to 45 degrees in order to print indefinitely.
Uses:
Creality claims to have successfully printed a 20-foot (six meters) item in one piece using the 3DPrint Mill.
It has a Bowden extruder that warms up to 240°C and a heated bed that heats up to 100°C.
Another feature is print control via the onboard screen and SD card or via a USB cable in online mode.
A WI-FI connection is available, as well as a webcam for monitoring the tasks.
It is made with FDM technology and has a precision of at least 100 microns and up to 400 microns.
The unusual 45-degree angle design compensates for the vertical nozzle structure's constraints.
Continuous printing along the horizontal Z-axis is possible with the Creality 3D CR-30 3DPrintMill outfitted with a high-performance nozzle kit.
PROS:
High resolution
Good built volume
WI-FI connectivity
Vivedino Troodon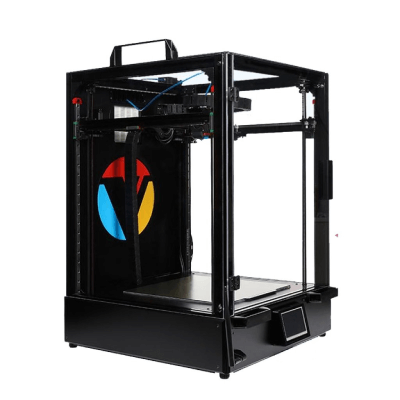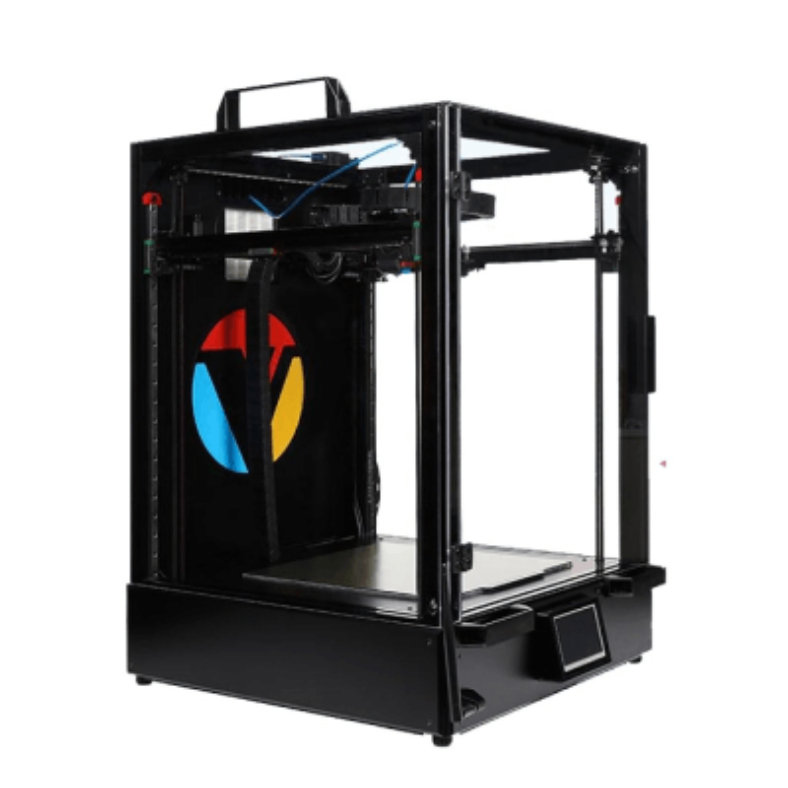 The Vivedino Troodon CoreXY 3D printer is definitely at the top of the convenience list. It comes completely assembled, so no adjustments are necessary to get beautiful prints.
The Troodon by Vivedino is available in two sizes: 300 x 300 x 400 mm and 400 x 400 x 500 mm.
Uses:
It is operated by a Wi-Fi board and features belts on the Z-axis to aid prevent wobbling and its impact on 3D print runs.
The printer includes a dual-drive extruder, a filament run-out sensor, and auto-leveling.
With this CoreXY 3D printer, you will also get a built-in HEPA filter.
higher-than-usual temperatures are possible with the hot end and heated bed.
The biggest advantage of buying this printer is that it does not require any adjustments or upgrades.
PROS:
A twin motor extruder, filament run-out sensor, and an auto-leveling bed are just a few of the features.
There is no need to spend hours putting it together because it comes completely assembled.
It's Wi-Fi-enabled and features a HEPA filter.
There are no upgrades or modifications required right out of the box.
CONS:
Much more costly than the other printers on our list
SaiNSmart Coreception CoreXY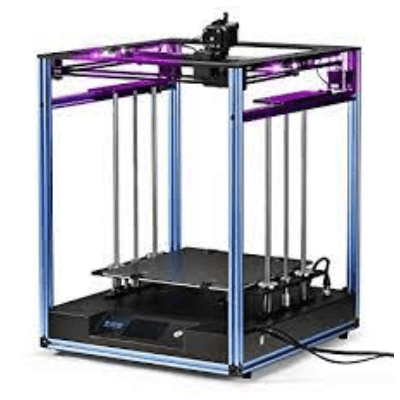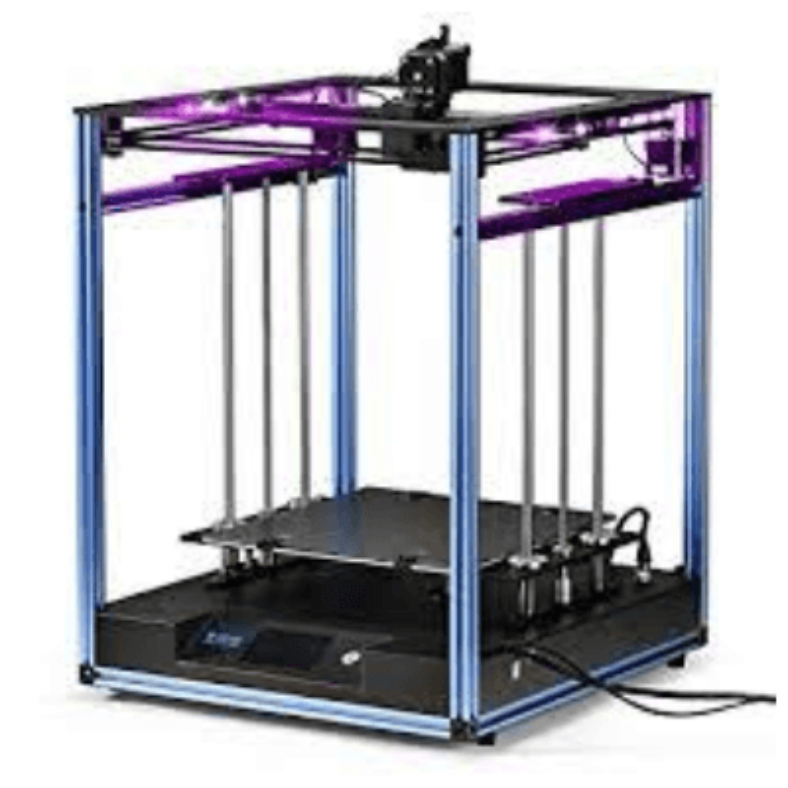 The Coreception is a bright block of a CoreXY printer with a direct drive extruder, silent printing with TMC2208s, a strong Z-axis carriage, and 'correct' belt configuration for its CoreXY kinematics.
Looking closer, it is evident that Creativity 3D is the Coreception's original equipment manufacturer, and that the printer is marketed as the Creativity 3D Elf.
Uses:
After an unplanned power interruption, printing can be resumed.
SainSmart dresses up the Coreception with a garland of RGB LEDs that can be controlled remotely and, against one's better judgment, can be configured to strobe.
The Coreception allows you to construct pieces that are up to 13 inches tall, which is significantly more than some of the other models.
Printing without drawing can accommodate different types of filaments thanks to the direct drive feeding architecture.
The hotbed warms up quickly, reaching temperatures of 100°C / 212°F.
While putting the Coreception partially finished kit together, you can learn about the basic structure of 3D printers.
Silent drive module TMC2208 was purposefully built to produce a quieter and more comfortable printing environment.
PROS:
Cost-effective
Add-ons that can be customized, such as RGB lighting
Construction is simple and quick.
Large parts can be printed
CONS:
Because it is not enclosed, fumes can escape
Not as long-lasting as other models
FlyingBear Tornado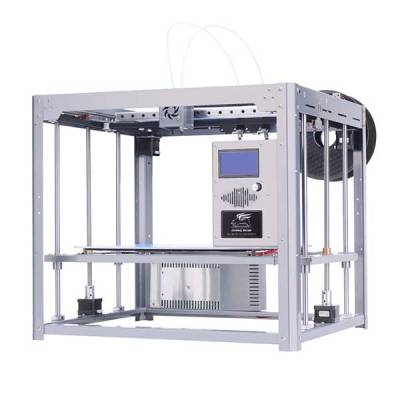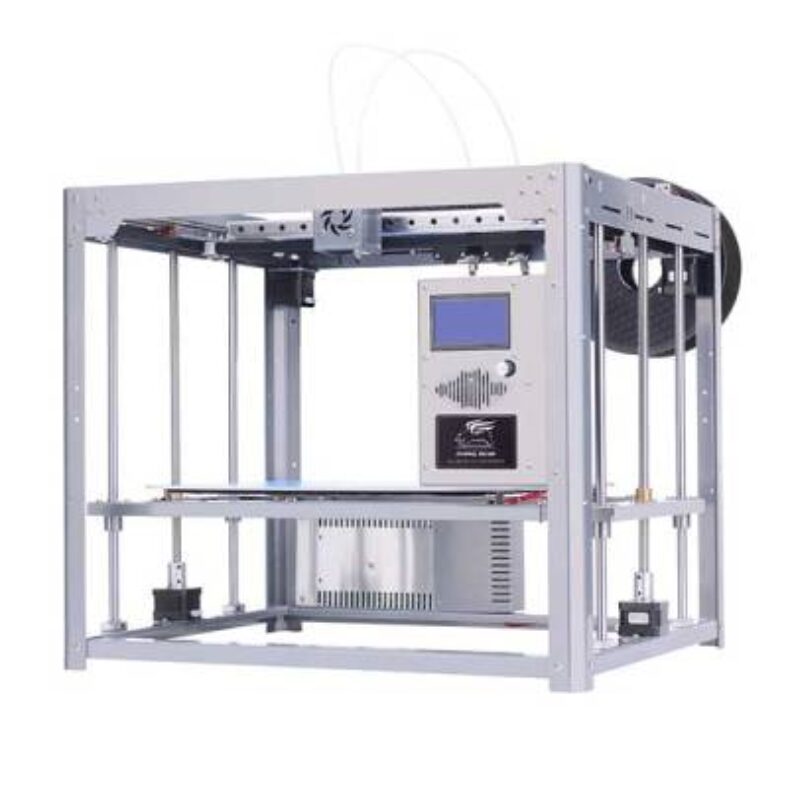 The FlyingBear Tornado is a big metal-framed CoreXY 3D printer kit by FlyingBear, a Chinese manufacturer. This DIY 3D printer, which includes the FlyingBear P905 and P905X, is the largest in the range.
Uses:
The heated print bed can reach temperatures of up to 120°C.
You don't have to calibrate the print bed manually, thanks to the option of automatic leveling.
A dual extruder for multi-material 3D printing is available.
The nozzles can reach temperatures of up to 240°C.
Because the printer now has a filament run-out sensor, the printing process no longer has to be concerned about filament exhaustion and print failure.
The motor uses a TMC2208 driver, which provides a silent operation, stability, and great print quality.
For more powerful power and long-term printing without losing steps, the Y-axis features a dual motor.
Every component is composed of metal! The entire construction, as well as the extruder, is made of metal.
Because it uses a linear guide rail as a motion mechanism, it operates smoothly and makes nearly no noise.
PROS:
Heated print bed
Good quality prints
Quiet printer
CONS:
Do not offer Wi-Fi connectivity
Tronxy D01 CoreXY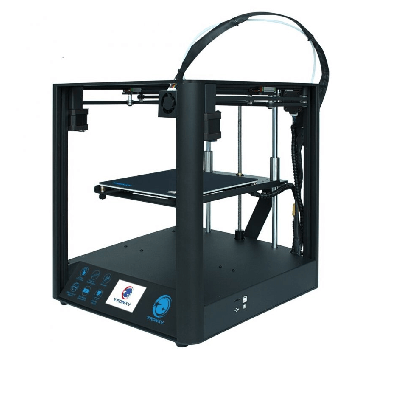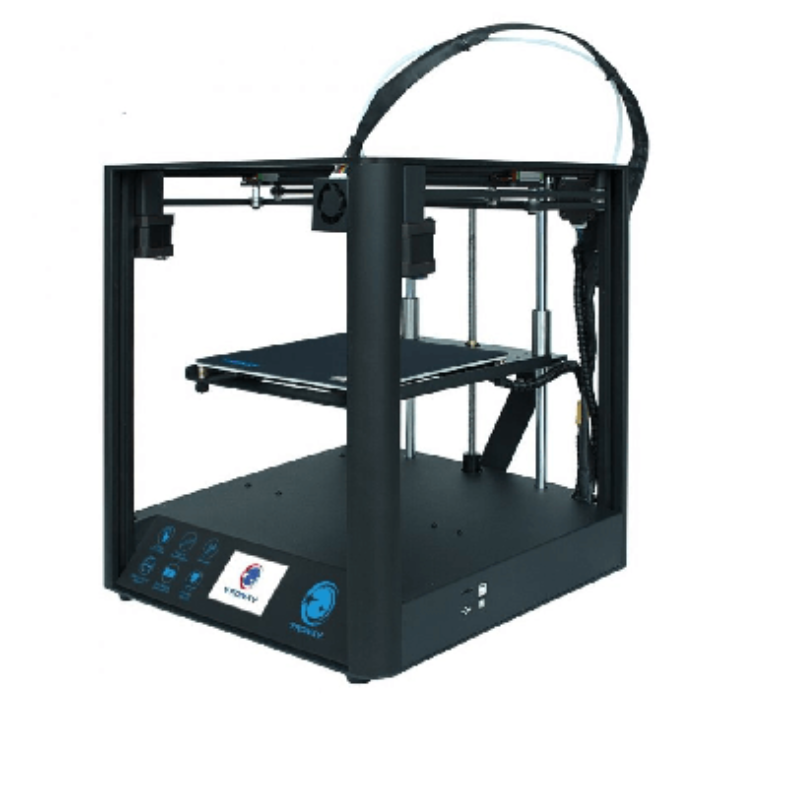 The Tronxy D01 Plus CoreXY 3D printer from the "Shenzen Tronxy Technology" product line has many technical features that make it one of the best on the market right now.
The gadget is equipped with capabilities that will pique the interest of both professionals in the industry and those who use a wide range of computer equipment just for fun, hobby, or leisure.
The acquisition of a new Tronxy D01 Plus may be considered one of the aptest at this moment if you require an efficient product that is simple to use and functional for a variety of activities.
Uses:
Acrylic mask covers help to properly control temperature and maintain it for safer and more consistent printing, especially with filaments such as ABS.
comes with a motherboard that is ultra-quiet.
A huge 3.5-inch touch screen allows you to change print settings.
In the event of a power outage, the resume feature will come to your rescue.
It is possible to detect a lack of filament.
The printing procedure will be hassle-free thanks to the automated leveling function.
The X-axis and Y-axis belts on this machine can be changed.
Titan extruder may use a variety of consumables.
Prints can be easily removed because of the removable glass bed.
WI-FI is supported by the interface but the WI-FI module has to be purchased separately.
PROS:
Detection of filament run-out Efficient and long-lasting double fan design for optimum heat dissipation
Through the use of a higher-quality pulley, the movement is more stable.
Installation wiring time is cut in half with a completed mainboard.
CONS:
For a rookie, this is difficult to use.
Printing speed is slower.
Buying Guide
Not only are 3D printers getting more popular, but they are also becoming more affordable. Before purchasing a model, the following factors should be considered:
Open Source
The popularity of open-source 3D printers has skyrocketed. Because of the architecture and technology underpinning CoreXY printers, there are numerous open-source projects available.
People have added their own twists and tweaks to these printers, resulting in a wide range of fantastic outputs.
The main benefit of utilizing a CoreXY 3D printer is that it is open-source, which means it can work with a variety of firmware and applications.
The Base Plate And The Printing Bed
The size of a printable object is determined by the printing bed of a 3D printer, also known as the base plate. A unique coating on the print beds allows the workpiece to be removed without leaving any residue.
The Interface For Data Transmission
Many 3D printers provide both a conventional USB connector and an extra interface for SD format memory cards. This enables printing to be done without the use of a laptop or computer. The model files must only be copied to the SD memory card.
Number Of Nozzles And Extruder Temperature
Two-color objects can also be printed on 3D printers with two nozzles. They simplify manufacturing and can even get points on sensitive items.
To prevent the object from collapsing, a second, third, or even fourth nozzle might be used to apply a water-soluble support material to it while printing.
All used nozzles may be readily cleaned out with water after the printing process is completed. So checking the number of nozzles and extruder temperature is a necessity.
Printing Speed
Large things can take more than 10 hours to make, and sometimes much longer. Printing time might vary greatly depending on the complexity of the artwork and the capabilities of the 3D printer. As a result, printing speed is the most significant factor to consider when buying a printer.
The Printing Precision of the 3D Printer
The length and width of the X and Y-axes, which is the 2D resolution, are distinguished in 3D printing. The resolution of the height, i.e., the Z-axis, varies a lot from one model to the next.
The built-in mechanics always decide the precision of the Z-axis. Particularly high-quality 3D printers can achieve and maintain a resolution of 0.01 millimeters in the X and Y axes.
For high-quality models with a much higher purchasing price, the resolution in the Z-axis area is 0.005 millimeters.
The Largest Object Size Possible
Not every 3D printer is capable of printing on a big scale. Very low-cost designs, for instance, can frequently only make very small items of up to 11 cm.
This refers to the printing chamber's volume, which is defined by the workpiece, the printing bed, the extruder, and the guidance mechanism.
All of these parts are housed in the same printing chamber. Mid-priced 3D printers frequently have enough room for things with edge lengths of 20 to 30 cm.
Frequently Asked Questions (FAQs)
What Is A CoreXY 3D Printer, And How Does It Work?
A Cartesian-designed CoreXY 3D printer differentiates from FDM printers. It has independent motors for each axis and a more complicated overall design. They are often lower in size overall without losing build volume.
Are CoreXY 3D Printers Capable Of Producing High-Quality Prints?
Yes. In fact, they often outperform other FDM printers in terms of quality. This is because they have fewer moving components, which means there is less room for wobbling and vibrations.
Is It True That CoreXY 3D Printers Are More Expensive?
Not necessarily; in fact, they are frequently regarded as the most affordable 3D printer alternative. Because many CoreXY 3D printers require more changes and upgrades, they are generally less expensive than many other FDM models.
Is It Difficult To Put Together A CoreXY 3D Printer?
It varies on the printer; however, they can be a little more difficult than others. This is because the frame must be completely square. It can cause printing issues if it is not. Some do arrive already constructed, but they are usually much more expensive.
Is It Simple To Use A CoreXY 3D Printer?
Yes, for the most part. They are simpler to use than some other 3D printers, and even total beginners should be able to rapidly learn how to produce high-quality prints. Some of these 3D printers have significant communities of users who can assist.
Conclusion
There is nothing to avoid in a 3D printer if you want to turn your hobby room into a production factory for three-dimensional products.
The technology behind it is constantly improving, and the top CoreXY 3D printers are now available at affordable costs. The market is enormous.
On the market, a slew of new models from a variety of manufacturers is generating a sensation. Even for those with little technical ability, 3D printers have become a fun hobby.
The majority of CoreXY 3D printers are simple to set up and use. If you run into any issues with setup or operation, groups that specialize in the purchased model can help you out quickly.
Smaller assemblies or workpieces can be produced with the entry-level versions. With an edge-to-edge size of roughly 11 to 14 inches in height, the creativity of these CoreXY 3D printers is severely constrained.
Devices in the $700 to 1,200 range are appropriate for printing mid-size objects on a regular basis using a CoreXY 3D printer. Larger things can be printed using 3D printers in this price range.
Large-format 3D printers are appropriate for professional hobby use or the professional sector in general. These are priced between $1,700 and $1,800. Even large 3D objects can be created with an edge length of up to 30 cm.