Table of Contents
The quality of raw material always affects the quality of the finished part or a functional prototype. This rule applies to every kind of manufacturing technology. Be it traditional injection molding technique or the most modern, 3D printing technology.
Traditional techniques were based on the subtractive concept whereas 3D printing is based on the additive concept of manufacturing which enables you to create objects using filaments, resins, or other materials.
The list of popular materials used for 3D printing parts or functional prototypes includes filaments such as ABS, PLA, PETG, etc. When it comes to making flexible objects the one that's the most favored is PETG filament.
What is PETG Material?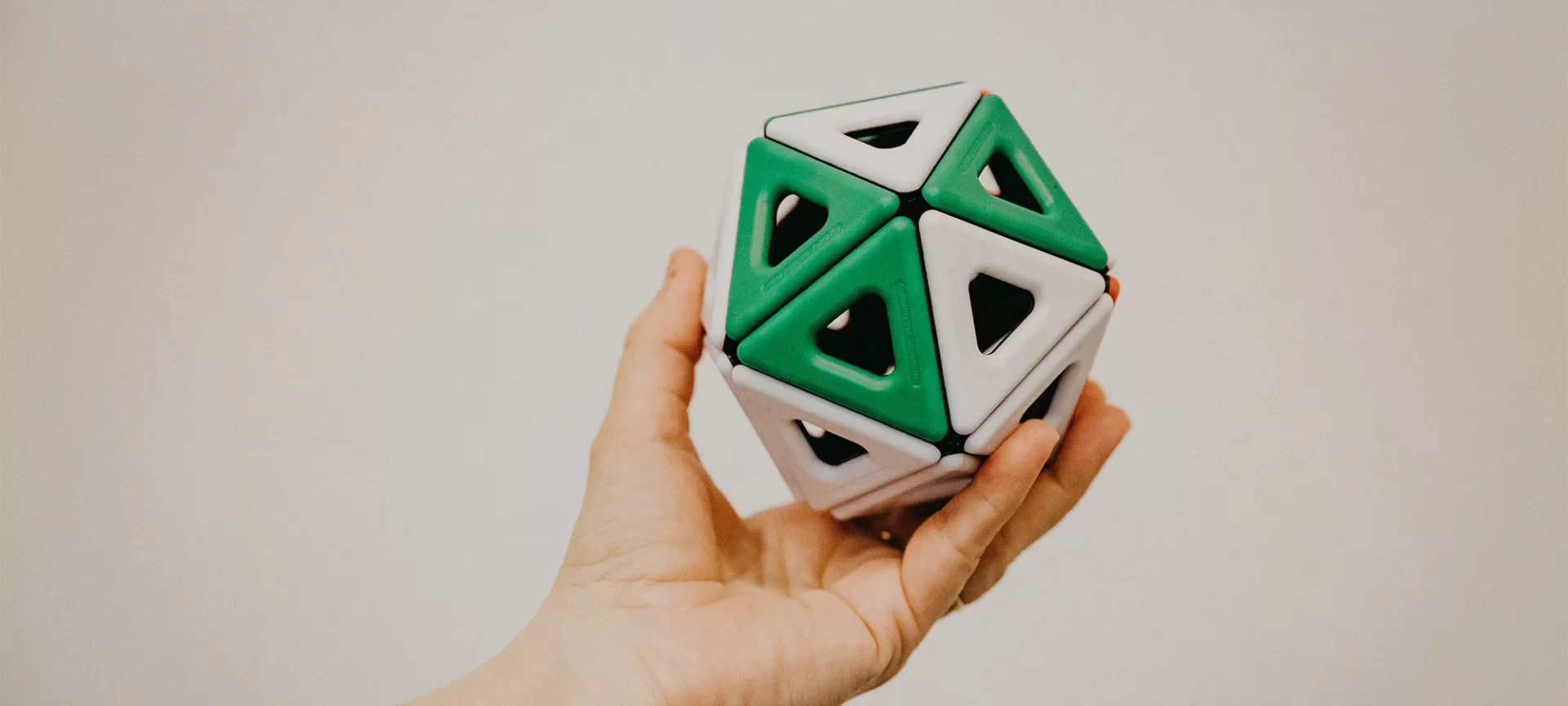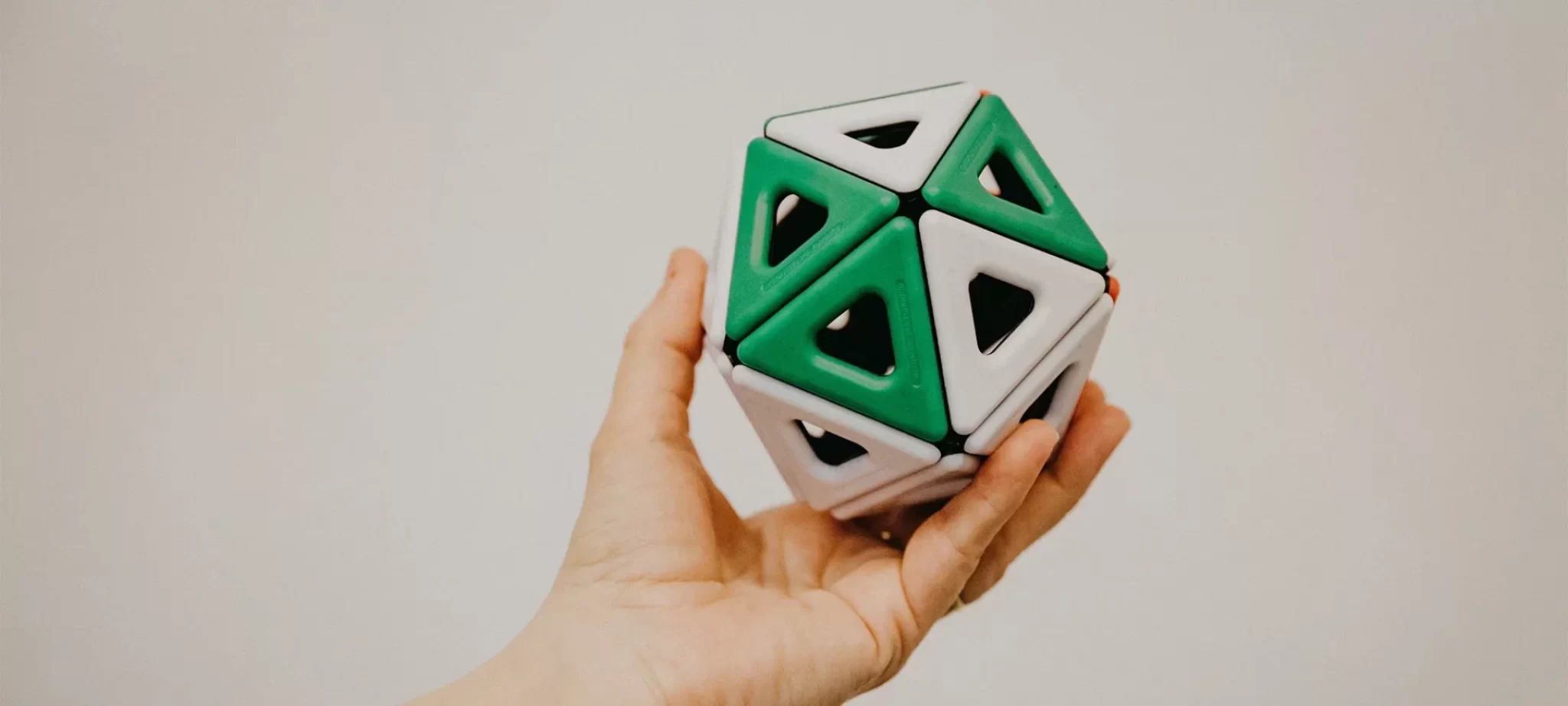 Often used for making parts that come in direct contact with water as well as food, PETG filament is considered food and drink safe 3D printing material. The filament offers wonderful bed adhesion and shows very little warping.
If you wish to print parts that are longer in length and flat in geometry, PETG is highly recommended. Mechanical parts that require a decent amount of flexibility are many times 3D printed using PETG filament.
Objects used in the electrical industry, such as custom parts for drone projects and other remote-controlled devices can also be made using this filament.
PETG stands for Polyethylene Terephthalate Glycol. There is also PET filament available in the market, but it does not have the same properties as PETG filament.
While saying that, there are many unique properties of PETG that makes it the best choice for a number of applications. Also, the different vendors of the filament offer varying properties (a little to be precise).
So, to better understand which company to choose or which brand to choose when buying PETG, you must be aware of its types and different properties. So, go through the guide and find out important points concerning PETG filament.
Types of PETG Filament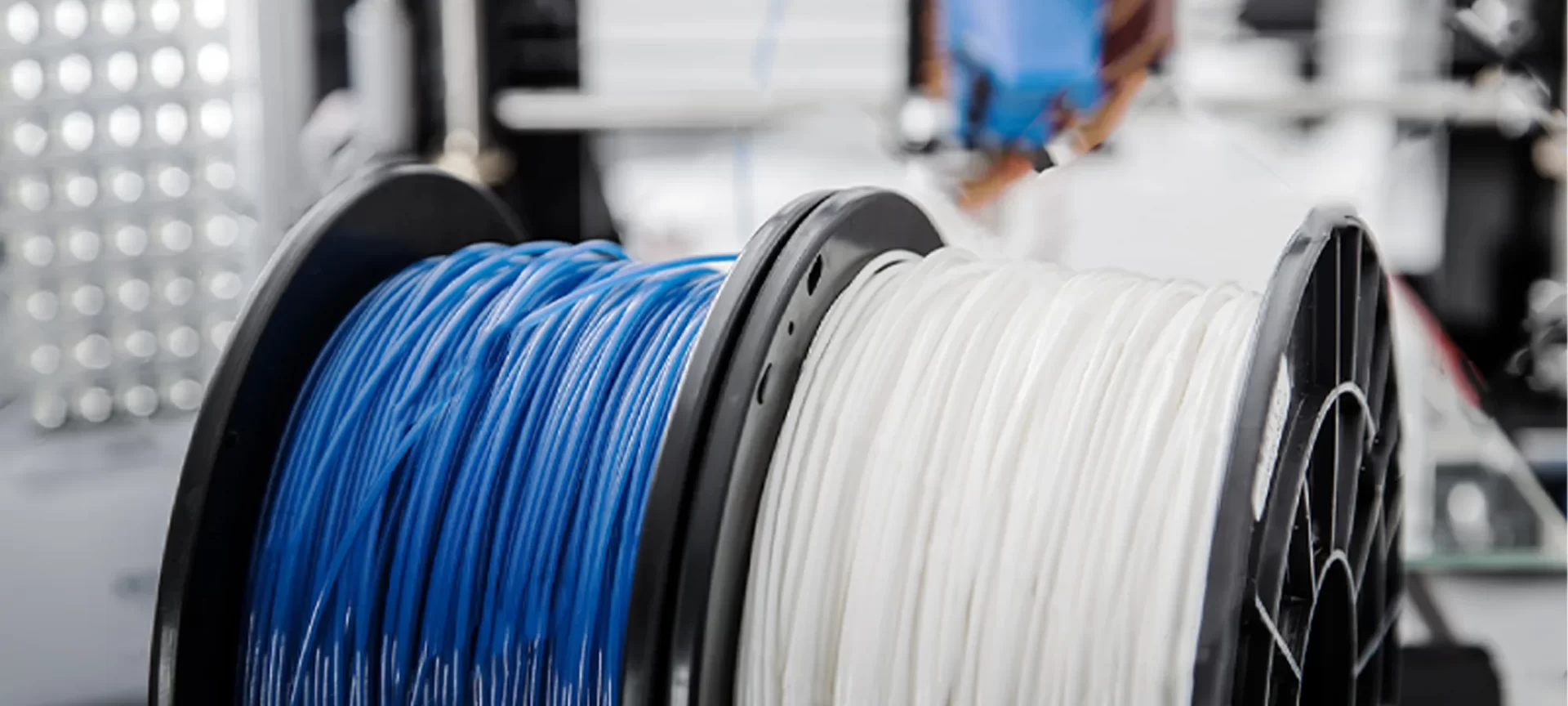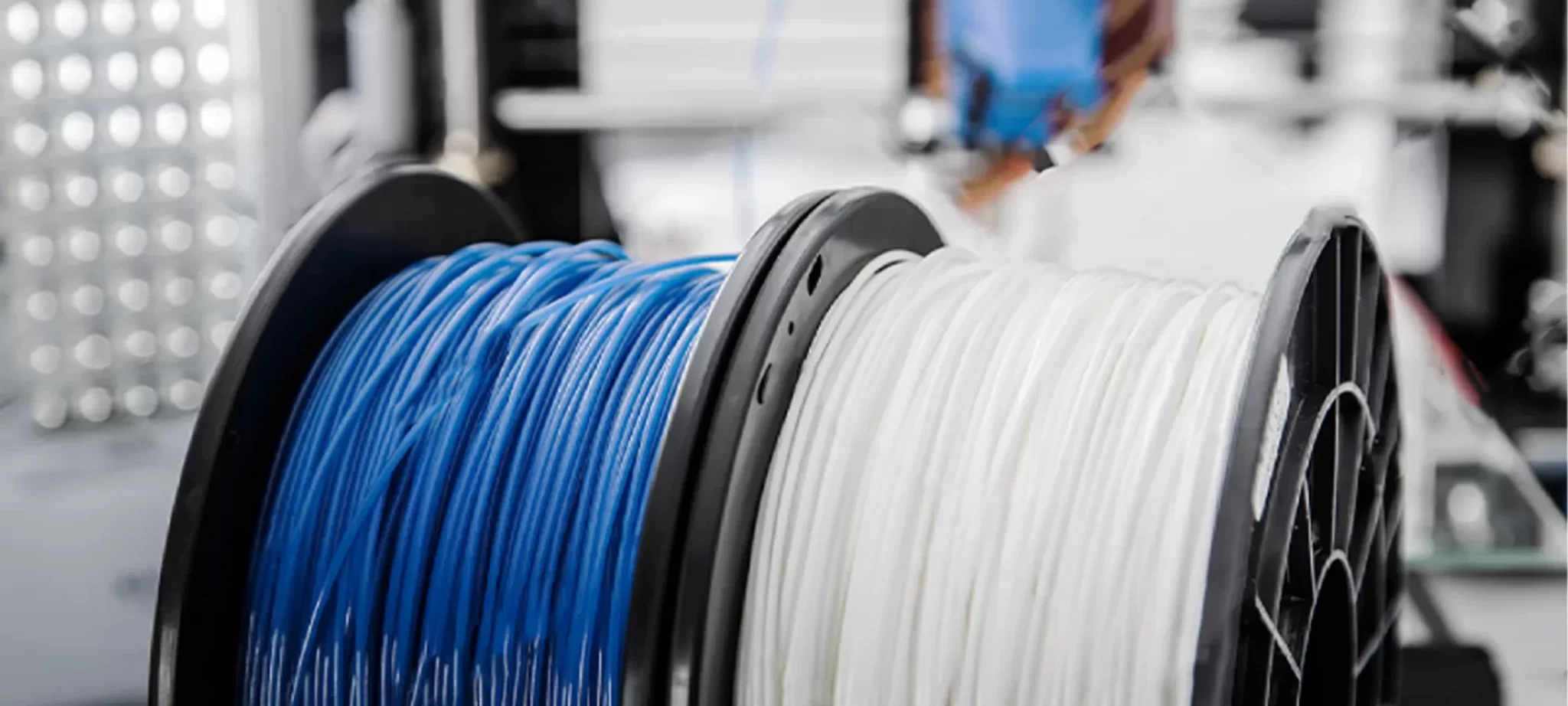 The four different variations of this 3D printing material! One of which's name is already mentioned above, so let's begin with that.
PET
While revealing the full form of PETG, we also shared the technicalities that make PET filament a subset of PETG. This plastic is the most commonly utilized one among the popular types of PETG material.
You can find it in almost everything that you see around. From your bottle to your clothing fiber, it's even present in your food container. This one needs a surrounding of at least 260 degrees Celsius to melt.
rPET
The simple prefix "r" to the previously mentioned 3D printing material is a denotation of its recyclability. This type carries almost every property of the PETG material. However, the only difference is that it's an environment-friendly option.
CPE
Its exact full form is co-polyester. But it's one of the many synonyms for PET. It's tough, strong, more flexible, and less odorous.
PETT
The PETT stands for polyethylene co-trimethylene terephthalate. The material is favorable for making parts that need to be a little more rigid than PETG. It's strong and also food-safe. Look wise, PETT is clearer, and offers a lower-shrinkage.
After having read about the kinds of PETG, it's time to explore some of the most popular and reliable brands in the market. Ready?
Who Makes the Best PETG Filament?
Based on our research, we have come up with some of the brands that produce the best quality PETG filament.
These are reliable options and offer the best quality materials if you wish to attain unmatched print quality with PETG models.
Amazon Basics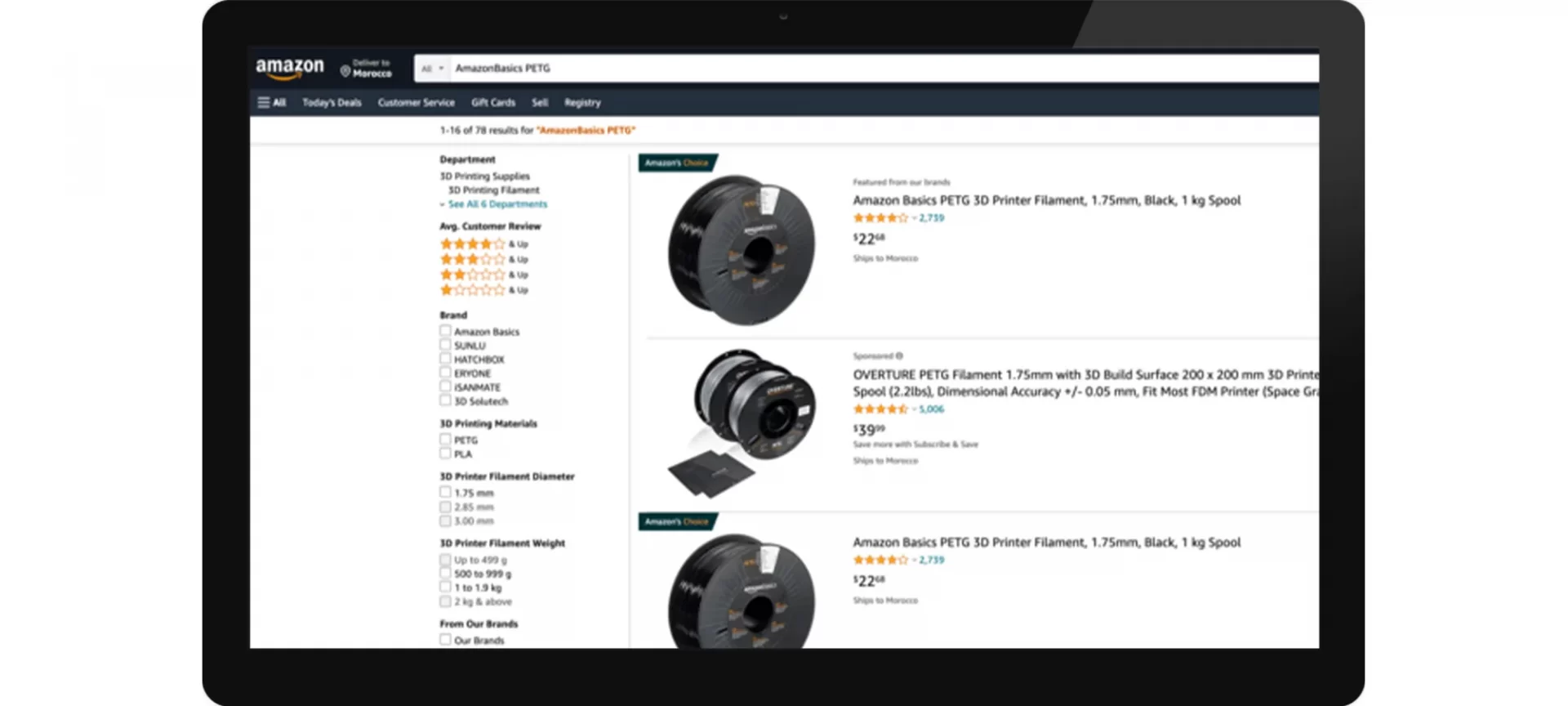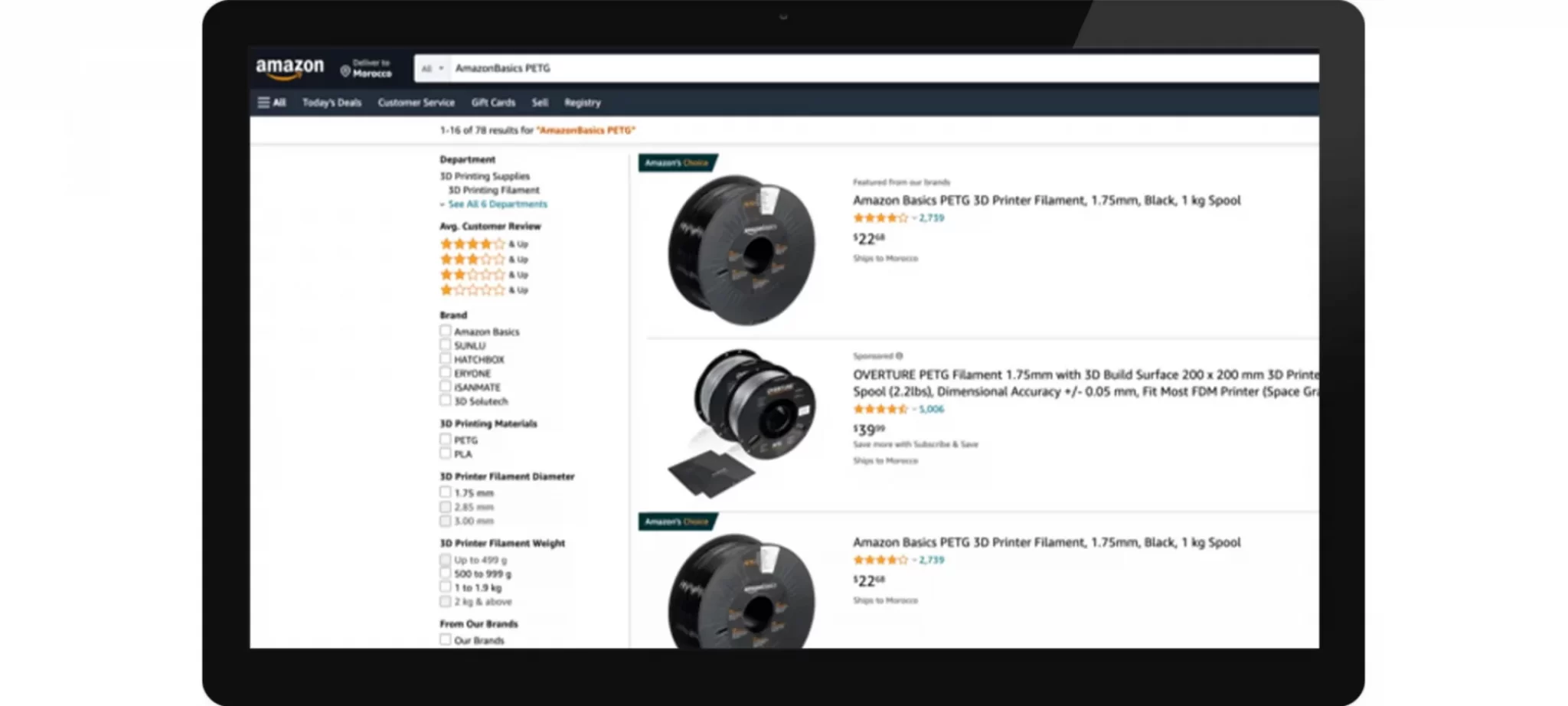 Imagine the popularity and demand of this 3D printing material that even Amazon entered into this market!
The filament comes with a one-year limited warranty. It has a dimensional accuracy tolerance of 0.05 mm.
What sets this one apart from the ones that we are about to mention in this list, is its ability to reduce jamming.
This spool features a handy gauge on its side permitting you to predict the quantity of filament that remains inside.
You can sense the weight of the filament as well as know the meters of filament remaining. Amazon Basics is available in various colors, each of them weighing one kilogram.
It's obtainable in 1.75 as well as 2.85 mm diameters. Since it's made by Amazon you do not need to worry about the speed of shipping and availability. Additionally, the price of this filament is very affordable.
MatterHackers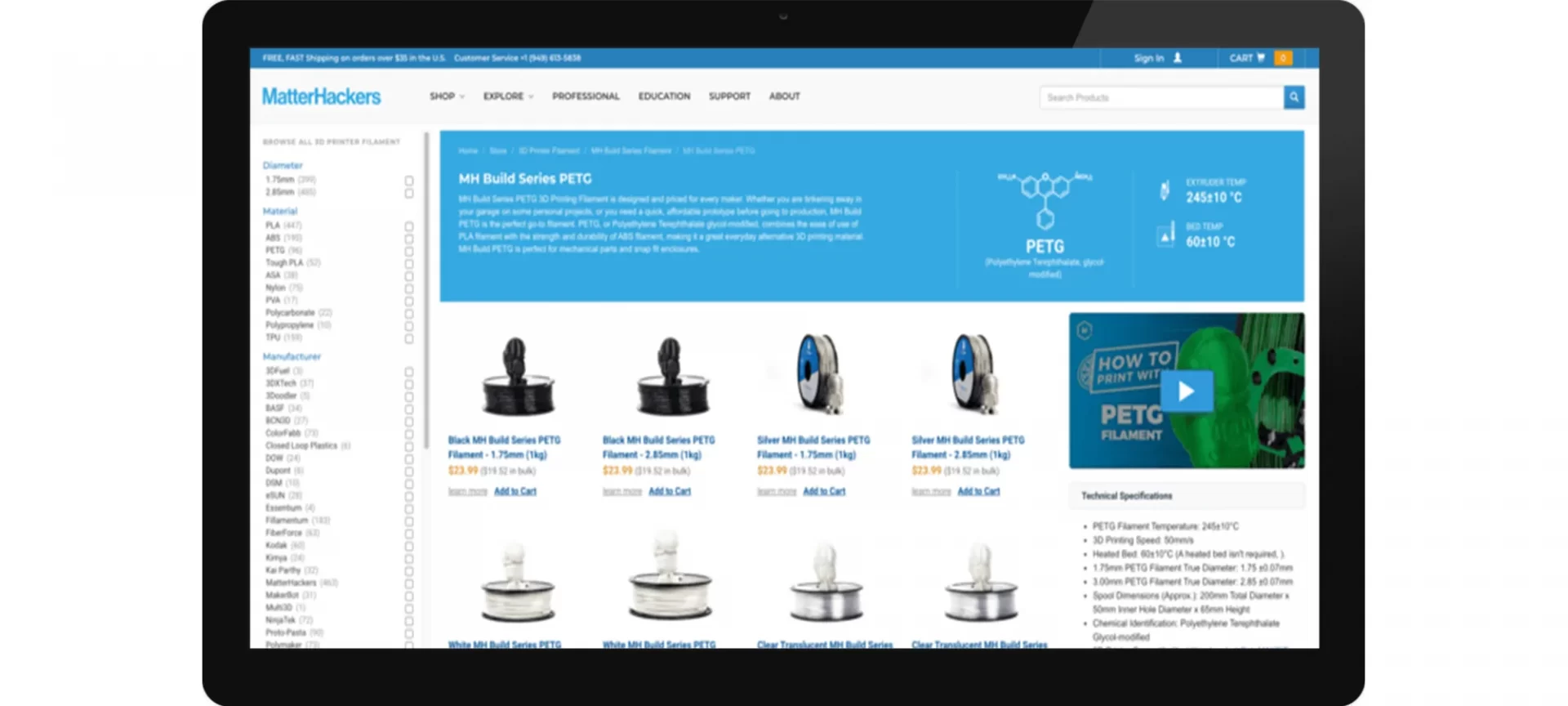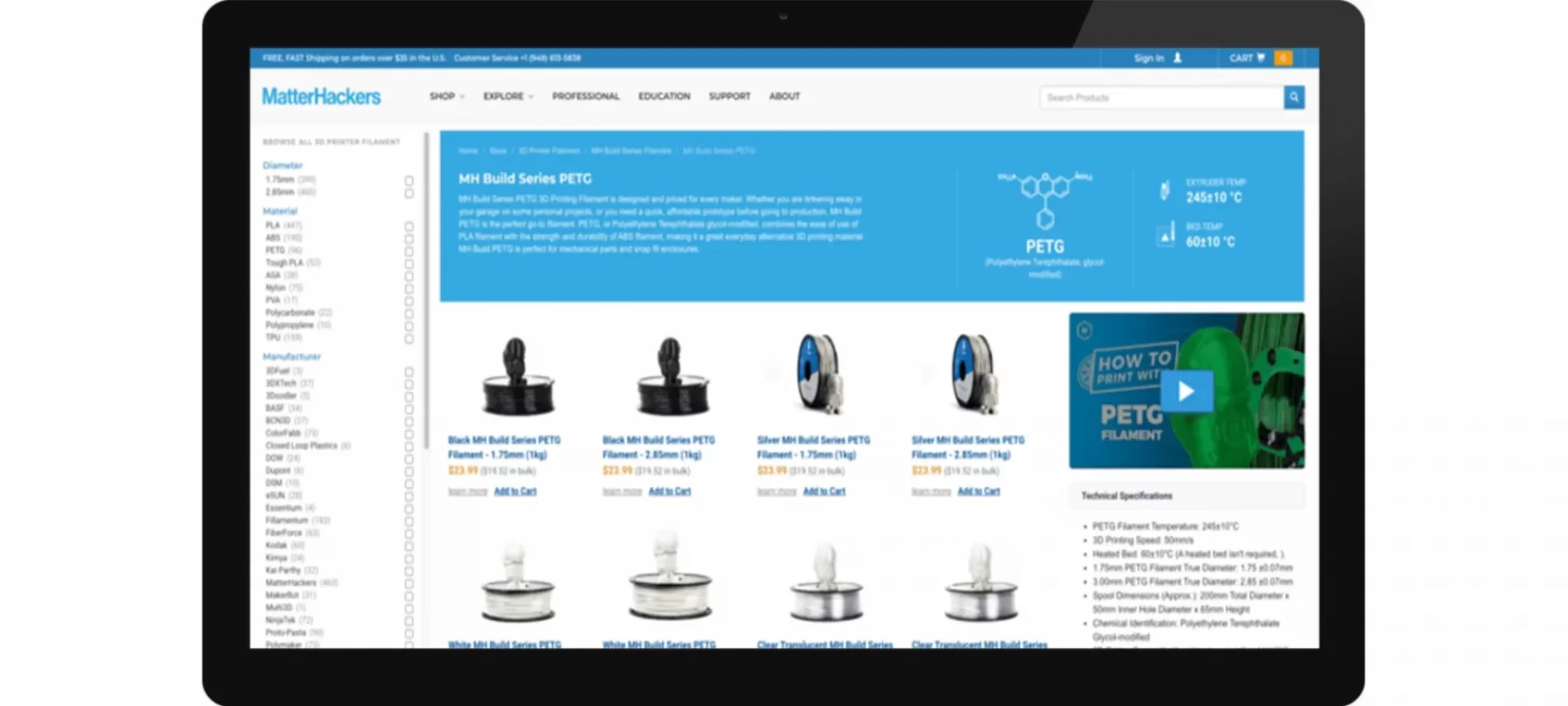 Offering a dimensional accuracy tolerance of 0.02 mm, this filament is primarily created for professionals in the field of 3D printing.
Although the parts and functional prototypes made by it are known to have good flexibility and durability, the filament is extremely tough and sturdy.
Like Amazon Basics, this filament is offered in various colors, each of them weighing one kilogram. Whereas when it comes to the diameters, MatterHackers Pro is in circulation in 1.75 as well as 3 mm.
The main features of this filament that differentiate it from others in this list are its extra toughness and sturdiness.
Apart from this the company also offers a Build series of PETG filaments which has a dimensional accuracy tolerance of 0.05 mm.
These ones are tough and sturdy. Available in a one-kilogram spool, these ones are obtainable in 1.75 mm and 3 mm diameters. They come in a variety of colors.
ColorFabb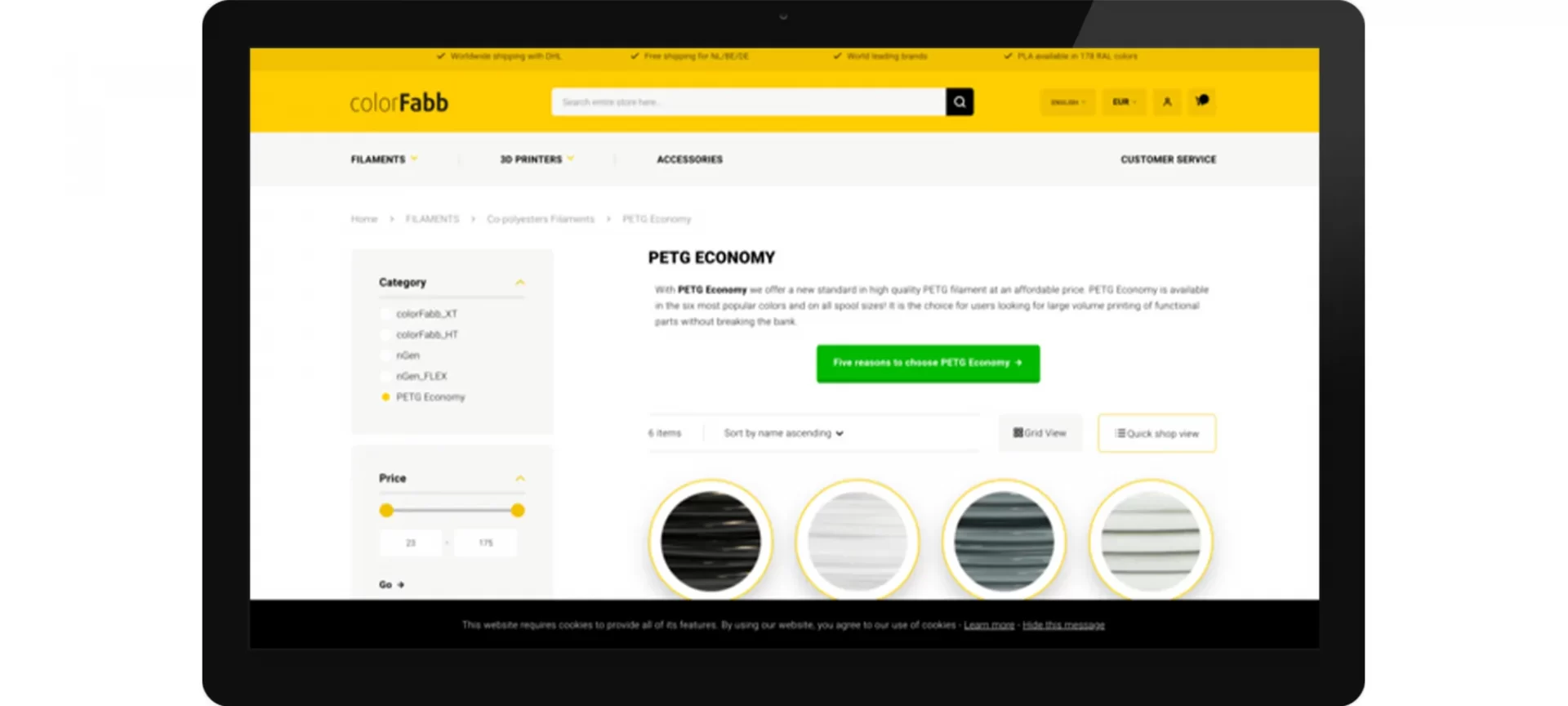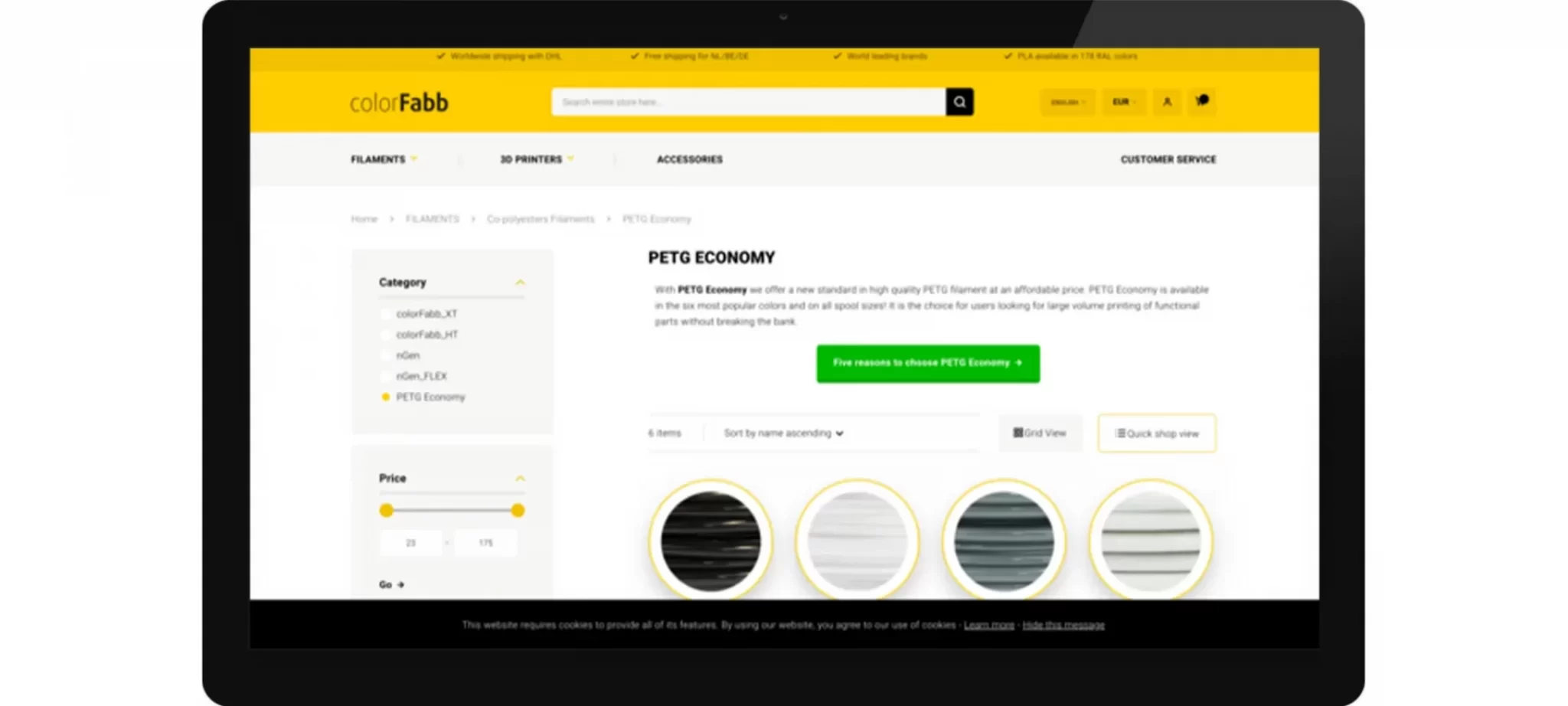 The optimism of this company regarding the scope of PETG filament is replicated in the way they've named it nGen.
This filament is offered in seventeen different colors and has a temperature resistance of 85 degrees Celsius.
Apart from nGen, ColorFabb offers two different variants;
nGen Flex: This one's a semi-flexible filament able to handle standard printing speeds of your printer.
nGen Lux: The filament that scatters light for giving your prints a glittery look.
So you can expect standard PETG parts and functional prototypes after 3D printing with nGen meaning that there'd be a sparkly finish on the objects you will create.
And while printing with nGen Flex expect it to be more flexible than the normal PETG.
Additionally, there is ColorFabb HT which is also copolyester. HT stands for heat resistant as the filament can withstand up to 100 degrees Celsius.
After collaborating with Eastman Chemical Company, ColorFabb also developed XT filament. It is low-odor and styrene-free.
Coming in thirteen different colors, XT includes varieties such as XT-CF 20 that is made up of 20 percent carbon fibers.
This one is specifically used for creating parts with very high stiffness. It is odor-free and high in strength.
Ultimaker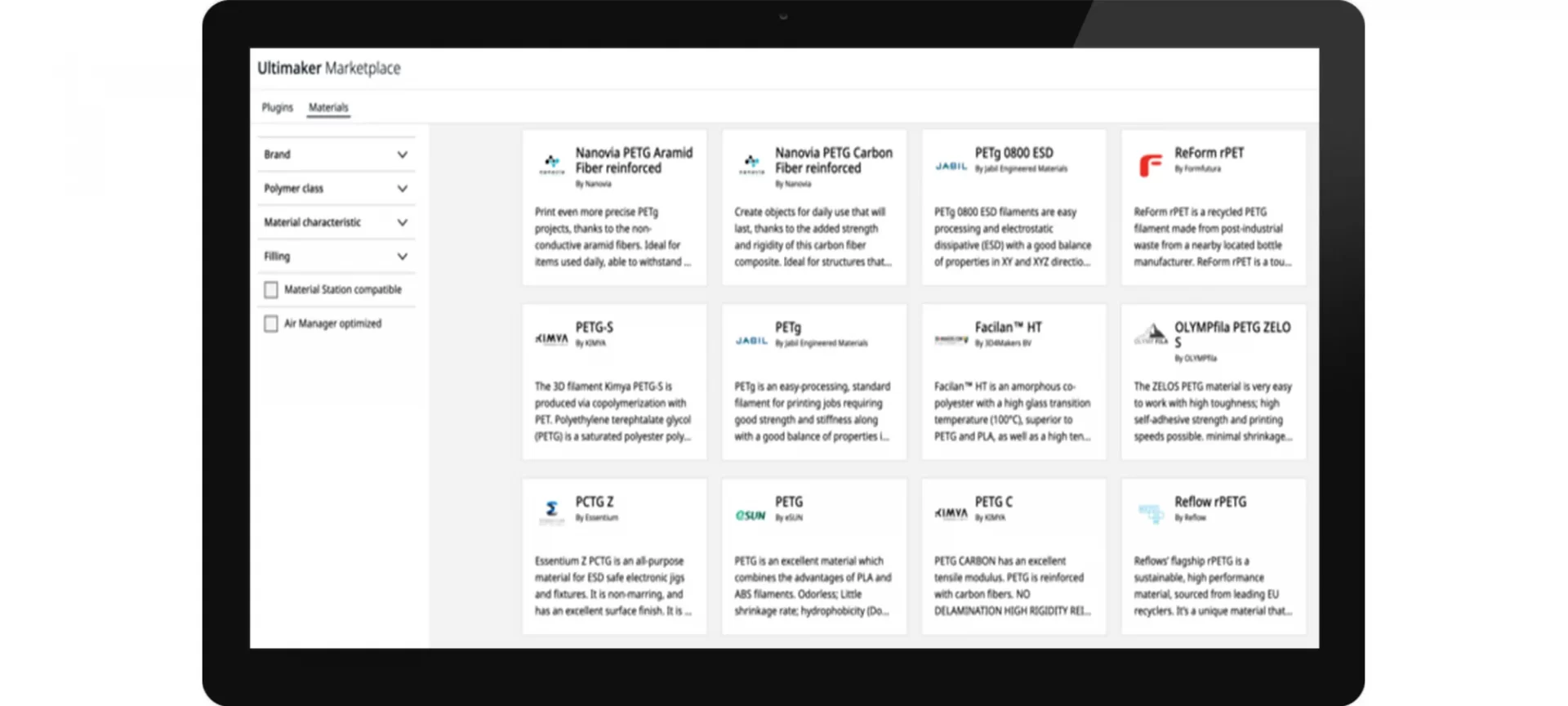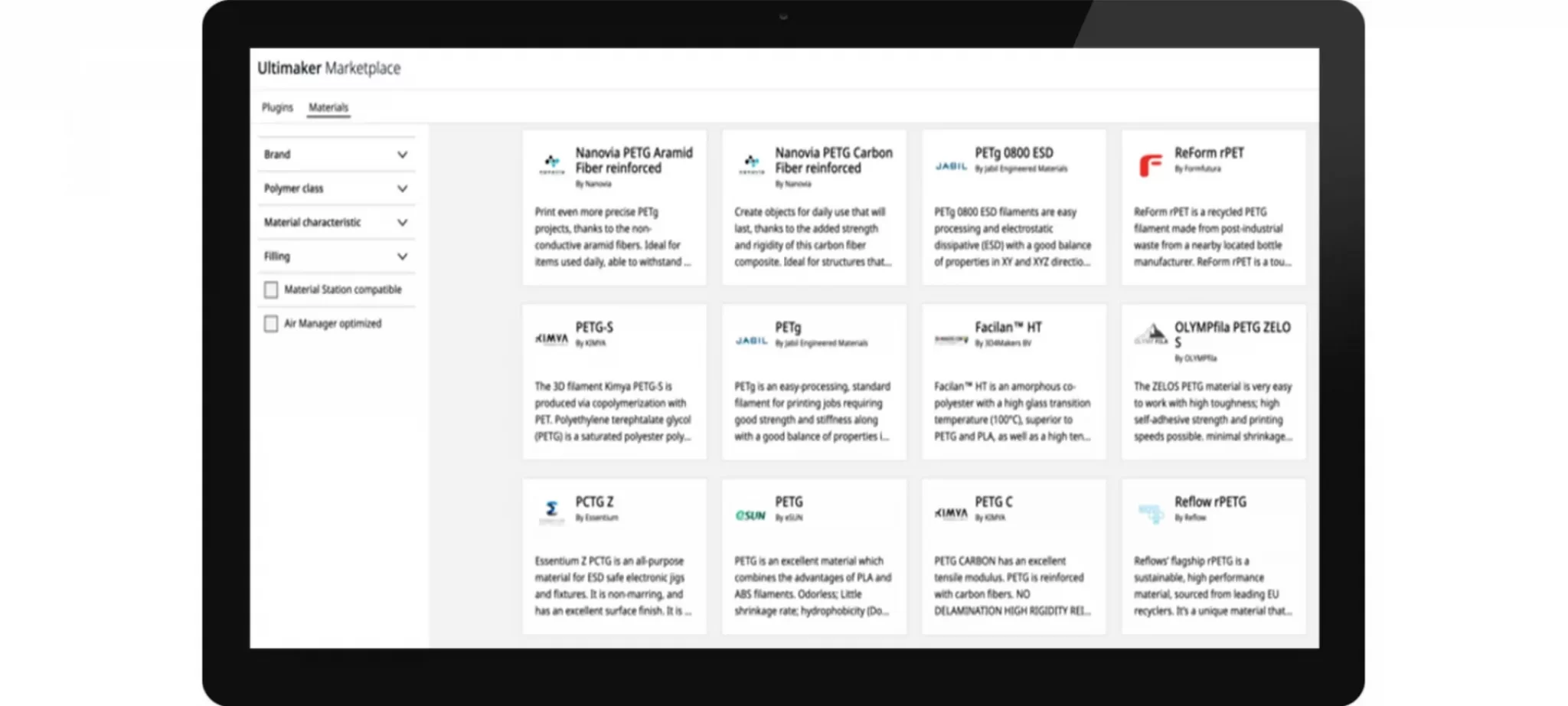 This is another PETG filament brand created keeping in mind the professionals in this field.
The reason why these filaments can be believed to be more tested than others is that they were developed with the bias that they'd be used with the company's hardware only.
There are two variants offered by Ultimaker: CPE, and CPE+. The CPE is a normal copolyester filament, whereas the CPE+ is an upgrade.
It offers increased temperature resistance, impact strength, hardness as well as flexural strength.
However, a major difference between this brand and others is that these filaments are only available in 2.85 mm diameter. Like other brands, this one too comes in a range of colors.
Characteristics that set these filaments apart from others are their toughness, strength, and chemical resistance.
Fillamentum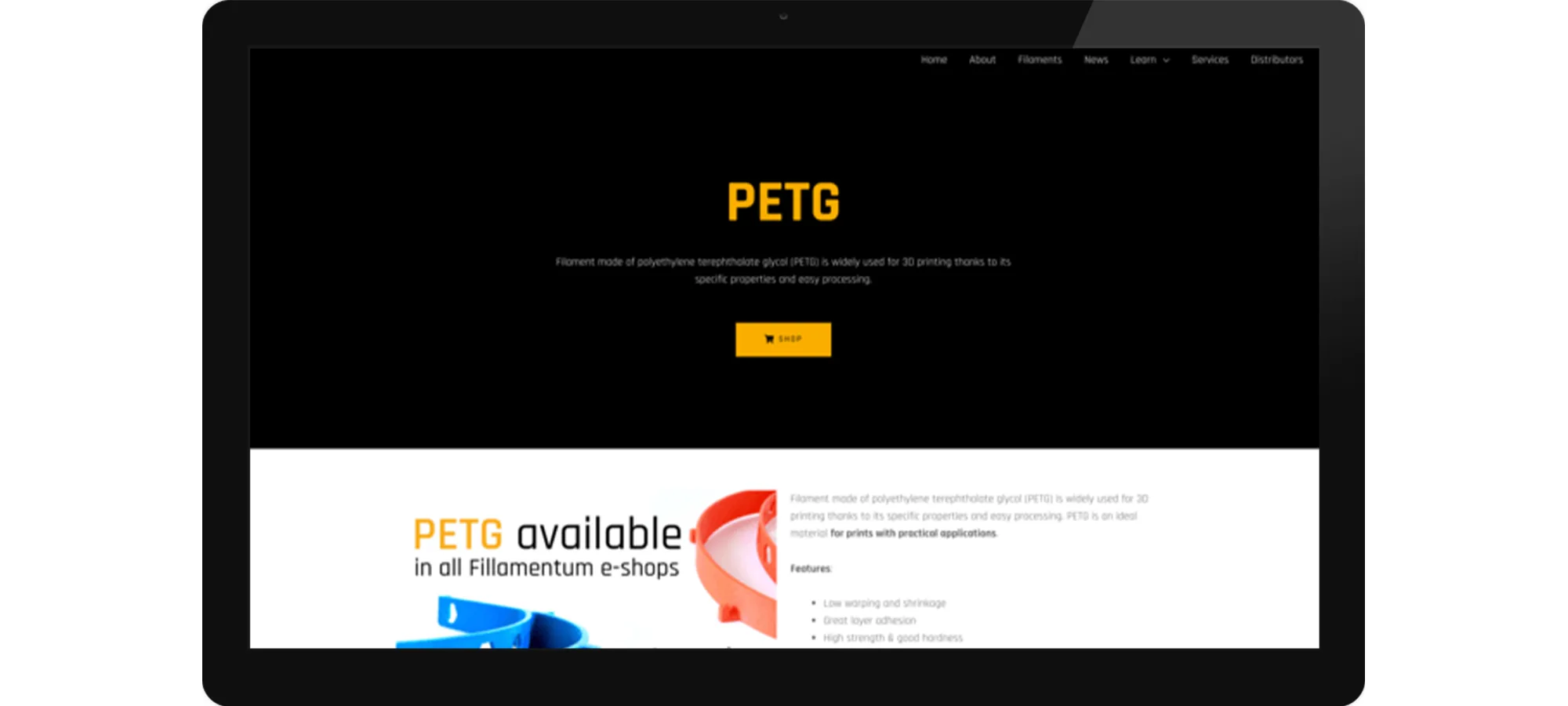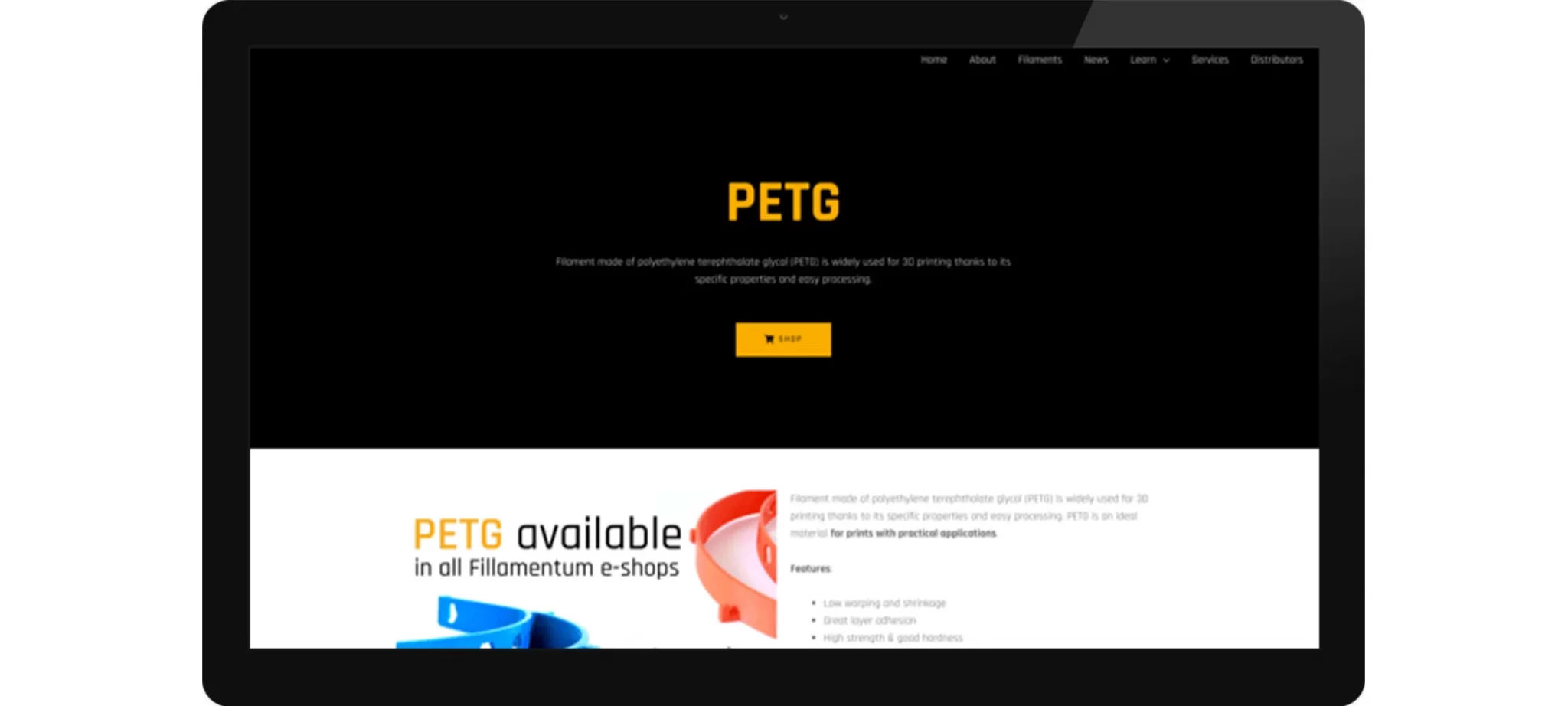 There are two variants of PETG filament offered by Fillamentum by names, CPE and CPE HG100.
Both of them offer excellent impact resistance, low odor printing, tensile strength, flexural strength, and high resistance to heat.
When converted into parts or functional prototypes they are great looking. The special nature of these filaments is that they offer good layer adhesion.
After having a look at top brands offering PETG filament, it's time now to look at the printer settings that are essential for printing with this material.
What are the Best Settings for PETG?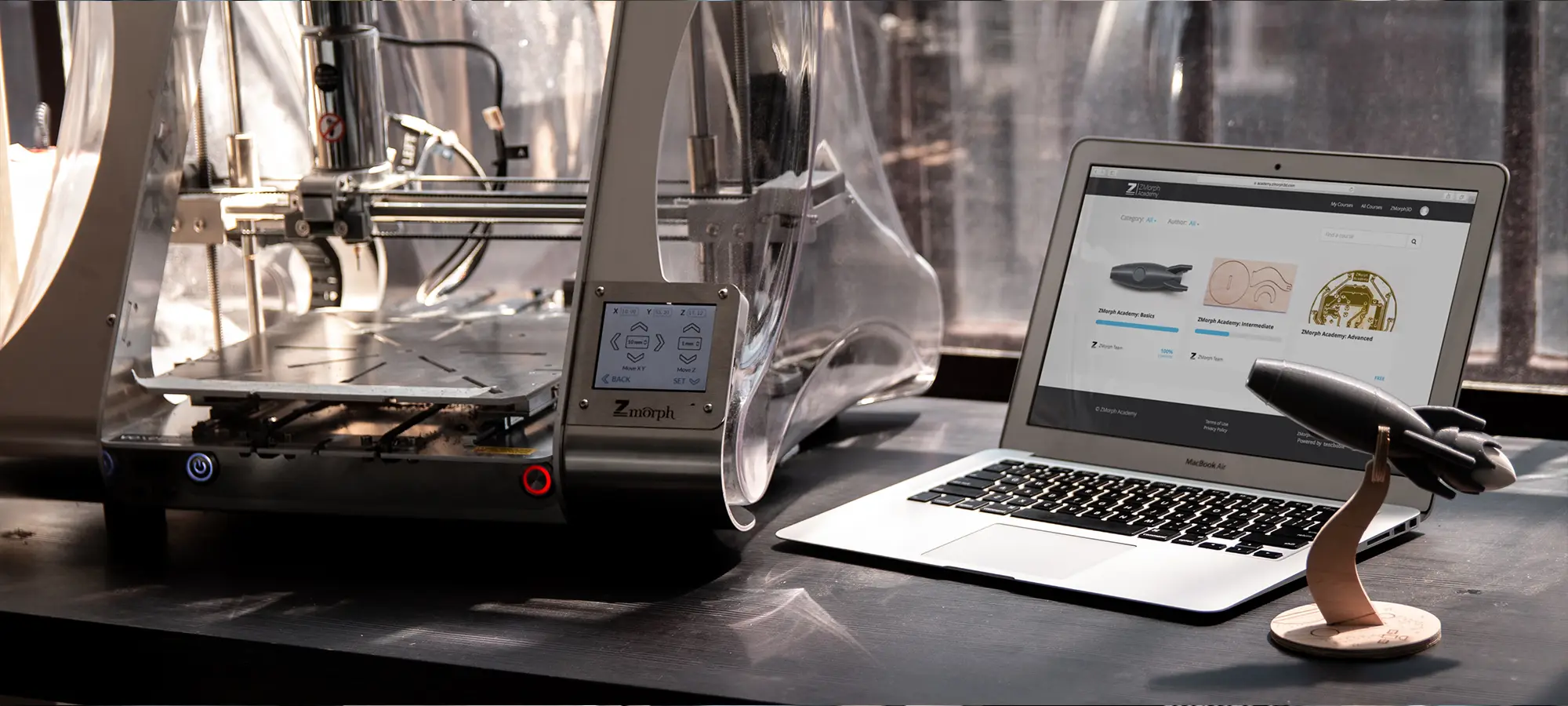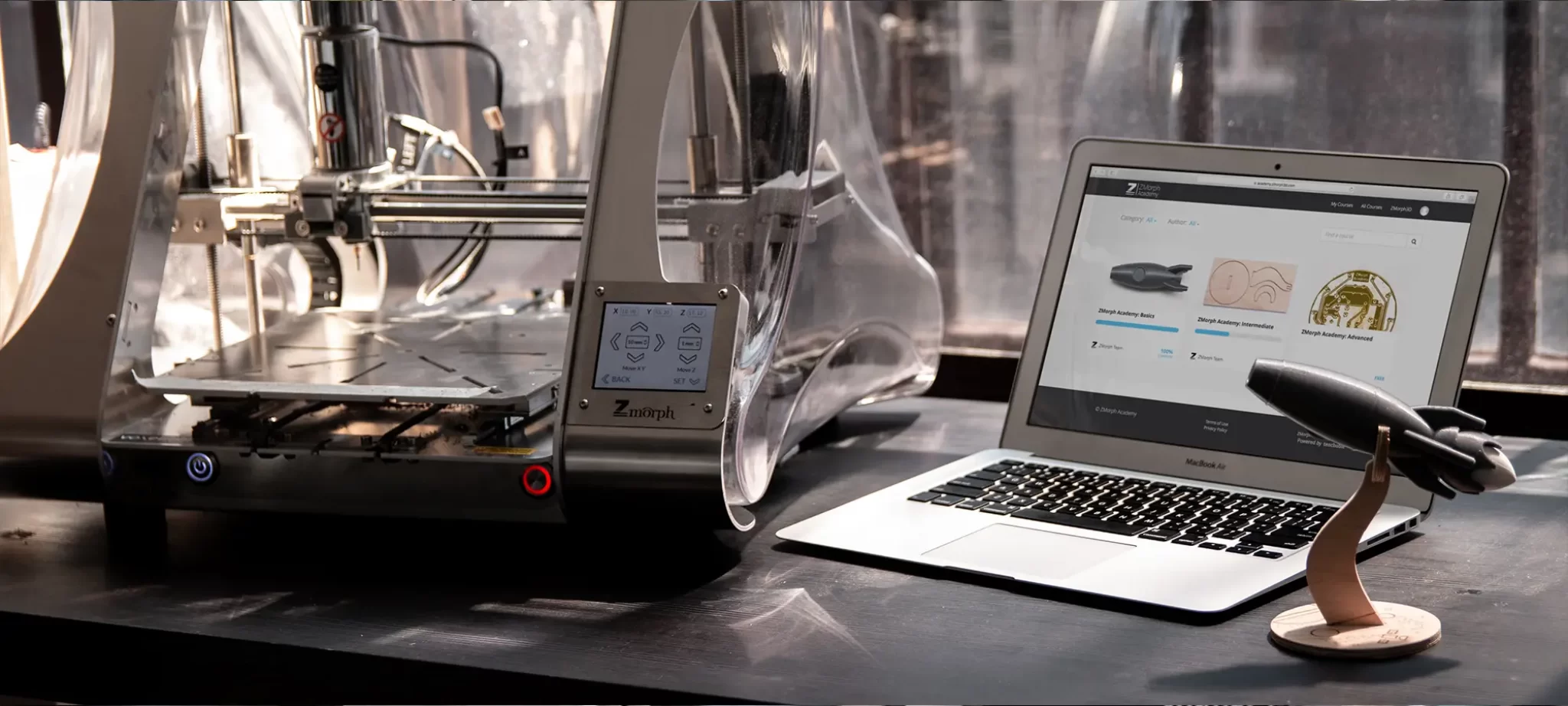 When choosing PETG as your printing material, it is important to find out the settings that could help you successfully complete your print job.
Depending on its melting point and other properties, the 3D printer must allow the following settings:
The first thing to keep in mind is the extruder temperature range. When printing with PETG filament you need to ensure the temperature range is 220 to 260 degrees Celsius.
The heated bed is not always required while printing with this filament, but in case you keep a heated bed in your printer it would expedite the process of printing. The recommended heated bed temperature range should be between 70 to 90 degrees Celsius.
Having a cooling fan is advantageous while printing parts and functional prototypes using this filament because you will be able to optimize the complete process. Of course, you have it switched off for the first layers and then switch it on.
An enclosed chamber is not something you need to have, in case you have a 3D printer with an enclosed print chamber, you can also leave the door open.
For adhesion, the blue painter's tape works sufficiently enough. You can even use a glue stick or hairspray if you wish to. You need to take care of the glass print beds as PETG's excellent layer adhesion can make the process of removing parts and functional prototypes extremely difficult.
How Much Does PETG Filament Cost?
If you have the experience of printing and buying PLA and ABS filament, you'll find PETG a little expensive than them.
The starting price of this filament is $24 which is four dollars more than the starting price of PLA.
However, higher-quality PETG filaments can cost considerably more. For example, the industrial level filament manufactured by Matter Hackers costs around $55.
Pros of 3D Printing With PETG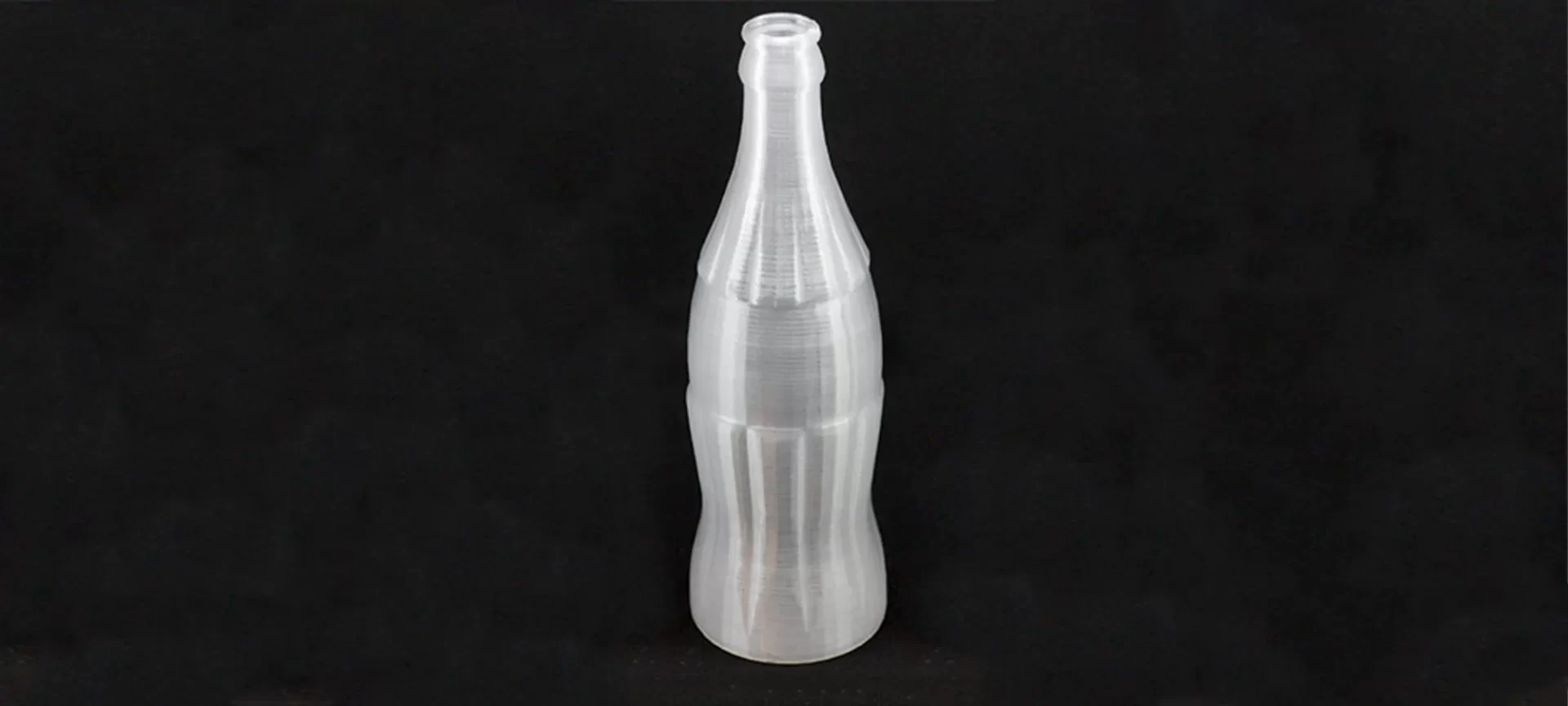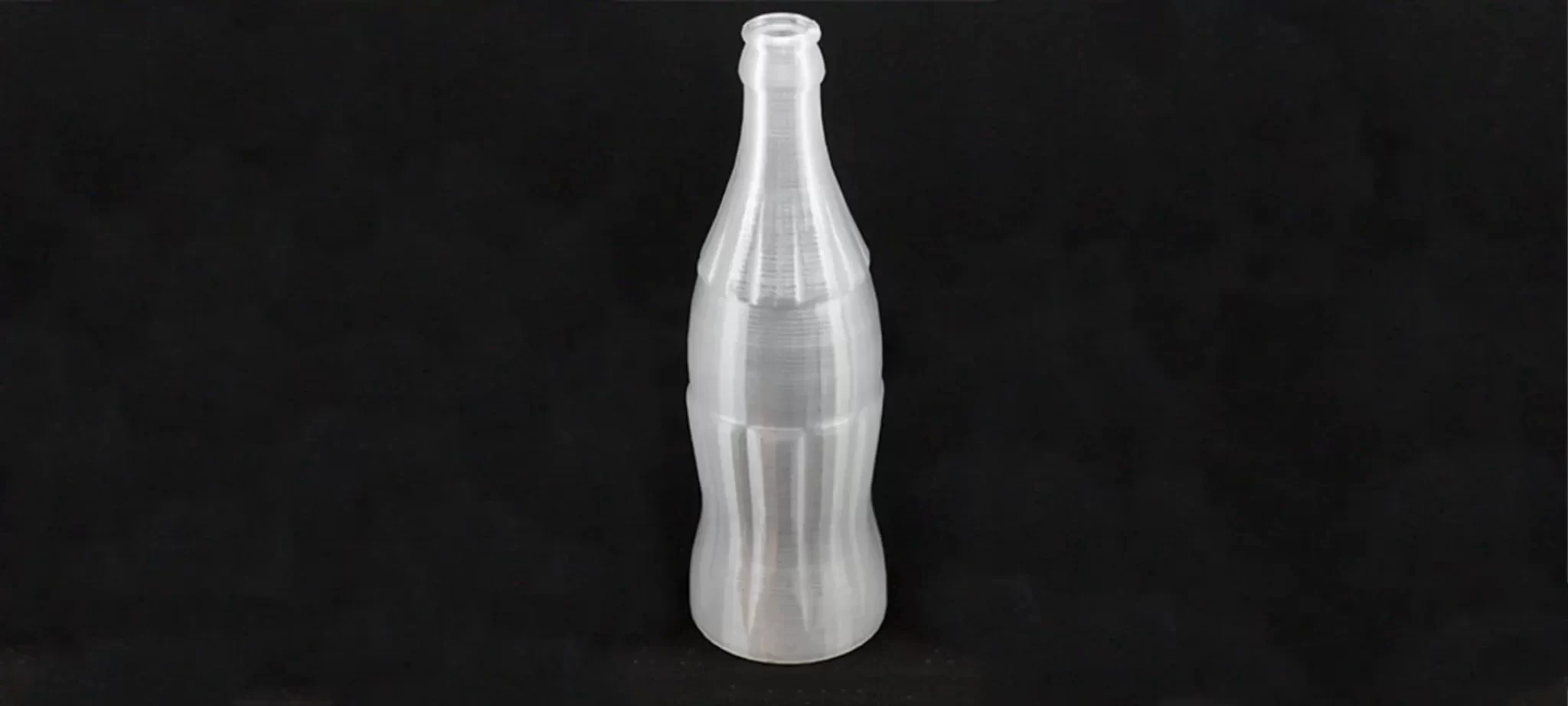 For someone who is tired of printing with ABS and PLA, PETG can work wonders. It is stronger than PLA and can handle higher temperatures. Also, it doesn't have the same number of warping issues as much as in ABS.
PETG offers excellent bed adhesion compared to other 3D printing filaments. It is sticky in nature and also leads to the production of strong and durable parts. Objects that have longer and thinner geometry which are difficult to print using ABS, can be printed using this filament.
Parts and functional prototypes printed using this filament have a good surface finish, they are glossy, translucent, and glittery.
If you are not used to handling ABS's smell in parts printed using that filament, you are going to love having not to tolerate the same smell after printing with this filament.
With PETG you will never have to struggle for finding a color variant. As you can see in all the brands mentioned above, there are plenty of color options.
Cons of 3D Printing With PETG
In case you are printing complex geometries beware of the supports that you print using PETG. Because they too might in the stick in the same order as the complete part does!
If you will not have the correct retraction settings, your strings or hairs will affect the overall quality of the part or printed functional prototype.
Compared to ABS, PETG is lesser scratch resistant and its parts will look less aesthetically pleasing.
PETG is chemical resistant. This is one of the advantages that work as a bit of a disadvantage because you will not be able to acetone polish the printed parts. Although PETG has a natural glossy finish, in parts you wish to do the sanding procedure, you wouldn't be able to!
The Conclusion
As people are getting more and more used to ABS and PLA, they want to see something new. This is where PETG filament is making room for itself in the market. It allows you to print with various colors, gives a high-quality surface finish, and sticks excellently.
You do not need to take much care of PETG spool except for ensuring that they are stored in a dry environment. As air humidity can alter this filament and then the printed part can be a failure or bad prints.
PETG is hygroscopic in nature which means, it absorbs moisture from the air. A dry place using silicate bags makes up for a perfect environment for storing PETG filaments.