Photocentric LC Precision 1.5
Photocentric's Precision LC 1.5 offers a high-resolution of 47 microns across the XY axis. The printer can produce parts for dentistry, jewelry, and figurines efficiently.
PROS
High-resolution liquid crystal display.
Solid and strong unit.
High-quality electronics.
Customer-centric design.
CONS
The build space is small. Hence, it may cause concern in the event you want to build the larger parts in one go.
Product
Specification
Videos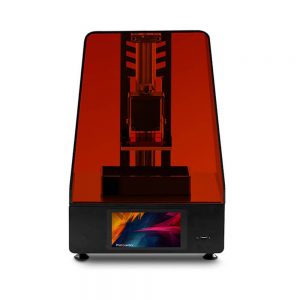 Offering precise, high-resolution 3D printing Photocentric LC Precision 1.5 is a professional desktop resin 3D printer. Being an upgrade of its ...
| | |
| --- | --- |
| Model | Liquid Crystal Precision 1.5 |
| Manufacturer | Photocentric |
| Price Range | $ 2379 |
| Release date | 2018 |
| Country | United Kingdom |
| Availability | Available |
| Classification | Professional |
| Technology | Resin (SLA- DLP…) |
| Material | Liquid resin |
| OS compatibility | Microsoft Windows |
| XY accuracy | 0.047 mm0.002 in |
| Max. build size | 121 × 68 × 160 mm4.76 × 2.68 × 6.3 in |
| Max. build volume | 1.32 L |
| Min. layer thickness | 0.03 mm0.001 in |
| Dimensions | 380 × 350 × 580 mm14.96 × 13.78 × 22.83 in |
| Weight | 15 kg33.07 lb |
| Power input | 100–240 V | UK/USA/EU plug |
| Heated print bed | No |
| Heated build chamber | No |
| Automatic calibration | No |
| Closed frame | Yes |
| Dual extruder | No |
| Independent Dual Extruder | No |
| Full color | No |
| LCD screen | No |
| Touchscreen | Yes |
| On-board camera | No |
| Mobile app | No |
| 3D scanners | No |
| CNC mill | No |
| Electronics 3D printing | No |
| Laser engraving | No |
| Conveyor belt | No |
| Air filter | No |
| Pellet extruder | No |
| USB | Yes |
| Wifi | No |
| Bluetooth | No |
| SD card | No |
| Ethernet | No |

Table of Contents
The Precision 1.5 is an enhanced version of LC Precision by Photocentric, a manufacturer from the UK. This printer has some of the advanced features that were absent in its predecessor.
It combines a high-resolution LCD screen and specially formulated polymer to give you the best quality prints. Precision 1.5 uses Photocentric's Daylight Polymer Printing technology to create parts that showcase amazing results.
Photocentric's unique technology effortlessly bonds different layers of the print with liquid crystal resin, which increases the printer's efficiency manifold.
The Precision 1.5 also has a disposable vat system and a prehomed platform which offers precise, high-resolution prints.
This printer is essentially suited for professional applications requiring fine prints. Some examples are dentistry, jewelry, and figurines.
To get a picture of where the printer's capabilities fit within real-time applications, here is an in-depth review of the Photocentric LC Precision 1.5 3D printer.
Features
Precision 1.5 is exactly what its name suggests. It aims to print parts with high resolution, great strength, quality, and design. The printer comes with a dedicated part washing unit, a photocentric wash unit, and a liquid resin cleaner.
These are available as separate units offering a complete printing workflow to the users. The photocentric wash unit, particularly, allows you to easily clean parts in just a matter of minutes. Let's take a closer look at some of its amazing features below.
High-Resolution Liquid Crystal Display
At the heart of the printer's Daylight Polymer Printing Technology is a visible light illuminating an ultra-resolution LCD panel that is used for creating parts and functional prototypes. Its 5.5-inch display is capable of offering 2K resolution for building great representations of your 3D models.
Such a lengthy liquid crystal display makes it possible to cure huge parts of resin in one go. Not only does this facilitate amazing 3D printing speed, but it also increases dimensional accuracy and speed.
Because of this, Precision 1.5 can speed up the production rate exponentially. For designers, the liquid crystal display gives the freedom to execute even the most complex geometries with ease.
It also decreases the overall print time when making parts as compared to other SLA 3D printers. In short, the outcome of this liquid crystal display is faster 3D printing and superb quality prints.
Solid and Strong Unit
One of the main benefits that Precision 1.5 has compared to other printers within the same price range is its construction.
To be precise, it's the inner mechanism that turns this printer into one of its kind. The printer's inner mechanism consists of an upgraded maintenance-free drive unit.
This printing unit enables increased accuracy over the height of the printer. It does this by offering increased reliability when printing large solid parts as well as small intricate details.
There are many benefits of having a strong and solid unit. Primarily, it decreases the need for maintenance during the printer's lifetime, thereby profiting you in the long run.
High-Quality Electronics
The Precision 1.5 is controlled by a full set of top-notch electronics. With such robust electronics in place, this printer can create high-quality prints without any problem.
As you may already know, the entire printing process is divided into steps, so the overall efficiency is dependent on the efficiency of individual units.
By offering high-quality electronics, Precision 1.5 ensures that you have complete control of all aspects of the printing process. The printer's layer thickness starts at 25 microns and has an XY accuracy of 47 microns.
Customer-Centric Design
Photocentric provides two disposable vats, which lets you print various geometries easily. This enables mass customization and offers consistent printing results. It eliminates the need for redesigning and improves your overall printing performance.
The best part is that you don't have to spend a ton of cash to enjoy all these perks. It is still very economical. In addition, you have the choice to either buy a new vat or resin the vat when required.
One thing that you won't get on other 3D printers is the Precision 1.5's build platform which is factory homed. This means that you won't need to home-build the platform every time you need to print. Hence, the entire process is effortless and takes a shorter time to print parts.
With such a flexible design, users can simply put the printer to work without worrying about what is happening inside. This machine takes care of the hard part for you.
Intuitive Touch Screen Interface
An LCD touch screen that is located on the front face of the body controls almost every function that Precision 1.5 performs.
The touch screen interface eliminates the need to manually control various aspects of the printing process. Thus, increasing the efficiency of the overall printing process. You'll definitely be impressed!
You can use the touch screen interface to control the usual settings of Precision 1.5.  Moreover, you can pause the print any time you feel like things are not going as intended.
You can perform many other basic functions by simply working your way through the interface controls. Definitely, this is a great way of interacting with the printer.
Specifications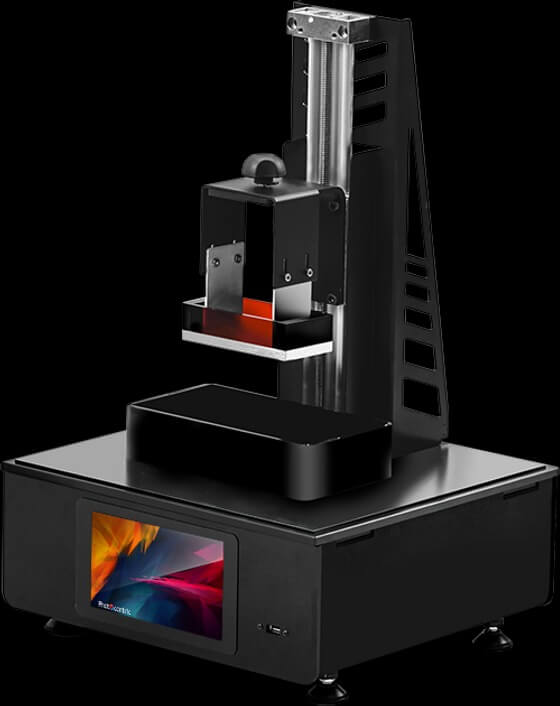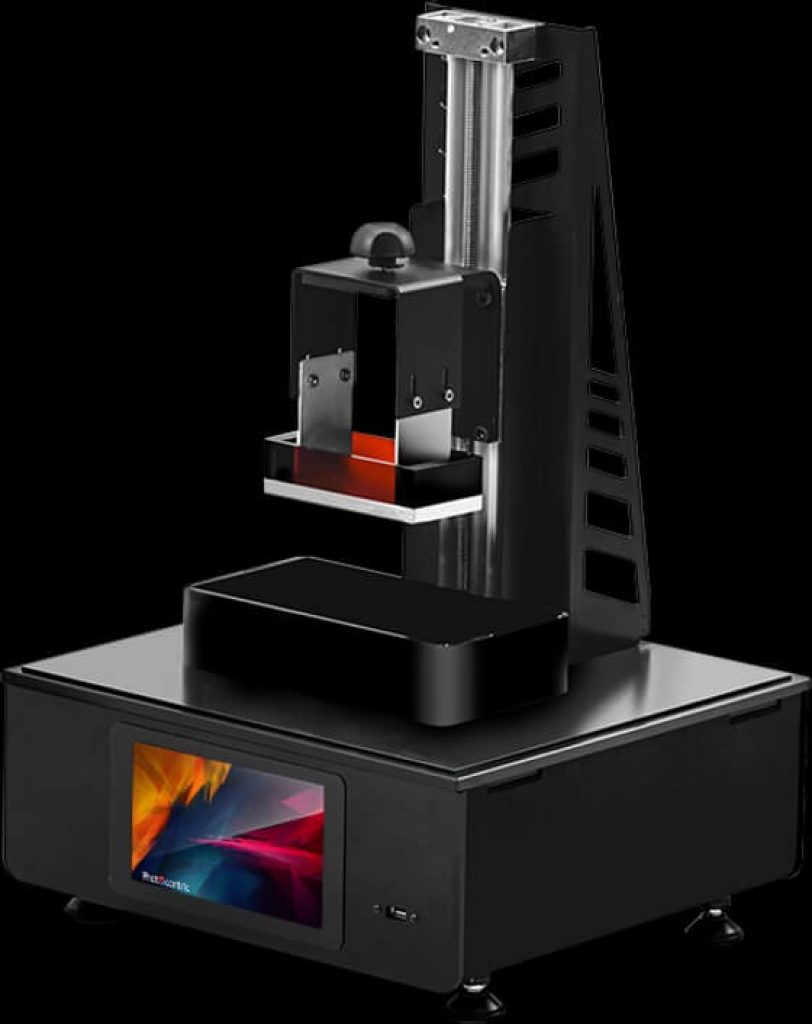 Credit: wixstatic.com
Precision 1.5 is based on Daylight polymer's 3D printing technology. It has a dimension of 38 cm * 35 cm * 38 cm and weighs 15 kilograms. This printer is easy to manage with a power requirement of 100 to 240 Volts for the US, the UK or EU plugs.
The LCD touch screen present on the front of the printer's body is 5.5 inches long and has a resolution of 2560 * 1440 pixels. The printer also has a pre-set homing system, while its resin refilling system is manual.
The Precision 1.5 LC has a maximum build volume of 121 mm * 68 mm * 160 mm. When it comes to precision, the users can choose from different layer thicknesses. It allows users to print with a layer thickness of 25 microns, 50 microns, and 100 microns.
The XY pixel density offered by the Precision 1.5 is 47 microns. At 100 microns, the curing speed of this printer ranges between 4 to 11 seconds per layer, depending on the type of resin used.
Price
The Photocentric Liquid Crystal Precision 1.5 is available for $2379.
First Impression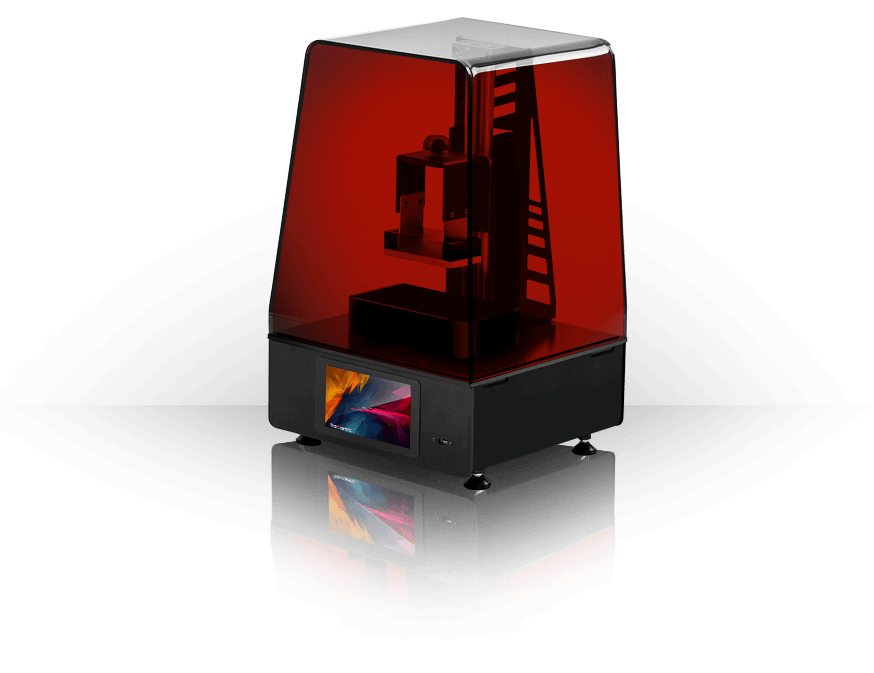 This printer clearly stands out among its competitors. It has the standard dark neon-colored print chamber and a black-colored lower compartment.
With see-through glass, the build space is visible to the users while the printing is in progress. To remove printed parts, you can access the inside of the printer by removing the print chamber.
The black-colored lower compartment of the Precision 1.5 LC has a touch screen interface exactly in the middle. Adjacent to it is the USB cord with which you can transfer sliced files to the printer.
This lower compartment hosts the Liquid Crystal display, which cures the resin vat layer after layer. The robust design of the printer gives it the stability and support it needs to produce quality prints.
To sum it up, this machine has a beautiful and attractive design. You can create amazing designs with ease.
Setup
Photocentric delivers the Precision 1.5 in customized packaging, which depends on the dimensions of the printer you have ordered. You need to follow these steps to unpack the printer properly.
Use a pair of scissors to cut open the box packaging.
Fold the sides of the box downwards and remove the red-colored printer hood and place it on one side.
Lift the Precision 1.5 LC out of the box by the linear drive support base.
Finally, place the printer on a flat work surface. Ensure that it is stable and level.  You can easily adjust the height of the stands using a size-13 spanner in case the printer is not level or stable.
The company packs all the essentials you need to print your first 3D part together with the printer.
This consists of paper filters, a funnel to insert the resin, a 250-grams sample resin daylight precision model that is grey, a spray bottle, a scraper, a USB with a photocentric license key, aplastic scraper, a platform, a power adaptor, a power supply, a print sample, an Allen key, nitrile gloves, and two disposable vats.
Hence, the setup is very simple and effortless. If you follow the instructions correctly on the manual, it won't take more than a few minutes to get started.
Print Type/Cost
Daylight polymer printing is a variant of SLA 3D printing technology. Daylight polymer also uses resin to create parts. To start, you must load the resin vat over the light source.  The liquid crystal display cures the resin layer after layer.
To calculate the cost of 3D printing a part, you must consider several factors such as the geometry of the part, the type of resin used, the cost of that resin, the type of support structures used, etc.
Print Quality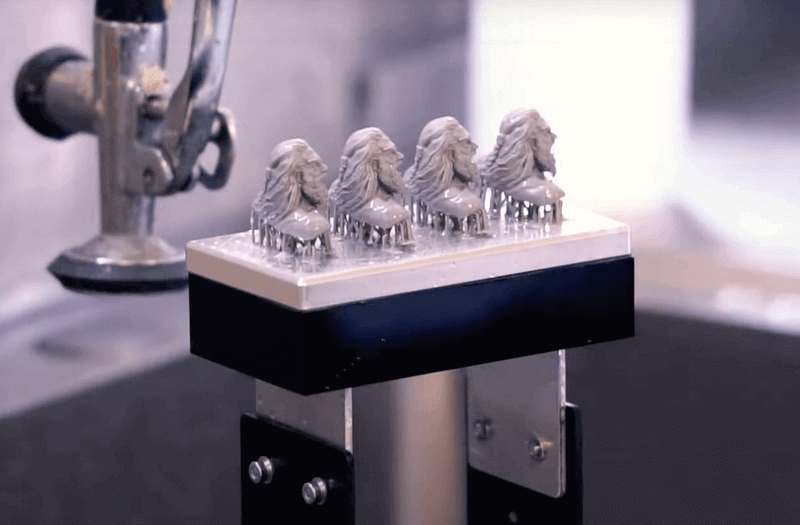 As we've mentioned before, Precision 1.5 is true to its name. When it comes to delivering quality, this printer manages to offer the highest dimensional level of accuracy.
You can expect isotropic parts with no visible layers. Hence, it is easier to achieve smoother finishes, no matter how complex the design is.
Software
Photocentric Studio is a complete and comprehensive software solution for all users starting from hobbyists to professionals.
This one software can prepare, edit and slice files directly using its seamless interface. Hence, users do not have to toggle between different applications for various operations.
With one perpetual license of the software, you can operate it on two personal computers. The software is compatible with Windows 7, 8, or 10 operating systems with a minimum requirement of 2.0 GHz processor speed 2 cores. However, the manufacturer recommends a 4 cores GPU capable of opening OpenGL version 3.0 or a higher NET framework version.
Customer Support
Photocentric offers exceptional customer support that combines training and lifetime support. The Precision 1.5 comes with a one-year warranty. This is valid for every part except the vat and the vat film. You can contact the printer's manufacturer via a call or email anytime.
Parameters Influencing the Buying Decision
In case you are planning to buy Precision 1.5, do not forget to revisit the various factors that help understand the actual worth of the printer for your specific needs.
3D Printer Cost: Considering the quality of parts it can print, this printer is definitely worth buying. It costs $2379.
3D Printer Speed: You'd be able to build small parts with intricate geometries at high speed. This is not possible with other printers which fall in the same price range and are based on similar technology.
3D Print Quality: The print quality is exceptional. Offering dimensionally accurate geometries with ease, the printer certainly is a great choice for professionals.
3D Printer Capability: The Precision 1.5 LC is capable of creating parts with various resins. It can easily accomplish prints with difficult geometries and can offer isotropic models.
3D Printer Practicality: This printer is best suited for industrial applications such as dental applications, jewelry making, and more.
3D Printer User Expectations: Apart from the build size of the printer, almost every feature is noteworthy.
The Verdict
Photocentric's Precision LC 1.5 offers a high-resolution of 47 microns across the XY axis. The printer can produce parts for dentistry, jewelry, and figurines efficiently.
Therefore, if you are someone looking for highly precise parts with a smoother surface finish, the printer is the best match for your needs.