XYZPrinting Da Vinci Jr 2.0 Mix
Da Vinci Jr 2.0 Mix is a desktop FFF 3D printer with above-average features. Its print speed is outstanding and print quality is considerable.
PROS
Multilingual touch screen interface is something you would not get to see with many 3D printers falling in the same price range. Hence, offering a user-friendly interface for setup. At the same time, enabling users from different geographical regions to experience printing with Da Vinci Jr. 2
Da Vinci Jr 2.0 Mix can be connected using multiple modes.
Bed leveling can be done automatically.
Has an excellent print speed.
Offers a wide layer resolution range.
Provides considerable positioning accuracy.
Multi color 3D printing is possible.
CONS
Build volume of the printer isn't too much
Closed print chamber with a non-removable print bed may create problems when removing printed parts.
Product
Specification
Videos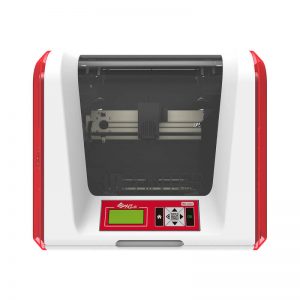 Do you like printing in multiple colors? If yes, XYZprinting da Vinci Jr. 2.0 Mix will help you attain the desired results with just one extruder. It ...
| | |
| --- | --- |
| Model | Da Vinci Jr. 2.0 Mix |
| Manufacturer | XYZprinting |
| Price Range | $ 637 |
| Availability | Available |
| Classification | Desktop |
| Technology | Extrusion (FFF- FDM…) |
| Material | PLA |
| Filament diameter | 1.75 mm 0.07 in |
| OS compatibility | Mac OS, Microsoft Windows |
| Max. build size | 150 × 150 × 150 mm 5.91 × 5.91 × 5.91 in |
| Max. build volume | 3.38 L |
| Min. layer thickness | 0.2 mm 0.008 in |
| Dimensions | 420 × 430 × 380 mm 16.54 × 16.93 × 14.96 in |
| Weight | 17 kg 37.48 lb |
| Nozzle diameter(s) | 0.4 mm 0.02 in |
| Power input | 110-220 V 50-60 Hz AC |
| Heated print bed | No |
| Heated build chamber | No |
| Automatic calibration | Yes |
| Closed frame | Yes |
| Dual extruder | No |
| Independent Dual Extruder | No |
| Full color | No |
| LCD screen | Yes |
| Touchscreen | No |
| On-board camera | No |
| Mobile app | Yes |
| 3D scanners | No |
| CNC mill | No |
| Electronics 3D printing | No |
| Laser engraving | No |
| Conveyor belt | No |
| Air filter | No |
| Pellet extruder | No |
| USB | Yes |
| Wifi | Yes |
| Bluetooth | No |
| SD card | Yes |
| Ethernet | No |

Table of Contents
One of the best things about XYZ printing is that it offers something new with every new release of the latest 3D printer. With Da Vinci Jr 2.0 Mix, it brings more colors to your projects.
Coloring is generally considered to be a part of post-processing. By offering it with the printing service itself, XYZ Printing will speed up the overall print procedure.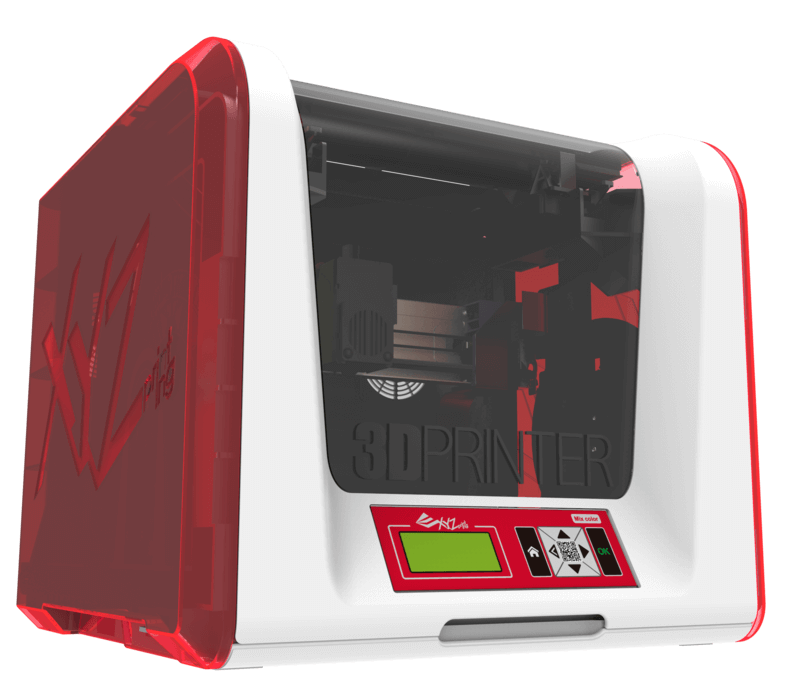 Da Vinci Jr 2.0 Mix can print with one nozzle in two different colors. It's a desktop 3D printer with which you can have a blend of two colors in the same print job. And this is just the main highlight of the printer.
Apart from this, it is full of some amazing features that will ease your complete 3D printing process. It lets users print precise 3D geometries consuming fewer print times.
Features
Below mentioned are Da Vinci Jr 2.0 Mix's features that make printing a hassle-free experience for users.
Enclosed Design
For safe printing, Da Vinci Jr. 2 Mix exhibits enclosed frames. Hence, the heated components stay inside the printer, making it perfect for homes with kids. It is also a great choice for beginners, offering them a secure design.
Two Colors, One Extruder
A blend of two PLA filaments of any color of your choice is possible to print with Da Vinci Jr 2.0. All thanks to the new dual feeding, single extruder module present in the printer. The idea is to let you print objects more like real life without post-processing!
Simple Software
The printer manufacturer has worked on making Da Vinci Jr 2.0 compatible with innovative print preparation software.
This tool lets you choose the colors of the different sections of the parts. And this is applicable to the entire geometry. So, choose the part, select its color, and print. Simple, isn't it?
Two Different 3D Printing Modes
XYZware allows users to freely experiment with varied filament color types for creating new and exciting colors using two modes:
The multicolor mode lets you select different colors after which the software will set them proportionally in varying tones.
Mixer mode that permits the operator to split color blocks based on the height. Here, each block contains a single color or a set of gradation color blocks, according to your choice.
Hardly will you find a 3D printer in the same price range offering such desirable features.
Wireless Printing and Auto Calibration for Easy Maintenance
Da Vinci Jr 2.0 is compatible with XYZware or XYZmaker 3D Kit, both of which are 3D design applications. Using these applications, users can prepare the files as well as print wirelessly. This gives the freedom to roam around freely instead of being tied in front of the 3D Printer.
Da Vinci Jr 2.0 Mix makes use of an intuitive nine-point calibration detection system for accurately determining the distance between the extruder and the print bed.
This is necessary for printing parts exactly how they are digitally fed into the printer. Also, it will mean that the waiting time before starting to print any part will decrease because you'd no longer have to manually calibrate the printer.
Environment Conscious
Da Vinci Jr 2.0 Mix allows its users to print with PLA filament only. The material is bio-compostable plastic that can be recycled. It is safer than other popular thermoplastics with which other 3D printers allow you to 3D print.
Specifications
Based on Fused Filament Fabrication 3D printing technology, Da Vinci Jr 2.0 Mix offers a decent build area of 150 mm * 150 mm * 150 mm. Therefore, it is possible to print average-sized parts in one go.
The printer manufacturer claims to provide a wide layer resolution ranging anywhere from 100 to 400 microns. So, users would be able to manufacture parts of varying dimensional accuracies.
Da Vinci Jr 2.0 Mix maintains XY positioning precision of 12.5 microns and Z positioning precision of 0.0004 mm, which is rare for a printer of its price range to offer.
The maximum moving speed of the printer is 120 millimeters per second, meaning you'd be able to bring your thoughts into reality within hours.
XYZ printing has allowed operators of Da Vinci Jr 2.0 Mix to print with PLA and Tough PLA filaments. It is to be noted that the printer does not allow printing with any 3rd party material.
The filaments that the printer is compatible with must have a 1.75 mm diameter. The Extruder of Da Vinci Jr 2.0 Mix has a nozzle diameter of 0.4 mm and lets the liquid filament flow through a single nozzle.
The print bed of the printer is made of glass and is non-removable so you will face some difficulties while removing a printed part on it, but not much. To ease the first layer of 3D printing, XYZ 3D printing has equipped its printer with the auto-leveling feature.
Coming to the hardware part of the printer, Da Vinci Jr 2.0 Mix hosts 1.8 inch HB stepper motors and 2.6 inches multilingual user interface. You can connect with the printer using a USB 2.0 cable, a Wi-fi 802.11b/g/n, and an SD card.
Da Vinci Jr. 2.0 Mix can be operated at temperatures ranging between 15 to 32 degrees Celsius and operational humidity between 30 to 60 percent.
The recommended temperature for storing filament that can be used with the printer ranges from 10 to 40 degrees Celsius. The printer has product dimensions of 420 mm * 430 mm * 380 mm and weighs 13 kilograms.
Price
XYZ Da Vinci Jr 2.0 Mix is available for $450.
First Impression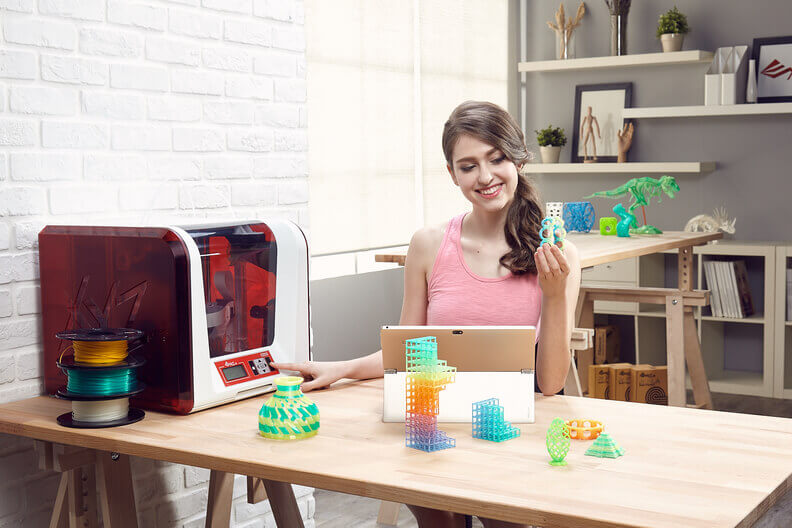 Credit: plentymarkets.com
If it were not equipped with a touch screen interface and buttons, from its front, Da Vinci Jr 2.0 Mix looks like a fancy colored square-shaped box with a transparent inner chamber.
The inner mechanism is completely visible and hence can be monitored, though it's colored in red. Overall, the printer's first looks are impressive because of its excellent surface finish and color.
Print Type/Cost
Fused Filament Fabrication 3D printing technique makes use of a solid filament. The printing process can be divided into three important steps:
Heating: As soon as you load the filament on your printer's spool holder, the extruder starts raising its temperature bringing it to the material's glass transition.
Melting: After raising the temperature of the filament a little more than its glass transition, you can allow it to melt. The nozzle system of the printer will take over from here onwards. It will allow the liquid filament to lay down layers of it over the print bed, according to the geometry of the part.
Cooling/Curing or Solidification: Depending on the type of FFF 3D printer i.e. open or closed frame, you can cool the object down using a cooling fan or atmospheric air.
Given the smooth surface of objects printed using this machine, you can skip the post-processing part.
The cost of 3D printing a part using FFF 3D printing is generally lower than other 3D printing technologies. With that being stated, the cost of 3D printing usually depends on various factors such as the design of the 3D model, the build material, support structures, infill percentage, and more.
Print Quality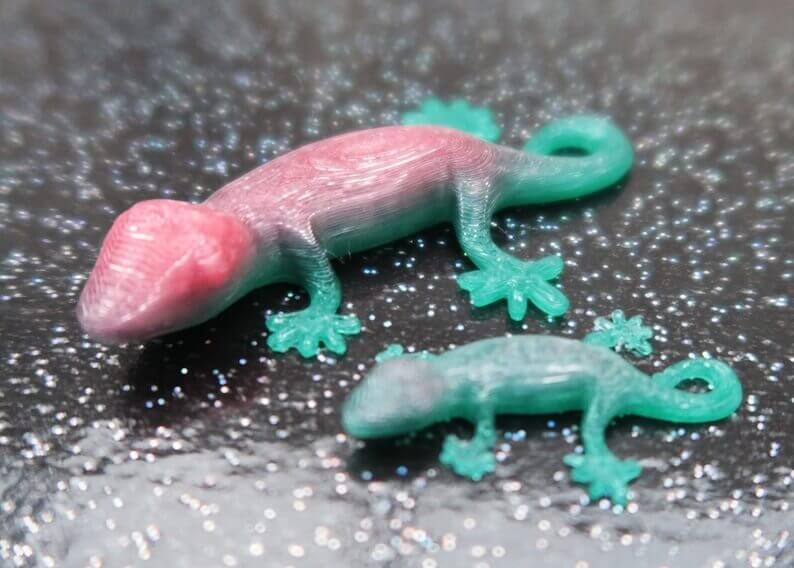 Credit: blogspot.com
The printer offers 100-400 microns is a layer resolution range that's commendable. Da Vinci Jr 2.0 Mix is able to offer it in all the parts and functional prototypes manufactured on the printer which means they'll have a good surface finish.
Being a FFF 3D printer, it manages to stand out from the impression that other printers in the same price range have made. Users will be able to print intricate parts with difficult geometries in a dimensionally accurate fashion.
Software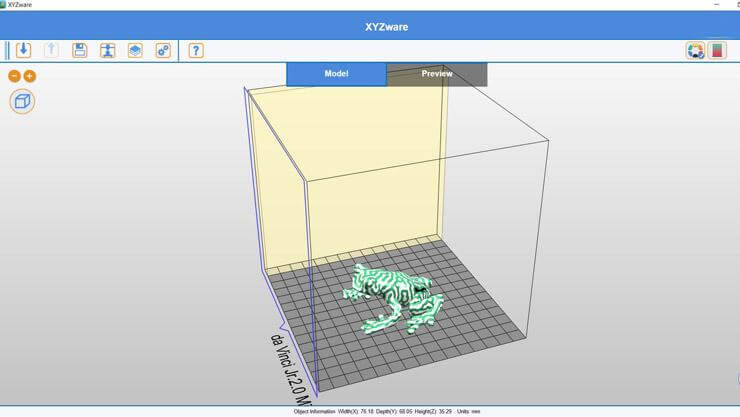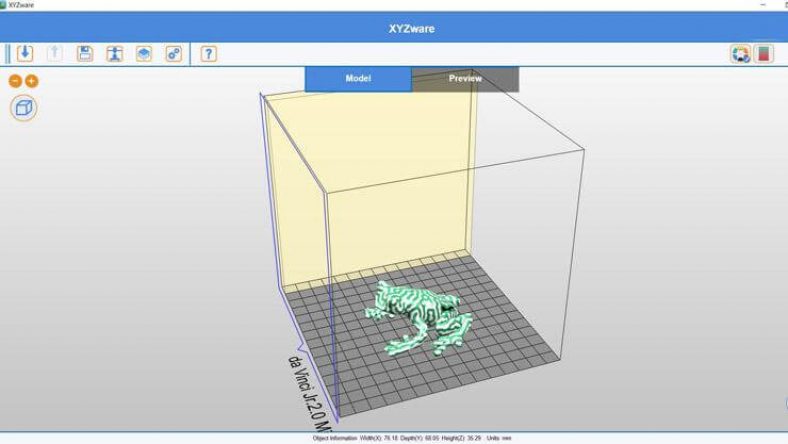 Credit: pcmag.com
Da Vinci Jr 2.0 Mix is compatible with XYZware. The application supports various file formats such as .stl, .3mf, XYZ, and more. You can operate XYZware on Windows as well as Mac operating system.
The minimum requirements of this software are as below:
For PC: X86 32/64-bit compatible / DRAM: 4GB+
For MAC: X86 64-bit compatible / DRAM: 4GB+.
Especially note that it does not support Intel i9 series CPUs.
Customer Support
XYZ Printing offers technical help in six different sectors relating to its products. They are:
FAQs
Tutorial Video
Download and Document
Product Warranty
Registering the product
Contact support for 3D printer and robot
To opt for 3D printer's contact support, you'll have to sign in with XYZ printing. Rest all is available on their website for access.
Parameters Influencing Buying Decision
We've listed down the chief factors concerned with Da Vinci Jr 2.0 Mix.
3D Printer Cost: It's rare to find an FFF 3D printer that allows printing with multi colors at such an affordable cost.
3D Print Speed: The printer allows you to print with 120 millimeters per second, that's an extraordinary print speed. Hence, users can accomplish multiple designs in a day.
3D Print Quality: A wide range of layer resolution between 100 to 400 microns is possible to achieve with Da Vinci Jr 2.0 Mix. Also, the printer has excellent positioning accuracy on each of its axis which makes printing of intricate geometries a hassle-free experience for users.
3D Printer Capability: The printer is capable of printing in two modes: multicolor mode and mixer mode. Hence, providing users more room for experimenting with different designs.
3D Printer Practicality: Without a doubt, this is a home 3D printer, designed for beginners. However, it does offer some of the unique features that professionals would love to experiment with. Hence, we consider this printer suitable for home users as well as enthusiasts and hobbyists.
3D Printer User Expectations: Da Vinci Jr 2.0 Mix's simplicity will appeal to hobbyists in the field of 3D printing. Having stated so, it also has some advanced features like automatic leveling, multi-color 3D printing which are hard to find even in professional 3D printers. Hence, the printer sits right on multiple users' expectations. And, not to forget, the price is also very competitive.
The Verdict
Da Vinci Jr 2.0 Mix is a desktop FFF 3D printer with above-average features. Its print speed is outstanding and print quality is considerable.
Although the printer has a small build volume and a print chamber that makes it difficult for the user to remove objects, the machine is still worth the money that it's priced at. Beginners can take advantage of getting amazing print features at a very budget-friendly cost.
Whereas, experts can get something to experiment with multi-color features that's rare to find in affordable 3D printers falling in a similar price range! So, if 3D printing small build volume does not appear to you as a huge limitation, do go with Da Vinci Jr 2.0 Mix. Its fascinating features and attractive design would help you create different designs with ease.