Polyga Compact C504
Polyga Compact C504 is extremely portable as well as light in weight. Also, the 3d scanner known for providing the best results when scanning objects of small size and intricate geometries.
PROS
Industrial grade components guarantee an extremely long life.
Wear resistance.
Water resistance.
Dustproof.
Precise 3D scanning of extremely small objects.
Ease to use the software.
Solid yet flexible construction.
CONS
Being a professional 3D scanner, it's way out of the budget for beginners in the field.
Table of Contents
C504 is a desktop 3D scanner produced by Polyga – a manufacturer based in Canada. The machine is excellent while dealing with small geometries. It enables users to scan objects of 1 cm in height without sacrificing any details or precision.
Although the scanner is mainly used for processing small objects, it has some used cases with larger objects as well.
Moreover, users do not need to go through any process of setting it up or calibration. It's a plug-and-play device. Operators need not dedicate a specific workspace as well for the machine.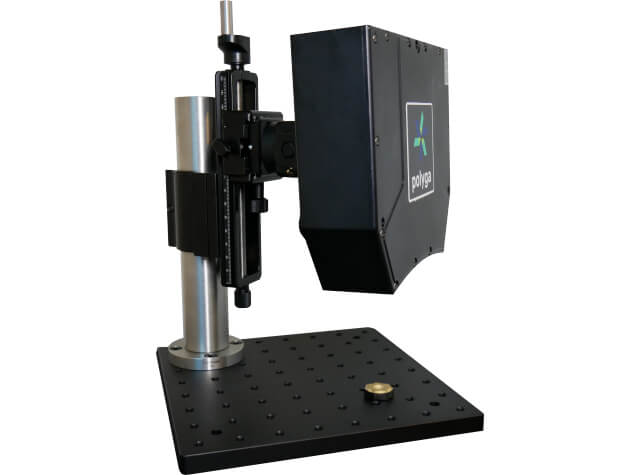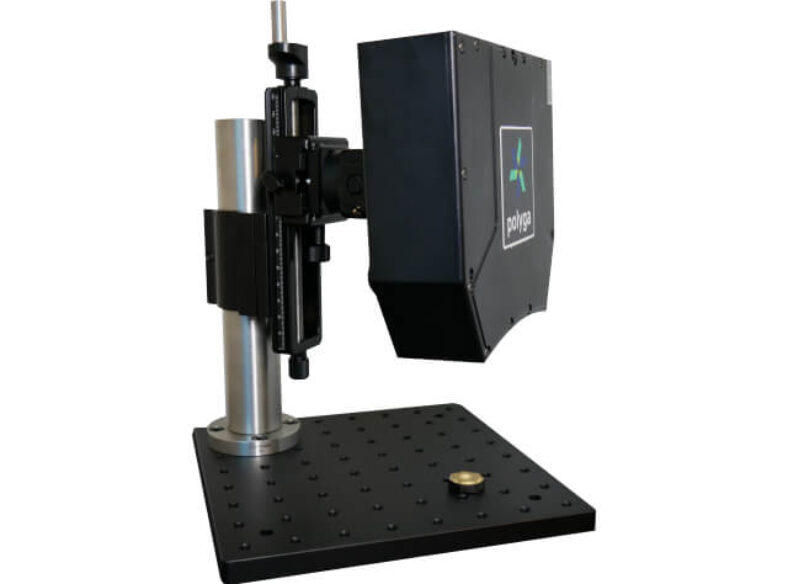 Its integrated FlexScan software comes preinstalled so that users do not have to waste any time while starting to scan with the scanner. Let's have a look at this scanner in-depth to know more about its amazing components.
Features
Compact C504 is one among any 3D scanners provided by Polyga in its compact series. As the name goes, it's extremely portable as well as light in weight. Moreover, the scanner is also known for providing the best results when scanning objects of small size and intricate geometries.
Its camera working in coordination with the light source provides the best result. Above all the scanner's software makes working with it much easier. Below mentioned are some of the most striking features that make it stand out when compared with others in the same price range.
Easy to use
Polyga C504 is designed keeping in mind convenience and ease of use. This professional 3D scanner is calibrated with factory settings to ensure you get 3D scanning done very rapidly.
The machine is designed keeping in mind users in manufacturing, academic institutions, visual effect studios, and research labs needing accurate as well as reliable scan data for imagining and measuring various applications.
The scanner is:
IP75 rated
Dustproof
Vibration resistant
It is perfect not only for inspecting but also for 3D scanning very small objects.
High resolution
C504 belongs to compact series from Polyga that is famous for showing a high level of resolution as well as accuracy.
The scanner is known specifically to work well with small objects with complicated geometries. This enables users to create parts and functional prototypes with a top-notch level of precision.
Industrial grade
The machine is constructed using industrial-grade components that are tested and proven to undergo enough wear and tear. Overall, the scanner is dustproof as well as water-resistant.
The material that goes into the construction of C504's body is solid aluminum. Also, it's IP67 rated. So, the scanner can withstand tough conditions in which its competitors may fail to process.
Straightforward software
C504 comes integrated with Polyga's proprietary 3D scanning software that is capable of doing multiple things like mesh alignment, merging, filling, etc. Because of the application, users' workflow becomes effortless. They can gain control over many functions in a go.
Specifications
| | |
| --- | --- |
| | |
| Technology |  Structured Light Technology |
| Price |  $ 19,990 |
| Dimension |  49 x 152 x 178 mm |
| Field of view |  13.2 x 12.1 – 15.0 x 13.0 mm |
| Point-to-point distance  |  0.0067- 0.0071 mm |
| Accuracy |  Up to 6 micron |
| Software |  Flexscan3D |
Polyga Compact C504 scans a part or functional prototype using Structured Light Technology. The scanner can deliver a maximum resolution of 0.0067 mm. Because of this, every scan produced by the machine is capable of creating high-quality models.
C504 offers a maximum accuracy of 0.006 mm. The scanner is equipped with two monochrome cameras of 5 megapixels.
Its dimensions are 18 cm * 15 cm * 15cm that enables users to scan objects of vivid sizes lesser than the mentioned one. The machine scans those objects with a scan speed of 250 milliseconds.
C504's field of view ranges from 13 mm * 12 mm to 15 mm * 13 mm. At an average of 5 million points scan the object that is placed in front of the scanner.
The machine has a point-to-point distance of 0.0007 mm and a standoff of 51 mm. Files scanned on the scanner can be exported in PLY, STL, OBJ, and ASC formats.
Price
Polyga Compact C504 is available for $19,990.
Setup
Being a plug-and-play scanner, users simply do not need to go through any sort of calibration or assembly.
All they need to do is, give the scanner enough power supply using which it's able to start and then check out the software.
At the most what's recommended for users who do not have any experience using 3D scanners, is that they can read the user's manual. Doing so would help gain their knowledge of key components and their function inside the scanner.
That's it! Apart from that, there is no particular thing that operators need to take care of. After placing an object, they are all good to go with C504.
Note that the rotation table is available optionally. Also, the scanner can be mounted on a robotic arm wherein it's also possible to add a texture option for obtaining color scans instead of monochrome.
Scan Type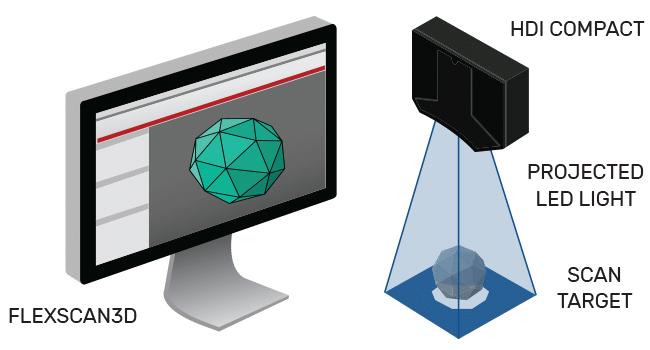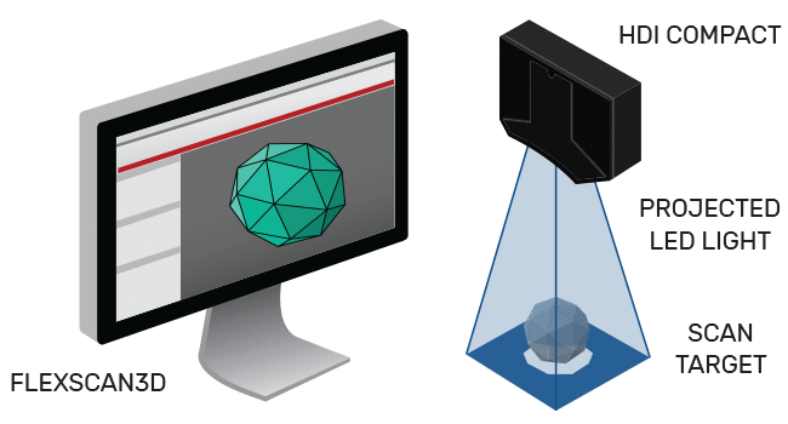 Credit: 3dprintingmedia
Polyga's 3D scanners use structured light technology for projecting light onto an object via Blue LED or DLP projector. Herein, objects are photographed with a high-resolution industrial CCD camera, and their shapes are collected as 3D data points by detecting the curvature of the pattern light.
This technology too, like laser scanning, is based on trigonometric triangulation. However, this one works by projecting light instead of lasers.
The light pattern is projected by a source typically an LCD projector. Generally, devices based on this technology are handheld or can be mounted on a tripod.
The benefit of structured light technology is that it can produce fast scans. A usual scan can be achieved in about two seconds. Also, the average scan area offering is quite large. However, in terms of accuracy and resolution-offering, both laser-based and light-based technologies are the same.
Scan Quality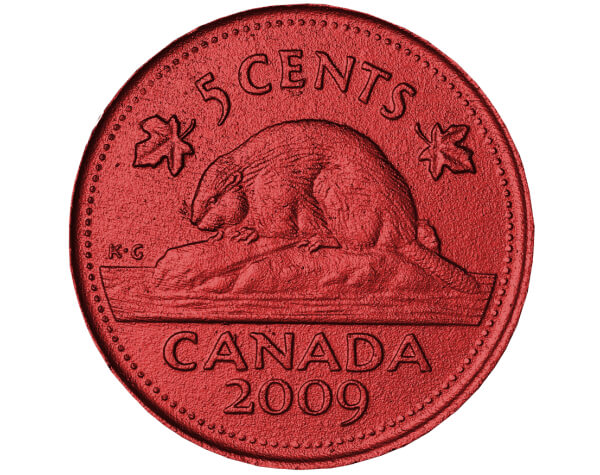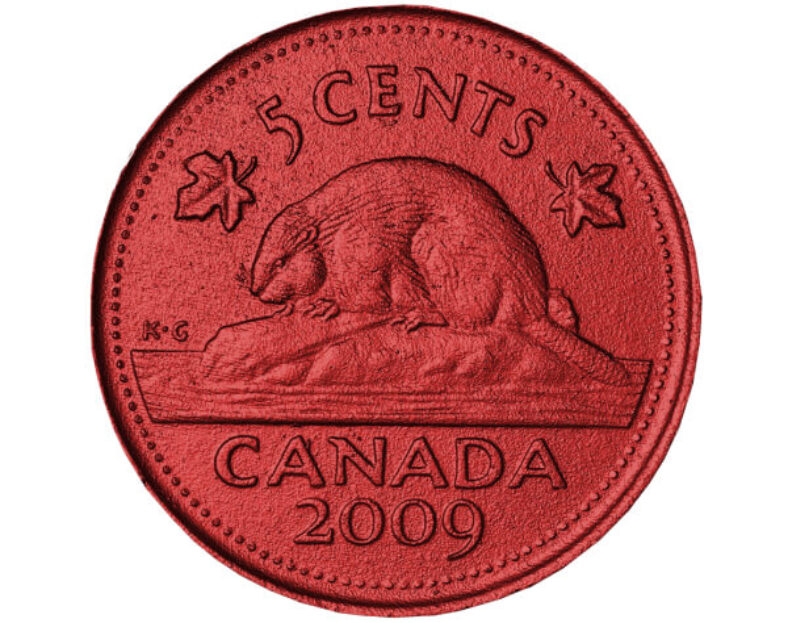 The scan tests of a sea shell and small metal bit are mentioned on the scanner manufacturer's website. The scan accuracy of 6 microns works on making the scans look very detailed.
The 5-megapixel monochrome cameras do excellent work of capturing the surface texture of an object. Also, the light projection works in perfect coordination to create a scan that can be used to create dimensionally accurate parts and functional prototypes.
Objects of varying geometries, whether small or large in area, can be scanned using C504.
Software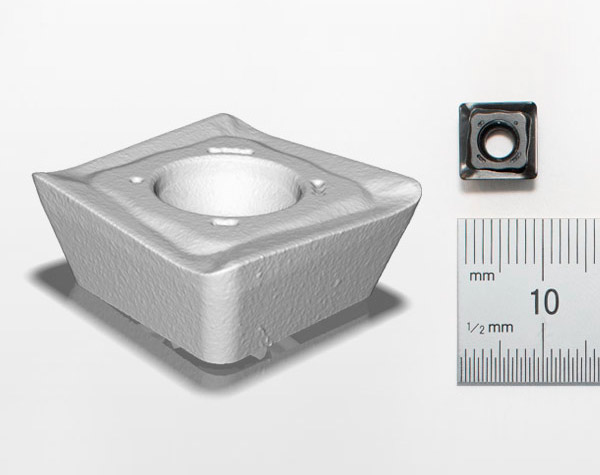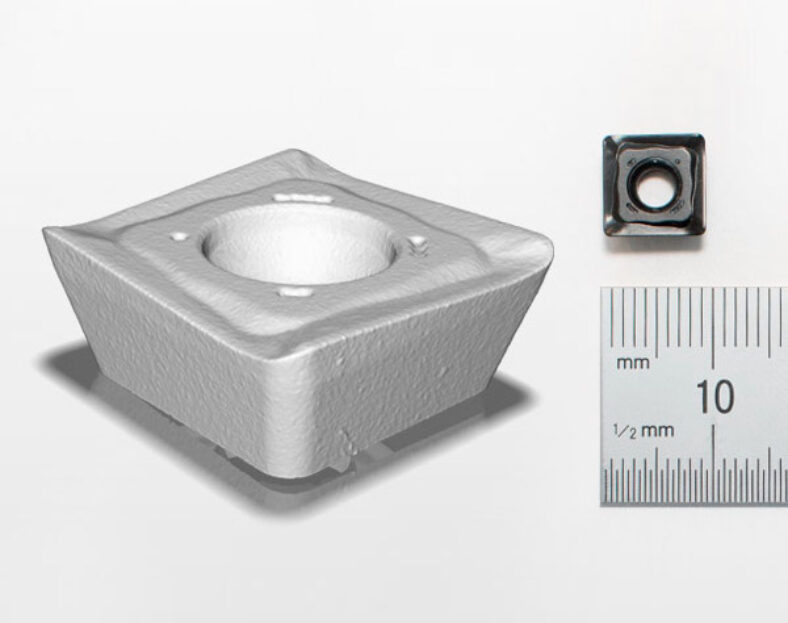 C504 uses FlexScan 3D for capturing and post-processing. The application does a good job of lessening the user's effort. Each type of operator will benefit from using the software. Irrespective of whether he or she has exposure to 3D scanning or not.
The software is designed in a way that its algorithms pre-empt the coming option which decreases the overall time utilized for fixing the scan setting.
Customer Support
The Quickstart guide, manual connection guide as well as the information on how to take the very first steps with the printer? Is mentioned on their website not just in terms of text but also as tutorial videos. Apart from this, users can contact the scanner's technical team via phone or call.
Parameters Influencing Buying Decision
Below mentioned are the key factors that are good to know before deciding upon C504.
3D Scanner Cost: The scanner manages to outdo most other machines marketed at around $14000. So when compared relatively, the machine's cost is reasonable.
3D Scanner Speed: This is where C504 steals the show. Being based on structured light technology, it scans a part or function in a speedy manner.
3D Scan Quality: Having stated so, the scanner never compromises on quality. A 6 microns accuracy is very high even for professional users present in the same price range as this one.
3D Scanner Capability: C504 is able to scan objects of varying geometries that find application in vivid field areas.
3D Scanner Practicality: The scanner can easily model even difficult models used in the field of Reverse engineering, computer and robotic vision scientific measurements and documentation, quality inspection, 3D modeling, and rapid prototyping or 3D printing.
3D Scanner User Expectations: Professional users in the above-mentioned field can enhance their overall experience with the scanner. Even intermediate high-end operators can better their skillset using C504.
The Verdict
C504 is a synonym of convenience and straightforwardness when it comes to talking about professional high-end 3D scanners. Its handheld has terrific scan accuracy and most importantly, is capable of scanning varying geometries with extraordinary scan speed.
The FlexScan 3D software makes the work very easy for all kinds of users i.e. professional or intermediate.
The two monochrome high megapixel cameras, as well as the option to work with a rotating table and the possibility to add texture option, serve too much on a platter for the cost it charges.
So, overall, the scanner provides value, comfort, and user-friendliness in return for a decent amount that professional scanners are normally known to charge.