Prodways ProMaker V10
Prodways ProMaker V10 3D printer is a really fascinating machine flaunting a huge array of advanced features. Hence, if your application involves such detail and high-quality parts made of composites, this printer would really suit your needs.
PROS
It creates very precise parts
Can work with viscous liquids for printing composite models
Company offers prompt support and technical training
Advanced features
Granite build platform
Inbuilt real time slicer
Product
Specification
Videos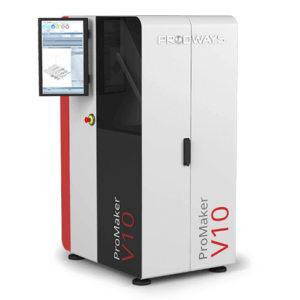 Compact in design and featuring an enlarged platform, ProMaker V10 offers incredible accuracy blended with productivity. Based on moving light ...
| | |
| --- | --- |
| Model | ProMaker V10 |
| Manufacturer | Prodways |
| Price Range | > $ 250000 |
| Country | France |
| Availability | Available |
| Classification | Industrial |
| Technology | Resin (SLA- DLP…) |
| Material | Ceramic, Liquid resin |
| OS compatibility | Microsoft Windows |
| Min. layer thickness | 0.01 mm 0 in |
| XY accuracy | 0.042 mm 0.002 in |
| Max. build size | 250 × 320 × 150 mm9.84 × 12.6 × 5.91 in |
| Max. build volume | 13.50 L |
| Dimensions | 855 x 1100 x 1780 mm33.7 x 43.3 x 70.1 in |
| Weight | 550 kg 1212.54 lb |
| Power input | 220 – 240 VAC, 12 A, 50/60 Hz |
| Heated print bed | No |
| Heated build chamber | No |
| Automatic calibration | No |
| Closed frame | Yes |
| Full color | No |
| LCD screen | Yes |
| Touchscreen | Yes |
| On-board camera | No |
| Mobile app | No |
| 3D scanners | No |
| CNC mill | No |
| Electronics 3D printing | No |
| Laser engraving | No |
| Conveyor belt | No |
| Air filter | No |
| Pellet extruder | No |
| USB | No |
| Wifi | No |
| Bluetooth | No |
| SD card | No |
| Ethernet | No |

Table of Contents
Industrial 3D printers are taking huge leaps of progress to benefit different industries through innovation and enabling ease of operation.
The high-quality parts possible to print using these machines are extraordinary to experience. Letting companies complete their products with high precision, without compromising on quality does sound like a dream.
Thankfully, it's not. And, one such machine taking users to the 4th industrial revolution is the Prodways ProMaker V10 3D printer. This 3D printer, as per the company's claim is the compact evolution of its previous release, the V6000 industrial ceramic 3D printer.
Offering a very consistent and unique solution for enabling printing using highly viscous materials, the printer makes it astonishing for the manufacturer to create composite parts without hassle.
Talking precisely, the machine is capable of printing 3D models with ceramic having a density of up to 99% through the sintering or debinding process.
The manufacturer, Prodways Group excels at designing industrial and professional 3D printers and has gained popularity as an integrated European player.
Offering a complete ecosystem for additive manufacturing, the group comes as the biggest competitor for others in the niche. From software to the wonderful machines to the best materials along with parts & services, the manufacturer has a lot up its sleeve.
Apart from a wide array of 3D printing systems along with premium composite, hybrid, and powder materials, Prodways also accept orders for parts on-demand and prototypes.
It is also engaged in the small production run for companies demanding 3D-printed items created in plastic as well as metal.
Features
As you may expect, the industrial printer targets a significant number of niches. From healthcare to automobiles to aeronautics, users from different areas could utilize the machine for the production of precise parts.
It is also imperative to know that the manufacturer has come up with its unique revolutionary and proprietary technology, MOVINGLight®. This process is from the DLP technology and is highly capable of producing parts using viscous liquid.
Because of this, the manufacturer has gained huge visibility across the industrial 3D printing niche. Also, it caters to many users from leading companies. All thanks to its advanced and highly capable feature list. Wish to take a peek?
Easy to Operate
Unlike those industrial 3D printers that are complex in operation and require someone highly skipped for their operation, ProMaker V10 is considerably simple to work with. Using most of the automated processes, the machine gives the user hands-on ease to start printing right away.
Highly Sturdy
Almost every industrial 3D Printer is sturdy and this one follows the same footpath. Made strong to enable consistent printing at higher speed, the printer is really fantastic to work with.
Compact Industrial 3D Printer
Different from most of the industrial 3D printers that occupy almost the entire room, this one is comparatively sleek. With extended height, the printer can sit in a smaller area than most other industrial 3D Printers. The company itself claims it to be a super compact version of V60000.
Granite Build Platform
To provide precision and accuracy at maximin possible limits, the manufacturer has come up with strong granite build platform. The granite plate combined with other features creates a great surface finish.
High Precision Light Source
Using a 405 nm Wavelength of DLP head, the printer enables highest level of accuracy for printing. Users can print with a maximum resolution of 42µm.
Interchangeable Cartridges
Easily swappable interchangeable cartridges help users change materials without any hassle. It comes with two cartridges with 1 or 10 liters of volume.
Wider Screen
Easy to change settings of the printer using its large screen display positioned in the side front of the printer. Easy to upload 3D models while being able to see check the results on the screen is very convenient while printing.
Compatible with Different Materials
To allow versatile results, the 3D Printer is made compatible to work with different materials. Using the composite pastes charged with ceramic, fiber, metals, nanoparticles, and more enable production for different applications. Hence, one machine could be used for a number of purposes.
Parts with Higher Ceramic Density
The 3D printer is one of its kind. With its innovative technology, the users can create parts with a higher ceramic density of over 99 percent.
Therefore, helping users convert ideas to ceramic parts with high content of the material. This certainly is a huge progress for additive manufacturing niche, enabling printing with high viscous materials.
Specifications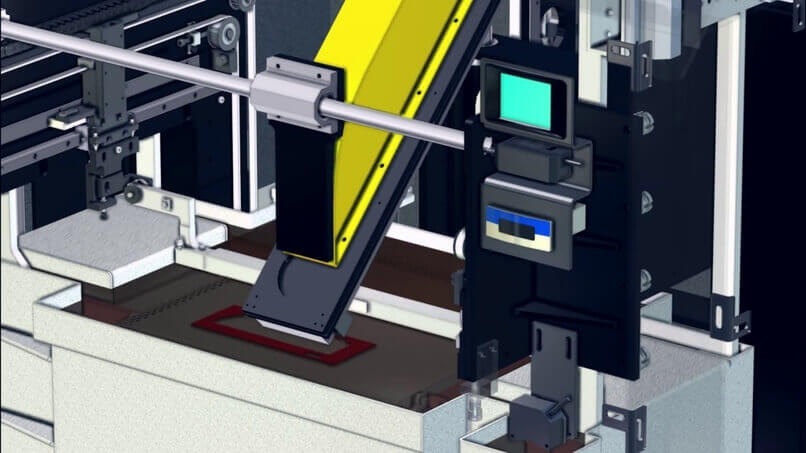 Let's start the details with the printer's size. And, being an industrial 3D Printer, it isn't as small as a desktop machine. Rather, it's 855 x 1100 x 1780 mm in size, covering a lot of air inside a room.
While still being easy on the foot, with smaller area coverage as compared to most of the alternatives available in the market.
The power requirement is 220 – 240 VAC, 12 A, 50/60 Hz, which pretty much was required for a standard industrial 3D Printer operation. With such a considerable large footprint, the machine weighs almost 550 kgs.
So, you can expect it to be difficult to move once placed. Hence, before you welcome this printer, make sure to specify its position in advance. It won't be very feasible to move the printer too often.
Instead of such a large volume, the printer has a build space of 280 x 320 x 150 mm. This certainly isn't too small, but yet not enough for larger prints.
Users can achieve a thickness later ranging between 10 – 150μm. The DLP head resolution is 1920 x 1080 pixels. It comes along with 2 cartridges space.
Overall, the entire build is very thoughtfully designed. With all the important aspects, to smallest of functionality has been included with precision. Enabling great quality parts with minimal user intervention.
So, once adapted, users can seamlessly create beautiful composite parts in one go. Isn't that a real game-changer? Well, we do think so and you guys certainly would resonate with that idea too.
Price
As it's the case with many other industrial 3D Printers, you must contact the manufacturer for the exact price tag. However, it won't come cheap and would cost hundreds of thousands of dollars.
So, if you are up for some serious projects and wish to take your company to the next level of innovation, do not shy away from requesting a quote from the manufacturer, Prodways.
First Impressions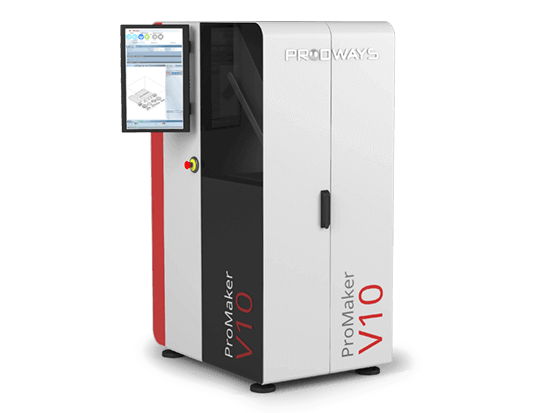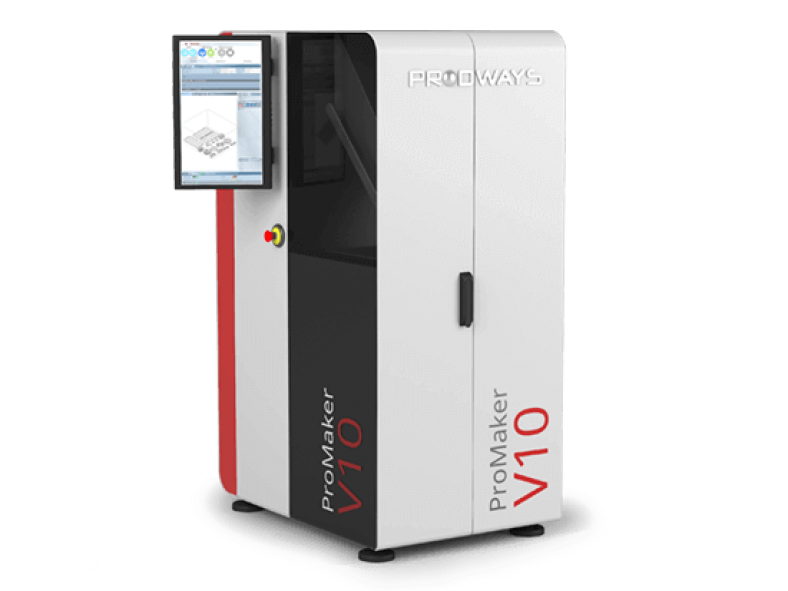 What could we say? This is no tiny FDM printer that sits snuggly on the work desk. However, it occupies enough space to be called huge.
Mostly because of the height of the printer, you may think of it as too bulky. However, looking at the area it covers, it still is compact when compared to the other 3D printers designed for industrial use.
Talking about its looks, it's a beautiful machine that would look great sitting in the corner in your office. The colorful 3D printer is very charming and sleek.
When you receive this machine, you get all the tools to get started right away. However, if you aren't sure how to set up the printer, the manufacturer is there to help.
Setup
This is where you may expect to have a little bit more knowledge than you need to run a desktop 3D printer. Although pretty simple to operate compared to the other bigger machines, it does come with its own set of skill requirements.
But the good news is that the setup could be turned into a piece of cake by utilizing the company's training module. For new beginners, the manufacture has designed training modules for the users.
You can choose the standard operations module or the advanced operations module. Depending on your needs, you can learn to operate the printer from the experts.
Apart from that, Prodways also has the support for field engineers. In case you want someone to come to your production unit and setup the printer for the first time, you can opt for that too.
In addition, the company has multi-lingual professionals, all across the globe for enabling hassle-free maintenance from time to time.
Plus, you have all sorts of manuals and online help to set up your printer, if you have some previous experience of working with industrial 3D printers.
Printing Type/Cost
As mentioned above, the 3D printer is based on the MOVINGLight® DLP® technology. This is a patented technology by Prodways.
It is similar to a photopolymerization process and helps in producing prototypes including functional parts. That too with high resolution, even when the printer is working at a very high speed.
Using the concept of polymerization, the UV rays hardens the photosensitive resins using printer's moving DLP® (Digital Light Processing) head. One layer at a time. And, as the layer hardens, the build platform moves to complete the next layer.
If we talk about the cost of production of parts, the range will vary for different designs. This is because the complete cost of printing each model depends on a variety of factors.
For instance, the material chosen, the layer height, resolution, infill, and a lot more. Plus, electricity consumption and other indirect costs also come into play.
Print Quality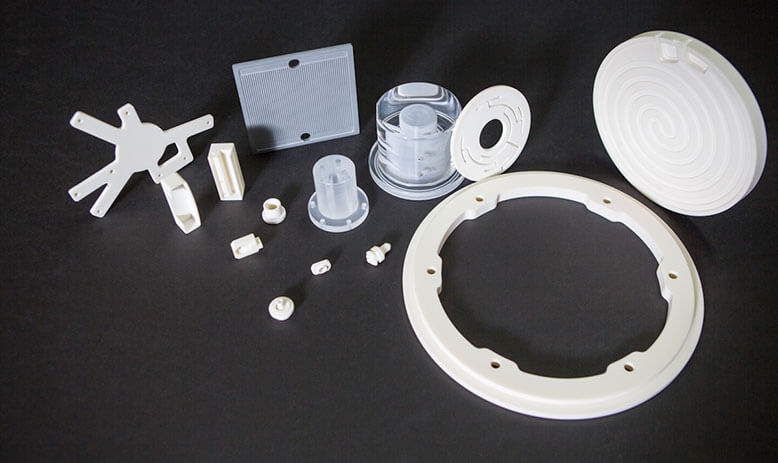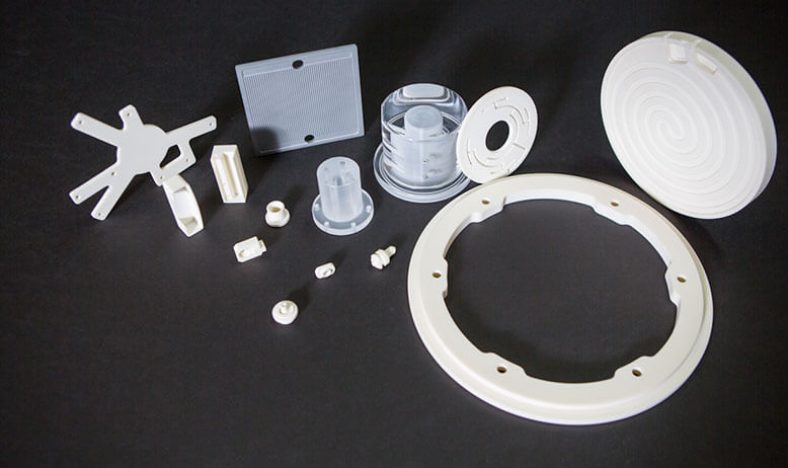 Credit: etdceramics.com
Do we need to stress about the fact that the printer could create very high-quality parts? The layer height achievable between 10 and 150 μm along with its native resolution possibility of 42 µm, it is no brainer to understand that the precision is exemplary.
It is not just another 3D printer, not able to provide expected results. However, one that can allow for even better print results than expected.
Software
The printer comes with its in-machine real-time slicer. Hence, the users do not have to worry about putting extra effort to create GCode from the STL files or 3D CAD file formats. The application is very intuitive and does almost every task with precision. Hence, allowing the users to work less and achieve more.
Customer Service
It is really interesting to note that the company is one of the most popular manufacturers offering excellent support to the users. From field engineers to hotline support, Prodways extends its help to users from around the world.
If you choose to purchase this printer, you will be given all the support you need to complete your production with highest level of expectations. Manuals and videos are also available with the company. So, you can turn up to their database for finding quick help whenever required.
Parameter Influencing Buying Decision
Why not have a quick review of the complete Prodways ProMaker V10 3D printer review before making the final decision.
3D Printer cost: You must connect with the manufacturer directly for the price. However, you can expect it to be expensive.
3D Print quality: Exceptional. Users can work with layer height between 10 to 150 μm, producing very amazing designs without hassle.
3D Print speed: It can run at a higher speed, still maintaining accuracy at its best.
3D Printer capability: Can print precise parts with great details.
3D Printer Practicality: Designed for industrial use. It has a variety of applications within different niches. Users from sectors such as aerospace, jewelry design, healthcare, etc can make great use of this machine for their high-end production projects, requiring great detailing.
3D Printer User expectations: Once again, it won't be flattery to state that the printer excels at every expectation.
The Verdict
Prodways ProMaker V10 3D printer is a really fascinating machine flaunting a huge array of advanced features. Working on its patented Moving Light DLP technology, the printer can create highly detailed parts using a viscous liquid. Hence, if your application involves such detail and high-quality parts made of composites, this printer would really suit your needs.