Renishaw RenAM 500Q
RenAM 500Q is a professional-grade metal 3D printer consisting of many complex mechanisms put in place to deliver extraordinary object quality.
PROS
Integrated process software control.
Controlled powder management.
High precision dynamic optical control.
Intelligent gas flow system.
CONS
Operating RenAM 500Q demands a lot of expertise related to Direct metal Laser sintering 3D printing technology.
Table of Contents
Product
Specification
Videos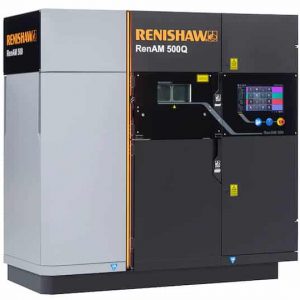 RenAM 500Q is a powder bed 3D printing system by Renishaw. It's a multi-laser AM system featuring four high-power 500 W lasers. Each of these laser ...
| | |
| --- | --- |
| Model | RenAM 500Q |
| Manufacturer | Renishaw |
| Price Range | > $ 250000 |
| Release date | 2020 |
| Country | United Kingdom |
| Availability | Available |
| Classification | Industrial |
| Technology | Powder (SLS- SLM…) |
| Material | Metal |
| Generic material | Yes |
| Max. build size | 245 × 245 × 335 mm 9.65 × 9.65 × 13.19 in |
| Max. build volume | 20.11 L |
| Min. layer thickness | 0.02 |
| Dimensions | 1236 × 2165 × 2130 mm 48.66 × 85.24 × 83.86 in |
| Weight | 2040 kg 4497.43 lb |
| Heated print bed | Yes |
| Heated build chamber | Yes |
| Automatic calibration | Yes |
| Closed frame | Yes |
| Dual extruder | No |
| Independent Dual Extruder | No |
| Full color | No |
| LCD screen | Yes |
| Touchscreen | Yes |
| On-board camera | Yes |
| Mobile app | No |
| 3D scanners | No |
| CNC mill | No |
| Electronics 3D printing | No |
| Laser engraving | No |
| Conveyor belt | No |
| Air filter | Yes |
| Pellet extruder | No |
| USB | No |
| Wifi | No |
| Bluetooth | No |
| SD card | No |
| Ethernet | No |

Equipped with four high-power lasers of 500 Watts each, RenAM 500Q offers a build volume of 245 mm * 245 mm * 335 mm. Each laser can access the complete powder bed surface at the same time, thereby delivering significantly higher build rates. Moreover, such a mechanism leads to improved productivity and low cost per part.
The printer hosts an automated powder and waste handling system which enables uniform quality, reduces user intervention, and guarantees high merits of system safety.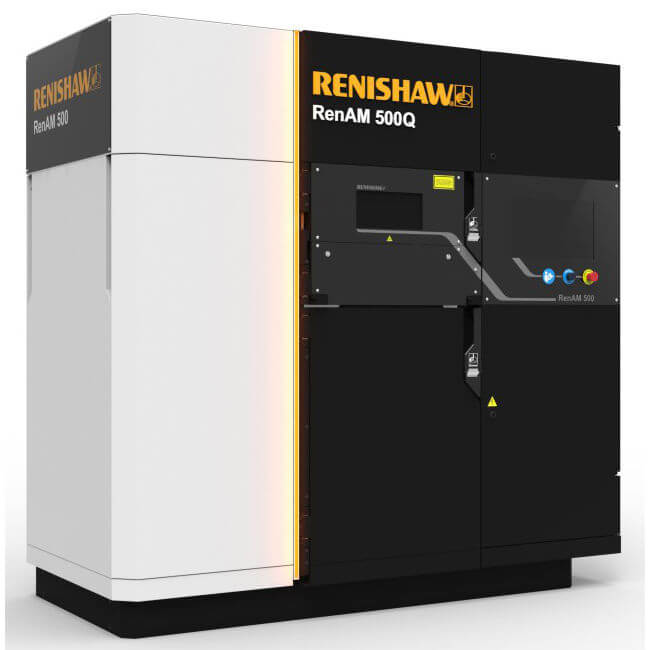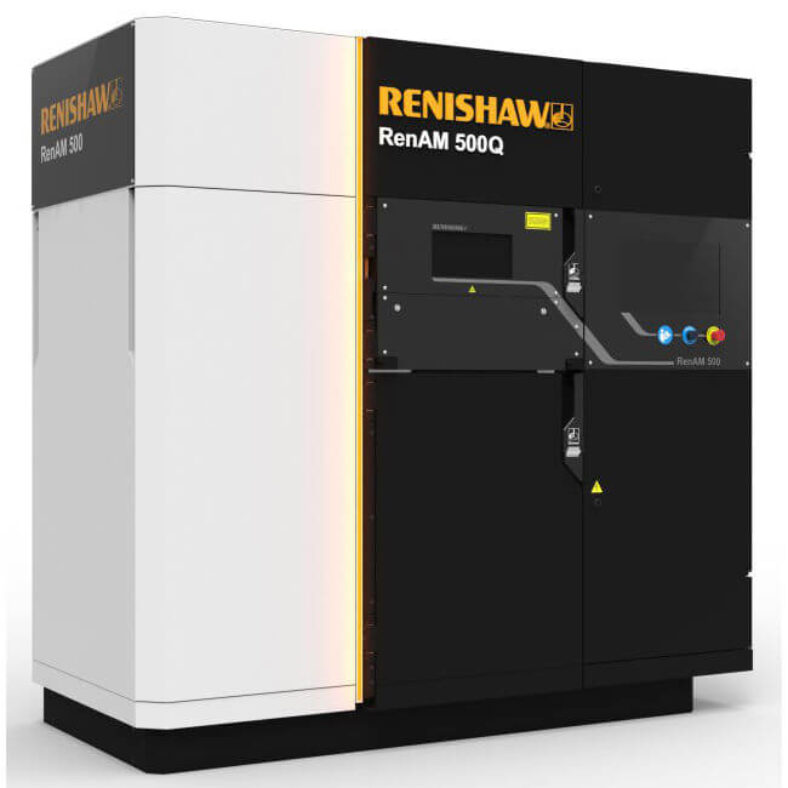 Additionally, RemAM 500Q is equipped with a specially developed optical system – a result of three years of collaborative work by Renishaw's control, software, and engineering departments.
The multi-laser AM system is designed in a manner that each of its components undergoes conformal cooling. So, let's review RenAM 500Q in detail and find out if the printer suits your specific manufacturing needs.
Features
With its powerful lasers in operation, the printing system is capable of achieving a deposition rate of up to 150 cubic centimeters per hour.
Typically, after completing a 19-hour job, the quad laser is able to create parts twice the size of that produced by a two lasers system and thrice the size of a single laser machine. Below mentioned are exciting features of RenAM 500Q.
Compatible with Open Materials
Similar to Renishaw's other 3D printing systems, RenAM 500Q contains an integrated powder sieving and circulation system.
The printer features an open material platform that allows users to print with a range of readily available metal powder alloys with a melting temperature ranging from 750 to 2000 degrees Celsius.
The printer manufacturer is working consistently to upgrade the feedback loop inside the printing system. The feedback loop's function is to ensure that all the four lasers can operate within the same point of the print bed continually.
Also, in the future, Renishaw plans to add high-temperature features to RenAM 500Q. This will make the system capable of working with superalloys suiting to 495 degrees Celsius temperature.
Build Chamber Camera
A camera inside the build chamber lets users keep an eye on the print progress. The images taken from the camera can be downloaded from the printer and can be sequentially viewed via the software.
They can also be imported into InfiniAM Spectral and then viewed in coordination with other process sensor data, either as a 2D image or 3D render.
InfiniAM Spectral is the software that works with Renishaw's LaserVIEW, MeltView, and SonicVIEW hardware to offer unprecedented results. It provides feedback on factors such as laser energy input, optical and acoustic emissions.
Intelligent Dual SafeChange Filter System
RemAM 500Q features a dual patented SafeChange filter system for capturing the tiniest possible emissions in an inert Argon gas atmosphere. Two new filters, pre-conditioned in the Argon gas flow are present at the start of the build. They help in preparing the build process.
Moreover, during the building process, a sensor monitors the differential pressure between two points. Hence, ensuring automatic diversion of the Argon gas flow to the clean filter at the correct time. The used filter gets replaced and automatically prepared without interrupting the build process.
Integrated Sieving and Powder Recirculation
A built-in sieve and powder recirculation system guarantees the automation of powder handling under a safe Argon gas atmosphere.
While the unused powder passes through the on-board sieve, the oversized particles are collected and removed from the machine by a metal flask.
Sieve meshes, compatible with different materials are available to ensure flexibility during the entire process. Also, options are available for external powder handling.
Intelligent Gas Flow System
RemAM 500Q is equipped with a patented vacuum build preparation system for rapidly reducing the oxygen level before re-pressurizing the complete system via inert processing gas.
A robust process chamber prevents the process gas pressure loss thereby leading to different low process gas consumption.
Such an economic use of process gas assists in maintaining uniform processing conditions and reduces waste as well as the cost of ownership.
Intercooler
The heat management system of RenAM 500Q is given utmost importance because of the availability of up to 2 Kilowatts of laser powder. In such a scenario, the intercooler not only reduces but also stabilizes the temperature of the Argon gas stream by cooling the recalculating gas.
A precise thermal control contributes to a stable atmosphere as well as uniform processing conditions leading to better and more consistent metallurgy.
High-performance Laser Guiding Technology
To deliver accuracy, different departments of Renishaw have spent years developing products such as the REVO five-axis measurement system to coordinate with measuring machines.
A vital component in RenAM 500Q is its new and innovative multi-laser optical system designed, developed, and manufactured in-house.
Moreover, each ytterbium fiber laser enters the optical system and is guided by a pair of mirrors driven by precise galvanometers that rotate for steering the laser beam across the build plate.
An optical system focuses the laser dynamically and continually to adjust its focal length for maintaining a consistent spot size while changing beam angles.
High Precision Z-axis
A Renishaw RESOLUTE optical encoder with a nanometer resolution is part of the printer's Z-axis for high-accuracy positional sensing.
It maintains a precise relationship between the optical system and the working plane which is important as the printer indexes through each layer.
Cyclone Pre-Filter Separator
The use of multiple lasers in RenAM 500Q increases the rate at which process emissions are generated.
To remove process emissions safely and efficiently, the printing system features a high-volume intelligent gas flow control.
A pre-filter cyclone separator captures larger process emissions from the gas stream to permit high volumes of gas at high velocity.
Not only does this extend the life of filters, but also allows the surplus powder to be recovered. Whereas, the large size particles are collected directly from the cyclone in a separate flask which can be re-processed and classified for re-use when required.
Smart Manufacturing with Industry 4.0 Technologies
Renishaw's additive manufacturing systems feature a digital workflow from inventory and part design to traceable high-quality functional components.
The task of embedding additive manufacturing into smart factories needs an integrated data-driven approach connecting manufacturing systems and processes with each other for delivering exceptional value.
QuantAM Build Preparation Software
QuantAM is a peculiar file preparation software tool for RenAM 500Q as well as other systems offered by Renishaw. It accepts CAD exports with an intuitive workflow in the form of STL data and permits users to prepare their models for 3D printing.
The software is typically designed for Renishaw's systems, permitting tighter integration into the machine. It has the ability to accurately and speedily review all build files for the manufacturer's printing systems.
Also, the application includes files imported from third-party software packages. So, it can be used as a tool for guiding user's DFAM process.
Kinematic Recoater with Flexible Blade
To reduce operator error and improve turn-around time, a kinematic recoater is put into place by Renishaw. It is fitted with the company's flexible recoater blade that can be removed without any special tools.
Also, to maintain a precise relationship between the working plane and the optical system, the recoater can be refitted. A flexible blade provides an excellent compromise, allowing solid as well as lattice geometries to be built in a proper manner.
Specifications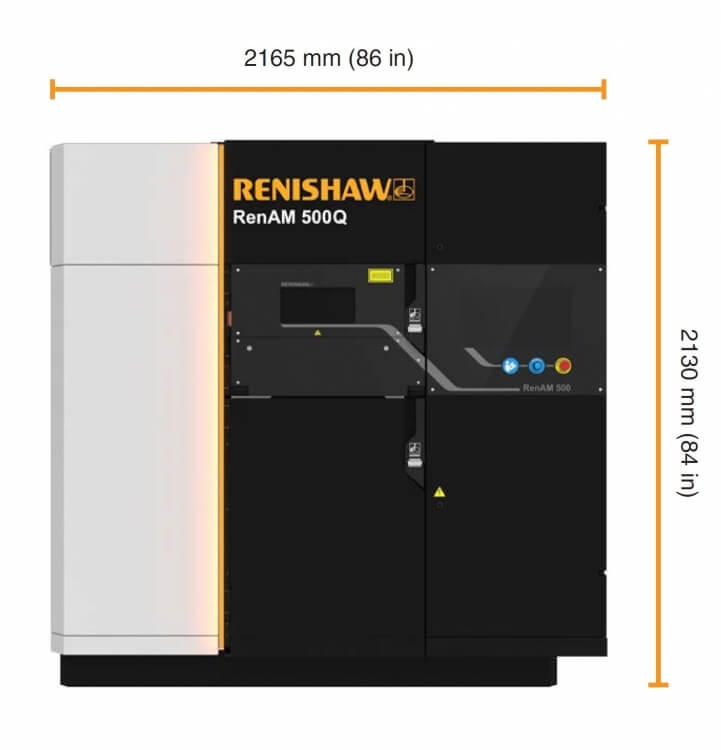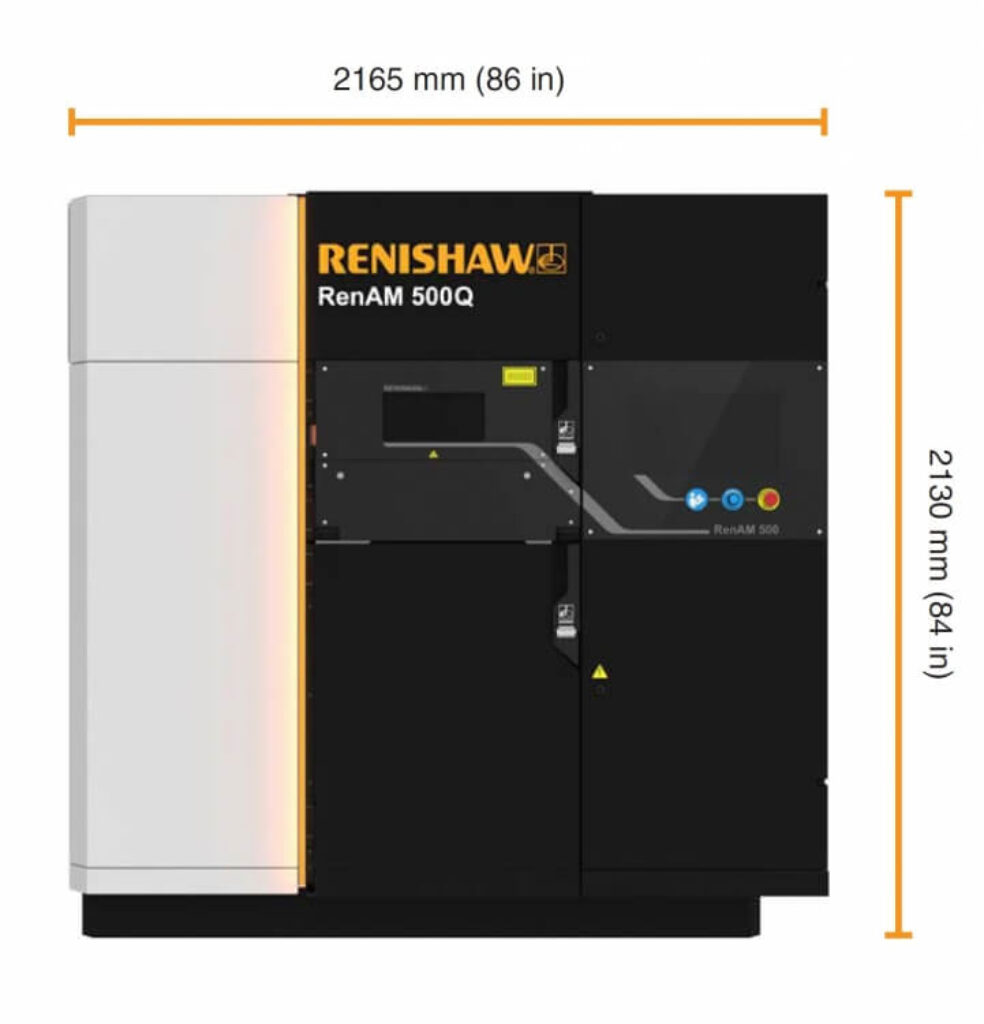 Credit: tech-labs.com
RenAM 500Q offers a build volume of 250 mm * 250 mm * 350 mm. It prints metal parts and functional prototypes using Direct Metal Laser Sintering technology.
Objects printed using this printing system have a layer thickness of 75 micrometers and are built at a print speed of 150 cubic centimeters per hour. This quad laser printing system is a plug-and-play type.
Price
Please request a quote from the manufacturer to get the price for Renishaw RenAM 500Q's.
First Impression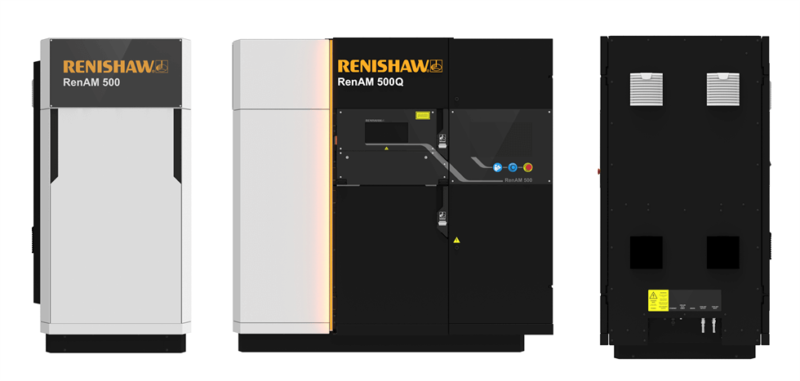 RenAM 500Q is a bulky 3D printer with 2165 mm width and 2130 mm height. Therefore, it is heavy and occupies a lot of space. Hence, if you are buying the device, make sure you finalize a dedicated space to accommodate the printer beforehand. It won't be easy to move the machine later.
Setup
RenAM 500Q is a plug-and-play 3D printer. Therefore, users can get straight away by feeding the 3D file after connecting the machine to the power supply. Once, you are done uploading the file, you can start 3D printing.
Print Type/Cost
RenAM 500Q prints metal parts and functional prototypes with DMLS 3D printing technology. The printing method is similar to that of SLM, with a little difference. Instead of melting the powder, DMLS technology works by sintering the powders together.
The resultant parts carry higher porosity. Also, you can print with various alloys made from different materials. The method allows printing even with combinations of metal and plastic, for example, nylon powder + aluminum powder.
The cost of 3D printing a part using DMLS 3D printing depends on various parameters like part geometry, the type of metal alloy used and its cost, the number of laser sources, etc.
Print Quality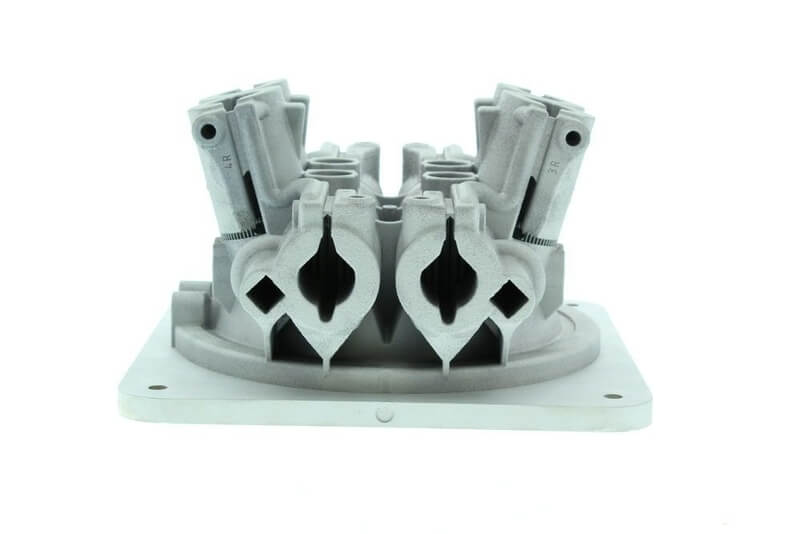 Credit: vogel.de
The intelligent gas flow design, and precise optical along with mechanical control in RenAM 500Q enable printing with minimal pores and defects. They are typically 99.9 percent dense.
The process emissions from melt pools are quickly removed from the build chamber. Thereby, ensuring stable processing conditions and melting behavior. Added to that, real-time process monitoring capability offers traceability of processing performance.
Additionally, the inert environment plays a huge part. Low levels of oxygen and moisture present inside the build chamber of RenAM 500Q contribute to making components with fewer chemical impurities, benefitting the ductility of the material.
Software
There are different software compatible with Renishaw 500Q's printing system. They are:
InfiniAM Central and Spectral for process monitoring and planning software.
QuantAM software for build preparation.
QuantAM Dental software for build preparation of healthcare-related parts.
Customer Support
Renishaw has 79 offices in 37 countries, offering global distribution of its products. And, provides dedicated global customer support. The technical team of Renishaw provides:
Assistance and repairs.
Technical support library.
Agreements and upgrades.
Software.
Training.
They can be reached out via call or email.
Parameters Influencing Buying Decision
Below mentioned are the chief factors concerning RenAM 500Q in brief.
3D Printer Cost: Being an industrial metal 3D printer, the machine falls on a higher price end. You can expect it to cost hundreds of thousands of dollars.
3D Print Speed: Faster than that of double source laser metal 3D printers.
3D Print Quality: Extraordinary. You can create parts with high precision and accuracy. Also, these parts are denser, offering higher porosity.
3D Printer Capability: RenAM 500Q is an industrial-grade 3D printer, compatible with third-party materials. It can create isotropic parts with high precision. Ensuring high-end applications of the printed parts.
3D Printer Practicality: This quad laser printing system delivers high-quality metal parts in a decent print time. It is paired with a software system that enables minute monitoring and management. Hence, offering large-scale industries an efficient manufacturing solution.
3D Printer User Expectations: Apart from its expensive price tag and heavy footprint, every feature seems perfect.
The Verdict
RenAM 500Q is a professional-grade metal 3D printer consisting of many complex mechanisms put in place to deliver extraordinary object quality.
Based on Direct Metal Laser Sintering technique, the printing system uses Argon gas for creating an inert atmosphere. Also, it is compatible with metal powders of various types. Four high-power laser sources do the work of curing the laid layers resulting in excellent print speeds.
Therefore, making the printer the best choice for industries looking for faster production with higher efficiency.