Sciaky EBAM 300
Sciaky's EBAM system makes use of a fully articulated, movable electron beam wire feed welding gun. No other part of any other 3D printer deposits metal layers on a substrate plate as this gun does.
PROS
The highest build volume offered at the lowest possible time.
Best quality prints
CONS
The cost can be a major factor in not purchasing this printer.
Product
Specification
Videos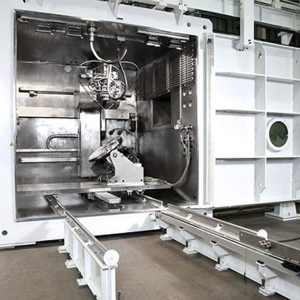 Talk about the large format metal 3D printer, and Sciaky EBAM 300 would top the list with the capacity to print models 19 feet in length. Aiming at ...
| | |
| --- | --- |
| Model | EBAM 300 Series |
| Manufacturer | Sciaky |
| Price Range | > $ 250000 |
| Release date | 2016 |
| Country | United States |
| Availability | Available |
| Classification | Industrial |
| Technology | Directed Energy Deposition |
| Material | Metal |
| OS compatibility | Microsoft Windows |
| Max. build size | 5791 × 1219 × 1219 mm 227.99 × 47.99 × 47.99 in |
| Max. build volume | 8605.20 L |
| Dimensions | 7620 × 2743 × 3353 mm 300 × 107.99 × 132.01 in |
| Heated print bed | No |
| Heated build chamber | No |
| Automatic calibration | No |
| Closed frame | Yes |
| Dual extruder | No |
| Independent Dual Extruder | No |
| Full color | No |
| LCD screen | No |
| Touchscreen | No |
| On-board camera | No |
| Mobile app | No |
| 3D scanners | No |
| CNC mill | No |
| Electronics 3D printing | No |
| Laser engraving | No |
| Conveyor belt | No |
| Air filter | No |
| Pellet extruder | No |
| USB | No |
| Wifi | No |
| Bluetooth | No |
| SD card | No |
| Ethernet | Yes |

Table of Contents
Sciaky's Electron Beam Additive Manufacturing (EBAM) 300 is the largest metal Additive Manufacturing 3D printer system that is available. This printer takes advantage of the large format printing capability that this system EBAM is known for.
It makes large metal structures made of high-value metals. The printer size of the 300 models allows an exceptionally large work envelope for any EBAM application or EB welding project.
Understanding the mechanism of this printer is interesting, in the Sciaky EBAM industrial 3D printers the 3D printing technology called Electron Beam Additive Manufacturing (EBAM) is used for manufacturing parts and functional prototypes.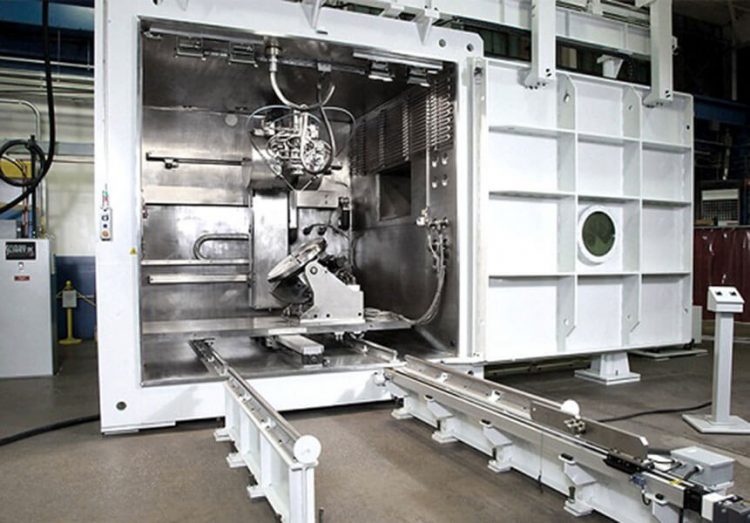 Here the printer uses an electron beam gun that deposits metal using wire feedback via layer by layer. This process is repeated until the part reaches near-net shape and is ready for finish machining.
Not only is such a 3D printing technology is capable of very large build volumes, but also it has a fast deposition rate ranging from 7 to 20 lbs of metal per hour.
Below mentioned are the features that are found in this printer, which are worth acknowledging before you buy the printer.
Features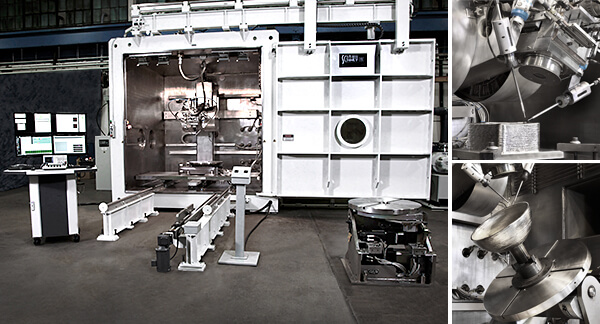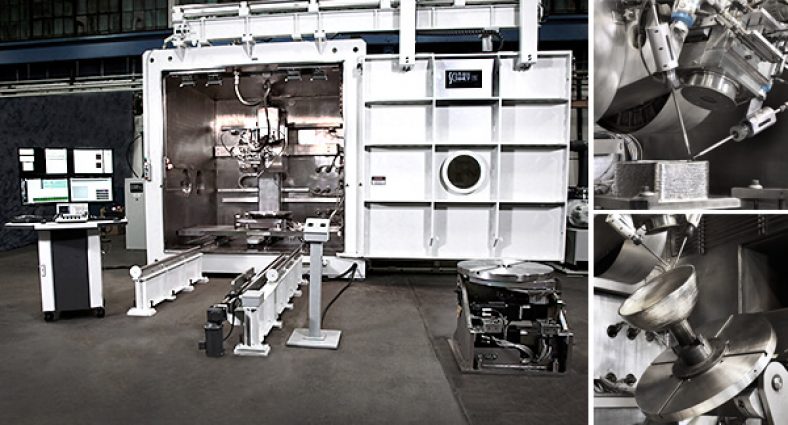 Credit: sciaky.com
The groundbreaking EBAM technology of Sciaky has been a key driver of several high profile research and development (R&D) projects.
The list includes the Department of Defense (DoD), U.S. Air Force, Lockheed Martin, and Boeing. Because of such use of this printer, it has been called a game-changer by many experts.
And the fact that its usefulness is not just limited to one or two industries or one or two metal, is widely acknowledged and celebrated in the complete 3D printing market. Let's look at some of the most amazing features of one such printer.
World's fastest and largest build volume generator 3D Printer
Industrial printers are generally used for mass production of parts and prototypes. With the growth of 3D printing technology, it is being used in sectors like aerospace, dentistry, medical, jewelry, etc.
All of these sectors are some way or the other connected to urgency. In such an urgent scenario if you have a printer that is guaranteed the world's fastest 3D printer, what else do you need?
Sciaky EBAM 300 has a print speed range of 7 to 25 lbs i.e. 3.18 to 11.14 metal per hour. Depending on the part or functional prototype that you wish to produce, the print speed is adjustable.
This 3D printer was launched in 2009 to save the manufacturer's time and hence money. High-value metals such as titanium and tantalum can also be manufactured by this printer.
Works like manufacturing titanium's 19 foot long part, which can take months if made by general forgings, can be manufactured using Sciaky EBAM 300 within two days.
Sciaky EBM 300 is the only printer in the market that offers production of a metal structure that is more than 10 feet in length. It is specially designed to deal with high-value metals such as titanium, tantalum, Inconel, niobium, and other alloys.
Reduces Material Cost
Often while working with industrial printers, the main cost that you have to put into consideration is the material cost. Because you are constantly producing without stopping.
Raw materials that are used in electron beam technology are often expensive metals because they are noble. So they do not fall in the regular price range.
Sciaky EBAM 300 guarantees to reduce your material cost by 80 percent. This simply means that the amount of material that would be consumed by printers other that Sciaky would be 80 percent more than this one.
Imagine in the case of production of jewelry or other aerospace defense materials, wherein the cost of raw metal is all you have to handle!
Sciaky is specially designed with its inner mechanism to handle all of this and reduce material cost. This in turn also means that the printer will work on lower operating costs than other printers.
IRISS Closed-Loop Control Technology
The technology is a patented suite of sensors, software logic, and CNC controls. IRISS monitors key metal deposition parameters to make real-time adjustments to the deposition inputs.
Information collected from the process is then quantified and digested by the company's IRISS software algorithms.
Outputs of this information from the software will change deposition parameters such as Electron Beam power, wire feed rate, and CNC motion profiles.
Adjustments into these parameters would in turn lead to saving of dozens of times per second and a guarantee that every ounce or gram of metal deposited experiences the same transition from wire to liquid, to solid.
Doing this is necessary because based on this you can ensure consistent and reliable geometries, mechanical properties, microstructure construction, and metal chemistry for medium to mega-scale additive manufacturing parts and functional prototypes.
The innovative IRISS process control virtually eliminates inaccuracies from the first to the last layer. The nature of this technology is self-adjusting.
Because of this, it maintains key process characteristics throughout the manufacturing cycle. All the parts that will be manufactured using this technology will result in high-quality parts.
IRISS is an iterative control technology that results not only in designs with greater complexity, good performance but also cost reductions When compared to passive, open-loop monitoring systems offered by others in the AM industry, IRISS's accuracy is unmatchable.
Specifications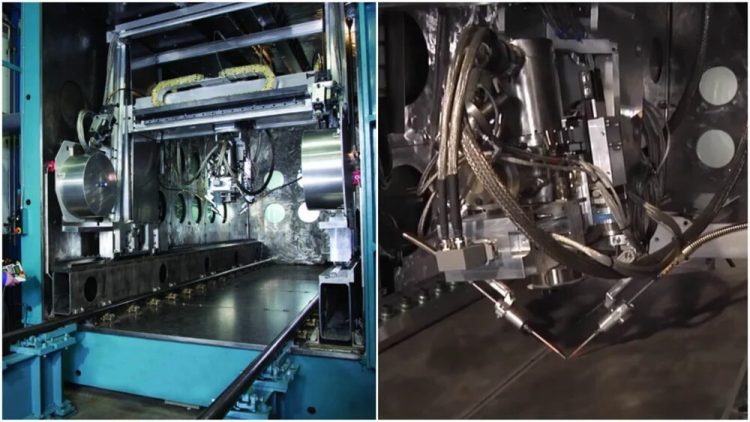 Credit: all3dp.com
The printer offers a build volume of 19 foot * 4 foot * 4 foot, which is the largest offered by any metal 3D printer in the market. Apart from offering the largest build volume, Sciaky also offers the fastest speed offered by any industrial printer.
It has a deposition rate range from 7 to 20 lbs per hour. The company claims to have produced a 10-foot long titanium structure in 48 hours which was at the rate of 15 lbs per hour.
Price
You need to call the manufacturer to get a quote from Sciaky EBAM 300. Although to get an approximation we would like to inform you that this printer is on the list with printers ranging from $1.5 billion and so on.
First Impressions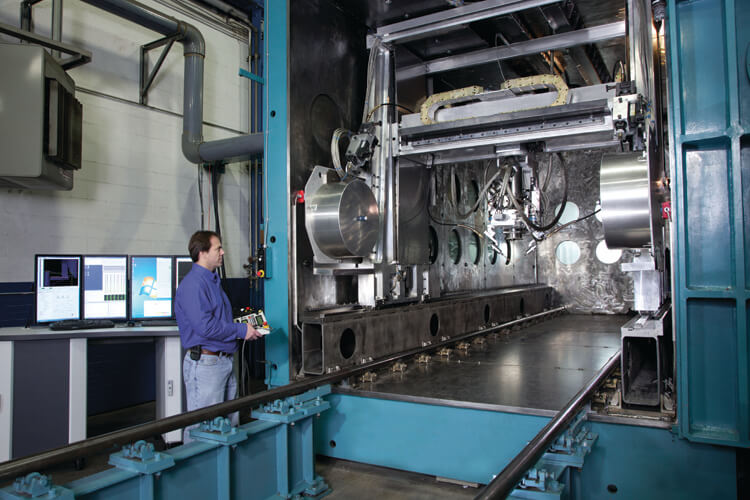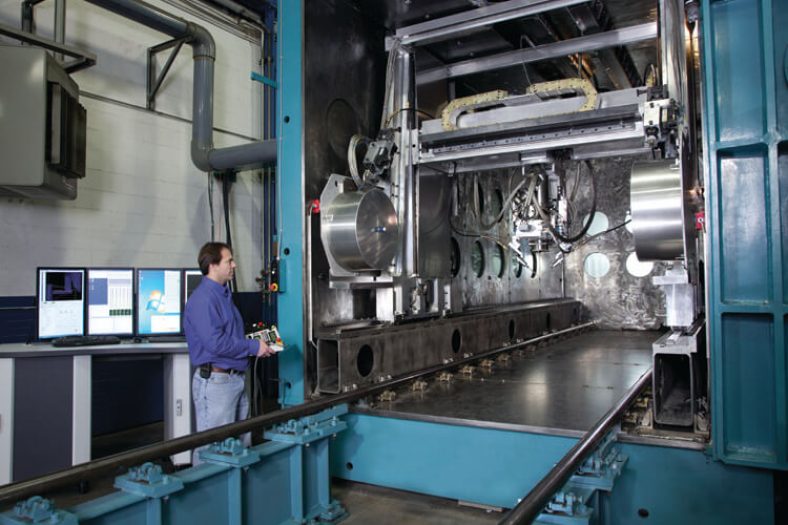 Credit: sciaky.com
For all those who have seen huge manufacturing Lathe's which are open, Sciaky would look just like one of those machines. Its print bed is huge which is easy to guess from the build volume's length it offers.
And the breadth and width are lower than the length so are the Y and Z axis compared to X. It is to be operated with a supercomputer that should be placed beside the workstation.
Sciaky's EBAM system consists of a fully articulated, wire-feed, there is a moving electron beam welding gun that deposits metal layers on a substrate plate.
Setup
The printer comes completely assembled. All you need to have at your workstation is a huge space to place the printer and make sure that the accessories and concerned materials are handy.
Printing Type/Cost
As soon as the 3D model from a CAD program is subjected to this printer, Sciaky's electron beam gun deposits metal. This it does via wire feedstock, one layer after the other.
The process is continued until the part reaches near-net shape and is ready for finish machining. Then the next stage work is done by Sciaky's IRISS i.e. Interlayer Real-time Imaging & Sensing System which is a patented Closed-Loop Control.
This technology provides consistent part geometry, with mechanical properties even in microstructure it provides metal chemistry and more from the first part to the last part in the mass production.
Gross deposition rates of this printer range from 3.18 to 11.34 kg of metal per hour. The rate depends on the selected material and part or functional prototype's features.
For producing large, high-quality metal parts, it is a known fact that no other metal additive manufacturing process works faster in a cost-effective way than EBAM.
Although the printing cost of this technology is also the highest. But for those who are looking for quality work, the cost is justified.
Print Quality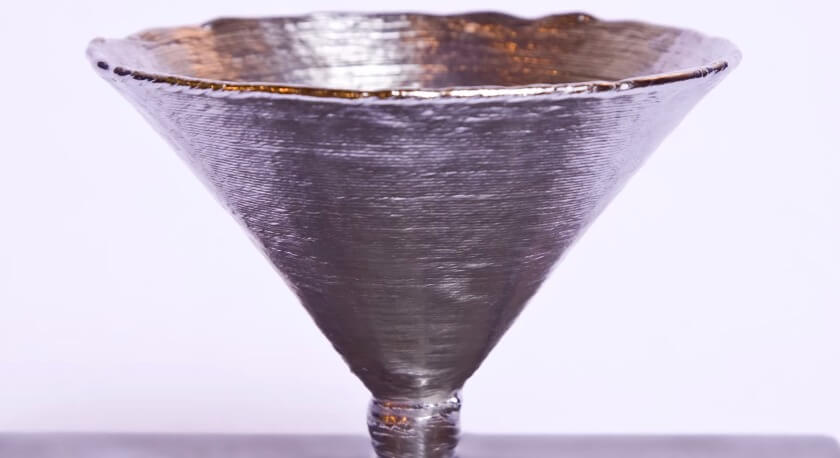 Credit: metalworkingworldmagazine.com
With an EBAM dual wire feed system as the printer has you can combine two different metal alloys into a single melt pool. This would then be managed with independent program control.
You will be able to create "custom alloy" parts or ingots. Users would also have the option to change the mixture ratio of the two materials that they are creating an alloy of.
Although this would depend upon the features of the part or functional prototype that you are looking to build for creating "graded" parts or structures.
In addition to this, you can alter between different wire gauges not only for finer deposition features but also for gross deposition features.
It might be rare to find features that are available with a single wire feed process of the EBAM technique, but the features available with dual wire feed processes are not possible to find with any other metal additive manufacturing process in the market.
EBAM 300 is used not only to create, but also to improve, and repair.
The 3D printer uses next-generation end-use technology for building parts of various industries such as the aerospace, defense, energy, metals industry, and many others.
This printer is a full-scale means of production for corporations and institutions that need a system that can do more than build flimsy prototypes and headline-grabbing objects without real function.
It is meant to produce functional prototypes that can be professionally used and the proof of this is its use by the military and Tier 1 contractors, including DARPA, the US Air Force, Lockheed, Boeing, and many others.
Customer Service
As per the claims made by the manufacturer on its website, customers of their 3D printers choose to develop procedures, prototypes, and first-offs at their Chicago facility.
At this place, they work together for transitioning the technology to their own company and facility, doing which includes many things.
Getting knowledge about the engineering-related EBAM methods of CAD model design.
Getting knowledge about the CAD/CAM conversion of the deposition strategy. This is done through the machine tool path generation.
Getting knowledge of machine operation and maintenance.
Getting knowledge about how the deposition of the first article parts takes place. It also includes you seeing how sometimes there is low-rate production. This is done at both the places, either on-site at Sciaky or the customer's facility.
Parameters Influencing Buying Decision
Below mentioned is a brief of some of the most important factors.
3D Printer Cost: Somewhere in billions of dollars. You must contact the manufacturer to find out the exact cost of this 3D printer.
3D Print Quality: The best offered in the market. You can depend on this 3D printer for many tasks.
3D Print Speed: Fastest, you can bet on that.
3D Printer Capability: The printer can print with Titanium and Titanium alloys, Inconel 718, 625 Tantalum, Tungsten, Niobium, Stainless Steels (300 series) 2319, 4043 Aluminum 4340, Steel, Zircalloy 70-30, Copper, and Nickel 70-30.
3D Printer Practicality: Used for mass production.
3D Printer User Expectations: The printer offers everything that a user can expect from any dreamy 3D printer.
The Verdict
Sciaky's EBAM system makes use of a fully articulated, movable electron beam wire feed welding gun. No other part of any other 3D printer deposits metal layers on a substrate plate as this gun does.
Because the gun is movable, it has high deposition rates in the order of 7 to 20 lb per hour depending on the material that is being used to produce part or functional prototype, which is the fastest metal deposition process available in the market currently.
Sciaky has EBAM systems that have dual wire feed configurations which help to increase deposition efficiency and simplify switching materials.
The complete process makes near-net shapes, that require only a small amount of post-production machining. Due to which it saves time and also reduces waste.