SeeMeCNC Rostock Max V2
Rostock Max V2 by SeeMeCNC is a 3D printer offering large print volume along with accurate printing. Based on FDM 3D printing, housing a Delta-type construction, the printer does take its own time to set up. But once that is done, it stays rigid for very long life.
PROS
Huge build volume.
Universal 3D printer.
Lasercut frameworks and high-quality injection molded parts.
Easily changeable nozzle.
High torque generating NEMA motors.
Fast print speeds.
Borosilicate glass build plate.
CONS
Assembling Rostock Max V2 is a pain in the ass, especially for beginners.
With patience, users also need lots of parts to put the printer together.
Product
Specification
Videos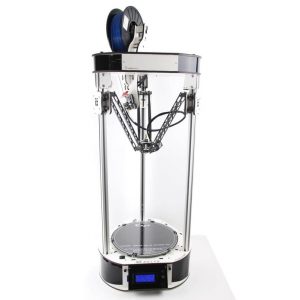 If you are someone who does not mind putting in some extra effort when it comes to choosing the best value 3D printer, SeeMeCNC Rostock Max V2 is ...
| | |
| --- | --- |
| Model | SeeMeCNC Rostock Max V2 |
| Manufacturer | SeeMeCNC |
| Price Range | $ 999 |
| Availability | Available |
| Country | USA |
| Classification | DIY/Kit |
| Technology | Extrusion (FFF- FDM…) |
| Material | ABS, ColorFabb XT CF20, Flex, Nylon, PETG, PLA |
| Filament diameter | 1.75 mm 0.07 in |
| Generic material | Yes |
| Max. build size | 197 x 197 x 375 mm 8 x 8 x 15 in |
| Max. build volume | 14.52 L |
| Max. print speed | 300 mm 11.81 in /s |
| Min. layer thickness | 0.1 mm 0.004 in |
| Nozzle diameter(s) | 0.5 mm 0.02 in |
| XY accuracy | 0.125 mm 0.005 in |
| Weight | 11.5 kg 25.35 lb |
| Heated print bed | Yes |
| Heated build chamber | No |
| Automatic calibration | Yes |
| Closed frame | No |
| Dual extruder | No |
| Independent Dual Extruder | No |
| Full color | No |
| LCD screen | Yes |
| Touchscreen | No |
| On-board camera | No |
| Mobile app | No |
| 3D scanners | No |
| CNC mill | No |
| Electronics 3D printing | No |
| Laser engraving | No |
| Conveyor belt | No |
| Air filter | No |
| Pellet extruder | No |
| USB | No |
| Wifi | No |
| Bluetooth | No |
| SD card | No |
| Ethernet | No |

Table of Contents
Rostock Max V2 is a 3D printer that is suitable for all kinds of users, from beginners to experienced. If you are a first-time builder, the machine's simple mechanism will be a major plus for you. Whereas, if you are a seasoned enthusiast, the printer's large build volume will certainly please you.
Adding to its universality, Rostock Max V2 has a long list of mind-boggling features like Lasercut frameworks and high-quality injection molded parts. These features, as summed up by many others, work in constant coordination to generate dimensionally accurate prints.
Moreover, the printer is a version upgrade of Max V1. Therefore, the users will note certain upgrades and improvements not available with the predecessor. In case you are interested in buying Rostock Max V2, do not forget to check the detailed review of the 3D Printer.
Features
Although there are upgrades in Max V2 compared to V1, SeeMeCNC hasn't replaced the complete hardware. So overall, it's a fusion of the already tested components with newer ones.
Worry-Free Assembly
To offer worry-free assembly, the manufacturer includes Delta arms and mounts. They enable fast movement of the nozzle system to the print bed and back.
Additionally, the rails attached to the printer's support are worth appreciating. After all, a combined effort of all these components results in the production of excellent parts and functional prototypes.
Improved Hot End
Improving on their previous version, SeeMeCNC has equipped Rostock Max V2 with a redesigned hot-end platform. It's capable of withstanding higher temperatures and for doing even more precise 3D printing. Also, the printer now allows printing with a greater number of materials than its predecessor.
Protected Electronics and ImprovedRrigidity
A new base enclosure protects Rostock Max V2's electronic components from the dust and dirt layers. Such protection increases the components' life. Which in turn leads to an increase in the printer's overall life.
Moreover, it gives the complete kit a clean and attractive appearance. Another noteworthy aspect of the printer is its new top design!
Not only does this provide the machine more rigidity, but also leads to better prints, easier assembly, and calibration.
One of the chief concerns with Delta 3D printers is their vibration during the 3D printing process. Taking that into account, the printer manufacturer has equipped it with parts that increase solidity.
The improved print bed, top design, rails, mounts, and arms all contribute towards increasing the printer's overall robustness.
Huge Build Volume
Rostock Max V2 is capable of printing various geometrical parts in one go. Users can build nearly 1300 cubic inches of build volume utilizing the printer's build space.
It enables building more than 10.5 inches of diameter and 15+ inches of height. Such a build volume is difficult to get with printers available in the same price range.
Reliable Components
SeeMeCNC manufactures Rostock Max V2 in the USA using parts of high quality. Each component that makes up the printer is laser cut, injection-molded, and CNC machined. These parts are well-known in the industry for producing accurate printing performances.
The printer's EZ Struder and hot-end setup are responsible for melting 1.75 mm filaments, thereby starting the 3D printing process in an ideal way.
Users can easily change Robust Max V2's standard 0.5 mm nozzle with other available sizes. So, managing various flow rates on the printer is efficiently possible.
The movement of the nozzle system on the rails is made possible by high torque generating NEMA 17 stepper motors.
Management of Robust Max V2's electronics is taken care of by Rambo – the best available 3D printer controller by UltiMachine.
All of these are tinker-friendly electronics and hardware, meaning that they are changeable according to the need. Also, not to forget the base of the printer – Borosilicate glass build plate is an epitome for safety and precision.
Specifications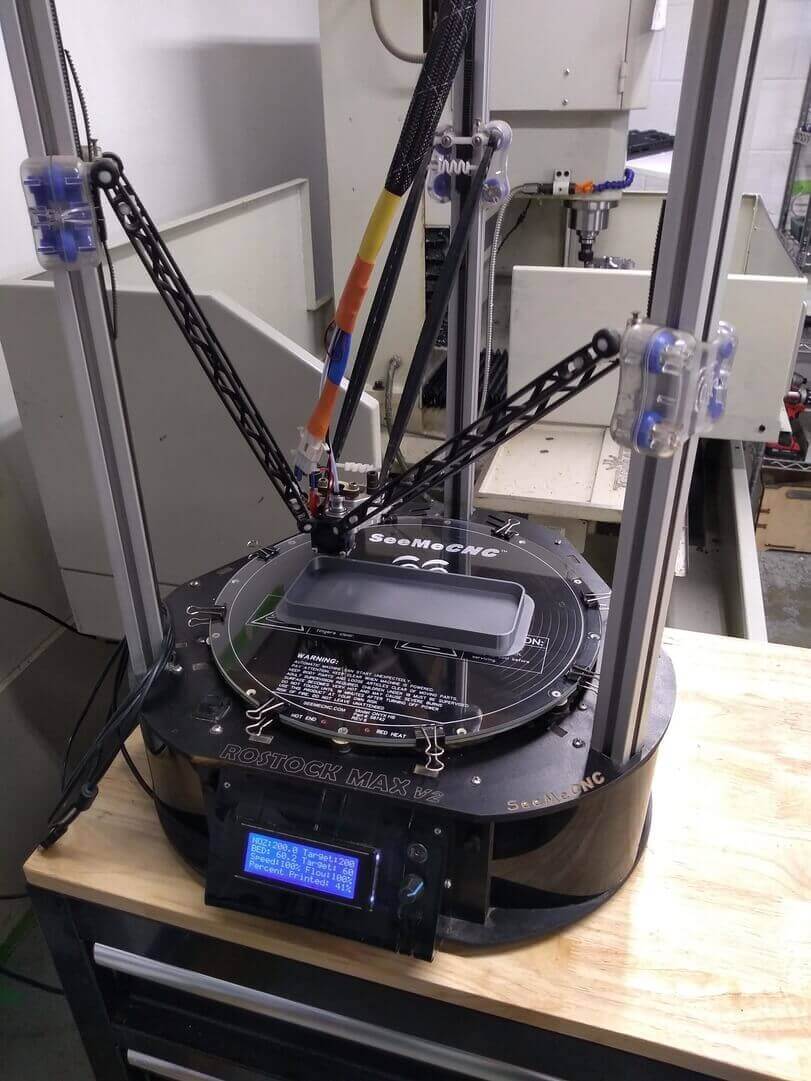 Credit: vanhack.ca
SeeMeCNC Rostock Max V2 has an average printer size of 18 inches in diameter and is 48 inches tall. The printer weighs 25 pounds, meaning that the printer is transportable.
It has standard power requirements of 100 to 240 Volts AC, 350 Watts. Its shipping dimensions are 32 inches * 19 inches * 6 inches.
The maximum printable X/Y area on Rostock Max V2 is 11 inches in diameter, equivalent to 280 mm. Therefore its users can print sizes lower than it in one go.
The printer can create square-sized parts of 7.75 inches i.e. 197 mm with a height of 14.75 inches or 375 mm.
Rostock Max V2 offers a maximum resolution of 0.1 mm or 100 microns, 0.125 mm on the X/Y and Z axis of it, respectively.
For printing parts or functional prototypes on the printer, the user can run it on an average print speed range of around 30 to 60 millimeters per second.
To achieve its extraordinary print speed Rostock Max V2 needs an unmatched maximum movement speed of 300 millimeters per second.
The maximum hotend temperature that Rostock Max V2 can withstand is 245 degrees Celsius. So, you'd be able to print parts having less glass transition than it.
Similarly, the printer's heated bed can restrict temperatures up to 100 degrees Celsius. It also hosts a GCode-controlled part cooling fan.
Price
SeeMeCNC Rostock Max V2 is available at a market price of $999.
First Impression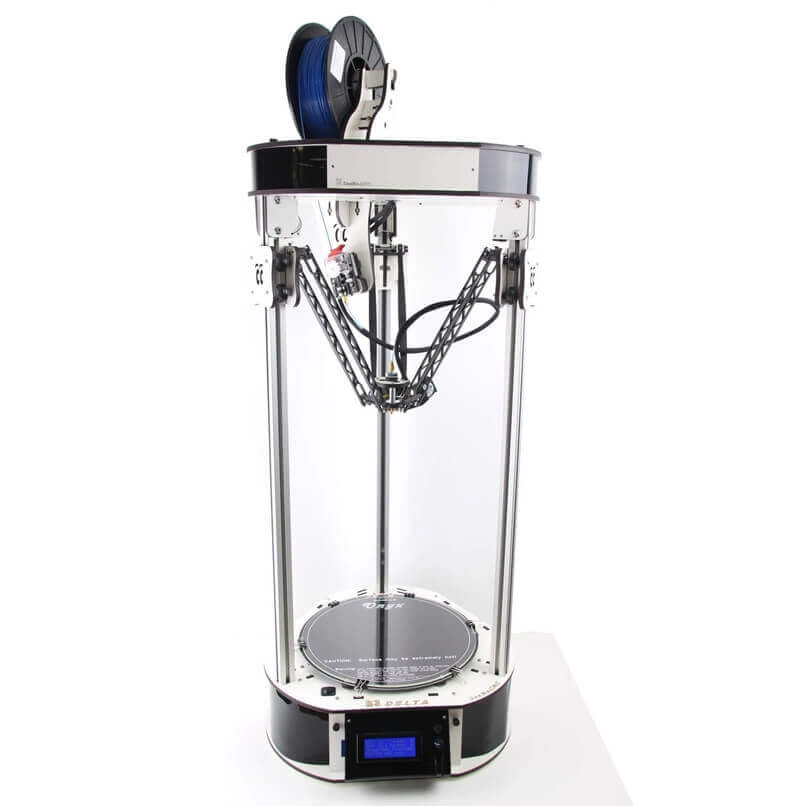 From the two most popular design styles of FDM 3D printers available in the market, Rostock Max V2 is Delta-type.
It's the second most common kind of 3D printer after the Cartesian type. As you can notice, the complete arrangement of Max V2 is supporting the extruder with three arms making a triangle.
In such a construction type, each arm is capable of moving up and down vertically. Whereas, it's fine to move any one of the three arms independently to move the extruder.
Typically Delta 3D printers like Rostock Max V2 are known to print at fast speeds that are hard to achieve with a Cartesian type 3D printer.
Moreover, they are equipped with heavy motors and extruders fixed on sides as well as the top. But, the tool head is kept very light and minimal, which lets the printer maintain high accuracy despite blazing speeds.
There is a display screen near the bottom of the Max V2's body on which you can see notifications. The complete frame of the machine is transparent, thereby enabling monitoring of the entire 3D printing process.
Setup
SeeMeCNC honestly mentions the time one may take to assemble Rostock Max V2. The printer manufacturer claims a period of approximately 20 hours varying based on skillset.
In addition to it, the printer manufacturer also includes:
Standard Allen wrench set.
Metric Allen Wrench Set.
Needle nose and/or small pliers.
Wire crimping tool or solder and soldering iron.
Standard and Phillips Screwdrivers.
High Temp RTV silicone for hotend assembly.
A roll of Kapton tape for hotend insulation.
ABS filament for printing fan shrouds and calibration prints.
The only downside to using Rostock Max V2 as a beginner is its Setup. Users will need to maintain a lot of patience while doing it. However, if one manages to strive through this, one can learn a lot about 3D Printer construction.
Print Type/Cost
Fused Deposition Modeling, also known as Fused Filament Fabrication, is a cheap and efficient way of making 3D printed parts. It is also the most widely accepted method.
The process starts with fixing a solid filament spool on the 3D printer. When the machine is ready, squeezing of the filament through its hot end takes place.
Melting of filament is the next step into making, followed by depositing it layer by layer on the printer's print bed. The second last step is the fusion of already laid layers, thereby forming a part. After which, 3D printed object is removed and sent for post-processing.
Generally, the 3D printing cost per part via FDM technology is lower compared to other methods. The reason being: there is no particular curing source used in this process like the ones in vat polymerization or powder bed fusion techniques.
However, the overall cost of printing a part depends on various parameters. Such as the geometry of the object, amount of infill, support structures, the cost of filament, and more.
Print Quality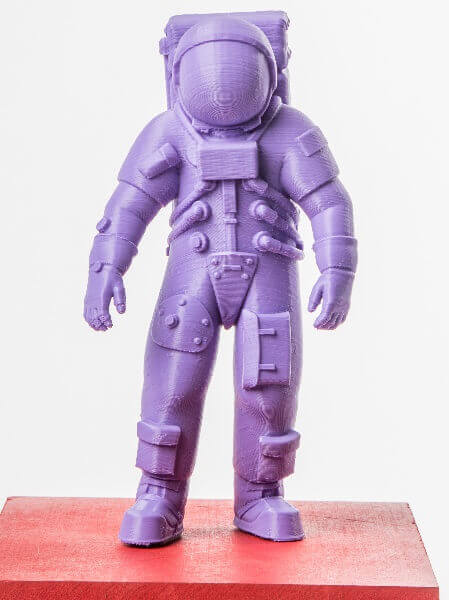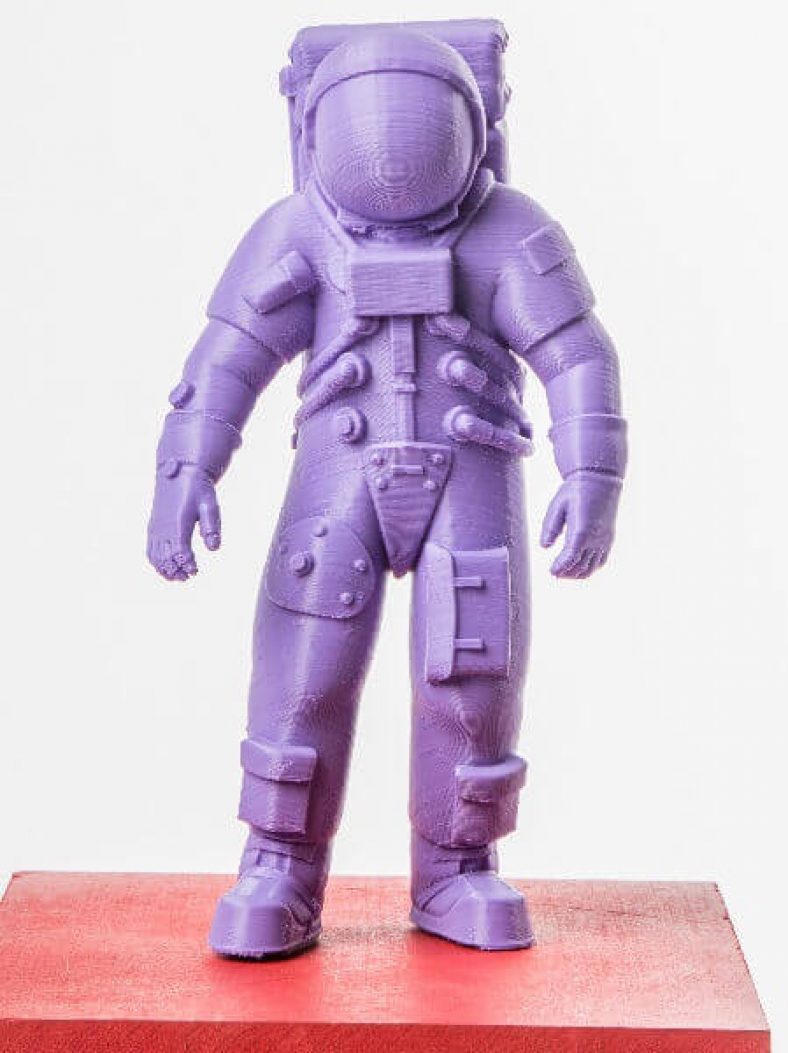 Credit: treatstock.fr
Rostock Max V2 is capable of manufacturing parts and functional prototypes with an excellent surface finish. The printer offers maximum resolutions of 0.1 mm, 0.0125 mm along its X/Y and Z axis respectively.
Users can make intricate geometries within 11 inches diameter and 7.75 inches square size. The machine is known to deliver outstanding results even while making parts with a maximum Z height of 14.75 inches.
Customer Support
To offer uncompromising support to its clients, SeeMeCNC displays General FAQs related to its products. Documents and Guides are available online to solve your queries via text.
The printer manufacturer has also put in place a Quick Start section that'll assist its users in the rapid assembly of its printers and starting 3D printing on them.
Additionally, SeeMeCNC offers training to its customers for easing their journey with its products. Apart from this, for any kind of technical support one can write to the company and wait for their reply. Lastly, the printer manufacturer also offers Archives for references.
Parameters Influencing Buying Decision
Below mentioned are Rostock Max V2's most important pointers that sum it up like no other.
3D Printer Cost: The printer is available to you for under $1000 and offers a large build volume and decent print quality. It's definitely affordable.
3D Print Speed: Being a Delta 3D printer, it's normal for Max V2 to display the extraordinary print speed at the level of 30 to 60 millimeters per second.
3D Printer Quality: Although the printer is FDM type, it manages to produce objects with intricate geometries with ease.
3D Printer Capability: Max V2's hotend and printed are capable of withstanding high levels of temperatures, therefore allowing the user to print with various filaments.
3D Printer Practicality: The printer efficiently balances out print speed with part quality. And, it is suitable for professionals, enthusiasts, home users, beginners. In short, for almost all kinds of users.
3D Printer User Expectations: There is no one class of audience that Max V2 caters to, it's a 3D printer for all. It manages to fulfill beginners' expectations of being budget-friendly. On the other hand, the printer also manages to stand upon experts' expectations of being technically advanced. It's primarily for those who wish to create parts of decent quality quickly.
The Verdict
In a nutshell, Rostock Max V2 by SeeMeCNC is a 3D printer offering large print volume along with accurate printing. Based on FDM 3D printing, housing a Delta-type construction, the printer does take its own time to set up. But once that is done, it stays rigid for very long life.
So, if you are willing to spend some time setting a 3D printer before beginning your first print, Max V2 can be a very impressive choice. It can work great for beginners as well as for advanced users.
The printer is not only affordable and easy to maintain, but it also delivers dimensionally accurate prints even while making intricate geometries.