Shining3D EinScan Pro Plus
EinScan Pro Plus is highly recommended for people willing to start a business in the 3D scanning industry. It has a comparatively larger scan area which enables you to scan objects with huge volume.
PROS
User-friendly EinScan software.
Rapid Registration mode enables quick scan without compromising quality.
Compact and Portable Design.
Large scan range.
Improved handheld scanning mode.
CONS
Pro Plus is costlier than general desktop 3D scanners.
Table of Contents
EinScan Pro Plus is a portable 3D scanner manufactured by Shining3D – a company based in China. It is a successor to EinScan Pro.
The new features that Shining3D has added in Pro Plus are an HD capture mode and a rapid acquisition module for faster 3D capture. Also, the scanner manufacturer has increased the scanning area of the successor.
Having stated so, both, Pro as well as Pro Plus are handheld 3D scanners, therefore benefitting their users by offering portability and ease of transportation from one place to the other.
Pro Plus weighs 0.8 kilograms. So, carrying the scanner is like lifting your heavy suitcase. After the addition of the HD capture mode, the total scan modes offered by Pro Plus count to four. The other three modes available to its operator are handheld rapid scan, automatic scan, and free scan.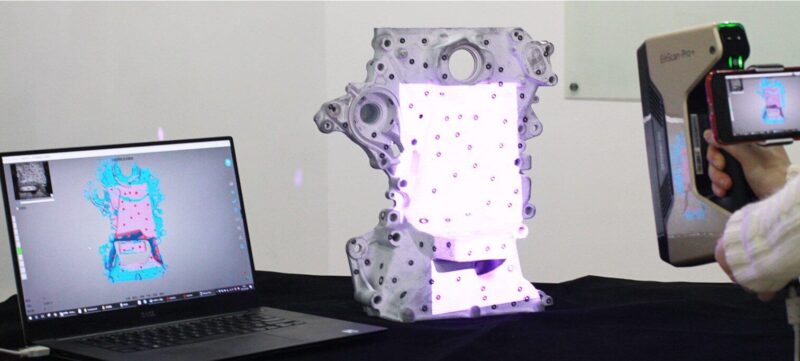 Credit: einscan
Let's have a look at this extremely flexible 3D scanner in-depth to know more about the features that Shining3D has improved from its predecessor as well as the ones that were too good to let go.
Features
Stating about the improvements, we should start with data capture lines. Scan Pro's seven data capture lines have been increased to one hundred in Pro Plus.
The other upgrade is in the 3D scanning speed which has been raised to 550,000 points per second under handheld HD mode.
Apart from the improvements, there are also some standard features that the scanner manufacturer has to carry forwarded from Pro Plus' predecessor. Below mentioned and explained is a mix of them all.
Fixed Turntable Scanning
This mode lets the user scan a particular object faster than other scanners. Operators can turn on the Code Targets detection which enables quick scanning of multiple cycles which the software then combines perfectly.
Herein, even the auto-alignment isn't working up to the mark, one can also help the fixed algorithm manually by defining three similar points on each scan.
Special R2 Mode
The Rapid mode in EinScan software now contains two different modes. To start with one, it's the original model that scans the geometry as well as the color of the object, depending on the part's feature for tracking.
The other one is similar to HD mode relying on marker stickers for tracking. Users are not only allowed in this mode to scan objects with relatively lesser pronounced features, but also provide an increased resolution of 0.1 mm which isn't possible to achieve even in the regular Rapid mode.
Improved Calibration Wizard
Although this feature is a software improvement, it benefits anyone using Pro Plus. The entire calibration process is guided with extremely easy-to-grasp videos.
Because of this, users get the exact demonstration of how they should exactly orient the calibration board and scanner during each step. This improvement makes the onboarding process very smooth.
Four Versatile Scanning Modes
If flexibility had a synonym in the scanning world, it would be none other than EinScan Pro Plus.
Shining3D has taken into consideration four different ways of scanning an object according to the need of the project and established four modes:
Handheld Rapid Scan
Handheld HD Scan
Fixed Scan without Turntable
Fixed Scan with Turntable
So, enjoy the bliss of using one as per your project needs.
Rapid Registration
This is an add-on feature that not only recognizes but also aligns reference points under the Handheld Rapid Scan.
Because of this feature, you can scan large-size objects faster than before. Also, it's very easy to scan objects with less surface geometry.
Specifications

EinScan Pro Plus provides single-shot accuracies of 0.1 mm in all its handheld HD scans, 0.3 mm in all its handheld rapid scans, 0.05 mm in fixed scans with or without turntables.
Its scan speed varies from 550,000 points per second in handheld HD scans to 450,000 points per second in handheld rapid scans. Whereas a single fixed scan takes less than 2 seconds when done with the turntable and more than that when done without.
The point distance range during handheld HD and rapid scan is 0.2 to 3 mm and 0.7 to 3 mm respectively. During fixed scans, the point distance relatively increases to 0.24 mm.
The single scan range of the machine is 300 mm * 170 mm. The scan is performed using White Light LED source. Users can get the data in OBJ, STL, ASC, and PLY file formats.
Pro Plus' turntable loading capacity is 5 kilograms. It can be operated at a temperature ranging between 0 to 40 degrees Celsius.
Price
EinScan Pro Plus is listed in five different pricing options:
The basic version costs $4999.
The basic version with industrial pack and color pack add-on costing $6397.
The basic version with the color pack is priced at $5698.
The basic version with an industrial pack costing the same as option 3.
The basic version with the R2 function costs $5299.
Note: R2 stands for Rapid Registration. This function can be activated only for the handheld rapid scan model.
It permits operators to recognize as well as align reference points using which, even large-size parts with lesser geometrical characteristics can be scanned with ease. Also, activating R2 mode leads to a rapid as well as smooth operating experience, at the same time not compromising on accuracy.
First Impression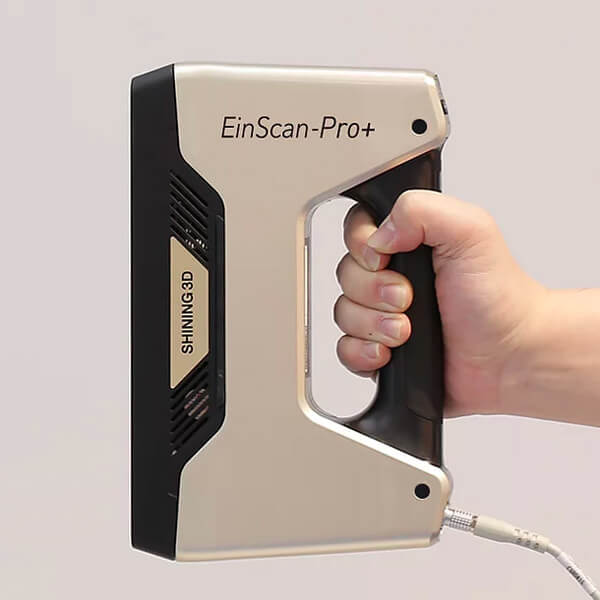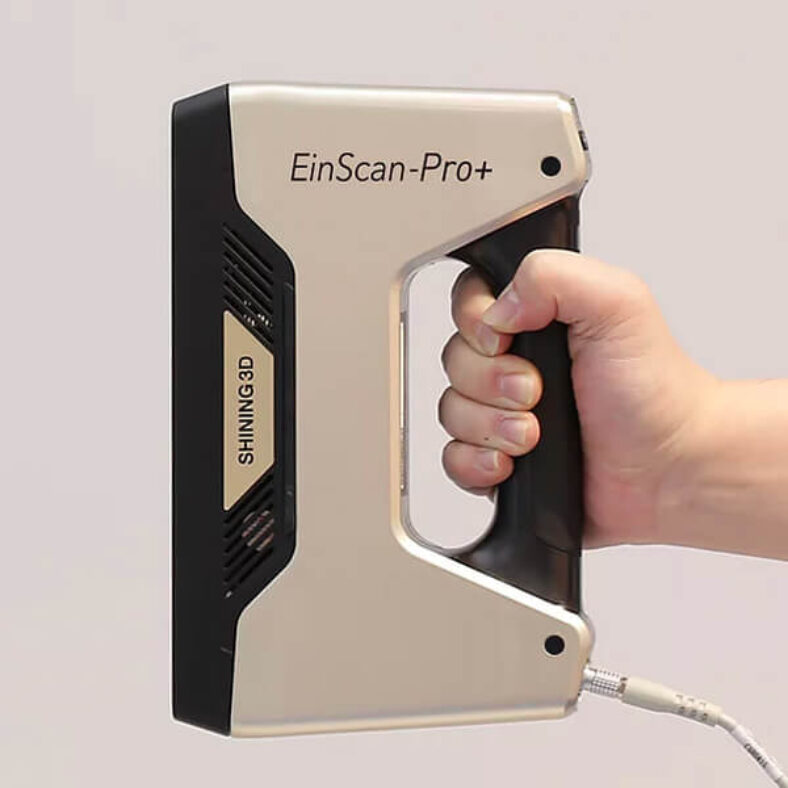 EinScan-Pro+ is a Professional high-performance handheld 3D scanner that has Four Versatile Scanning Modes:
Handheld Rapid Scan
Handheld HD Scan
Fixed Scan without Turntable
Fixed Scan with Turntable
Setup
The scanner can be operated on a go. Users need not go through any pre-scanning procedures except for the installation of software on one device.
Scan Type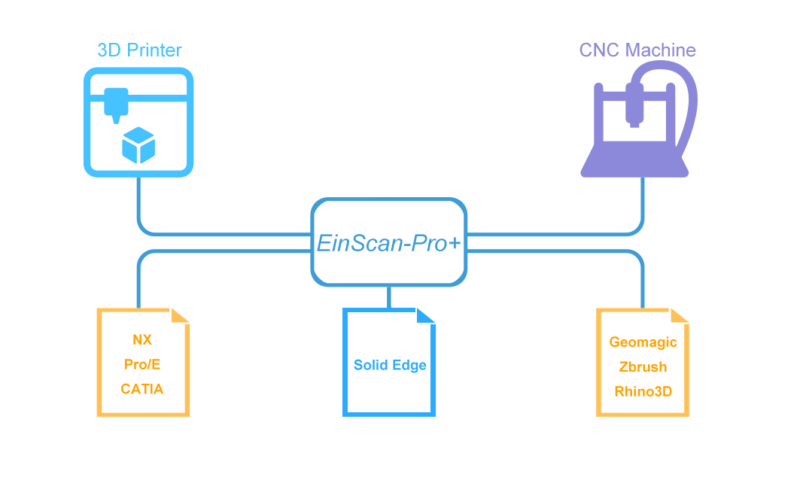 Credit: einscan
EinScan Pro Plus' handheld modes utilize white structured light 3D scanning technology. Unlike traditional laser technology, it scans objects using LED lighting.
Experts recommend not using this in sun or cloudy weather because there are high chances that both of these atmospheric conditions can affect the white light.
Scan Quality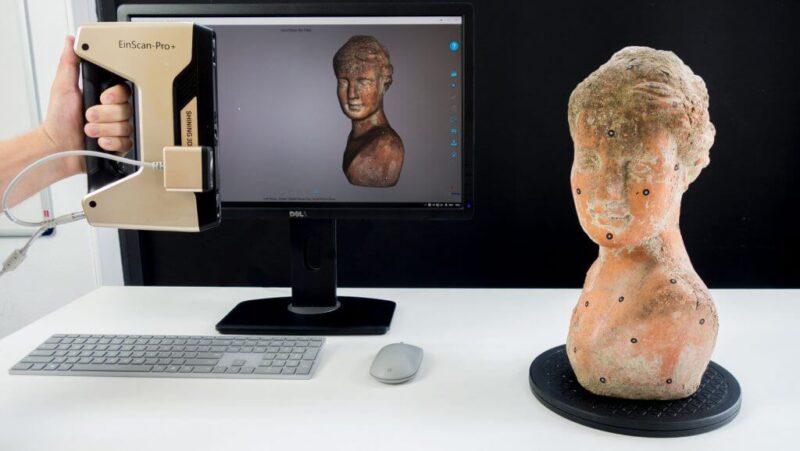 Credit: 3dscanexpert
The single-shot accuracy in various modes ranges from 0.1 mm to 0.5 mm which is above average than what other scanners of the same price range can provide. With that, it is easy to scan parts with complex geometries easily.
Software
Pro Plus is accompanied by the latest version of EinScan software that provides many advantages.
An improved user experience with enhanced user-friendliness allows users to upload their data onto the Sketchfab platform with a single click.
Also, a streamlined process shares scanned 3D data directly using the Internet. Moreover, version 2.5 includes numerous new as well as upgraded functions for a relatively better scanning process.
Customer Support
Scanning3D provides users with videos that can assist them in working with their scanners. Apart from that FAQs as well as other documentation are also accessible from their website.
Users can download manuals and guide books for increasing their understanding and call or email the technical team with queries if any.
Parameters Influencing Buying Decision
A summary of the complete article is mentioned in points that are good to have a glance over before making the buying decision.
3D Scanner Cost: As mentioned above, the scanner's cost is on the higher end of the bar.
3D Scanner Speed: Pro Plus has extraordinary scan speed which lets users scan objects in around two seconds when scanned with or without turntable on fixed scan mode. Whereas, the handheld HD and rapid scan permit speeds of 550,000, and 450,000 points per second respectively.
3D Scan Quality: Pro Plus deliver high-level dimensional accuracy. Parts that are impossible to scan with minute detailing on other scanners can be easily scanned with Pro Plus.
3D Scan Capability: Users can utilize four different modes that the scanner is capable of scanning an object with.
3D Scan Practicality: Pro Plus finds its application in manufacturing and reverse engineering, 3D modeling for customized products, and servicing via 3D printing. Also in industries such as Art and Heritage, designing, healthcare, as well as research and education and virtual display.
3D Scanner User Expectations: Pro Plus turns out to be a significant addition to professional users' devices. Its compatibility with 3rd party hardware as well as the software makes accurate scanning flexible. New and upgraded features give wings to professional users' creativity and let them have access to a completely different world of scanning.
The Verdict
EinScan Pro Plus is a versatile 3D scanner. There isn't any other brand than Shining3D that offers users a two-in-one high-resolution as well as a handheld 3D scanner.
So, it's highly recommended for people willing to start a business in the 3D scanning industry. It has a comparatively larger scan area which enables you to scan objects with huge volume.
Also, the scanner is an upgrade of EinScan Pro and features an improved HD Handheld mode that scans many times more lines than its predecessor. Moreover, there are various modes that can be used for scanning different objects differently.