SLM 800 3D Printer
Equipped with all the new features and coming with a unique system that includes more than one printer, SLM 800 is a must to buy 3D printers for manufacturers whose customers demand higher quality parts and functional prototypes for use in various types of industries
PROS
The built volume of parts and functional prototypes is huge.
The printer can print with multiple materials.
It comes with a permanent filter.
Multiple parts of this printer can be monitored at various times to see whether there is something wrong going on in the printer during the printing process.
The printer is very much preferable for mass production of parts and functional prototypes.
CONS
Users who are used to finding even bigger build volume than this printer printed in a printer that costs lesser than the printer are bound to find this printer expensive.
Product
Specification
Videos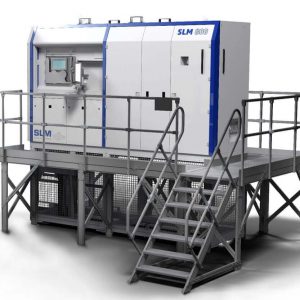 Featuring an extended Z-axis for large-scale parts production, SLM 800 has the ability to have multiple machines connected via the SLM hub. This ...
| | |
| --- | --- |
| Model | SLM 800 |
| Manufacturer | SLM Solutions |
| Price Range | > $ 250000 |
| Release date | 2017 |
| Country | Germany |
| Availability | Available |
| Classification | Industrial |
| Technology | Powder (SLS- SLM…) |
| Material | Metal |
| OS compatibility | Microsoft Windows |
| XY accuracy | 0.15 mm 0.006 in |
| Max. build size | 500 x 280 x 850 mm 19.7 x 11 x 33.5 in |
| Max. build volume | 119 L |
| Max. print speed | 1000 mm 39.37 in /s |
| Min. layer thickness | 0.02 mm 0.001 in |
| Power input | 400 Volt 3NPE I 63 A I 50-60 Hz I 8-10 kW |
| Heated print bed | No |
| Heated build chamber | No |
| Automatic calibration | No |
| Closed frame | Yes |
| Dual extruder | No |
| Independent Dual Extruder | No |
| Full color | No |
| LCD screen | Yes |
| Touchscreen | No |
| On-board camera | No |
| Mobile app | No |
| 3D scanners | No |
| CNC mill | No |
| Electronics 3D printing | No |
| Laser engraving | No |
| Conveyor belt | No |
| Air filter | No |
| Pellet extruder | No |
| USB | No |
| Wifi | No |
| Bluetooth | No |
| SD card | No |
| Ethernet | Yes |

Table of Contents
SLM 800 comes with an extended z-axis build envelope that measures 500 mm x 280 mm x 850 mm with a quad-laser configuration with four 400 W or 700 W lasers ensuring the high quality of parts or functional prototypes.
The printer is efficiently used for building large components because it has build rates of up to 171 cubic centimeters per hour.
Large-scale production which was viewed as a failed idea in SLM 3D printing technology has got new hope from the combination of the printer's efficient build rate and large build envelope, with its integrated powder handling and design freedom.
The sintered chamber wall of this printer has a continuous stream, a facility with which, there is enhanced gas flow creating the constant conditions at the work surface that is also protecting the laser beam's entry glass from contamination and not hinder the lasers when they are busy curing the part or functional prototype's printed layer.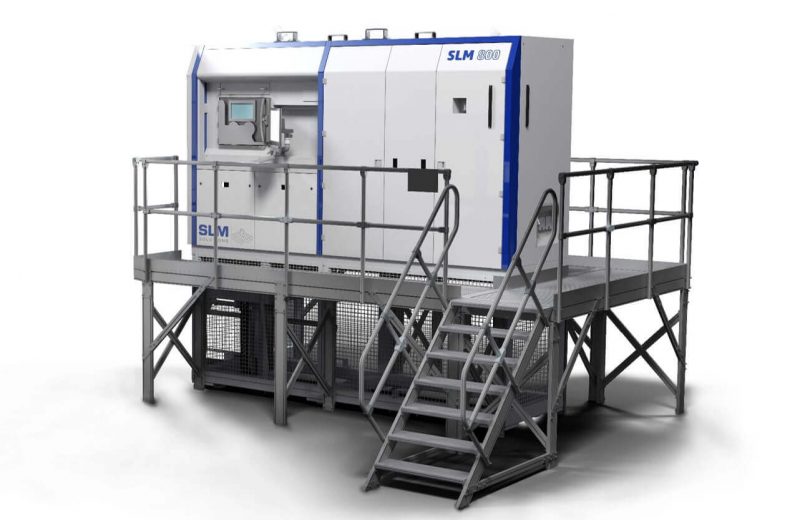 The printer is equipped with a Permanent Filter Module that is used for further maintaining a clean process chamber resulting in consistent atmosphere conditions.
These conditions ensure optimal build quality. There are comprehensive processes that are for monitoring modules, laser Power, and Melt Pool.
These ensure process transparency and documentation.
In this article, we are going to discuss various aspects of this printer in-depth starting with its features.
Features
Below mentioned are some of the most noteworthy features of the printer which can help you compare with other printers and find which one is better out of the two.
Laser Control System
Layer Control System (LCS) is a testing and documentation system that examines the performance of each powder layer by monitoring the powder bed and detecting possible coating irregularities.
Melt Pool Monitoring
Melt Pool Monitoring (MPM) is an available on-axis tool for visualizing the melt pool in the SLM® process.
Data from this melt pool monitoring can be used as a resource for developing and evaluating the process parameters in an optimized fashion.
In the production of safety-critical parts, the data collected serves as documentation for quality assurance.
Laser Power Monitoring
Laser Power Monitoring (LPM) is an available on-axis monitoring system that continuously measures and documents target and actual emitted laser output throughout the production process.
Quad Laser Technology
The SLM 800 printer utilizes the proven quad-laser technology that the printer manufacturer has also applied in the SLM 500 with extended z-axis for larger production builds.
SLM Solutions' patented sintered wall gas flow prevents disruption of the laser for consistent quality and the durable metal recoating brush ensures stable powder recoating while enabling error correction during the build.
Vertically extending the building envelope reduces exposure per layer and internal stresses with a higher surface quality for long components.
Decreased support structures through vertical orientation are also responsible for the reduction in material usage and post-processing.
Permanent filter module
The permanent filter module traps process soot in a sintered plate filter that is purged with gas.
The waste material produced in this printer is coated with an inhibitor and stored in a bin for dry disposal.
Whereas the clean gas returns to the process chamber, stabilizing gas flow to ensure part quality throughout long builds without interruption.
The elimination of consumable filter cartridges increases safety while improving machine uptime and reducing costs.
Operators no longer need to flood filters and waste management is simplified as controlled diffusion renders a standard dry material for disposal.
Fully automatic power handling
Each SLM®800 features an integrated powder tank to supply the machine with a direct source of the material.
The additional central powder supply unit (CPS) features two 220l tanks, one fixed for delivery to the machine, and one portable for powder refill.
Sieves are located both in between the two CPS tanks and on the machine directly before use to ensure powder quality throughout the process.
Fully automated build cylinder handling
The SLM HUB utilizes a linear axis to drive build cylinders between three integrated stations and directly into or out of the SLM 800 machine.
Setup of new substrate plates and removal of finished parts takes place in the handling position while dedicated locations in the parking chamber allow for pre-heating of cylinders before or controlled cooling after a build.
The integrated powder removal chamber separates the build cylinder from the substrate plate and rotates the build with vibration motions.
A specially designed gas flow ensures safe depowdering within an inert atmosphere.
All powder can be recovered and returned to the centralized powder supply.
Up to five, SLM 800 machines can link to one SLM®HUB to optimize utilization with full automation to minimize costs.
Specifications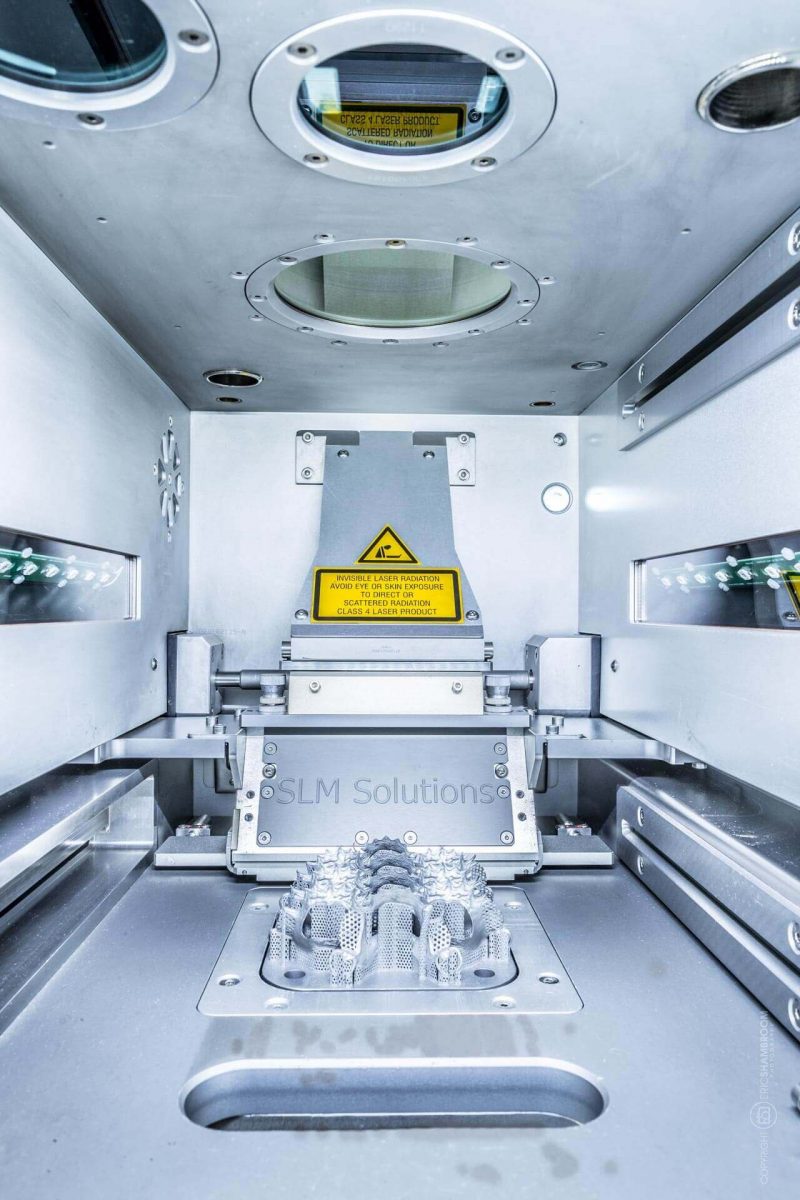 Credit: industrial-photography-germany.com
The build envelope volume of SLM 800 is 500 mm * 280 mm * 850 mm when reduced by the substrate plate.
SLM 800's 3D optics configuration is Quad 4*400 Quad 4*700 IPG Fiber Laser.
The build rate of this printer is up to 171 cubic centimeters per hour, and the variable layer thickness range is 20 to 90 micrometers.
SLM 800 has a maximum scan speed of 10 meters per second, average inert gas consumption in process ranges from five to seven I per minute, the gas used for this purpose is Argon.
Whereas the average inert gas consumption during purging is 70 I per minute.
You need to connect this printer with an electric supply 400 Volt 3NPE, 63 A, 50/60 Hz, 8-10 kW to make sure it starts printing parts and functional prototypes.
The compressed air consumption needed for this printer is ISO 8573-1:2010 [1:4:1], 50 l/min at 6 bar.
Price
You will have to contact the printer manufacturer for finding the perfect price of the printer because it is not mentioned on their website.
The contact number and email id of the manufacturer are mentioned on the webpage dedicated to the printer as well as there is a Contact tab along with many other tabs on the website that will let you reach the information you need.
First Impression
Credit: industrial-photography-germany.com
Unlike many large-format additive manufacturing systems or industrial-grade 3D printers, how we like to call them more colloquially, the SLM 800 does not integrate a particularly broad print envelope, instead, it invests for a tall build space of 850 mm.
According to the company, doing this enables them to produce large parts at more rapid rates and with less risk of faults.
A logical reason that will help you understand the claim made by the company is due to the fact that there is less exposure on a layer by layer basis in this printer, compared to a horizontal build in others, which is believed to lead to reduced stress inside the part and thus fewer failures during production.
The reduced exposure time in turn also leads to high part or functional prototype quality and surface quality.
By keeping the building envelope and basic process layout the same as it is in the SLM 500 selective laser melting system, the company gets more confidence by its already proven parameters and application guidelines that can be carried over, reducing time and risks during part or functional prototypes' development.
From a practical perspective, the vertical build height of the SLM 800 also does one more thing i.e. it reduces the need for supports because of the orientation of the part, reducing post-processing times.
Setup
The SLM 800 is specially equipped with fulfilling industrial-scale production, thanks to a new multi-machine configuration option by the printer manufacturer.
The multi-machine setup of this printer system is said to be consisting of various elements:
Five SLM 800 systems.
The SLM HUB Automatic Unpacking Station.
The Build Cylinder Magazine (BCM) and
The Central Powder Supply (CPS) with a portable tank.
The multi-machine printing process which is a unique concept shown by the printer manufacturer benefits from a high degree of automation, whereas the SLM HUB system offers a sophisticated automated part and powder removal solution.
Also to note are the build cylinders of the printer which are designed to be removed from the SLM 800 and transported to the SLM HUB by a linear axis.
In the SLM HUB powder removal chamber, the build cylinder of this printer is lifted, at the same time the build plate of the printer is rotated with vibrations to dislodge the powder.
When this process is going on in the printer, a downdraft gas prevents dust clouds from forming and recovers powder to be returned to the centralized powdered supply.
The CPS only requires two 220 L tanks to provide sufficient centralized powder to the complete set of five SLM 800 printers.
The BCM, can accommodate up to six build cylinders, serving to help reduce downtime significantly thanks to a pre-heating station and a controlled cooling phase after the build.
The multi-machine setup for this printer is also modular, which lets manufacturers choose from a variety of configurations.
Users who are already using a single SLM 800 with manual unpacking can easily upgrade to the HUB automation, and once two or more machines are connected, users can install the BCM.
Printing Type/Cost
SLM 800 is based on SLM 3D printing technology wherein lasers are used to cure the layers of 3D parts and functional prototypes that are laid down on the print bed.
The cost of printing a single part from this process is greater than other technologies because of the use of laser.
To know how much more, you can calculate the cost to build a single part using other 3D printing technology and this one.
Print Quality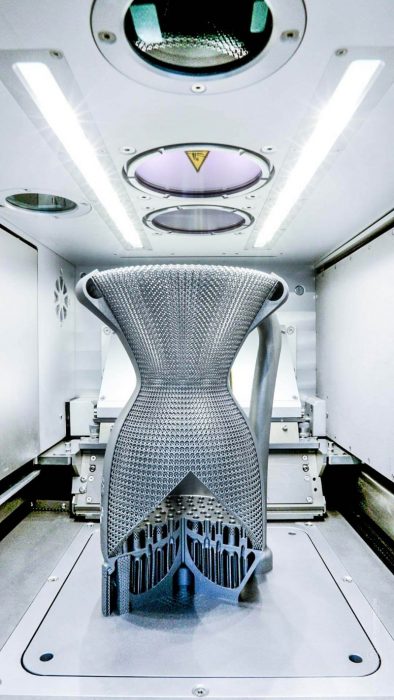 Credit: industrial-photography-germany.com
Automotive specialist Bugatti is known to have leveraged the SLM 800 to produce a Chiron Cam Cover.
The plate featuring eight parts, each measuring 735 mm in height and made from AlSi10Mg, was built in just over four days using the SLM 800 3D printer.
SLM Solutions' large-format metal AM system has a broad range of applications and is being used in various industries, including aerospace, automotive, tooling, energy, and maritime so the quality of parts or functional prototypes is manufactured must be of great dimensional accuracy.
Software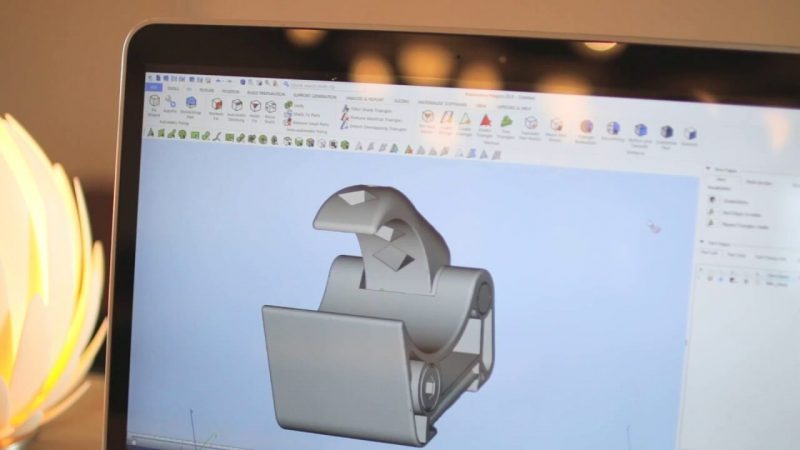 Credit: materialise.com
The company makes use of Magic AutoFab software for working with CAD designs and .stl files.
This software offers eases the usage in a way that one can utilize this software for slicing the design as well as for the generation of support for the parts.
Customer Service
The Contact Us tab on the printer manufacturer's website would give you all information about how to reach out to the company.
Parameters Influencing Buying Decision
Below mentioned are some key points that will summarize the complete article for you.
3D Printer cost: On a higher end.
3D Print quality: Above industry standard.
3D Print speed: Extraordinary.
3D Printer capability: Multi-material 3D printing is possible.
3D Printer Practicality: Parts and functional prototypes manufactured by this printer can be used in various industries.
3D Printer User expectations: With compact features, high-quality parts, and expensive, the printer looks completely dedicated to the high-end users of 3D printing products.
The Verdict
Equipped with all the new features and coming with a unique system that includes more than one printer, SLM 800 is a must to buy 3D printers for manufacturers whose customers demand higher quality parts and functional prototypes for use in various types of industries.
As well as for professional designers who cannot compromise the dimensional accuracy of a part or functional prototype.