Tiertime UP Mini 2 ES
Unlike the affordable 3D Printers that are usually unsatisfactory in terms of features, Tiertime UP Mini 2 ES carries a huge list of advanced functionalities.
PROS
Automated calibration
Automatic detection of materials
Affordable
HEPA and Carbon Filter
Enhanced print quality
Different build plates for standard and flexible materials
CONS
Small build space
Software is basic
Product
Specification
Videos

Said to be a mid-range desktop 3D printer for beginners, Tiertime UP Mini2 ES has some amazing features that put printers that are available at price ...
| | |
| --- | --- |
| Model | UP Mini 2 ES |
| Manufacturer | Tiertime |
| Price Range | $ 599 |
| Release date | 2018 |
| Country | China |
| Availability | Available |
| Classification | Desktop |
| Technology | Extrusion (FFF- FDM…) |
| Material | ABS, Other plastics, PLA |
| Filament diameter | 1.75 mm 0.07 in |
| OS compatibility | Mac OS, Microsoft Windows |
| Generic material | Yes |
| XY accuracy | 0.1 mm 0.004 in |
| Max. build size | 120 × 120 × 120 mm 4.72 × 4.72 × 4.72 in |
| Max. build volume | 1.73 L |
| Max. print speed | 200 mm 7.87 in /s |
| Min. layer thickness | 0.02 mm 0.001 in |
| Dimensions | 255 × 365 × 385 mm 10.04 × 14.37 × 15.16 in |
| Weight | 7.5 kg 16.53 lb |
| Nozzle diameter(s) | 0.4 mm 0.02 in |
| Power input | 110-240VAC 50-60Hz 90W |
| Heated print bed | Yes |
| Heated build chamber | No |
| Automatic calibration | Yes |
| Closed frame | Yes |
| Dual extruder | No |
| Independent Dual Extruder | No |
| Full color | No |
| LCD screen | No |
| Touchscreen | Yes |
| On-board camera | No |
| Mobile app | Yes |
| 3D scanners | No |
| CNC mill | No |
| Electronics 3D printing | No |
| Laser engraving | No |
| Conveyor belt | No |
| Air filter | No |
| Pellet extruder | No |
| USB | Yes |
| Wifi | Yes |
| Bluetooth | No |
| SD card | No |
| Ethernet | Yes |

Table of Contents
With UP Mini 2 ES, the company has released its third 3D printer from the series following UP Mini and UP Mini 2. Hence, users must expect this machine to offer even more features and benefits that the other two from the series offer.
In this Tiertime UP Mini 2 ES review, we would talk about the various additional perks and limitations (if any). In order to get a complete overview of what the printer entails you must follow the article till the end.
Tiertime is a popular Chinese manufacturer. And, as it is with the 3D printing niche, the technology keeps advancing with time, the companies must follow the trend.
To make that possible, consideration of upgrades is a must strategy to stay in the competition. Especially when it is about focusing on the most revolutionary technology that keeps enhancing and getting better with every tick in the clock.
We have already been trying to find out what could be the best way to summon the advantages of additive manufacturing. But, how could we?
Almost every time we figure out the best side of the niche, a new advancement changes the entire outlook of users. A few years back, 3D printing was just an alternative for rapid manufacturing.
However, today, we can even create end products out of these amazing machines. A lot has already changed and a lot will change in the coming times as well.
So, fasten your seat belts to find out what the Tiertime UP Mini 2 ES has to offer to its userbase.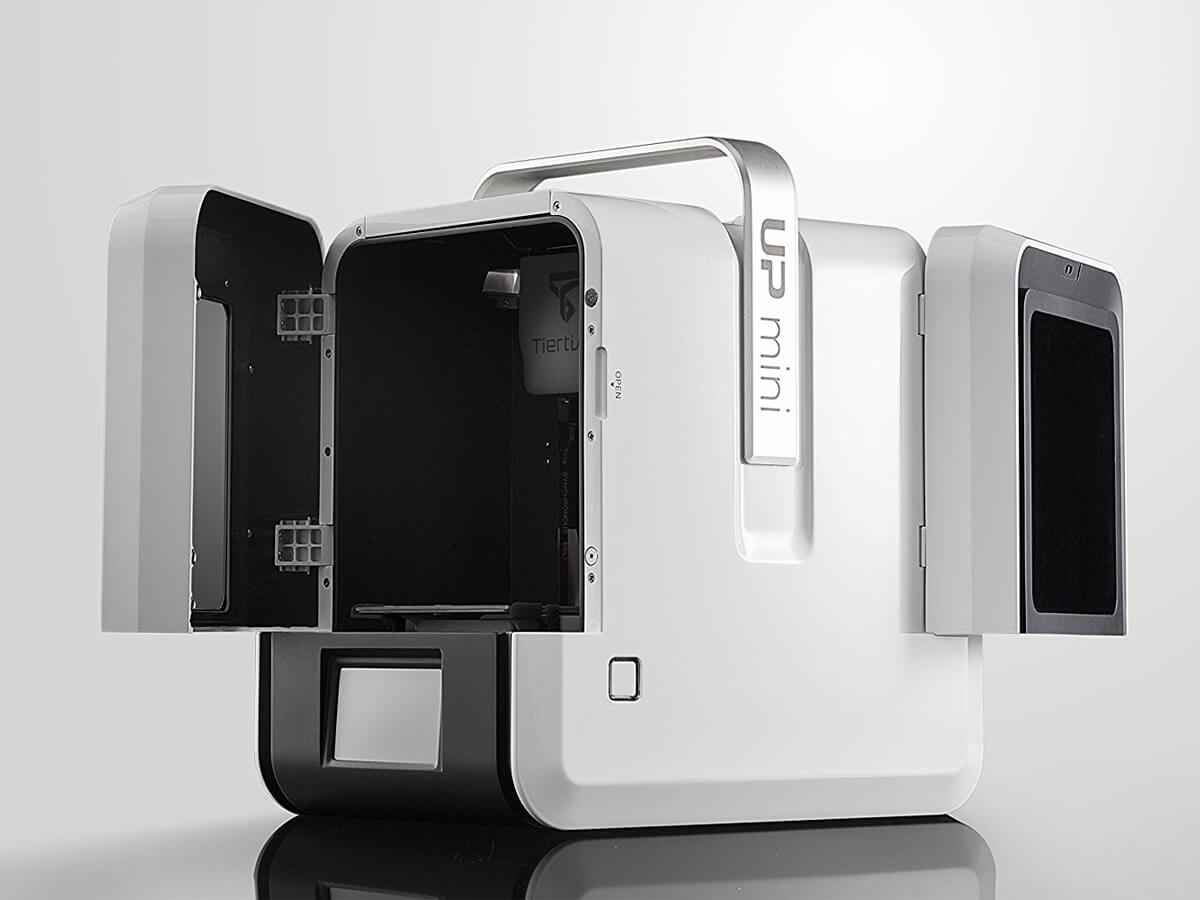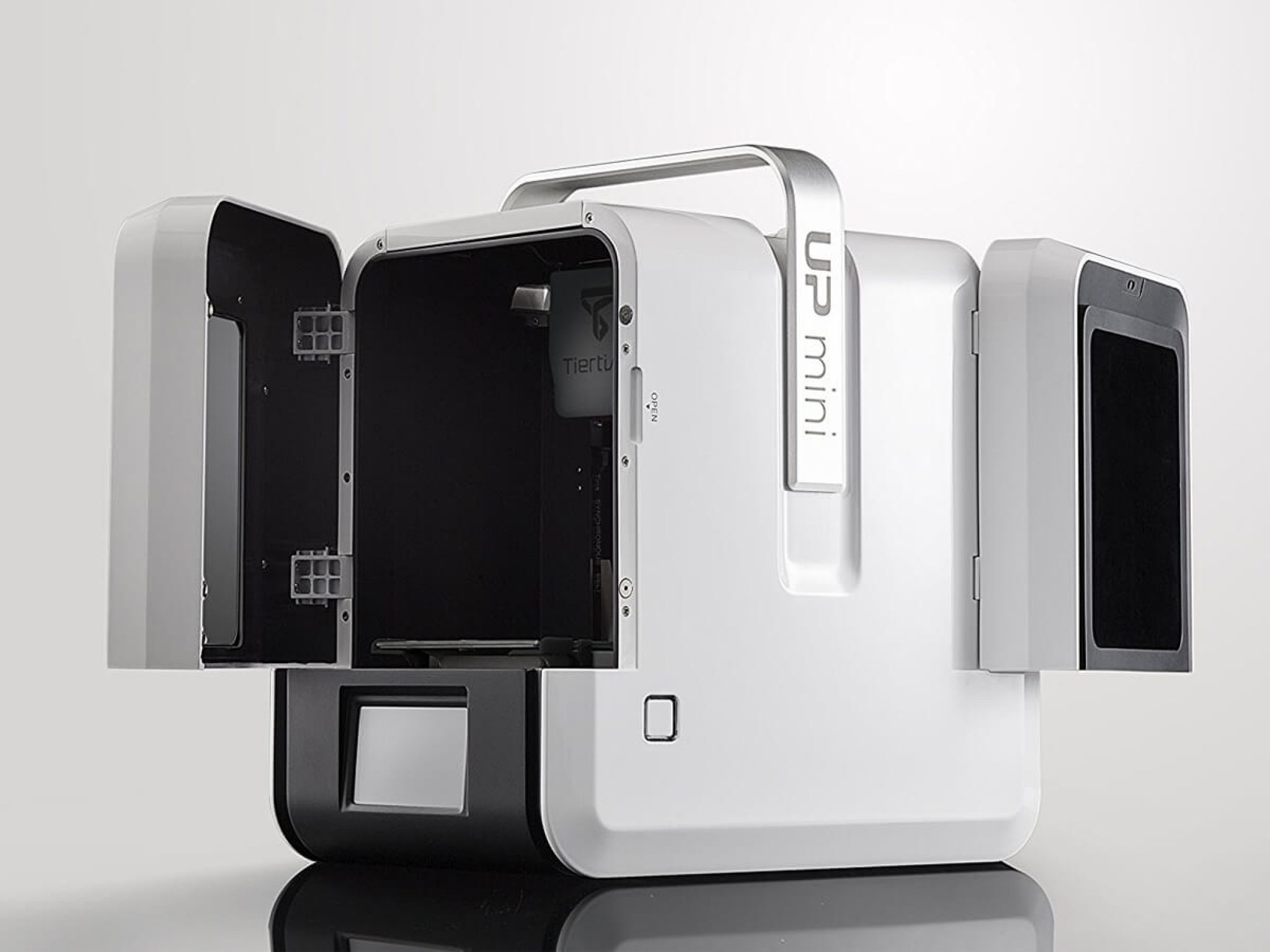 Features
The 3D printer before UP Mini 2 ES was also a lot appreciated for their amazing feature selection. And, this one isn't different. Unlike the affordable 3D Printers that are usually unsatisfactory in terms of features, this one carries a huge list of advanced functionalities.
To understand the real worth of the machine, you must try your hands on this amazing 3D printer. It carries comprehensive features and amazing perks for its users.
Plug and Play: As with the other machines from the series, this one also is a complete plug and play 3D printer. It won't ask you to do the difficult settings. However, on the other hand, UP mini 2 ES is easy to start. Hence, the printer offers great ease to beginners. If you are looking for some serious action and haven't worked with a 3D printer before, you must check this option out. It won't disappoint you.
Enclosed Frame: The 3D printer is completely enclosed. It has one front door and a back door. The 3D printer is made of plastic. However, it is sturdy and high quality. The looks are also applaudable. The closed frame offers the user better temperature maintenance around the print space. Also, the printer is safe to work in the house and around children too.
Built-in HEPA Filter: Not every affordable 3D Printer will offer such safety. We all know that printing with ABS brings with itself some annoying sidekicks. And, the odor and harmful fumes are just of the most frustrating part to deal with. This is why it is recommended to work with ABS in a properly ventilated space. However, in the case of UP Mini 2 ES, you do not have to worry about it. The HEPA filter reduces the harmful effect by filtering more than 90 percent of the fumes and providing users with a safe environment to work with. You do not even need to have a lot of windows and doors inside your house to work with ABS.
Activated Carbon Filter: Along with the HEPA filter, it also flaunts the activated carbon filter. This guarantees even more safety to the users when working with filaments such as ABS that emits harmful fumes and residues.
Removable Print Bed: Users can complete the print jobs and take out the print safely out of the machine with the removable print bed. The process is simple and further provides ease of working with the machine. Again, a huge perk for beginners.
Automated Leveling: The machine carries most of the advanced features from its predecessor. And, this one is also an inclusion. With automated leveling, the machine measures the distance of the nozzle and the bed each time before starting the next print. This is again a huge benefit of novices. After all, the 3D Printer design favors every level of users.
Touchscreen Control: The front of the 3D printer features a color touchscreen that takes care of most of the print settings. Hence, offering a standalone solution to the users. The printer has a future upgradable touch screen system.
WIFI Connection: Users can connect with the 3D printer over WIFI. Hence, the print operation is very easy to control even when away from the machine. It also features a USB and LAN connection in case one wants to use the wired option.
Separate Filament Caddy: There is almost no change in the design of the 3D printer from its predecessors. It does have a separate filament caddy for storing up to 500 gms of filament.
Midway Filament Change Option: When you are working with Mini 2 ES, you can use two different filaments at two different times during the same print. In other words, you can pause the print in between to change the filament and its related settings.
Heated Build Plate: Mini UP 2 ES has a heated build plate for offering great first layer adhesion. Hence, minimizing the problem of warping and other such issues.
Multiple Filament Compatibility: If you are someone who likes to experiment with different filaments, but do not want to spend on expensive 3D printers, why not try UP Mini 2 ES? It can print with PLA, ABS, TPU, and many other special filaments.
All these features are a huge addition for those who want to start with the additive manufacturing niche but do not want to compromise on feature sets. Offering users with great exposure to different nuances of 3D printing, UP Mini 2 ES stays among the best selections.
Specifications
The 3D printer isn't too big and can easily accommodate the work desk, either inside your house or the office. With a footprint of 255 x 365 x 385 mm, you can expect the printer to be very compact and easily manageable.
On top of that, you also get a handle attached to the frame of the printer for easy carrying of the machine from one place to another.
It has a net weight of 7.5 kgs which is handy enough for home use. With the single extruder, one can reach the 299 degree Celsius of extruder temperature.
Making it possible for printing with standard as well as flexible materials. The maximum extruder travel speed, on the other hand, is 200 mm/sec which he also impressive.
The printer has a build volume of 120 × 120 × 120 mm. The filament caddy can store 500 gms of filament at one time. The layer resolution would vary from 0.15mm to 0.35mm. It has 4.3 inches of a full-colored touchscreen with intuitive control options.
Overall, the 3D printer is desirable for beginners and experts alike. With so many exquisite features and specs, it surely aims at gaining popularity among the 3D printing community.
Price
The price of Tiertime UP Mini 2 ES varies between USD$ 699.00 to USD$ 799.00. The cost is set at a comparatively affordable rate. And, it does compete with its counterparts falling under a similar price range in terms of features and functionalities.
First Impressions
The Tiertime UP Mini 2 ES is packed securely inside a box. After opening the package, you would find the printer stuffed inside another box for added security.
The box is filled with foam to save the machine from wear and tear during shipping. The filament caddy is packed in a separate box inside the complete package.
Along with the package, there were other things included too. For instance, you can find a filament guide tube, pair of gloves, Pliers, set of tools for working with 3D printer setup, USB cable for connection with the PC, calibration card, and two extra build plates.
Setup
The setup is easy. Being a plug and play 3D Printer, most of the settings are taken care of by the machine itself. Most of all, one does not have to fix parts together to start working with the settings in the first place.
You must initialize the machine before starting with every next print. This brings the printer head and bed in their home positions. You can further check a 3D cube as a sample test. Only then, you would be able to use the other settings on the touchscreen.
Connecting with WIFI is also simple. The package contains the instruction manual to ensure you do not have any issue when setting your 3D Printer.
Printing Type/Cost
The 3D printer is based on MEM (Melted Extrusion Modeling) 3D printing technology. This is similar to the FDM process. Hence, the entire procedure for building the 3D model will remain the same.
When it comes to the cost of printing, you may have to include a lot of factors. For example, the chosen filament, the complexity of the design, the layer height, etc. And, do not forget to include the electricity cost as well.
However, it would still be cheaper when compared to the resin-based or powdered based 3D printing.
Print Quality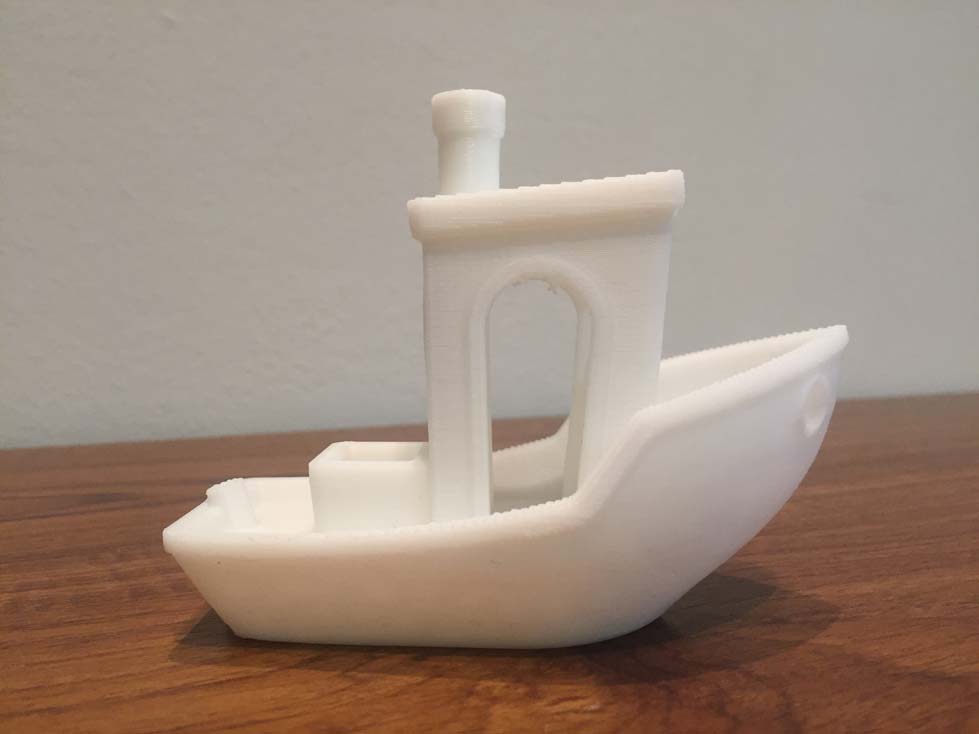 Credit: aniwaa.com
The print quality is decent. You can print functional prototypes using ABS and PLA as well. With saved print profiles and an ability to preview the support structure, users can verify the complete printing before the start of the entire procedure itself.
UP Mini 2 ES is created for providing better results than the predecessor and it does justify its existence. With upgraded hardware, the printer offers considerably enhanced results from the older versions.
Software
The software hasn't changed at all. You can expect to be working with almost the same version that was available with Mini UP 2. The app is intuitive and simple.
However, it does not provide high flexibility with settings. When compared to other apps in the market, such as Cura, you may have to compromise with a lot of settings possible otherwise.
For example, you cannot set the print speed as per your need. On the contrary, you can only choose between the three pre-set settings: Normal, Fine, and Fast.
There are many such limitations in the software that may disappoint expert users. But again, a lot of beginners would be happy to work with a simpler version, if not all.
Customer Service
The customer service is a lot competitive though. You get all the instructions and manuals necessary for settings with your printer. In case, you need more assistance, you can check the website for more Q&As. Further, a dedicated team is also available to solve the problems.
Parameters Influencing the Buying Decision
Do not ignore the important factors before deciding to buy the UP Mini 2 ES.
3D Printer cost: The printer is a mid-range machine and is affordable to makers as well as beginners wanting to buy a 3D printer for home use.
3D Print quality: It has amazing print quality.
3D Print speed: The print speed is also decent. But the settings are limited.
3D Printer capability: UP Mini 2 ES can produce finer details and work with different materials.
3D Printer Practicality: You can use it for end parts as well as for functional prototypes, requiring not much stress response.
3D Printer User expectations: It does provide users with a comprehensive list of benefits. Hence, a satisfactory upgrade. However, a dual extruder would have been much appreciated.
Verdict
With Tiertime Mini UP 2 ES review, you can find out the strength as well as the weakness of the 3D printer to make an informed decision. However, if you are a beginner with a need for high-quality print at a lower cost, you can check this option out.