Kodama Obsidian 3D Printer
Kodama Obsidian is a perfect blend of quality, beauty, and affordability. The best part is that the company has ensured to focus on different user bases.
PROS
Compact
Plug and play
Nice resolution at this price
Heated bed
Remote monitoring
Open design is compatible with open source slicing software
Affordable
CONS
The basic version does not have enough feature
Product
Specification
Videos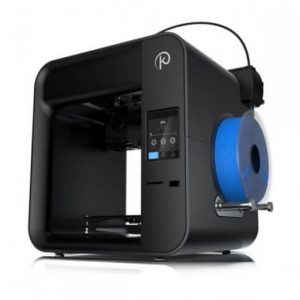 Offering a sleek and elegant design, this FDM 3D printer marks the new generation of lower-priced FDM 3D printers. Gone are the days when FDM 3D ...
| | |
| --- | --- |
| Model | Obsidian |
| Manufacturer | Kodama |
| Price Range | $99 |
| Release date | 2018 |
| Country | United States |
| Availability | Available |
| Classification | Hobbyist |
| Technology | Extrusion (FFF- FDM…) |
| Material | ABS, Other plastics, PLA |
| Filament diameter | 1.75 mm0.07 in |
| OS compatibility | Android |
| Generic material | Yes |
| XY accuracy | 0.025 mm0.001 in |
| Max. build size | 120 × 120 × 120 mm 4.72 × 4.72 × 4.72 in |
| Max. build volume | 1.73 L |
| Min. layer thickness | 0.03 mm 0.001 in |
| Dimensions | 270 × 290 × 310 mm 10.6 × 11.4 × 12.2 in |
| Weight | 5.5 Kg 12.12 Ib |
| Nozzle diameter(s) | 0.4 mm0.02 in |
| Heated print bed | Yes |
| Heated build chamber | No |
| Automatic calibration | No |
| Closed frame | Yes |
| Dual extruder | No |
| Independent Dual Extruder | No |
| Full color | No |
| Touchscreen | Yes |
| LCD screen | Yes |
| On-board camera | Yes |
| Mobile app | Yes |
| 3D scanners | No |
| CNC mill | No |
| Electronics 3D printing | No |
| Laser engraving | No |
| Conveyor belt | No |
| Air filter | Yes |
| Pellet extruder | No |
| USB | Yes |
| Wifi | Yes |
| Bluetooth | No |
| SD card | Yes |
| Ethernet | Yes |

Table of Contents
Releasing Obsidian was an initiation by Kodama to redefine the meaning of affordable 3D printing. A 3D printer around $200 is no more a surprise for anyone. We can find several machines ranging at that price tag.
However, how about when you see a machine at half that price? Seriously, this is possible. Kodama Obsidian review highlights all the features that come along with this cheap 3D printer. And, a peep into its abilities and limitations that come along with the low cost.
The 3D Printer has made everyone believe that they can also try their expertise with additive manufacturing technology.
With such affordability, it is no doubt why Obsidian has gained so much popularity. But the fact is that it's not just the price, but its comprehensive features that will justify its cost.
From not so-tiny print bed, usual among printer of this cost, to monitoring camera, you can find a lot of features that are available with expensive counterparts.
In such conditions, establishing its name among the members of the 3D printing community would not have been so difficult.
The company has been able to sell over 3000 machines already to the Kickstarter backers staying in more than 80 countries. This is just the beginning of a new signature that Kodama has registered on its name.
The article aims at introducing readers with the exact functionalities and perks available with the 3D Printer. While not ignoring the limitations that one would come across when 3D printing with Obsidian.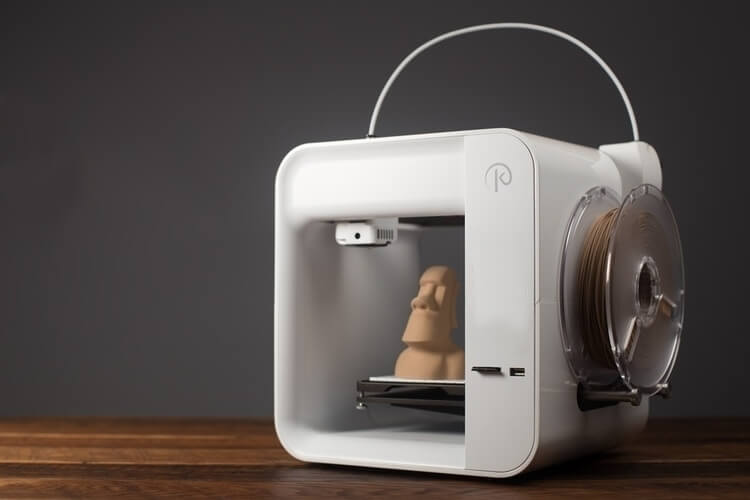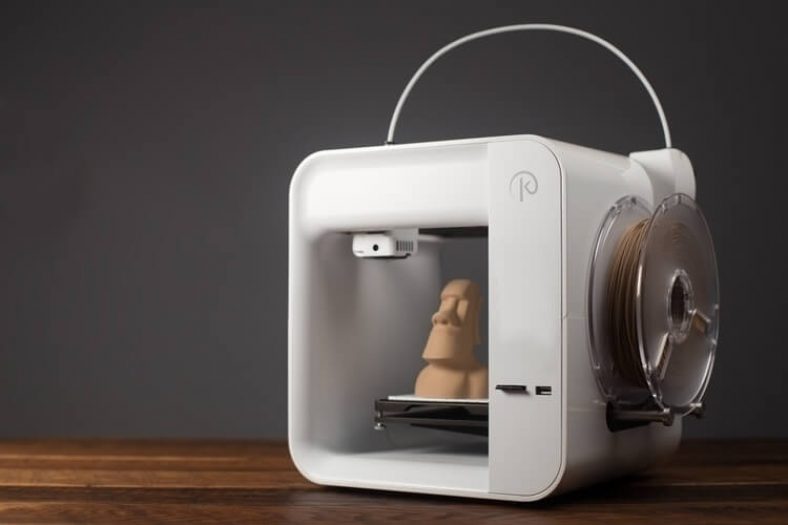 Features
Kodama Obsidian is a perfect blend of quality, beauty, and affordability. The best part is that the company has ensured to focus on different user bases.
For example, the basic design has limited features with the lowest price. However, if someone wants a few extra functionalities for a little bit of higher cost, one can order for the upgrade. The good news is that the upgrades are also available at an affordable price.
All this sounds a lot exciting. And, you must be willing to dive into the various astonishing features that the machine offers. So, let's not delay and find out what all you get with Obsidian for making 3D printing easy and fun.
Trendy Design: A lot of 3D printers seem to look out of place. A basic design that seems too far from being attractive may not be a huge spoiler for some, but it is for few. Unlike those 3D printers, Obsidian offers amazing aesthetics. You would love to make room for the printer in your study or offices. It is available in white as well as black color.
Fully Assembled: As the price suits beginners, the design suits too. In other words, the 3D printer comes fully assembled. You do not need to connect different components to start printing. Hence, a lot of individuals can take benefit from this 3D printer. Unlike the 3D printer kits, that take hours of effort, this one makes it simple for every level of users.
Plug and Play: How can you miss this part? The machine offers a plug and plays design. This means that you do not need to engage yourself with much of the tinkering of settings. Most of the things are simple and automated. From filament loading to calibration, nothing seems too difficult. In a couple of minutes, you can start printing.
Considerable Large Build Volume: By now, how many 3D printers have you compared falling in a similar price range? The most common limitation falls in terms of build volume. Most of the cheapest 3D printers fall short in terms of the space available for printing. However, in this case, the scenario is completely the opposite. Most of the expensive 3D Printers offer a volume close to 120 x 120 x 120 mm. Obsidian allows users to provide enough room for playing around with their creativity. This is a really great addition to the machine.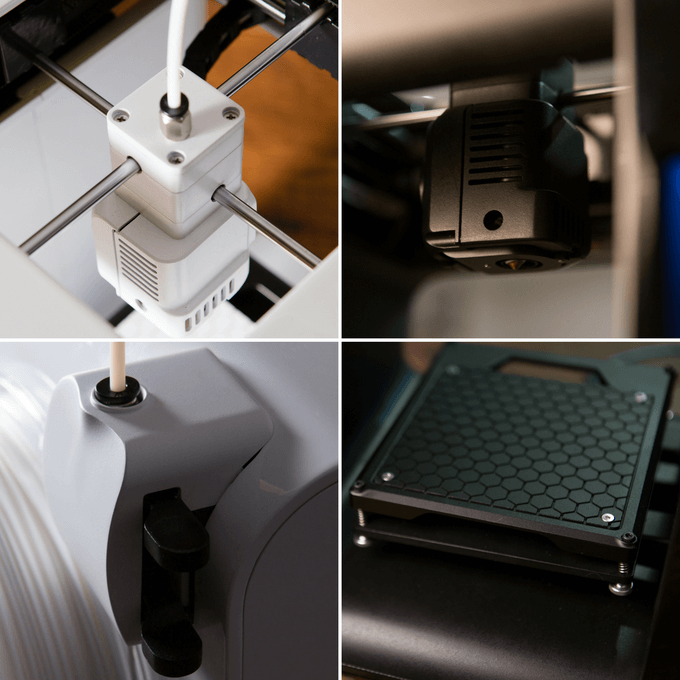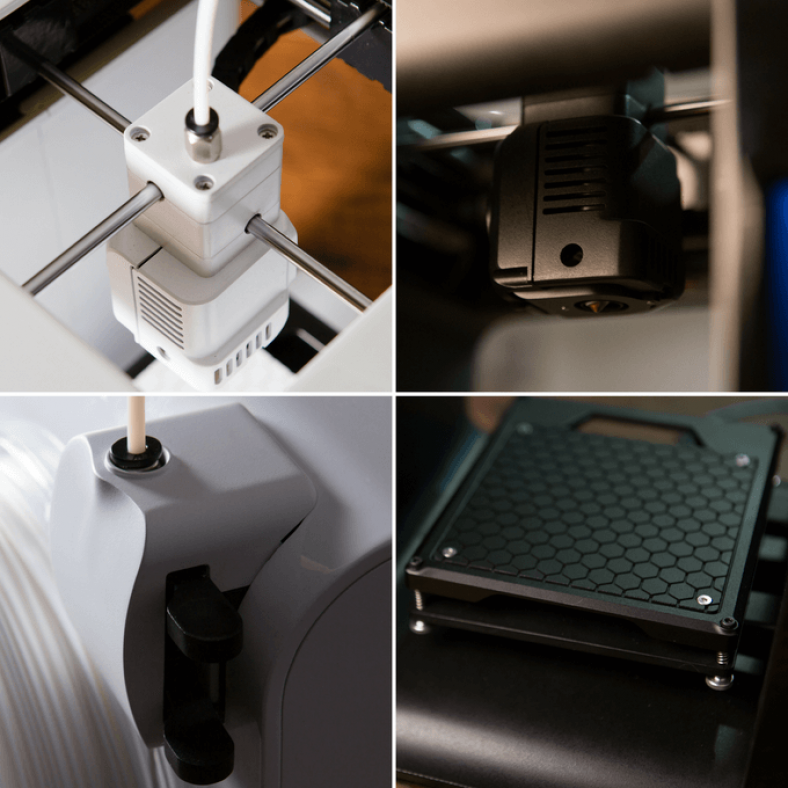 Features Allowed for Upgradation
There are certain features that you can request in advance. Here is a list of upgrades available with Kodama Obsidian.
Remote Monitoring: It is not very often to find such upgrades available for a cheap 3D printer. Remote monitoring with 2 MP integrated camera could help you keep an eye on your prints when away. Not just that, the camera can also record time-lapse for making it easier to share with friends and over social media platforms.
WIFI Connection: You can also connect over WIFI. Making it easier to upload the 3D files to the printer and access a few of the controls when required. The 3D printer manages to provide users with the most thoughtful list of features. Hence, this one had to be on the list, even if as an upgrade.
3.5 Inch LCD Touchscreen: On this compact printer body, you can request an LCD interface with a touchscreen feature. This will help users manage their prints directly from the machine itself without needing to connect with a laptop. Hence, making the machine sufficient enough to work as a standalone device.
Heated Print bed: The 3D printer is compatible with PLA. However, if you need to work with other materials such as ABS, nylon, PETG, and others, you must request this upgrade, the heated print bed. The feature is very necessary when working with materials other than PLA.
Compatible with iOS and Android: Obsidian app is compatible with both iOS and Android. Hence, you can manage the prints from any of the OS. Making the operation flexible for owners of both the OS based mobile phones.
Specifications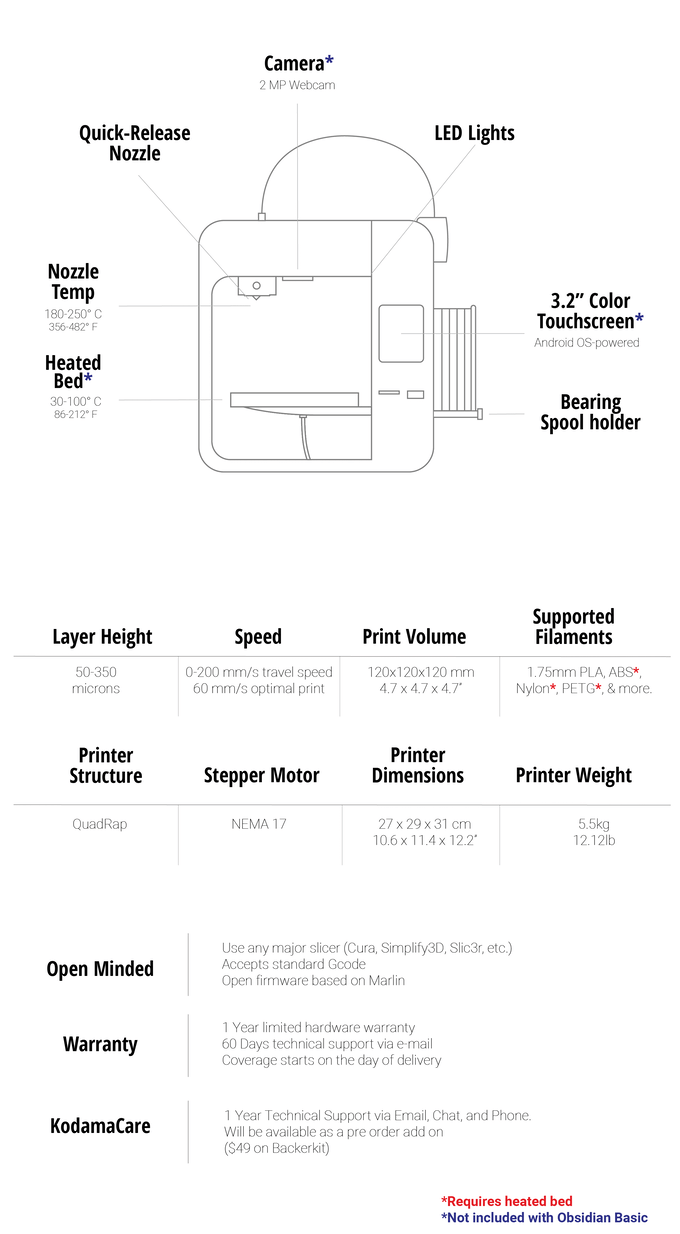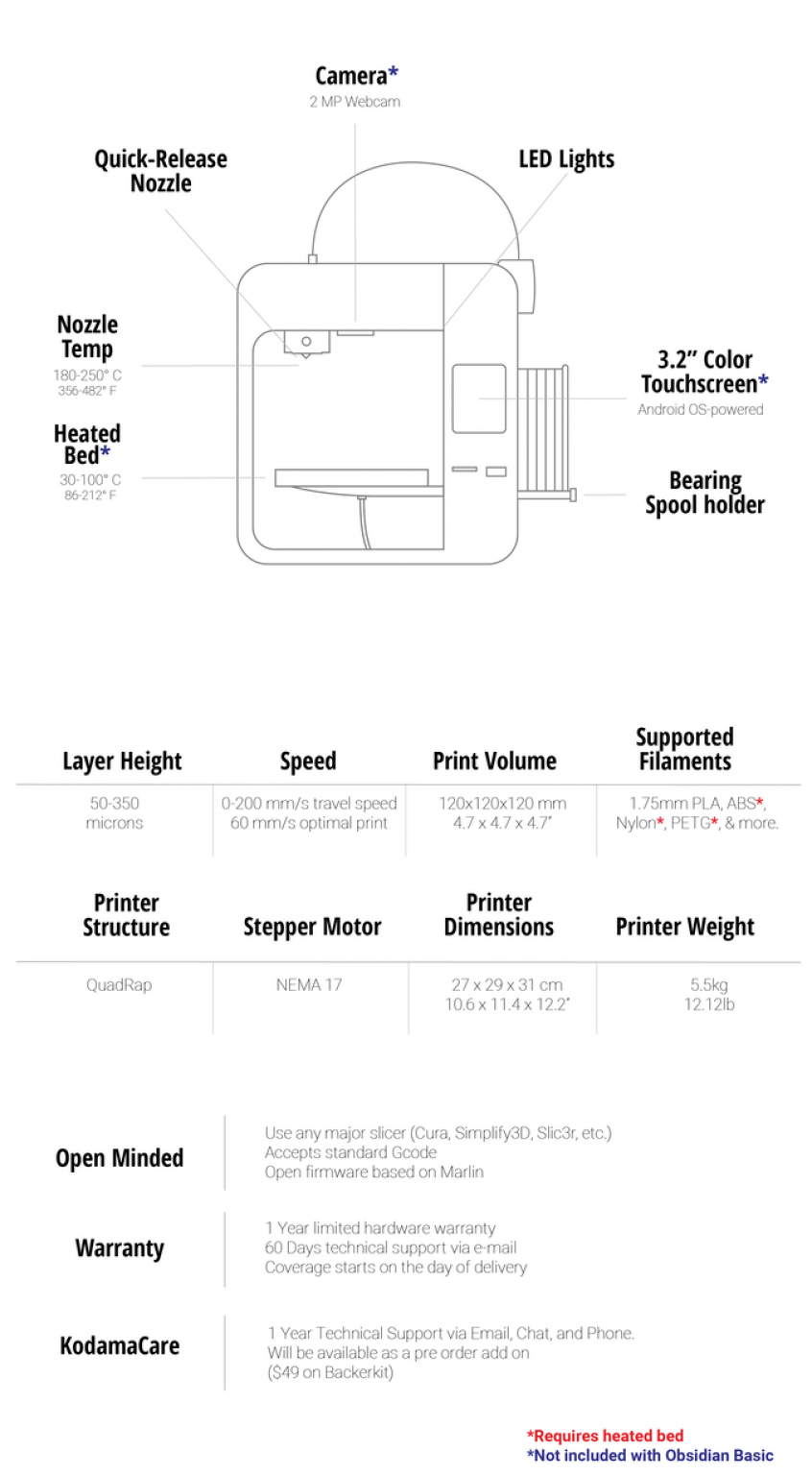 If you are looking for a modern-looking and sleek design, you may not have to look any further. The 3D printer offers 10 times its price.
Letting users print large models, the desktop 3D printer does have an edge over other cheap printers from its range. It flaunts 120 x 120 x 120 mm of build space. Also, the entire frame is compact and looks very attractive.
The aluminum chassis further enhances the looks of the printer. It also adds up for keeping the machine lightweight. Hence, one can easily shift from one place to another.
With a very efficient extruder, individuals can heat up the print head between the range of 180-250°C. Also, the print resolution is way better than even more expensive printers. You can achieve a layer height ranging between 50-350μm.
Apart from the WIFI connection, mentioned above, you can also connect using the SD card and USB. While USB is available with the standard version, the SD card and WIFI connectivity come with an upgrade version.
Also, the 2-megapixel camera is not for the standard design. It again is an addon for the upgraded version.
Overall, the printer allows users to come closer to the additive manufacturing technology and let it leads their way to a brighter and more flexible tomorrow.
Price
The standard price starts at $99. However, if you need an upgrade, you must pre-order for the same. You can request the manufacturer for the quote depending on the upgrades you choose to include with your 3D Printer.
First Impressions
As already mentioned before, the 3D printer is compact and has a footprint of 10.6' x 11.4' x 12.2'. It weighs only 5.5 kgs. This makes it a very portable and handy machine.
The package is also not heavy. You would be able to handle it alone. And, you won't need a lot of room for this 3D printer.
Obsidian looks modern and mesmerizing. And, it is perfectly packed inside a secure box. Every part is connected with each other and the printer comes fully assembled.
Depending on your order and upgrades, your package content will differ though. Those ordering the very basic design costing $99 would only receive the 3D printer. However, with higher upgrades, the company also includes the filament spool.
Setup
Obsidian is the best 3D printer for beginners as it needs almost no setup requirement. It is a pure plug and plays machine.
You just have to connect the 3D printer with the laptop after unboxing and start printing. If you have ordered an upgraded version, you can even connect over WIFI and work through your designs.
Printing Type/Cost
Kodama Obsidian is an FDM 3D Printer. The design of the printer consists mainly of the extruder, build platform, cooling fan, and filament spool.
The extruder heats the filament just above the melting point and deposits it layer by layer on the print bed. Each layer is cooled to set. After this, another layer is deposited. This whole process keeps going on until the entire model is perfected.
The cost of printing would depend on a lot of various parameters. What filament do you choose? How complex is your 3D design? What layer height you need? And, a lot of more similar factors.
However, you must not forget to include secondary expenses such as office rent (in case you are not working from your home), electricity cost, etc.
PLA is the cheapest filament. So, you can try this for keeping the low cost for 3D printing.
Print Quality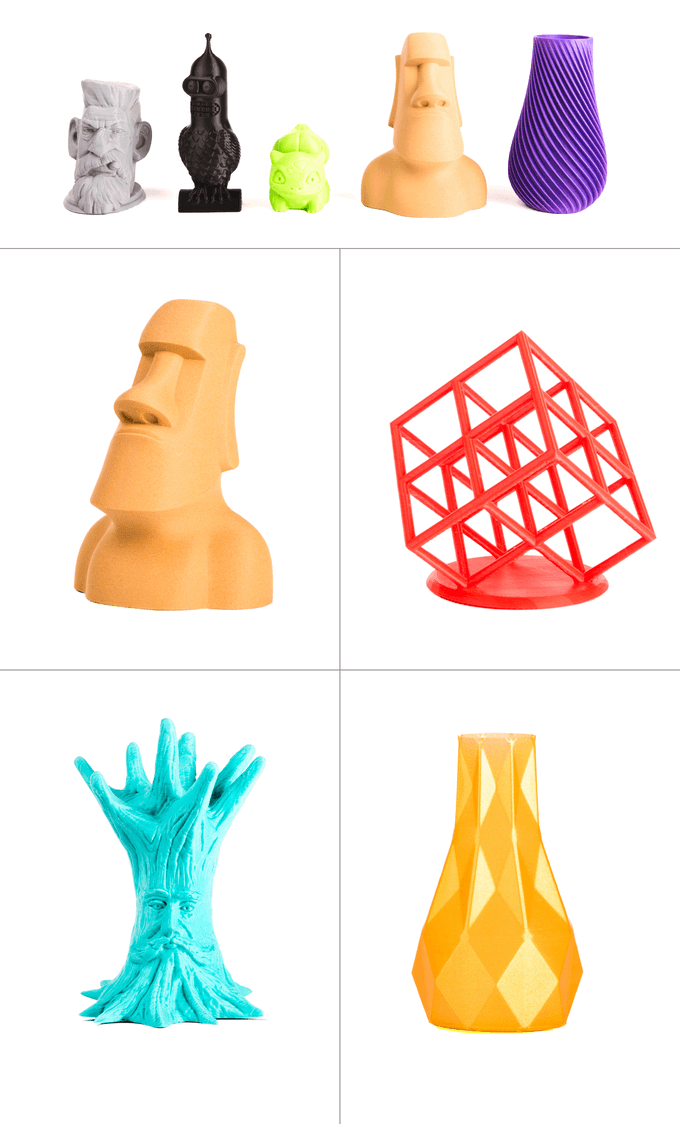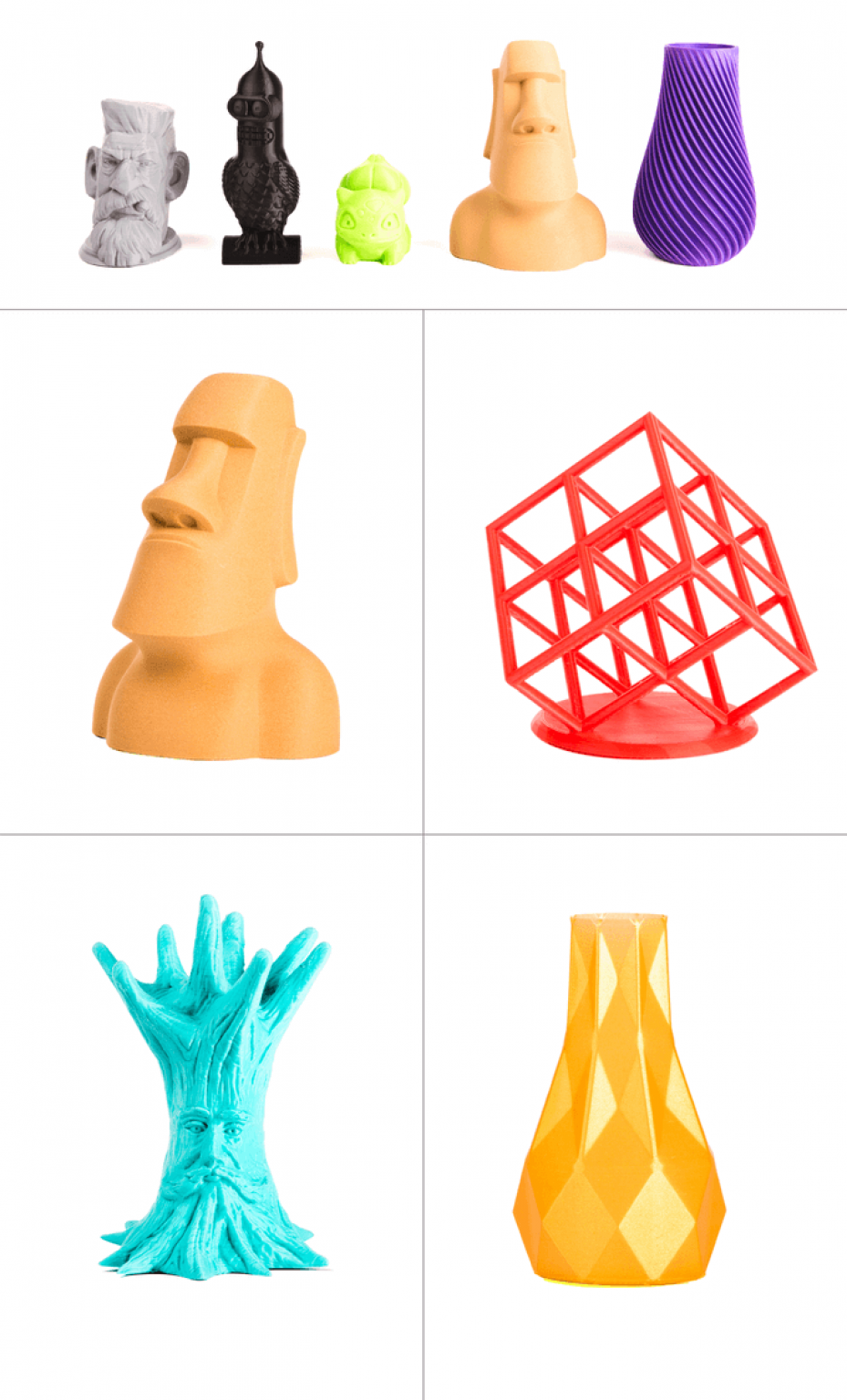 If you are expecting the printer to be lame with such a low price, you are mistaken. You may have had bad experiences with cheap 3D printers. But this one is certain to amaze you.
With layer height ranging between 50-350μm, you have got immense flexibility to achieve varying results.
Plus, the support for multiple materials makes room for greater achievements. Hence, you can consider this machine offers much more than what it costs.
Software
The 3D printer is compatible with most of the open-source slicing software. However, the manufacturer recommends using Cura and Simplyfy3D for the best results.
Both these apps are very popular and used by many of the makers and enthusiasts around the globe. These are easy to work with and offer a huge set of controls to provide users with the highest flexibility with the print settings.
Customer Service
You can contact customer service through the contact form on their website. The team is responsive and would connect with you at the earliest.
Also, they have got enough FAQs to help users find the answers to their questions without needing any additional help. Moreover, the guides and instructions available are more than just sufficient.
The company also offers 1 year of limited hardware warranty and the term commences from the date of delivery.
Parameters Influencing Buying Decision
If you are all excited to pre-order the machine, you must look at the parameters that may help you decide for better.
3D Printer cost: The printer cost is highly affordable. The upgrades also fall below $300. This again is not a big price to pay for a reasonable set of features.
3D Print quality: With thinner layer resolution and compatibility with multiple materials, the print quality can never be mediocre. It is applaudable.
3D Print speed: print speed is where you need to compromise. It can reach a speed of 60 mm/sec of optimal print speed.
3D Printer capability: Looking at all the favorable features, the printer definitely is capable of a lot of creativity. From finer details to complex geometries, you can shape almost any design.
3D Printer Practicality: The printer is for hobbyists, DIY artists, schools, and a lot of other applications. Small businesses can also make use of it.
3D Printer User expectations: It does offer great results scoring affirmative reviews from the users.
The Verdict
Cheap 3D printers are usually more of a toy and less of a working machine. With a lack of flexibility to extend the creations, a lot of such machines fail in just a few months of their release.
However, reading the Kodama Obsidian review, we can deem that this one is very different from others. And, is created for success. So, you can give it a try and for the right reasons.