101Hero 3D Printer
101Hero does excite everyone with its attractive price tag. Either you are curious enough or not, looking at such a cheap cost may stir you to find out more about the machine.
PROS
Affordable
Assembled
A great choice for those wanting to try 3D printing for fun
Supports multiple materials
Allows the use of open source slicing apps
CONS
Not very accurate and precise
Non-heated bed
Open frame design
Weak motors
Product
Specification
Videos

101 Hero is a printer that comes with a Plastic frame and a non-heated glass print bed. Considering the price at which the printer is available in ...
| | |
| --- | --- |
| Model | 101HERO |
| Manufacturer | 101HERO |
| Price Range | $99 |
| Availability | Available |
| Release date | 2017 |
| Country | China |
| Classification | Hobbyist |
| Technology | Extrusion (FFF- FDM…) |
| Material | ABS, Other plastics, PLA |
| Closed frame | No |
| Heated print bed | No |
| Max. build volume | 1.50 L |
| Weight | 1.86 Kg 4.10 Ib |
| Dimensions | 327 × 219 × 253 mm 12.87 × 8.62 × 9.96 in |
| Filament diameter | 1.75 mm 0.07 in |
| Nozzle diameter(s) | 0.4 mm0.02 in |
| Dual extruder | No |
| USB | Yes |
| Ethernet | No |
| Wifi | No |
| SD card | Yes |
| Bluetooth | No |
| Max. print speed | 14 mm 0.55 in/s |
| Touchscreen | No |
| Full color | Yes |
| LCD screen | No |

Table of Contents
Amid all the developments within the additive manufacturing industry, there are few manufacturers who have tried to make 3D printers easily accessible to users.
Hence, designs like the 101Hero 3D printer should not surprise you. A price of less than $100 is something most individuals can afford.
Either you wish to gift it to someone during Christmas or surprise your young ones on their birthdays, you can pay for this machine. However, it is also important to find out if the 3D printer is worth the money. Read the 101Hero review to find out yourself.
Did you ever think that you would be able to create a complete object out of a printer in a matter of days? A few years ago, this was nothing more than a far-fetched dream.
By hearing about printers, we only used to think of the papers and ink. The time has changed though. Additive manufacturing technology has reached homes.
You can do much more than just create prototypes out of these machines. And, these have gone small too.
If you think that the toy you bought for your child the other day could have been designed better, why not do it anyway? Yes, 3D printers have made this possible.
With so many makers and enthusiasts around the world, you can find thousands of 3D designs scattered over the internet. And, 3D printers like 101Hero provide more of such hobbyists the privilege of giving their creativity a proper direction.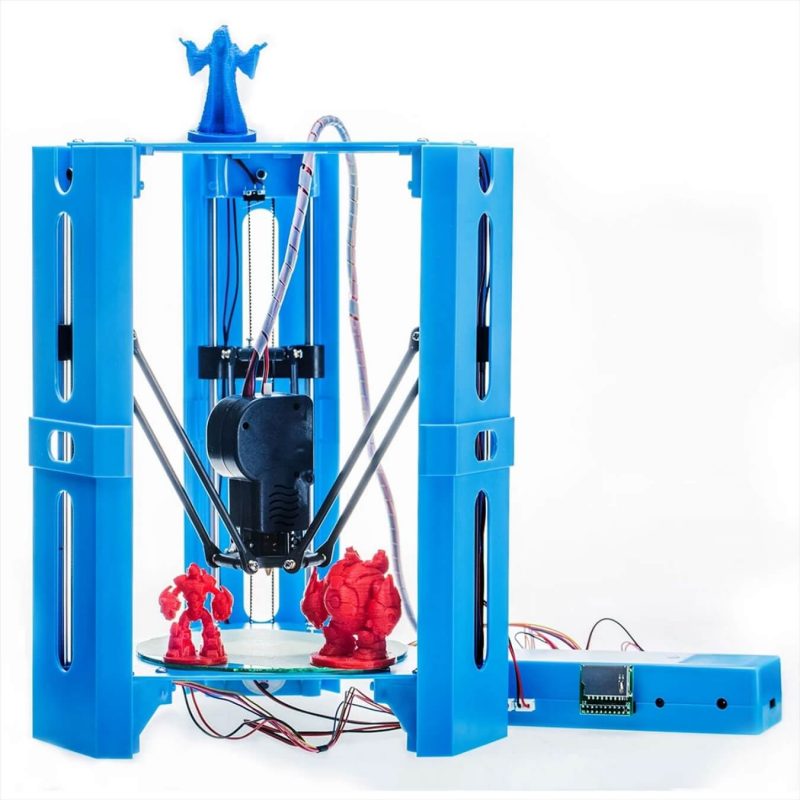 Features
101Hero does excite everyone with its attractive price tag. Either you are curious enough or not, looking at such a cheap cost may stir you to find out more about the machine.
It has a few features that could be useful for those who wish to explore the nuances of additive technology. The niche is profound and this little printer may not be powerful enough to get you the real taste of its potential, but it would help you get started.
Look at the various features and find out how good is the machine for the price you will pay.
Safe Design: The manufacturer claims that the 3D printer has been thoughtfully crafted to provide safety to the users. It is good for young ones as well as adults.
Non-Heated Bed: 101Hero does not have a heated bed. Hence, it is safe to touch. However, you may have to look for some extra tips for increasing the adhesion of the print bed when working with tricky materials.
Multi-Material Support: You can print with PLA, ABS, HIPS, and many other materials. However, the company recommends PLA as the best option for printing with 101Hero.
Assembled Frame: The 3D printer comes fully assembled, with a need to fix a few screws. And, you will be good to go. Only in 5 minutes, you can attach the components with the help of screws and start printing.
USB Drive: The machine does offer a USB drive for connection with the desktop.
Specifications
101Hero 3D printer is a compact 3D printer designed especially for home users. If you are wondering what it is like to see your designs take shape, why not feel it is real.
An aim to reach homes and individual users, the company has come up with this small 3D printer, occupying very little space.
It has a footprint of 219 mm x 253 mm x 327 mm. And, it weighs just 1.86kgs. Isn't that too light to manage? You can easily take this machine from one place to another.
In terms of workspace, you get 100 × 100 × 150 mm of print volume. This is enough for those looking to explore just the basic working of the 3D printers.
However, if you wish to create something for a specific application, you may have to verify if space is all that you need. Definitely, considering other factors as well.
It's a single extruder machine with manual leveling needs. Although the company says that you can print from it right out of the box, you will need a bit for tinkering.
The nozzle's maximum temperature is 250 degrees Celsius. Now, if you are expecting a machine that performs like a workhorse at this price range, you must be giving yourself a lot of hope.
The printer is for those who do not wish to just sit back and keep reading the news and articles about 3D Printing but want to try themselves.
However, if you want to do even a bit more than that, this cheap 101Hero 3D printer may not intrigue you. The machine comes with three small motors.
These were originally for use with the 3D pens. Hence, these are naïve and not very powerful. With regular use, you may encounter problems like jam and these could even break.
You get what you pay for.
Price
Yes, the price of the 3D printer is really attractive. But what if the machine won't do its job as intended. The value won't be worth relying on.
This is a cheap 3D printer with just a $99 price tag. The cost may even stir curiosity within those who aren't very excited about 3D printing technology.
The 3D printer can surely print. However, it won't be very easy to work with this machine. You may have to sort out challenges yourself in many instances as the printer is very basic.
First Impressions
Now, this may differ for different customers. As there are many 101Hero reviews on the internet that claims that the components were broken.
Or, there were missing screws. But there are those feedbacks as well that praise 101Hero for its easy installation and printing workflow.
With this mixed customer's perception of the 3D printer, one thing is clear. The machine isn't for those looking for some serious action. But those who are sufficed with the abilities of this printer must know how it looks.
The first thing to note is that the 3D Printer weighs 1.8 kgs. However, the package would be around 2.4 kgs. Still easily manageable.
101Hero flaunts a plastic frame and that is why it is so lightweight. You can consider it the toy version of the real 3D printers. Anyway, it still prints. And for some, that is all that matters.
Setup
Coming down to the setup part, you must be willing to find out what all you just need to put the best setting in place. The 3D printer is almost assembled. However, you would need to connect a few screws and put the pieces of the puzzle together.
In short, it would not take more than a few minutes. Once you are through with that, you can download the 3D file from the online repositories or create your own. Save the file to the SD card and put it in the slot of the 3D printer.
With the press of a button, 3D printing will start in a matter of minutes. The extruder will heat up and the filament will start depositing.
However, you must also find out the right way to level the printer. It does not have an automated bed leveling feature. Although the factory settings are enough a few times.
But if you have any problem during the process, you can check the video tutorial on the manufacturer's website.
Also, you may not get enough help from the manual shipped with the 3D printer. It isn't elaborative and you may feel stuck at some points.
Printing Type/Cost
101Hero 3D printer works on FDM technology. Hence, the extruder needs to heat up for melting the filament and depositing it over the print bed.
The same happens in the case of this machine as well. After each layer cools down, another layer pops in. The process goes on until the 3D design is completely printed.
As it is always the case with FDM printers, the cost of printing isn't too high. 101Hero favors PLA for printing and this one is the cheapest of all materials available for building parts using FDM printers.
Plus, you must also consider the complexity and design requirements of the 3D model, layer height, and various other factors. Hence, the cost of different models will differ vastly.
Print Quality
As mentioned before, 'you get what you pay for'. And, this stays the same for the print quality as well. The printer isn't very accurate and precise. The print quality is just fine.
It is just a way to fuel your curiosity to the next level. Using this printer, you can only gaze at your interest and find out if you want to continue with your 3D printing passion.
You can convert designs into real shape. For toys, jewelry, or many more things, you can print a lot of objects. But you may have to compromise with the print quality most of the time.
Software
The 3D printer does not have its own slicing software. Rather, you can connect with any of the open-source apps and optimize the design settings. For example, it supports Slic3r, Cura, and few others.
Cura is one of the most popular slicer applications. And, you can use it too. It comes for free and offers a great user interface. It flaunts a lot of advanced tools for optimizing the 3D designs in the best possible way. And, the printer lets you use this app. So, why not?
Customer Service
With the incomplete manual that the company sends with the 3D printer, the package tells a lot about how the customer service would turn out to be. And, it exactly is the same.
You can email them your problems through their website. However, it is up to them to reply. Also, the FAQs and instructions, everything seems insufficient. So, you may have to work out through the problems on your own.
Parameters Influencing Buying Decision
Every individual has their own goals when they decide to purchase a 3D Printer. That is why 3D Printers offer varying features and results.
Among all, the budget printers are mostly created for helping those wanting to taste the fun related to 3D printing. Let's have a quick recap of the 101Hero review and find out if this one relates to your needs or not.
3D Printer cost: It is an affordable 3D Printer costing just $99. Hence, almost everyone with a knack for exploring new technologies could buy this printer.
3D Print quality: The print quality is mediocre. You cannot expect this cheap printer to get you the most precise parts. That won't be justified on the part of the machine as well.
3D Print speed: Once again, this could be a disappointment on the part of the users. The speed is mediocre too.
3D Printer capability: You can prepare fun objects using this 3D printer. Users can also pick a variety of filaments for printing.
3D Printer Practicality: 101Hero is only for fun use. You can gift this to your children to introduce them to 3D printing. Or, use yourself as well.
3D Printer User expectations: It would be too much to expect a lot from this cheap printer. However, it does print and could help give shape to your designs.
Verdict
Cheap 3D printers aren't unusual. There are many starting at $200. However, the $99 price tag does make this machine unique.
101Hero cannot offer precision to build prototypes, but it can produce end parts. It is a great option for learning.
Before going to the advanced 3D printing, this machine could be your way to explore the basics of the technology.
101Hero review points out all the things you could do with this machine. And, if that is all you want, you can give this little guy a try.