Vida cDLM by EnvisionTE
The compact yet large 3D printer, Vida cDLM has impressed many users who are already using this technology for their offices. The amazing print quality and the high-speed performance make it great for professionals.
PROS
It provides 10 times faster speed than other DLM machines.
It provides high-resolution printing.
Plug-and-play technology helps in easy operation
User-friendly interface provided with the screen touch system for ease of setting the printing parameters.
Compact and can be accommodated in small space as well.
Reduced need for the support structure.
CONS
It is expensive
Not accessible for those with low budget
Post-processing requirement
Product
Specification
Videos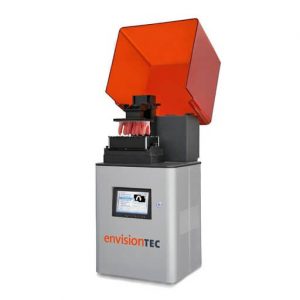 By working on the company patented, cDLM technology, Vida cDLM delivers high speed and precision in print quality. EnvisionTEC claims that this ...
| | |
| --- | --- |
| Model | Vida |
| Manufacturer | EnvisionTEC |
| Price Range | $ 10000 – $ 50000 |
| Release date | 2018 |
| Country | Germany |
| Availability | Available |
| Classification | Professional |
| Technology | Resin (SLA- DLP…) |
| Material | Liquid resin |
| XY accuracy | 0.073 mm0.003 in |
| Max. build size | 140 × 79 × 100 mm5.51 × 3.11 × 3.94 in |
| Max. build volume | 1.11 L |
| Min. layer thickness | 0.025 |
| Dimensions | 395 × 350 × 825 mm15.55 × 13.78 × 32.48 in |
| Weight | 34 kg74.96 lb |
| Heated print bed | No |
| Heated build chamber | No |
| Automatic calibration | Yes |
| Closed frame | Yes |
| Dual extruder | No |
| Independent Dual Extruder | No |
| Full color | No |
| LCD screen | No |
| Touchscreen | Yes |
| On-board camera | No |
| Mobile app | No |
| 3D scanners | No |
| CNC mill | No |
| Electronics 3D printing | No |
| Laser engraving | No |
| Conveyor belt | No |
| Air filter | No |
| Pellet extruder | No |
| USB | Yes |
| Wifi | Yes |
| Bluetooth | No |
| SD card | No |
| Ethernet | Yes |

Table of Contents
EnvisionTEC has always amused users from all different niches by manufacturing a few of the top-rated 3D printers for a variety of applications.
Releasing Vida cDLM, the company has raised the bars for other competitors in the market even higher.
The amazing design and quality offering that the company is set to provide through Vida cDLM is exemplary. The 3D printer has set standards for many other options coming in the future.
By delivering high speed and precision to the print quality, the Vida cDLM is already on the list of most desirable 3D printers that help print on demand.
This is the company's largest 3D printer and works on cDLM, the patented technology of EnvisionTEC. The most fascinating design so far by EnvisionTEC, Vida cDLM deserves all the attention.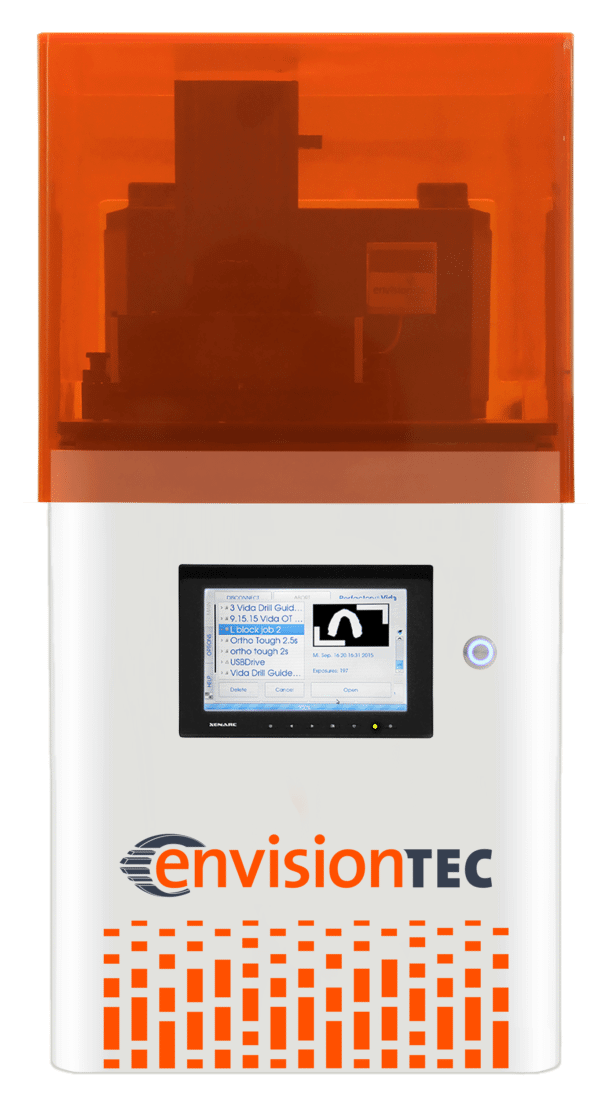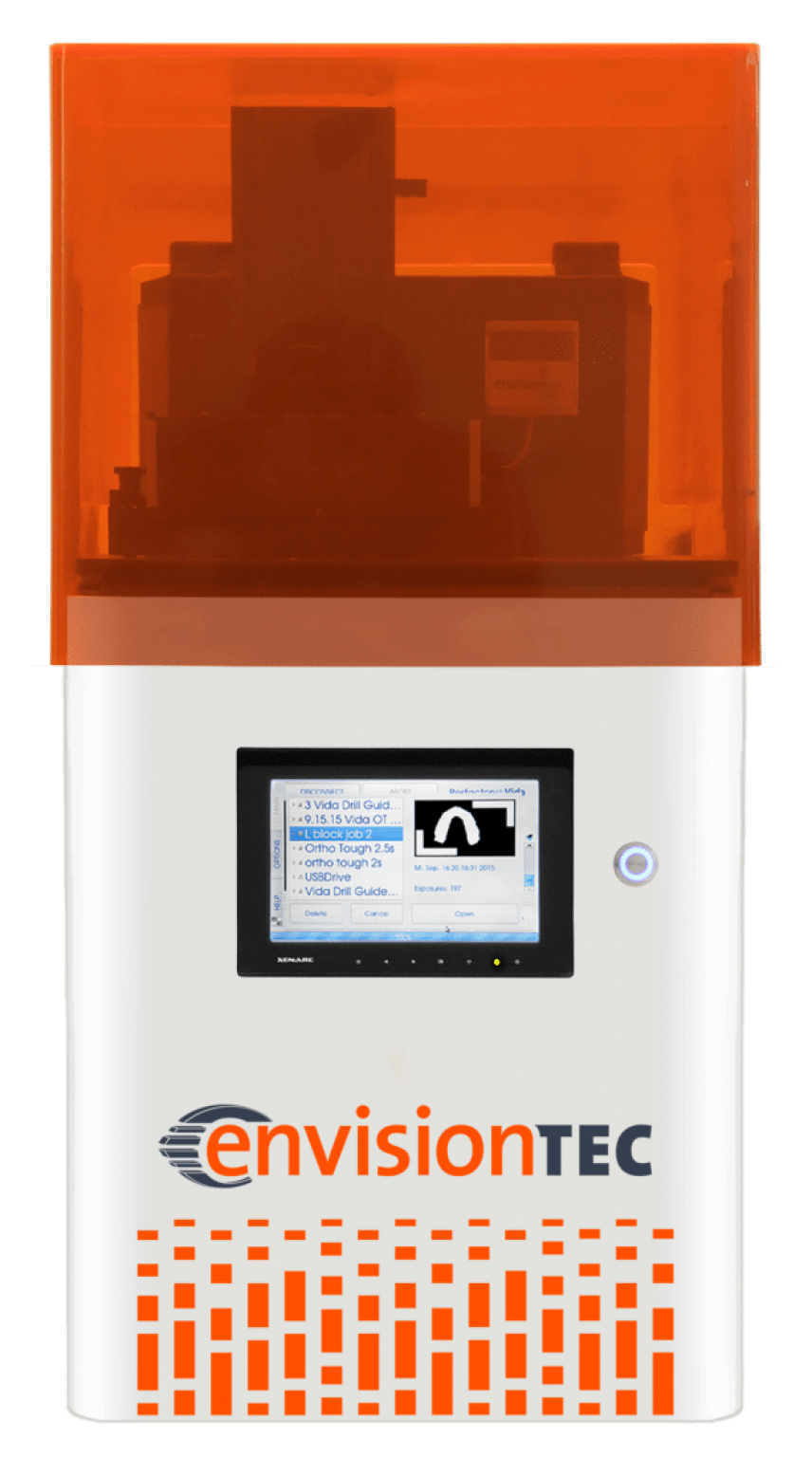 The company has even claimed that the 3D printer can print at a 10 times faster speed than most of the DLP printers in the market. By diving into the niche segment, this 3D printer is designed to cater to industries like dentistry, jewelry designing, entertainment and more.
With all the big news surrounding the 3D printer, there are some caveats one must consider before making the final choice. Hence, let us dive into the detailed review to ensure that we are not missing out on any point when making the informed decision.
Features
Being one of the most talked about 3D printers in the market, Vida cDLM has definitely a lot to offer. Utilized for various applications, Vida cDLM can take creativity to the next level.
Turning beginners to experts through the streamlined process, easy to follow, Vida cDLM is sure a genius.
The 3D printer showcases a few of the most amazing features:
Stunning Surface Quality: After 3D printers came into existence, we have been fighting for a smoother surface finish and very few choices are out there are close to providing the perfect resolution. Some are so uneven that the layers are highly visible, giving the entire model a staircase a feel. However, with Vida cDLM, this problem is solved almost completely. A perfect example of a smoother surface can be witnessed by looking at the parts created by this 3D printer.
High Speed: You may have heard it by many so far, also mentioned above, Vida cDLM is one of the fastest machines in the market using cDLM technique. The continuous 3D printing process makes the entire task faster and better. Instead of waiting for days, 3D printing with Vida cDLM is a matter of a couple of hours. Isn't that captivating? You must experience it to feel the difference.
Software Compatibility: You can use any software capable of outputting the STL file, you feel comfortable working with when using Vida cDLM.
Easy Material Change: This feature is again one of the most central features of all. Being able to change materials easy helps in avoiding wastage of material and getting the job done faster. You can change the materials easily and start working on the prints instantly.
Plug and Play Feature: The plug and play feature makes it easy for first-time users to start printing right away after installing the 3D printer with just a few minor steps.
Specifications
Talking about the specifications, the 3D printer is compact, still has a bit of height. You can though install at any corner of your house; it may seem out of place inside small rooms.
The 3D printer offers a build area of 145 x 81.5 x 100 mm (5.7 x 3.2 x 3.94 in.). Apart from a decent build area that is considered for many applications, this choice has 76 µm (0.003 in.) of XY resolution.
The dynamic resolution can be set between 25 to 150 µm (0.001 to 0.06 in.).
This will mostly depend on the choice of material though.
Vida cDLM uses an industrial LED source of light to ensure that the parts are created with utmost precision.
Hence, can be utilized for multiple niches. The weight is also manageable with 34 kgs.
So, if you wish to move it from one place to another, you can do it all by yourself.
First Impressions
The device is beautiful. A white body with an orange hood makes the 3D printer look amazing. The 3D printer is safely secured in the package box.
You must take it out carefully and ensure that the 3D printer is kept on a flat surface before getting into the setup process. The easy looking device is certainly plug-and-play fun.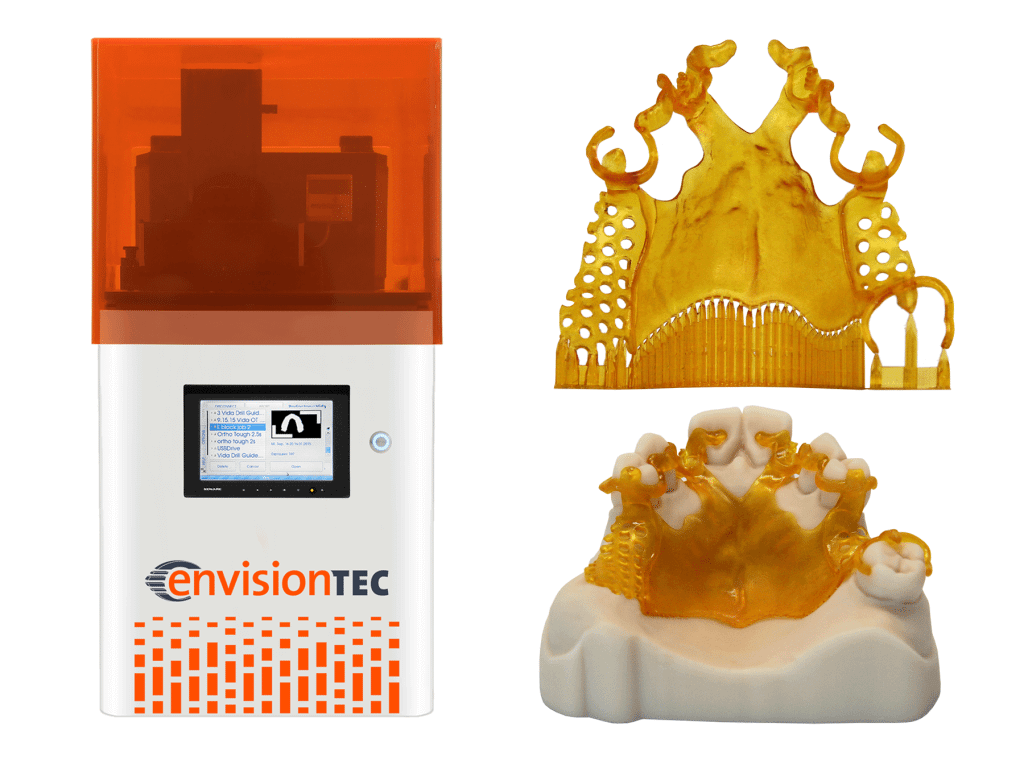 Instead of working around with small pieces or bolts, you get the provision of setting up with few simple steps.
While all the parts are already assembled, you won't require much time to start printing after taking the machine out of the box.
Setup
The setup is easy. As mentioned above, you only require a few steps to complete before printing your test model. Almost everything is available to you.
By putting little effort in placing the material and build plate inside, you are up for 3D printing.
The entire process would not take more than a few minutes. You have all the resources available to start your first print.
With manuals to online help, you get everything that's required to set up your Vida calm when using it for the first time.
Easy for beginners as well. You do not have to worry about anything about the assembly, almost everything is taken care of by the company itself.
Printing Type/Cost
The 3D printer uses cDLM technology to run the machine and create high-quality parts. cDLM is an abbreviation of continuous Digital Light Manufacturing technology. cDLM is similar to DLM technology, however, with a twist.
The 3D printer allows for continuous motion of the build plate. Because of which it helps in delivering exceptional build speeds. One can imagine it to be 10 times faster than the usual DLM machines.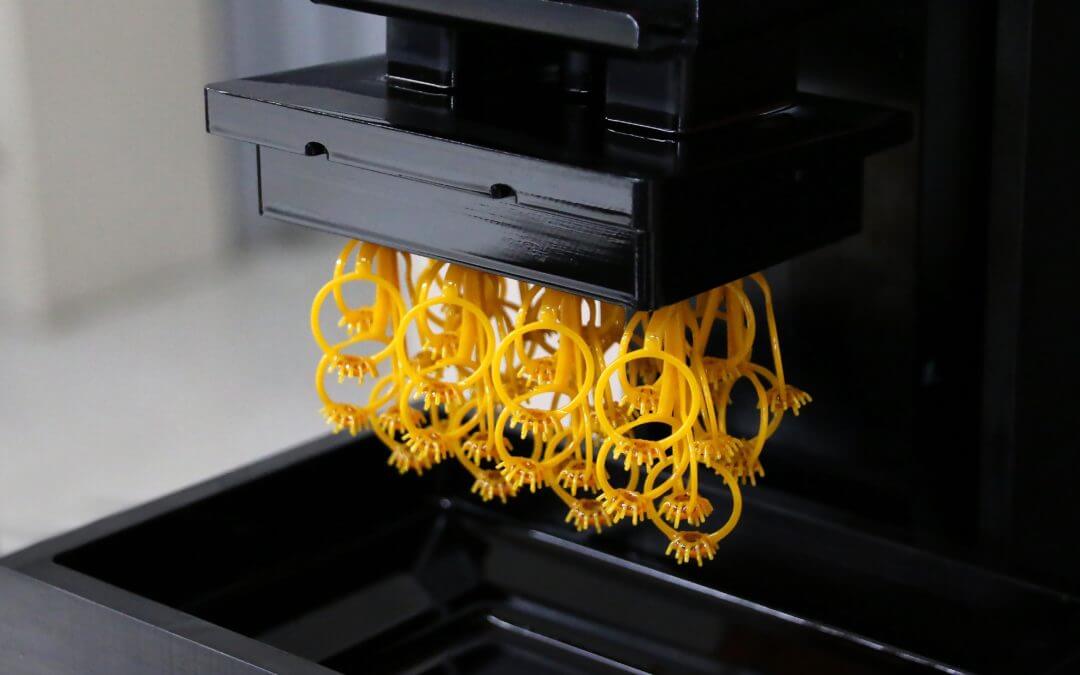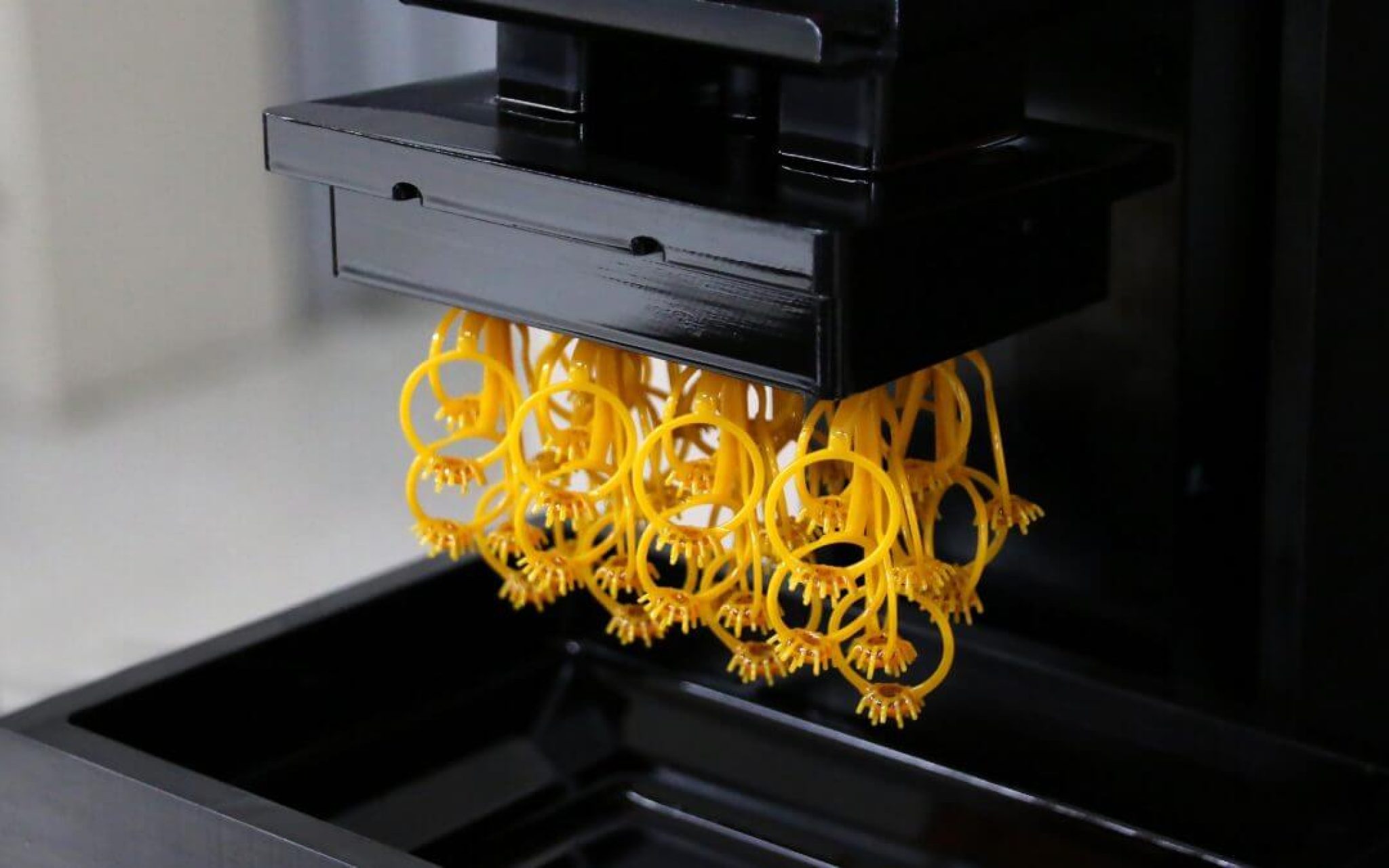 Apart from the price of the machine, the cost of printing would vary with the choice of material used.
The company offers a variety of material support for different applications.
For dental use, E-Guard, E-Denture 3D + and E-Dent 400 C&B MFH is the material type recommended.
If you are involved in jewelry making, you can go with EPIC, PIC 100 Series, and others.
There are other materials also available for prototypes and other applications.
Print Quality
Definitely, the 3D printer provides high-resolution printing.
With its fine resolution setting and designed for designated purposes, the 3D printer is expected to offer great accuracy for complex parts as well.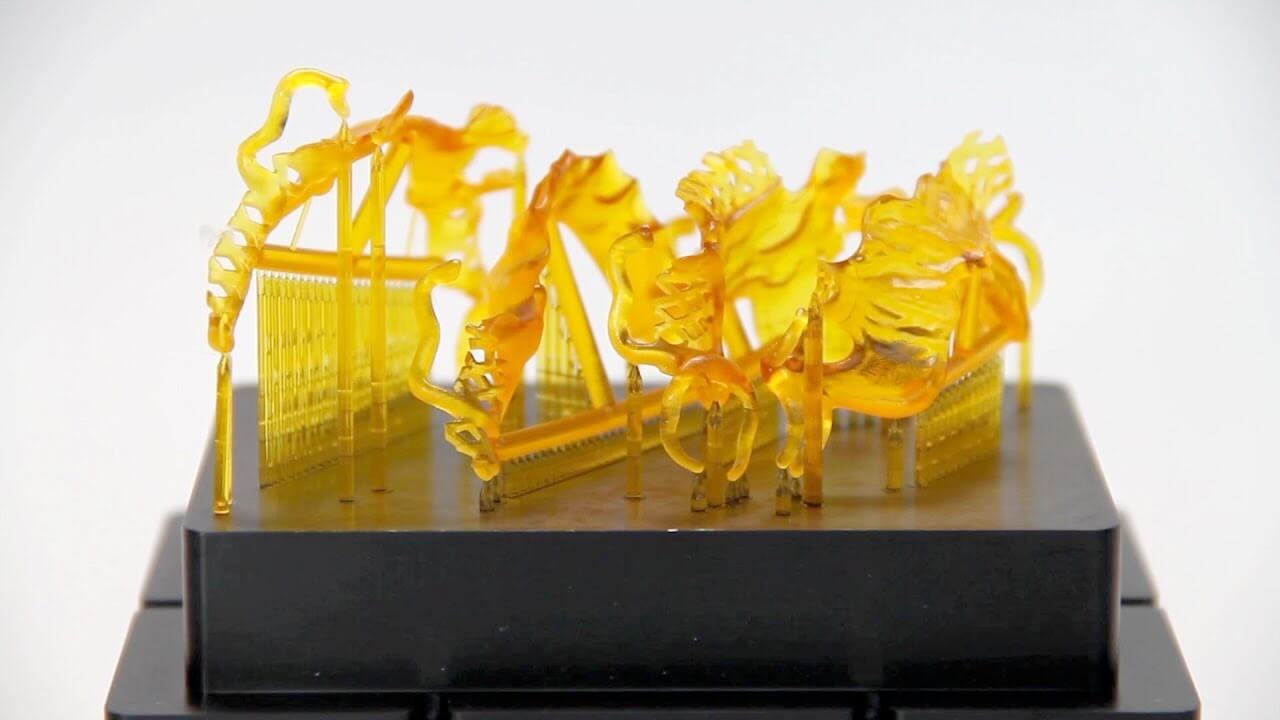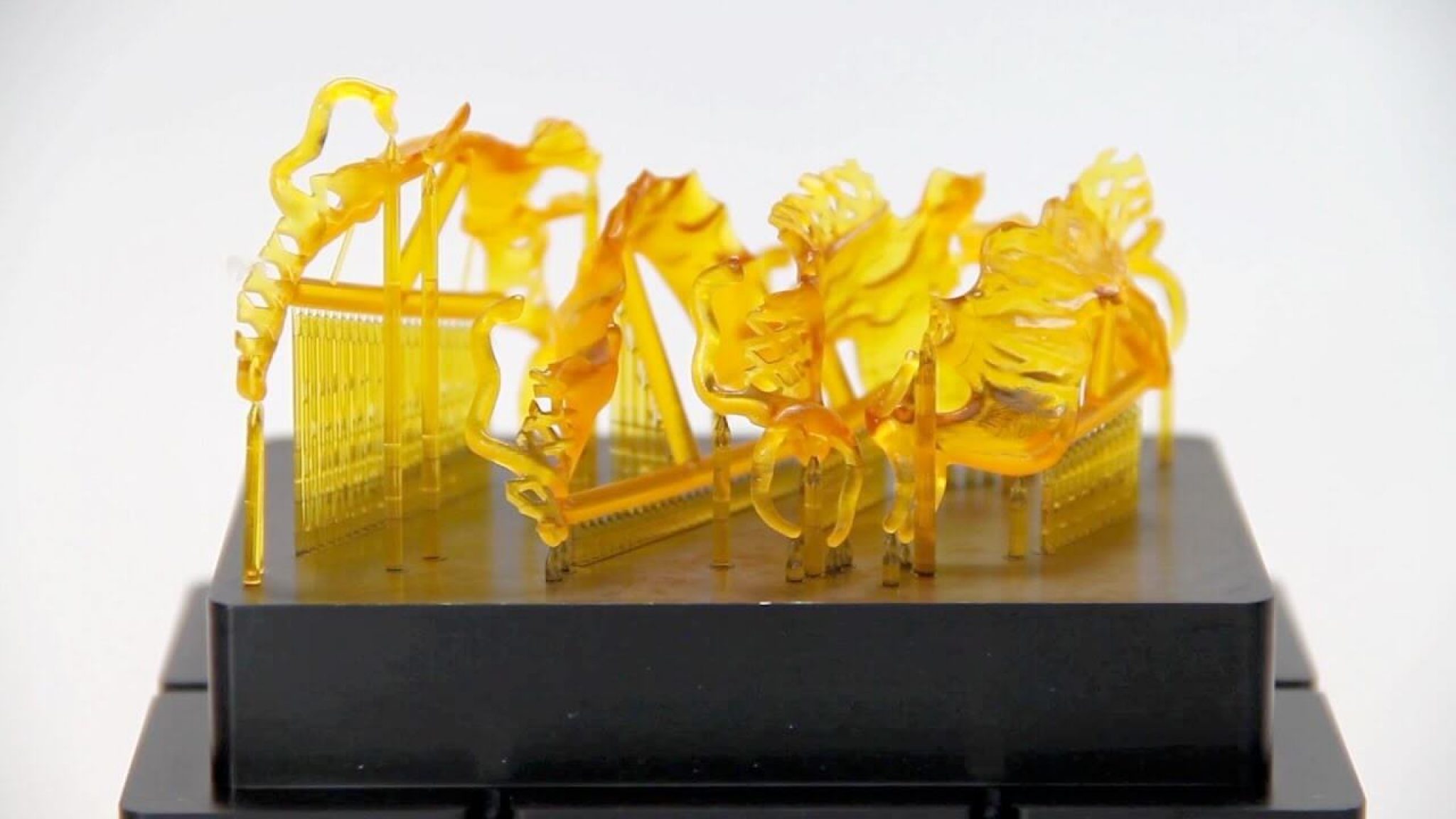 Because the 3D printer is utilized for building dentures and functional prototypes, you can very well imagine the quality it must be offering. You can print unique parts, varied designs, and very well shape the curves and sharp edges with ease.
Software
The company claims that the 3D printer is compatible with every software capable of outputting the STL file.
So, you are open to choose from your list of favorites. Once you have the STL file.
Customer Service
The company is among those choices which excel at their customer service front.
You can expect huge help with setting up the machine and other problems if encountered. You can create a support ticket online.
Or, can call or email the support for any problem you face with the machine.
You do get a year's warranty with the machine. Following which you can renew your warranty clauses by choosing various contract available.
Factors to be Considered for Making the Buying Decision
When turning to the option, Vida cDLM, one must access the parameters and factors influencing the buying decision. This will help in making an informed decision.
3D Printer cost: Vida cDLM is an expensive 3D printer. It is not for those looking to 3D print for fun. Even for enthusiasts and hobbyists, the price is on a higher side. Mostly designed for high-end productions.
3D Print quality: The printer has amazing quality. The complex geometric designs can be easily copied with the help of this 3D printer. Also, less need for support structure helps in realizing a smoother finish. The Vida cDLM offers great accuracy and high precision. Even the smallest print can be accomplished with ease. The dentures and jewelry designing and many other applications that require huge precision can be printed without any hassle.
3D Print speed: This 3D printer leaves most of the DLM printers behind in terms of speed. With flawless quality, the 3D printer also exhibits high speed. You can expect a print speed of about 20-50 mm per hour, definitely, depending on the material. However, this speed can get you, 10-12 vertical orthodontic models, in 100 microns layers in about 90 minutes. Moreover, 3-4 horizontal orthodontic models can be printed in about 15-30 minutes with 100 microns layers. If you wish to 3D print 3-4 full crown and bridge arches taking 50 microns z layer settings, it would take an hour. With these examples, you can very well imagine how fast the 3D printer is. So, if you are working in a professional set up, this 3D Printer would be a beneficial addition.
3D Printer capability: The printer is capable of delivering high-quality prints for high-end applications. So, if you are working in industries like medical, manufacturing, entertainment, jewelry designing, this can help you manufacture parts and products with less turnaround time. Also, the quality is breathtaking, which means the high precision applications would surely be benefited from this printer.
3D Printer Practicality: The printer is designed for practical applications. It is not suitable for home use with no specific use case. Designed to serve niches, the company has tried to cover most of the industries that have regular use of print in demand.
3D Printer User expectations: A bit pricey but a great 3D printer for those looking for high speed and accuracy of prints. With a lot to offer to its users, this 3D printer has already made a huge space within the 3D printing industry. There are many companies that are already using this printer for day to day manufacturing and many are already planning to buy it.
Verdict
While FDM and similar technologies are cheaper, cDLM does not come cheap. One can expect it to consume a bit more peripherals as well.
Making it an expensive option. That is the reason why these 3D printers are mostly used within industries and for specific purposes.
Likewise, Vida cDLM also is designed to serve a particular purpose.
The compact yet large 3D printer, Vida cDLM has impressed many users who are already using this technology for their offices.
The amazing print quality and high-speed performance make it great for professionals.
Having said that, if you are someone who is looking for assistance to help get your work done quickly, you can expect this option to get you the speed you are looking for.
Continuous 3D printing, that is the base of this 3D printer, isn't just beneficial for orthodontists, however, it has a lot more benefits than just speed.
For example, in jewelry designing, cDLM 3D printers such as Vida cDLM is capable of building materials with a high wax content.
This is highly useful for investment casting patterns. cDLM printers can also work with dual-cure engineering-grade materials.
This further helps in processing properties similar to that of injection molded plastics.
Hence, you can have a lot of things done with this amazing option. In short, Vida cDLM is a 3D printer worth for its price.