Form 2 by FormLabs
Are you looking for a reliable choice among SLA 3D printers that is economical too? If that is the case, there is no reason to ignore Form 2. As you must know that 3D printers are available for cheaper prices as well, usually the FDM ones, the quality is a great concern. Form 2 is capable of delivering stunning results and most of the tasks configured automatically.
PROS
Provides excellent print quality
Hassle free setup and first test print
Combination of hardware and software is amazing, and their tuning is awesome.
Great slicer software
Nice user interface
Relatively noise free operation
CONS
Post processing is must for every print.
Speed isn't fast when compared to the FDM printers.
Changing resin is difficult and messy
Consumables cost such as resin price and tank price are expensive
Table of Contents
Formlabs have always stunned users by manufacturing amazing SLA 3D printers. Form 2 is no exception. With great features and various inbuilt capabilities for higher resolution printing, FormLabs Form 2 has gotten into the top list of most popular choices of 3D printers. It delivers great power and potential for realizing complex designs and helping professionals through the production processes.
The 3D isn't for those planning to buy a 3D printer for trying hands on this technology. However, it is for serious consumers who must qualify being professionals or at least semi-professionals.
With ability to print in small batches, the 3D printer is suitable for many applications. Designing prototypes, dentures, jewelries are few to begin with. If you have a clear vision of what you want and can spend more than just few hundred dollars, Form 2 would be a great choice.
Form 2 is one of the excellent machines that work meticulously to get consumers the designs they expect. The SLA printer provides consistent quality without a need to constantly manage temperature, extruders, filaments as its with the FDM printers. There is a lot one can accomplish with Form 2.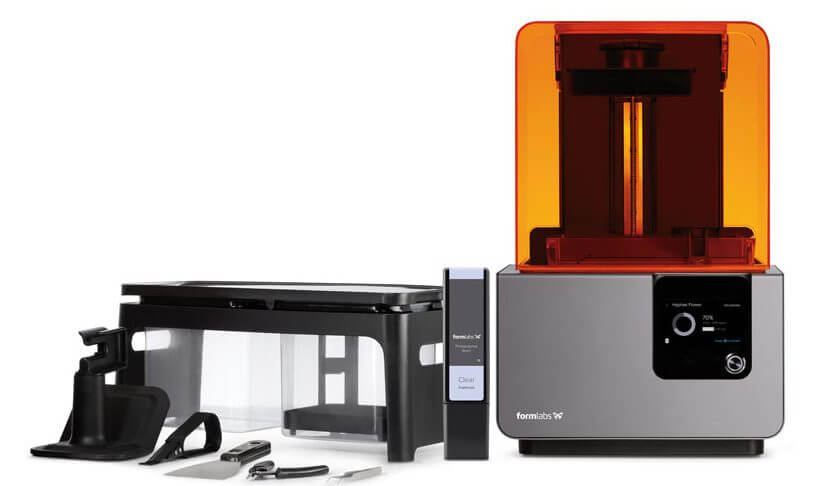 However, there is no such thing as a perfect device when being practical. Hence, Form 2 does have few limitations. So, let us delve deeper and understand the various ups and downs of the machine to help make an informed choice.
Features
Form 2 has tried best to become one of the most popular SLA 3D printers among consumers and have succeeded in many terms as well. It is backed with some of the most amazing features that make it better than its competitors.
Hassle-free 3D Printing: You do not have to keep your 3D printer connected to the PC all the time while it is printing. Once you have uploaded the 3D file, you can disconnect the PC from the printer and can leave it to print on itself. Even when uploading the file over WIFI, you can disconnect the network once the file is uploaded to the printer completely.
Packed with PreForm Software: The PreForm software helps in positioning of the model so as to get the best printing results. This is helpful in eliminating errors and increasing print accuracy.
Layout Tools Available: The Form 2 comes with useful tools to help manage the layout of your 3D design. You can import, align, duplicate as well as resize the digital file with the help of these tools easily.
Smart Support Structure: Unlike many other competitors, FormLabs have managed to include some of the unique features that are difficult to find in other 3D printers. Smart support is one such thing you will see with Form 2. This system makes it easier to work with the support structures getting you cleaner prints.
Stay Tuned with the Printing Status: The touch screen display on the Form 2 machine helps you keep track of the printing progress. The display also helps in setting other parameters, such as wifi connectivity.
back to menu ↑
Specifications
The compact SLA desktop 3D printer provides a build volume of 145x145x175 mm. This is a decent room for creating some of the finest designs. Weighing 13 kgs, the 3D printer is easy to carry as well. You can change the places often when using Form 2.
There are three connectivity options provided with Form 2. You can connect the printer with PC using USB, ethernet or Wifi network. It is compatible with Windows 7 and later version as well as MAC OS X10.7 and later version.
Providing the resolution up to 25 microns, one can build precise designs with ease using Form 2 by FormLabs. The 3D printer also as the auto heating technology that heats to 35 degree Celsius for great results.
back to menu ↑
Price
The price isn't too high when compared with the SLA printers with comparable results and isn't too cheap for first time users. The Form 2 3D printers comes at $3499. Mostly fitting the pockets of professionals or those having certain advised use case scenarios. With this price,
back to menu ↑
First Impressions
You would be impressed by the way company has tried to make the first impression hit the bull's eye. Being a naïve user, if you think that you may not be able to get the setup done in the first place, try setting Form 2. Every part labelled precisely with instruction on how to setup your 3D printer to start operating it.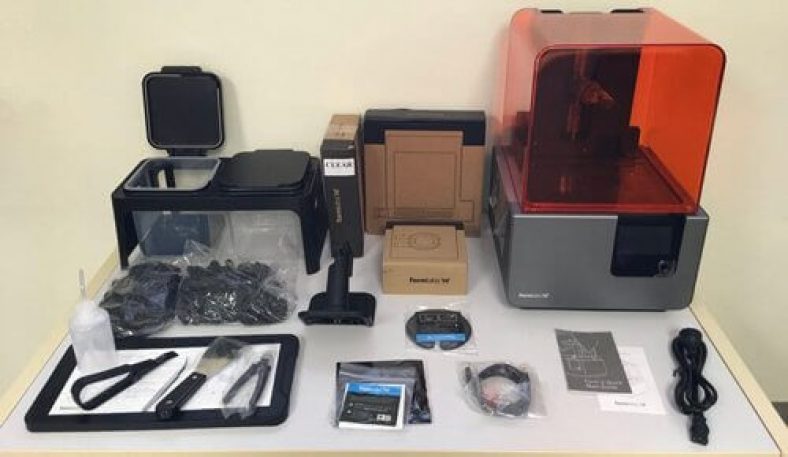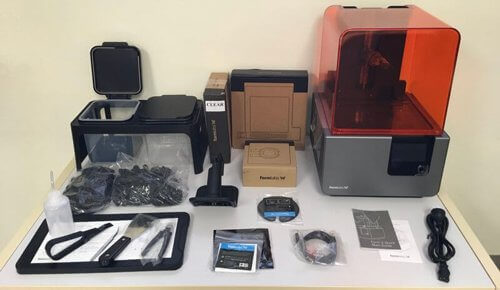 The website is also full of advice and steps to make the setup process easy as breeze. There would be no problem getting your first print ready in couple of hours. The beautiful color and design make this 3D printer an apple of eye.
The black grey and black body with orange see-through hood makes it look awesome.
back to menu ↑
Setup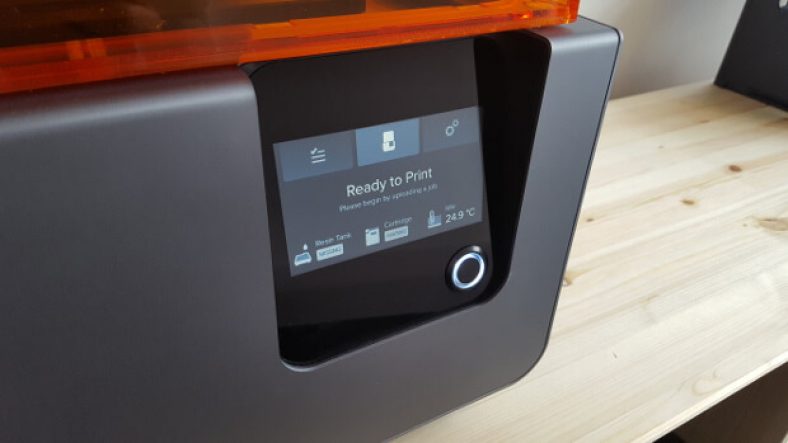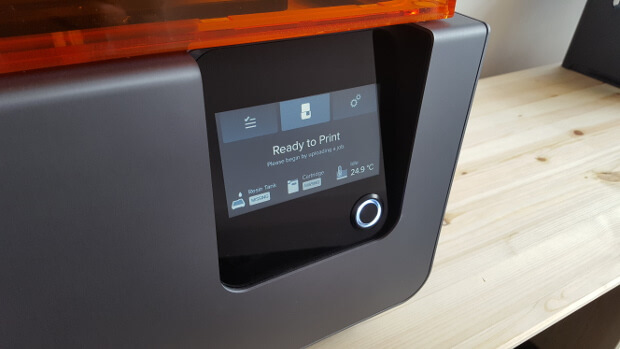 It is easy to setup the 3D printer and can be done in few simple steps. The setup will be over without you knowing it. After you take out the printer out of the box, place it on a flat surface. The size isn't too small, but manageable. The next step is to attach the build platform. You can do this by taking off the orange hood.
If you have not worked with SLA printers before, you may be surprised to see the build platform hanging upside down. Do not worry, the SLA printers print from the resin and draws out the part moving in upward direction.
Later, place the resin tray and click the tray wiper. The job of the tray wiper is to level the resin every time the print bed moves up completing one layer at a time. The last step would be placing the resin tray inside the printer. Once done, you can plug the printer.
You are just one step behind of starting the printing. You must connect the PC to your printer using any of the connectivity option available for uploading the design model. Once done, you can use Form 2 to realize impressive designs.
back to menu ↑
Printing Type/Cost
The From 2 by FormLabs is based on SLA process. SLA also widely known as Stereolithography uses photosensitive liquid, known as resins as material to build solid objects. The liquid is treated with laser source which solidifies the resin progressing through each layer.
After each layer is completed, the build platform raises a level up. The same happens with Form 2, with one difference though. After each time the build platform raises up, the tray wiper levels the resin to ensure quality print.
The entire process isn't very cheap. The printing cost would include the material cost, electricity consumption and various other factors. Only the resin cost is too much for a beginner to even consider. One litre bottle of standard resin (while, clear and grey black) comes for $150.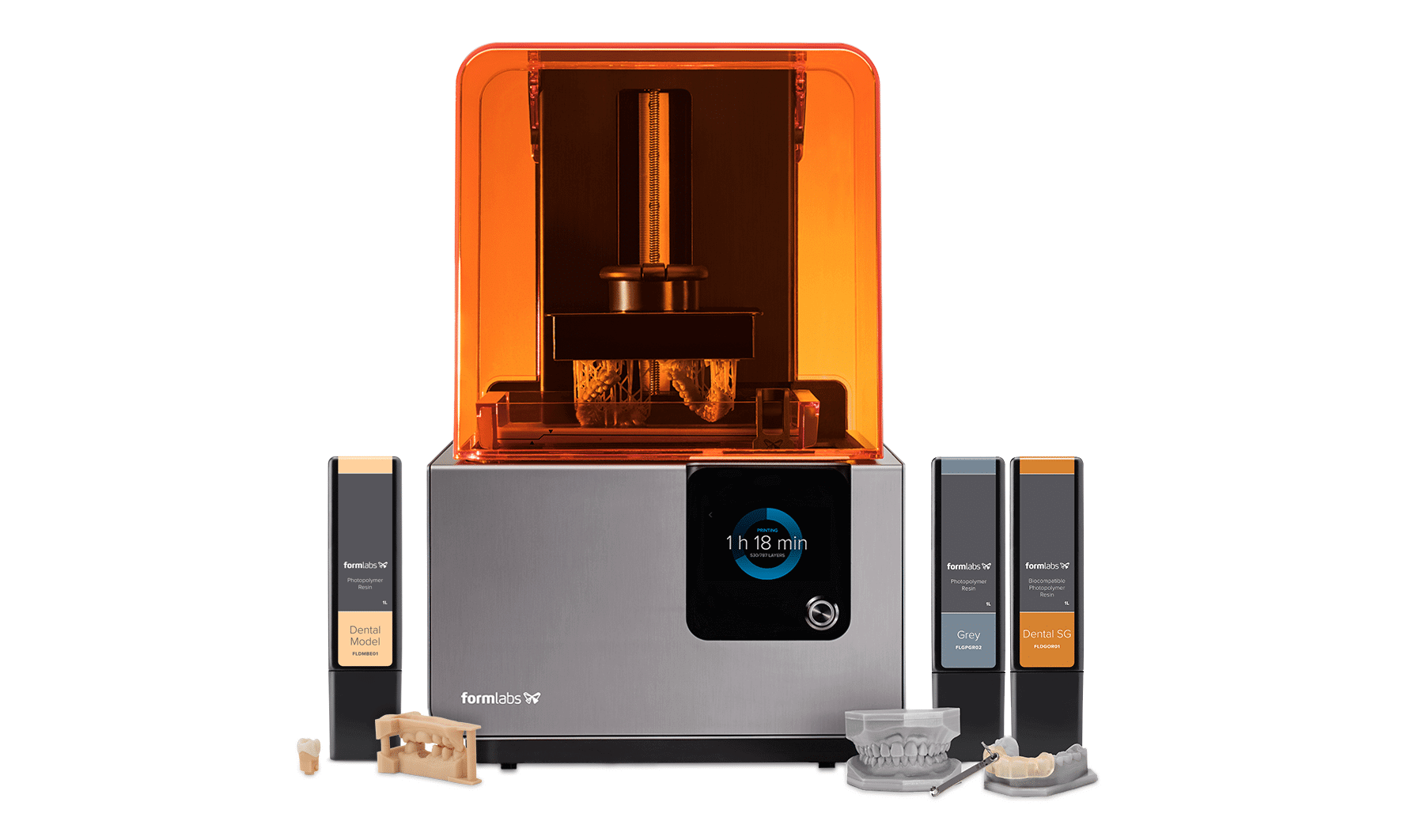 The standard resins may not be touch enough for functional parts. So, you would require functional resins. These come for $175 per litre. The compressible resin costs $199 and the castable resin would cost you somewhere around $300 for a litre.
This is not the end of the story. The dental resin is even more expensive. A litre would cost you $399. There are other costs factors too. The resin tray must be replaced after using 2 litres of resin. This comes for around $73.
You may have realized by now that printing with an SLA printer isn't too economical for those who are hobbyists or beginners.
back to menu ↑
Print Quality
Undeniably, the print quality is amazing. If you compare it with the results of FDM printers, you will find a huge leap in the quality with Form 2. Although the expensive SLA printers may get you better quality than the desktop SLA printer, it isn't incompetent.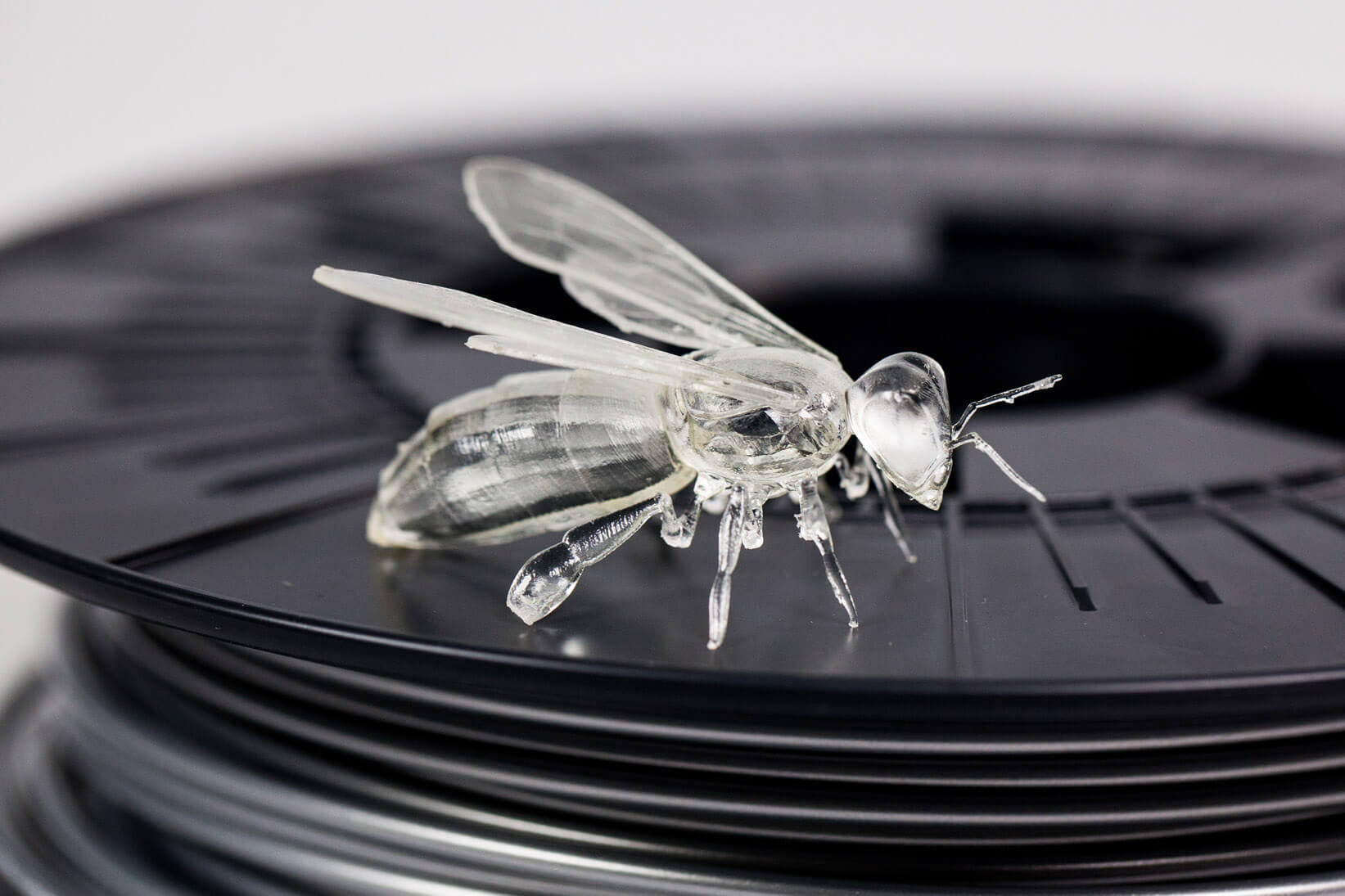 Form 2 has introduced to the world a different way to use SLA printers. Not just restricting the technology to the industrial use, Form 2 have leveraged the power of quality that SLA printers provides to the consumers. This is a huge success in itself.
back to menu ↑
Software
Form 2 comes with PreForm software provided by the company. This tool not only helps you import the STL file but also lets you auto repair the broken meshes.
With the help of the software, you can even add support to the build platform to avoid any direct scratch to the parts. These supports are customizable in terms of strength and density.
All in all, PreForm is a great tool for those trying to expedite the entire 3D printing process by keeping the quality intact.
back to menu ↑
Customer Service
The company provides one-year warranty for the Form 2 3D printer. You can reach out to the support in need for any trouble with the machine. You can easily create a support ticket on their website, and you will be contacted at the earliest. They do have error codes and resolutions illustrated on their support website.
back to menu ↑
Factors Influencing Purchase Decision
Deciding if buying Form 2 is a wise decision or not, depends on many factors.
3D Printer cost: If you are a beginner and want to experience the world of 3D printing, this is a much costly choice. However, for professionals and artist, the option of purchasing an SLA printer at such rate would seem cheaper.
3D Print quality: No doubts about that, the print quality is remarkable. Although the requirement of post processing with every print is a challenge, but that is with every SLA printer out there.
3D Print speed: Comparing it with the FDM printers, you might find Form 2 slow. So, decide what is more important to you, quality or speed.
3D Printer capability: Form 2 can build excellent designs even with complex details. One can print functional prototypes as well as jewelry casts using this printer. There is a lot of thing one can accomplish using this 3D printer.
3D Printer Practicality: As already mentioned, Form 2 is not just for fun. Its role is definable and can be out to work for important jobs. Hence, suitable for professionals or at least those who are planning for a better utilization of the 3D printer.
3D Printer User expectations: Based on the user expectations, Form 2 has done a great job. However, with few limitations at hand, the accessibility is still an issue.
back to menu ↑
Verdict
This is not for those who are looking for a durable printer for home use. It is too expensive for those users, especially with the expensive cost of consumable attached to the entire budget. Form 2 can be considered as the best option for those working for a goal.
Engineer, dentists, jewelers and other professionals can surely include the 3D printer inside their office.
Form 2 by FormLabs can manufacture in small batches making it useful for small scale productions as well. Moreover, the high quality prints backed with sharp detailing of every curve and turns, make this option very popular among those loving SLA printers. Although Form 2 isn't the fastest SLA printer, however, it is better than most of the competitors with even higher price range.
So, choose Form 2 if quality matters to you. This printer would suit your purpose in the best way possible.