Table of Contents
Amongst the many names that come under the title "3D printing technologies", a few offer an option of wax 3D printing. One can print models by selecting wax as a material.
Although they call it wax, the material is not particularly natural wax, when in use. The material which is used with a wax 3D printer differs in terms of properties owned by the natural wax.
Fused Deposition Melting, Stereolithography, selective laser sintering is not as popular with wax 3D printing, as much as material jetting is.
This technology is not only the most popular one with wax 3D printing but also is the most optimal way in which one can print using wax.
It is to be noted that wax 3D printing is a very associated term with jewelry products. Having said that, you might have some curiosity bulbs lit in your head when you would have come across some terms.
Material jetting, wax 3D printing, and its association with jewelry products and how do wax 3D printers work? Are the topics that we would be covering in this article one by one.
We would also find out a few of the most trending 3D wax printers that have been able to impress users with its efficiency and accuracy of results.
Outline of a Basic 3D Wax Printing Process:
A 3D wax printer has a similar workflow as any of the other 3D printing processes. Starting with the 3D design, it goes for a layer to layer production.
And, in the midst of it, what brings a difference in the working of these processes is the selection of material, the technology used for creating each layer, and few others.
So, let's find out how the 3D wax printing works. And, what are the different steps involved in this process while a few of the standard ones remaining the same?
In the first and foremost step, we must create a 3D model of the object we wish to 3D print.
Once the 3D model is created with the help of the CAD software, its printing process starts layer by layer. In the case of 3D wax printing the process that is optimal and used the most, is material jetting, about which we will learn in the section below this one.
After the model is ready, it progresses towards investment casting. In the first step of investment casting, we create a mold around the model.
Later, the 3D printing object melts and leaves a space in the mold that corresponds to the final object.
Lastly, space is filled with molten metal. Once it sets, the mold is broken to achieve the desired part.
The image shown below would help: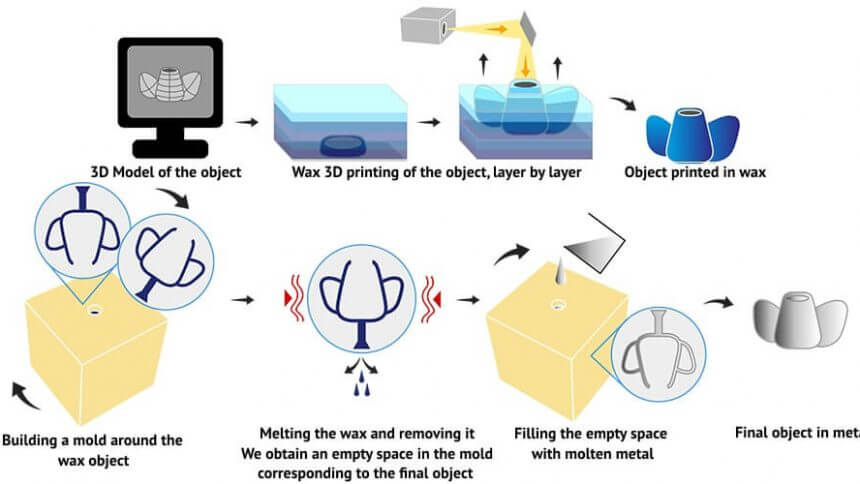 Credit: sculpteo.com
Now that you have a basic outline of how 3D wax printing process, the next step that you should read about is material jetting. Wax 3D printers are based on material jetting.
back to menu ↑
What is Material Jetting?
Like other printing processes, this one too starts by pouring resin into the material container. Like in SLA 3D printing, in material jetting too, thermoset photopolymer resin is heated to attain particular viscosity.
The main components of a printer that works using material jetting are a) print heads. 2) UV light sources. 3) build platform and 4) material container.
Here the arrangement is that the UV light sources and print heads are suspended along a carriage which is on the X-axis.
As the carriage along this axis starts its journey across the build platform, the print head begins to particularly pour out or, so to say, jet tiny resin droplets.
With the print heads, the UV light sources follow. The picture below depicts material jetting in 3 parts i.e. a) initiation, b) at the midst and c) when a product is completed.

Credit: 3dhubs.com
The process involving the creation of the first layer is repeated for other layers until the product is completed. Material jetting is eccentric in the way that it offers line-wise deposition.
This is something that's not offered in FDM, SLA, and SLS as all the three offer point-wise deposition. Now that you have an idea of the technology, based on which 3D wax printers work, let's get to know why this is so popular and associated with jewelry products.
back to menu ↑
Why are Wax 3D Printers Used to Make Jewellery Products?
The manufacturing of jewelry products is a very detailed topic for obvious reasons. The cost of raw material is very high than others makes this technology a bit expensive than others.
Because of the involvement of high-end precision, material jetting based 3D wax printers are used to produce jewelry products like no other.
The secret lies in the detailed mold that is produced by using material jetting. Unlike other techniques, the resin here is poured drop by drop, constituting the complete line.
To produce a gold ring, jewelers must design a mold where the liquid material is poured that then solidifies to take the desired shape of the ring.
This high-end detailing is only possible by material jetting. As you have already seen the basic outline of 3D wax printing, you have an idea about how the printing process works inside a 3D wax printer.
Once the model is created inside the 3D printer, wax 3D printers can be used to produce a wax model of the ring. After the completion of this process, those models are placed into a liquid solution and the soluble part dissolves.
After this the material solidifies, the mold heats to the point where the wax model starts melting and leaves the space for gold, silver, or platinum, whatever the choice is.
The final step is to inject the material, jewelry of which you wish to make. This is how a 3D wax printer works based on material jetting to produce jewelry items.
If you have read about other 3D printing processes such as FDM, SLS, SLA, you'd be able to differentiate material jetting from them quite easily.
By now, you certainly are now quite familiar with the process that goes inside a 3D wax printer that produces some of the most beautiful jewelry that you have seen.
Hence, now it's time for the recommendation of some of the names of those wax 3d printers that work in practical terms to give shape to the most beautiful imaginations of the users.
back to menu ↑
Recommendations for Wax 3D Printers
The name of wax 3D printers is so much associated with jewelry that they are sometimes even called jewelry producing 3D printers.
back to menu ↑
Solidscape's S300 Series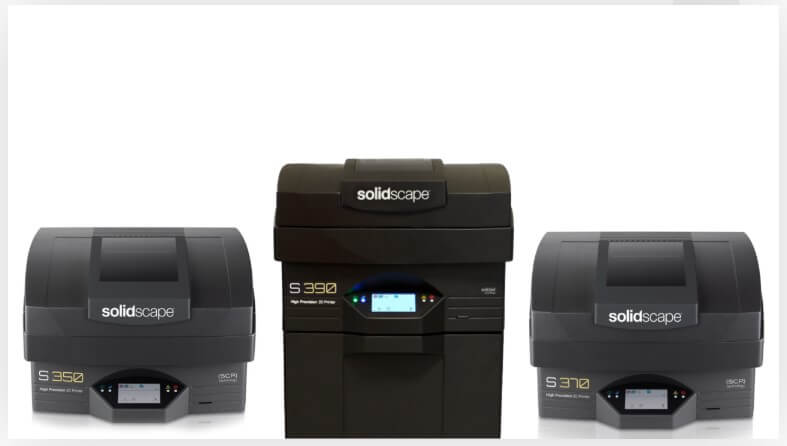 Solidscape has three models in this series: S350, S370, and S390. Designers of these 3D printers have worked hard to make sure all of these enter the list of wax 3D printers or printers that are used to make jewelry.
The dissolvable supports that are provided in all the three options are proof of the hard work and passion shown by engineers and their designers.
Amongst these three S350 and S370 are best-selling wax 3D printers from Solidscape. The reason behind them being best-sellers is credited to the absence of post-processing in both.
Thanks to the designer for one more thing i.e. providing a wax 3D printer that does not need much assembling. These wax 3D printers are very well designed and manufactured in terms of their functionality and delivery system.
Speaking about a delivery, the printer is known to provide excellent print quality which enables you to create designs that are otherwise impossible to be brought into reality.
Solidscape has also ensured that its users do not have to get the software from outside and then learn how to use it with their printer. All of them come with in-built software that is up to the mark and easy to use. The software can scale CAD files too.
PROS:
This wax 3D printer offers a great print resolution.
The printers are operated using a single touch and are easy to handle.
Solidscape S300 series produces accurate designs and more importantly, it produces them faster
CONS:
These printers are not supported for MAC users.
back to menu ↑
Peopoly Moai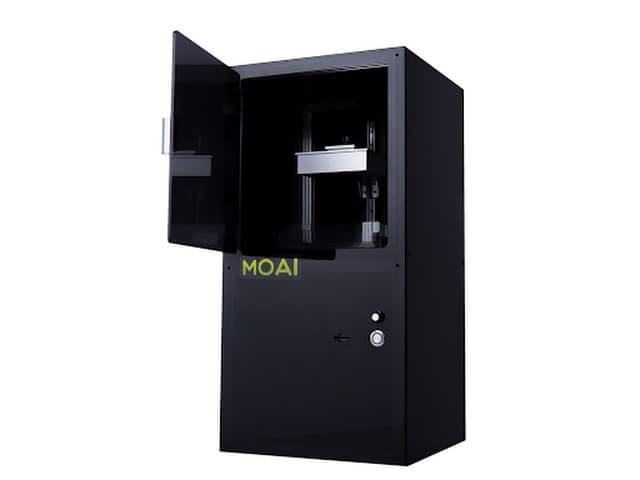 This is a wax 3D printer that people often are dubious of buying because of its cheap price. Peopoly Moai is just too cheap for anyone to question its quality of products.
But you don't be such a fool. This wax 3D printer is a great option for all those who are finding their steps in the jewelry making through the wax 3D printer industry.
I think the reason why Peopoly Moai is cheap is that it is an SLA based 3D printer and not multi-jetting. Yes! It's one of those rare ones. Also, this wax 3D printer is known in the world of 3D printing for being a simple printer that is easy to setup.
The printer comes with a tailored version of Cura software that allows you to switch between different layer heights. A brief into the SLA technology would tell you from the market that it has a negative review.
So, Peopoly's audacity is something that is meant to be appreciated. Apart from that though this machine is lower in cost, it doesn't at all compromise on quality.
The height as small as 25 microns can be achieved with pinpoint precision using this wax 3d printer. Not only Peopoly has an easy to use build-up, but also do the makers provide a physical sheet that can be used for calibrations.
Overall if you wish to start afresh in jewelry making by 3D wax printing and don't wish to invest much, this can be your take.
PROS:
Peopoly Moai is solid and sturdy in its built up.
This printer comes with a comprehensive build guide and support material.
The printer also gives freedom to the user by being open to 3rd party resins, has a slick aesthetic and excellent print quality.
CONS:
The print process of this printer is messy. It has no official apparatus to help convert this mess into something simple, less complex.
The access to the bed of this 3D printer for leveling is a tedious job.
back to menu ↑
Formlabs Form 2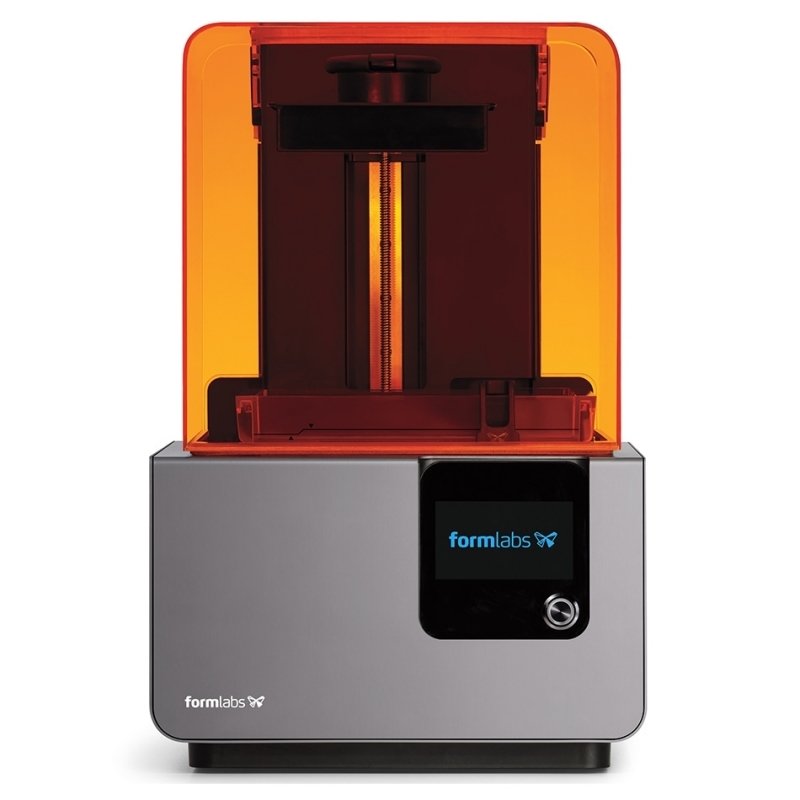 The printer needs to be placed in a moderate climate because it takes more time to heat the resin. Formlabs Form 2 comes with a graphical interface that is extremely helpful for all its users to keep a track of the process.
The menu in the LCD touch screen provided in the front of this 3D printer isn't overloaded with too many options that confuse you.
Being an SLA printer, the impression that the post-production process is where it might get ugly according to the impression they carry is obvious to have.
This printer by Formlabs is however designed in such a way that it would change your impression completely. Because the post-production process for this printer is as easy as in an FDM or multi-jetting.
The connection between software and hardware is where Formlabs steals the show. Formlabs have their tool that is called PreForm.
Not only like other 3D software, PreForm lets you import STL files, but also does it auto-repair the broken meshes. There is also a one-click print button that can be used for most of the cases.
PROS:
There is a great interplay of hardware and software in this printer.
Formlabs Form2 is a reliable and predictable 3D printer.
It has good software and a great slicer that creates a great user interface.
CONS:
The printer doesn't let you print without post-processing.
Formlabs Form2 is not faster than FFF 3D printers and the standard support structures in it are very dense.
back to menu ↑
The Conclusion:
Jewelry making industry is a very complex niche that involves lots of precision. Wax 3D printer normally based on multi-jetting 3D technology can provide you the exact amount of precision that you are looking for creating jewelry items.
The cost of these printers may appear to be huge at first, but after some use, you'd find it purely justified. The machines do payback and they pay back soon. So, if you are willing to expand your business, there won't be a better time than now.