Table of Contents
3D printers are no more a hidden technology known to experts and utilized only for rapid prototyping. Long gone are the times when only a few had access to 3D printers.
After the RepRap movement and introduction of desktop 3D printers, a lot of individuals have started getting involved in 3D printing. Because of the many possibilities that the machines cater to, a greater number of users are getting interested in learning the technology.
Despite the fact that the 3D printers are getting significantly cheaper and are easily affordable, many individuals are still reluctant to outright buy a machine.
Either it's because of the limited use or feels dicey about spending over a device that they may not be able to use with limited skill set.
However, getting a part printed is no more a challenge even if you do not own a 3D printer. Bringing us to the question: Where can I 3d print?
Do not wander off, looking for physical shops to print a model. It is as easy as online shopping. All you need to do is select a 3D model and order its printing.
The part is delivered to your doorstep without any hassle. There are online services that are highly skilled and reliable. Not just that you stay away from the pain of failed prints, you ward off the entire responsibility to someone else, while you carry your other tasks.
After many years of the invention of 3D printing, there has been huge progress within the industry. 3D printing is made accessible to everyone.
There are more options than purchasing a 3D printer if one wants to get a 3D model printed. With a wide variety of services and marketplaces, getting the job done is no more a challenge.
Where Can I 3D Print?
The question is very obvious when you do not have a 3D Printer and still wish to make use of the technology for a specific task.
Many users like to know options that provide them the flexibility to order 3D printing job to someone else who has the expertise to do it the best way possible.
Moreover, there are times when owning a 3D printer processing results in a different material that you want the item to be printed with. There could be many reasons to look for an alternative, rather than making an outright purchase.
And, it is well said that the demand paves way for opportunities. There are many business models that are based on such demand.
The companies work to either print the model you wish or help connect you with the local 3D printing company for quick delivery of the parts.
In both ways, you can get the desired part printed and shipped to your location directly. All you need to know is to operate your laptop and use the browser to make an order. Isn't that simple? It sure is. Before you would know, the part would be shipped securely to your address.
There are three types of printing services currently present in the market.
Only 3D Printing Service
These companies offer to 3D print, however, it will not help you choose from different models. You must have a 3D file that you want to print. Such companies are involved in 3D printing and won't offer design services.
Voodoo Manufacturing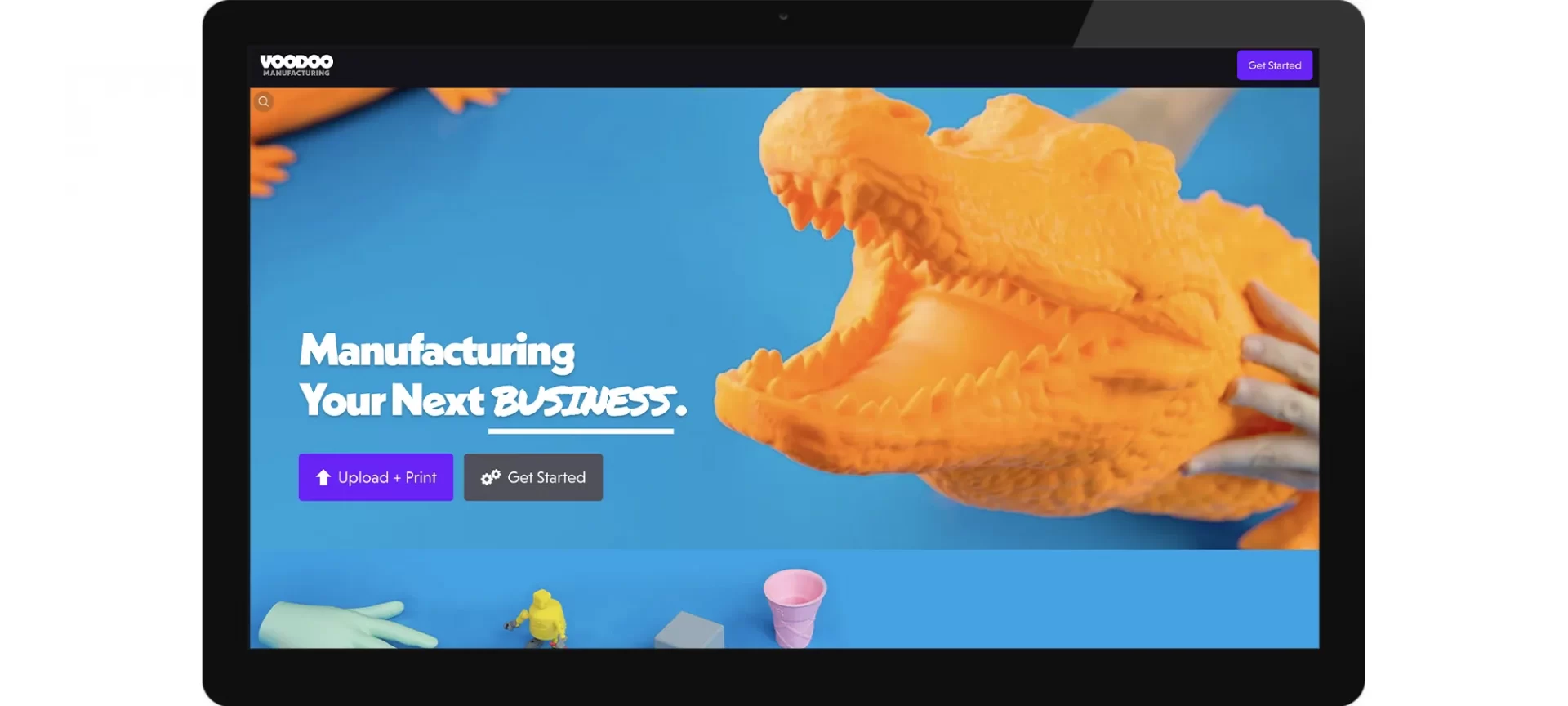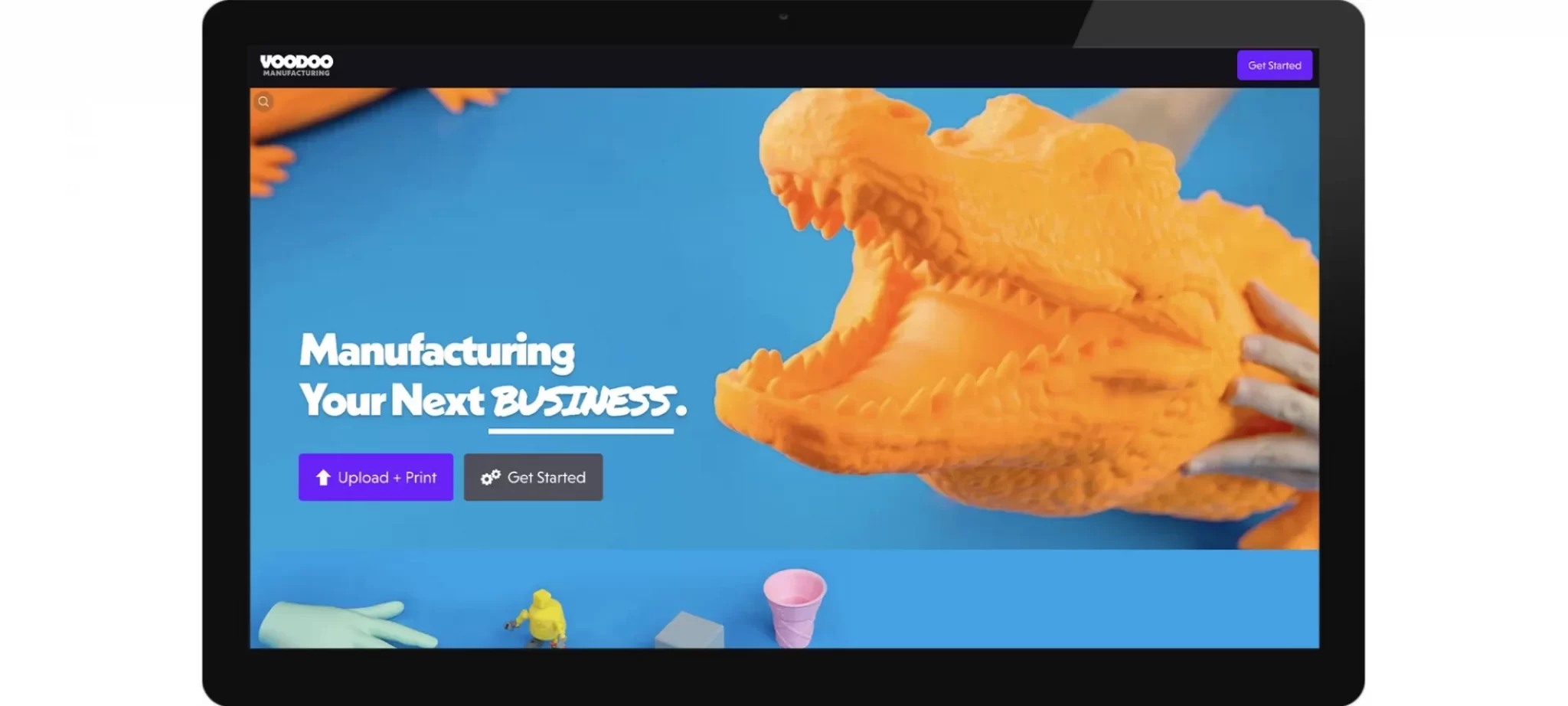 Based in the USA, the company is new to the competition. There are many reasons for Voodoo to become so popular in such a short span.
The most important one is the quality of parts they print and ship to their customers. Moreover, the company accepts models of unlimited sizes.
They use different 3D printers to break the model into different parts and print them separately, Later, they assemble these parts to create a huge model.
They own more than 200 FDM 3D printers and specializes in one 3D printing process instead of confusing with multiple ones.
They offer printing in two most common materials: PLA and TPU. The huge potential that their workflow is capable of accomplishing has made them tough competition for those companies existing for a long time.
They have already helped more than 2000 customers by now realizing their designs.
MeltWerk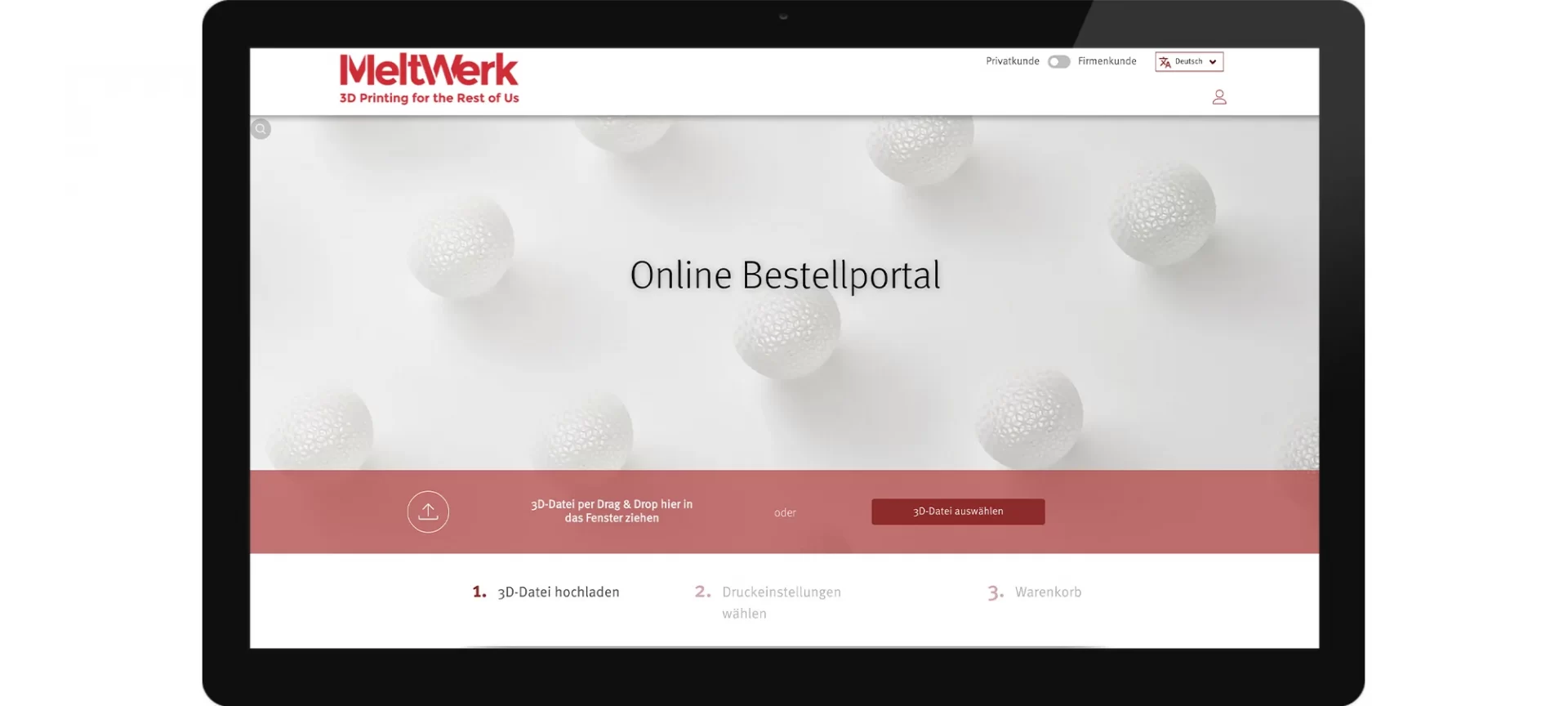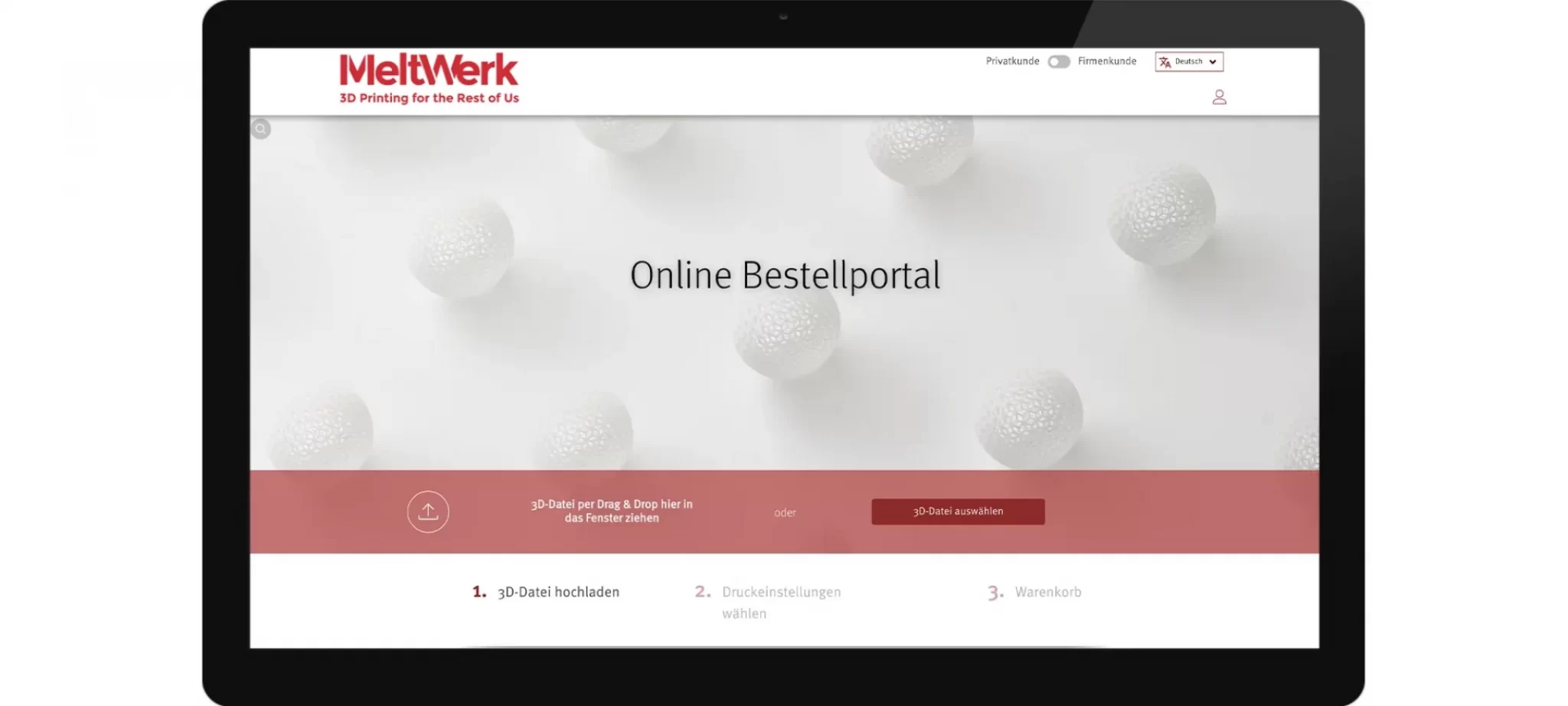 MeltWerk, a German company has developed a great solution for those looking to find a cheaper cost for 3D printing services.
It offers prices up to 85% lower as compared to the trending rate in the market by other service providers. This does not mean that they compromise on quality.
Their printed parts are highly accurate and precise. The reason that they offer a much lower price is that they offer parts printed only in plain white Polyamide (PA12).
They use the SLS process, hence, offering highly precise results. So, if your choice is similar to the 90 percent of users, i.e. white colored printed part, you know which printing service to choose. However, their service is limited to Europe.
3D Printing Services Offering Online Repositories
Next comes those companies that not only process the 3D Prints as per your expectations but also showcase models that can be printed readily.
You choose and they print. Hence, you can depend on these companies for printing jobs as well as for the selection of the models you wish to 3D print. There is a number of companies in this category. Here are a few names that are very popular.
i.materialise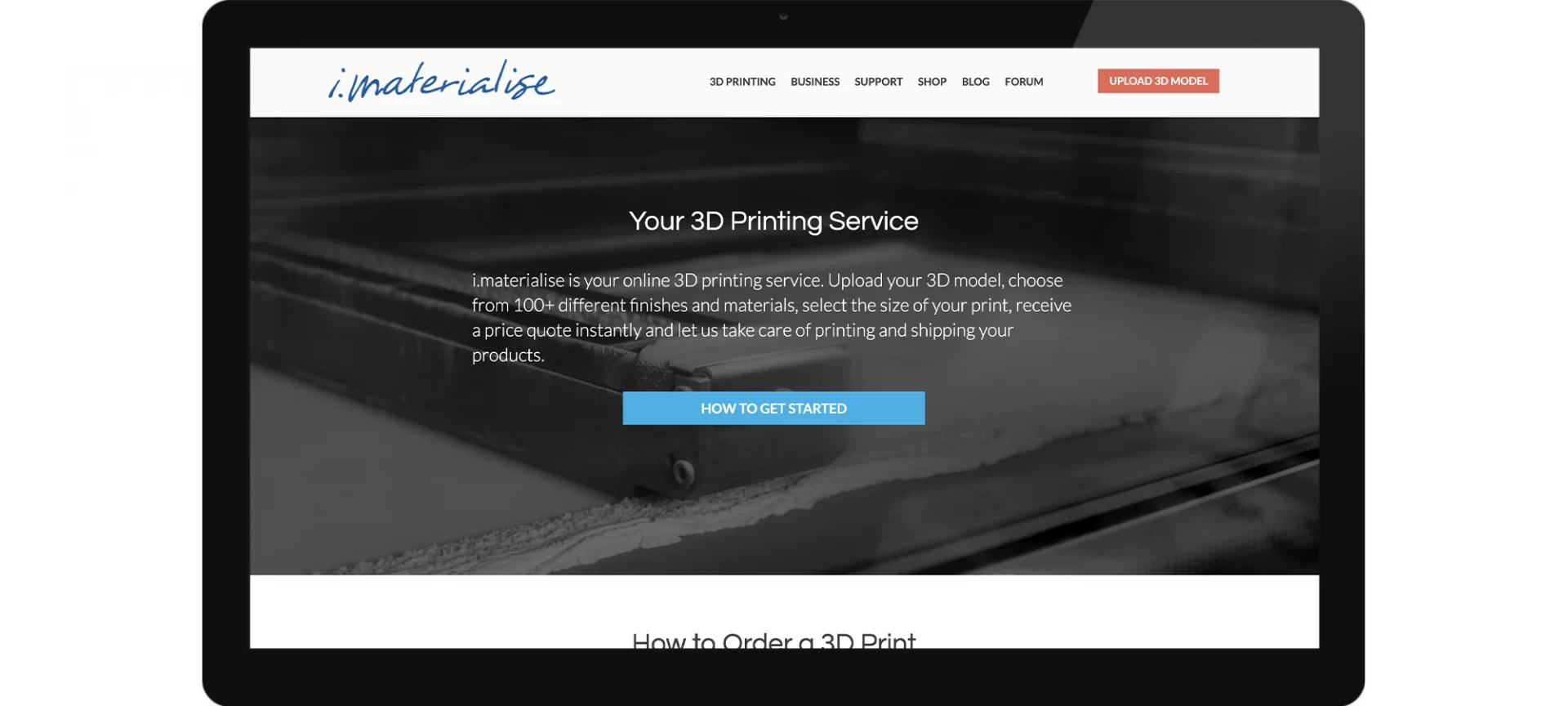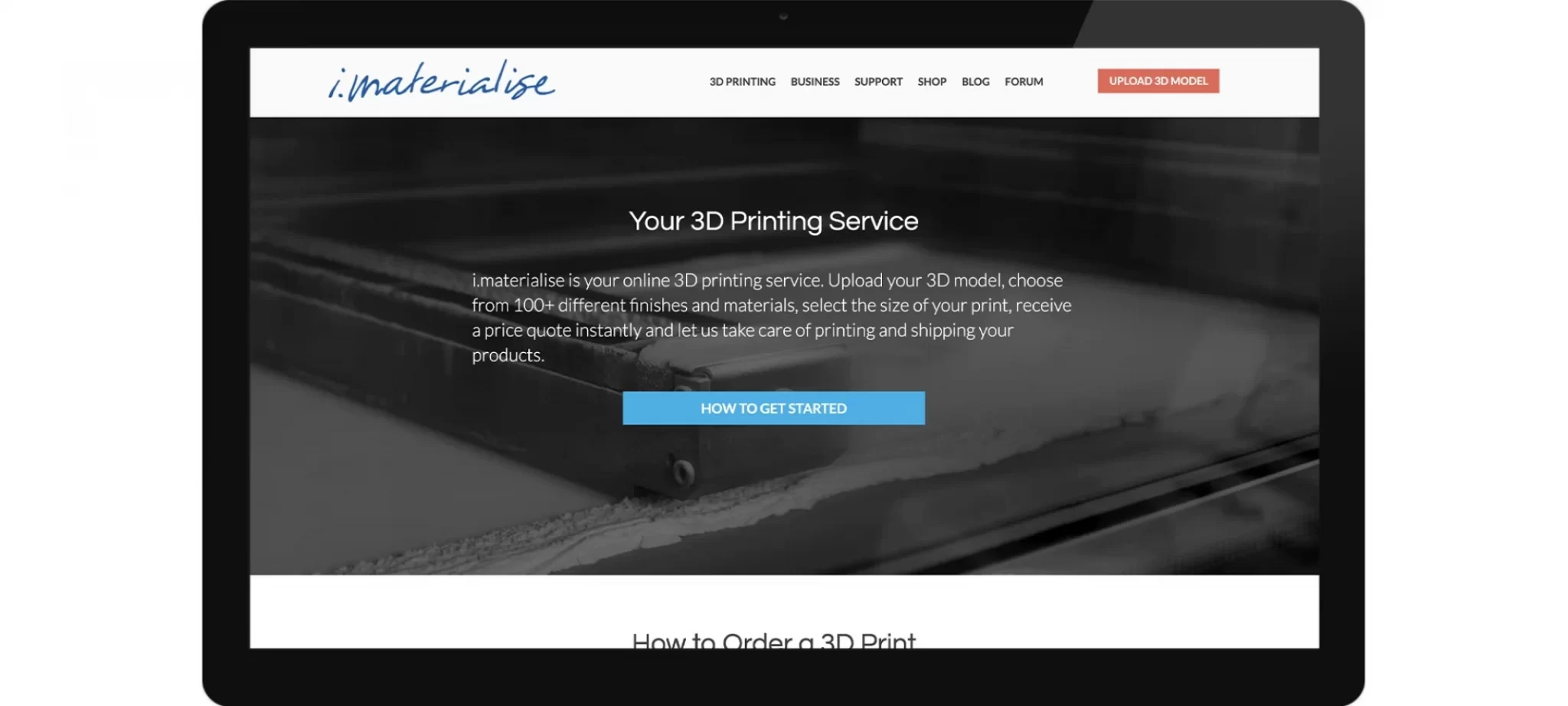 i.materialise is based out of Belgium and was started in 1990. The company excels at printing parts for professional, commercial as well as personal needs.
It offers various 3D printing processes, starting from the most common one, the FDM 3D printing process to metal 3D printing. The other technologies include SLA, SLS, PolyJet, MJF, and Lost Wax Casting.
i.materialise is a part of Materialise NV. With more than 25 years of experience, the company has gained immense popularity among the users of the 3D printing community.
It boasts a user-friendly interface that anyone can use. It is simple and users would find it easy to select and order the models through their online portal.
Not just that, you are not restricted to choose only the models available on their website. Rather, you can also upload a design completely created by you. By selecting the size and material of the print, you can receive the quote for the job.
Shapeways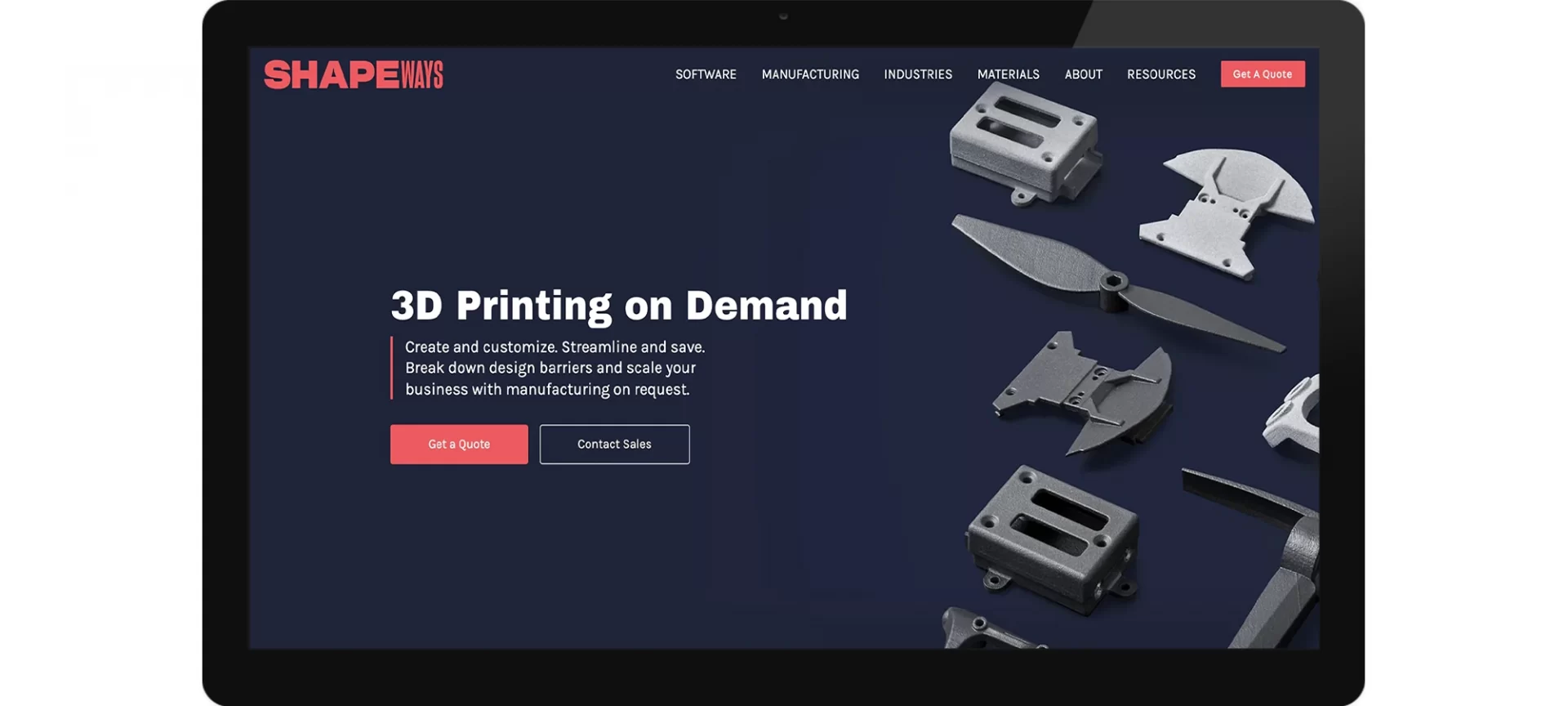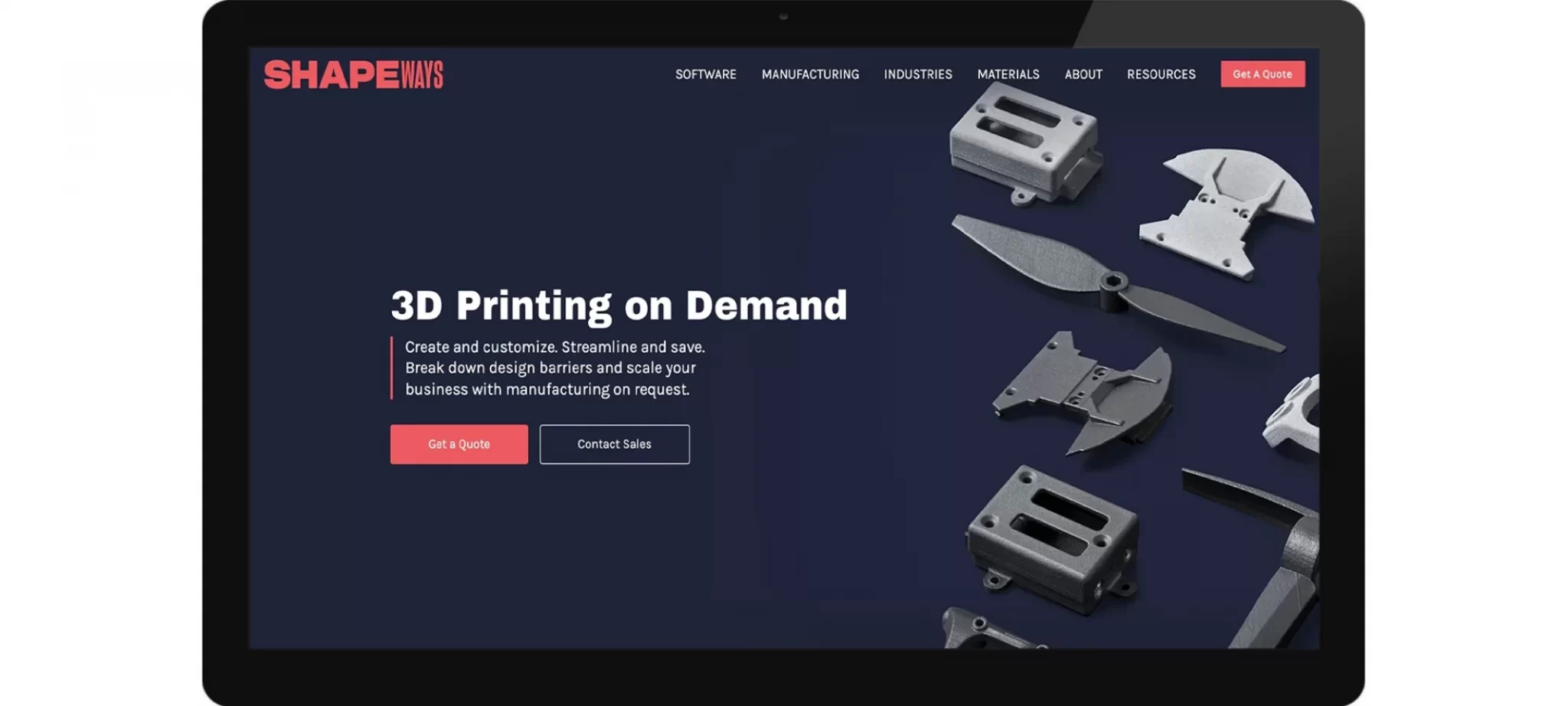 The company is based out of the USA and was established in 2007. A relatively new company that i.materialise, it does offer competitive pricing and quality to its users than any other old players.
The company excels at printing parts using technologies such as SLA, DMLS, SLS, FDM, PolyJet and Binder Jetting.
The company was founded by Peter Weijmarshausen, who though currently resides in New York, however, is originally a Dutch entrepreneur.
Shapeways makes its way to the leading list of service providers by being the most reliable option while offering a plethora of services under its hood. It can be called a complete marketplace.
3D designers can create their accounts on the website and start selling their designs directly to the customers. Once the design is selected, Shapeways' job comes into play.
It fulfills the printing orders and ships it to the buyers at their given address. The best part is that the company can help accomplish a task using a variety of 3D printing technologies and in different materials.
From FDM to binder jetting, almost every important 3D printing process are listed in their service array. In short, a lot of customers rely on this company for the best results.
Sculpteo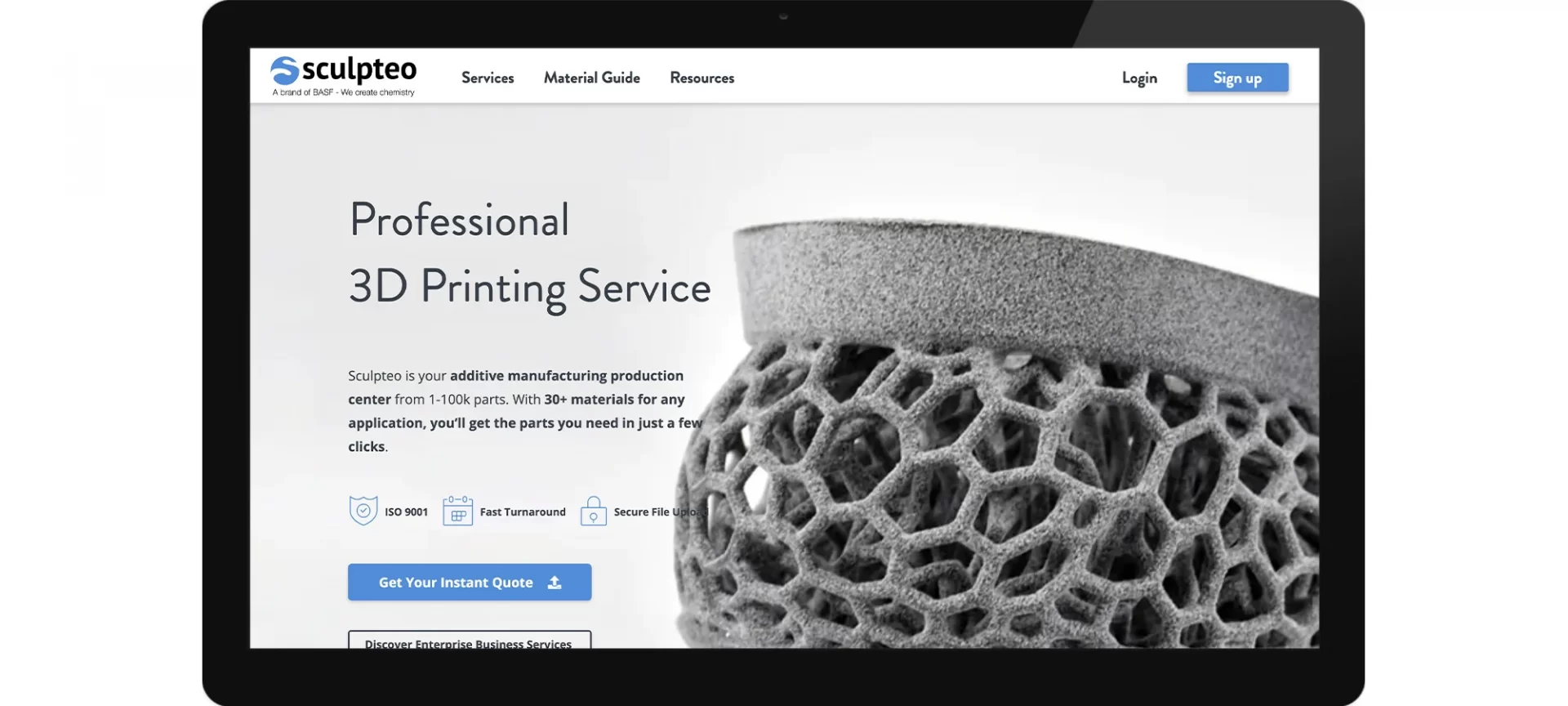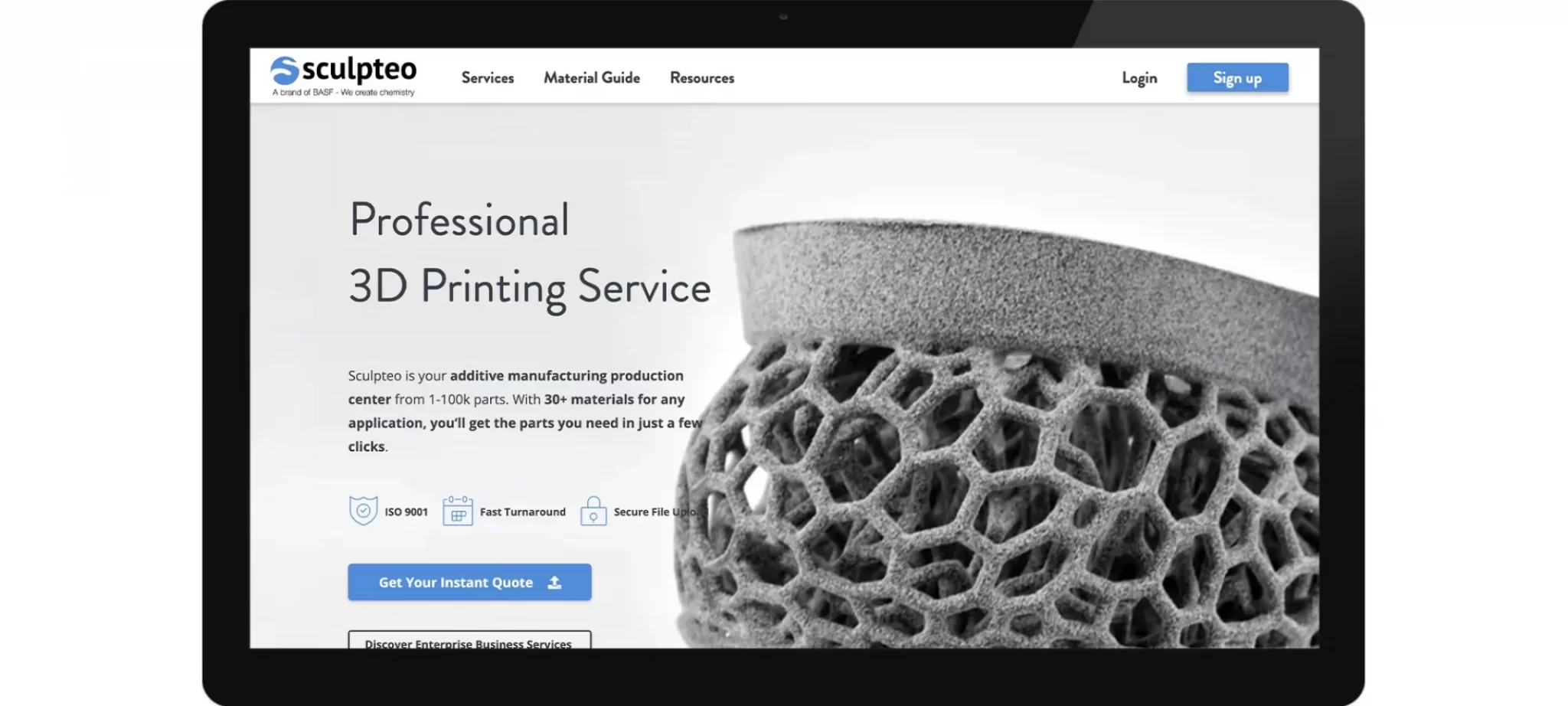 Sculpteo is based out of France and its inception dates back to 2009. The company leads in the European market and has a similar service offering as compared to that of i.materialise and Shapeways.
It specializes in 3D printing in the cloud. Like any other leader in the 3D printing service market, the company offers a huge selection of 3D printing processes.
You can even choose the Carbon 3D's CLIP technology apart from the other common ones such as SLS, DMLS, Binder Jetting, and PolyJet.
In short, you will never fall short of choices when it comes to technologies and materials available for 3D printing. You can get the models printed in a variety of materials too. Some of these are resins, aluminum, bronze, steel, silver, brass, etc.
If you are looking for high standard results, offering you professional quality parts, you can definitely go for it.
A complete solution provider for almost all your 3D printing needs. Moreover, it does have an online repository for models that you can select and get 3D printed by Sculpteo.
3D Printing Communities
Apart from the companies offering direct printing services, there are those that act as a mediator in connecting the customers and the 3D printer owners.
3D Hubs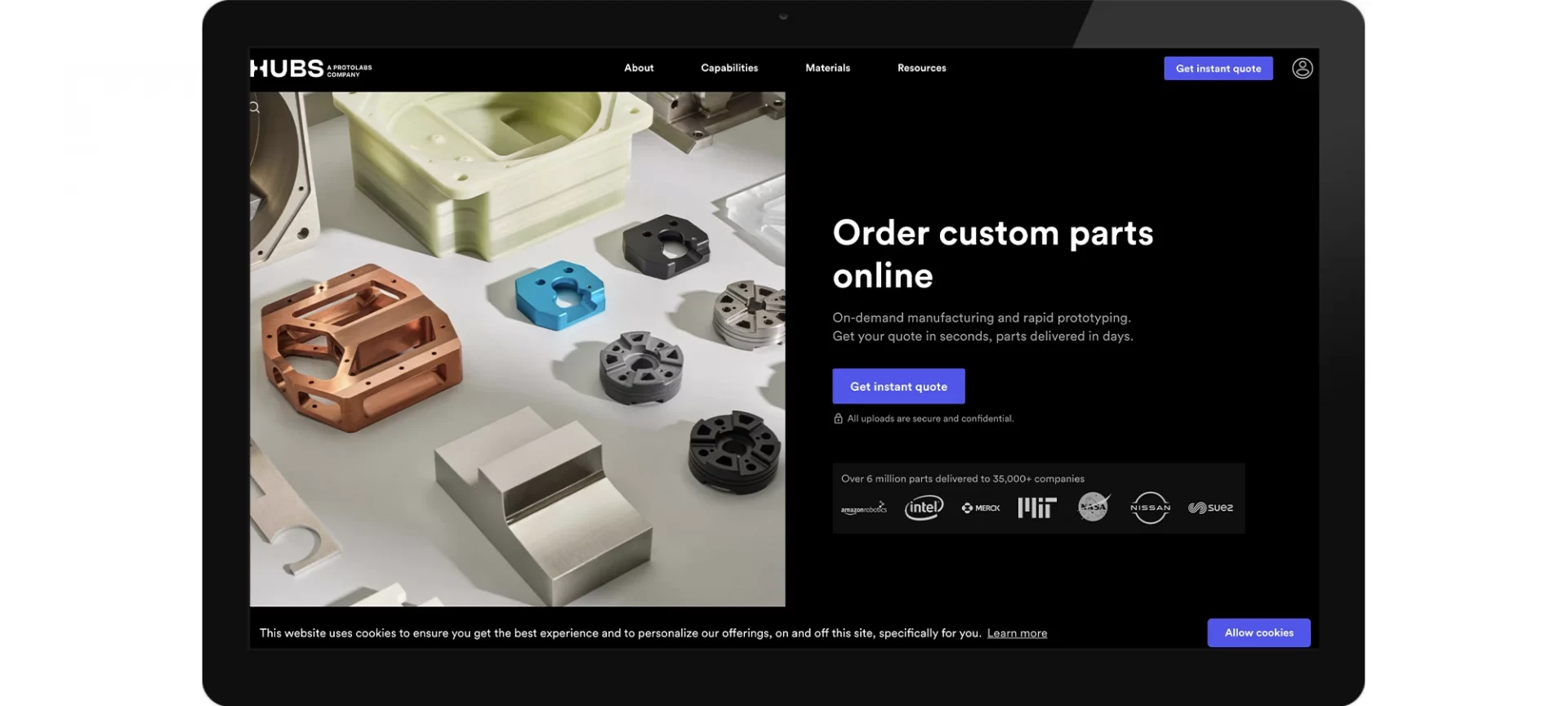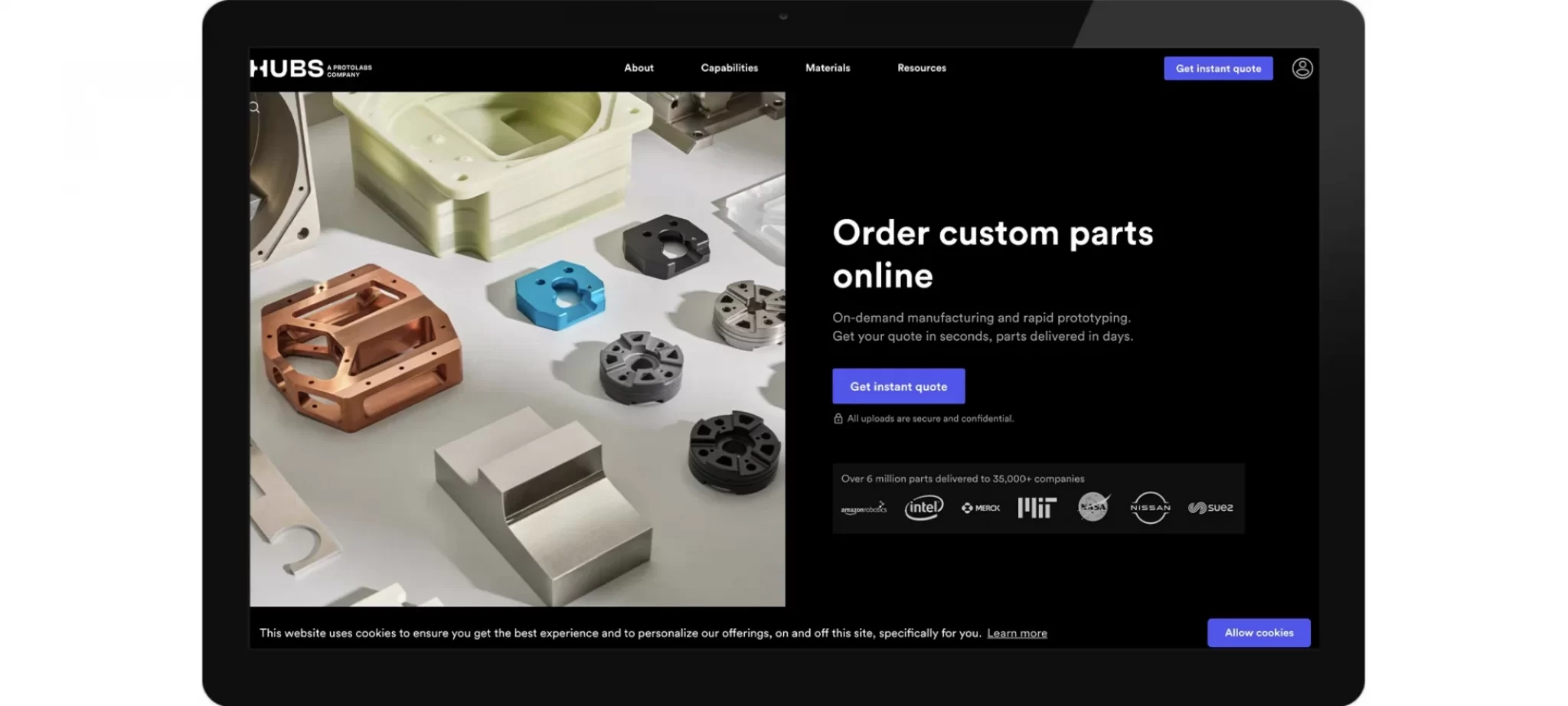 3D Hubs was founded in 2013 and is based out of Holland. Unlike other companies listed above, the company aims at connecting demand to the services offerors.
In other words, 3D Hubs connect those wanting to get a model 3D printed to the one who can make that possible. The system is really working and the company has been able to accomplish many requests with satisfaction.
You can consider it similar to eBay and Etsy which links the buyer and seller together, however, in the 3D Printing niche.
This kind of system is also very helpful in supporting local service providers to gain more customers. The company offers many 3D printing processes including FDM, SLA, MJF, SLS, DMLS, PolyJet, etc.
MakeXYZ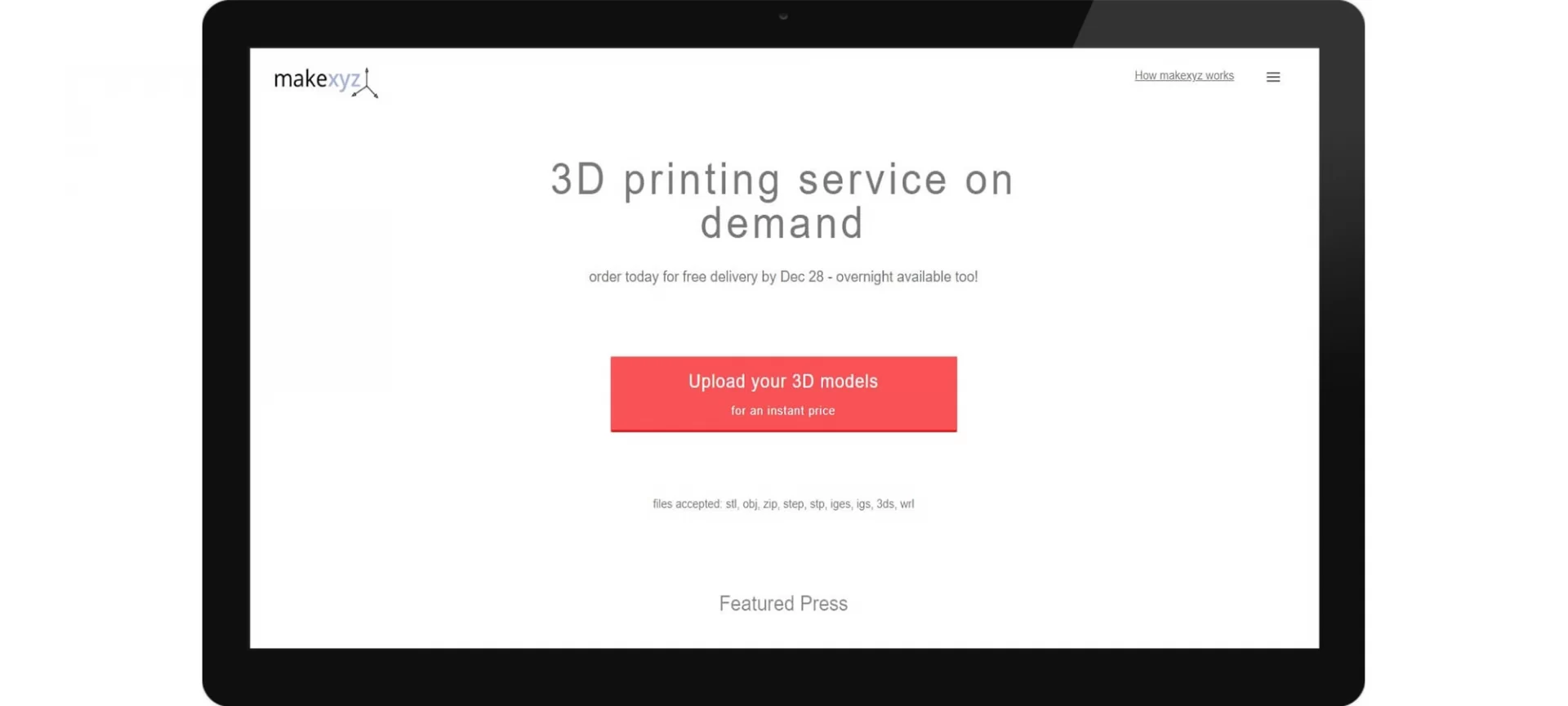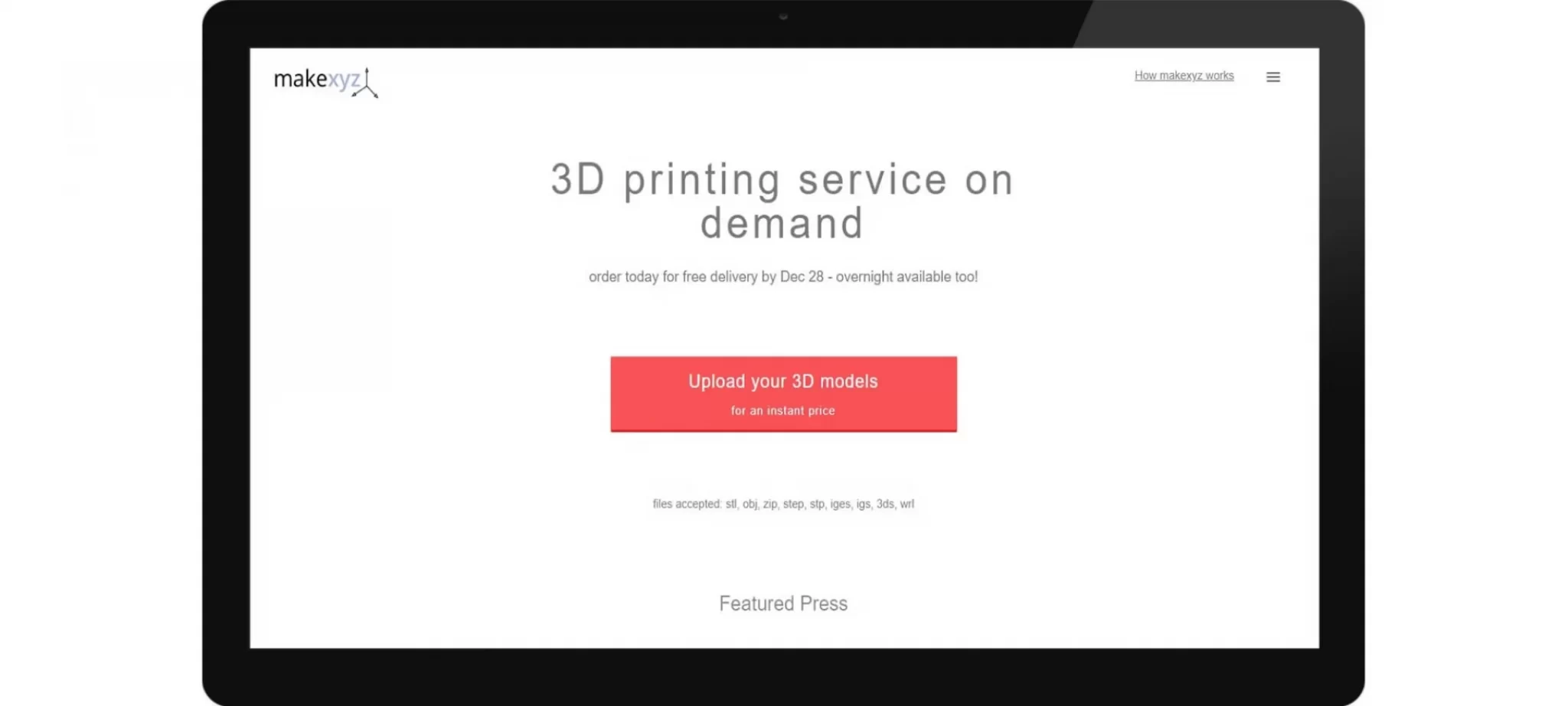 Once again a platform that connects the buyers to the sellers. The service offered by MakeXYZ is very appreciable and it has helped many local 3D printer owners to make huge profits by registering themselves with the website of MakeXYZ.
The company offers great services to its customers and has become very popular in a short span of time. Anyone who has a 3D printer can actually register themselves as a seller and start accepting orders. Isn't that huge progress for the entire 3D printing community.
Not just that, getting a quote for the parts is also easier. After uploading the design and selecting the size, technology, and material, the buyers can connect with the seller, with the best price offering.
The company does not own 3D printers but has made it possible for the customers to get their 3D model printed without any hassle. The prints are delivered to the address of the buyer.
MakeXYZ lists many 3D printing technologies and buyers can choose from among the ones listed. It offers FDM 3D printers, SLS 3D printers, SLA 3D printers, as well as PolyJet 3D printers, as mentioned on their website.
They also offer a wide variety of material selection including PLA, ABS, Nylon, TPU, and resins. The company is mostly operational in the USA and the UK.
The Conclusion
The surging craze for 3D printed parts and the models uniquely designed based on one's preferences has given more push to the 3D printing technology.
Individuals love to own modified parts with a design enhanced as per their likes and dislikes. With 3D printing, it has become an easy process as well as easy to afford.
Getting a part or item modified is no more an expensive task. 3D printers can complete the job in very little time and without any extra effort. By changing a few things in the 3D design file, one can come up with the modified parts and models.
That is the reason why people have started looking for 3D printing services for accomplishing their 3D printing needs. Do you still wonder: where can I 3D print? I guess not.
The article has a lot of options that you can choose from. Moreover, you can even connect with 3D printer owners on the online forums and check if they would like to 3D Print for you.
You can search for someone closer to your area as well. While it won't be that easy to find someone all on your own, you can anytime use the above marketplaces and service centers to make things possible, related to 3D printing.