Dr. Carl Deckard invented and patented Selective Laser Sintering Technique in 1988 at the University of Texas in Austin. Back then, the technology proved expensive and suitable only for industrial purposes.
After the expiry of the patent in 2014 and advancement in technology, many companies came up with compact and affordable SLS 3D printers.
Today, there are various user-friendly SLS 3D printers available in the market coupled with numerous advanced features. Thus, you can buy one that best fits your printing goals.
What is SLS 3D Printing?
Selective Laser Sintering 3D printing is an additive manufacturing technique that uses a high-power laser to fuse powdered plastic material into layers to create a 3D model. To meet the industry requirements, several processes have been developed based on this technology.
You can use a wide range of industrial thermoplastics, nylon polyamide, and other powder mixes. These include carbon fiber, glass mixes, and aluminum. PA 12 or Nylon 12 is one of the popular materials for SLS 3D printing.
Why Choose Selective Laser Sintering Over Other 3D Printing Technologies?
Despite being relatively expensive and messier than other additive manufacturing technologies, such as FDM and SLA, it is still widely used to produce parts and functional prototypes in automotive, medical, aerospace, and consumer electronics.
It is also used for creating jigs and fixtures, packaging, tooling, and sand casting. There are several advantages of SLS 3D printing. This technology allows you to create strong and durable parts to withstand high heat and chemicals.
It also allows users to produce complex geometric designs with fine details. You can also batch produce multiple parts in 3D arrays, called nesting.
Numerous product finishes are possible. These include coating, metallization, tub coloring, flocking, and vibratory grinding, etc.
Hence, it offers various physicals and mechanical properties to the printed parts, which gives it an edge over other 3D printing technologies.
Comparison Chart
| Name | Link | Nomination | Overall Rating |
| --- | --- | --- | --- |
| 3D Systems ProX SLS 6100 | | Editors choice | 9.0 |
| XYZPrinting MfgPro230 xS | | Top pick | 8.7 |
| Sintratec Kit | | Budget Friendly | 8.6 |
| Sharebot SnowWhite | | Reliable | 8.2 |
| Sinterit Lisa | | Most Compact | 8.5 |
| Formlabs Fuse 1 | | Large build volume Desktop SLS 3D printer | 7.3 |
| Sintratec S1 | | Faster print speed | 7.7 |
| Natural Robotics VIT | | Stable 3D Printing | 7.5 |
| EOS Formiga P110 | | Flexible | 7.8 |
| Red Rock 3D | | Easy to use | 7.6 |
Best SLS 3D Printers
The market is full of SLS 3D printers. In order to buy one, scan it all and choose one that satisfies your needs. For your ease, in this guide, we listed down the ten best desktop and industrial SLS 3D printers in detail, known for their performance worldwide.
3D Systems ProX 6100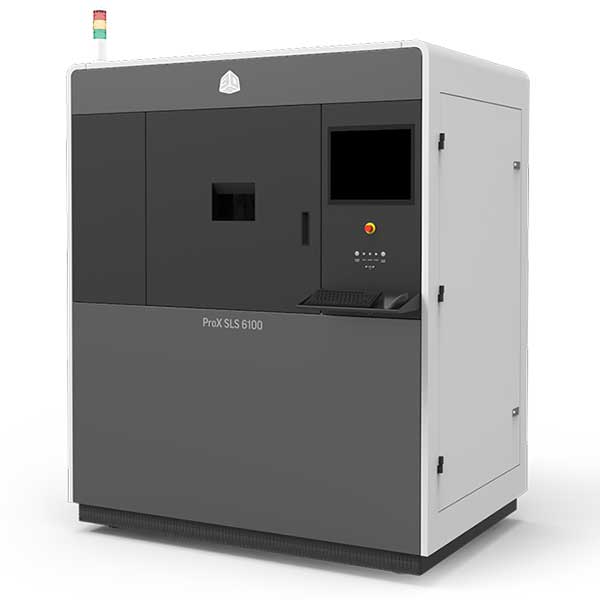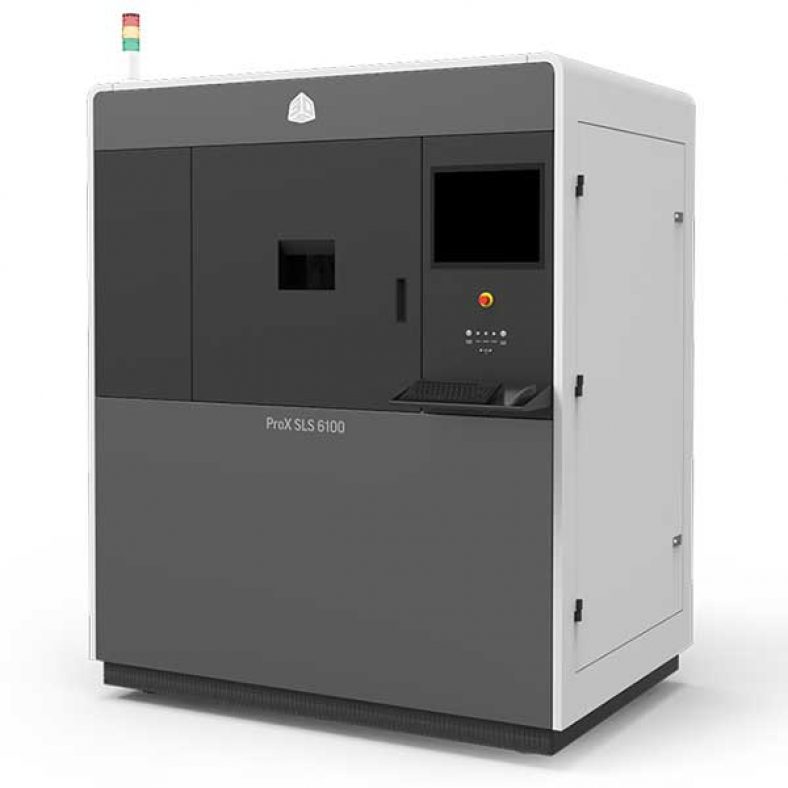 An American company, 3D Systems, is well known for 3D printers. It offers SLS 3D printing through its sPro and ProX series. Both of these allow producing durable and strong parts with production-grade Nylon.
ProX 6100 has a large build volume of 381 x 330 x 460 mm and layer thickness of 0.08 to 0.15 mm. It is compatible with various DuraForm ProX materials.
These include PA 11, PA 12, and nylon powder mixed with Carbon, glass, food-grade material, or aluminum.
The company claims 95% material efficiency and 20% lower operating cost due to an efficient Material Quality Control system. The print speed is 2.7 inches per hour.
Uses:
Produces parts that resist high temperature and are durable
You can also print housings, jigs and fixtures, complex end-use parts, machinery parts, and functional prototype
Suitable for automotive, medical, aerospace, and end-user products industries
XYZprinting MfgPro230 xS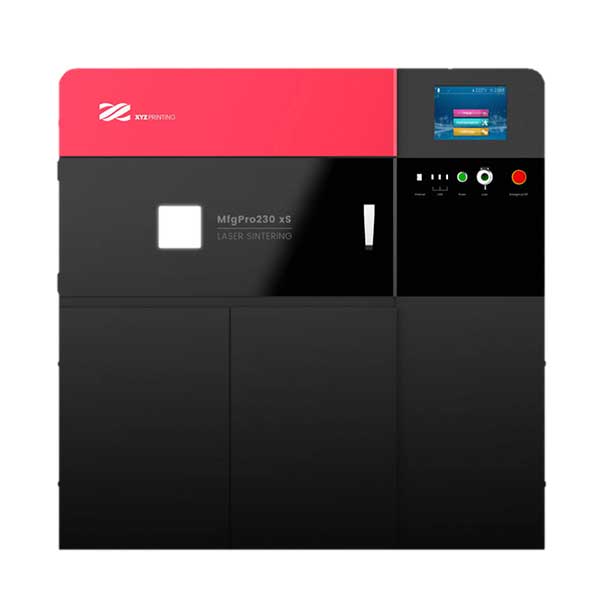 The Chinese manufacture, XYZprinting, is well known for its desktop FDM and FFF 3D printers. The MfgPro230 xS is their first industrial SLS 3D printer with a build volume of 230 x 230 x 230 mm and a layer resolution of 0.1 mm.
The printer speed is 1 Liter per hour. The machine is compatible with SLS Software, i.e. the SLS Build for optimization and slicing of prints, and the SLS Ware for remote controlling and managing the machine.
You get a 10.4-inch color touchscreen for an intuitive user interface and a removable print tray for enabling users to easily remove the printed parts and clean them off for the next print. The printer costs around $60,000.
Uses:
The printer targets professionals and engineers in the automotive and aerospace industries
Ideal for rapid prototyping of functional parts
Due to the large build space, the user can print multiple parts simultaneously.
Sintratec Kit
Sintratec, a Swiss Company, specializes in manufacturing SLS 3D printers. It released a build-it-yourself desktop SLS 3D printer in 2014 for $5,350. The machine is compatible with Nylon PA12 and TPE.
The user can use third-party materials. The print volume is 110 x 110 x 110 mm and the minimum layer resolution is 100 microns. The printer has a closed build frame and can be connected through a USB or an SD card.
The machine takes four days to assemble. However, in turn, it offers great quality printing at an affordable price.
Uses:
It serves the professional needs of numerous industries. These include medical, education and research, rapid prototyping, mechanical engineering, and creating durable industrial parts and functional prototypes.
It allows printing at 20mm per hour speed despite the complexity of the design. To print parts with high resolution, the speed drops by 50% but still, it is of industry-standard or more.
There is no need for a support structure, unlike other printers. The un-sintered or residual powder serves as support. Once the printing is complete, you can easily lift the model out and brush off the powder.
As support structure is not required, the printer utilizes fewer materials, thus, decreasing the overall printing cost.
It allows users to print high-quality complex structures with rare and strong materials like Nylon. This sets it apart from other printers in a similar price range.
Sharebot SnowWhite
If you have a small or medium-sized business and need an SLS 3D printer with industrial applications, the Sharebot SnowWhite is a go-to option.
As it is a plug-and-play device, it is easy to install the printer. It only takes 10 minutes to start printing (including loading the material to creating the first layer).
The machine has preset profiles for usual powders and does not require frequent calibration for effortless printing.
The build space is 100 x 100 x100 mm and the print speed is 3500 mm/sec. That is quite impressive.
The metal closed chamber allows maintaining temperature inside. The printer costs around $38,500. Hence, it is expensive for home use.
Uses:
By using the laser-sintering technique, it allows printing precise and accurate parts with a wide range of materials. You can easily print with PA12, PA11, TPU, and few other charged powders (aluminum, glass mixes, etc.) to create parts with various physical and mechanical properties.
The user can easily control the printing settings through a touchscreen.
You can create complex geometric patterns as the machine uses a CO2 laser with Galvanometer.
Suitable for making jewelry, as well as for use in the medical and automobile industries
Like other SLS 3D printers, it allows printing without any support structure. It makes post-processing easier.
You can recover the un-sintered powder easily and use it again for printing.
Sinterit Lisa
The list cannot be complete without the Sinterit Lisa, a compact, easy-to-use, and affordable bench-size SLS 3D printer. This machine is a trendsetter and ideal for professional use.
The printer is durable and has a print space of 150 x 200 x 150 mm. It can withstand a maximum temperature of 190oC.
You can use PA12 and TPU powders for printing. A built-in camera allows you to keep track of the printing process.
The average print speed is 10 mm per hour and the layer resolution ranges from 75 microns to 175 microns. The printer uses Sinterit Studio slicing software compatible with Windows.
The starting price of the machine is $6,990 and the full package (with a powder sieve and sandblasting station) costs $2,000 additionally.
Uses:
Ideal for small business owners, engineers, and designers to produce functional parts and prototypes
You can print without any support structure due to the accuracy of the technology.
The printer allows batch production within the in-built compartments. This saves production time and allows having a backup when printing in huge numbers.
Due to high-temperature resistance, the machine is compatible with materials that have high melting points.
Formlabs Fuse 1
If you want to produce high-quality, large 3D prints, the Formlab Fuse 1 is one of the best options for you, thanks to the low price and large build volume.
The printer has a removable chamber, which allows easy removal of the prints from the print bed without damaging them. Thus, it results in less downtime.
It is an environmentally friendly machine as you can recycle 50% of unused metal powder.
It has a build volume of 165 x 165 x 320 mm, print speed of 10 mm per hour, and automatic bed leveling. You can connect to the printer through Ethernet and Wi-Fi. The printer comes fully assembled.
The machine costs around $9,999. However, the complete set that includes an extra piston station, post-processing powder removal, and materials costs around $19,999.
Uses:
Allows production of support free structures to reduce wastage and cost of printing
Complicated geometric patterns with curvy edges can be produced within a few hours.
Thanks to the large build volume, you can produce huge parts and prototypes in industries, such as aerospace, medical, and dentistry
Sintratec S1
In 2016, a Swiss company, Sintratec launched a desktop-sized industrial 3D printer. The company is one step ahead of its competitors. You can use the S1 to print large volume, complex and durable 3D parts with great accuracy at an affordable price.
What makes it unique is the inclusion of a Galvanometer that controls the direction of the high-strength laser. This feature improves print speed and accuracy. The user needs a computer to connect with the printer until slicing takes place.
After this, you can operate it as a stand-alone machine for 3D printing. There is no need for onsite installation, which makes it easy to use. The automatic powder spreading mechanism further eases tasks.
Being CE certified, it offers reliability. The machine has a build volume of 130 x 130 x 180 mm and a layer thickness of 100 mm, with a 7-liter powder capacity.
You can use Nylon and TPU for printing. The phenomenal print speed is 20 cm3/hour. It costs around $23,699.
Uses:
By using a high-powered laser, the S1 can print complex durable industrial parts and functional prototypes.
Due to its compact design, small-scale businesses can also easily manage it.
Natural Robotics VIT
The VIT SLS produces prototypes and short runs with various types of polymer powders, designed for use by individuals and small-scale businesses.
The build volume is 250 x 250 x 250 mm and the print speed is 20 mm per hour. It uses a CO2 40W laser and is priced around $12,900 with a one-year warranty.
The machine comes fully assembled. You can also use third-party materials to print.
Uses:
The printer allows printing high-quality parts without compromising on speed.
This printer is beginner-friendly, and you can use it even if you have no experience with 3D printing. You can connect the printer to your device through Wi-Fi, USB, and Ethernet.
The printer process can be controlled through a 7-inch touchscreen that is convenient to use.
Packing multiple parts is possible in a single bed as the powdered material is stored in the feedstock. It also indicates the percentage of un-sintered material that can be recycled in the future.
EOS Formiga P110
EOS Formiga P110 is known for its print quality, low running cost, and reliable printing. The machine has a high print speed of 1.2 inches per hour. It is user-friendly and anyone can operate it.
The intuitive user interface further simplifies the operation. It uses sustainable material for printing that can be easily recycled.
In addition, it consumes low energy and has short cycle times. Due to the improved thermal management system, there is minimum downtime.
The build space is 200 x 200 x 150 mm and the layer resolution ranges from 60 to 120 microns.  The printer is compatible with Nylon, Polyamide, and Alumide. It costs $250,000.
Uses:
You can print with various polymers with different physical properties. These include strength, color, stroke number, temperature resistance, and transparency.
It is widely used in automotive, aerospace, and other industries to create precise parts and prototypes.
Due to the compact system, small series production is possible that requires customization and rapid prototyping.
Users can print with any of nine commercial polymers and ten types of materials and layer resolutions.
Red Rock 3D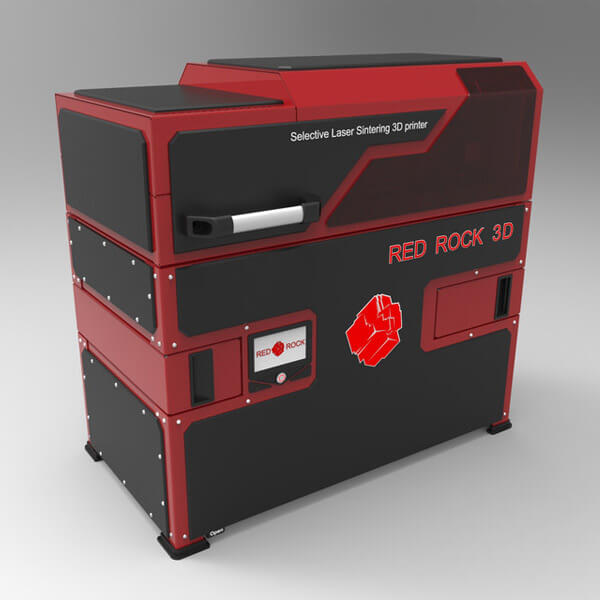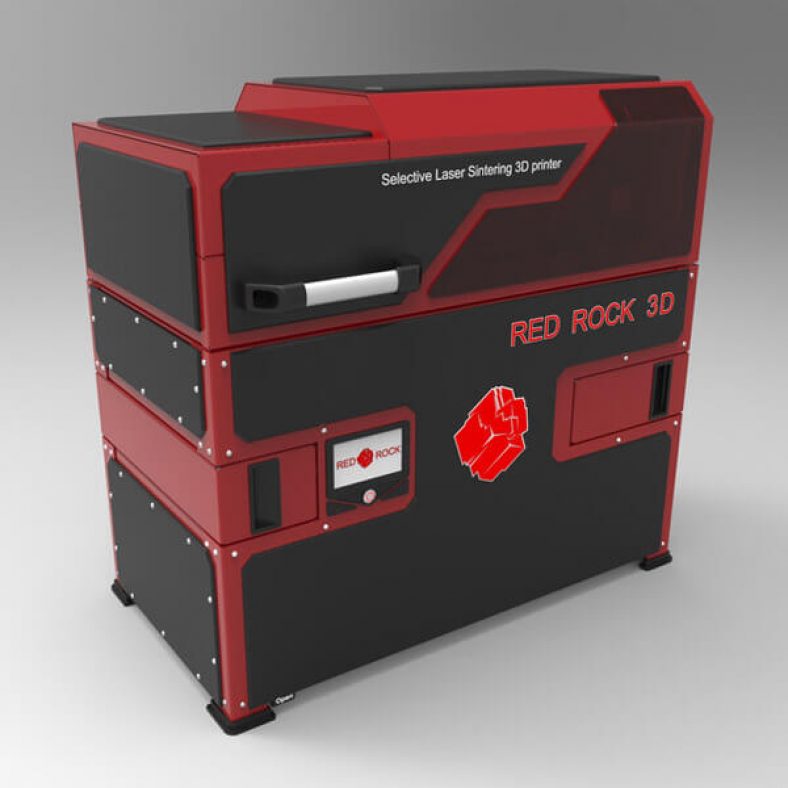 A Russian manufacturer, Red Rock, produced a desktop 3D printer with SLS additive manufacturing technology in 2017. This competent device includes several great features.
The printer has a compact design with a print space of 180 x 180 x 180 mm.  It has a print speed of 20 cm3 per hour and a layer thickness of 100 microns. You can print with PA 12.
It provides a heated chamber, print bed, and feed bed for better quality 3D printing. It is made from high-precision CNC machine parts.
Quick-release front panel and open powder recycling bunker ease the operation. The device costs around $10,000 with a 12-month warranty.
Uses:
5-inch touchscreen
SD Card connection for standalone printing
High speed allows rapid prototyping of parts
Suitable for batch production
Buyer's Guide
When choosing an SLS 3D printer, you should determine your printing needs for making an informed decision as the requirements vary based on their applications. You should be specific in your goals to select the correct printer.
If you are running a large-scale business, you will need a printer with huge build volume and industrial features, whereas, for a small-scale business, you will need a desktop printer. Following are the common factors that one should look for when purchasing an SLS 3D printer.
Budget
It is the most important factor as it allows you to identify whether you could afford a particular 3D printer or not and determine the price range for your printer.
The prices of SLS 3D printers vary a lot. The price ranges from $5,000 to tens of thousands of dollars.
You should set a budget and then start looking for the printer under that range. Otherwise, you might end up paying more than you could afford.
Application
The purpose of purchasing an SLS 3D printer is important to know. Do you want it for commercial use or for professional and industrial usage?
Unlike FDM 3D printers, SLS 3D printers are expensive. It would be a huge one-time investment, so you should be clear with your printing goals.
Material Support
Once you determine the application, you will know the materials you require for 3D printing. If your printer is compatible with that material, great, and otherwise, you have to look for another printer that enables you to use the same material. It is best to purchase a 3D printer that supports a wide range of materials.
Company Support and Warranty
These depend on companies' policies. Some SLS 3D printers come with a one-year warranty. In addition, several companies provide online, as well as onsite assistance to users.
Print Quality
Industrialists need fine and smooth prints. Printers with high layer resolutions and powerful lasers help maintain finer details and consistency, especially when producing large batches.
Print Speed
The print speed determines the time of production and time to market. The faster the speed of printing, the better it is for designing and testing.
Frequently Asked Questions
What Is The Difference Between SLA And SLS 3D Printing?
Although both SLA and SLS 3D printing techniques use a laser to build parts by layering, SLA cures liquid resin whereas SLS fuses powder together through laser.
What Is The Material Used For SLS 3D Printing?
Most SLS 3D printers use engineering plastic powder to print. Nylon PA 12, a synthetic thermoplastic, is widely used as it produces stable and high temperature and chemical resistant parts.
Some SLS 3D printers are also compatible with Nylon mixed with aluminum, glass, carbon, and food graded material.
Can SLS Parts Warp?
Usually, SLS parts do not warp. However, some with huge flat surfaces might warp but you can prevent this by reducing part volume.
Should SLS Parts Be Designed With Escape Holes?
SLS parts should be ideally designed with two escape holes to remove excess or un-sintered powder from inside the model.
How Can I Get A Smooth SLS 3D Part?
You can get a smooth SLS 3D print by post-processing (finishing) them to smoothen the surface finish and improve part functionality.
What Are The Finishing Processes Available For SLS 3D Prints?
For smooth surface finishes, you can dye, polish, spray paint, coat, or lacquer SLS 3D parts.
Is It Possible To Texture The SLS Parts Surfaces?
Yes, it is possible to have textures (such as leather-look) on the surfaces of SLS parts using a special graining process.
Conclusion
The market for 3D printers is expanding exponentially. There are hundreds of SLS 3D printers available. Each of them offers certain pros and cons.
You can get the desired results by choosing a top-performing SLS 3D printer that best fits your printing goals. Therefore, carefully check out the printers listed above and make your final discussion.