XJet Carmel 1400C
Being an industrial 3D printer, the Carmel 1400C by XJet is huge in size. This printer offers higher density parts that are lightweight and cost-efficient.
PROS
Unmatched print quality
Provides huge build tray and for manufacturing large parts with ease
High operational efficiency.
Huge touch screen interface.
5 times faster print speed than metal 3D Printers
Saves wastage and very well designed
Users can optimize the cost of the parts utilizing the best possible design choices.
CONS
Demands lots of investment of money, time, space and efforts.
Not suitable for home users.
Product
Specification
Videos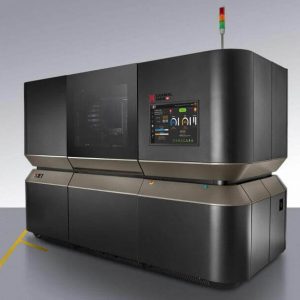 Allowing users have complete freedom to design parts they wish to, XJet Carmel 1400 C prints objects using Nanoparticle jetting 3D printing ...
| | |
| --- | --- |
| Model | Carmel 1400C |
| Manufacturer | XJet |
| Price Range | > $ 250000 |
| Release date | 2019 |
| Country | Israel |
| Availability | Available |
| Classification | Industrial |
| Technology | Material Jetting |
| Material | Ceramic |
| Generic material | Yes |
| Max. build size | 500 × 280 × 200 mm 19.69 × 11.02 × 7.87 in |
| Max. build volume | 28.00 L |
| Dimensions | 3100 × 1850 × 2120 mm 122.05 × 72.83 × 83.46 in |
| Weight | 3000 kg 6613.87 lb |
| Heated print bed | Yes |
| Heated build chamber | Yes |
| Automatic calibration | Yes |
| Closed frame | Yes |
| Dual extruder | No |
| Independent Dual Extruder | No |
| Full color | No |
| LCD screen | No |
| Touchscreen | Yes |
| On-board camera | No |
| Mobile app | No |
| 3D scanners | No |
| CNC mill | No |
| Electronics 3D printing | No |
| Laser engraving | No |
| Conveyor belt | No |
| Air filter | No |
| Pellet extruder | No |
| USB | No |
| Wifi | No |
| Bluetooth | No |
| SD card | No |
| Ethernet | No |

Table of Contents
Although comparatively new to additive manufacturing, Ceramic 3D printers are gaining huge popularity among users.
Being able to increase production efficiency by surging throughput exponentially, these machines have been able to attract the attention of a lot of industries. Among the few choices, the XJet Carmel 1400C 3D printer happens to be the most noteworthy one.
Carmel 1400C is an industrial 3D printer suitable for creating ceramic products. Offering high accuracy and great precision, the machine offers perfect 3D parts to the users. Hence, the printer is for those who require faster productivity with superior quality.
Based on the company's patented NanoParticle Jetting technology (NJP), the printer is a lot different from its competitors. Unlike other ceramics 3D printers that work on extrusion-based printing, Xjet Carmel 1400C involves a cartridge containing ceramic nanoparticles mixed with a liquid dispersion.
Therefore, when the liquid and nanoparticle mixture is jetted on the build platform, the liquid evaporates at high temperature leaving a thin layer of nanoparticles behind.
The process enables the printing of bigger models with ease. Also, users can create designs that were not possible to print with ceramic 3D printers before.
To understand the capabilities of the printer in detail, it is essential to look at the various features the machine offers. From accurate parts to unmatched design freedom, one can enjoy various perks when working with Carmel 1400C.
Features
This is a very impressive machine that is designed to offer customers intricate ceramic parts. Leveraging the revolutionary nano-particle jetting technology, users can print high print quality boasting finer details without any hassle.
Below mentioned are some of the features that make this 3D printer one of the most unique choices in the world.
Unprecedented Part Quality
Carmel 1400C is the industry's popular ceramic additive manufacturing system for developing superior quality geometries. It empowers manufacturers with solutions that are capable of providing parts with complex designs, which wasn't possible before.
Using its nano-particle jetting technology, the printing system offers an unprecedented solution to create parts with strong mechanical properties.
The printed parts boast 99.9 percent density. In addition, the 3D models printed using Xjet Carmel 1400C have isotropic uniformity and extremely low shrinkage.
Unprecedented Design Freedom
When it comes to ceramic 3D printers, users have to face huge design constraints. However, Carmel 1400C isn't the same. The machine ensures that the difficulty of designs can be printed without hassle.
By allowing users to print the most intricate parts, the machine allows for unprecedented design freedom. And again, the credit goes to nano-particle jetting technology.
Unrivaled Operational Efficiency
Carmel 1400 C has extraordinary operational efficiency. Based on its unique technology, the machine simultaneously jets both build as well as support materials. Making the process faster, without compromising the quality of the printed parts.
This does not only benefit in accomplishing mass production at higher throughput, but also provides an exemplary print quality. Not to forget, the printer also allows users to optimize the cost per part.
Automatic Support Generation
Carmel 1400 C has an automated support planning feature. Hence, you do not have to take the pain of designing and supporting yourself.
The software optimizes the support for the best result. Hence, offering customers a hassle-free experience while working. And, at the same time, Therefore, restricting the errors caused due to manual error.
Large Touch Screen Interface
Unlike other printers that boast a few inches wide touch screen, this one includes a very large interface for much user-friendly navigation to various settings. In short, it becomes much easier for the users to modify the print setup when working with Carmel 1400 C.
No Material Wastage
Moving on, it is essential to note that the printer utilizes only the precise amount of material for creating parts.
Precisely, not only does it accurately predict the exact amount of material needed for building the models, but also lets you lessen the waste.
Therefore, it is cost-effective to work with XJet Carmel 1400C. In addition, the printing solution is completely environmentally friendly.
Very Fast Operation
Metal 3D printers usually operate at a high speed. What's fascinating is that the XJet Carmel 1400C is even faster than its competitors.
By running five times faster than the other metal 3D printing processes, Carmel 1400C really completes the job with quick turnaround times. However, that does not mean it compromises on the quality.
On the contrary, it keeps the precision intact and creates aesthetically beautiful models even at higher speed.
Specifications
XJet Carmel 1400 C is an eccentric 3D printing system hosting a build tray with dimensions 500 mm * 280 mm. Thereby accounting for somewhere near 1400 square centimeters. This is one of the largest build trays available in the field of ceramic 3D printing.
In addition, the printer is capable of producing objects with a building height of 200 mm. Designed using state-of-the-art technology, XJet is easy to operate using a mobile application.
The footprint of Carmel 1400C is 310 cm * 212 cm * 185 cm. Hence, you can expect the machine to occupy considerate space. Also, it weighs around 3000 kilograms. But that is not a surprise considering the printer an industrial-grade machine.
Carmel 1400C heats up to 300 degrees Celsius and has thousands of nozzles depositing fine layers of metal liquid. Parts manufactured using this 3D printing system deliver great advantages to the users.
In short, it is an extraordinary machine, making printing with ceramics possible. That too with high precision and accuracy.
Price
Please contact the manufacturer to get the quote for the XJet Carmel 1400C. You can expect the printer to be expensive being an industrial-grade machine.
First Impression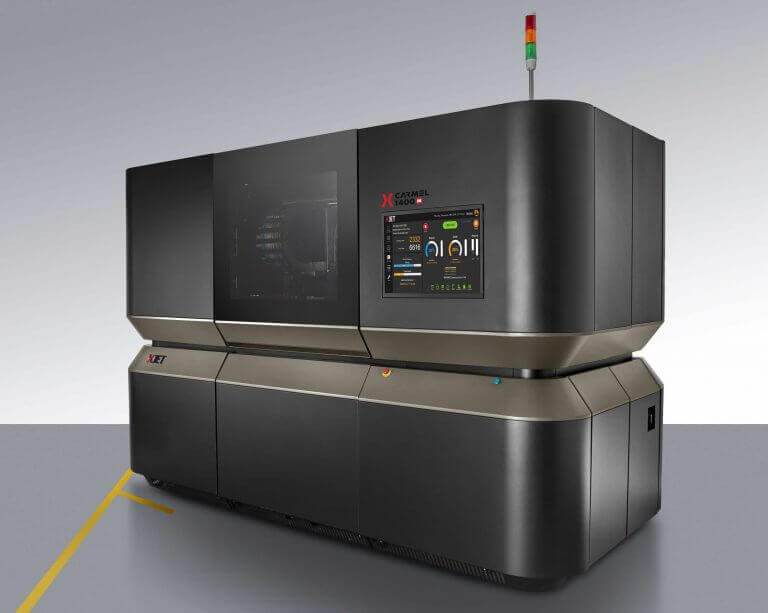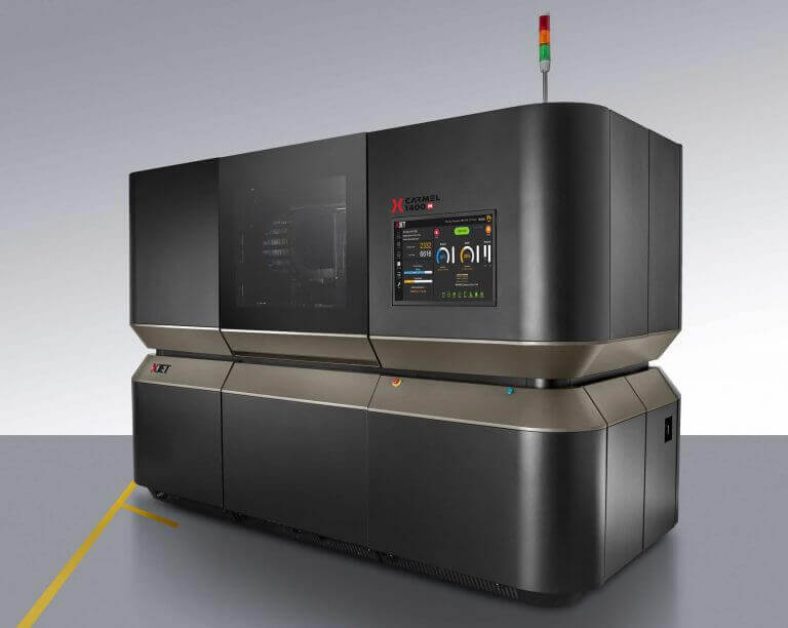 Carmel 1400C has a robust design like many other industrial 3D printers. The design boasts an enormous touch screen interface that makes navigation, monitoring, and controlling the entire 3D printing process easier. A wider footprint with a dark metallic body will certainly leave you awestruck.
Overall, the printer looks stunning. Although you may have to deal with the large size of the machine, the results will certainly be worth your efforts.
Setup
Yes, the printer comes as a single machine. Hence, users do not need to assemble the components together to complete the setup.
However, printing the first model won't be that easy. And, you may need onsite assistance to complete the setting of the printer.
However, the company has got you covered for the same. It does provide technical assistance to its customers.
However, if you have prior experience working with printers based on similar technologies, you can follow the instruction manual to complete the setup yourself.
For starting the prints, users must initiate the material loading process via the touch screen interface. Operators can then transfer the 3D models, make the amends if required and begin printing.
Print Type/Cost
Carmel 1400C is based on Nanoparticle jetting 3D printing technology. As discussed, the technique makes use of a unique liquid dispersion containing solid nanoparticles.
The printing process starts with jetting the liquid with nanoparticles onto the build tray. Once the liquid evaporates at a high temperature, the nanoparticles then serve as the base materials for the additive manufacturing process.
In Carmel 1400 C, you will find cartridges containing the materials present inside the printing system.
Once that is done, the next step involves support removal. Also, the process requires sintering following the printing to enhance the quality and strength of the 3D models. Hence, with proper post-processing methods, users can achieve printed parts reflecting desired geometry
The cost of manufacturing parts using an industrial-grade 3D printer is expensive. And, XJet Carmel 1400C is no different.
However, to precisely calculate the overall cost for printing parts, one must consider important factors. For instance, the geometry of parts, the material used, the layer height, and more.
Print Quality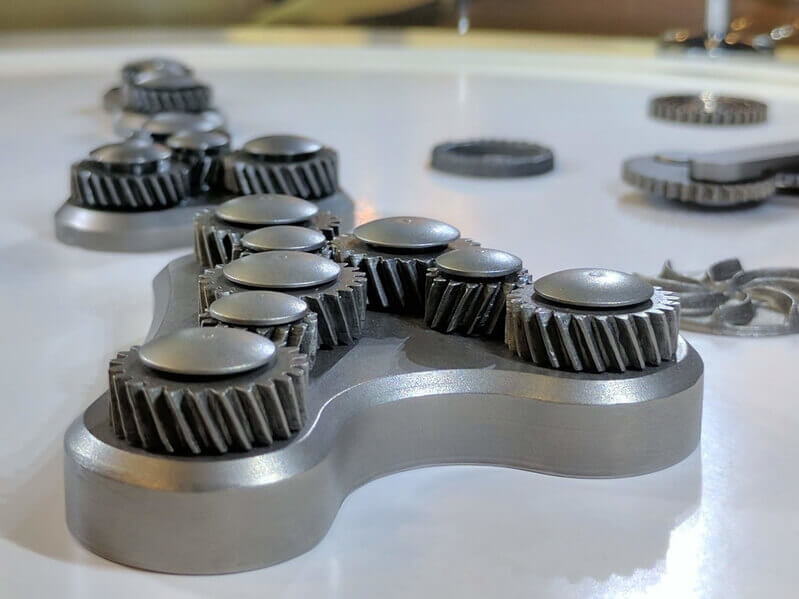 Credit: 3dprintingindustry.com
Undoubtedly, the parts or functional prototypes built using Carmel 1400 C possess unsurpassed quality. These parts boast around 99.9 percent density, isotropic uniformity, and above all extremely low shrinkage.
Hence, the printer is very much suitable for a number of applications within the industrial sector.
Software
Autodesk, Netfabb, and Ultimate are the three compatible applications that go hand in hand with this 3D printing system.
These applications are known for delivering the best results to customers. Hence, users can rely on these applications for achieving astonishing results.
In addition, these choices offer advanced controls to the users for providing high flexibility when modifying designs.
With an intuitive design, users find it easy to navigate through the various settings to create desired parts, offering the best results. Not just that, it is simple to use these applications.
Customer Support
The manufacturer couples this amazing printing system with a dedicated support team offering quick solutions to the users.
For ensuring the highest level of satisfaction, the support team has experts with years of experience helping customers. Reaching out for assistance is also hassle-free. You can just call the team or email them.
In addition, the company has a lot of guides and manuals with video tutorials to help customers in need.
Parameters Influencing Buying Decision
Here is a brief summary of the XJet Carmel 1400C review. Do not forget to go through these parameters before you plan to buy this 3D printer.
3D Printer Cost: You must contact the manufacturer for the printer's price. However, you can expect it to be an expensive machine, costing closer to the budget of metal 3D printers.
3D Printer Quality: The machine allows you to create the finest details with ease. It prints parts with 99.9 percent density and isotopic uniformity. In addition, the parts aren't prone to unnecessary shrinkage like many other metal 3D printers.
3D Print Speed: Carmel 1400C runs 5 times faster than the other metal 3D printers. Hence, offering commendable print speed for accomplishing larger prints in considerably less time.
3D Printer Capability: Carmel 1400 C is capable of manufacturing parts with huge build volumes. In addition, it has an automated support planning feature that allows for faster processing of prints. Offering great quality and smoother surface finish, the printer can build prototypes as well as final parts.
3D Printer Practicality: Looking at the various perks the printer provides, the printer is suitable for various difficult applications. It can be used within different sectors such as medicine, automobile, aerospace, etc.
3D Printer User Expectations: Apart from its high cost, the printer definitely pulls every string right. It has everything to benefit the users in the best possible way. From high-quality parts to the printing of bigger models with the highest efficiency, XJet Carmel 1400C definitely is an impressive machine.
The Verdict
Being an industrial 3D printer, the Carmel 1400C by XJet is huge in size. However, one cannot go wrong when praising its performance. The printer offers higher density parts that are lightweight and cost-efficient. Hence, helping various sectors with efficient product designs.
Using the advanced NPJ technology for metal as well as ceramic additive manufacturing, the printer brings huge possibilities for the users.
It can create parts that weren't possible before using similar technology. Therefore, if you have the need and budget to spend on the machine, it surely is a great choice.