Zortrax M200 3D Printer
Zortrax M200 aims at offering users an end to end solution with its closed ecosystem. Putting the various advanced features together, the company has managed to design one of the best machines for the 3D makers.
PROS
Automated bed leveling
Sleep mode
Filament out sensor
Sturdy body
Reliable
Provides a complete ecosystem of hardware and software
Third-party filament support
CONS
Not affordable for fun use
No dual extruder
Results with third party filaments aren't as impressive as it is with their proprietary materials
Product
Specification
Videos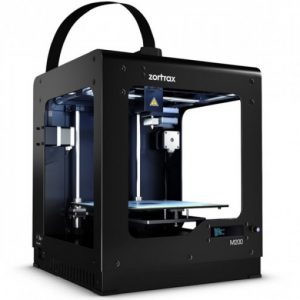 This printer is a great choice when it comes to offering its user the reliability, consistent operation, and suiting for printing with ABS material. ...
| | |
| --- | --- |
| Model | M200 |
| Manufacturer | Zortrax |
| Price Range | $ 1990 |
| Release date | 2013 |
| Country | Poland |
| Availability | Available |
| Classification | Desktop |
| Technology | Extrusion (FFF- FDM…) |
| Material | ABS, Other plastics, PLA |
| Filament diameter | 1.75 mm 0.07 in |
| OS compatibility | Mac OS, Microsoft Windows |
| Generic material | Yes |
| XY accuracy | 0.002 mm 0 in |
| Max. build size | 200 × 200 × 180 mm 7.87 × 7.87 × 7.09 in |
| Max. build volume | 7.20 L |
| Min. layer thickness | 0.09 mm 0.004 in |
| Dimensions | 345 × 360 × 430 mm 13.58 × 14.17 × 16.93 in |
| Nozzle diameter(s) | 0.4 mm 0.02 in |
| Power input | 190W @ 110V-240V 50-60 Hz |
| Heated print bed | Yes |
| Heated build chamber | No |
| Automatic calibration | Yes |
| Closed frame | No |
| Dual extruder | No |
| Independent Dual Extruder | No |
| Full color | No |
| LCD screen | Yes |
| Touchscreen | No |
| On-board camera | No |
| Mobile app | No |
| 3D scanners | No |
| CNC mill | No |
| Electronics 3D printing | No |
| Laser engraving | No |
| Conveyor belt | No |
| Air filter | No |
| Pellet extruder | No |
| USB | Yes |
| Wifi | No |
| Bluetooth | No |
| SD card | Yes |
| Ethernet | No |

Table of Contents
There are many companies that have tried their hands to bring the most advanced 3D printers to the market at an affordable rate. Some have succeeded too.
In the Zortrax M200 review, we would be exploring the different advantages of this 3D Printer. And, if it is one among those few that have made makers go crazy about it.
This 3D printer is a proprietary machine that works with the materials made by the company itself. Hence, you can consider it to be very different from the open system 3D printers.
The manufacturer claims that with a complete ecosystem of hardware and software, the machine is capable of providing better print results. In some way, it is true.
With software and hardware having a complete understanding of each other, the machine does provide astonishing results. Moreover, the filaments are very thoughtfully created for enabling the 3D printer to showcase its true potential.
In the midst of all these, users do seek to know about the limitations of the machine as well along with its perks. Hence, we have tried to bring all the crucial points together that would help readers take the right stance.
As the needs and requirements differ, so does the purchase preferences. And, you must verify if M200 stands confident against your specific goals.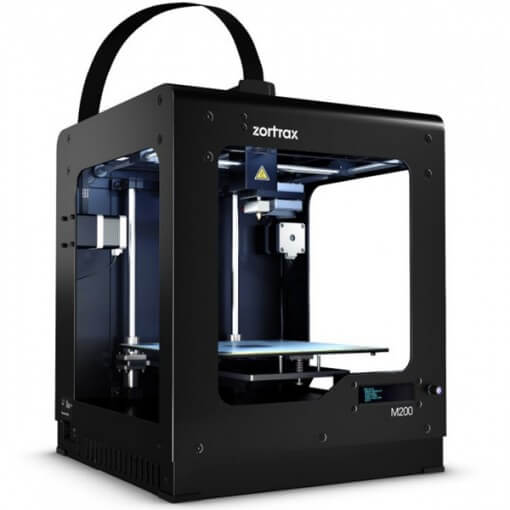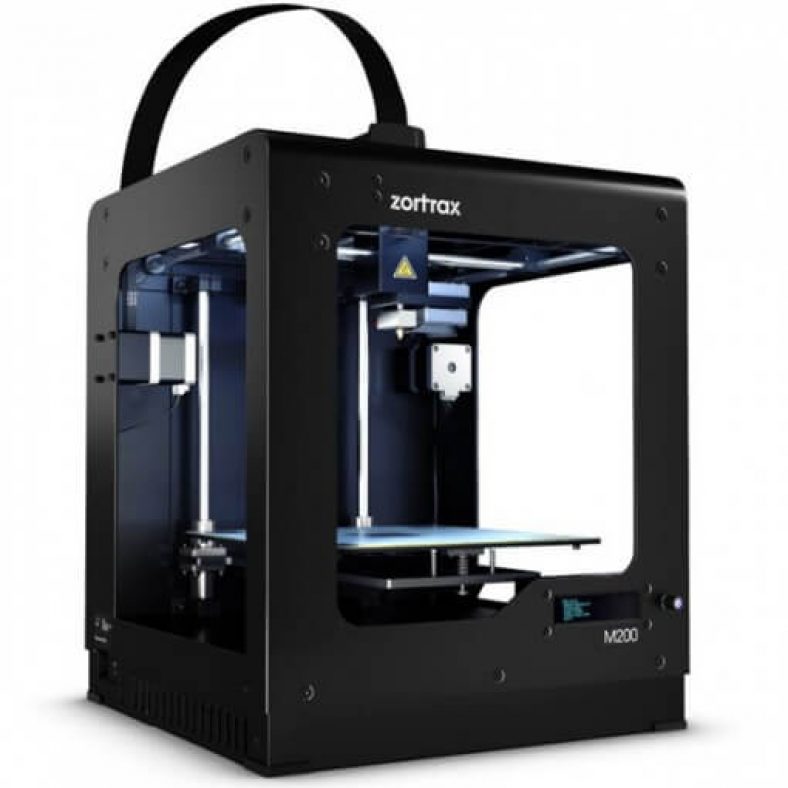 Features
Zortrax M200 aims at offering users an end to end solution with its closed ecosystem. Putting the various advanced features together, the company has managed to design one of the best machines for 3D makers.
There is a huge community of supporters that love working with this 3D printer and for the right reasons.
So, let's find out the features of M200 and find out if it can do wonders or not. Because anything less than that wouldn't be sufficient to impress us, isn't it?
Distinct Design: Many manufacturers out there replicate the designs of the already trendy 3D printers and present it in their own way. However, Zortrax has taken a pretty different approach for the same. It isn't just one another similar looking 3D printer but features a complete fresh look. It does seem like an iconic design with every minute details taken into consideration.
Sturdy Frame: Using the metal frame, Zortrax ensures that the machine handles printing vibration with ease. The sturdy design provides the 3D printer a better print quality. When printing, you would not feel any stammering of the desk, because M200 knows how to stay still.
Enclosed Design: The 3D printer has a closed frame. That means the machine allows to create a consistent working temperature around the print area. Letting users take advantage of the same and create unique designs seamlessly. The printer is safe to work with as well. You can even place M200 inside the home and use it around children. With a closed frame, it is unlikely for anyone to reach the heated electronics and burn themselves.
Single Extruder: Yes, you may have to compromise with a single extruder when purchasing Zortrax M200. However, it can reach 290 degrees Celsius, making way for a plethora of different filaments. Including the tricky ones too.
Support for Multiple Materials: M200 can help you design parts with a variety of filaments. You do not have to restrict your creation to one or two materials. On the contrary, you can choose almost any filament available out there to build your 3D parts. A lot of filament types are also available with Zortrax, providing users with the best possible print results.
Advanced Cooling: It seems that the manufacturer has taken cooling of parts really seriously. And, it has paid off too. There is one radial fan for the extruder and two more fans for solidifying the prints. This provides users with better cooling results. Hence, taking away the chances of getting 3D parts into usual printing issues.
Heated Bed: You must note one thing, the 3D printer does not flaunt a removable print bed. This does take away a little bit of excitement. However, it trades off the limitation with the high quality perforated heated bed. The print bed can reach a temperature of 105 degrees Celsius. And, can cater to the specific needs of every possible filament created for FDM machines. The adhesion is also exemplary. In short, you can build anything you wish to if you have such a reliable print bed.
Material End Detection: After the printer detects the end of the material, it pauses the progress and waits for the user to refill the holder. This saves the parts from getting destroyed in between of the print progress. Hence, providing users with higher reliability.
Remote Access: Zortrax has an inbuilt camera inside the print space. Hence, users can monitor the print progress remotely. By connecting with the software over WIFI, makers can check everything that is happening inside the print area.
Third-Party Filament Support: If you are someone who likes to try working with filaments from different companies, this machine would allow you to do so. You can use the materials from other manufacturers. This isn't very usual though. Most of the closed system companies often restrict users from accessing the filaments from other offerors. This one is different it seems.
Sleep Mode: The 3D printer utilizes the sleep mode to save energy. This is also crucial for instilling the safety of users. And, the feature counts when you have long hour prints. For instance, when printing overnight, you do not have to worry about keep checking the progress to turn the 3D printer off. This is because the machine would itself put it in the low-energy mode once the print finishes.
Touchscreen Interface: M200 flaunts a 4 inches touchscreen interface. And, users can control the printing process directly through this interface. It is very intuitive and offers huge options for setting the print job. And, that is the reason this machine can work as a standalone device without needing a permanent connection with the desktop or laptop.
Specifications
The 3D printer is a compact machine and offers a print volume of 200 x 200 x 180 mm. With one extruder, you must print the supports using the same material for 3D parts.
The machine uses a powerful cooling system to provide amazing print results. You can connect the 3D printer over WIFI. Along with that, it also offers a connection with Ethernet and USB.
The extruder can reach a temperature of 290 degrees Celsius. On the other hand, the print bed can heat up to 105 degrees Celsius. Users can print using the layer resolution ranging from 90 to 390 microns. And, the minimum wall thickness allowed is 400 microns.
Zortrax M200 offers two options for calibrating the printer. You can choose between manual and auto-leveling options. Just so you know, the automatic calibration is also very precise. So, you can depend on it too.
Price
The price of the Zortrax M200 is $1900. The cost may vary with different distributors. However, this would give you an idea of the price range the printer falls into.
Staying just below $2000, M200 makes no compromise in getting itself ready for professional applications. Hence, you can expect this machine to work rigorously for accomplishing your tasks on time.
First Impressions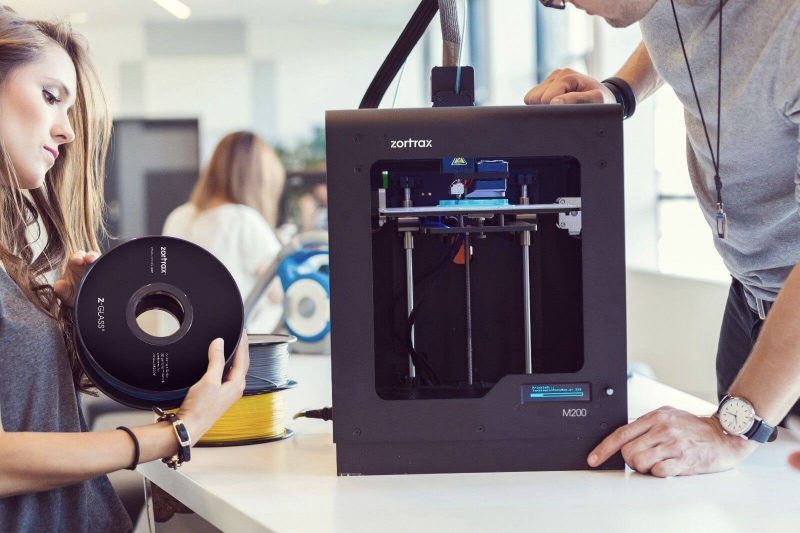 The unboxing of a 3D printer is always exciting, either it's your first machine or not. And, the experience is even more rewarding when you are going to unleash the potential of such a powerful machine. Isn't it?
This 3D printer comes securely packaged and there is no room for any mistake in ensuring the safety of the components inside during shipping. Hence, you can rest assured that M200 will reach in the perfect condition.
Along with the box, you would receive the following components:
3D Printer
Hotend V3
Z-SUITE
Side Covers
Spool holder
Z-ULTRA
Starter Kit
USB memory stick
Hence, you can start printing right after setting the printer for the first time. So, let's move on to the setup process.
Setup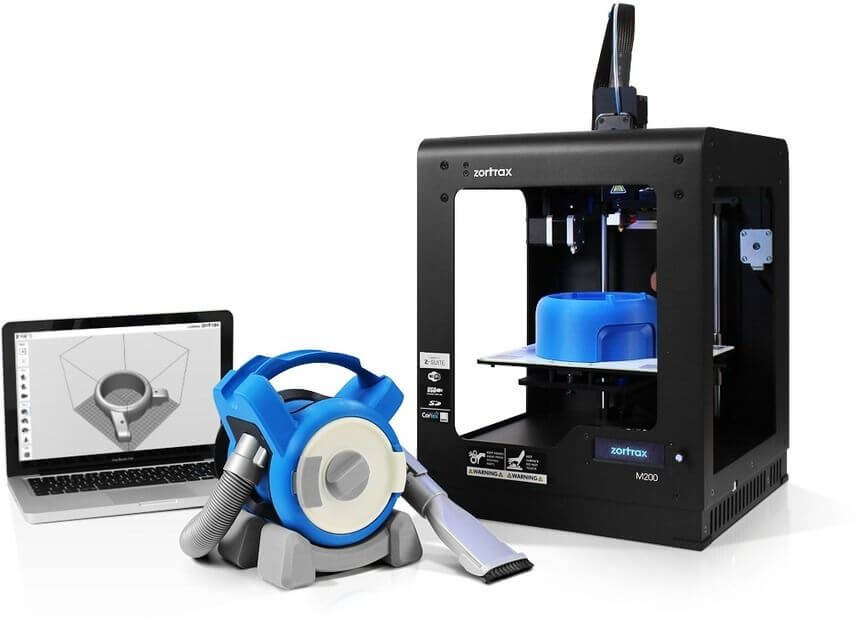 Like its mentioned above, the printer offers two different options for calibrating your machine: auto and manual. Depending on what you choose, the printer will take its time to get ready for the first print.
Usually, the print bed comes leveled from the factory itself. So, you do not need to do much to progress with your sample part.
All you need to do is, install the extruder and feed the filament to start printing. It is a complete plug and plays design. So, you do not need to worry much.
And, it is great for beginners too. Even for experts who do not want to get into the hassle of trial and error, auto-calibration is the key to proceed.
Once you follow all the instructions mentioned in the guide, you would be able to start printing in a couple of minutes. Just stick to the script.
Printing Type/Cost
M200 is an FDM 3D printer. Hence, the cost of maintenance is not as high as it is for printers based on other printing technologies. The best part is that the printer is compatible with most of the filaments including PLA.
So, keep the printing budget low, you can choose to build your objects using PLA, the cheapest of all materials.
Also, when calculating the price, you must know about the factors that would play along in bringing the right stats. It includes but isn't limited to design complexity, material selection, infill percentage, electricity cost, and many others.
Print Quality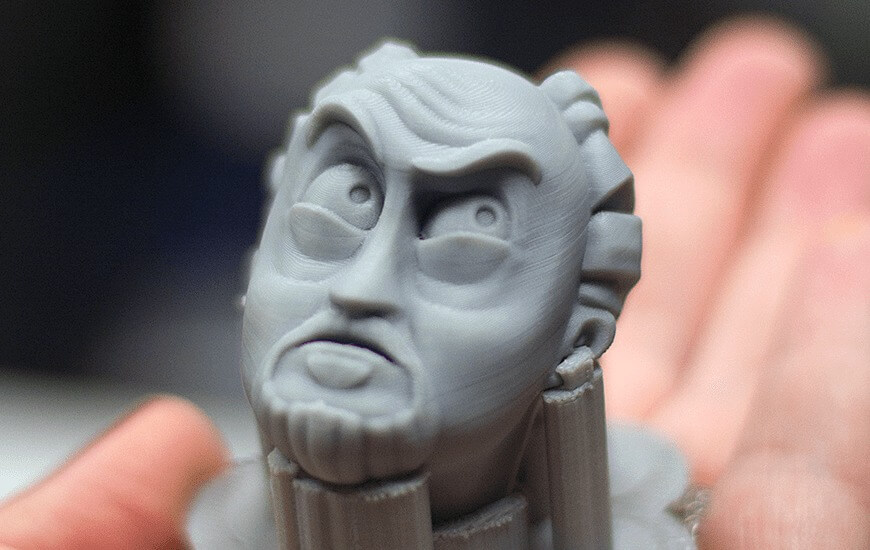 Print quality is without a doubt, very impressive. That is why the 3D Printer has many applications among different niches. You can build complex designs, overhangs, and whatnot.
With detailed features, the printer puts its best to get you the parts as you would like them. From 90 microns resolution, you can go up to 390 microns. In addition, the layer height is also precise.
Overall, you can create beautiful designs with a great finish. Definitely, a bit of post-processing would be required to make the parts perfect.
Software
Z-Suite is the software that you get along with the 3D printer. This is the company's proprietary slicing software with intuitive tools and controls. And, this is where you can experience the real worth of the filaments offered by the manufacturer.
You get the best pre-settings for all the filaments available with Zortrax. Hence, without needing to do any tinkering, you can proceed to the print button.
It also offers a lot of other amazing functionality. The app is user-friendly and is compatible with MAC as well as Windows operating system.
Customer Service
Customer support is reachable through the online form available on the Zortrax website. You will find most of the questions and guides on the portal itself.
And, there would not be much need for contacting the support. In case you do, the experts are highly responsive and provide solutions at the earliest.
Parameters Influencing the Buying Decision
You must look for the right reasons before buying the 3D printer. Here is a glance from the Zortrax M200 review to help take the right decision.
3D Printer cost: It is affordable for professionals.
3D Print quality: The print quality is par average and amazing with some of the filament types.
3D Print speed: This machine can print with considerable speed.
3D Printer capability: It is a highly capable machine if used with the right settings. You can work with different materials for printing.
3D Printer Practicality: The application starts from prototypes and goes till the end products. A lot of niches are using the machine for their specified goals.
3D Printer User expectations: Few inclusions would have made users even happier. For instance, dual extruder.
Verdict
This is a nice 3D printer and can accomplish a lot of tasks. The Zortrax M200 review clarifies the different benefits and limitations the machine entails. If the details seem close to what you need, it does deserve a try.