Qidi Tech X-Max 3D Printer
f you are looking for a 3D printer that offers high precision and various other perks, staying slightly higher than the mid-range of desktop printers, this could be your way out.
PROS
Swappable extruder
Multi-Material Support
Large print volume
High speed
Great accuracy and precision
Sturdier frame
Heated print bed
Assisted bed leveling
CONS
Large footprint
No dual extruder
No automated bed leveling
Product
Specification
Videos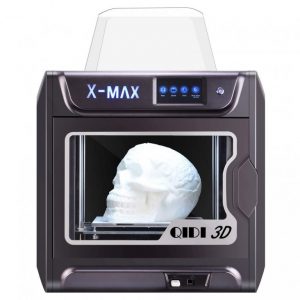 There more than many functionalities of this amazing printer, that would make anyone wonder where to start. But we will choose the body, that you are ...
| | |
| --- | --- |
| Model | X-Max |
| Manufacturer | Qidi Tech |
| Price Range | $ 1499 |
| Release date | 2019 |
| Country | China |
| Availability | Available |
| Classification | Desktop |
| Technology | Extrusion (FFF- FDM…) |
| Material | ABS, Other plastics, PLA |
| Filament diameter | 1.75 mm 0.07 in |
| OS compatibility | Mac OS, Microsoft Windows |
| Generic material | Yes |
| XY accuracy | 0.011 mm 0 in |
| Max. build size | 300 × 250 × 300 mm 11.81 × 9.84 × 11.81 in |
| Max. build volume | 22.50 L |
| Min. layer thickness | 0.1 |
| Nozzle diameter(s) | 0.4 mm 0.02 in |
| Heated print bed | No |
| Heated build chamber | No |
| Automatic calibration | No |
| Closed frame | Yes |
| Dual extruder | No |
| Independent Dual Extruder | No |
| Full color | No |
| LCD screen | No |
| Touchscreen | Yes |
| On-board camera | No |
| Mobile app | No |
| 3D scanners | No |
| CNC mill | No |
| Electronics 3D printing | No |
| Laser engraving | No |
| Conveyor belt | No |
| Air filter | No |
| Pellet extruder | No |
| USB | Yes |
| Wifi | Yes |
| Bluetooth | No |
| SD card | No |
| Ethernet | Yes |

Table of Contents
The manufacturer, Qidi Technology is popular for its affordable yet powerful offerings. It has been able to provide some of the most advanced 3D printers at a cheaper rate than its counterparts.
Although Qidi Tech X-Max isn't too low in terms of price, it is worth the cost. The Qidi Tech X-Max review provides the reason for keeping this machine at a bit higher price range.
Among all the nice features, the first thing you would notice is the large build space. Plus, offering users an opportunity to work with some of the trickiest filaments is not an easy job.
But this 3D printer makes that possible. It has many advantages over its predecessor. And, it does have created a huge buzz among the 3D printing community.
There are few things, however, that makes us step back when buying this printer. But it totally depends on the need of the customers.
This makes it even more crucial to find out the entire offering of the machine before you make the final decision. Look at the different aspects of Qidi Tech X-Max and find if there is anything in store for you.
The wonderful 3D printer with profound capabilities can provide few users with the most desirable results. And, one cannot deny the fact that the machine is from a well-known manufacturer.
This further increases the reliability of the machine. Created for some serious work, let's check out a proper introduction of Qidi Tech X-Max and decide yourself.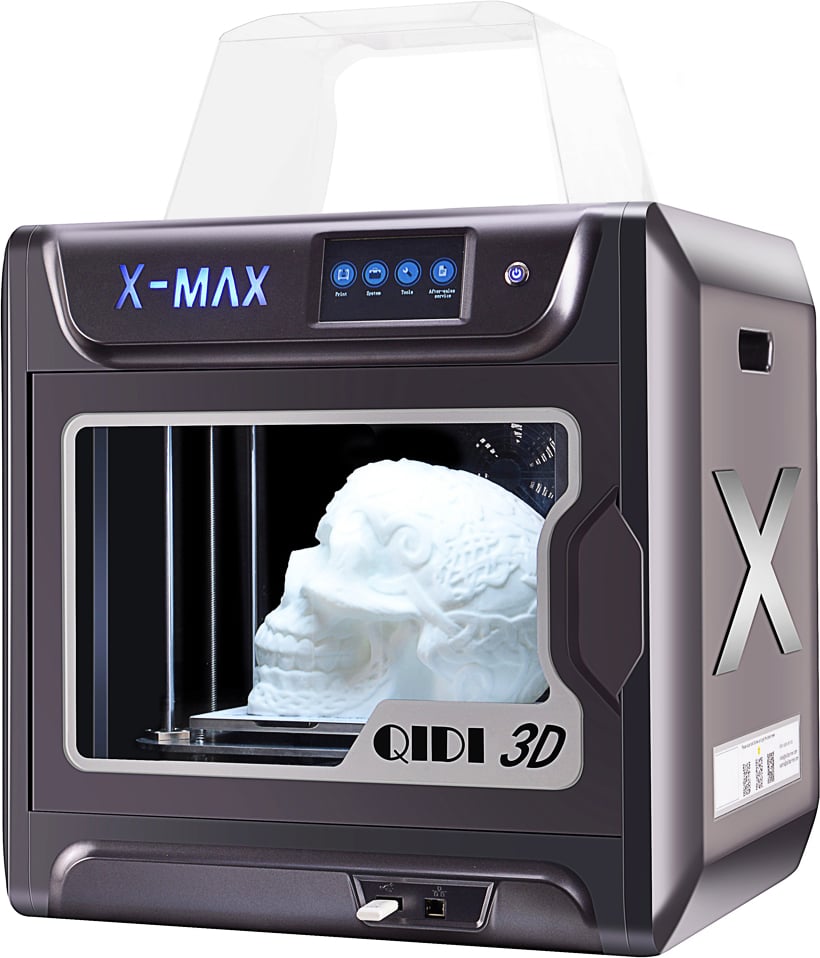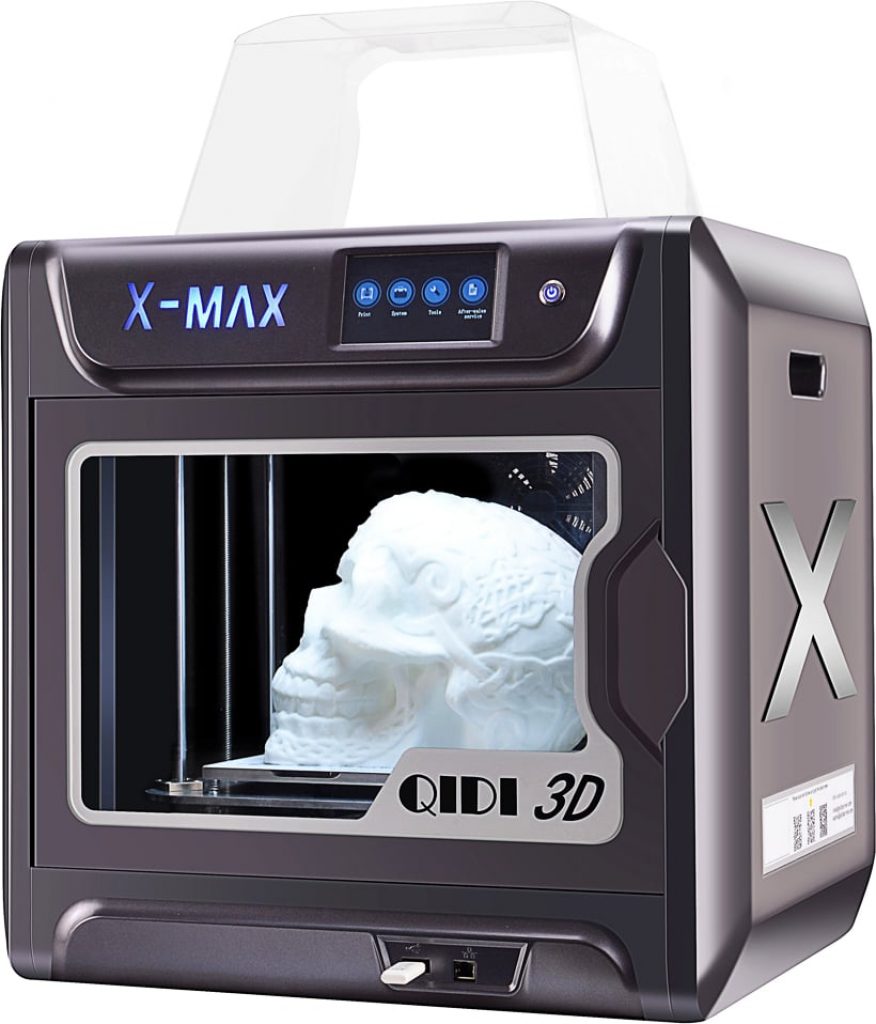 Features
The first thing to notice in any 3D printer is the feature list. Looking at the different functionalities a machine provides, one can have a brief idea of what it is all about.
Similarly, by checking the comprehensive features of Qidi Tech X-Max, users can connect with its offerings.
And, it is also crucial to understand what makes this 3D printer unique among its counterparts. So, without wasting much time, let's get straight to the point.
Enclosed Build Area: The 3D printer offers a closed frame design. Because of this, the 3D printer is able to sustain a consistent temperature throughout the print process. And, if you are a beginner, and you find it difficult to tackle the heated electronics, you may find it a huge relief to work with an enclosed door. Hence, you get the safety along with high-quality prints.
Completely Assembled 3D Printer: If you are a beginner and do not want to get into trouble of fixing parts of a printer together to start with your first print, this is what would help you keep things simple. The 3D printer kits are not for everyone. There are makers who believe in keeping settings as simple as possible. For those users, Qidi Tech X-Max is a great aid. You can enjoy amazing print quality without requiring to engage in the hassle of complex settings.
Large Print Volume: Desktop 3D printer does not often come along with a considerate print space. However, this one does. With sufficient build volume to capture most of your needs, this machine does seem unique and bold. You can create objects 300 x 250 x 300 mm in volume.
Removable Print Bed: To perfect the offering for ease of operation, the 3D Printer exhibits a removable print bed. Not just that, the build plate is bendable. Hence, you can bend it a few times to pop the print out of the bed. However, you must be careful when taking out prints with thin layer height. Or, it can break in between, spoiling the entire effort. Although this isn't something to worry about, you must know everything to ensure safer print operation.
Extruders are Swappable: What does that even mean? The 3D printer isn't a dual extrusion machine. However, it provides two different extruders to the users for varying needs. One is to work with standard materials such as PLA, ABS, and PETG. On the other hand, the other one can let you 3D print with Nylon, Carbon, TPU, and other tricky filaments.
Two Different Filament Holders: As you would expect, the 3D printer offers two different filament holders. You have guessed it right. The different holders are for different materials. One of the holders is installed on the top of the printer to cater to the needs of standard filaments. On the contrary, one is built inside for storing flexible filaments.
Heated Print Bed: Qidi Tech X-Max is compatible with a variety of materials. Hence, a heated bed is a must inclusion. The manufacturer understands the same and has included the heated bed with its amazing design.
Sturdy Frame: To minimize the printing vibrations to as low as possible, the 3D printer comes in a metal frame. This makes the machine highly sturdy and best for providing accuracy and precision when printing. Moreover, the frame is very reliable and not susceptible to the usual wear and tear.
Print Recovery: Do not be worried about the constant power outage. Qidi Tech X-Max is a smart machine and knows what to do in case the electricity goes off. In other words, the printer will pause the print and saves the current design progress. Once the power resumes, the 3D printer will start printing from the point it stopped working. Hence, you do not have to worry about failed prints.
Assisted Bed Leveling: With this 3D printer, you do not get the privileged of working with automated bed leveling. But that isn't a disappointment at all. The assisted bed leveling is easy after you have learned how to perform the process. And, it also gives more flexibility to change the settings as intended.
WIFI Connectivity: The printer can run as a standalone machine. With the WIFI connection, you can upload the 3D files over a wireless connection.
Touchscreen Control: In front of the 3D printer, you would find an intuitive touchscreen. This helps in taking care of the settings right from the X-Max itself. You do not need to connect with a desktop to make the changes.
Quiet Operation: If you are working in your home, having a noisy machine could disturb a lot of other works. The same goes for small offices as well. Hence, the 3D printer is designed to offer quiet operation. It just produces a noise of 50 dB.
Specifications
The Qidi Tech X-Max is definitely a desktop 3D printer. However, it is not as small and compact as many of its counterparts.
However, that has its own perks. With a 600 x 550 x 600 mm footprint, the 3D Printer is capable of offering a larger print volume. You can print the object with 300 x 250 x 300 mm.
The aluminum frame with dual Z-axis provides high precision to the users. It is a single extruder printer, however, it comes with swappable print heads for printing with different materials' needs.
The maximum extruder temperature of 300 degrees Celsius is possible. And, the print bed can reach a temperature of 100 degrees Celsius.
You can connect using a USB drive and ethernet cable apart from the WIFI connectivity. For layer height, you can choose between the range of 0.05mm to 0.4mm.
Price
The price of Qidi Tech X-Max is $1500. This isn't the cheapest option out there. However, it does provide huge perks to users in terms of print quality at this price range.
First Impressions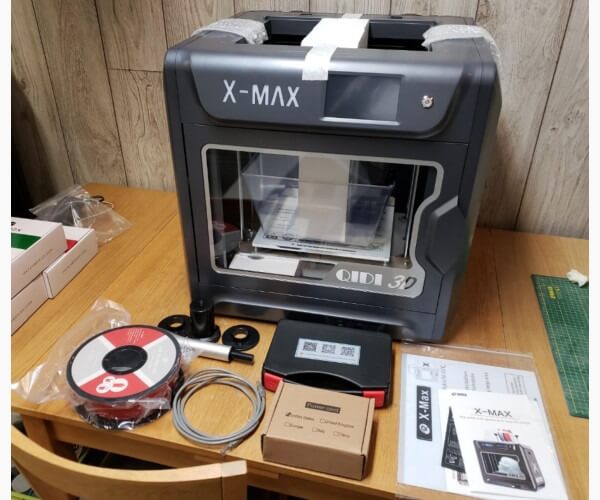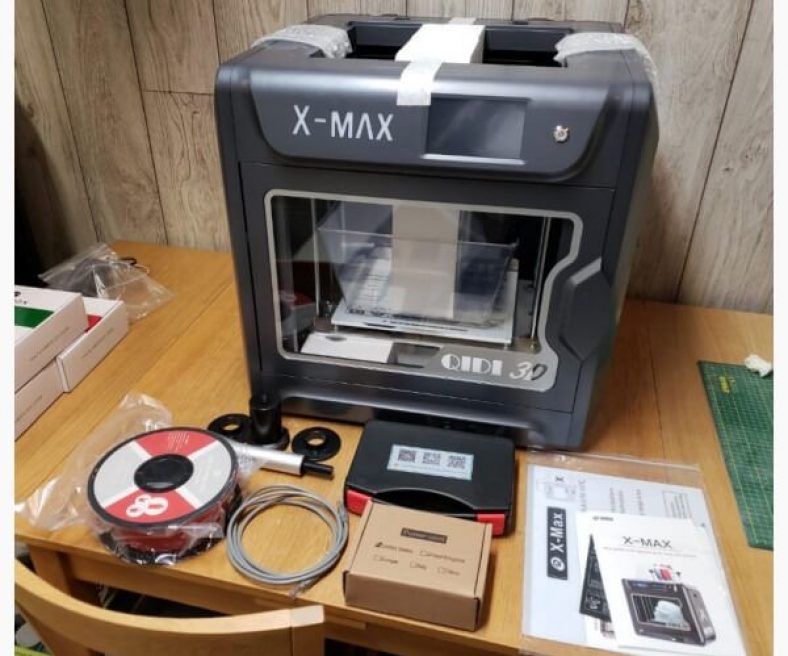 Credit: 3dprintmanual.com
The 3D printer is impressively packed inside the box to help users get the printer in one piece. You do not have to worry about finding any wear and tear as the manufacturer has done its due diligence perfectly.
Along with the 3D Printer, you would find other things too. For instance, an extra extruder, few tools, a filament spool, Ethernet Cable, etc.
You also receive a manual guide to setup your printer after unboxing.
Setup
The setup isn't as easy as it is with the automated 3D printers, but it would sail through. You just have to pop the parts inside the printer such as print bed, extruder, and filament spool and level the bed with the instructions provided through the touchscreen.
Printing Type/Cost
The printer is based on the FDM 3D printing process. Hence, the filament is extruded and deposited on the print bed, one layer at a time. Only after each layer solidifies, the next layer goes on the previous one. This process continues until the entire 3D object is printed.
When considering the cost of printing with an FDM printer, one must include the selected print material, the design complexity, height of the layers, infill selection, and many other factors.
Apart from that, the secondary expenses are also a key to find the final cost of printing such as electricity cost.
Print Quality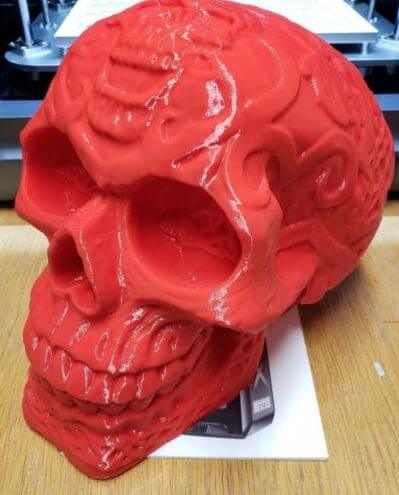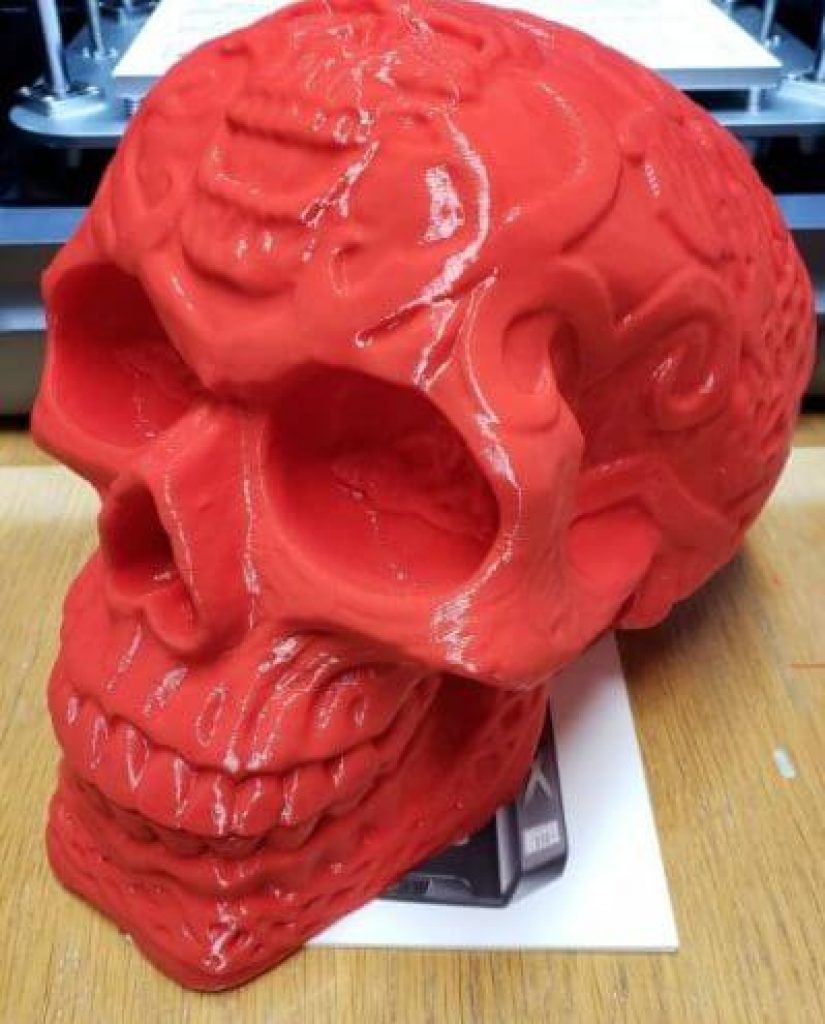 Credit: 3dprintmanual.com
This is where the entire experience gets better. The Qidi Tech X-Max is created for providing exemplary print quality and it does so seamlessly. From thin layer height to high accuracy, every such feature comes into play. The metal frame gives the printer a studier look.
Not to mention, the machine works with the trickiest of materials. Hence, giving users huge flexibility for creating different and creative designs for a plethora of applications.
Software
Along with the 3D printer, the manufacturer offers the latest update of its slicer software version 5.0. The redesigned version with an enhanced UI interface offers high convenience of operation.
The software is improved in order to offer users with 30 percent of better print quality along with speed by 20 percent.
The application can be used with any of the printers offered by Qidi Tech. And, it provides free lifetime upgrades for its users.
With intuitive operation and easy to understand controls, one can make the most of this amazing software.
Customer Service
Qidi Technology offers a dedicated team of professionals to handle the issues of the customers. You can connect with the team through emails and the company would reach you within 24 hours to provide an instant resolution.
Also, the various guides and manuals available on the website are highly handy. And, how to forget, the large community of 3D makers in support of Qidi Tech is growing at a high pace. This further strengthens the reliability of the machine.
And, you get a year's warranty with X-Max.
Parameters Influencing the Buying Decision
If you are willing to buy an expensive 3D printer, you must look for reasons to support your decision. Hence, going through different aspects is a must. Let's check out the quick bite from the Qidi Tech X-Max review to take an informed decision.
3D Printer cost: It is an expensive 3D Printer for those looking for usual operation. The printer costs $1500 and is designed for serious purposes.
3D Print quality: With a layer height of 0.05mm, one can achieve great print quality, given the studier frame and support for multiple materials.
3D Print speed: The speed is 20 percent more than the predecessor which again is an impressive addition to the machine.
3D Printer capability: It is a very capable 3D Printer. Not only it can 3D print in various filaments, but it can also print those with the highest accuracy.
3D Printer Practicality: With such great offerings, you can use X-Max for various applications. The functional prototypes, large parts, end objects, almost everything is possible with this 3D Printer.
3D Printer User expectations: It serves the user expectation very well. Only the inclusion of dual extruder is missing. At this price range, a lot of machines offer dual extruders, and users do expect Qidi Tech to take this into consideration.
Verdict
If you are looking for a 3D printer that offers high precision and various other perks, staying slightly higher than the mid-range of desktop printers, this could be your way out.
Reading Qidi Tech X-Max review clarifies the same. However, missing dual extruders could disappoint a lot of users though.