Table of Contents
Da Vinci Jr. 1.0 by XYZprinting
Da Vinci Jr. 1.0 brings in a trendy design with sufficient functionalities to make everyone a maker. You just have to take one step and the printer will lead you deep inside the niche effortlessly.
PROS
Easy to use
Enclosed frame
Auto calibration
Auto filament feeding
Affordable
Portable
CONS
Print quality isn't exceptional
Non-heated build plate
Non-removable print bed
Proprietary software is slow
Product
Specification
Videos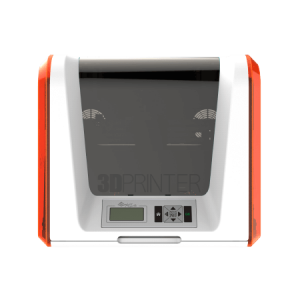 Simple in design and straightforward in its setup, Da Vinci Jr 1.0 is able to attract your eyes from very far, when seen at a table with many others. ...
| | |
| --- | --- |
| Model | Da Vinci Jr. 1.0 |
| Manufacturer | XYZprinting |
| Price Range | $ 349 |
| Country | Taiwan |
| Availability | Available |
| Classification | Desktop |
| Technology | Extrusion (FFF- FDM…) |
| Material | PLA |
| Filament diameter | 1.75 mm 0.07 in |
| OS compatibility | Mac OS, Microsoft Windows |
| Max. build size | 150 × 150 × 150 mm 5.91 × 5.91 × 5.91 in |
| Max. build volume | 3.38 L |
| Max. print speed | 100 mm 3.94 in /s |
| Min. layer thickness | 0.1 mm 0.004 in |
| Dimensions | 547 × 581 × 475 mm 21.54 × 22.87 × 18.7 in |
| Weight | 15 kg 33.07 lb |
| Nozzle diameter(s) | 0.4 mm 0.02 in |
| Power input | 110-220 V 50-60 Hz AC |
| Heated print bed | No |
| Heated build chamber | No |
| Automatic calibration | No |
| Closed frame | Yes |
| Dual extruder | No |
| Independent Dual Extruder | No |
| Full color | No |
| LCD screen | Yes |
| Touchscreen | No |
| On-board camera | No |
| Mobile app | No |
| 3D scanners | No |
| CNC mill | No |
| Electronics 3D printing | No |
| Laser engraving | No |
| Conveyor belt | No |
| Air filter | No |
| Pellet extruder | No |
| USB | Yes |
| Wifi | No |
| Bluetooth | No |
| SD card | Yes |
| Ethernet | No |

XYZprinting is popular for its huge range of 3D printers available for different niches and levels of users. This time, it has come up with its entry-level machine that is affordable and offers decent print quality.
Isn't that what it is designed for. The Da Vinci Jr. 1.0 review aims at exploring the nuances of benefits that the printer brings for beginners. And, the article would also uncover the limitations that make the 3D printer unfit for commercial use.
The manufacturer has come up with this attractive choice for the users who wish to find out the possibilities of additive manufacturing technology.
An easy to set up design and plug and play feature coupled with a low price, make this printer a really desirable option. Those who enjoy exploring something new could jump in without worrying about the price tag.
And, this would certainly help add a few more makers to the world of 3D printing.
Da Vinci Jr. 1.0 brings in a trendy design with sufficient functionalities to make everyone a maker. You just have to take one step and the printer will lead you deep inside the niche effortlessly.
XYZprinting has been able to provide many competitive 3D printers in the past too. This one seems to be following the same league. Hence, it does intrigue first-time users to find out what they would be getting with this machine.
So, let us base our review on the goal which has driven the design to the market. Instead of assessing its features against the commercial 3D printer created for complexly different applications.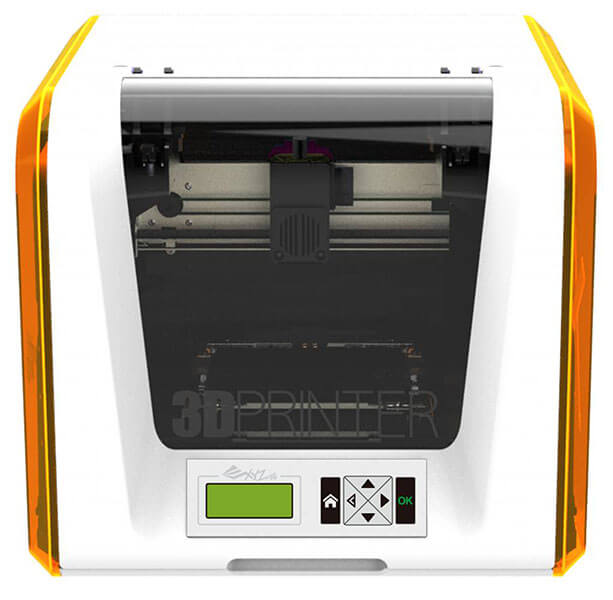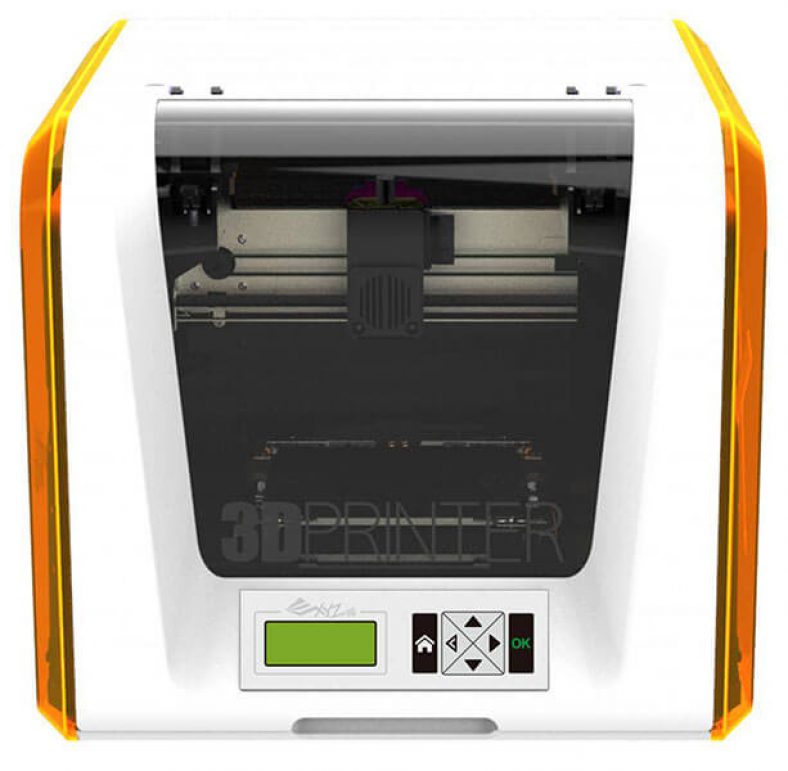 Features
Da Vinci Jr. 1.0 comes from a family of budget 3D printers targeted for helping individuals who want to connect with 3D printing. Hence, you may not find a lot of advanced features with this machine.
However, that does not mean it fails to do its job. The good news is that the features are enough for first-time users.
Beginners can take advantage of Da Vinci Jr. 1.0 review and find out what things they can accomplish with this printer.
The list of comprehensive features that focus on making your journey to the 3D printing core is well thought. You get the best out of the price you pay for this 3D printer.
Plug and Play: To start with, the 3D printer is a complete plug and play design. It comes fully assembled with no need for tightening screws and attaching different components together. You can just take it out of the box and start printing in a couple of minutes. What else would you need as a first-time user? For those who do not know, setting a 3D printer kit isn't a lot of fun and could take hours and even days if you are doing it for the first time. So, isn't that a relief with Da Vinci Jr. 1.0?
Enclosed Frame: Working with an enclosed frame 3D printer has got many perks. The first thing is that it really helps in maintaining the print quality of the models. Along with that, it keeps users away from the heated electronic components of the machine. Especially, as a beginner, there are chances that you won't remember to keep the distance from some of the parts of the 3D printer and would hurt yourself. However, with an enclosed frame, touch the machine anytime you want. Moreover, it is also safe for kids and young children.
Auto Calibration: Things would keep getting interesting for those who do not want to get into all the difficult calibration steps. This is because the 3D Printer provides auto-calibration. You just have to let the machine do its part. It would take care of the calibration itself. This helps beginners concentrate on other important things including 3D designs.
Easy Release Extruder: For keeping things simpler, the manufacturer has taken the design very seriously. You will have a one-touch extruder release. By pressing a button, you can take off the extruder out and clean it for stuck filament. The process is very simple and feasible for every beginner to get used to it. Hence, maintenance is just a breeze.
User Interface Controls: The 3D printer does not have a touchscreen, but it does embody the controls for playing around with the settings of the prints. You get the scroll buttons to browse through the settings and choose the right ones.
Proprietary Material Only: This is where a lot of newcomers feel taken aback. Usually, proprietary materials are very expensive and aren't much affordable. And, when the company restricts the use of third-party filament, the printing cost could shoot exponentially. However, with Da Vinci Jr. 1.0, that is not the case. Why so? This is because the filament by XYZprinting is not costly and once again affordable for everyone.
Limited Material Support: When working with Da Vinci Jr. 1.0, you cannot expect to print with flexible materials such as ABS, Nylon, and many others. The printer only supports PLA, tough PLA, and PETG. However, when you can a beginner, you anyway need the simplest choices to work with. And, PLA is the most favorable material in those terms. It is easy to tame and the cheapest of all materials.
Non-Removable Bed: After you have completed printing your model, you must scrap it out of the glass bed. The print bed is not removable.
See Through Door: The printer is enclosed, which you must already know by now. The good news is that you can still check the progress of your models without a need for opening the front door. It has a see-through front which makes it easy for reviewing the 3D parts.
Tolerable Noise: Unlike those that just whisper, this one is quite noisy. It isn't too loud but produces moderate sound when printing. You can tolerate that much, isn't it? With so many perks, you can trade off the noise with benefits.
Specifications
Da Vinci Jr. 1.0 offers an attractive design with a 420 x 430 x 380 mm footprint. The 3D printer weighs 12 kgs and easy to handle. The package has 15 kgs of weight and still manageable.
However, as it has always been the case with printers by XYZprinting, the overall footprint to build space ratio isn't very impressive. You only get the print volume of 150 x 150 x 150 mm.
Considering that the 3D printer is designed for beginners, space is well enough. However, comparing the footprint, users would have liked some more room for creativity.
The layer resolution is standard and is what offered by most of the budget 3D printer. It offers 100 to 400 microns of layer height. And, the speed is also considered. You can print at a maximum speed of 120 mm/sec.
With auto-calibration and auto filament feeder, beginners can have no issues handling the settings of the 3D printer. The print bed is non-heated. However, that won't be a problem when printing with PLA.
For connectivity, you have got an SD Card slot and USB option.
Price
Da Vinci Jr. 1.0 costs $349. The price is an attractive bait for makers, enthusiasts, newcomers, and everyone who wants to test what potential the technology entails.
You can get your 3D printer without even breaking your savings. The best part is that the machine is from a renowned brand that counts for reliability.
First Impressions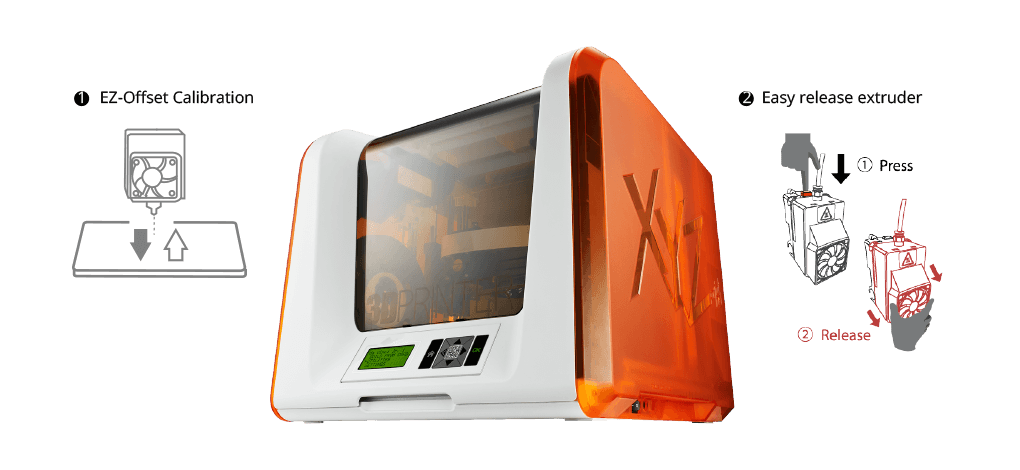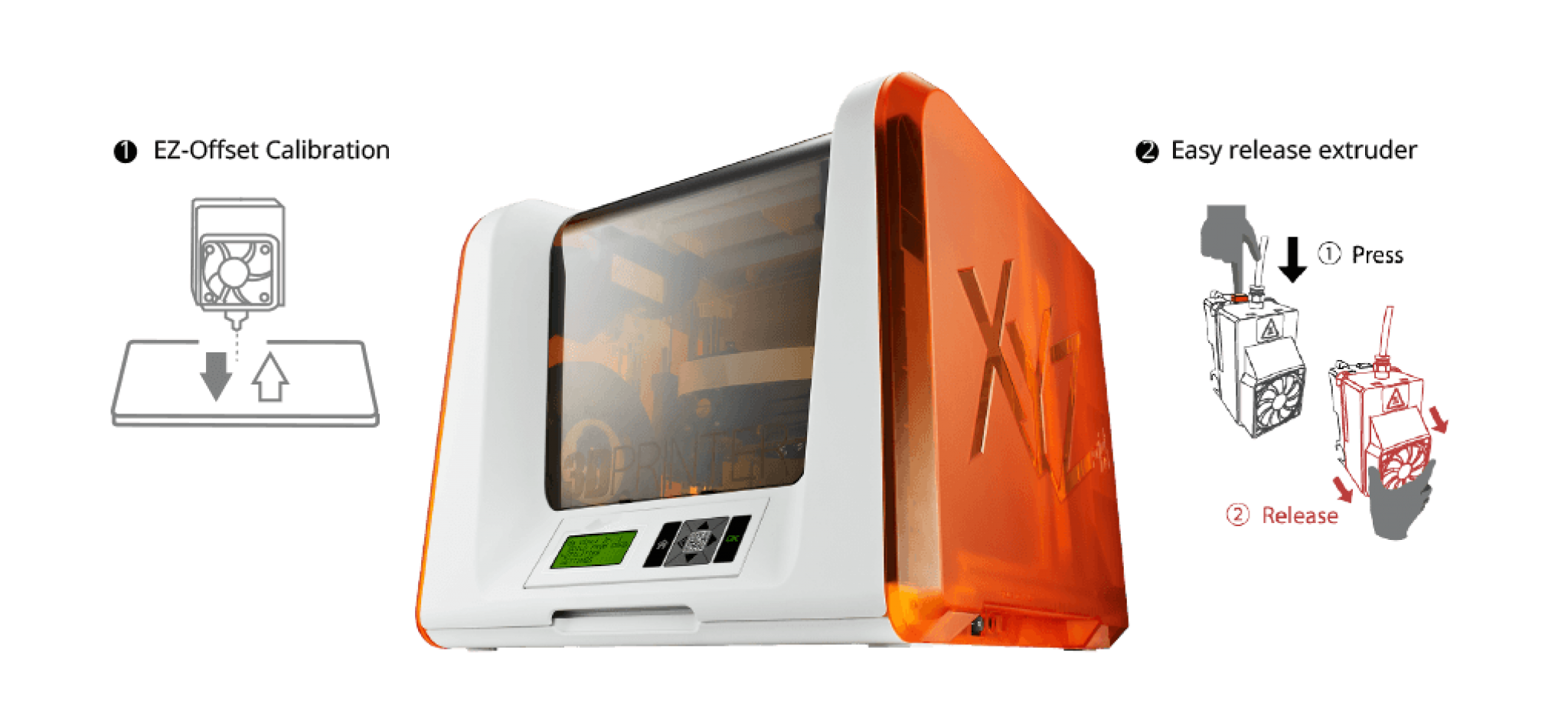 The 3D printer comes packed in a secure box. The infills ensure that the machine stays safe while shipping. The printer is orange in color with a white front. The color combination looks trendy and fresh.
You would love the portable size of the printer with easy to carry weight. Along with the printer, you get a power cable, extruder, etc.
In short, you have everything to set up the printer and start printing right away.
Setup
Setting this printer for the first time won't look much indifferent to the new users as well. The manual packed inside the box along with the 3D printer has all the instructions to help beginners get started.
Anyway, the auto-calibration with an automatic filament loader would make the task as simple as possible. Thanks to the thoughtful design of the printer.
After you install the software on the computer, you can connect the printer to the PC with the USB cable and start loading the filament. Once you are through with that, you can upload the 3D design and press print to see the magic happen.
The progress is easily visible through the see-through front. Or else, you can even leave the printer to take care of the job and you can relax back. A very easy to use printer than does not need much effort when setting it for the first time.
Printing Type/Cost
This is an FDM 3D printer. It works by melting the filament and depositing it on the print bed. The extruder will heat the filament and deposit it on the build plate. At a time, only one layer is laid.
Once it cools with the cooling fan, the next layer is deposited over the previous one. This entire process is continuous. And, it keeps on going until the model is completed by the 3D printer.
When calculating the cost of the prints, you must engage in assessing the different components which trigger 3D Printing.
For instance, the material cost, the design, and complexity of 3D models, layer height, etc. Once you take everything into account, you will be able to find out the total cost of printing. And, the cost will differ for every different print.
Print Quality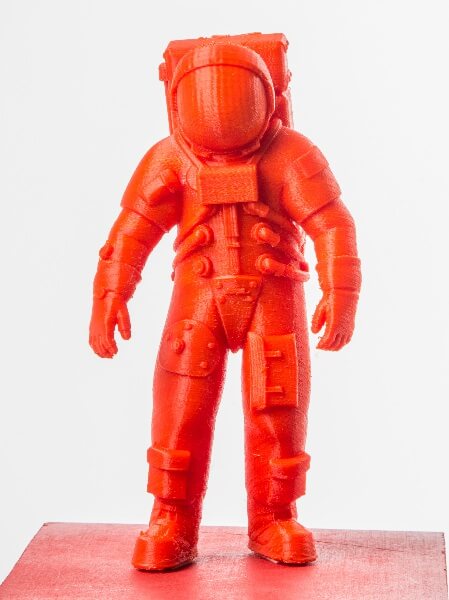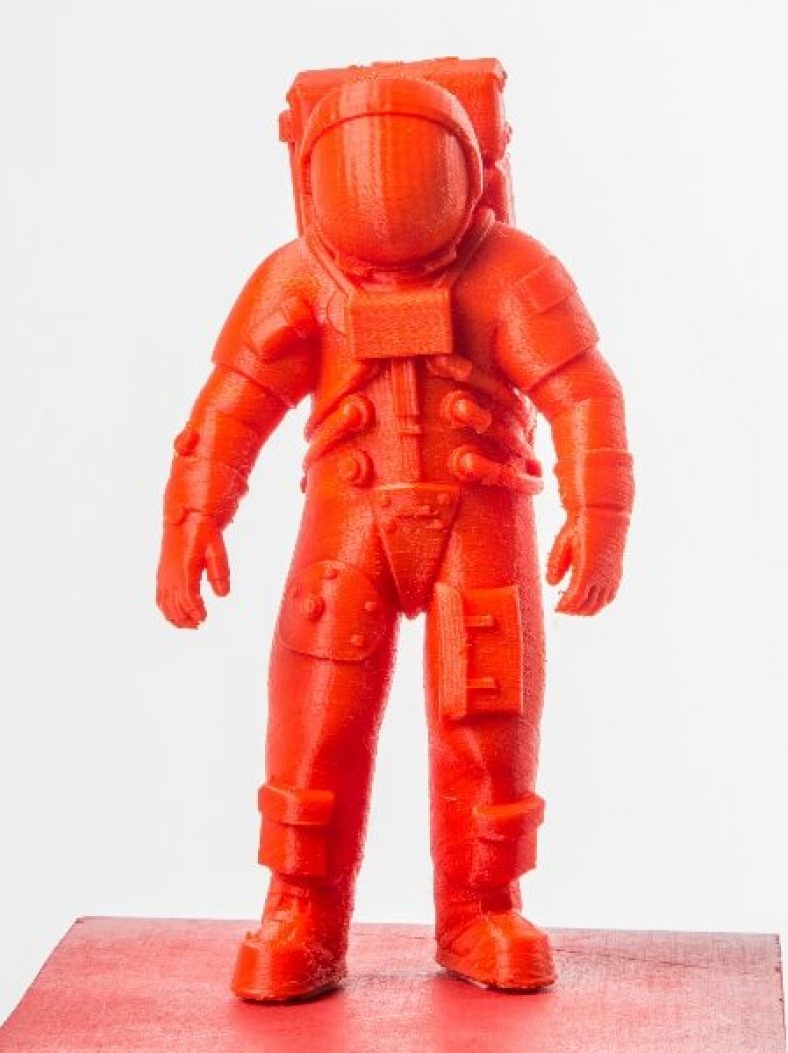 Credit: makezine.com
As you are buying a budget printer designed for beginners, you may not find the print quality competitive enough to compare with the expensive machine.
You can achieve decent print quality and will find a lot to learn. However, this won't help you in professional applications.
Software
The company offers its proprietary software, XYZWare. Users must use this app only as the printer won't work with any other option. XYZWare, however, often hangs.
And, is a bit slow in responding to the users. This actually is annoying and when you face it too often, it really feels frustrating.
You may face difficulty while browsing between screens, or working with commands, at a slow pace. The results aren't bad though. And, it would let you control almost every setting of the prints. All it needs from you is a little patience.
Customer Service
XYZprinting provides a dedicated team of members to help users find a resolution for their problems. You can also check their guides and FAQs on the website.
Parameters Influencing Buying Decision
Before you go ahead and jump into the decision of buying Da Vinci Jr. 1.0, you must check out the various factors.
3D Printer cost: The 3D printer is affordable and offers an attractive price for beginners.
3D Print quality: Print quality is decent but not very precise.
3D Print speed: With this price offer, you get considerable print speed.
3D Printer capability: The manufacturer's focus is lucid. It wants to help starters find their mate for 3D Printing. And, this machine is capable of doing so. With easy setup and decent print quality, one can learn a lot about additive manufacturing technology.
3D Printer Practicality: You can use the 3D printer for home use and fun creativity parts.
3D Printer User expectations: The support for open software and a heated bed would have been a few added perks.
Verdict
Not to forget, the 3D printer is for beginners and not for commercial applications. Keeping that in mind, Da Vinci Jr. 1.0 is worth a try.
The Da Vinci Jr. 1.0 review explains the various features that make this machine best for beginners. If you are also looking to get into 3D printing, you may like to look at this option too.