Zortrax M300 Plus 3D Printer
the zortrax m300 plus 3d printer is very impressive with loads of benefits for various industries wanting to tap into the world of 3D printing.
PROS
Enclosed frame
Large build space
Easy to setup with automatic bed leveling
High quality prints
WIFI connectivity
Filament run out sensor
Remote monitoring
CONS
Expensive for those wanting to use the printer for fun and learning
Product
Specification
Videos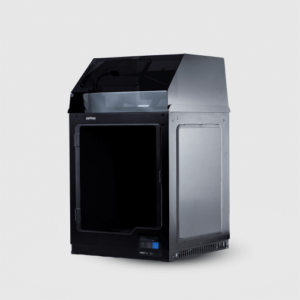 The Zortrax M300 Plus is one of the few professional 3D Printers that accumulating such popularity. Thanks to its massive build volume that can ...
| | |
| --- | --- |
| Model | M300 Plus |
| Manufacturer | Zortrax |
| Release date | 2018 |
| Country | Poland |
| Availability | Coming soon |
| Classification | Professional |
| Technology | Extrusion (FFF- FDM…) |
| Material | ABS, Other plastics, PLA |
| Filament diameter | 1.75 mm 0.07 in |
| OS compatibility | Mac OS, Microsoft Windows |
| Generic material | Yes |
| Max. build size | 300 × 300 × 300 mm 11.81 × 11.81 × 11.81 in |
| Max. build volume | 27.00 L |
| Min. layer thickness | 0.09 mm 0.004 in |
| Nozzle diameter(s) | 0.4 mm 0.02 in |
| Power input | 110 V ~ 5.9 A 50/60 Hz ; 240 V ~ 2.5 A 50/60 Hz |
| Heated print bed | Yes |
| Heated build chamber | No |
| Automatic calibration | Yes |
| Closed frame | Yes |
| Dual extruder | No |
| Independent Dual Extruder | No |
| Full color | No |
| LCD screen | No |
| Touchscreen | Yes |
| On-board camera | Yes |
| Mobile app | No |
| 3D scanners | No |
| CNC mill | No |
| Electronics 3D printing | No |
| Laser engraving | No |
| Conveyor belt | No |
| Air filter | Yes |
| Pellet extruder | No |
| USB | Yes |
| Wifi | Yes |
| Bluetooth | No |
| SD card | No |
| Ethernet | Yes |

Table of Contents
Similar to its predecessor, Zortrax M300 Plus has been able to attract a lot of attention.
An upgrade of M300, the Polish manufacturer's flagship 3D printer, M300 plus provides bigger build space and better features.
It has taken the spotlight to the next level. With plug-and-play ease, you can experience a lot of new perks when working with this 3D printer.
Zortrax is a 3D printer manufacturer based out of Poland. The company has earned fame through its continuous contribution to the 3D Printing niche.
With many amazing 3D printers under its name, such as M300 and M200, the manufacturer aims at offering a complete ecosystem to the creators. You can find a variety of proprietary materials along with its in-house slicing apps.
Among all the other things, the 3D printers from Zortrax are known for their accessibility and quality of prints. And, Zortrax M300 Plus is no different.
The machine is backed with amazing features to help creators bring fine prints to life. To know more about what all the printers can accomplish, read our complete Zortrax M300 Plus review.
Features
Starting with a vibrant look, you will fall in love with everything that the 3D Printer has to offer.
Packed with advanced features, difficult to get at this price, Zortrax M300 Plus is surely a sight to catch.
So, here are a few features that you may not want to miss exploring before you get hands-on with this smart device.
Enclosed Printing: The 3D printer brings with itself an enclosed printing experience for its users. This means that you can print safely without worrying about touching the heated surface. Alongside, there are a variety of advantages of printing within an enclosed frame. To point some, you can easily manage the consistent temperature inside the machine, making printing free from warping and such issues. Moving on, you can also work with a number of filaments that won't print when the sides are open. In short, you get plenty of benefits.
Sturdy Body: By the looks of it you can guess the quality of the printer's construction. Showcasing a solid structure with a full metal chassis, the printer owns a rigid cartesian system. In addition, the heated print bed comes with a perforated surface makes it a complete package for high-quality printing. It is easy to notice the seamless printing process without any fear of losing quality due to vibrations at high speed. The printing is stable. Thanks to the sturdy body.
Automated Leveling: Another feature that becomes the selling point for this printer is its ease of use. With automatic bed leveling, the printer happens to be the favorite choice for experts as well as beginners. One does not need to go through the hectic leveling process manually. The 3D Printer has metallic calibration squares. These are present on the print bed and enables quick leveling without much effort.
Compatible with Multiple Filament: As mentioned before, the 3D Printer comes with an enclosed frame which facilitates printing with flexible materials as well. However, this is not it. With improved geometry that comes along after redesigning of extruder and nozzle in M300 Plus, this upgraded version can now handle flexible material with better ease. One more reason to opt for this 3D Printer, isn't it?
WiFi Connectivity: This time, the manufacturer has managed to bring more connectivity options with its new release. The M300 Plus comes with three options of connectivity. Apart from USB, you can also connect using an ethernet and WIFI connection. This helps in the remote management of the printing process. To further make it convenient for the users, the company has included a built-in camera to view the printing process remotely. It is easier to keep an eye on the entire progress of the models while it's printing.
Touchscreen Display: This had to be on the list. With so many great features, not having a touchscreen display may have sounded incomplete. So, M300 Plus features a touchscreen display to manage a variety of settings of the printer on board. Users can preview the 3D models and make necessary changes if required. The touchscreen display is intuitive and very easy to understand and operate.
Filament Run Out Detection: It seems like the manufacturer wanted to ensure a seamless experience for its users. And, the inclusion of this printer says a lot about the same. So, if you are 3D printing and the power goes off in between, the printer will save the progress and resume printing once the power comes back. Hence, you won't lose your time and effort along with the filament.
Compatible with Third-Party Material: Yes, the 3D printer can work with filaments bought from other brands. The only thing to consider is to buy a 1.75 mm filament. You do have the choice to use the proprietary materials offered by Zortrax. However, if you have been working with other brands in the past, you can continue using those. Making it convenient and flexible for users to make their own choice when paying for the 3D Printing materials.
Optional HEPA Filter: Although the 3D printer does not come with HEPA filter, it does have an option to add one. This would allow users to work with worrying about the unpleasant odor or harmful fumes. The filter will clear almost 99 percent of the waste for a pleasant and safe printing experience.
Specifications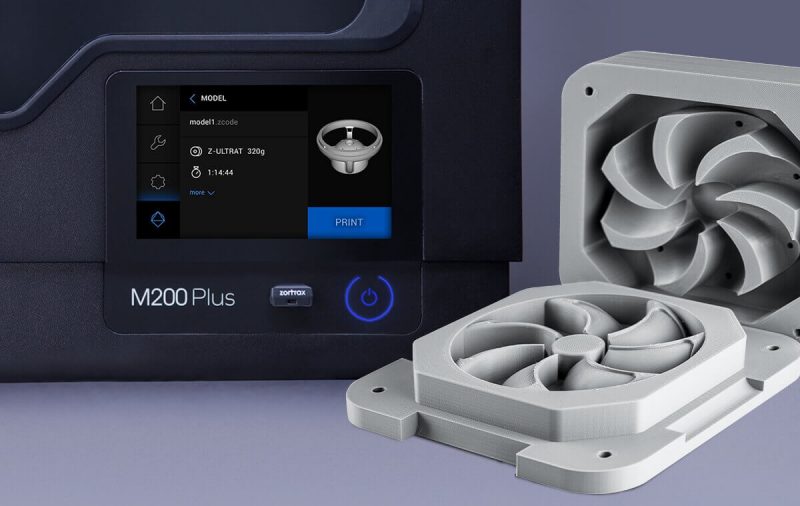 Credit: plentymarkets.com
Zortrax M300 Plus has a similar build volume as its predecessor.
It provides a build space of 300 x 300 x 300 mm. With automatic leveling, the printer is also competitive in terms of print quality.
It has a single extruder and has enhanced geometry of extruder and nozzle to support printing with flexible materials with ease.
The nozzle diameter is 0.4mm, and it accepts the filament diameter of 1.75 mm.
The printer also features a highly improved and advanced cooling design.
With a radial fan included for cooling the extruder block and two other fans for taking care of the prints, the results are astonishing. It offers a heated hotend and a heated bed.
Users can achieve a minimum wall thickness of 400 microns and a layer resolution between 90 to 290 microns.
This clearly showcases the capabilities of the 3D printer.
The build platform is perforated to offer higher first layer adhesion to the bed surface.
The touchscreen is 4 inches and very intuitive. The camera resolution is also fine presenting a clear vision of the print progress.
The extruder temperature can reach up to 290 degrees Celsius. While the platform can go up to 105 degrees Celsius.
To be precise, M300 Plus includes alluring technical specs to woo users from all walks of profession.
Price
You can purchase the 3D printer at a price of $3590.
Hence, suitable for creators and serious buyers. Professionals and small industries can make huge progress with the introduction of this 3D printer.
First Impressions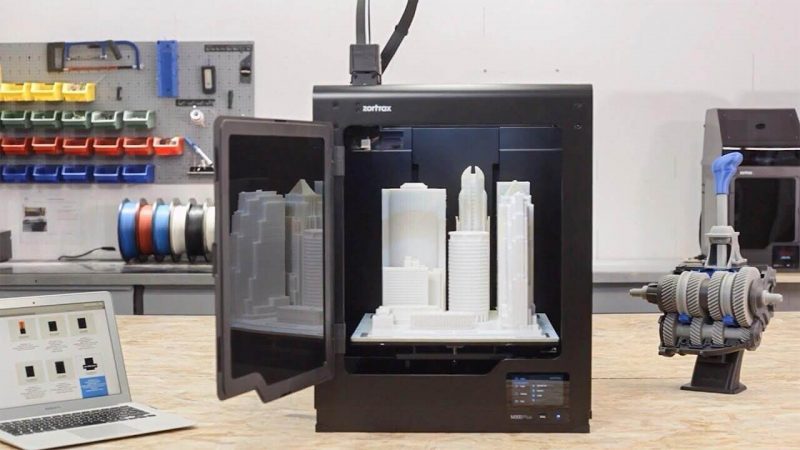 Credit: Zortrax
As discussed before, the looks are highly professional and impressive. If you are looking for a small looking 3D printer for fun use, you may want to look somewhere else.
This is a serious deal. With many advanced features and a price tag of $3590, the 3D printer could allow professionals to experience high-quality printing at an affordable price.
Offering industrial-grade results, the machine comes in very secure packaging.
This comes in one piece. Hence, it's a plug and plays 3D printer with easy installation steps for users.
Either you are a novice or an experienced 3D printing expert, you would find it extremely easy to work around the initial setup of the printer.
Setup
It is easy to follow the instructions that come along with the M300 Plus in order to complete the initial setup.
With its plug and play design, as mentioned before, the manufacturer has already taken care of the hard part.
All you have to do is follow a few steps like load the filament, etc, and you are done.
Even the calibration of completely automatic. So, instead of spending hours, you can start printing after a few couples of minutes of unboxing.
Printing Type/Cost
The 3D printer is based on the Layer Plastic Deposition. This s also abbreviated as LPD.
For those who have heard it the first time, it's not a completely different technology from the FDM 3D printing process. However, its company's spin of the same technology.
So, you can expect the 3D printer to offer similar working steps as FDM.
When considering the cost of printing, a lot of things come into play. From the design of the model to the wall thickness to the printing material you choose.
The best part is that the company allows you to print with third party materials.
So, if you wish to try a cheaper substitute of the proprietary filaments, you can give that a shot.
However, do not forget that the filament quality counts a lot when you are trying to achieve high-quality results.
Print Quality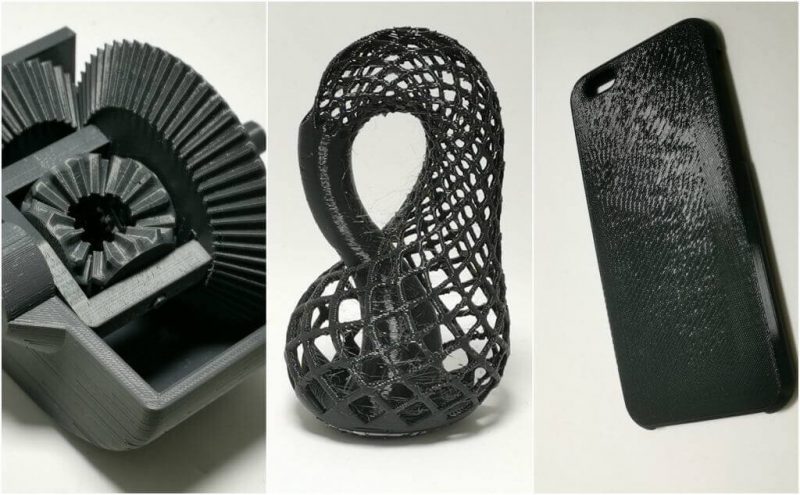 Credit: 3dprintingindustry.com
Without a pinch of doubt, the M300 Plus is a very progressive machine. Enabling the use of flexible filaments to its best results, the printer offers great print quality.
From sleek layer height to the smoother surface, you can expect a lot of good things from this printer. Moreover, it is easy to work with its settings.
Software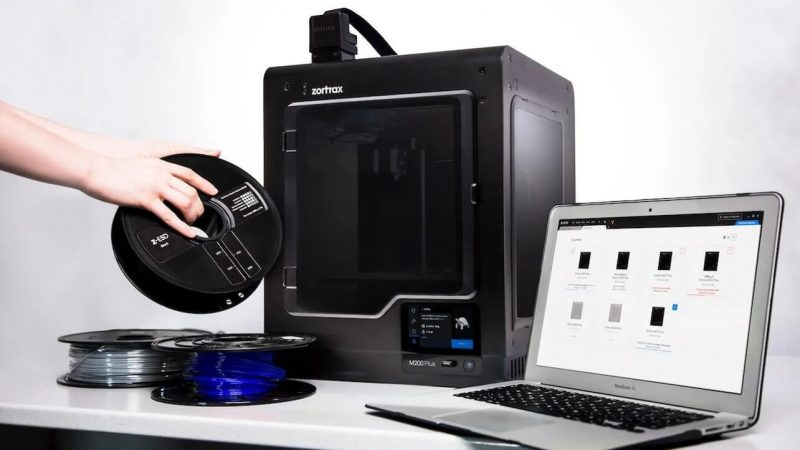 Credit: all3dp.com
The company has its own designed slicer for the users. The software is Z-SUITE and is very intuitive and competitive.
After the release of the updated version of this slicer software, the manufacturer has made it clear that it does not want to rest with mediocre results.
You can make plenty of different settings using this software. The new updated version, Z-SUITE 2 is compatible with M300 along with M300 Plus.
It is compatible to run with different operating systems. You can use it on MAC OS X, as well as Windows 7 and the higher versions.
It accepts different input files including STL, OBJ, and others.
Customer Service
Along with an amazing 3D printer to offer, the manufacturer is also popular for its fast customer support responses.
There is a contact form on the website to reach out to the support team. However, if in haste, you can also use their direct phone lines.
There are different phone numbers mentioned on the website for sales and support. So, there is no confusion when wanting to speak to the responsible team.
There are also guides and instructions available on the website to enable easy installation and setup of 3D printers.
Parameters Influencing the Buying Decision of Users
Now that you know almost everything to make the final decision here is a glimpse in short of the Zortrax M300 Plus review.
3D Printer cost: It's $3590. This may seem a lot for home users. But it's highly affordable for professionals and small-scale companies with given perks and advantages.
3D Print quality: Amazing quality of prints with layer resolution ranging between 90 to 290 microns.
3D Print speed: The machine offers varying speed settings. Users can also set the speed for flow ratio, print speed, and other variables separately. Hence, allowing for better-quality prints.
3D Printer capability: A must-have for companies looking to scale their business with better manufacturing results. The 3D printer is suitable for creators as well, looking to explore the best side of their creativity.
3D Printer Practicality: From consumer to specialized industries, the 3D printer can serve an array of applications and purposes.
3D Printer User expectations: It sits right at the user expectation. With this upgraded version, the company has raised the bar for substitutes coming next in the line at this price range.
The Verdict
If you have read the Zortrax M300 Plus review thoroughly, it is difficult to ignore its perks for practical applications. In short, the printer is very impressive with loads of benefits for various industries wanting to tap into the world of 3D printing.