iMakr Startt 3D Printer
iMakr Startt 3D printer is a capable machine and can provide lots of benefits to the users who want to learn about additive manufacturing technology.
PROS
Decent prints with PLA
Interchangeable nozzles
Affordable
Easy to follow guide
CONS
Manual bed leveling
Needs assembly of components
Product
Specification
Videos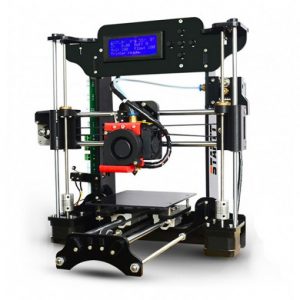 Seeking for one of the cheapest 3D printers in the world that actually offers quality print accordingly? Here's one. Although the company has ...
| | |
| --- | --- |
| Model | STARTT 3D Printer (Kit) |
| Manufacturer | STARTT |
| Price Range | $ 124 |
| Availability | Available |
| Classification | DIY/Kit |
| Technology | Extrusion (FFF- FDM…) |
| Material | PLA |
| Filament diameter | 1.75 mm 0.07 in |
| OS compatibility | Linux, Mac OS, Microsoft Windows |
| Generic material | Yes |
| Max. build size | 120 × 140 × 130 mm 4.72 × 5.51 × 5.12 in |
| Max. build volume | 2.18 L |
| Min. layer thickness | 0.1 mm 0.004 in |
| Dimensions | 340 × 310 × 320 mm 13.39 × 12.2 × 12.6 in |
| Weight | 4 kg 8.82 lb |
| Nozzle diameter(s) | 0.4 mm 0.02 in |
| Heated print bed | No |
| Heated build chamber | No |
| Automatic calibration | No |
| Closed frame | No |
| Dual extruder | No |
| Independent Dual Extruder | No |
| Full color | No |
| LCD screen | Yes |
| Touchscreen | No |
| On-board camera | No |
| Mobile app | No |
| 3D scanners | No |
| CNC mill | No |
| Electronics 3D printing | No |
| Laser engraving | No |
| Conveyor belt | No |
| Air filter | No |
| Pellet extruder | No |
| USB | Yes |
| Wifi | No |
| Bluetooth | No |
| SD card | Yes |
| Ethernet | No |

Table of Contents
Cheap 3D printers are all very attractive in terms of price. However, are they even worth the value quoted on the tags?
iMakr Startt review would highlight the features of one of the similar budget printers that bring the technology closer to the consumers.
The 3D Printer costs under $100 and is by far, one of the cheapest 3D Printers in the market. There are many concerns when we hear about such offerings. Hence, it becomes very crucial to find out every detail associated with the machine before spending the real money.
Startt is a product by iMakr, a UK company that outsources manufacturing from China. iMakr is a 3D printer reseller. However, after the release of Startt, it does deserve a count on the list of 3D printer manufacturers.
The company launched the machine in 2017 and since then, a lot of individuals have already tried it. And, the feedbacks are satisfactory. Also, it would not be unbiased to evaluate its benefits with the ones offered by machines quoted at a higher price tag than this one.
So, let us base our iMakr Startt review comparing the machine with similarly-priced counterparts. Yes, we do have a few more of this kind.
With that said, this is not the only printer with this price tag, but it is better than most of the others falling closer to it in terms of affordability.
If you are seeking a partner that gets you smoothly to the next step of 3D printing, this could be of some help. The best part is that it can help in learning the design of the machines as well.
Thanks to its unassembled components wrapped inside the box. Users need to do every bit to make the 3D printer stand on its own.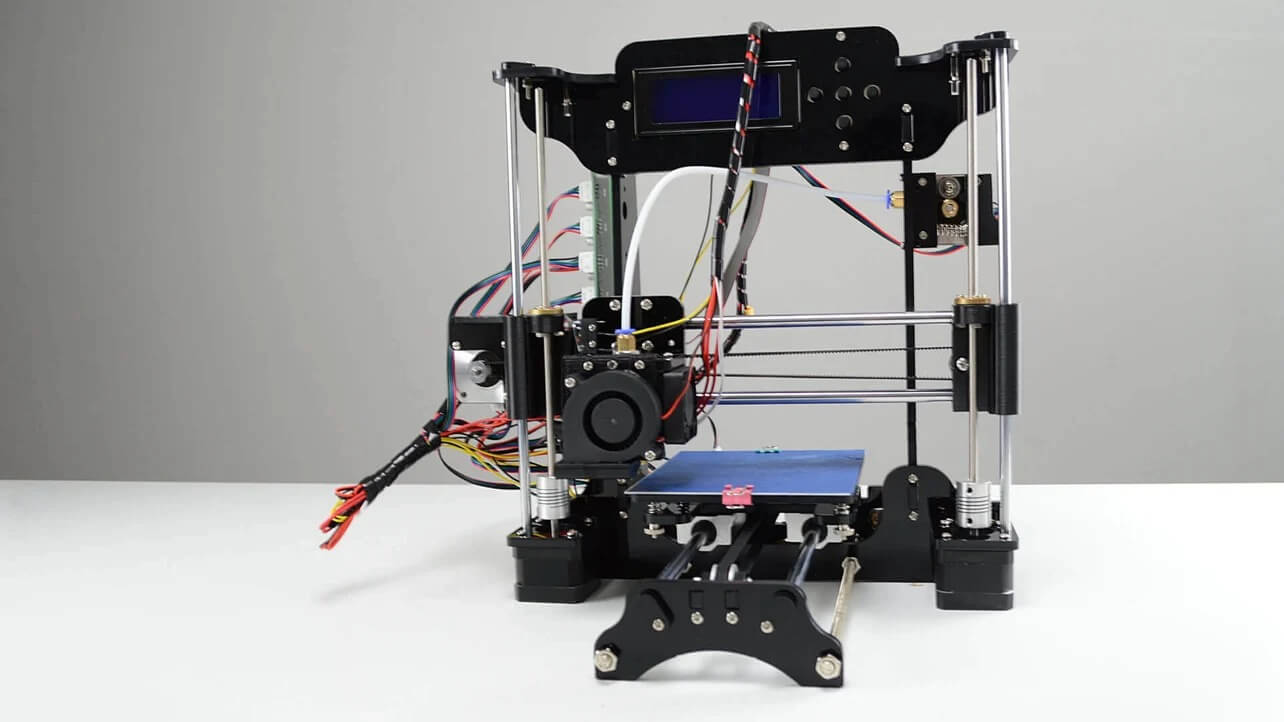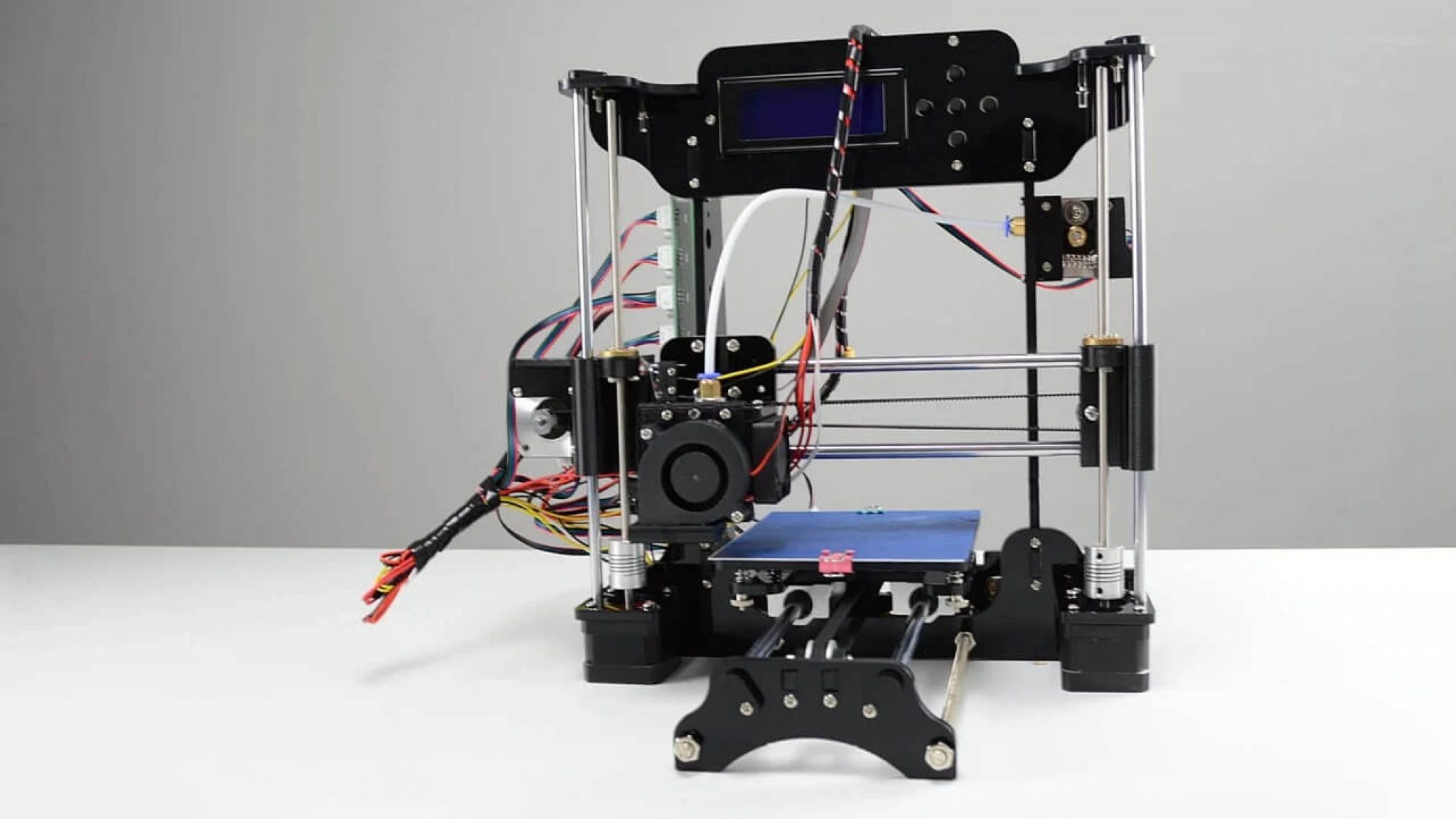 Credit: all3dp.com
Features
Right, we do need to explore the different features that come along with Startt. This would further help us understand the capabilities of this machine. At the end of it, you must like to know what all you could do with Startt.
3D Printer Kit: It is not an assembled machine. And, you must have enough patience to go through every minute setting to put the 3D printer together. It is not easy and would take up to five hours for assembling the different parts. Although the process is tedious, it does provide users with the know-how of the complete design of the 3D printers. Hence, it could definitely add extra credits to your expertise level after you finish assembling Startt.
Interchangeable Nozzles: By introducing this feature, the 3D printer does aim at targeting serious users. With different nozzle diameter, one can not only achieve varying print results but could also print at different speeds. By changing the nozzle, one can tinker with the print resolution. It allows the diameter of 0.3, 0.4, and 0.5 mm.
Considerate Build Volume: There are other printers that sell for the same price. One thing that is completely disappointing in such offerings is the build volume. Most of these print very tiny parts, hence offering limited flexibility of choosing the desired 3D design. However, even being a cheap 3D printer, Startt offers a considerate build volume of 120 x 140 x 130 mm. Beginners do like to print useful items. And, if that is your goal too, you can consider this option.
Compact Looks: After you unbox the package, you may wonder how huge the printer would look. Or, you may try to find out space it would occupy to find the perfect permanent place. The good news is that the printer isn't bulky. On the contrary, it is very compact and lightweight too.
Open Design: The best part is that the printer is compatible with almost every popular open-source slicing software. Hence, you do not have to worry about learning a new one, if you already are working with Cura or Slic3r.
Non-Heated Print Bed: Startt does not have a heated bed. This means that you would need extra components to work on the adhesion of the build plate. The 3D printer only supports PLA. Hence, it won't be a huge problem for the users to work with a non-heated build plate. On the contrary, it would be safe with no chances of accidentally touching the heated bed.
Manual Bed Leveling: Yes, you would get a lot to learn from this 3D printer. From assembly to calibration, users must take care of every setting from scratch. Bed leveling is manual. So, you need to put your skills at test to optimize calibration properly.
PLA Compatible: As mentioned before, the 3D Printer does not support any material other than PLA. As PLA is considered the most-friendly filament for beginners, needing no setting hassle, the printer does suit the need of first-time users. The material is easy to tame and can be printed without a heated bed. Above all, the filament is also the cheapest option among different materials.
Single Extruder: The 3D printer has one extruder. And, we did expect the same. With this price, there is no way a manufacturer can include 2 extruders. However, you still have the choice to print with different nozzle diameter in order to achieve varying resolution.
Specifications
A 3D printer, designed for beginners, isn't going to be bulky at all. The manufacturer has compromised with a smaller footprint of 34 x 31 x 32 cm.
Occupying less space, the 3D printer is compact. However, it does offer a competitive build space. Users can print a volume of 120 x 140 x 130 mm with this 3D printer.
This was all about the size and dimension of Startt. But there is more to it. Also, it is not very heavy. The printer only weighs 4 kgs. Hence, you can easily shift the place of the machine whenever needed.
With manual bed leveling and assembly requirements, the 3D printer is for those who do like to invest time learning new technology.
Users would be astonished to hear about the layer thickness that the printer offers. And, it stays within the range of 100 to 300 microns. Isn't that fascinating?
The resolution is commendable for such a cheap 3D printer. Most of the expensive machines offer resolution within the same range. Definitely, not ignoring the difference in precision though.
The build plate is made of plastic which is not a very sturdy choice. However, it is all you get for PLA printing. And, it does make sense anyway.
You get an SD card and USB connectivity with the printer. The button controls with the screen interface are available for the users to optimize the settings of the print.
Also, Startt is an open design 3D printer. This means that you can choose your favorite open source slicer to work through the settings of the 3D designs.
Price
iMakr Startt costs $99. Looking at the different specs, we can deem that the printer does have the worth compared to its price tag. If you are a beginner wanting to cut on the cost and do not wish to print beyond PLA, what else do you need?
As long as you are able to learn a few things about additive manufacturing, the printer serves its aim.
First Impressions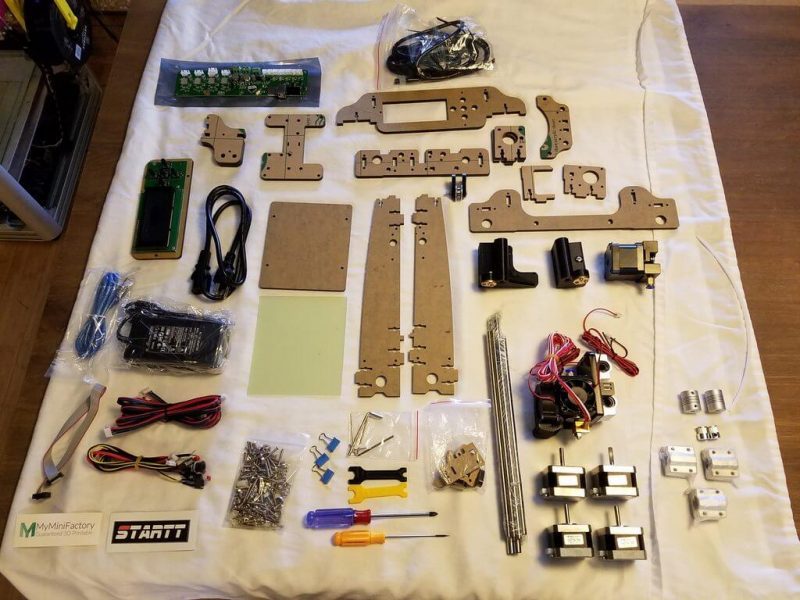 Credit: dashfest.com
Startt is a 3D printer kit and comes de-assembled in a box. The components are packed securely and neatly snuggles inside the box.
After you unbox the kit, you would find everything that you may need to assemble those components together. You do not have to search for anything outside of the box. The package also contains the instruction manual.
Overall, you would like the way this printer would look after assembly. Defined looks, with black body and open frame design, you are sure to fall in love with this mini guy. And, who does not want to have a memorable experience with the first machine of its kind?
Setup
You must be patient enough to carry the setup properly. It may take 5 hours or even more, depending on how precisely you follow the steps provided in the guide.
It is a kit and you can expect it to give you headaches when trying to put the parts together. However, if getting too hectic, take a break and relax.
And, resume assembling the components when you feel ready. The tips are clearly mentioned and are easy to follow. After assembly, it turns to calibrate the machine. Again, you would need assistance and you may also refer to the video tutorials. This would make the job simpler.
With few trials and errors, you will get to the right settings. And, once you do that, it is just a matter of uploading your favorite 3D design to start printing.
Printing Type/Cost
iMakr Startt is an FDM 3D printer. Using this machine, you can melt the filament to deposit it to the build plate, one layer at a time to create the complete object.
With each 2D layers, you contribute to the 3D part. This is one of the simplest 3D printing processes and highly popular among consumers. And, 3D printing with FDM machines is the cheapest too.
Also, the maintenance cost isn't too high when compared with 3D printers based on other processes. To calculate the printing cost, you must take into account the different variables.
Filament cost, design complexity, layer resolution, and whatnot. However, with PLA, you won't be exceeding your printing budget.
Print Quality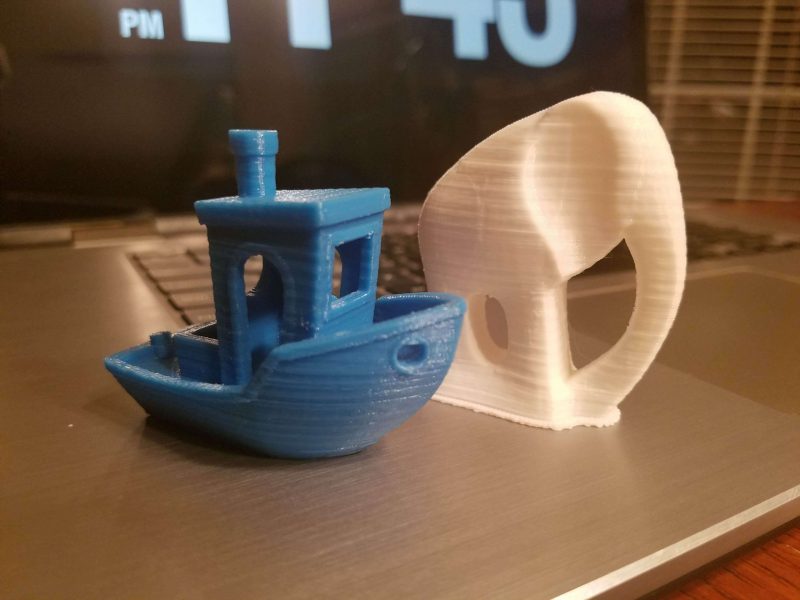 Credit: Reddit
When you consider print quality, you cannot expect it to be any way closer to the expensive machines. However, when you look at its price, the print quality will really feel impressive.
You can print with layer height ranging between 100 to 300 microns. This is again a plus point for the users.
Overall, you can create a lot of things using this 3D printer. From complex designs to fine details. However, you may not see the print finish compared to other mid-range or expensive 3D printers.
Software
With an open design, the 3D Printer supports most of the open-source slicer software. You can work with Cura, the most popular app among beginners as well as experts. The software is intuitive and lets the user control every setting of the 3D printer.
If you have any choice for an open-source slicer, you can try that too and see how it works out with iMakr Startt.
Customer Service
The company offers decent customer service. You can reach out to the team through their website. Also, the portal has a lot of FAQs and guides to help users resolve any probable issues if arise. The company offers 3 months of warranty over every part of the 3D printer as well.
Parameters Influencing Buying Decision
Here is what you must consider before purchasing iMakr Startt.
3D Printer cost: It is an affordable 3D printer costing $99. Best in terms of price for beginners.
3D Print quality: The printer offers considerable print quality at this budget.
3D Print speed: The speed of the printer is mediocre. However, one can ignore the limitation when trading off with the quality one gets at this price.
3D Printer capability: The printer can create parts using only PLA.
3D Printer Practicality: One can use the machine for creating end products. It is best as a learning option and for those new to the 3D printing niche.
3D Printer User expectations: It does meet the user's expectation following the cost.
The Verdict
The 3D printer is a capable machine and can provide lots of benefits to the users who want to learn about additive manufacturing technology. Reading the iMakr Startt review, you can find out on your own if the printer suits your need and level of expertise.