3D PotterBot ScaraV4
3D Potterbot Scara V4 is the company's largest model for 3D Ceramic and paste printing. This printer is capable of printing multiple large objects non-stop
PROS
Scara V4 has an open design, so there is a lesser issue while post-processing.
The company uses real clay in making and also offers it to its customers. This is a factory-made clay for you to use so that increases the overall quality of part and prototypes manufactured by it.
CONS
The printer is a little on the expensive side. So, if you are a small business owner you may not find it as affordable as you may other printers.
Product
Specification
Videos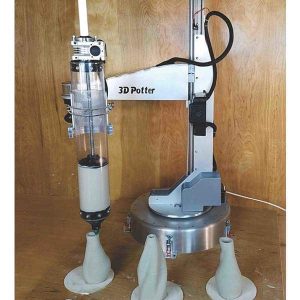 Advanced design and substantial construction of 3D Potterbot Scara V4 makes it eligible for delivering clay loads between 85 to 250 lb continuously. ...
| | |
| --- | --- |
| Model | 3D PotterBot Scara V4 |
| Manufacturer | 3DPOTTER |
| Price Range | $ 17950 |
| Release date | 2020 |
| Country | United States |
| Availability | Available |
| Classification | Industrial, Professional |
| Technology | Extrusion (FFF- FDM…) |
| Material | Ceramic |
| OS compatibility | Linux, Mac OS, Microsoft Windows |
| Generic material | Yes |
| Max. build size | 1830 × 1830 × 1150 mm 72.05 × 72.05 × 45.28 in |
| Max. build volume | 3851.24 L |
| Max. print speed | 100 mm 3.94 in /s |
| Nozzle diameter(s) | 6 mm 0.24 in |
| Power input | 110-220V | 50/60 Hz |
| Heated print bed | No |
| Heated build chamber | No |
| Automatic calibration | No |
| Closed frame | No |
| Dual extruder | No |
| Independent Dual Extruder | No |
| Full color | No |
| LCD screen | No |
| Touchscreen | Yes |
| On-board camera | No |
| Mobile app | No |
| 3D scanners | No |
| CNC mill | No |
| Electronics 3D printing | No |
| Laser engraving | No |
| Conveyor belt | No |
| Air filter | No |
| Pellet extruder | No |
| USB | Yes |
| Wifi | Yes |
| Bluetooth | No |
| SD card | Yes |
| Ethernet | No |

Table of Contents
When you click on the printer option present under the Products tab of the 3D Potterbot website, from the nine printers you have, there are four printers with the name Scara.
We, in this article, are introducing you and reviewing in-depth 3D Potterbot Scara V4.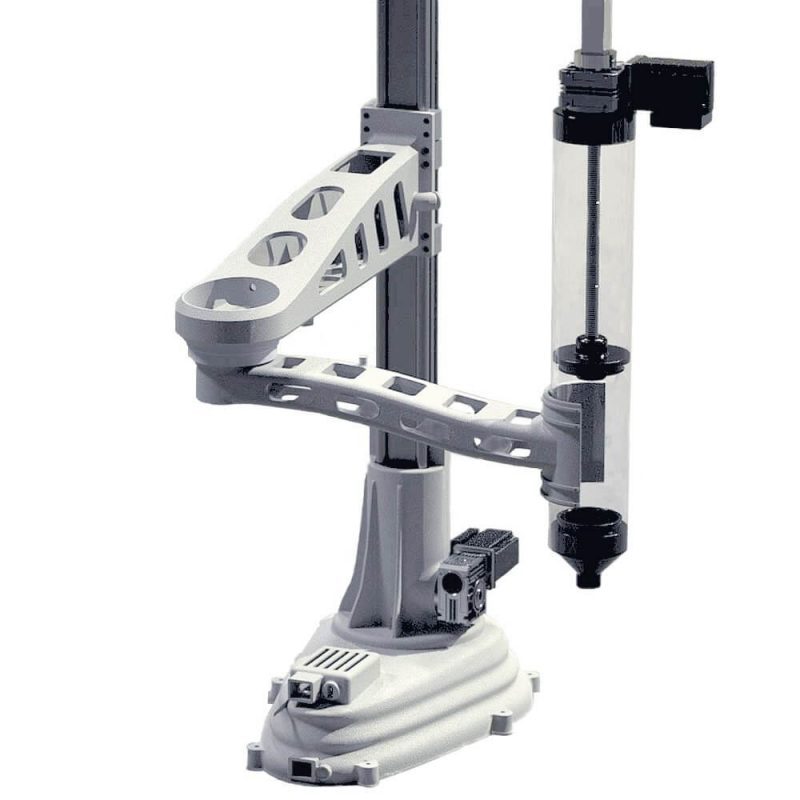 There is something specific that the website has mentioned on one webpage for viewing which, you need to click on the Scara Gallery option present on the Info tab of the company's website.
When you open that webpage you encounter the title i.e. See Our Scara models in action.
Scrolling down, the webpage is divided into left and right. On the left, you have images taken while the printer must have been at work, whereas on the right you have images of lesser-known facts.
The first one on the right is an image uploaded by Instagrammer named "rrael."
What the caption of this image, without hashtags reads is," On the 40th anniversary of the Smithsonian Magazine, they announced the 40 things you need to know about the next 40 years.
Number one on that list was: "Sophisticated buildings will be made of mud". Portable 3dprinting using local materials (clay, water, and wheat straw), pushes the boundaries of sustainable and ecological construction.
We collaborated with 3dpotter to make the future of construction possible in the borderlands by demonstrating how indigenous traditions and technology come together in Colorado's remote SanLuisValley.
The second post on the right has a video that shows how accurately and speedily one of the printers by 3D Potterbot prints a specific part.
The video is uploaded by the 3D Potterbots Instagram channel. The third post is again by the user who posted the first one.
And it's about building experimental structures that are placed at a location somewhere in La Florida, California and their strength has been tested.
The people inside this post are people of the team of 3D Potterbot.
Features
The company claims on the webpage from which you can buy this printer that this i.e. 3D Potterbot Scara V4 is their largest model for 3D Ceramic and paste printing.
Also, the printer is capable of printing multiple large objects non-stop. The company also states that when this printer is combined with a Continuous Flow hopper it can be used to even print walls and structures.
At the point where on the website's content you have Continuous Flow written, you have an option to click on, which, when you do leads to a completely new webpage.
It's an extruder which is named CF-P30-HT, its cost is $16,700. The description of this extruder as given by the company is Large-scale ceramic, cementitious materials, and Adobe 3D printing.
When you scroll down on the webpage you get to see exactly the first picture that you got to see as the first post on the Scara Gallery's webpage.
According to the company," 3D Potter is entering into a new age of large-scale ceramic, Cementitious materials, and adobe 3D printing. Our latest continuous flow high-volume delivery system (up to 10 GPM).
Over the last several years we have been concentrating to design and refine a system that could deliver material continuously to our large-scale Scara 3D ceramic printers.
The system is capable of 10 gallons per minute maximum rate. With a maximum hose length of 100 ft depending on the mixture and 16-gallon hopper capacity." Coming back to the features that Scara V4 has.
First viable large scale ceramic 3D printer
The printer has an advanced design than its former version. 3D Potterbot Scara V4 has a substantial construction that can handle onboard loads like the 3D Potter 3600 ml clay extruder or a hose assembly.
Something where this printer really shines is when it's coupled with Potterbot's new large capacity continuous high-pressure hose extrusion system.
The printer can now deliver clay loads between 85 – 250 lb continuous extrusions. Overall this is something that makes 3D Potterbot Scara V4 the printer that is the first viable large-scale ceramic 3D printer.
High in speed and lesser noise-producing
The Scara V4 is capable of operating at extreme speeds however the suggested speed is to be kept relative when it comes to ceramic 3D printing. Realistically, the company recommends you not exceed 130 mm/s.
But of course, there are many factors that determine the speed in this printer's case like nozzle size, layer height, and achieving a good adhesion on the interlayer of the clay.
The Potterbot Scara V4 is very quiet, so it can be operated in any area without disturbing the surrounding environment.
So, if you wish to choose this printer for universities wherein you want to do the research but at the same time do not disturb the class which is to say going on on the other floor or two walls apart, you can choose this printer.
Specifications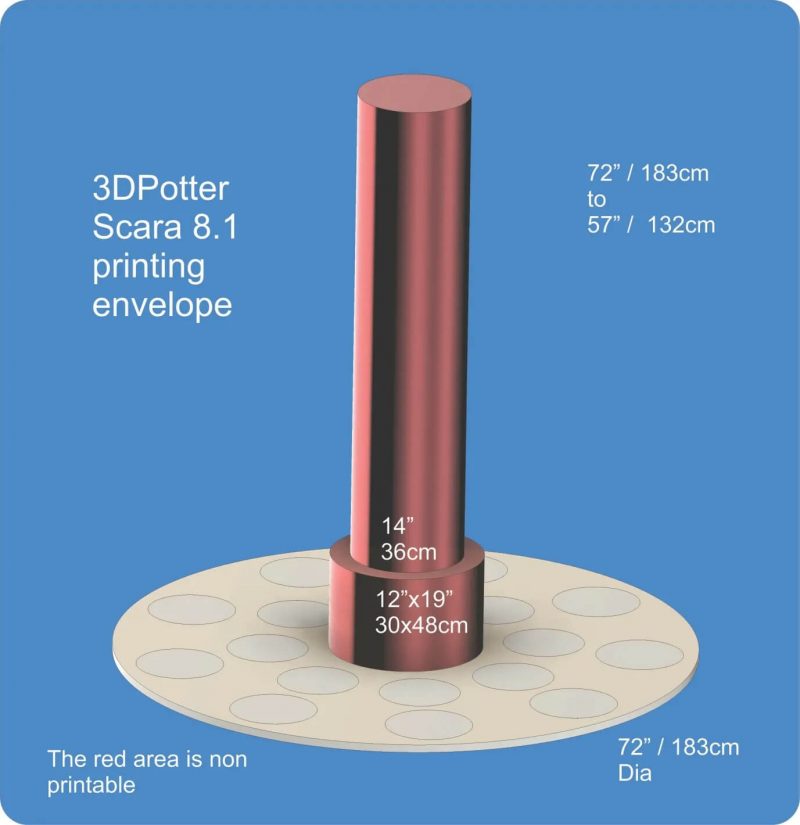 Credit: shgcdn.com
The printing envelope of this printer in the X and Y axis are 1829 mm, whereas on the Z-axis you have 1143 mm. The printer's size is 34 inches in width and 18 inches in length, whereas 44 inches in height.
The normal operational space needed by this printer is 40 inches * 36 inches * 70 inches, whereas the maximum operational spaced needed for this printer is 88 inches * 88 inches and 84 inches in width, length, and heights respectively.
The height of the top of the extruder when fully extended is 84 inches. The average speed of Scara V4 ranges from 30 to 100 millimeters per second.
The Power Supply: Output for this printer is 24V ~15 amps, whereas Input is 110-220V, 50-60 Hertz. Power consumption for Scara V4 is 24V ~10 amps, ~240 Watt Main controller board running Duet3D with Atmel SAM4E8E: 120MHz ARM Cortex-M4.
Users can have complete control over this printer through the web interface, you do not require apps or software to be installed with this device.
Even non-WiFi versions of the printer are available, and you can contact the manufacturer if you would like this type of connection (Ethernet connection).
Price
The printer can be bought at $17950 from the manufacturer's website straightway, you do not need to go to Amazon or other websites to buy it.
First Impressions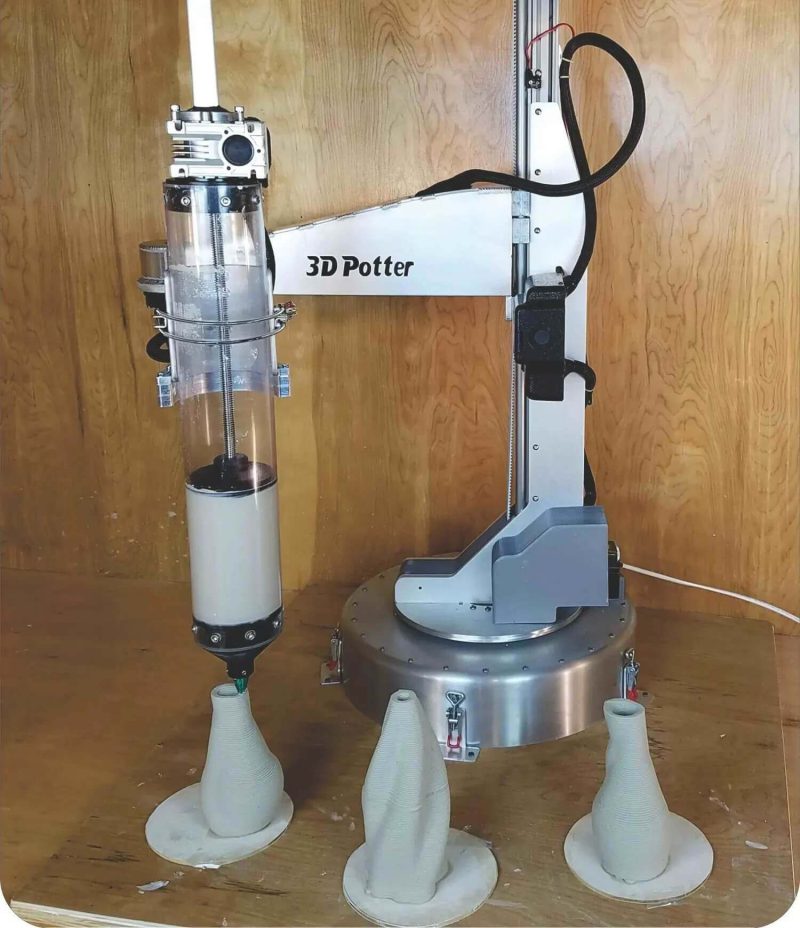 Credit: 3dprinting.com
The printer has an open design, which means that post-processing temperature decreasing won't be much of an issue.
The makers of this printer talk about how they were able to achieve high precision and accuracy with this large Scara arm robot only through diligent design and robust construction techniques.
The majority of this structure that you see in front of you is out of heavy aircraft grade 6061 aluminum utilizing CNC and welded components for maximum strength and rigidity.
The main rail components of this printer are from IGUS which is one of the leading German manufacturers of precision guide rails.
Another aspect of this printer i.e. the drive motors consists of very sophisticated hybrid closed-loop stepper motors.
They have onboard computers with telemetry that continually update their position for zero error positioning.
Setup
The real advantage of having this machine is that it can be positioned on a substantial tabletop and you can start printing right away within a limited envelope area.
The other option to go with is by giving the printer its own dedicated space for the partial or full envelope.
The space that really needed for setting up this printer is really determined by the end-user and how much of the print envelope they choose to use.
It can be on the tabletop or on the floor, one thing to make sure of is that the Scara V4 will require direct mounting for maximum stability.
Which is something that can be achieved with multiple screws to secure the printer to the surface it is on.
So, if you choose to use a tabletop it must be of substantial construction, the minimum recommended by the company is 1.5″ thick heavy plywood or wood construction.
In case of using an inadequate table, the results from the printer will be diminished depending on the build envelope and speed at which the prints are created. So these are things that you need to take in mind while considering setting this printer up.
The printer comes to you in a box that includes
Scara V4-409.
Closed-loop stepper on X, Y, Z, extruder.
3600ml extruder, 2 tubes
4 nozzles (standard sizes: 3, 4, 5, and 6mm)
Parts Box: Alan key set, grease, Acme driver tool, tie wraps, extra screws
Power Supply, USB cable.
Unlike the information that is given on the webpages of the company's website, the ones that open up when you click on potterbot 9 or 9 Pro, you do not have four photographs from which you can learn the assembling of this printer.
So, maybe you need to learn it yourself or from the videos of the company that is available.
Printing Type/Cost
The printer builds parts and functional prototypes based on FDM 3D Printing technology.
It uses different types of ceramic materials to print different things that can be used in the field of pottery.
The cost of printing, if calculated accurately comes around somewhere near to regular printers that fall in the same price range.
Print Quality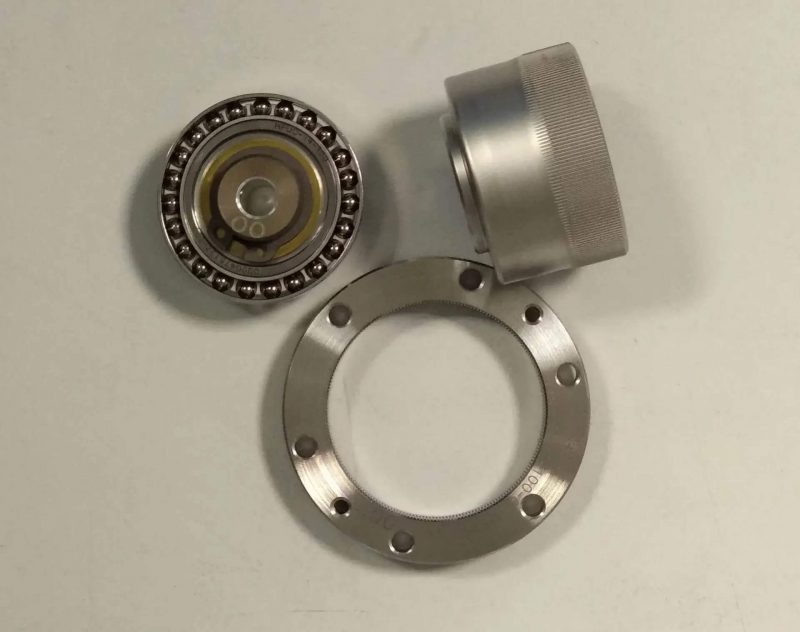 Credit: shgcdn.com
To accurately know the kind of print quality that is offered by this printer, you should visit the website once.
Checkout, not only the pictures about which we have mentioned in this article but also those pictures which are posted in the sliders when you land on the homepage of this website.
Software
For part or prototype generation, the Scara V4 is similar to the rest of the 3D Potter line ceramic printers. In fact, it is so familiar to any other 3D printer which requires an STL file to be sliced by a third-party program.
The manufacturers specifically recommend Simplify3D and then loading the file to the SD card in the printer, which can be done over WiFi.
However, the manufacturer also lists down three options for software, all of them are visible after clicking on the Software option that is given on the website under the info tab.
When you click on it, there is Pottery for Entry level experience, Fusion 360 which is for entry to medium level experience, and Simplify 3D i.e. also for Entry to medium level experience.
Customer Service
The company has a contact form page which you have under the Contact tab apart from the products and info tab which you can fill to know more about how to avail customer support.
There are also specific email IDs that are given for the tech support, which can be contacted and that becomes another way in which you can know to which extend the company is willing to help you.
The other contact can be made via telephone and then Skype if you wish and the company agrees to.
Parameters Influencing Buying Decision
This section consists of talking in brief about Cost, Quality, Speed, Capability, Practicality, and User Expectations.
3D Printer Cost: As mentioned above, overall if you are a small business owner, you may find the printer on the expensive side.
3D Print Quality: If you see the images posted on the website, they are pretty impressive.
3D Print Speed: Above industry-standard.
3D Printer Capability: You can print with multiple ceramics using the printer.
3D Printer Practicality: Things that you always wanted to create with more accuracy, in fact, structures that are sustainable can be created using this printer.
3D Printer User Expectations: If you are someone who is into industrial 3D printing, the printer is not any less than the level of any other industrial-grade printer that costs $100,000 or even more.
The Conclusion
There can be multiple uses of this printer. It can be used by industrialists in the field. The printer can be an upgrade for the small business owners.
Academic institutions can choose it for research. So, it has got multiple uses and benefits.