With more expectations from additive manufacturing technology and increasing accessibility, users keep innovating ideas to make 3D printers adjust the useful application within households.
A growing number of commercial machines that could help individuals do a lot of tasks all by themselves, do need to perform the very basic ones too for becoming a part of their day-to-day life.
And, what could be a better example than the door handle. Hence, why not find out how to 3D print door handles and make some attractive and safe models at home itself.
Starting from the main door to the various other doors in the house, to the cupboards and dressing tables, handles are everywhere. And, these often loosen up or break.
Although these door handles are easily available in the hardware shops, why not 3D print one yourself.
That is not only adventurous, however, but you can also even decide how you want your door handle to be exactly. I mean, the choices are very limited out there. But you can change that.
Only after you decide to 3D Print a door handle, you would know what you can do with your creativity.
Either you can prepare a complete design from scratch, exactly as you have ever wanted. Or, you can also choose a design from online repositories.
And, trust this, there are plenty to choose from. Some are even complex and highly attractive.
So, if you decide to do that, you can download the 3D file, make changes, if needed, and get your 3D printed door handle without leaving your house.
3D Print Door Handle at Home – Check out These 3D Files
With time, the 3D Printing community is progressing towards exploring various useful household things that can be created using 3D printers.
Hence, allowing users to find better and more reasons to own these machines at home.
Here are some of the most trending and amazing 3D designs available online for door handles that you can try anytime you wish to.
Balcony Door Handle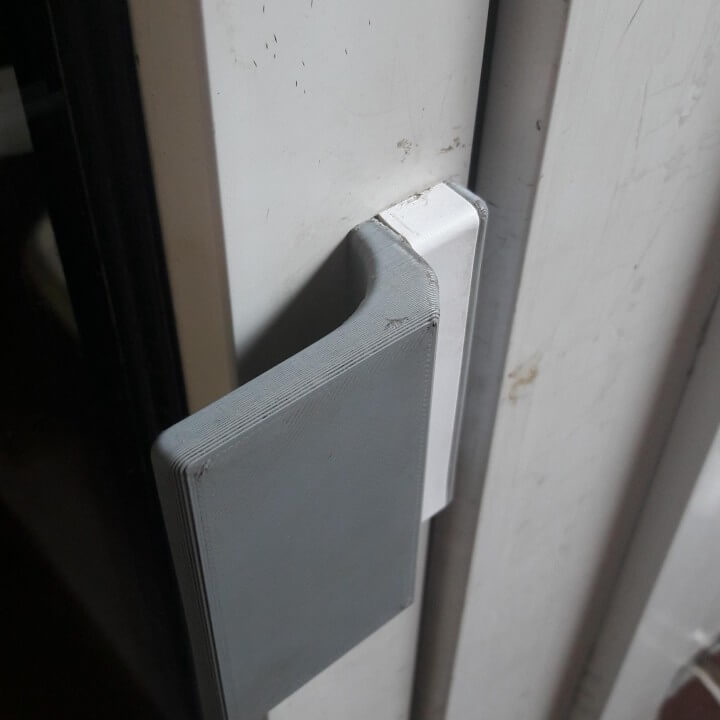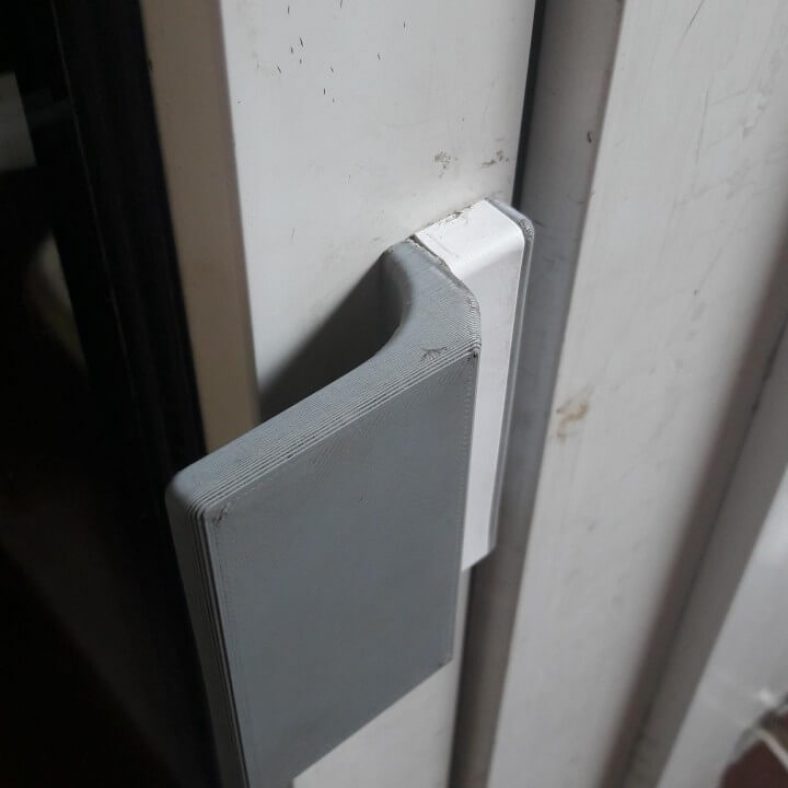 One of the most subtle designs available on the internet. You just need to download the STL file and start printing. The balcony door handle is simple yet very attractive.
The best part is that it is easy to use. If you already have a handle fixed on the door with an easy to grab and pull design, it would be easier to install this door handle right after you 3D print the door handle.
The 3D design is available on MyMiniFactory and is free to download. According to the tips by the maker of the design, one must ensure to have 25% infill along with 0.25 mm layer height.
Also, 3D design needs support. Till now, there have already been over 70 downloads and more than 1500 views.
Hence, you can pretty much understand the popularity of this 3D file. Plus, it can be printed in one go.
Corner Door Handle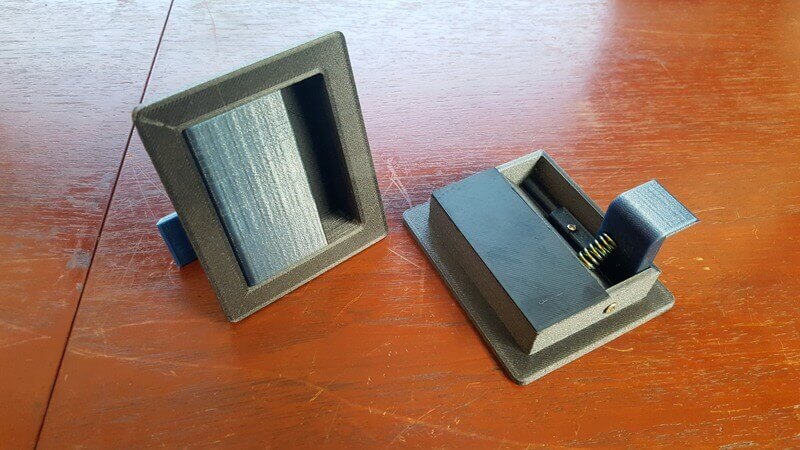 In the case of two doors opening from the same corner, it becomes difficult to install a standard lock. But using 3D printers one can solve the problem quite simply.
The recommended corner door handle will fit on both doors with the one-part setting at the corner. If you check the details of this 3D design, you will get to know how the door handle works.
You must mount a wooden beam in the corner opening. And, the hooks will install behind it. The website has a complete installation guide for the door handle.
Using screws, you can complete the installation. The best part is that the design does not need support for printing.
However, you must have to print five separate components for each lock. That may seem like a huge amount of work. But it isn't and the work is actually worth all the effort.
Follow the tips clearly illustrated on the website. The maker has used PET-G and ABS for printing this door handle. Plus, the resolution must be 0.2 mm. You can 3D Print door handles with this design if you are willing to invest time and effort.
Screen Door Handle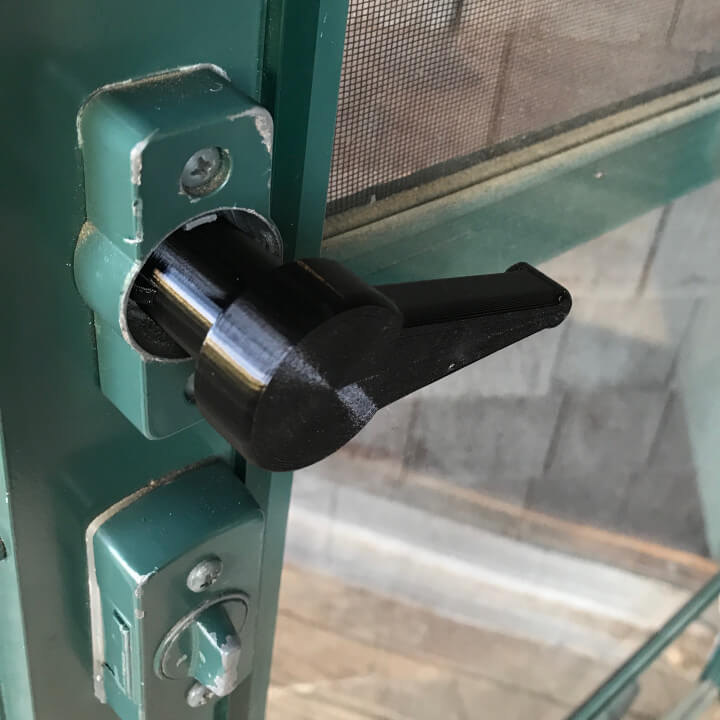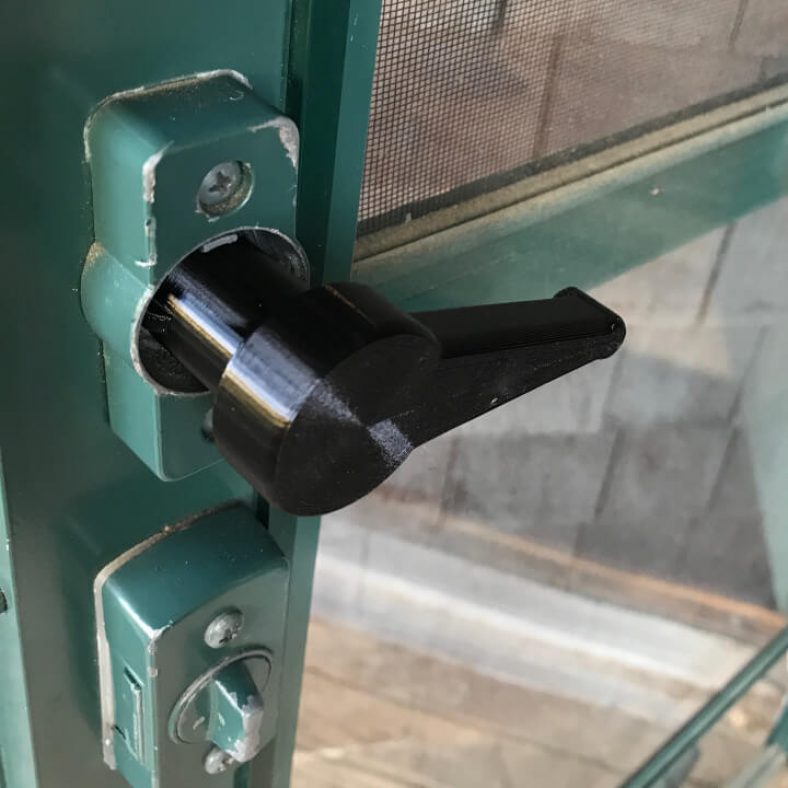 3D printing door handles can get interesting when you find out how many choices are available out there. The options are huge, and you can create a few by yourself too.
Most of all, these are easy to 3D Print and won't take the entire day to complete. Almost every 3D printer would be able to accomplish this task.
And, if you are worried about the material of choice, you can go for the one that isn't too brittle as PLA. ABS would do the task.
The 3D design here is a replacement door handle for a screen door. The door handle would require an already installed square shaft measuring 8mm x 8mm on the screen door.
After you 3D print the door handle using this STL file, you just have to set the handle to the shaft using the press-fit technique.
Remember, you can anytime play around with the measurement of the door handle. This would be necessary if your door shaft has a differing measurement.
The good part is that with this design already at your disposal, you do not need to do the hard work.
Just remember, the handle does not have a latch. It can just help you pull and close the door.
And, if you are looking for a secure handle, you may have to check for other designs like the one mentioned right above this one.
Once again, you do not need support for printing this 3D file. So, it is easy to process through your 3D printer.
3D Print Door Handle for Garden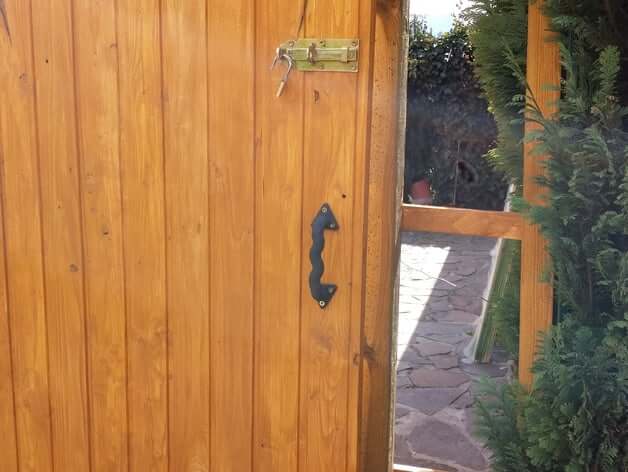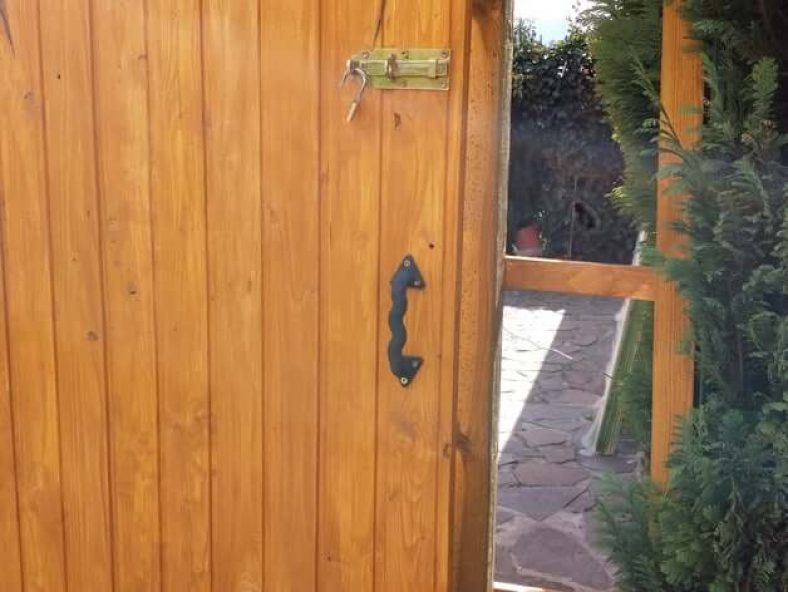 Although the maker has tagged the design for the garden door handle, it would suit the interior of the house as well. The maker has made use of metallic black ABS for printing this door handle.
However, you can always choose the color you wish to print with.
Talking about the 3D design looks, you certainly won't stop after printing just one. It does look pretty fascinating.
Especially when printed in black, it gives antique vibes. Everything about this door handle is perfect.
However, you do need to use support for printing this design. Each end of the door handle consists of three holes for screwing the model to the door firmly.
Available on Thingiverse, this design is very interesting to print. If you are a beginner, you must ensure that the support is added adequately and not in overabundance.
You just need to download the 3D file and make the necessary settings for the printer for starting your print.
However, you also must note that you can always make modifications to the existing design.
Hence, if you wish for a bigger handle or a smaller one, you can make the necessary modifications to get the door handle to suit your interiors.
Simple Door Handle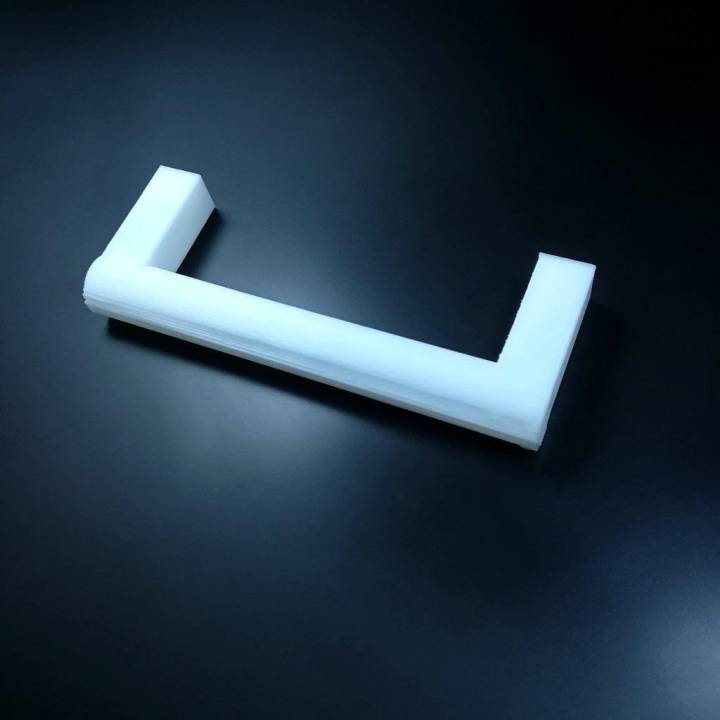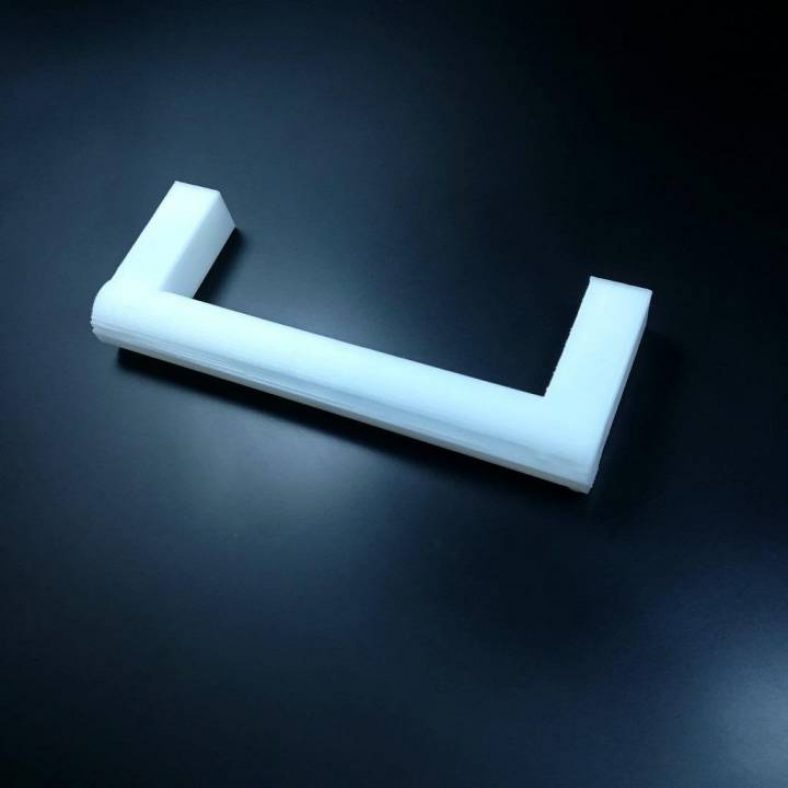 Whatever we decide, we often fall for the ones that look simple and sober. Minimalistic designs are always in trend.
Either you rewind 10 years back or try to predict the future, the simple designs would always woo hearts.
And, the same is true for this subtle door handle 3D design available on MyMiniFactory.
However, this is not a free design. It costs as low as $0.50 which isn't too much to pay.
Buying a door handle similar to this one would cost much more than that. And, you also won't be able to enjoy making one for yourself.
This is a simple pull handle. The maker has used the dimension of 108mm x 108mm x 13.99mm. Using an FDM 3D printer, you can easily create this door handle at home.
Using ABS would do the trick. And, it does not need support for printing.
Isn't that something much of a relief, understanding the efforts it takes to remove the support later and carry the necessary post-processing steps to smoothen the surface?
In this case, you can either choose to use a colored filament or paint the door handle to the desired color after scrubbing it a little.
Whatever you choose to do, this door handle would certainly make you feel good.
And, it won't disappoint you either. To install the handle, you will use nails to fix the ends. Overall, a very attractive design and most of all, easy to 3D print.
Sliding Door Handle for 70s Era Door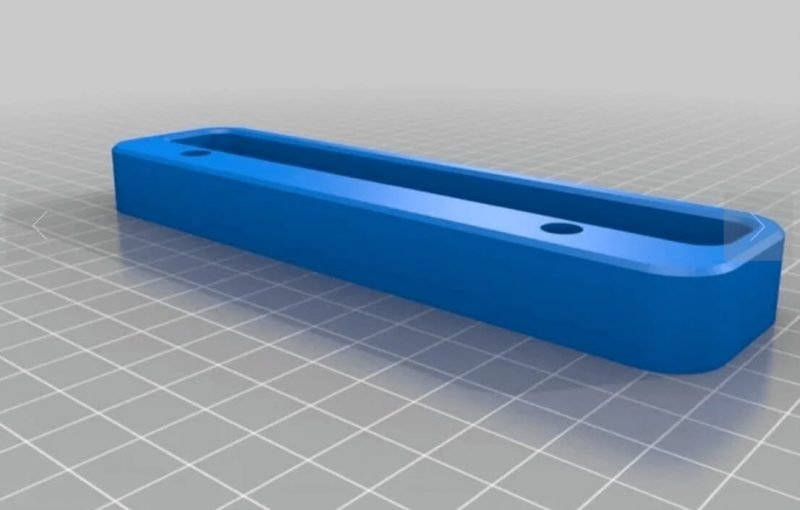 Now that sounds exciting. How many of you have an old house with an old sliding door design? A lot of houses are built way back then we can remember or we even existed.
Hence, it becomes difficult to find spare parts such as handles fitting such doors.
This was the same reason when the maker of this design decided to 3D print a door handle for his 70s era door.
The description of Thingiverse provides all the reasons why this design was created in the first place.
Hence, if you are looking for similar hacks, you can use this 3D file too. The measurement requirements are clearly mentioned in the description. To perfect this design, you must use a 0.15 mm resolution.
Further, you must make use of 20 percent infill. Because the door handle is a temporary solution, the maker has opted for PLA instead of other tricky materials.
However, you can decide for yourself. You can change the material choice as well as you can change the color of the door handle too.
For this design, the maker has used blue color. The best part is that you won't need rafts or support to complete printing with this 3D file. Hence, a pretty easy design to print.
Personalized Door Handle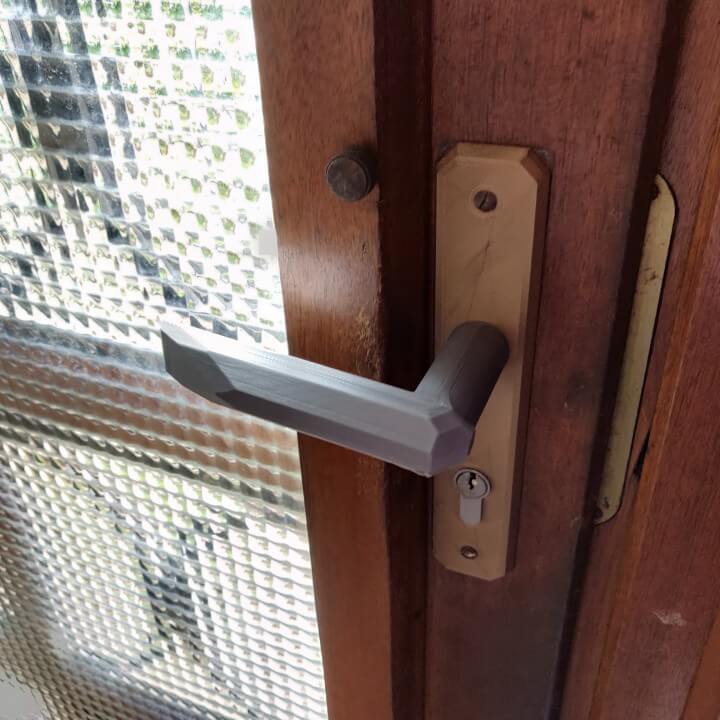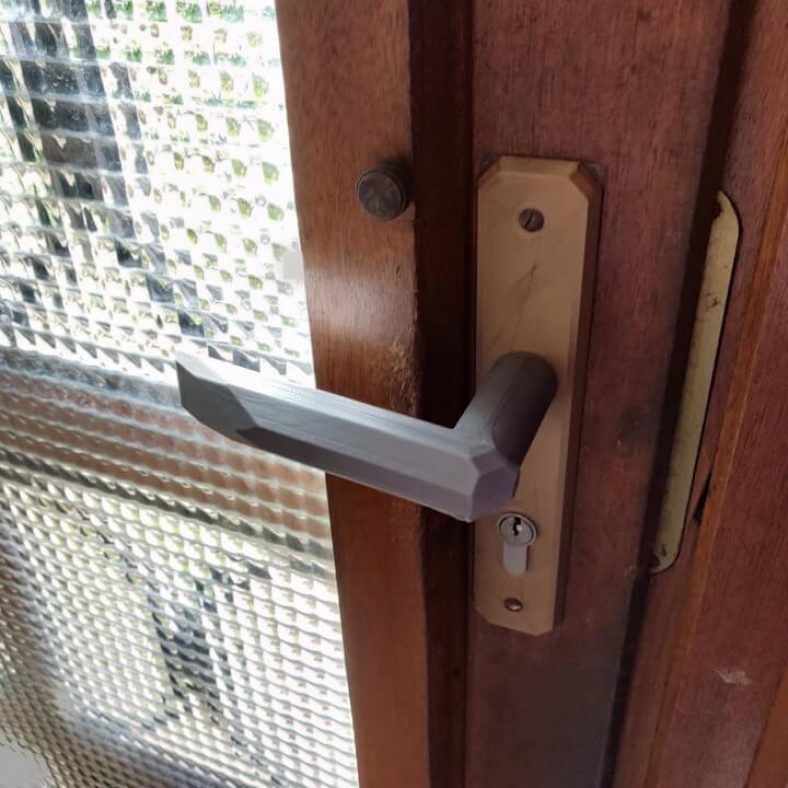 MyMiniFactory has got plenty of designs for the door handle. And, some are really fascinating. This one again is one of those files that captivate one to 3D print door handle all by themselves.
The reason being it looks easy to print and install. And, it is actually true as well.
If you will check the complexity of the design, it's easy as claimed by the maker. And, using the simple FDM technology, one can 3D print this door handle without much hassle.
There are three different 3D files attached to the users. You must download all the files to complete the design.
One STL file is for the inside plate, the other is for the outside plate and the last one is the door handle itself.
To ensure that you properly install the door handle, you must print two counts of the handle and one count of the other two 3D files.
The file is free to download. Hence, you can just go ahead, download the 3D files, and start printing. If desiring, you can choose the color of your own for the filaments.
As well as, you can make changes to the existing measurements of the handle to come up with a personalized result.
The Conclusion
Door handles are not often available in the size and shape that we desire. And, if they are, these are often too expensive.
Haven't it happened to you that you like a door handle design and could not afford it, thinking what if you could design the same at home.
The good news is that you can actually create better designs available in the market.
And, this is possible with 3D printers. Not only the additive manufacturing offers you limitless possibilities, but these are also some of the most sustainable options out there, considering the negligible amount of waste the process produces.
This is why you must plan to make things at home if it's possible. Do not let your 3D Printer just rust in the corner.
You can actually make a lot of useful items from your home using these machines. And, if you own one, why not explore the prospects to the fullest.
3D print door handle, design one if you like working with 3D modeling apps, or modify the ones already existing online.
Whatever you do, do not forget to try it on your own. 3D printing is fun and satisfying, and you can experience that too.