3D printing technology enables anyone who wishes to manufacture stuff for home, at home, from home!
Be it a keychain, a showpiece, a wall clock, a phone cover, and many other material things you can 3D print at your home using a 3D printer.
If you do not have a 3D printer, you buy these things online. But like the traditional manufacturing techniques, 3D printing also allows you to opt for the option of getting 3D printing services.
So, if you do not have a 3D printer at your home, you can still get the thing that you wish to 3D print at your home by opting for a 3D printing service.
For this, all you need to do is search for a 3D printing service provider and get a 3D printing quote for the part or functional prototype that you wish to 3D print.
Manufacturers of 3D printers, owners of 3D printers have, for making 3D printing technology available to maximum people, kept this option open. You can visit these websites with your 3D design file and upload them to them.
These websites ask you some basic questions regarding the material, the infill required, based on that, give you a quote for 3D printing your part or a functional prototype.
In this article, we are going to share with you some of these websites and compare their quotes.
Cheap 3D printing quotes from 3D printing service providers
To give you an equal basis of comparison, we downloaded an STL file of a toothbrush case from Thingiverse and uploaded the same to websites for knowing their pricing.
Shapeways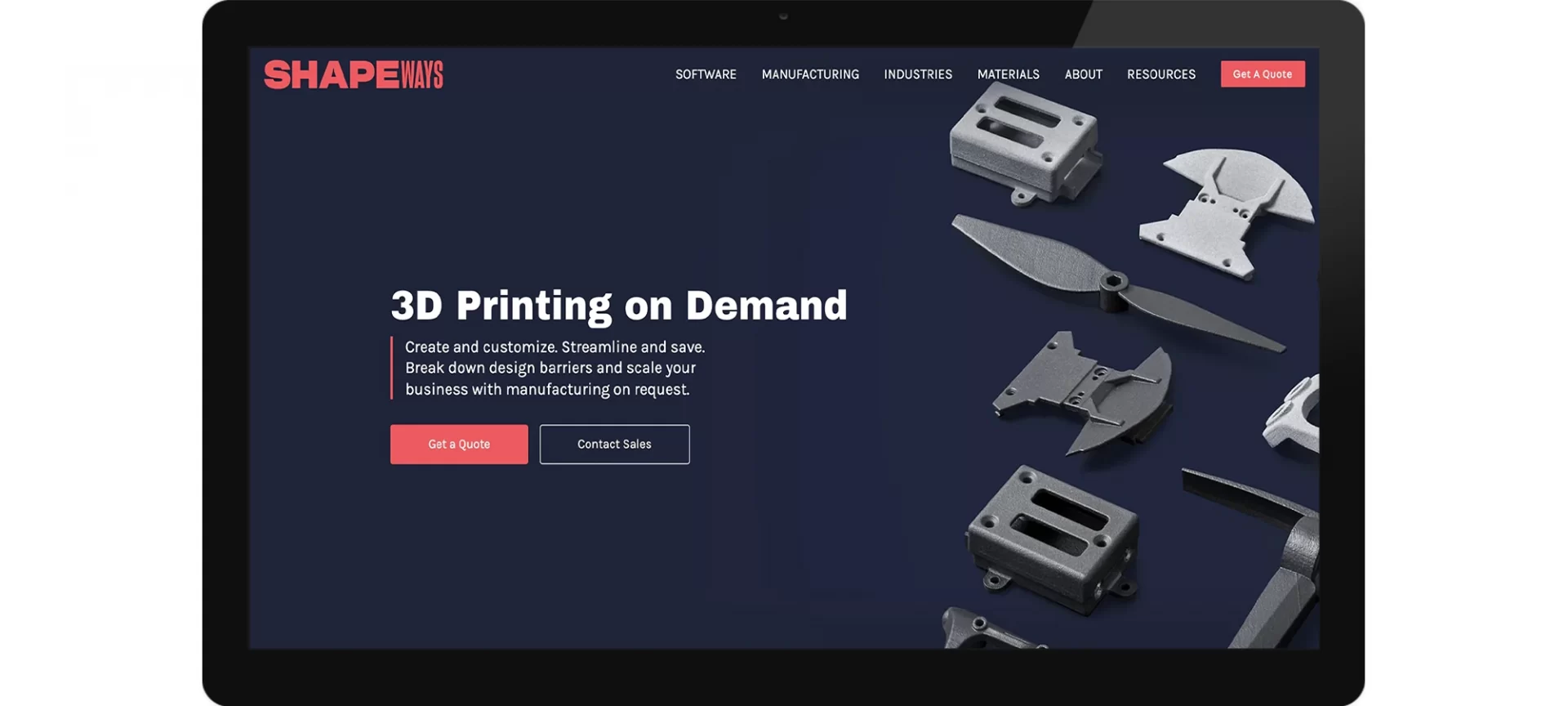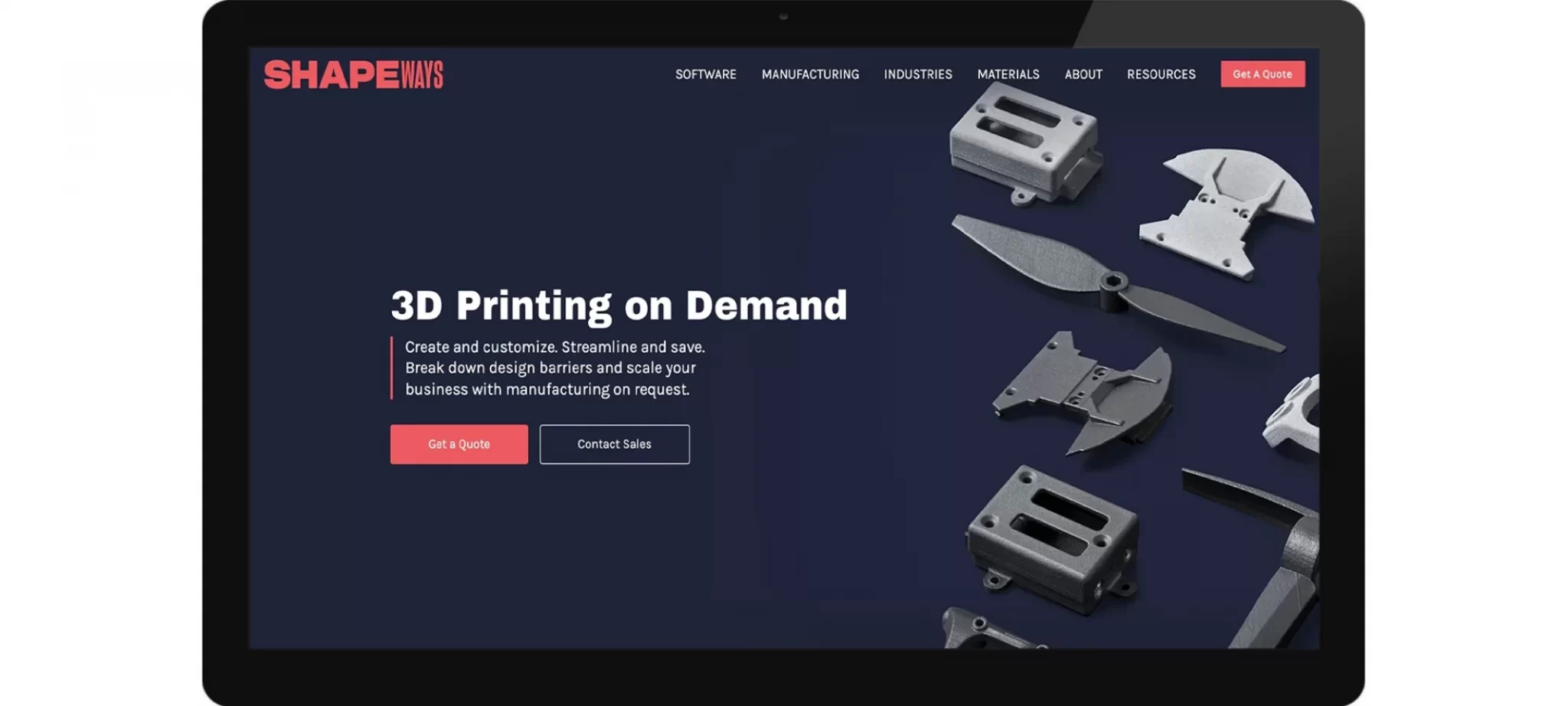 Claiming themselves as a company that has product creation at its core, Shapeways offers solutions, materials, and services in the 3D printing sector.
The company was founded in 2007, is headquartered in New York City, and has manufacturing facilities in Long Island City as well as the Netherlands.
Shapeways makes parts and functional prototypes, application of which is in, Medical, Consumer, Robotics, Architecture, Aerospace, Gaming, Drones, Education, and Jewelry.
Materials uses of which are seen in Selective Laser Sintering, Binder Jetting, Multijet Fusion, Stereolithography, Selective Laser Melting, Material Jetting, and Wax Casting can be bought from this website.
3D Printing Quote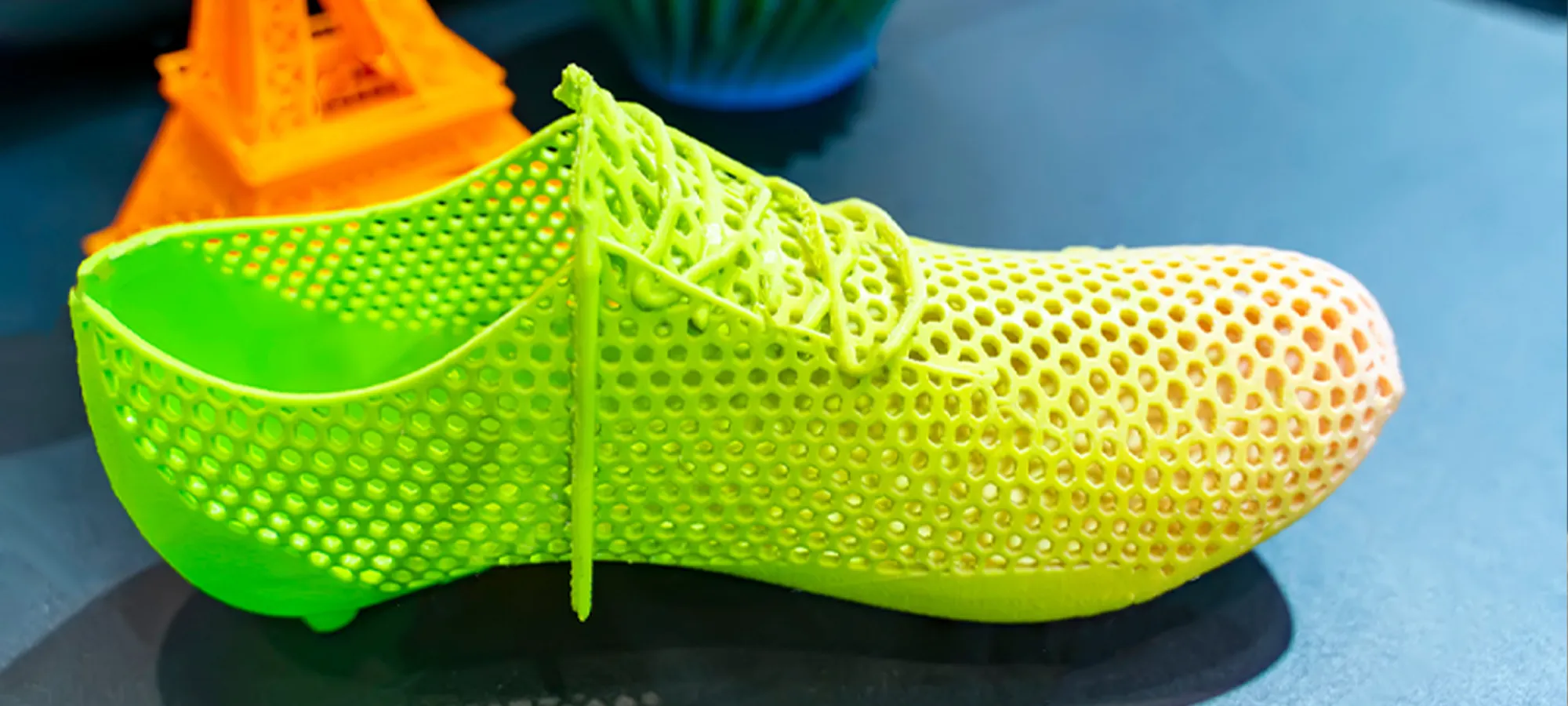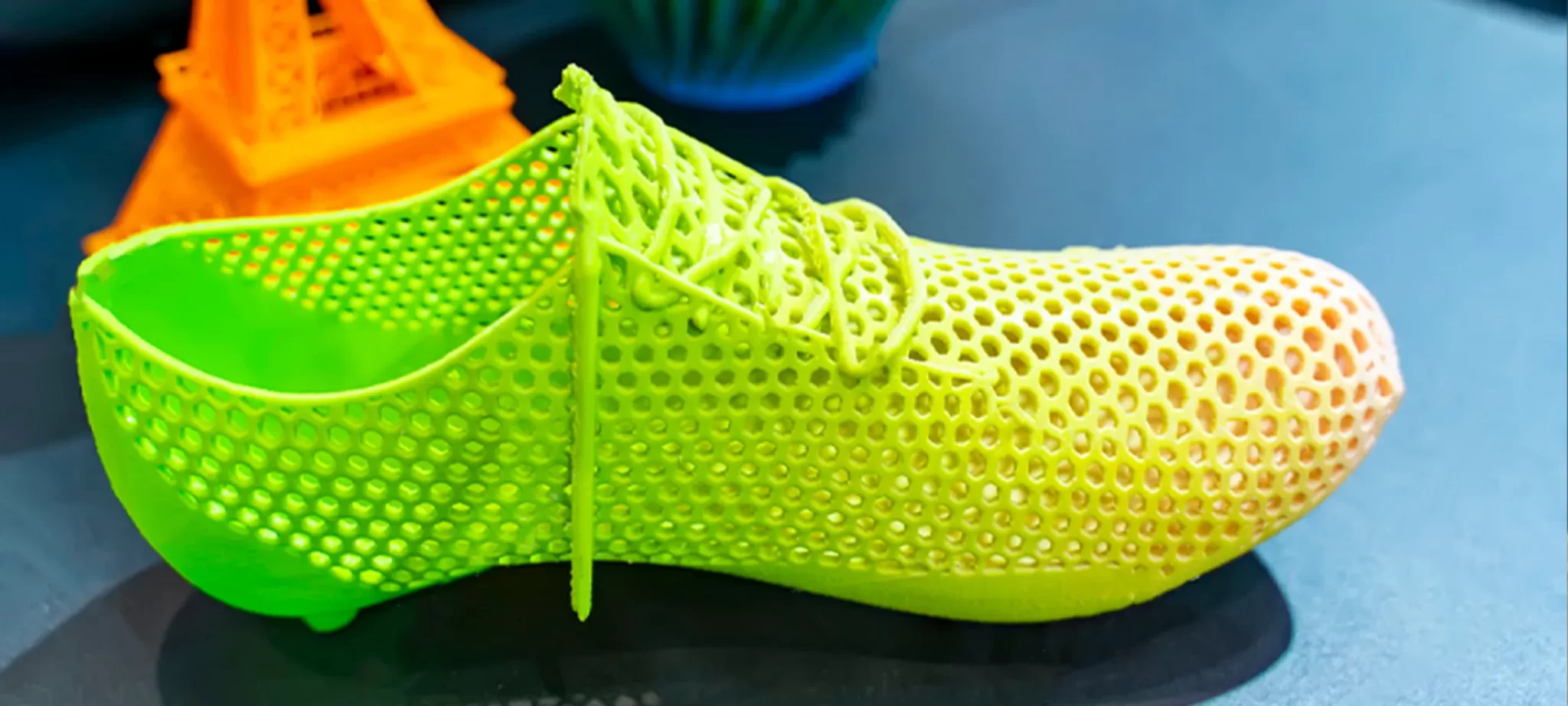 Shapeways requires you to have an account on the website for getting an instant quote of the 3D design file that you have.
On the homepage of this website, along with other tabs like Solutions, Industries, Materials, Resources, and About, you have the Get A Quote option.
When you click on that option, a new webpage opens up that asks for your account credentials, which if you do not happen to have, you can make a new account, even the option of signing in with Google is available.
Once you sign in, along with other options is the option to upload your 3D design file. As mentioned above, we uploaded the 3D design file of the toothbrush case. Within seconds, the quote was displayed on our desktop screen.
An interesting fact about the way in which the quote was given to us is the "material" factor taken into account by Shapeways.
Material Jet Fusion for $12.53
Versatile Plastic for $11.07
SLA Plastic for $52.21
TPU for $27.78
PA 11 for $24.15
Fine Detail Plastic for $19.01
Steel for $55.88
Aluminum for $123.23
Copper for $335.19
Gold plated brass for $354.35
Brass for $239.42
Bronze for $239.42
Rhodium plated brass for $354.35
Silver for $478.85
Gold for $7370.22
Platinum for $15256.50
Sandstone for $14.68
In options like Material Jet Fusion, you have options of three different colors i.e. Black, Gray, and Dark Gray.
Wherein, if you wish to print in black and dark gray colors, you will be charged $2.50 and $3.74 more respectively. After selecting the color there was also an option to select from PA 12 and Smooth PA 12.
The total amount would be displayed at the end with the option of adding to the cart, but in case you haven't dismissed the "cookies displaying" option, by clicking on "ok" you would not be able to see it.
A black colored, smooth PA 12 printed toothbrush case using the material jet fusion technique can be bought from Shapeways at $47.62.
Concluding remarks about the website
"Cookies displaying" option is very annoying and there is only the "ok" option to click on it, even for seeing the final cost, which unfair.
Considering that we are not able to see the cost, as well as not given another option of "not ok."
Sculpteo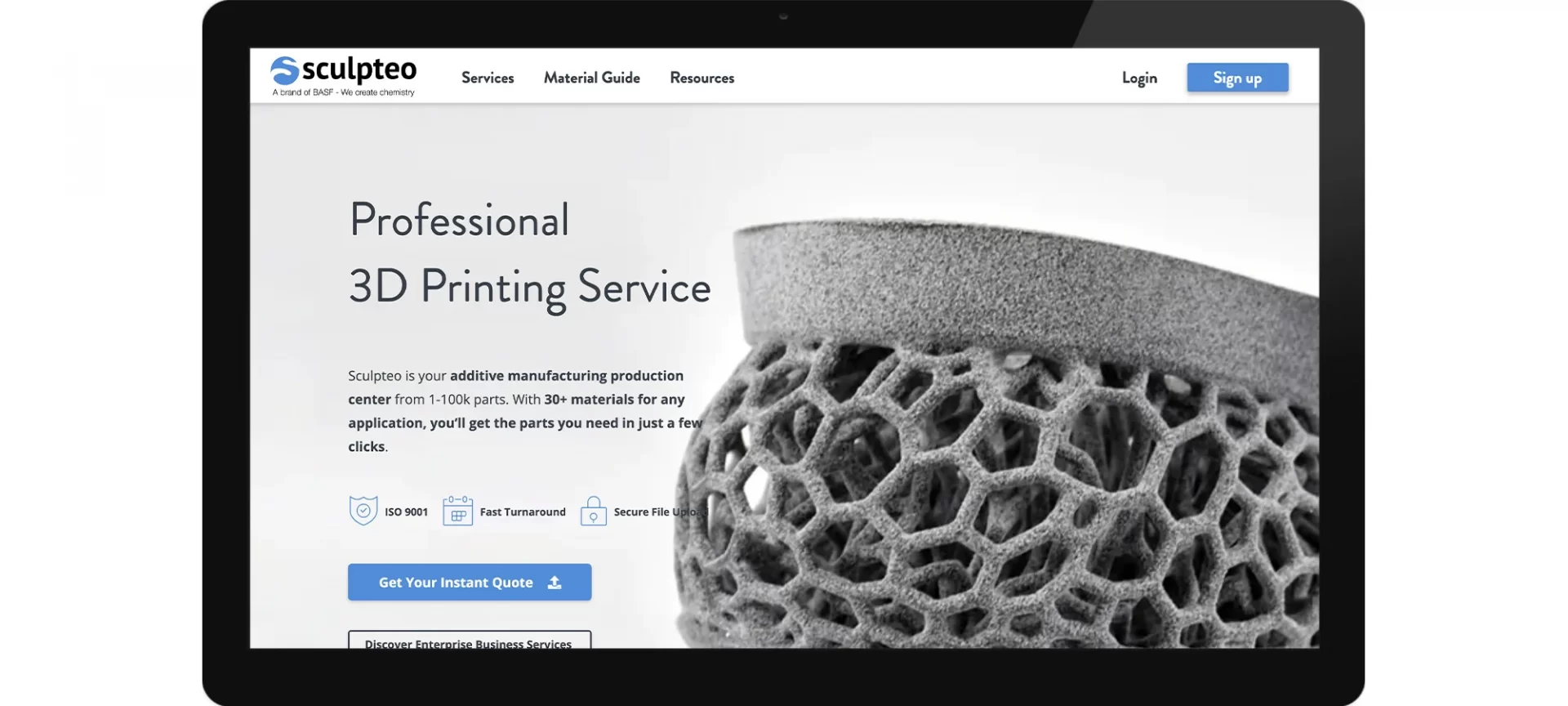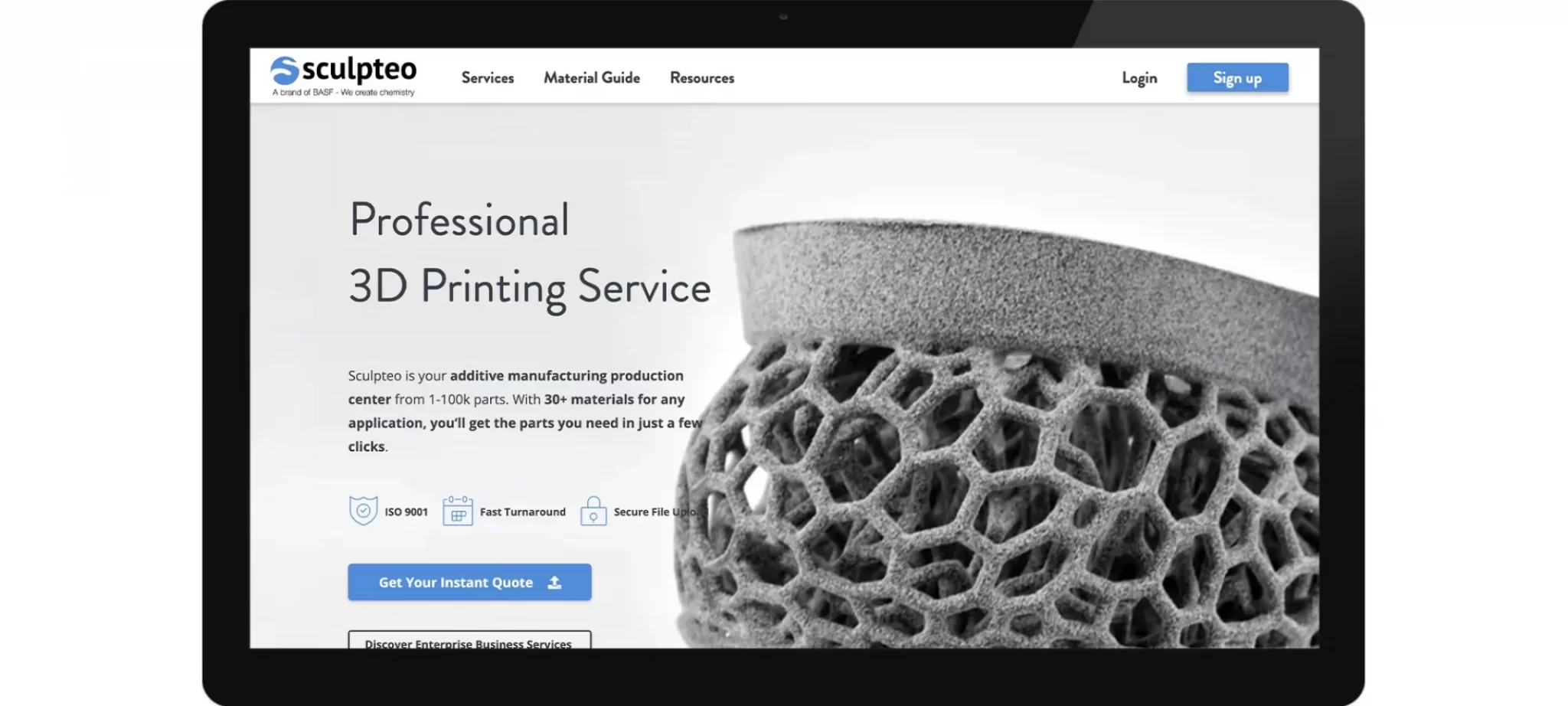 Terming itself as a global leader in digital manufacturing, Sculpteo states to provide online 3D printing services as well as laser cutting services.
The company is based in Paris and San Francisco and serves the customer who comes to them demanding on-demand production of prototypes, individual products as well as short-run manufacturing.
The company has factories in Europe as well as the United States. It was founded by Eric Carreel and Clement Moreau in the year 2009.
On the homepage of the website, there are three tabs i.e. Services, Material Guide, and Learn.
Yes! You need to login to the website for uploading your 3D design file for knowing the quote of the same on Sculpteo.
The company offers services of 3D printing, rapid prototyping, and production with additive manufacturing.
Under the material guide tab, there are materials listed for SLS, HP Jet Fusion technology, DLS technology, FDM, SLA, Polyjet, Colorjet, DMLS, Binder Jetting, wax casting, as well as laser cutting.
3D Printing Quote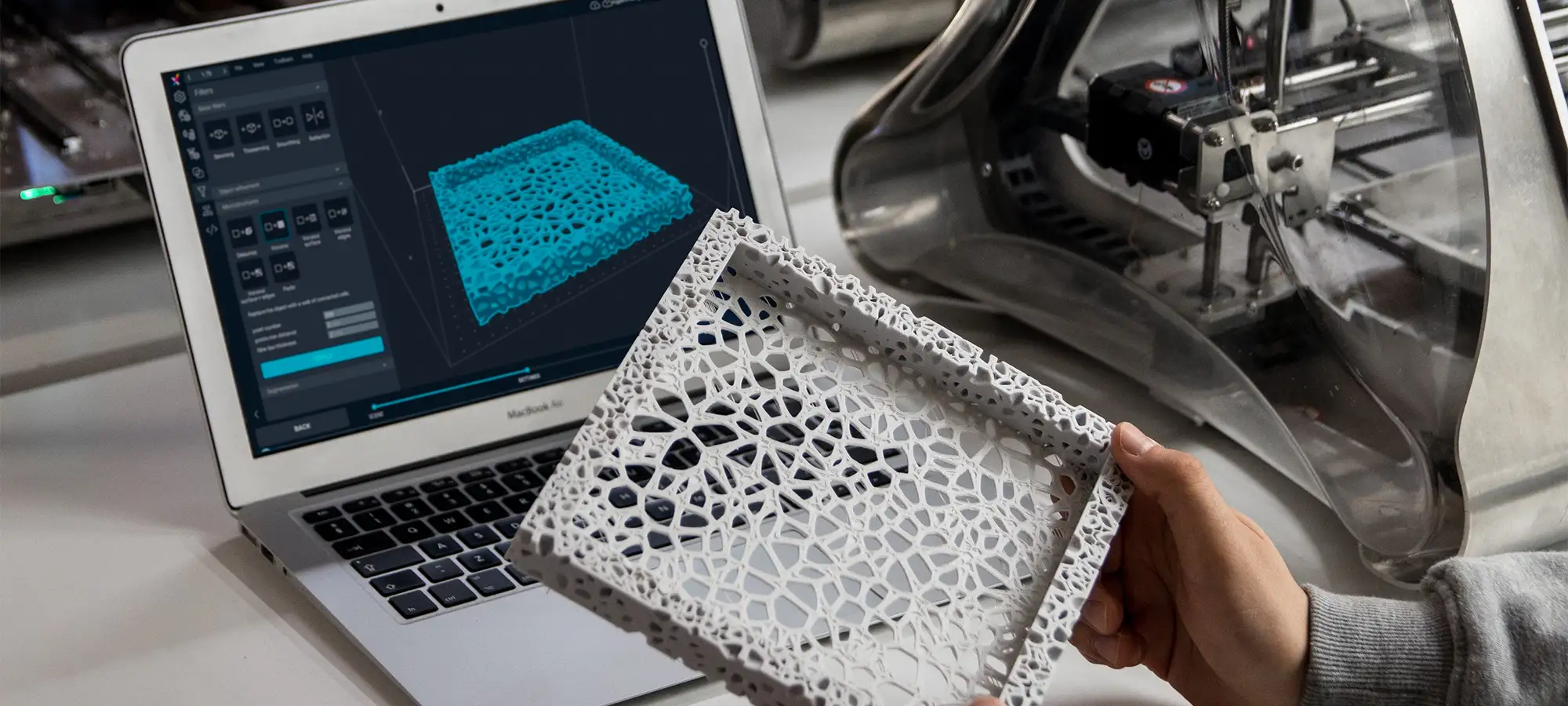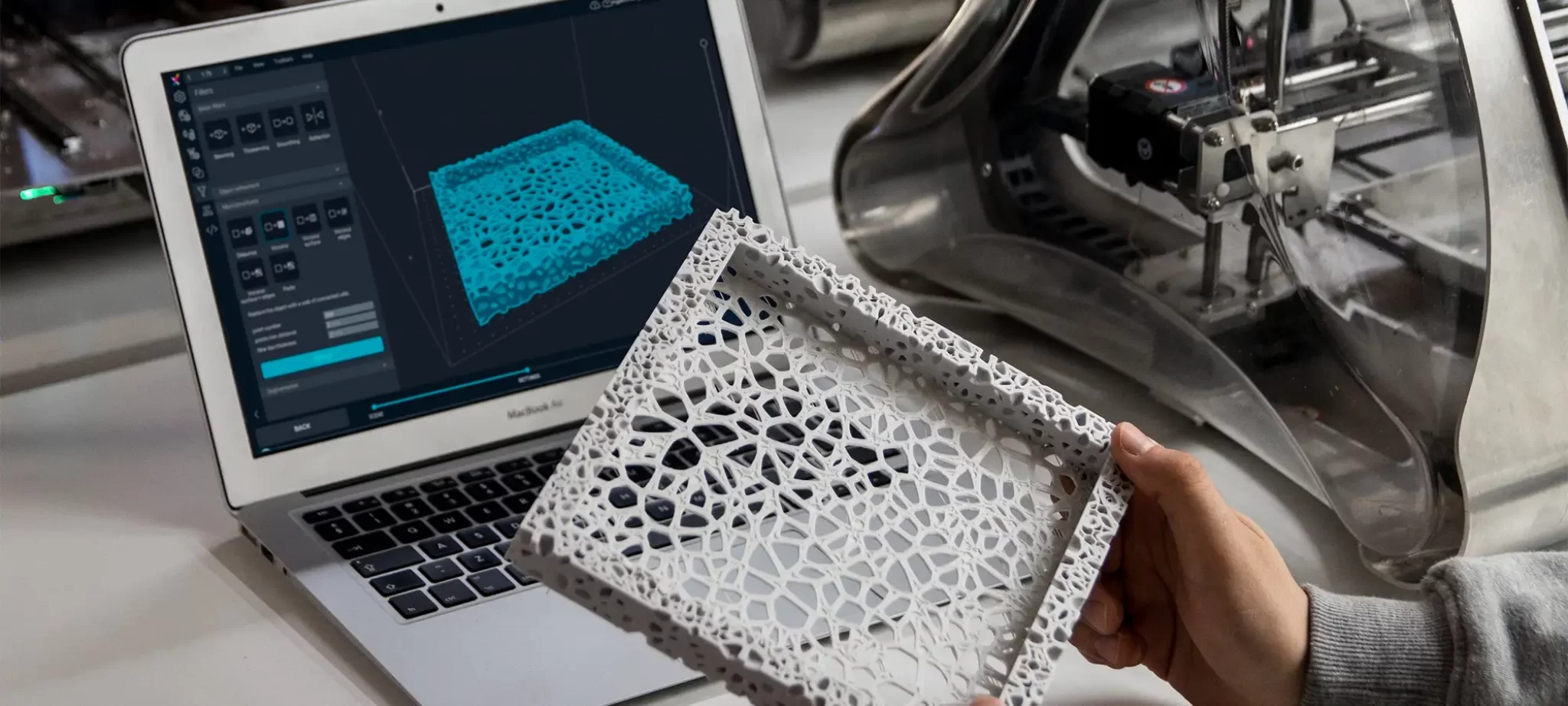 When you click on Get an Instant Quote, which is an option mentioned when you scroll on the homepage of this website, a new webpage opens on your screen.
Wherein you are given options to sign in, in the same manner, that you are asked to sign in on Shapeways.
When you do so, a new webpage opens up that gives you an option to upload your 3D design file.
As mentioned above, we have uploaded for keeping the comparison criteria the same, a toothbrush case, and the STL file of which we have downloaded from the Thingiverse website.
After we did upload the file, the website took some seconds to calculate the instant quote. And displayed on our dashboard $13.06 which was the rate for Nylon PA12 100-120µ (White), SLS (Plastic), Finish Raw, excluding tax.
When you scroll down, you have the option to select on your left as well as on your right, the 3D printing technology with which you wish to 3D print a part of a functional prototype.
Multijet Fusion Plastic for $12.47.
Polyjet Resin for $32.38.
CLIP Resin for $77.57.
Colorjet Multicolor for $21.33.
Laser Melting for $160.31.
Metal Filament for $54.39.
Casting Metal for $241.03.
Binder Jetting Metal for $39.39.
The choice of material, finish, and colors keep on changing as per our selection of 3D printing technology.
A toothbrush case printed using the Multi Jet Fusion technique made up of PA 12 Grey colored; the not dyed finish is available for $15, excluding the tax.
For finishing the complete procedure you need to Add to Cart your purchase and then Checkout.
Concluding remarks about the website
Compared to Shapeways the presentation style and choices given to its users in terms of materials, finishes, and technology changes on this website.
The annoying "cookies displaying" option is not as big a rectangle as it was in Shapeways, instead, it is a small rectangle present on the bottom left corner. But on Sculpteo too, there is no option to "not okay" the "cookies displaying" option.
CraftCloud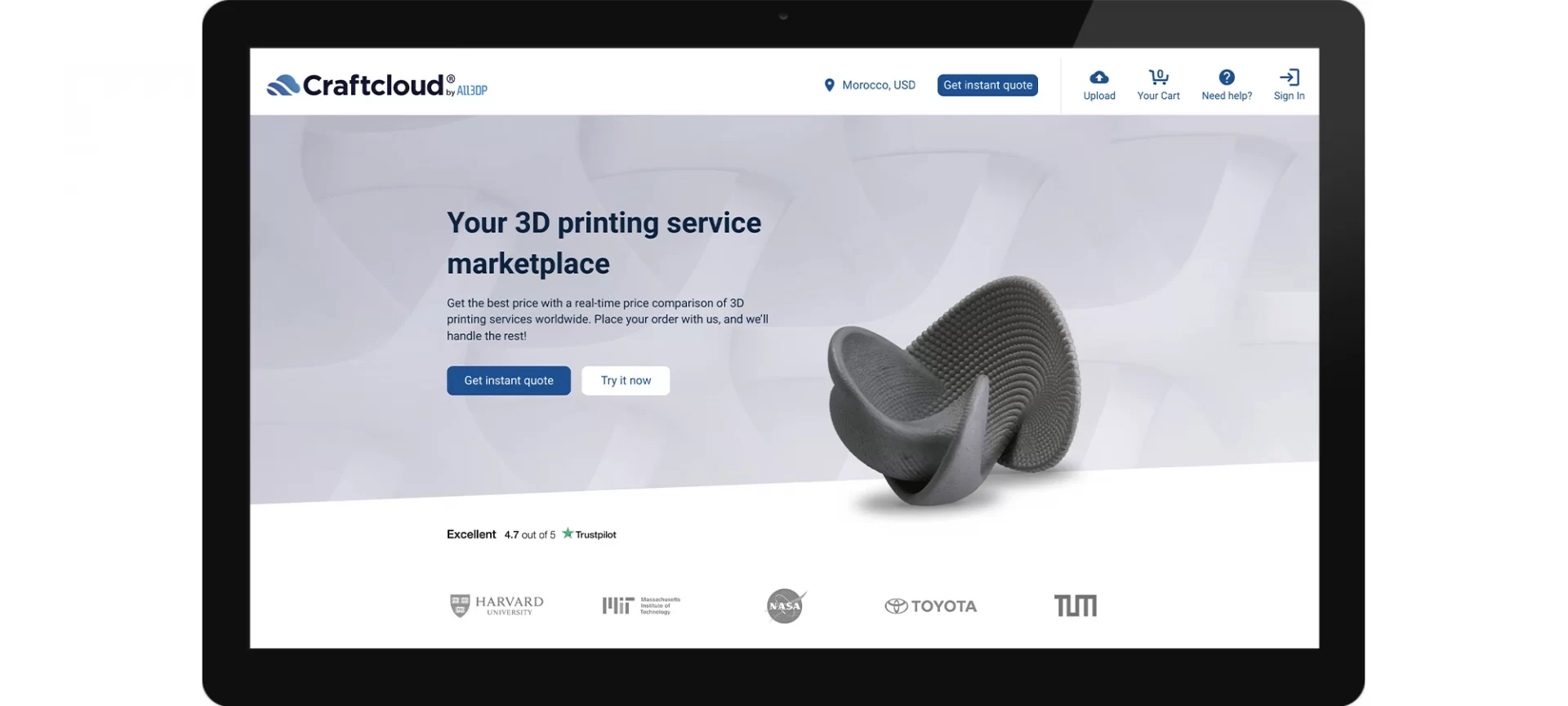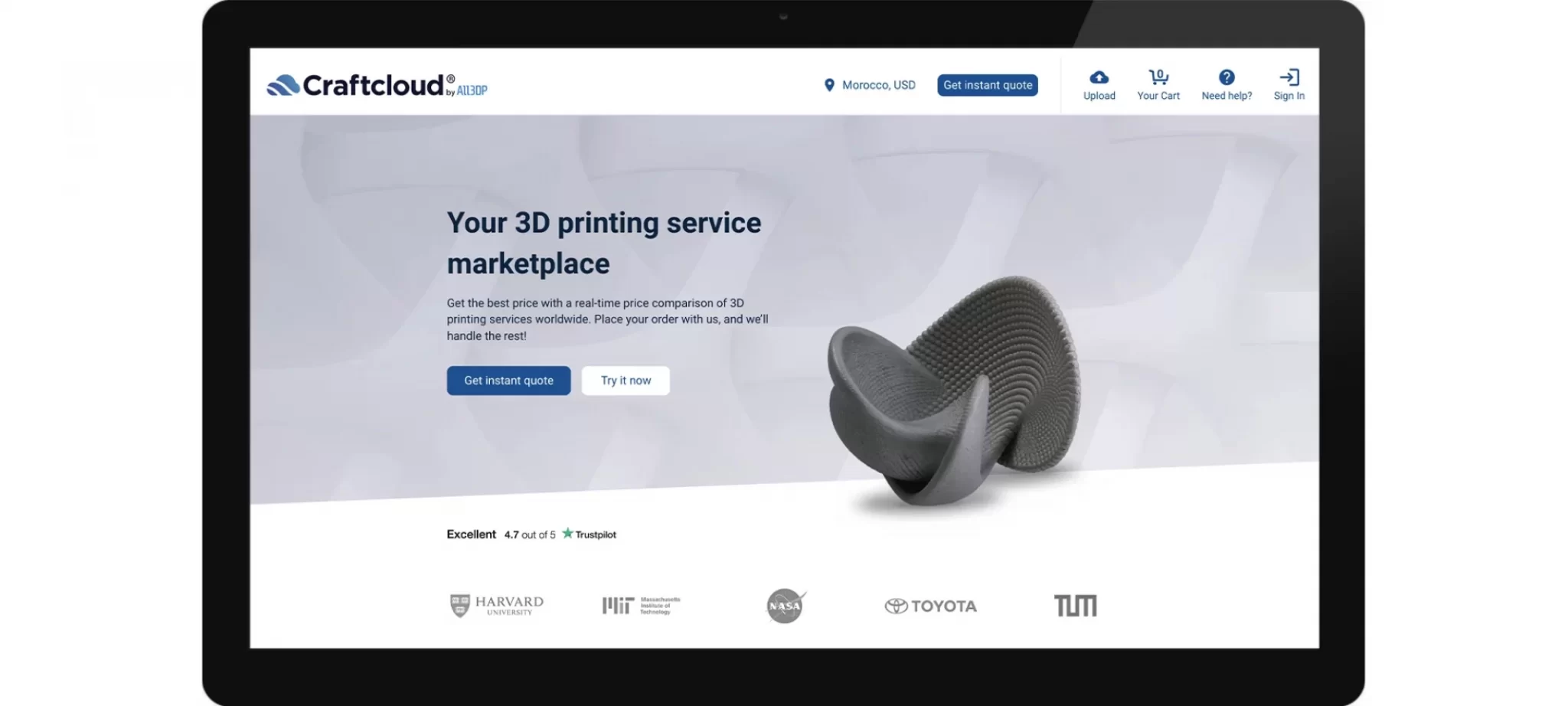 The website is owned and operated and governed and managed by a 3D printing magazine called All3DP.
On the website, the content makers boast about the company's achievement in six years since its start i.e. to reach more than 1.5 million visitors on monthly basis.
Craftcloud is the same company's venture to build a 3D printing and price comparison service provider for offering something unique.
The back end of this website is said to support its users with German, French, Spanish, and Chinese apart from English. And the company claims to do everything in its power for 3D printing, from small-scale figurines to industry-grade prototypes.
The homepage of this website has five tabs: About, Materials Guide, Contact Us, Become A Partner, apart from getting Instant Quote.
3D Printing Quote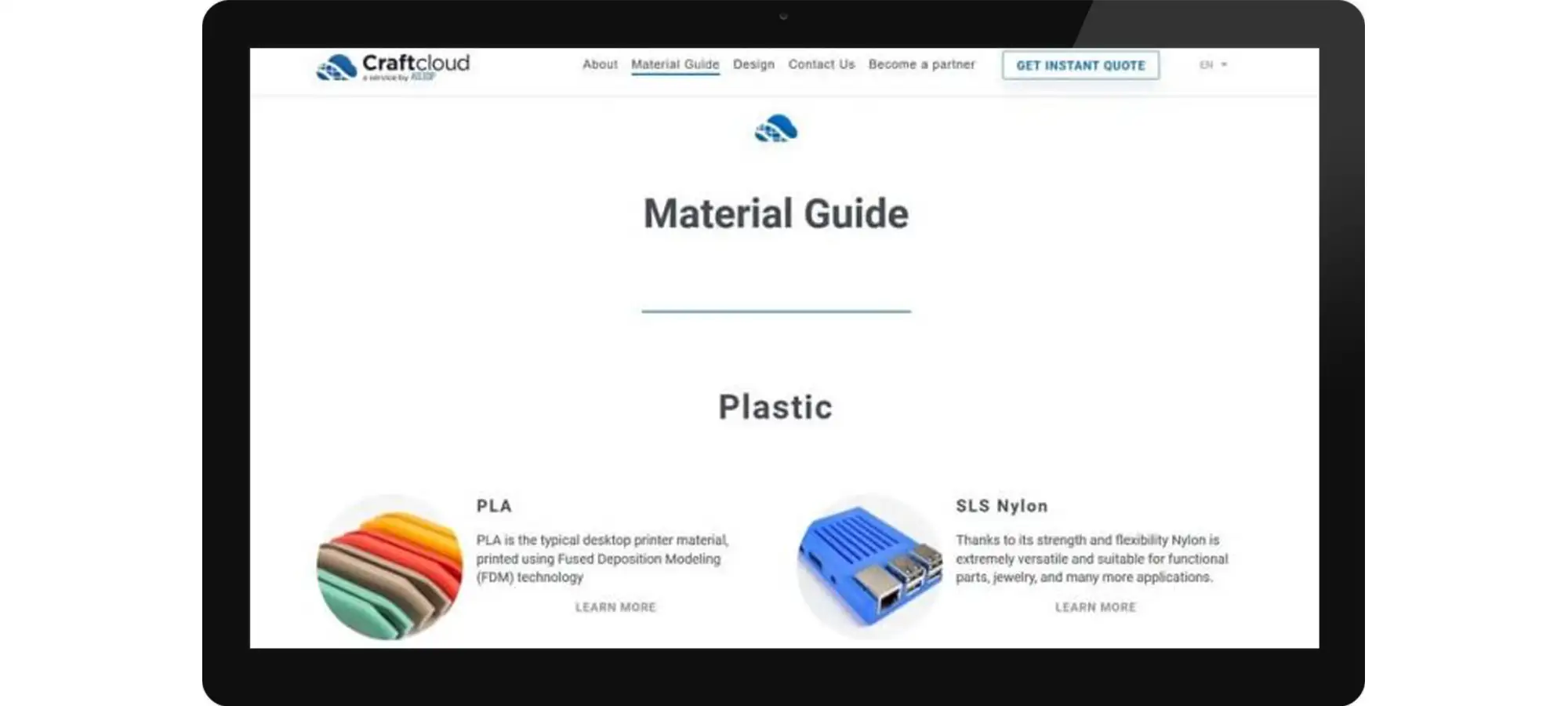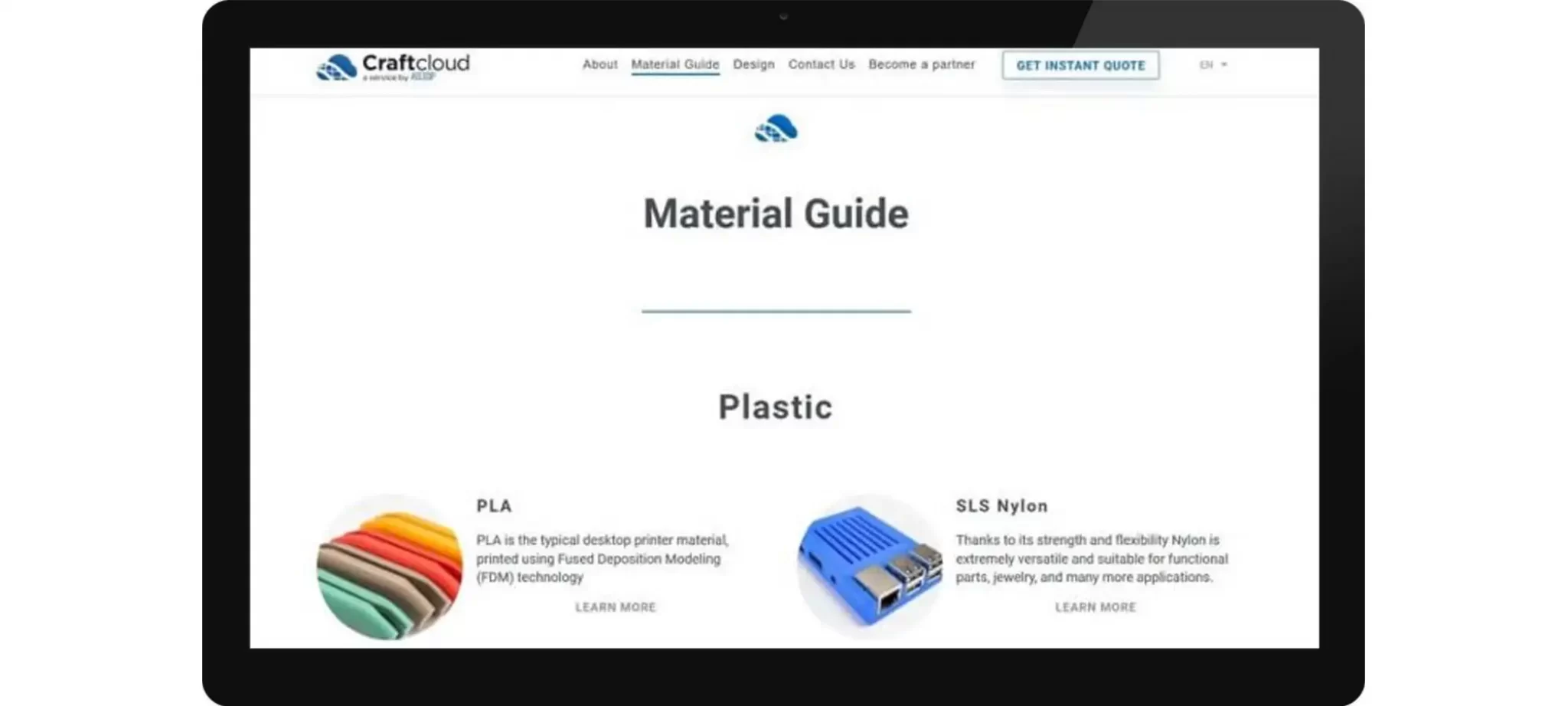 Unlike Shapeways or Sculpteo, Craftcloud lets you get access to the quote without singing on their website using any sort of credentials or even your Google account.
As soon as you click on the upload 3D Model option on its website, a webpage asking for a 3D printing file opens up.
All you have to do is either drag and drop your file or let the website browse your computer.
We let them browse our computer and upload the Toothbrush case's STL file that we had downloaded from the Thingiverse website to give you an exact idea of comparing a similar file on all three websites.
This website also must have taken more or fewer seconds to calculate and come up with a quote.
The displaying style of a quote of this website varies from than above-mentioned websites.
The price of the material is first displayed on the screen, the second step will let you choose the finish and the third step is choosing the color, and only then will you be given the exact quote of the part or functional prototype, you are willing to 3D print using this website.
There are forty materials available on the website, starting from PLA which has low costs as $14.42, ranging up to Sterling Silver which costs as high as $365.31.
Since we wanted to bring in front of you an exact comparison, we selected PA 12 MJf which costs $38.74.
As soon as we selected the material, the choices of finishes in which the material is available popped up.
The raw finish is available without paying any extra, whereas the polished finish is available for $22.27. When we clicked on Raw finish twelve different options of colors popped up.
The solid Gray color is available without paying any extra. Apart from dyed black, any other color that you choose is available for $130.59.
We chose dyed black and received the final cost of the complete part i.e. $42.32.
Concluding remarks about the website
Craftcloud has no "Cookies displaying" option. It requires no login or sign up formality. The display of quotes on this website is different than the other two.
The Conclusion
Since there are more than one website offering 3D printing services, it is better if you get the quote from more than one website, and then compare them.
In the list of websites that are mentioned above, information regarding the printer on which the part or functional prototype would be 3D printed is not given which we think should be the next step of transparency.
Also, none of them is, to the best of our knowledge owned by any 3D printer manufacturers.
Although it does not make much of a difference to you as a user, if you are professional, it interests you more to know about the printer and model that is going to be used for printing your 3D part or a functional prototype.
Coming back to the comparing part, there are also websites that offer you designing after consulting with their 3D designers.
So, in case you only have an idea, not the knowledge of how to use the tools for 3D printing, you can still 3D print your idea.
Overall, the technology is still expanding on every horizon, apart from providing just 3D printing quotes; more and more services are also added and provided by the company to its passionate users.
There are online 3D printing repositories such as Thingiverse where you can get to download 3D print files for free as well as paid.