3D Systems ProX SLS 6100
3D Systems ProX SLS 6100 is a professional-grade 3D printer manufactured by 3D Systems. It provides one of the best build rates with excellent print quality parts available in the industry.
PROS
Manufacturing strong end parts and functional prototypes faster compared to other SLS industrial 3D printers.
Easily prints any designs without supports and post-processing.
Offers integrated solutions with expert application support.
Allows full automation of material handling.
Streamlines your workflow using automated production tools.
Delivers smooth surface finish, and high resolution.
CONS
Demands huge one-time investment in terms of money as well as effort for its operation.
Table of Contents
Based on Selective Laser Sintering 3D printing technology, ProX SLS 6100 is a professional-grade 3D printer manufactured by 3D Systems. It has larger than average build envelopes i.e. 381 mm * 330 mm * 460 mm and is therefore capable of building huge parts in one go.
Compared to other 3D printing systems available in the same category, ProX SLS 6100 has a lower final cost per part as well as greater print speeds. Also, the parts manufactured from the printer have greater flexibility and high impact strength. Therefore, they can be put into an application for sharing the load in critical conditions.
Apart from the above-mentioned lucrative aspects of the printer, is SLS 6200 worth buying? Has it got all that it takes for a printing system to be proven highly functional than its competitors or does it fall behind? We can only say after having a look at the machine in-depth. So, let's get started.
Features
The Pro SLS 6100 delivers best-in-class quality. It has fast build times and automated production tools. The machine comprises a powerful laser source that enables the creation of fine detailing over the surfaces and particularly sinters powder material.
The printer can produce high-quality prototypes from a wide range of powder materials. Also, it allows users to automatically sift and filter from the good and bad powder. Moreover, it permits managing as well as monitoring of 3D prints remotely. But what makes it completely stand out from its competitors are the striking features mentioned and explained below.
Utilization of Production-Grade Materials
The SLS 6100 makes tough and durable parts using a wide range of DuraForm ProX i.e production-grade nylon material which has been optimized, validated as well as tested for making certain that it has quality coupled with uniform 3D mechanical properties.
The printer brings a sort of versatility by letting you print parts and functional prototypes that find application in varied industries such as automotive, healthcare, as well as durable goods sectors.
Fortunately, 3D Systems is a printer manufacturer that hasn't limited your scope by letting you choose from a wide range of industrial-grade, tough, impact, and fatigue resistant nylon 11 materials or strong, food-grade, medical-grade, or flame-retardant nylon 12 thermoplastics. This quality allows users to juggle from the available lot and bring variety in design.
High Throughput
While comparing SLS 6100 with its fellow 3D printers some of the very important facts that come across your observation are: a) automated production tools, b) new air-cooled laser, c) remarkably high throughput, d) higher material efficiency, e) repeatability, and f) competitive initial purchase delivering 20 percent lower total cost of operations.
Most importantly, the printer's material quality control system makes the printing system a front runner. Not only does it provide automatic blending, but also recycling while providing transportation of material to the printer without any sort of human intervention. This also leads to an increase in the overall efficiency.
Commendable Part Quality
Having faster build times compared to other SLS 3D printers, ProX SLS 6100 delivers high-performance nesting and high-density capability that is capable of producing 25 percent larger build volume. The machine is capable of producing quality parts under a fast yet efficient printing process.
As a result of all this, you get a 3D part with one of the best surface finishes ever possible. Also, the objects manufactured have the highest resolution as well as edge definition. Moreover, they depict high accuracy and repeatability to that of the fed in design and are uniform throughout the surface.
Advanced workflows
The printing system is compatible with 3D Sprint – an exclusive 3D Systems additive manufacturing software. The application allows users to optimize CAD data, and manage the SLS 3D printing process. It has all the tools needed to deliver high performance like high-density automatic 3D nesting, quality checks for pre-build verification, repair options, etc.
Moreover, the application also permits advanced operators to queue their prints while mass customization, as well as cage structure generator especially while manufacturing small parts enclosure. All of these features result in more advanced yet smoother workflows for increased productivity and quality.
Maximized production
On one hand, if 3D Sprint allows for an advanced workflow, then 3D Connect provides the automation needed for maximizing production. This service offers a secure cloud-based connection for preventative support enabling better service, improved uptime, and most importantly production assurance for the system.
Using 3D Connect, the system automatically sends alerts to the printer's service team in case of any sort of immediate assistance for resolving any defined conditions or exceptions, for solving problems without being physically near to the printer, pre-ordering parts, and scheduling on-site service requests as well.
Specifications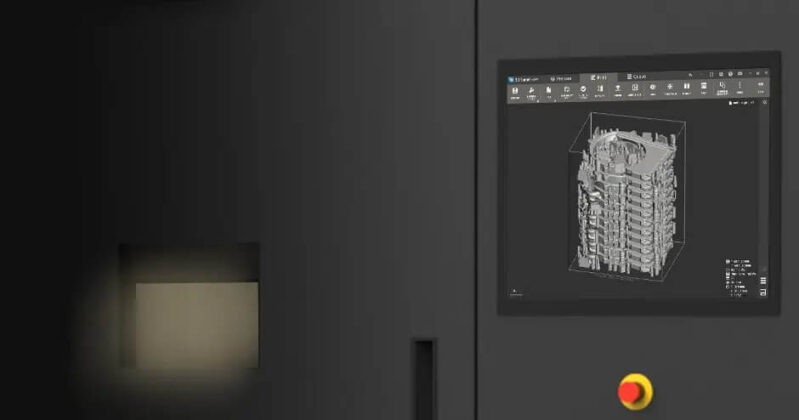 Credit: 3dsystems.com
3D Systems ProX SLS 6100 prints parts and functional prototypes using SLS 3D printing technology. Objects created using the system find their application in industries such as Aerospace, Automotive, Consumer products, as well as medical.
These parts are made from various kinds of polymer powders such as DuraForm ProX PA, DuraForm ProX GF, DuraForm ProX EX BLK, DuraForm ProX HST, DuraForm ProX AF+, and DuraForm ProX FR1200.
ProX SLS 6100 features a closed material system offering a maximum build size of 381 mm * 331 mm * 460 mm which is one of the largest offered in industrial-grade SLS 3D printing. Moreover, the parts manufactured using the system are known to possess a layer thickness ranging from 80 to 150 microns.
For selective sintering of objects, SLS 6100 makes use of a CO2 laser source with 100 Watts. Users are offered a build rate of 2.7 liters per hour which is also one of the highest rates in industrial SLS 3D printing.
Price
To know the exact price of 3D Systems ProX SLS 6100 one would have to request a quote from the manufacturer.
First Impression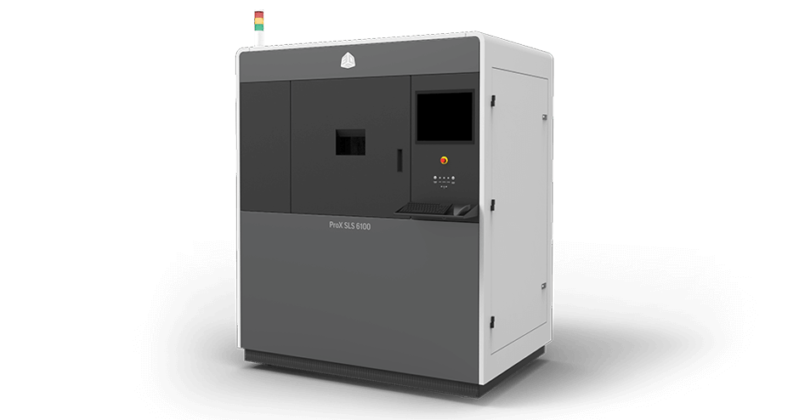 The first glance at SLS 6100 printing system's front view conveys to your eyes how it's a typical cuboid with its height more than length or breadth.
The machine's metric dimensions are 1740 mm * 1230 mm * 230 mm and it weighs 1360 kilograms. So, definitely, you'd need a dedicated working space to fit the machine in.
Particularly what strikes out is the square print chamber that can be accessed via a door handle present exactly in the middle. Just adjacent to it is the touch screen interface which allows for monitoring as well as control over many functions of the printer.
Setup
Being an industrial SLS 3D printer, SLS 6100 is a plug-and-play 3D printer that comes with onsite assistance. So, to go through each and every part and understanding its function in the entire printing system does consume a considerable amount of time.
In other words, users should not expect the typical application of power supply and starting the initiation of the print process! Instead, gradually understanding the functioning of every component and only then starting with the test prints to see how much have you got a hold over it is the way to go with this printing system.
Print Type/Cost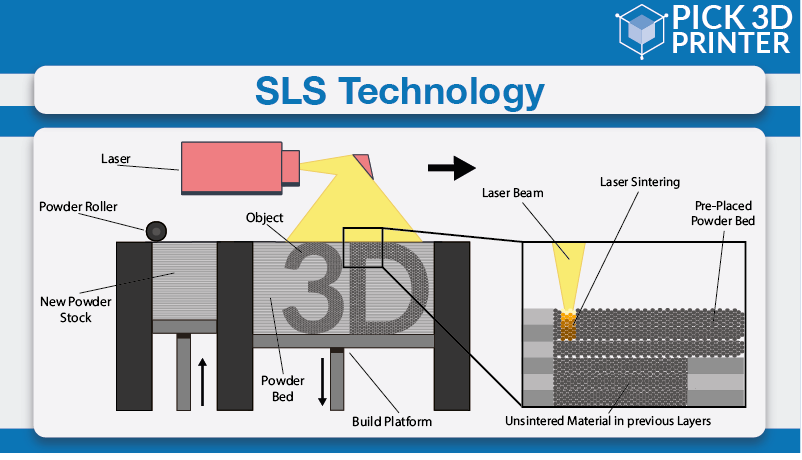 SLS 3D printing systems make use of a laser source for sintering the thermoplastic polymer powder and building parts. Its complexity is because of the typical arrangement that makes it possible for the high-power laser source to selectively sinter.
Generally, the printers based on SLS 3D printing consist of a powder bin, a build platform, a powder re-coater, a laser source, a set of galvanometers, and a set of heaters with a powder feeder.
The process starts when the re-coater starts depositing a single layer of powder onto the build platform. Before this, the powder bin has to be filled with a certain amount of the polymer powder, after which it has to be placed into the machine and allowed to be heated using heaters.
After the re-coater starts depositing, the CO2 laser starts performing its duty by selectively inducing fusion between particles for forming a solid part at specific locations as mentioned in the part geometry.
The laser moves along in a point-to-point specific pattern by solidifying the complete cross-sectional area of the layer. After the layer is completed, the re-coater again deposits a new layer of powder and the build platform moves down a layer height. Such a process is repeated till the part is completely formed.
The cost of 3D printing a part or functional prototype using SLS 6100 is generally higher than other industrial SLA or FDM 3D printers. Reason being, use of high power laser source and its selective sintering! However, it depends on the part geometry, the material with which objects are created, and much more.
Print Quality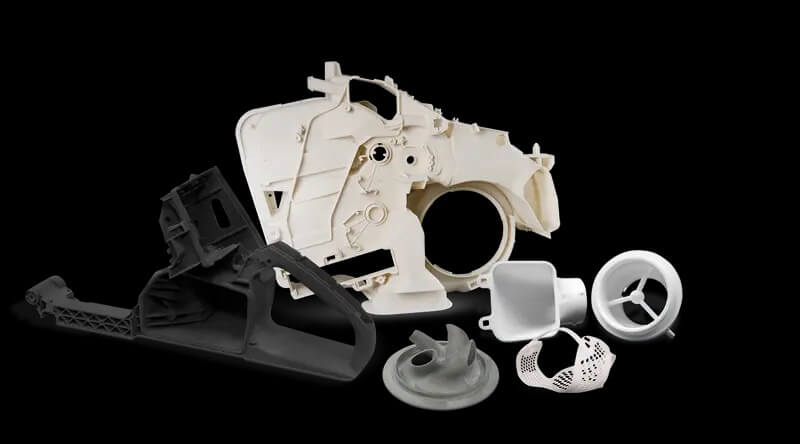 Credit: 3dsystems.com
Even without any use of supports or post-processing, the parts manufactured using SLS 6100 manages to look aesthetically pleasing as well as be highly functional. The surface finish of these parts is far higher than others manufactured by printing systems in the same price range.
These objects possess higher flexibility and greater impact strength thereby allowing users to use them in applications where carrying high loads is a must.
Software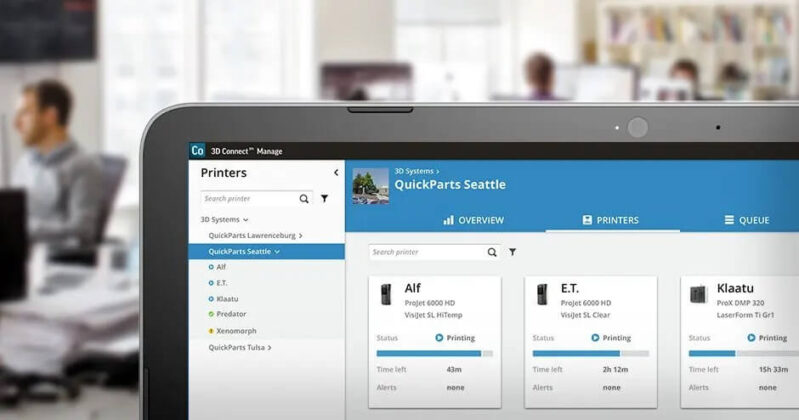 Credit: 3dsystems.com
3D Sprint – the printer manufacturer's proprietary additive manufacturing software program enables users to optimize CAD models for the SLS 3D printing process. Moreover, it also offers operators a range of tools to ensure as well as verify the quality, performance as well as structure of a part before it is actually printed.
Customer Support
3D Systems offer online software, 3D printers, and materials as well as healthcare support by connecting you with the right experts for the product and service you've bought from the manufacturer.
Customers can easily download as well as free access the video as well as literature available online from various resources. Apart from this, one can always reach out to the technical team of the printer manufacturer via various sources.
Parameters Influencing Buying Decision
Below mentioned are the chief factors concerning 3D Systems ProX SLS 6100 in brief.
3D Printer Cost: Available only on the quote. However, one thing that can be presumed from the data available online is that it is a high-end 3D printing system requiring a good amount of maintenance.
3D Print Speed: As opposed to other SLS 3D printing systems, SLS 6100 is faster.
3D Print Quality: Parts and functional prototypes manufactured using the system possess extraordinary surface finishes so much so that they need no post-processing at all and can be put into the application where they need to withstand high loads.
3D Printer Capability: SLS 6100 is able to process a wide range of 3D printing powdered materials from the most popular ones to the rare ones that not every 3D printing system is capable of dealing with.
3D Printer Practicality: Professionals in the field will love to deal with 3D Sprint software as it allows them smoother workflows and automatic management of the material loading.
3D Printer User Expectations: The printing system is primarily for manufacturers who are looking for high-quality surface finishes that aren't available with such a huge build volume in most other industrial-grade SLS 3D printers.
The Verdict
What differentiates between a normal industrial SLS 3D printer and SLS 6100 is the quantity of output in minimal times. The machine provides one of the best build rates available in the industry. Although it is a little complex to understand and costs high, provided the print quality it manages to exhibit, the printing system is totally worth the demand.