Bibo Dual Extruder 3D Printer
Like every other machine, Bibo also has few limitations apart from all the good things in place.
PROS
It possesses dual extruder
Multi-color printing is possible
Metal frame for extra reliability
Removable glass bed
Support for multiple filaments
CONS
Build space isn't very large
Unavailability of automatic bed leveling before the print starts
Product
Specification
Videos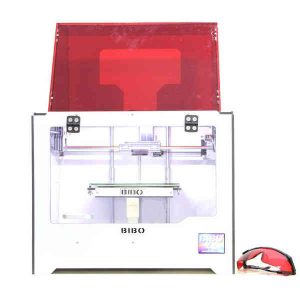 Being a 3D printer that is known for its laser engraving capabilities, the Bibo Dual Extruder 3D printer has evolved by carrying its distinguished ...
| | |
| --- | --- |
| Model | BIBO2 Touch Laser |
| Manufacturer | BIBO |
| Price Range | $ 799 |
| Release date | 2016 |
| Country | China |
| Availability | Available |
| Classification | Desktop |
| Technology | Extrusion (FFF- FDM…) |
| Material | ABS, Other plastics, PLA |
| Filament diameter | 1.75 mm 0.07 in |
| OS compatibility | Linux, Mac OS, Microsoft Windows |
| Generic material | Yes |
| XY accuracy | 0.01 mm 0 in |
| Max. build size | 214 × 186 × 160 mm 8.43 × 7.32 × 6.3 in |
| Max. build volume | 6.37 L |
| Min. layer thickness | 0.02 mm 0.001 in |
| Dimensions | 467 × 357 × 374 mm 18.39 × 14.06 × 14.72 in |
| Weight | 13 kg 28.66 lb |
| Nozzle diameter(s) | 0.4 mm 0.02 in |
| Power input | 100 – 240 V / ~3A / 50 – 60 Hz |
| Heated print bed | Yes |
| Heated build chamber | No |
| Automatic calibration | No |
| Closed frame | Yes |
| Dual extruder | Yes |
| Independent Dual Extruder | No |
| Full color | No |
| LCD screen | No |
| Touchscreen | Yes |
| On-board camera | Yes |
| Mobile app | No |
| 3D scanners | No |
| CNC mill | No |
| Electronics 3D printing | No |
| Laser engraving | Yes |
| Conveyor belt | No |
| Air filter | No |
| Pellet extruder | No |
| USB | Yes |
| Wifi | Yes |
| Bluetooth | No |
| SD card | Yes |
| Ethernet | No |

Table of Contents
If you are looking for a 3D printer with laser engraving capabilities, you must go for Bibo Dual Extruder 3D printer which is also known as Bibo 2.
The 3D printer has evolved carrying its distinguished set of features that make it stand out from other variants. The machine has been manufactured a company based out in China named Shaoxing Bibo Automatic Equipment Co.
The looks of Bibo 2 is very similar to that of Makerbot Replicator. However, it has set its own example in terms of operation and results when it comes to 3D printing.
The 3D printer is a cartesian design and is very thoughtfully designed. One can find four versions of this 3D printer, however, the standard one is almost capable of serving most of the user base.
A very competitive machine that exhibits some of the most wonderful features to tag along. With many satisfied users, the 3D printer has gathered huge popularity.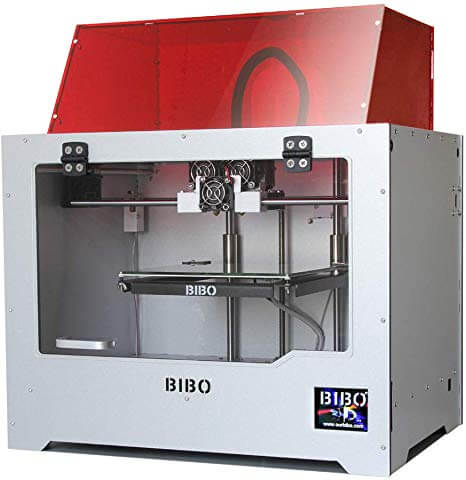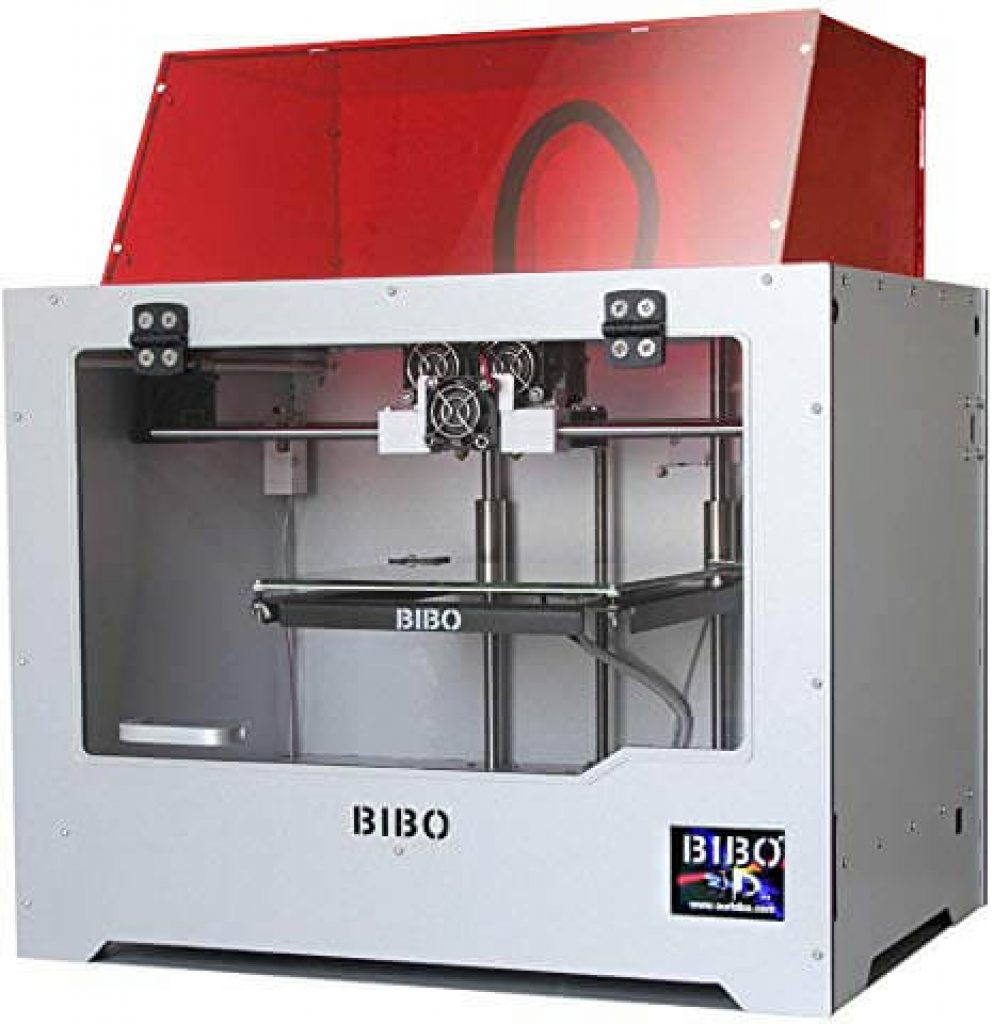 Features of the Bibo Dual Extruder
Among all the various versions of Bibo 2, there are certain core features that make it a great option for users. Backed with some of the most advanced features, Bibo can be a useful technology for lots of applications.
✔ Laser Engraving
Many users may not find it appealing but a lot will. And, this is the reason why this 3D printer has made such an important place in the 3D printing niche.
In short, it does not just print what is fed as a 3D design but can help engrave as well.
Although it may be disheartening to expect too much from laser engraving add-on, as the engraver isn't very powerful, however, one can use it on light materials including wood.
You can engrave with this laser on paper, wood, cardboard, and also on a few of the plastic materials. The 3D printer exhibits 500 mW laser engraver that can easily be swapped out for the extruders when necessary. And, it easy to install and use.
✔ Powerful Cooling Fans
The Bibo 2 touch and laser printer is what it is called, is equipped with two nozzle cooling fans. One of these fans has been installed in the front and the other one goes in the back of the machine.
With powerful cooling, printing with materials that require high temperature becomes easy and helps in providing precise prints.
The fan setting is easy to manage and can be controlled anytime during the print process.
Either you can use the touch screen control panel in the front of the 3D printer, or you can also utilize the Wi-Fi connected device including smartphones.
✔ Dual Extruders
Dual extruders add unimaginable strength to the printing possibilities of a 3D printer. And, there is no way one can ignore the fact that the inclusion of an extra extruder is becoming mainstream.
It is no more a hassle to be able to print in two different colors. Or, to print support that is easily removable when dissolved in water.
The reliability also increases when working with a dual extruder. You can print faster when working with two extruders.
With so many machines offering dual extruder nowadays, what is so special about Bibo extruders?
The reason that these are highly stable and offer unmatched precision to the 3D printed objects, Bibo clears its intention of staying at the top.
Moreover, the use of direct drive extruder technology Bibo is able to prevent the bending of filament inside the transmission tube.
✔ Power Detection
3D printing isn't just a matter of seconds. Sometimes it can take almost an entire day to print an object.
That is when the problem of power outage comes into play. Ever been bothered by frequent power losses when printing with a 3D printer?
If yes, you would know the pain unless your 3D printer can recover from a power outage. Because of a power outage, a lot of times users have to start the printing all over again.
Some may lose the entire work completed before the power outage. But there is nothing to worry about when working with Bibo 2.
This printer can save work and pause the printing process until the power comes back. Hence, you can start from where you left. Isn't that too crucial?
✔ Filament Detection
The problems aren't limited to a power outage. There are times when you may not be around and the filament exhausts. You may even lose your prints.
To avoid such a mess, this 3D printer offers filament detection technology. This means that if you ever happened to run out of filament during a print, the printer would pause and save the work until you reload the filament.
Once you do that, the print would automatically start from where it was paused. Saving you a lot of unnecessary loss. On top of that, you will get a flawless print with no sign of mismanagement that ever happened during the print.
✔ Full-Color Touch Display
The 3D printer has a color touch display for helping users utilize the machine as a standalone solution.
Most of the settings can be altered using the touch display on the front.
With an easy interface, one can make use of this display to the fullest. It does vouch for the easy operation to completely another level.
✔ WIFI Connection
The 3D printer can be connected to a smartphone or a laptop using the WIFI controls. So, if you are away and still wanted to print, you can do that using the WiFi controls.
Apart from all these awesome features, the 3D printer also boasts a removable heated bed for easing the operation of the machine even further.
Specifications
The 3D printer comes with a build size of 214 x 186 x 160 mm which is not too great but decent to accomplish most of the print jobs.
One can print with resolution ranging between 0.05 mm to 0.3 mm and the maximum nozzle temperature allowed is 270 degrees Celsius.
Bibo offers great precision and comes with two extruders with a nozzle diameter of 0.4 mm and 1.75 mm.
Apart from WIFI connectivity, users can upload the 3D designs using an SD card slot and USB slot. Using this 3D printer, one can achieve a maximum print speed of 350 mm/s which is quite fast.
Bibo Dual Extruder 3D Printer Price
The Bibo 3D printer is not very expensive and can come for almost $680. This is the price of the standard version.
The price may change when choosing the other variants of the machine.
However, it falls very much in the budget for most enthusiasts and home users. Looking at its results, even professionals can use this 3D printer.
First Impressions
As mentioned before, the printer resembles a lot like Makerbot Replicator, however, it does differ in its operation in a lot many ways. But, at first, you may find it very close to the Makerbot series.
The most attractive part is its sturdy frame made of 6 mm thick aluminum composite panel. One may not understand the importance of the aluminum frame yet, but once you start working with it, you would.
The aluminum frame adds stability to the entire design making the precision go one level higher.
The enclosed structure is also appealing. With acrylic All models acrylic lid and door, one can expect to work with difficult filaments with ease such as ABS that require controlled temperature throughout the print process.
Alongside every positive detail, the printer also is compact in many terms. It occupies around 467 x 357 x 374 mm of space and weighs around 13 kgs. All in all, this is a nice-looking machine.
Bibo Dual Extruder Setup
A lot of users may think it a fully assembled machine, however, it does come with few setup requirements.
The machine is packaged with many parts installed, however few pieces that must be stuck in for starting the print process.
For example, the extruder must be screwed inside, the red acrylic lid and a few other parts.
Depending on the experience of the users, the machine may take around an hour to start operating after taking out of the box.
Also, the bed leveling isn't easy and one must invest some time to accurately set that up before starting to print from the machine.
Printing Type/Cost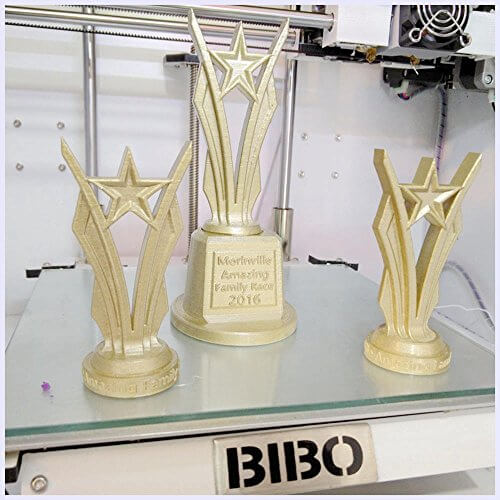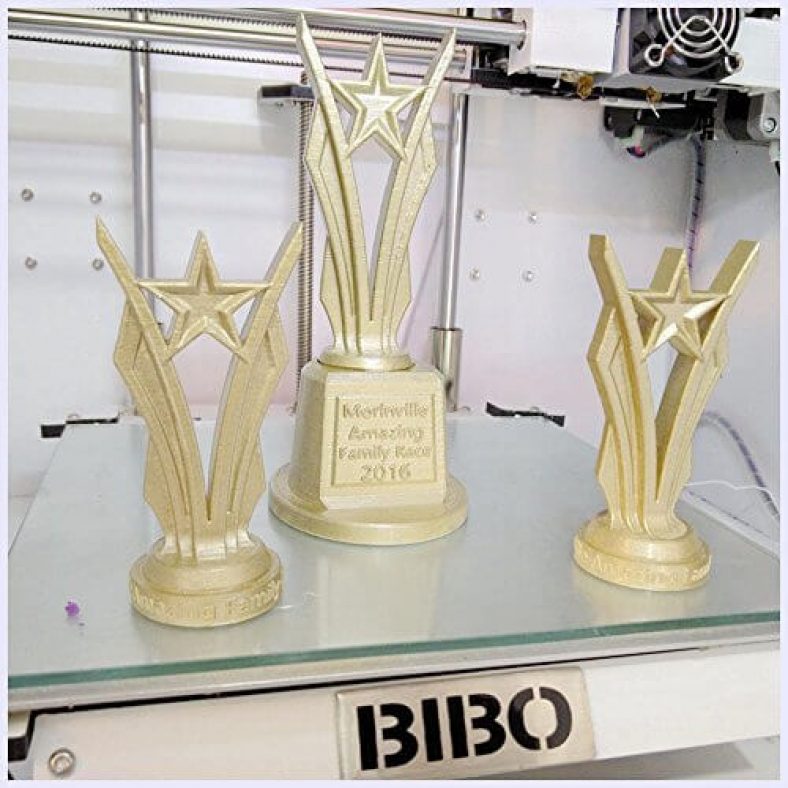 The 3D printer is an FDM printer with the ability to print with two materials simultaneously.
It supports a lot of materials such as ABS, PLA, Dissolvable filament (HIPS), Flexible filament (TPU) and others. Talking about the cost of the printer and printing operation, the printer is within the affordable range.
With printer cost and support for PLA and other cheap filament options, one can keep the printing cost to the minimum side.
Bibo Dual Extruder Print Quality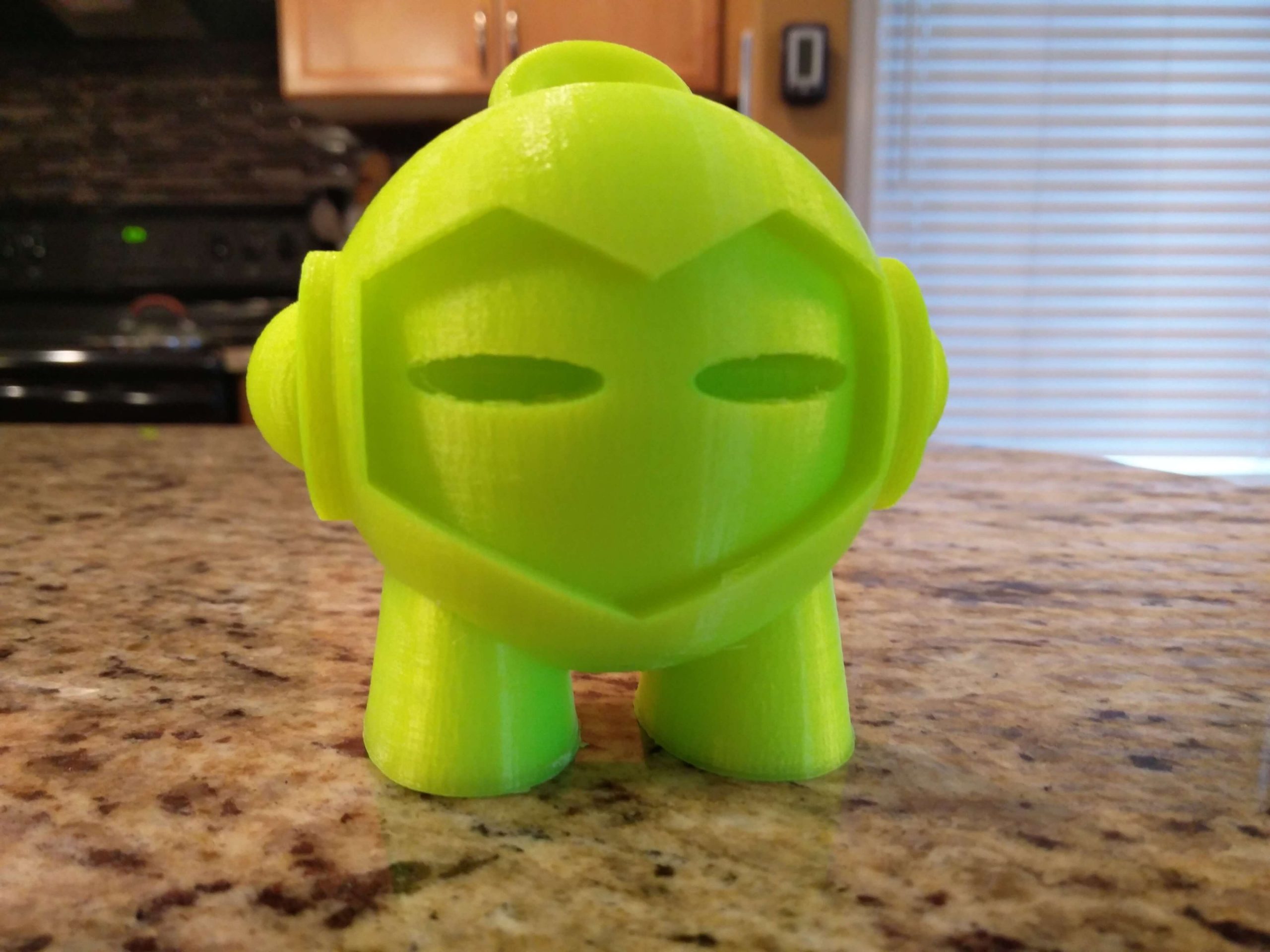 Credit: 3dhubs.com
There have been issues with the second extruder coming in the way of the print process when not in use. However, this can be corrected using the best oozing avoidance practice.
Apart from that, the printer is smooth and very accurate. Being an FDM printer, the speed is not an issue. It prints with fast speed and an extra extruder adds to that benefit.
The complex geometries are also easily printable using this machine. One needs to take care of proper printing practices when trying to achieve the best results.
Software
There is are a bunch of software that users can make use of. The company recommends using Repetier-Host, Cura, Simplify3D. Each of the software is easy to use and boasts a friendly interface.
The printer is compatible with various slicing applications and one can very well choose as per convenience. Hence, giving users the freedom to opt for the application that they like to work with.
Customer Service
The company provides one year warranty on the product and the customer service is also amazing. With 12*7 hours of response time, users get the assistance needed as fast as possible.
As per the reviews from other users, the company excels at providing prompt guidance. Moreover, the help and instructions provided through documents and videos are also very helpful.
These are easy to understand and help users resolve most of the problems at hand without a need for an expert opinion.
Factors Governing the Buying Decision of Users
There are many factors that one must keep in mind before spending on a 3D printer. Here are a few major points to note before planning on buying Bibo 2.
3D Printer cost: The printer, with all kinds of amazing features, can be counted as one of the most affordable options. However, if you are not using it for any specific purpose, you may choose to go with cheaper ones. But it is best for hobbyists, enthusiasts, and professionals. And, also for those who love to know the best possibilities from a 3D printer.
3D Print quality: The print quality is top-notch. One can expect to print accurate parts using this printer.
3D Print speed: It offers great speed. With such a price package, you are getting a workhorse. However, speed depends on a lot of other factors, such as the size and design complexity of the model, the resolution chosen, the material used, etc.
3D Printer capability: The printer can print complex geometries and very difficult designs with great speed.
3D Printer Practicality: This printer isn't all just words. But can be utilized for many artistic and crucial applications within various niches. A great affordable printer for businesses.
3D Printer User expectations: Users may expect a few more features with that price tag and the most important one is the auto bed leveling. However, it does fit right for most of the requirements. Hence, is very popular among users from different niches.
Verdict
Bibo has proved that a small machine can do wonders too. The unlimited benefits and features that the machine is packed with are difficult to chase.
It would not be incorrect to term it more than just a 3D printer. It adds more to the job list including laser engraving and is highly reliable, powerful, accurate and stable.